Wanderings
Well, we've been here a month, and have had some time to go exploring. We usually pick a location to visit, hop on the Tube or a bus to get there, and then start walking. Sometimes we skip the first part, and the walk starts at our front door. Here, in no particular order (and probably with no significant insights!) are some of the things we've seen.
Angel is one of my favorite London neighborhoods. We discovered it while house hunting; it's close to Marc's office and yet seemingly a world apart from the financial district. Here you'll find independent coffee shops and Starbucks, tiny clothing stores and H&M, a weekday farmers market and big grocery stores. There's something for everyone! It feels friendly and vibrant.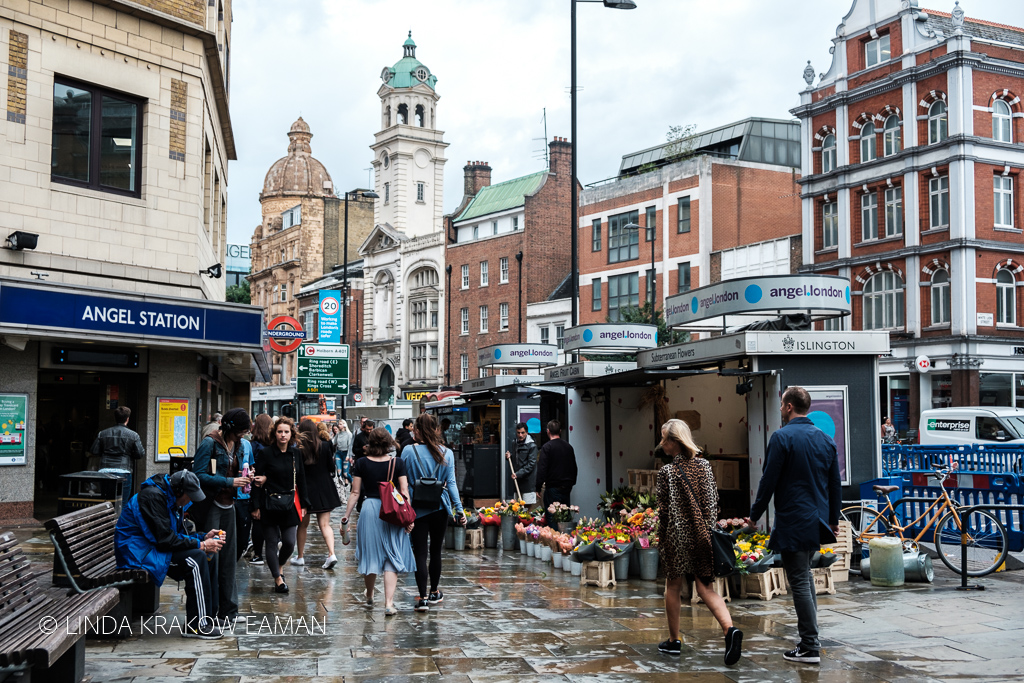 Did you know there are canals in London? We have found ourselves several times walking on the Regent's canal towpath–so called because it was originally used by the horses that pulled boats along the canal. The scenery varies from gritty and grey to verdant and lush. There's a steady stream of walkers, joggers, and cyclists, and little cafés and restaurants are scattered along the way. The canals feature a series of locks, operated by hand by the boat operators. Houseboats, almost all of similar design–low slung covered barges with tiny windows–line the way. A bit of research confirmed that they run the gamut from luxurious and expensive, to quirky and fun, to rundown and unsafe alternatives to London's high rents.
Every Sunday, flower vendors set up stalls along Columbia Road, and locals and tourists alike crowd the narrow space between them. You know you're getting close when you start see people walking home with arms full of huge bouquets. The Columbia Road flower market is a flower lover's dream, as long as you don't mind moving at a snail's pace through a thick crowd.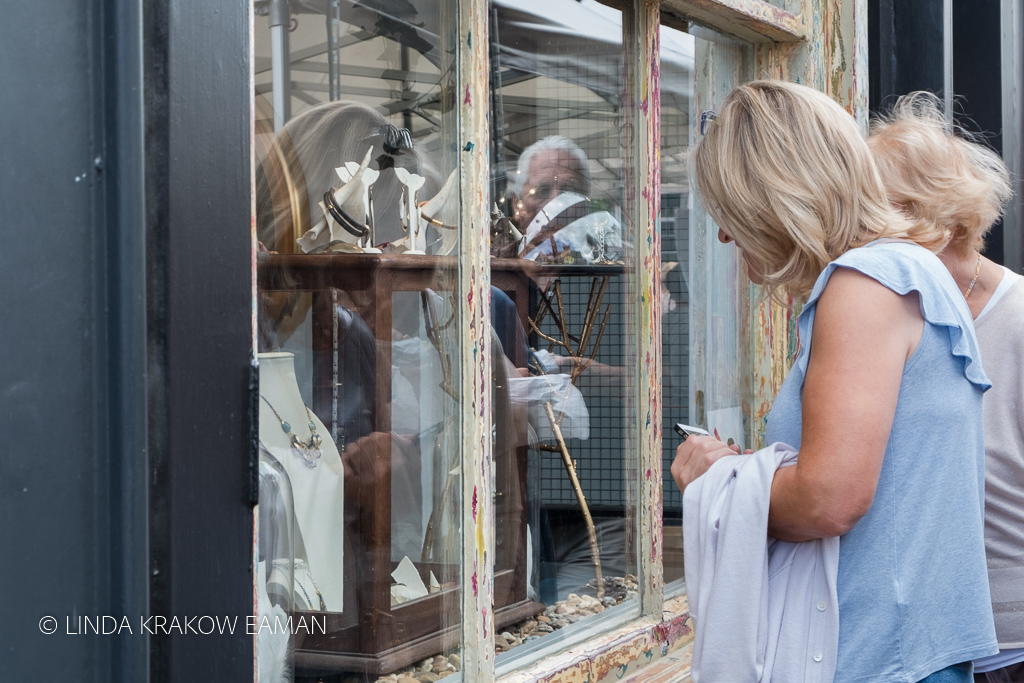 The stores along the road, all tiny, include gifts, antique, and jewelry shops, cafés, and of course a pub.
One last location for this post: Oxford. The ancient college town is about 90 minutes away by train, and although we had both been there before it seemed like a good choice for a day trip.
Oxford is, to some extent, a university with a town around it. The colleges are scattered throughout the town, an assortment of beautiful historic buildings.  Many can be visited, including the venerable Christ Church (this is the name of the college as well as its cathedral) which boasts the dining hall used in the Harry Potter movies.  The crowds, however, were daunting and we opted to skip all the visits and just wandered.  I'm hoping to see more on a rainy winter day!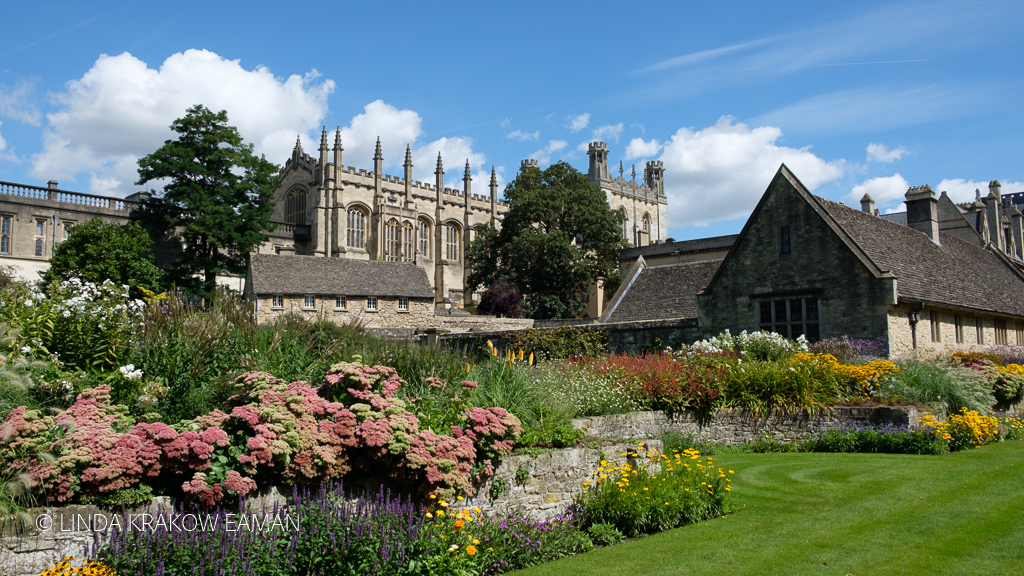 One of the nicest discoveries in Oxford was the walking path along the Thames. With proper shoes and enough time, you could easily walk for miles. We particularly enjoyed watching the rowers; one group was followed by a coach on bicycle along the path.
Quite a few of the streets have been made pedestrian only, and if you get off the main streets the quieter side streets are lovely.
We did find one "attraction" that was not too crowded, and I climbed the 100 or so steps to the top of the Carfax Tower to get a view of Oxford's rooftops. The tower is all that is left of the 12th century church that once stood here.
The highlight for me, though, was the botanic garden. The glass houses (Brits' much more romantic name for greenhouses), flowers, lily pond, and waterside cafe where we watched the punters go by were well worth the £5 entrance fee. (Punts are flat bottomed boats a bit like the gondolas in Venice, propelled by a person who stands in the back using a long pole to push off along the bottom. You can rent them with or without a guide, and judging from the people we watched going in circles and almost falling in, it's harder than it looks.) Notably, the bells in the tower of Magdalen college across the road had been pealing for at least an hour when we arrived and hadn't stopped when we left. It turns out that church bells become far less enjoyable when they go on for hours!