Living with history
Growing up in Montreal, and on visits back there over the years, I loved visiting the old part of the city. Walking the narrow cobblestone streets, surrounded by converted warehouses, old churches, and squares, felt like stepping back in time.
In fact Montreal is one of the New World's oldest cities, dating back to 1642, and many of its iconic buildings were constructed in the 18th and 19th centuries. But that's not particularly old compared to much of the world, and I think it's safe to say that most North Americans–with the notable exception of indigenous people–are not used to living with history. The oldest pockets of our cities are often served up as tourist attractions, and the words "old" and "historical" are likely to refer to 19th and early 20th century contributions.
So it is striking to live in a place that is in some ways so similar to where I've come from, and yet so steeped in history. History is palpable as you walk the streets of London, and visible reminders are around every corner. Roman ruins are common, from segments of the wall that encircled Londinium, to the remains of an amphitheater in the basement of a government building near our flat. A recent walking tour referred to William the Conqueror. I have walked by, and into, countless churches that were established in the middle ages, and rebuilt in the 1600s after the Great Fire; farther afield, medieval buildings still stand. Housing styles are referred to as Georgian, Victorian, and Edwardian–references to the monarch that reigned when they were constructed. Buildings of all kinds are described as "listed" which means they are preserved and protected, to varying degrees, from demolition and modification. The word "Royal", on everything from mailboxes to the tax agency, evokes a legacy that dates back to the middle ages. Blue plaques on buildings alert passers-by to famous and not so famous people who once lived or worked there. And then there is evidence of more recent history, the World War II bombings that laid waste to so much of the city.
The contrast between old and new is everywhere, and Londoners fold modern life and amenities into this rich historical framework.
Down the street from us, between the apartment and Marc's office, is an old cemetery called Bunhill Fields. The name probably comes from "bone hill" and it was used as a burial ground from the mid-seventeenth to mid-nineteenth centuries. It happens to be the resting place of a few people whose names you might recognize from English literature, including William Blake, Daniel Defoe, and Paul Bunyan. People walk through it daily, on their way to lunch or home from work–it's a little oasis of calm and quiet in the business district. When the pub across the street is busy, people lean on the fence of Bunhill Fields, chatting and smoking as they nurse their beers.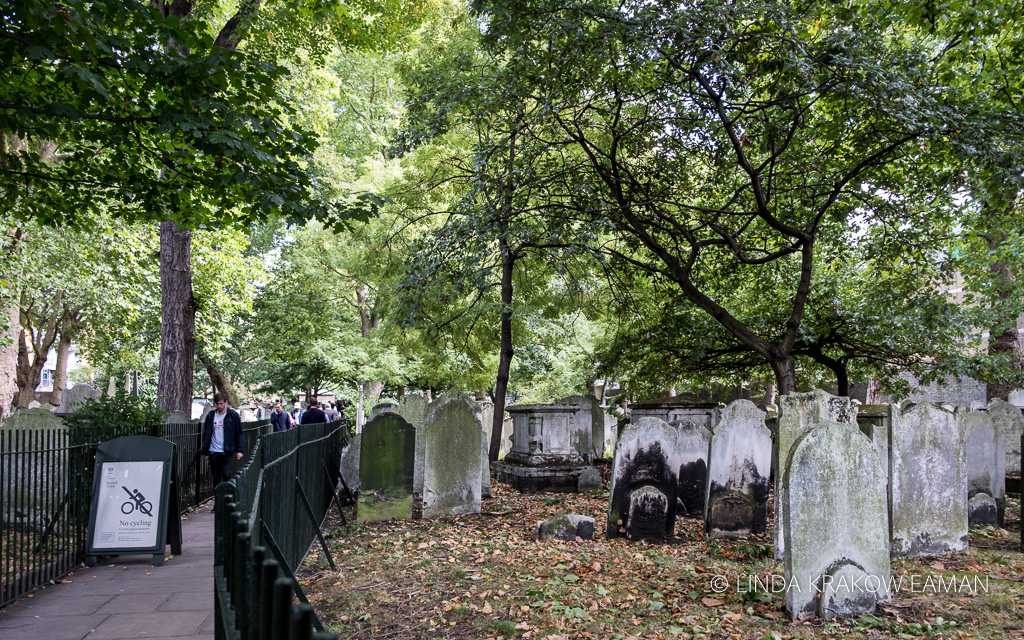 I decided that I should have a better understanding of all this history, and the London museum is a great place to start. Just a ten minute walk from our apartment, it offers compelling exhibits and concise information panels. And with a limited attention span for museums, I appreciate that it's free (although I put something in the donation box each time) so I can affordably take it on in manageable bites over time.
On my first visit, I went through the Roman period which gave me a much better picture of the city's beginnings.  The day I planned to see the medieval section, I jumped on a free guided tour, led by a young lady with a background in art history. Before starting she pointed to the little flags on her name tag and explained that she is both Italian and Spanish, and I enjoyed her beautiful accent as much as her information! She focused on the religious aspects of medieval London which, given religion and the church's impact on the city and its people, pulled it all together for me. Highly recommended.
I skipped the next sections, planning to go back, but curiousity pulled me into a side room that blew me away–it's an exhibit about the cauldron from the 2012 Olympics! In case you don't remember (I didn't) it featured 204 individual, unique copper torches that came together to create one.  The torches look a bit like calla lilies, and each had the name of a country on it–one for the country's Olympic teams and one for its paralympic teams. This alone would make the museum worth a visit!  (I didn't think to take pictures, but you can get an idea here.)
The museum has a couple of restaurants, and I stopped in at the one on the ground floor because unlike so many museum cafes it features windows and is bright and airy. Earl Grey tea and a scone with jam and clotted cream seemed like a fitting snack!
I also have to mention a side visit I made on the way to the museum.  Our apartment building is next door to a large complex called the Barbican. Built in the 1960s and 70s on an area that was destroyed during the Blitz, the Barbican includes 2000+ residential units as well as an arts center that is home to the London Symphony, cinemas, a library, restaurants, and more.  And quietly tucked into a corner of it is the church called St. Giles-without-Cripplegate.
The name refers to the Church's location, which was just outside ("without") the London wall, near the gate called Cripplegate.  Surrounded by a brick square, the Barbican's large water features, and some remaining sections of the old wall, the church is one of the few remaining Gothic style medieval churches. Much of it has been rebuilt, but apparently always according to old drawings.
On this wet, gray day, it was a magical place. The sound of the rain was a soothing drumming on the roof. An organist and singer were rehearsing bits and pieces. I happily contributed to the donation box that asked for a £1 contribution, and enjoyed reading the posted information that explained the bell ringing, the history (dating back to an 11th century church in the same spot), and even pictures of recent parties and events.
The list of famous people (let's be frank–the list of famous white men) connected with the church is remarkable.  Explorer Martin Frobisher and poet John Milton are buried there, and many other famous names attended or were married in St Giles Cripplegate.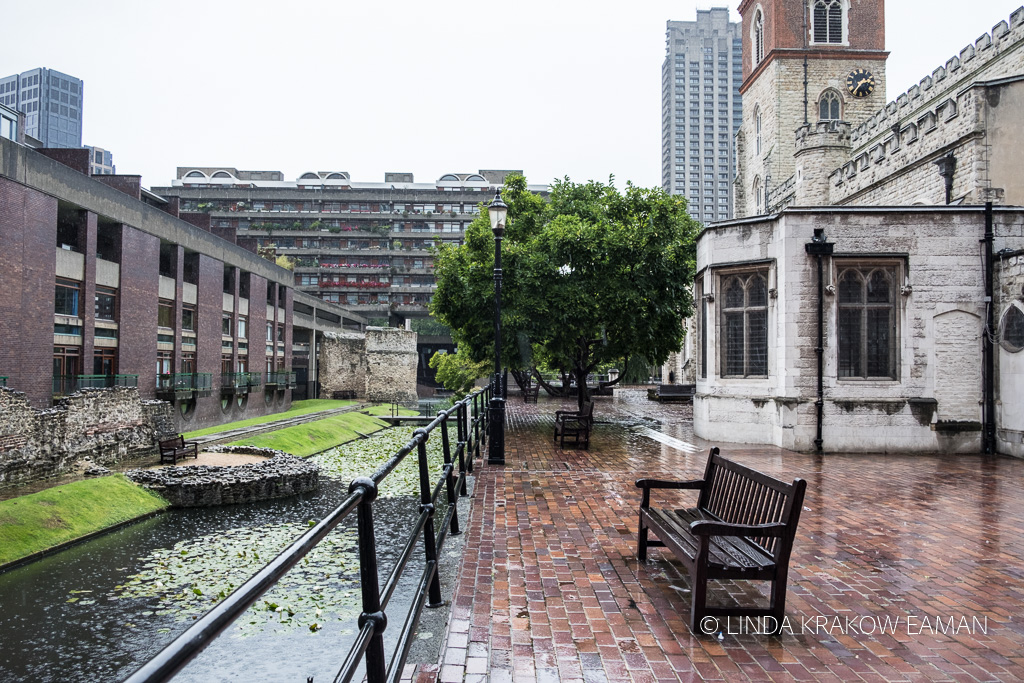 St. Giles Cripplegate sits hidden from passers-by, surrounded by modern buildings and sections of the old London Wall.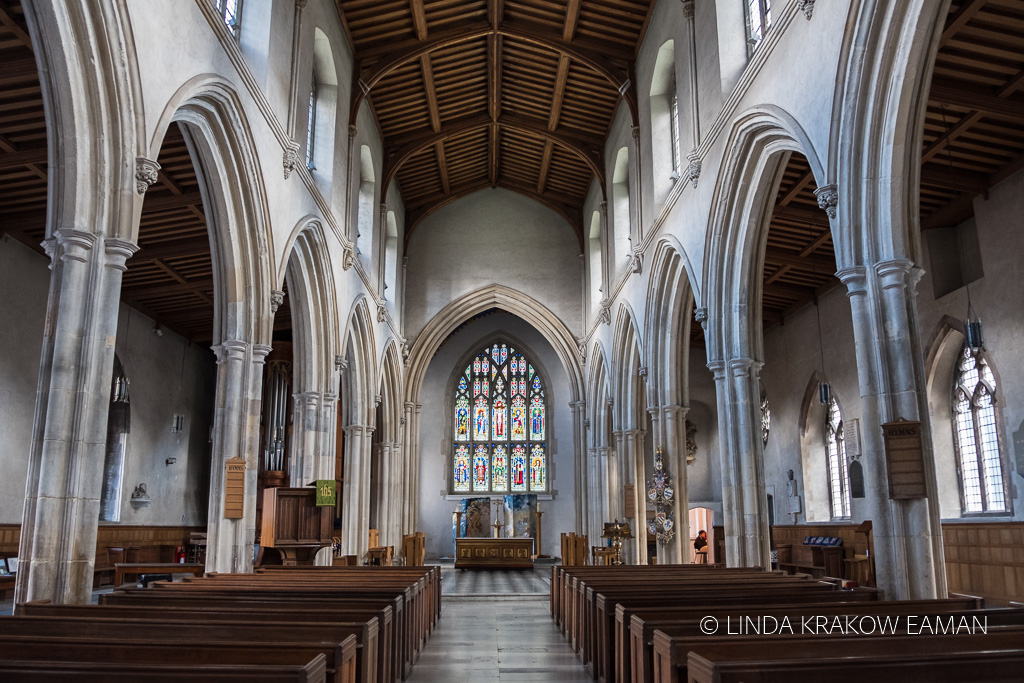 And I had the place to myself. I'm sure I'll be back–I noticed they have a weekly used book sale!  I can see how easy it might be for these pieces of history to become part of my daily life.