Moose safari in Algonquin Park
Last month I once again joined wildlife photographer Chris McQuarrie, a few other photographers, and a wonderful guide named Jim for a few days of backcountry canoe camping with cameras: a moose safari in Algonquin Park.
You know how some places find their way into your heart? Algonquin Park is like that. At 7,630 km² (about 2,946 square miles), the park is mostly wilderness, even taking into account the highway, campgrounds, hiking trails, etc. that run through the middle of it.
Most of us don't often get to experience real wilderness, and when I do it feels like everything is right with the world. Even when the air is a bit smoky from forest fires, as it was this time. There's also something very satisfying about leaving STUFF behind, and living with just the very basics for a few days.
On to the moose:
Our first moose was not even in the park… I carpooled with Kelly for the four hour drive, and being the passenger I was watching for any photo ops, aka moose. Found one! Kelly found a safe place to pull over, and we quickly grabbed our cameras. We weren't prepared for the blackflies though–those swarms of tiny biting flies that leave itchy, bumpy bites on every inch of exposed skin. Ugh. Thankfully, once we got into Algonquin, while there were plenty of mosquitos there were almost no blackflies.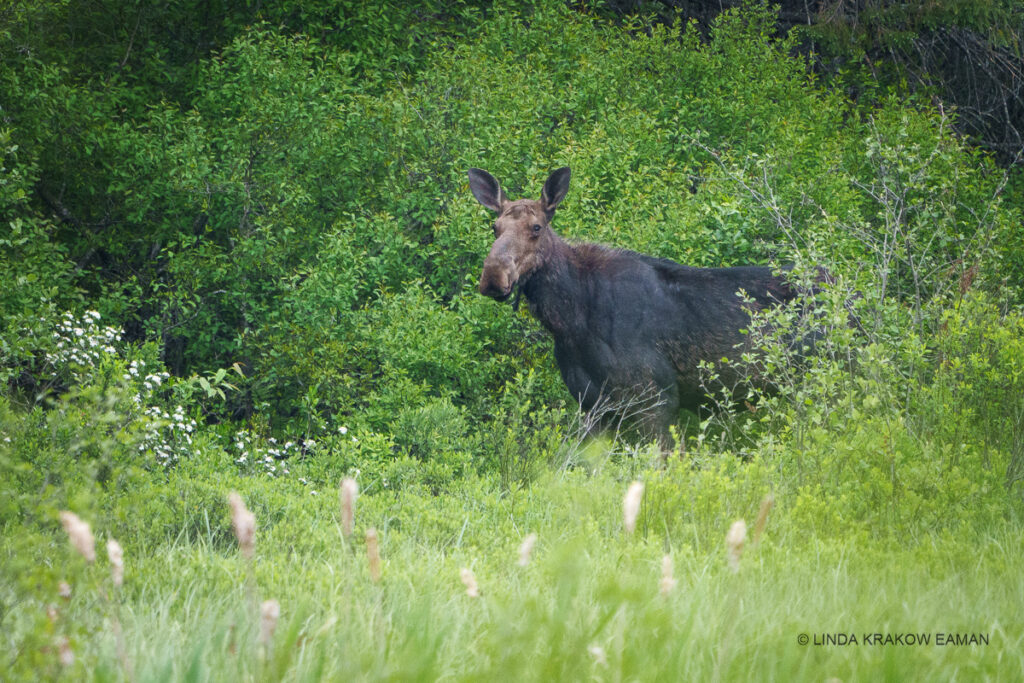 The next morning, we reported to Algonquin Outfitters to pack all the gear and food. Then we were off to the access point, far from Highway 60 that runs through the park and provides access for the vast majority of the park's visitors. Once there we loaded the canoes and set out.
There are somewhere between 2500 and 4000 moose in the park. That's maybe one for every 2-3 square kilometers. So it is amazing to me that we saw moose scat (poop) at our campsite, and had maybe 10 or more moose sightings on our trip. Part of it is knowing where to look, and that is why it helps to go with a guide who spends a lot of time there.
Our first paddle after setting up camp was a moose success. This young bull was not particularly worried about us. He continued to munch for a while, then slowly swam a bit before wandering off into the woods.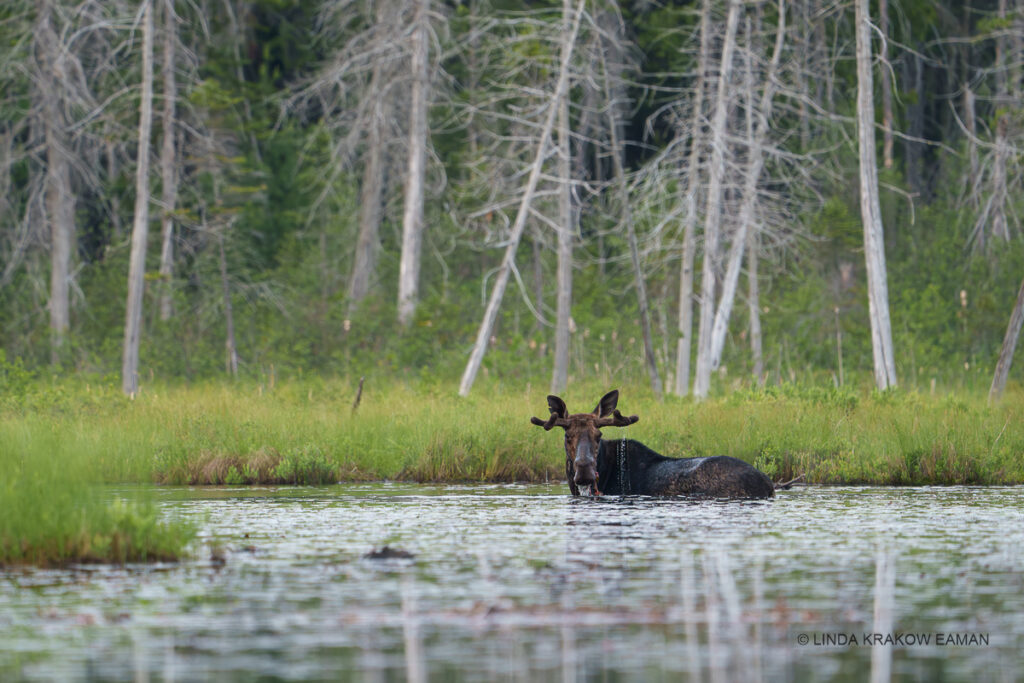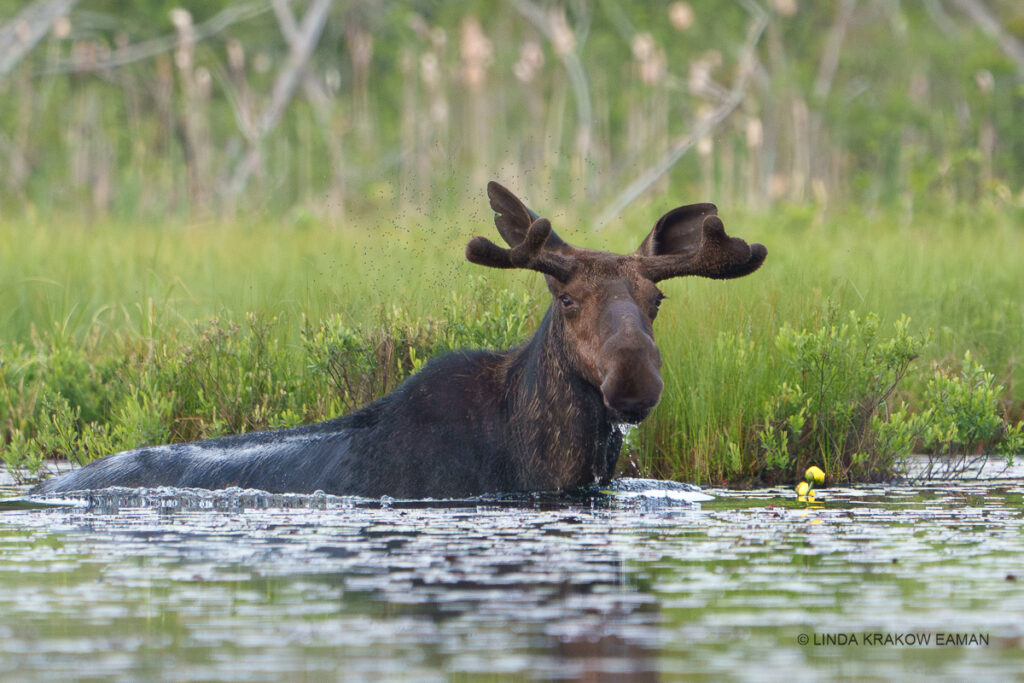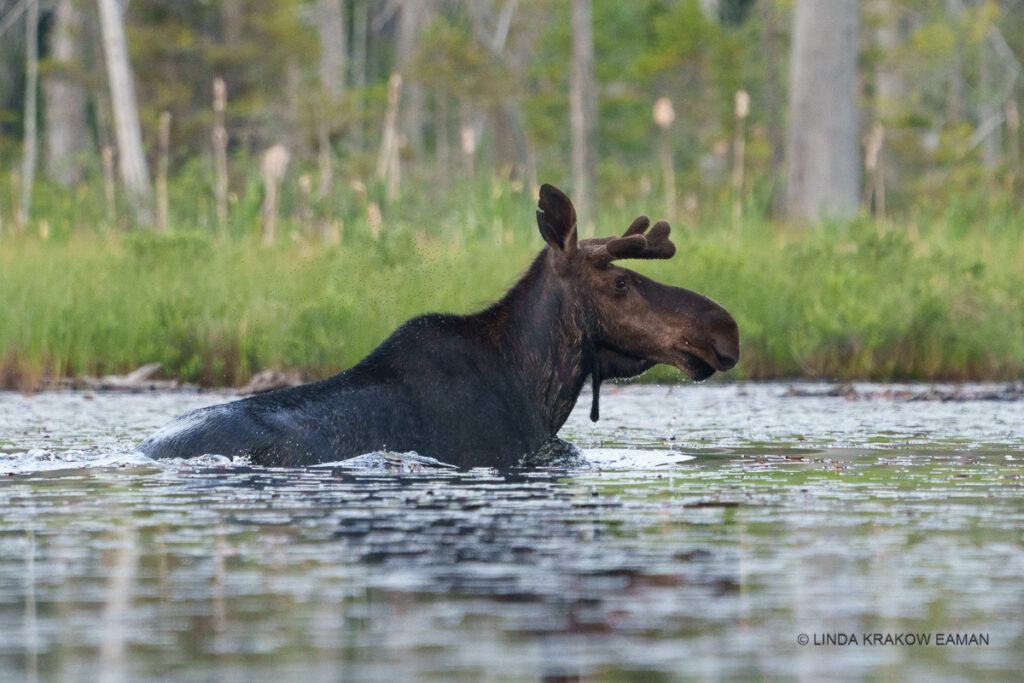 How close did we get? Not very. I'm using a 600mm lens here, and these images are cropped so you can see some detail. But the landscape is spectacular and I'm OK with the moose being a small part of it. It conveys something of the enormous scale of the wilderness. I think it would be hard to get any closer with a group and I wasn't quite ready to do this trip on my own!
We spotted a cow (female) moose at one point, and as we neared and she turned away to walk back into the woods we all gasped as we saw a little calf following close behind.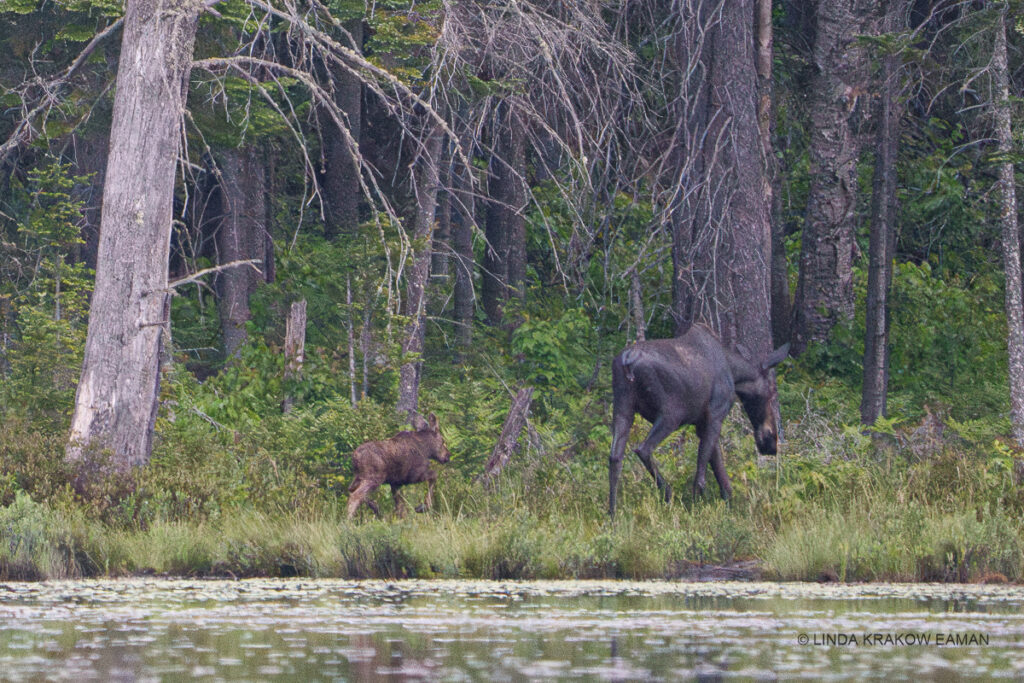 Wild animals tend to be most active in the early morning and in the evening. So except for one rainy morning when we all crawled back into our tents for some extra sleep, we were up at 5am each day, and on the water before sunrise. Misty mornings in the wilderness are magical!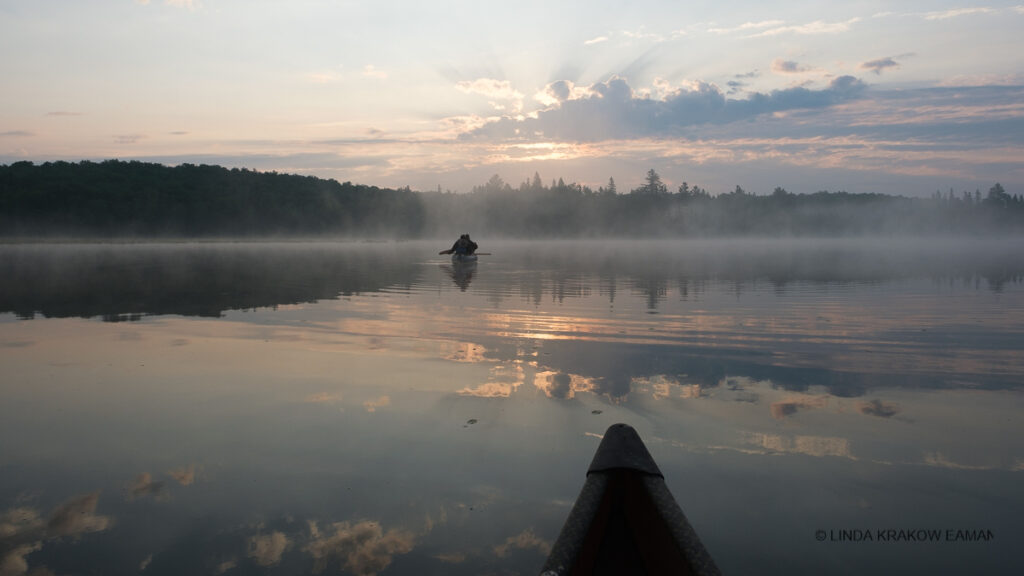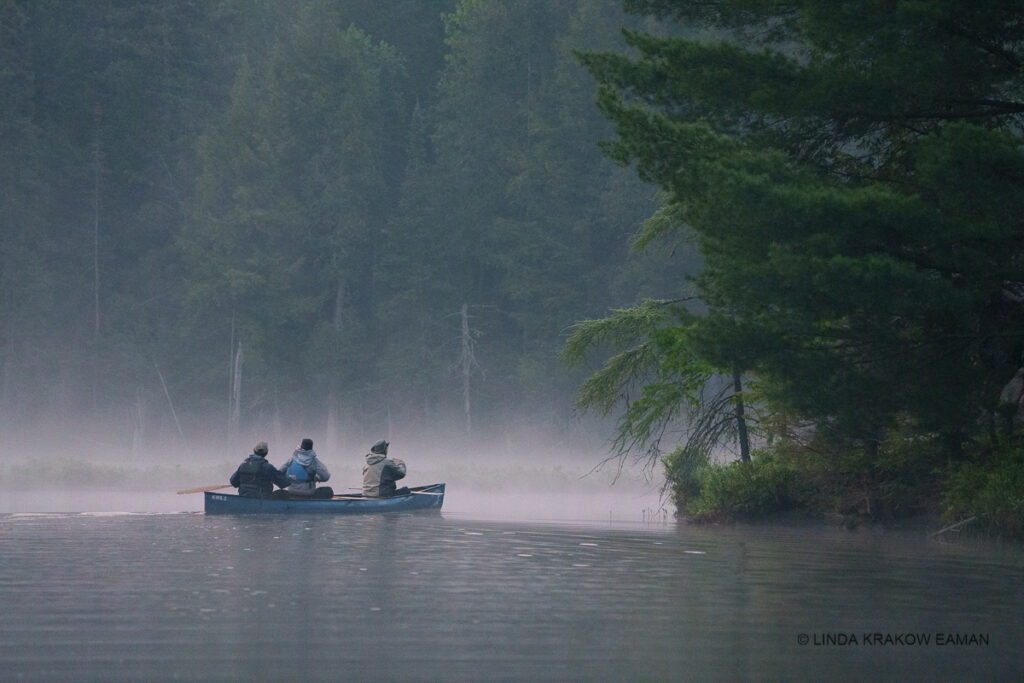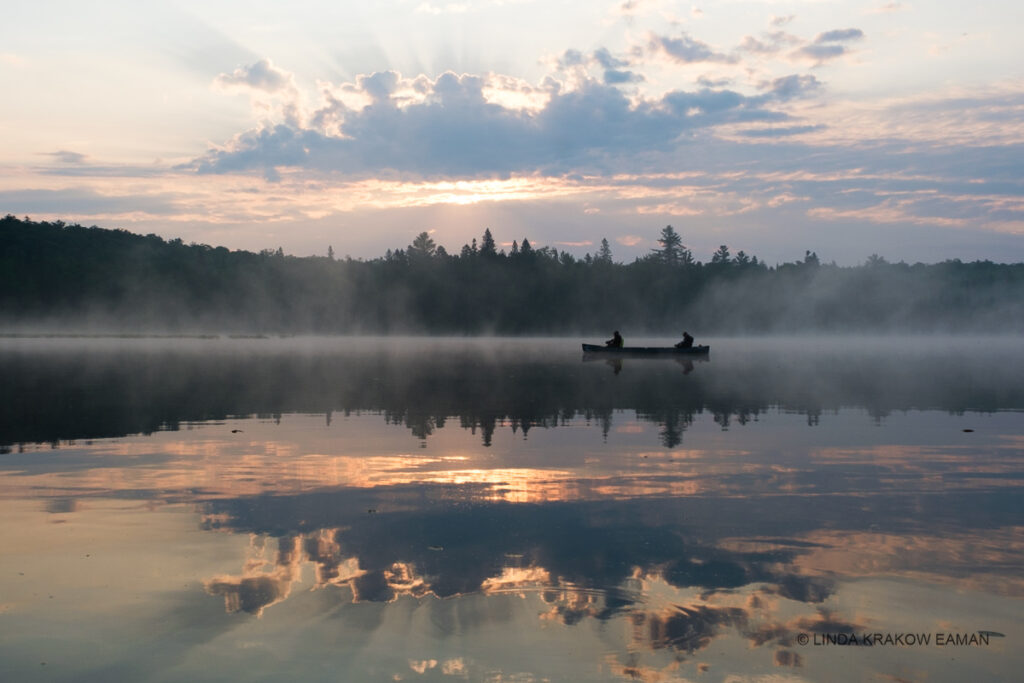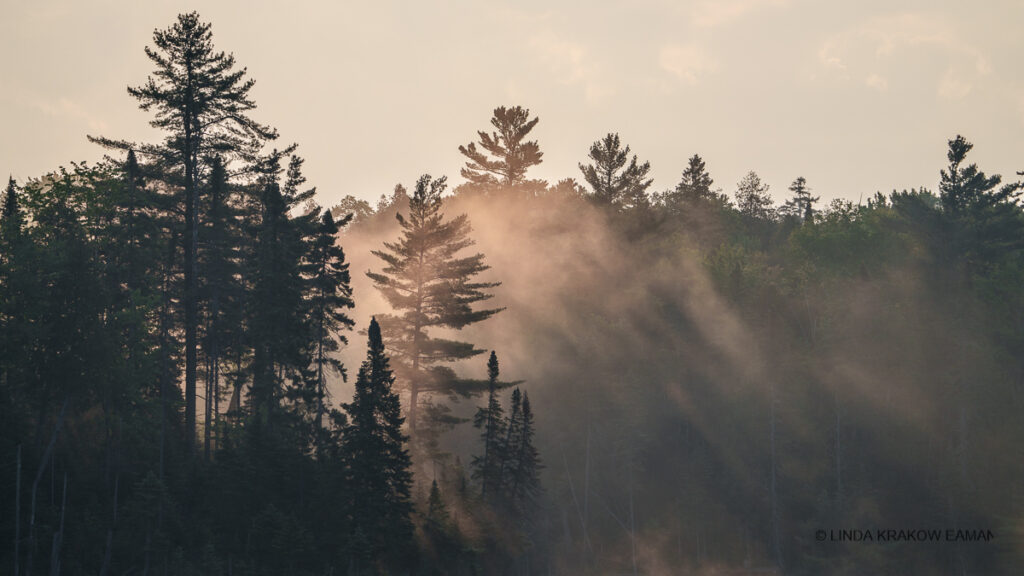 We paddled to the sound of almost constant birdsong. An app told us we were at one point listening to a dozen different birds! There were beavers, too, and other Canadian icons: Loons and Canada Geese.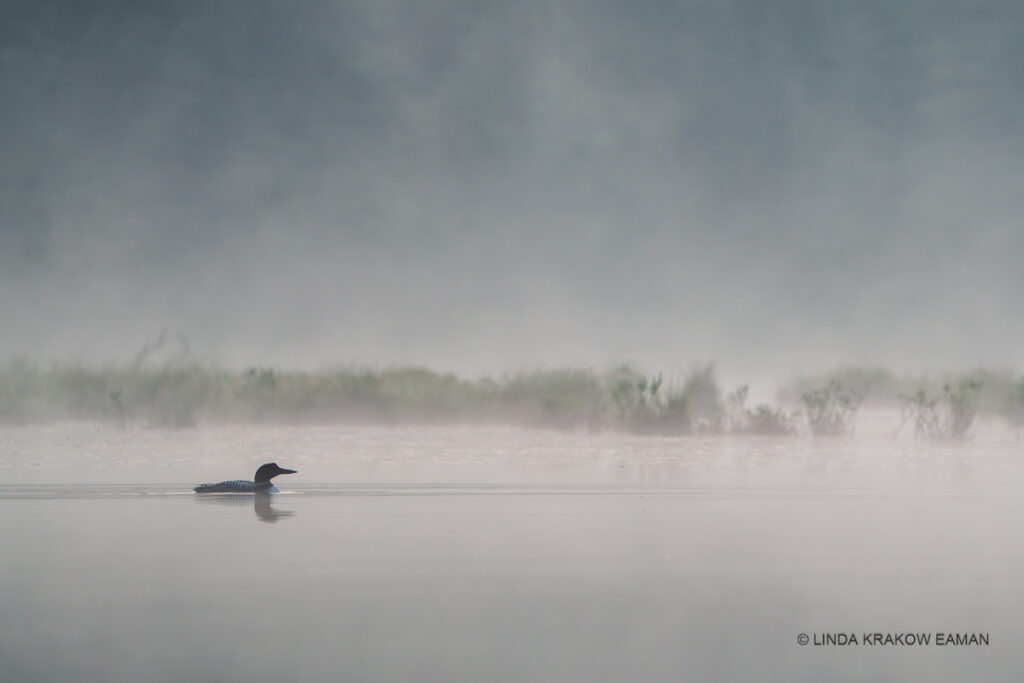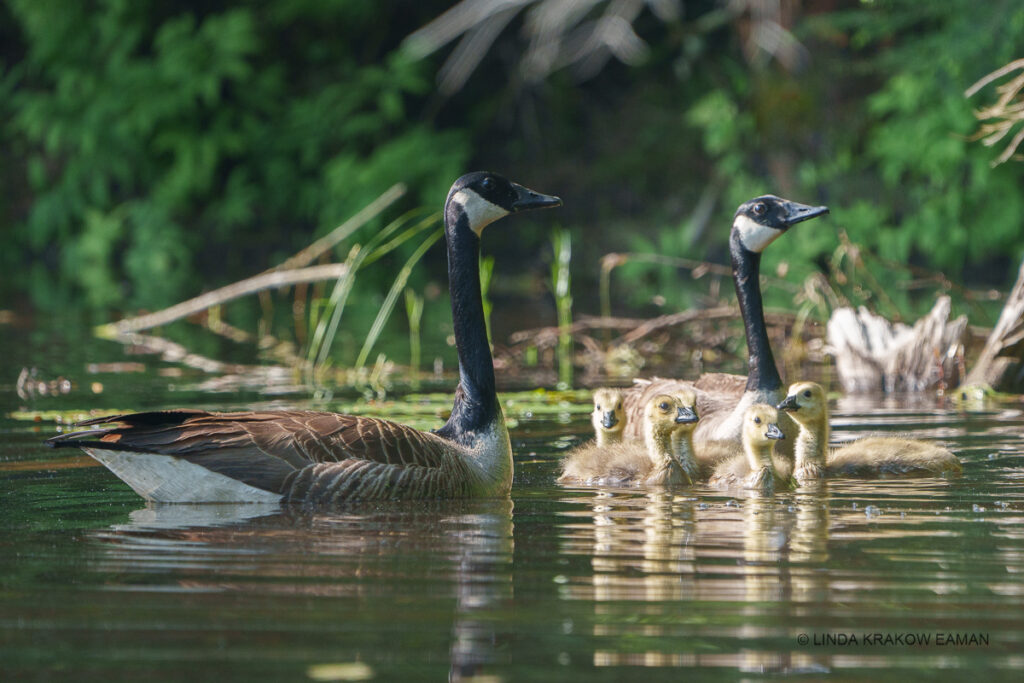 Algonquin Park is home to other wildlife as well, including bears, wolves, and porcupines, none of which made themselves visible to us. But we did see a couple of Sandhill Cranes! When I first heard their loud, metallic cries I thought someone was using heavy machinery nearby. They are LOUD.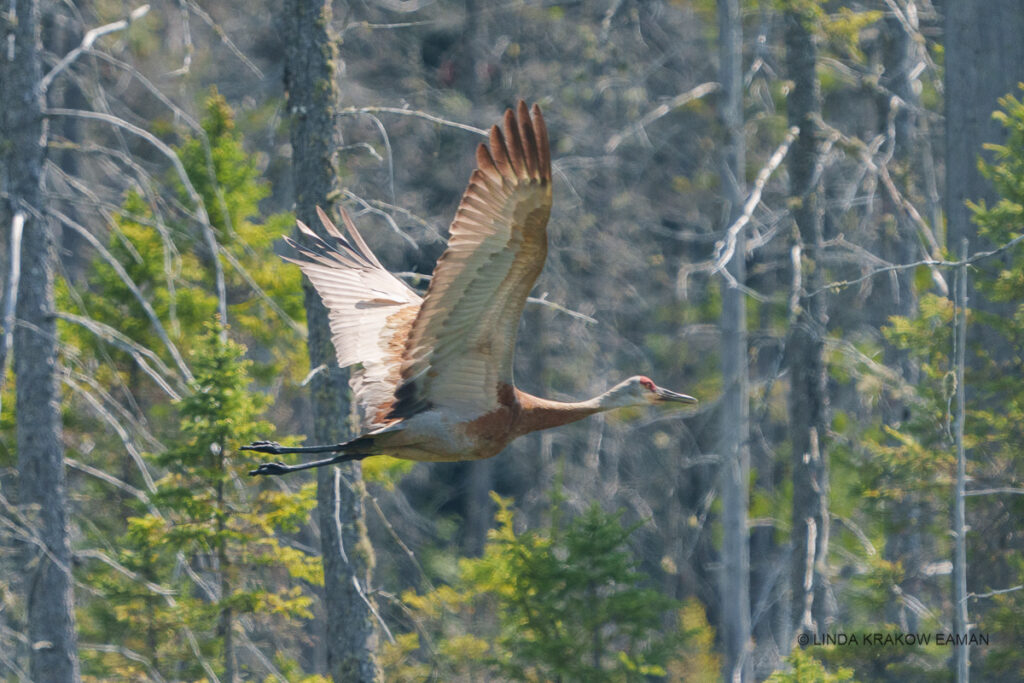 More moose sightings: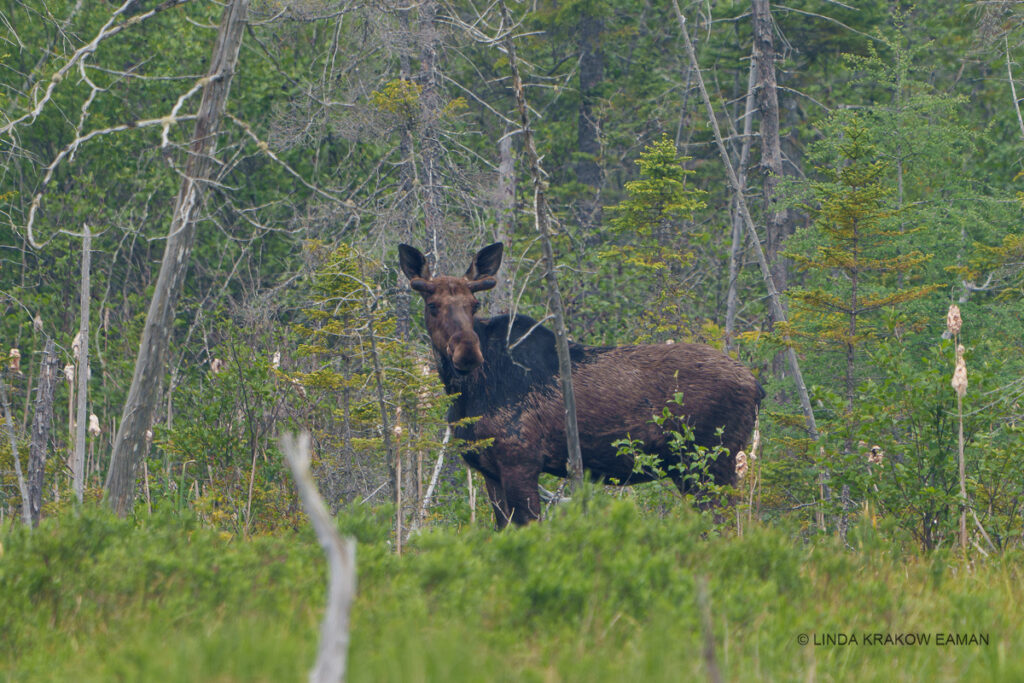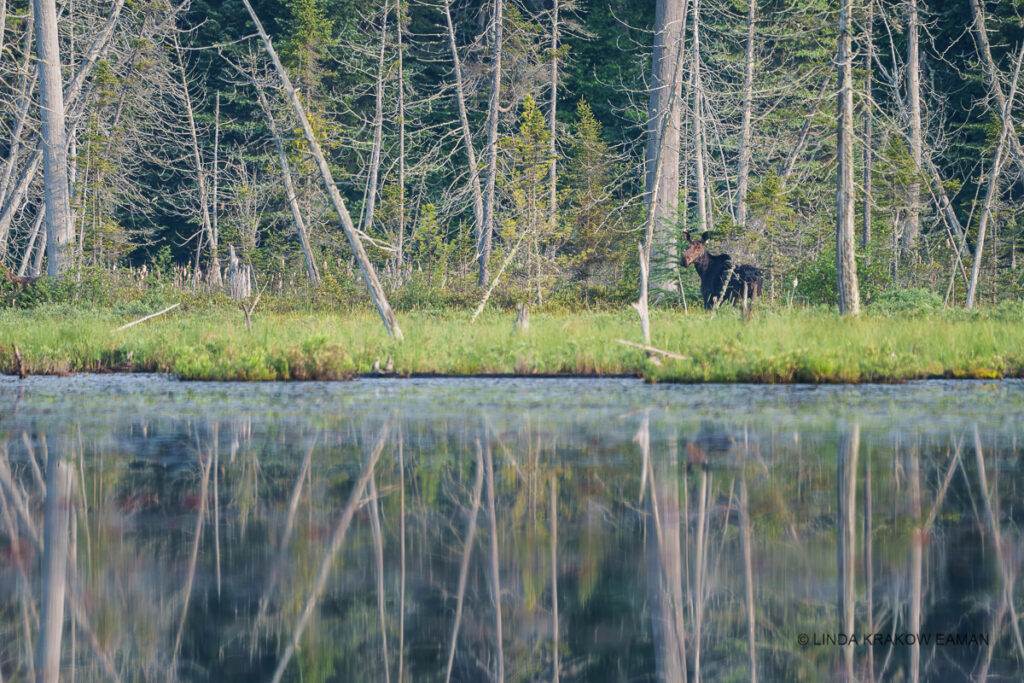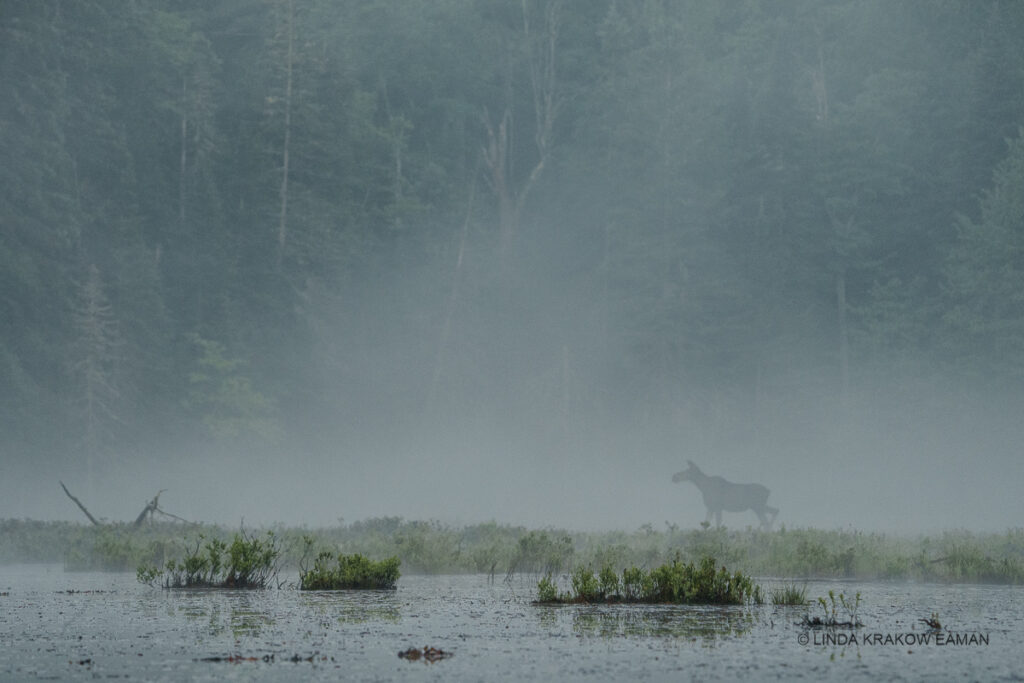 This is a place where nature seeps into your pores.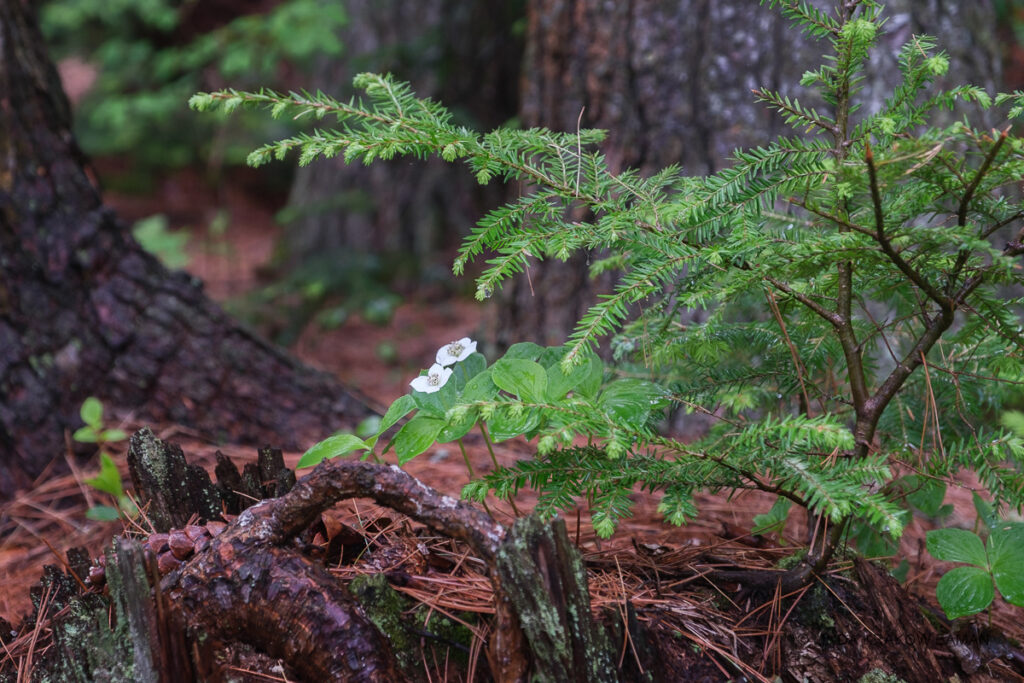 I love the stark contrast and sculptural quality of these dead pines against the deep, dark green of the living ones.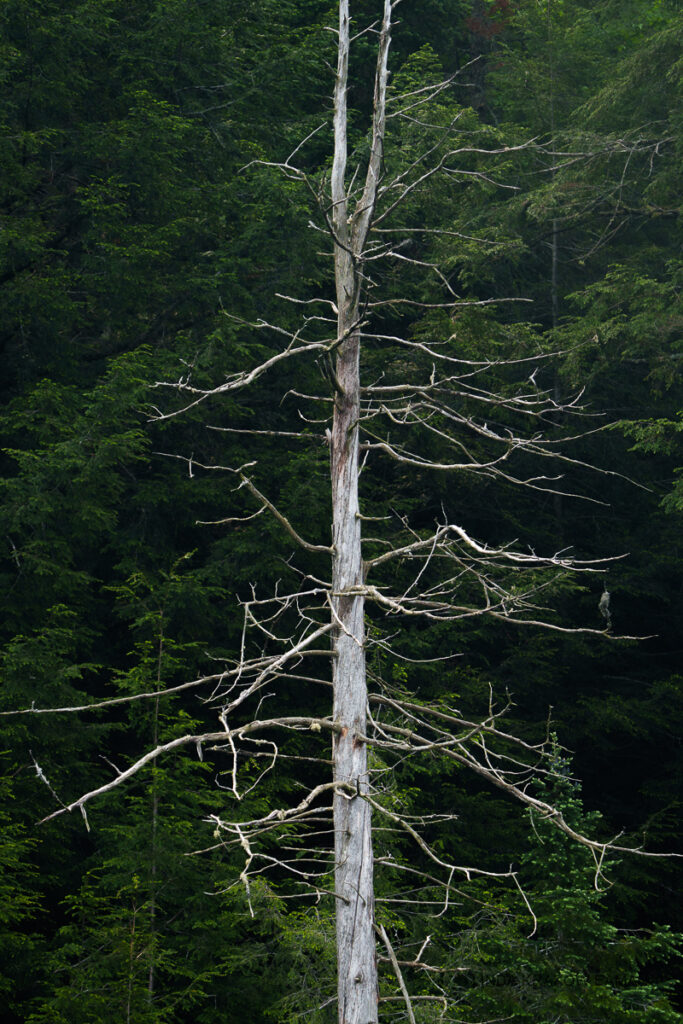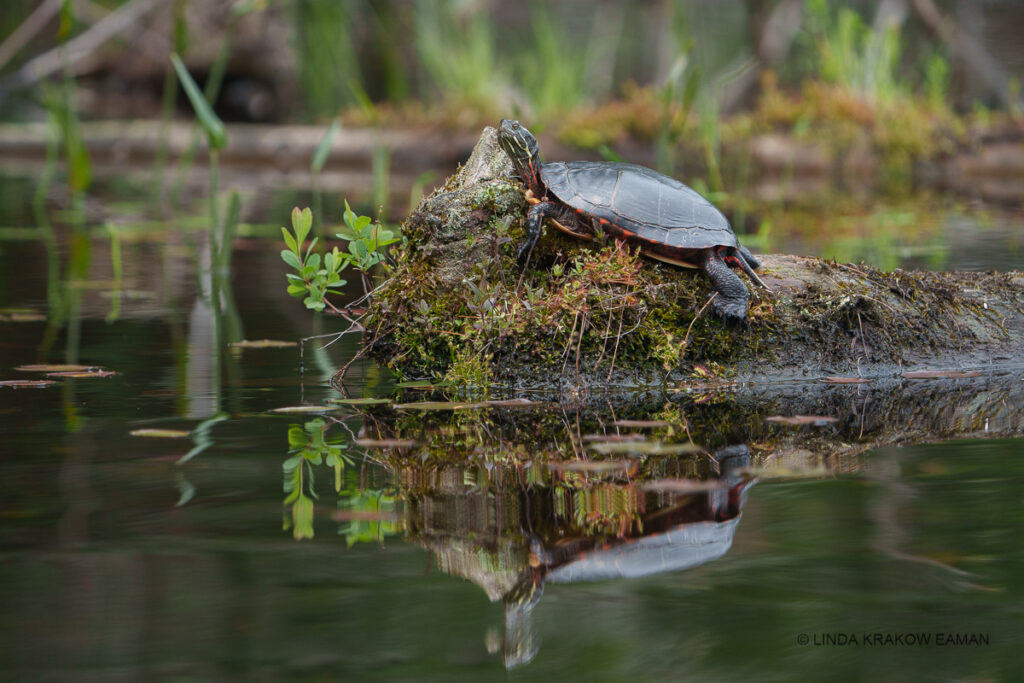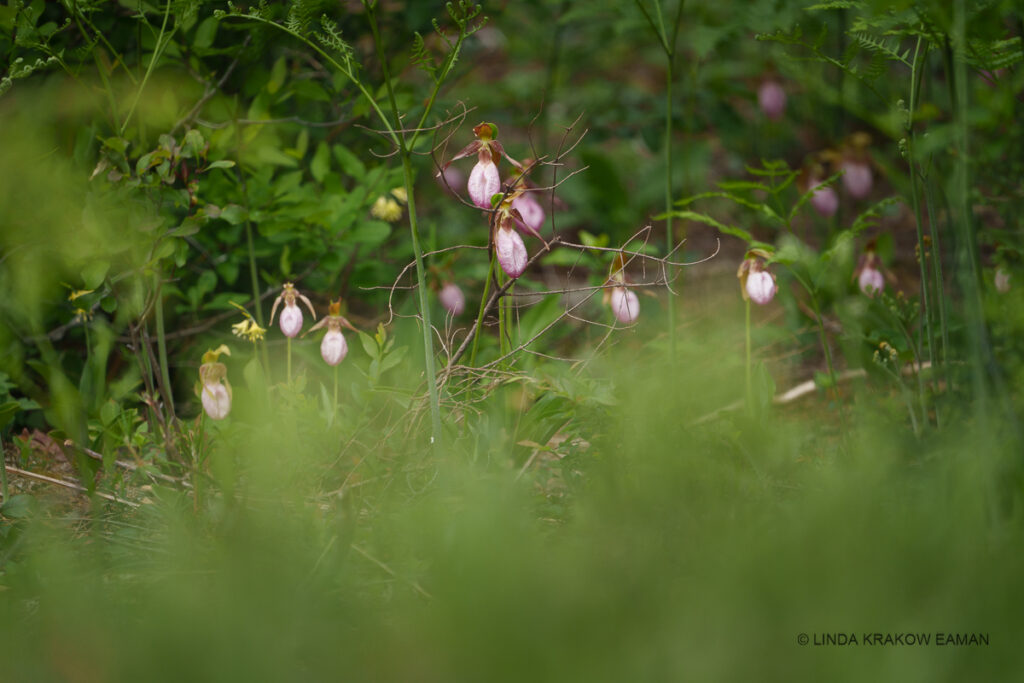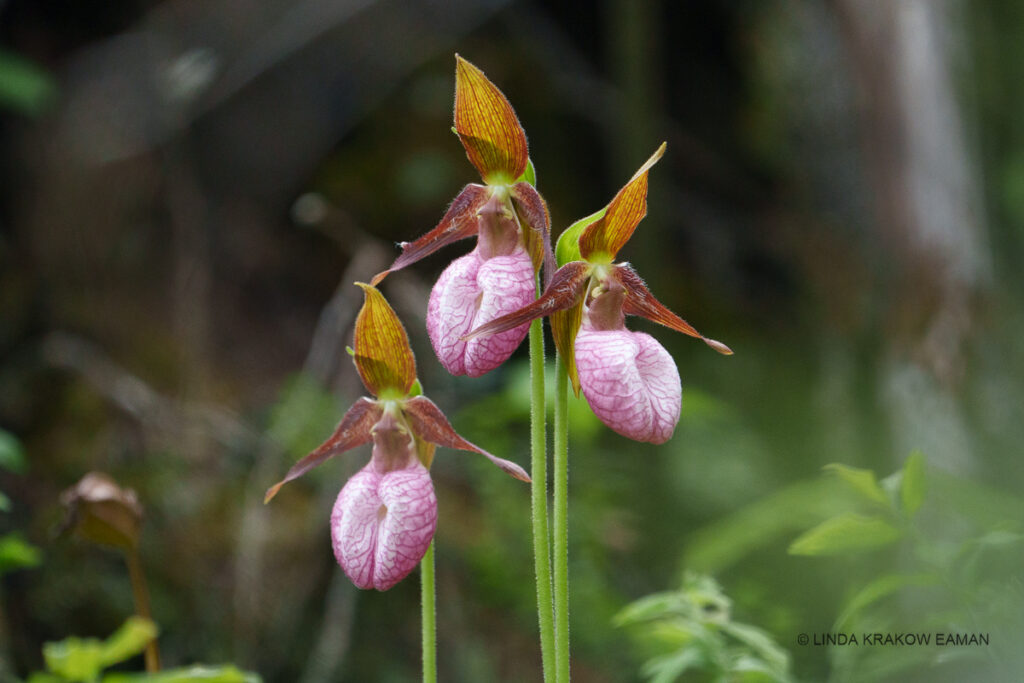 These carnivorous pitcher plants were growing at the edge of the marshes. Insects slide down the waxy surface of the traps–those tubes near the ground–where they drown and decompose in the liquid at the bottom.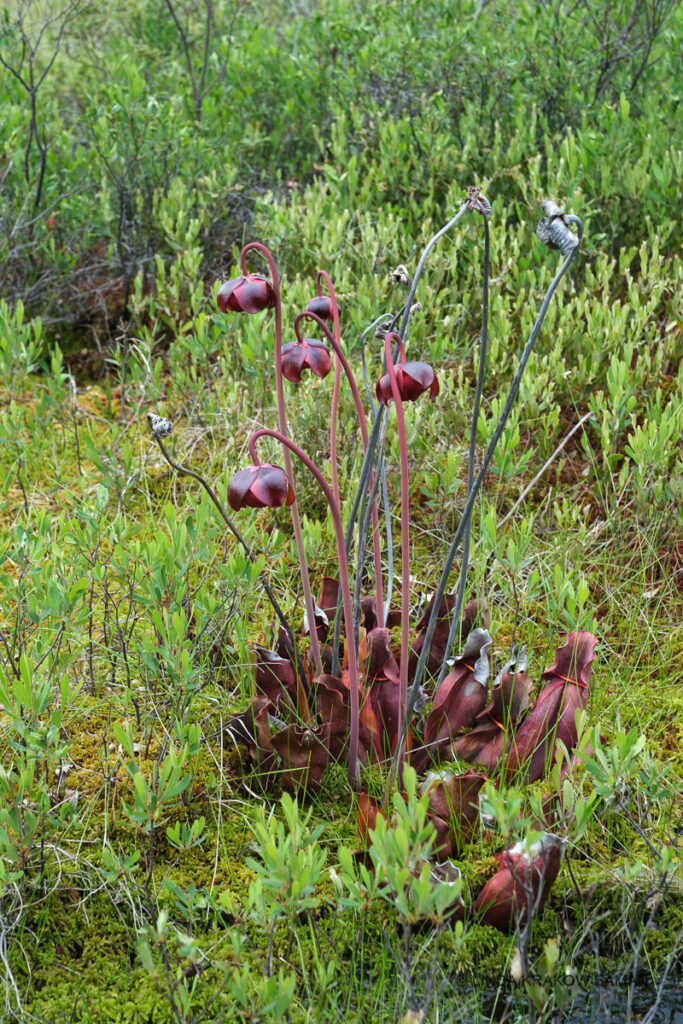 We canoed through large patches of yellow water lilies. I now think of them as moose salad!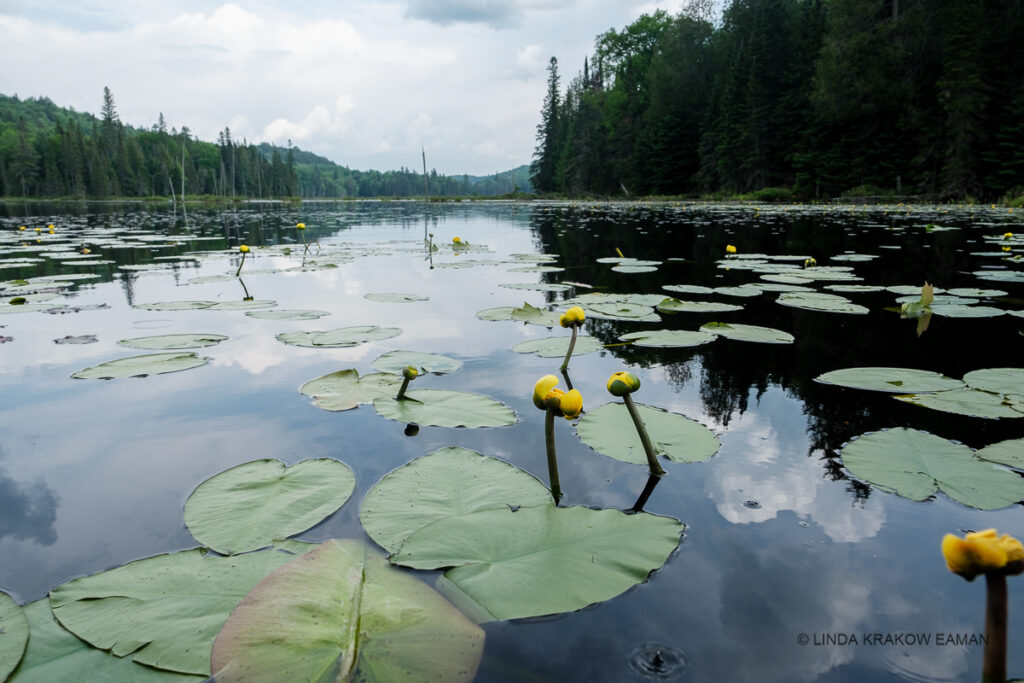 My canoe partner Jim deserves an award for his patience as I tried to capture their interesting interiors.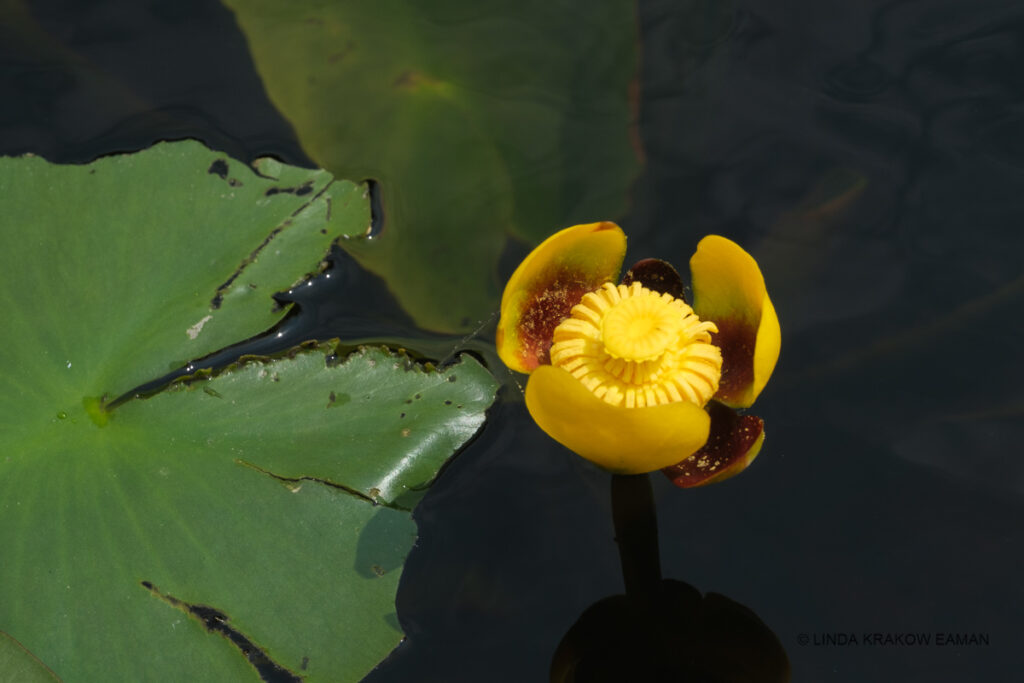 Water lily leaves and reflections create abstract art…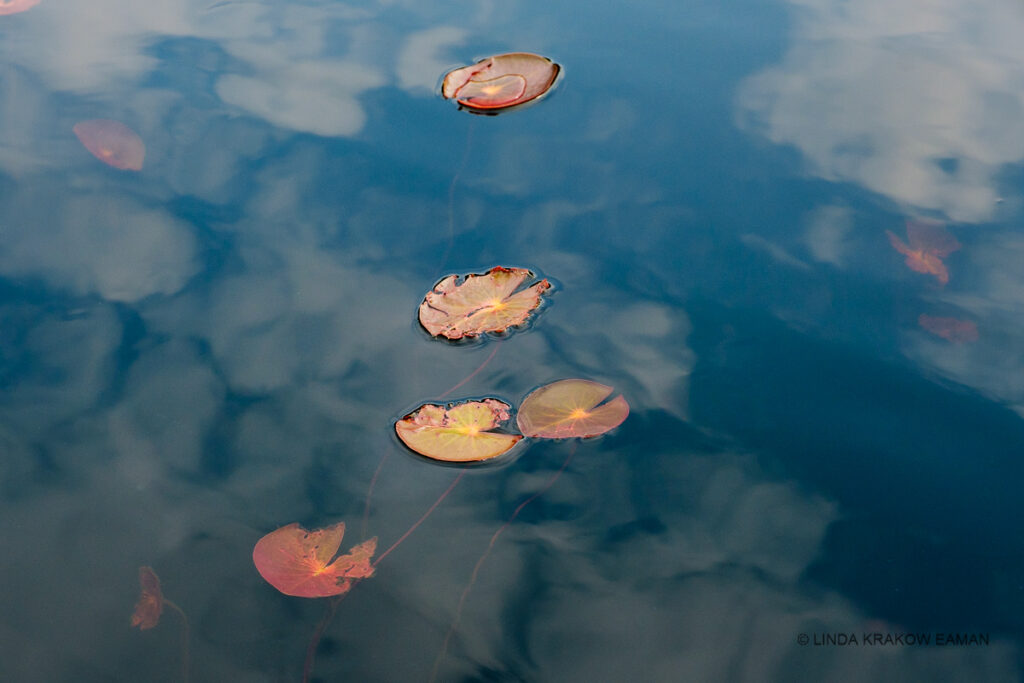 ALWAYS keep your eyes open! Our trip was over, we had loaded most of our gear (including cameras) into the cars, and the canoes were being tied on, when our ever-alert leader Chris cried, "MOOSE! MOOSE! MOOSE!"
A mother and her perhaps 2-week-old baby were crossing the narrow canal we had paddled through just half an hour before, Mama munching on water lily roots as they went. What a way to end the trip on a high note!