The Jurassic Coast
…
When we first found out we were moving to London for a year, we expected to be running off to European destinations at every possible opportunity. In fact, though, we have found ourselves exploring England, seeing places we wouldn't get to on a regular vacation, and enjoying a slower pace. This time we returned to the sea, to the county of Dorset and more particularly the area that is a UNESCO heritage site known as the Jurassic Coast. 
We booked a B&B in Swanage, which turned out to be a good home base. Our hosts at the Sandhaven B&B were delightful, and we enjoyed galleries and shops, a good Italian restaurant, local seafood, a hidden little cafe/chocolate shop, and the long beach and promenade. Pictures? Apparently I only pointed my camera out at the sea! 
Don't you love the names?  A 2.5 mile hike along the coast from Swanage brings you to  the chalk cliff formation known as Old Harry Rocks.  This was a highlight of our week, so beautiful that we went twice. On a hot, humid day, it's a good spot to catch a breeze, sketch, and enjoy the birds and wildflowers.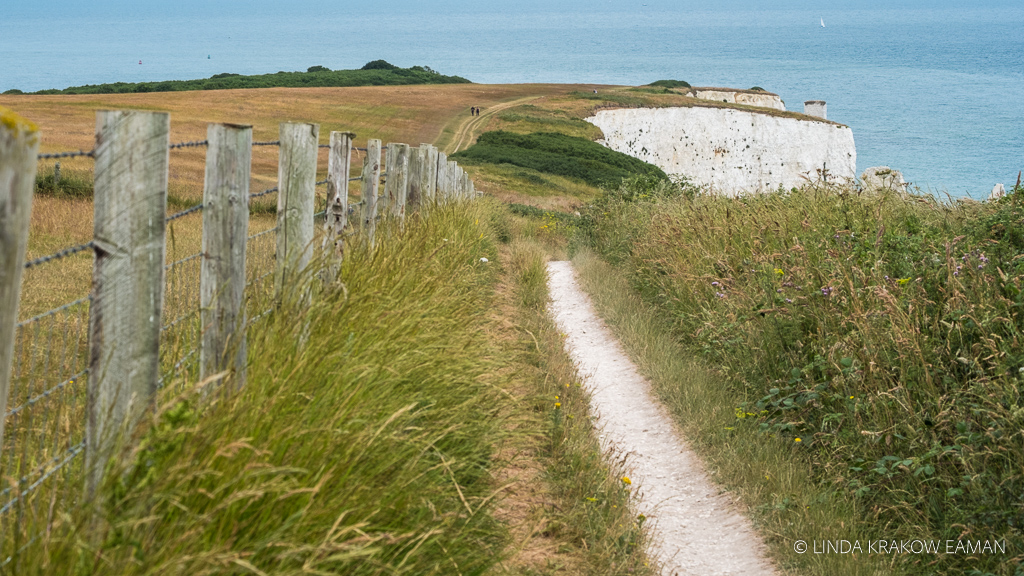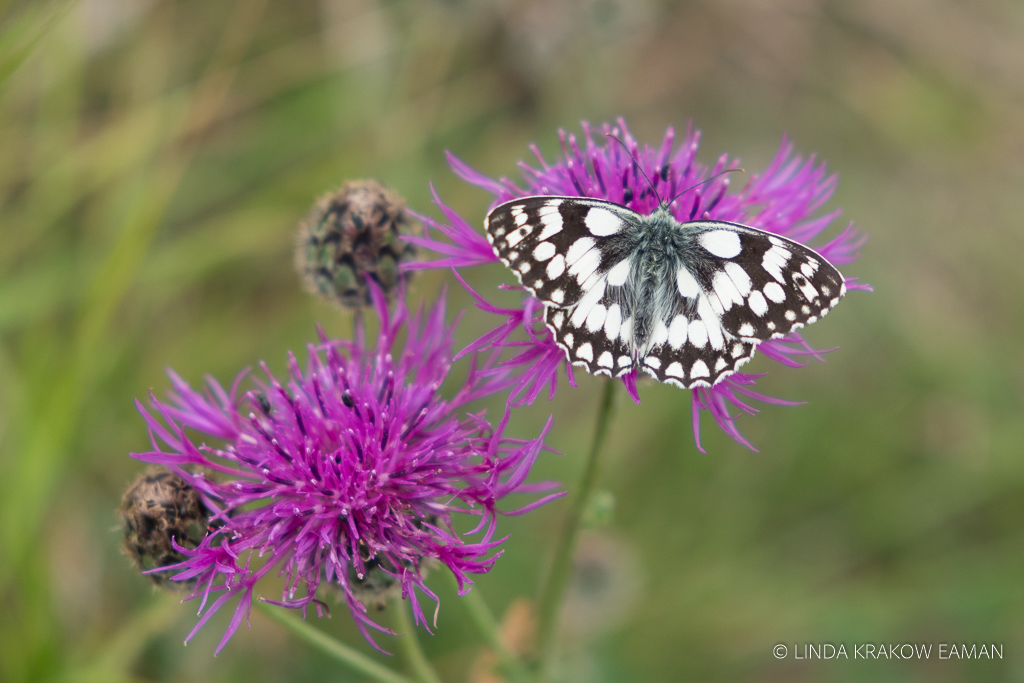 Another mile past Old Harry Rocks brings you to the village of Studland and, of course, a centuries-old pub that's perfect for lunch! There's also a nice sandy beach (and public toilets, in case you're taking notes for a future hike.)
* If you want to do this as a day trip from London, you could take the train to Poole and walk to the ferry which takes you to Studland, then hike from Studland to Old Harry Rocks (and beyond). There are also buses all around the area, so you don't have to hike back if you don't want to!
A short drive away are more landmarks with evocative names, including Man O' War beach, Lulworth Cove, and Durdle Door.  And here we met the infamous marine mist.  It was a hot but beautiful day just a mile away, but apparently the ocean makes its own weather. It was still hot here, but foggy and gray.  
One of the things I love here is the lack of sprawl and commercialism, at least outside of the cities. (England is not without suburbia, malls, and giant parking lots, but they seem to be better contained.) The first things you see as you near a village are houses, or maybe a pub. Sheep. A farm. No car dealers, Walmart, or McDonald's. Yes, some of the towns have fast food restaurants but they're discreet storefronts and there's no such thing as a tiny Taco Bell with a huge parking lot around it.  So traveling from village to village is absolutely lovely. Preferably done on foot or by bicycle, but lovely even by car.  Don't miss the plethora of signs indicating the footpaths that invite walkers to cross the fields to reach the next destination.  The villages are just the right distance apart so there's always somewhere up ahead for lunch or a drink or a bathroom.  And even the smallest village seems to have a corner with a red phone booth, a red mailbox, and a defibrillator.
Worth Matravers is one such village. You park in the lot on the edge of town and walk in.  It's just a small group of houses surrounding a pond that was once the villagers' source of water (the old pump still stands nearby), a tearoom, a church, and the village hall (formerly the schoolhouse). Up the hill from the main village sits the Square and Compass pub with low ceilings and cozy seating areas inside, and an inviting outdoor space with a sometimes fogged-in view of fields and the sea. The only food served is pasties on paper plates, so it's a good place for a beer and a snack, rather than dinner. A side room  displays an impressive collection of fossils from the area. 
Kimmeridge is another tiny, postcard-perfect village. Dorset is sprinkled liberally with beautiful stone cottages with thatched rooves, and at Clavell's restaurant you can sit at an outdoor picnic table with a good lunch and enjoy a view of some gorgeous ones. 
At Kimmeridge, we also made our way to the beach to see the layered cliffs–here they are not white chalk but layers of varying colors.  And this is famously a place to find fossils; we saw one underfoot. Signs say "no fossil hunting" and anything found must be left in place. 
In addition to the natural formations, there are remnants of World War II. Many villages on the coast were evacuated for use by the military, and pillbox bunkers stand in varying degrees of decay near the beach at Kimmeridge. With regret, we didn't get to Tyneham, a village that was never re-inhabited after being used as a training zone. Like much of the nearby land, it still belongs to the army. Signs indicate that several roads and footpaths in the area are closed at times during exercises.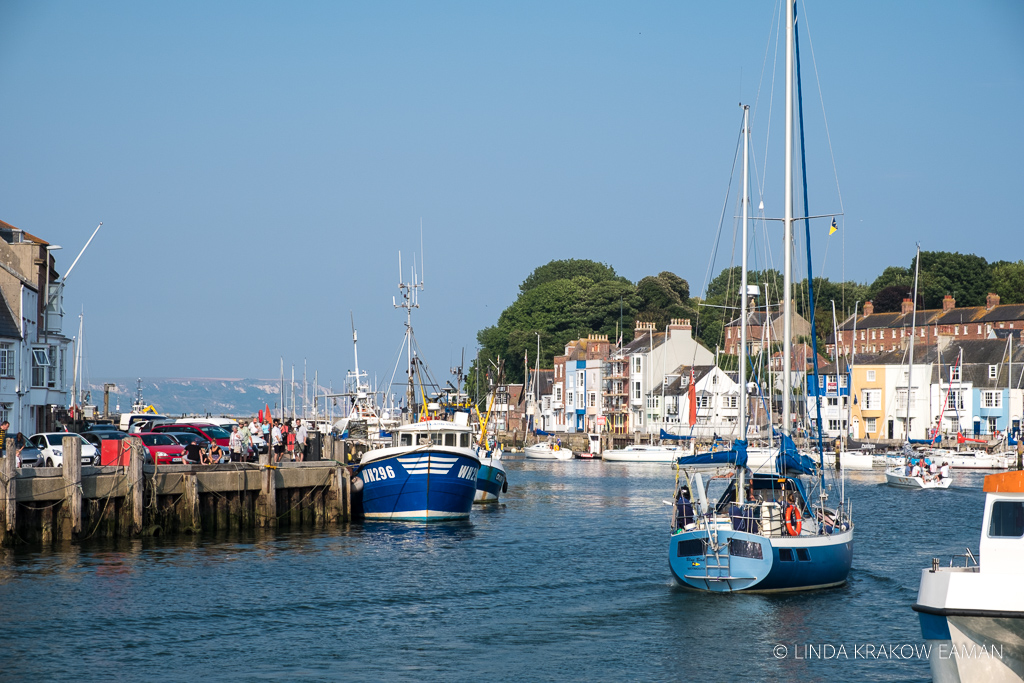 The Jurassic Coast continues Westward, going through places like Lyme Regis, used by Jane Austen as a setting in her novel "Persuasion." But our time here was up and after a brief visit with family in nearby Poole, we were back at the station waiting for the train to London. I hadn't thought of a trip to the seaside as a history lesson, but as always here it turned out to be a walk back in time. The namesake Jurassic period. The mariners and conquerors who built the harbours and castles a thousand years ago. The  Victorians who knew they had found a good thing when they created the seaside promenades and hotels by the shore. I doubt much of this is on the minds of the people who flock to the beaches as soon as the weather warms up, though, and that's OK!  As a day trip or a longer getaway, this is only a few hours from London, and the perfect summer outing.