A January Trip to Valencia, Spain

We arrived on December 31st, New Year's Eve, in time to see Valencia decked out for the holidays. Every square had a lighted tree or ornament, and the main plaza in front of city hall (Plaza del Ayuntamiento) was also set up with a skating rink and a carousel. Vendors were selling roasted corn and chestnuts from carts on the street, at least half a dozen flower vendors were open well into the evening, and buskers played holiday music.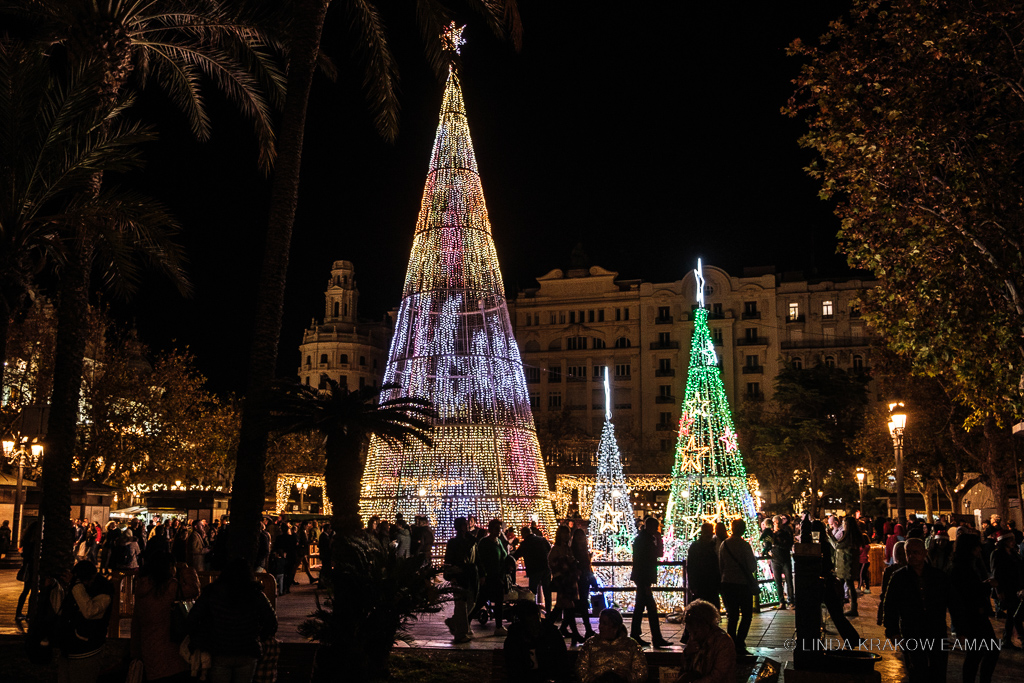 We were exhausted by midnight, but since our hotel was just down the street from Plaza del Ayuntamiento, we dragged ourselves over to watch the New Year's Eve fireworks. It was a good display with a large but well behaved crowd. The police had cleared the area earlier in the evening, and were now checking for alcohol before allowing people in past their barriers.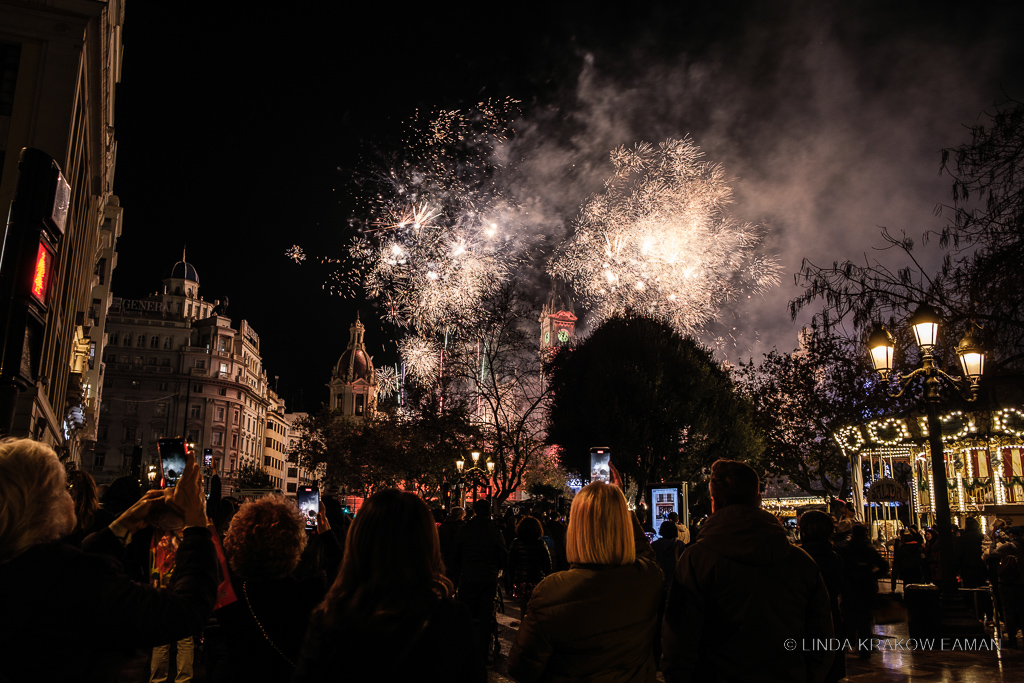 If I could pick one picture that represents Valencia, this might be it. Gorgeous buildings with ornate balcony railings, and streets lined with orange trees. We were told that the oranges are bitter and inedible, but were chosen for the scent of their blossoms in the spring. It must be a lot of work to pick them all before they make a mess in the streets!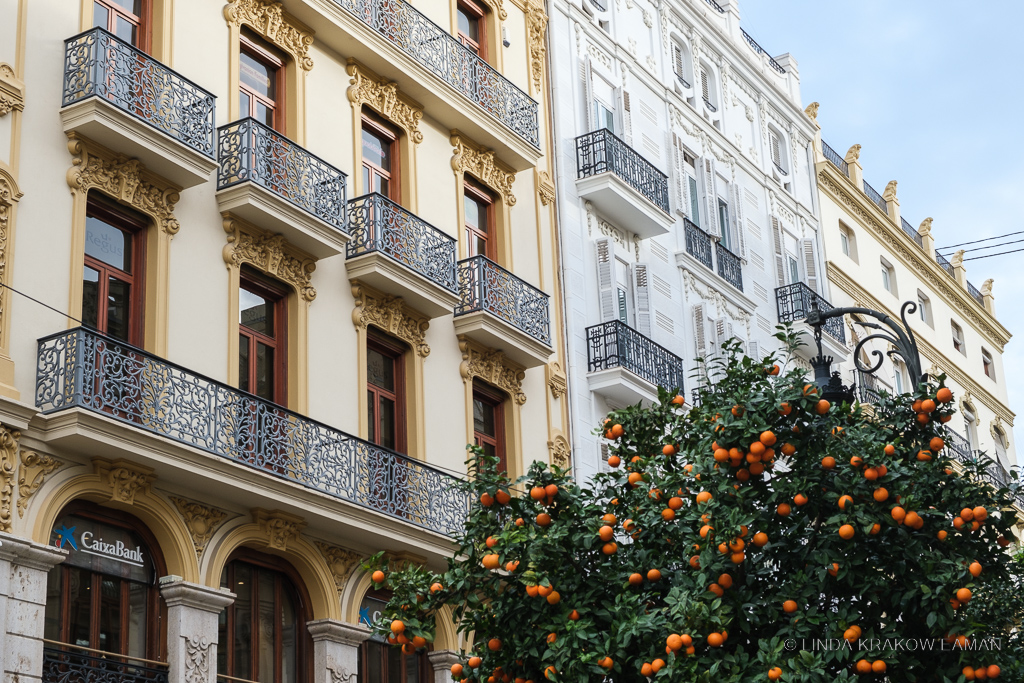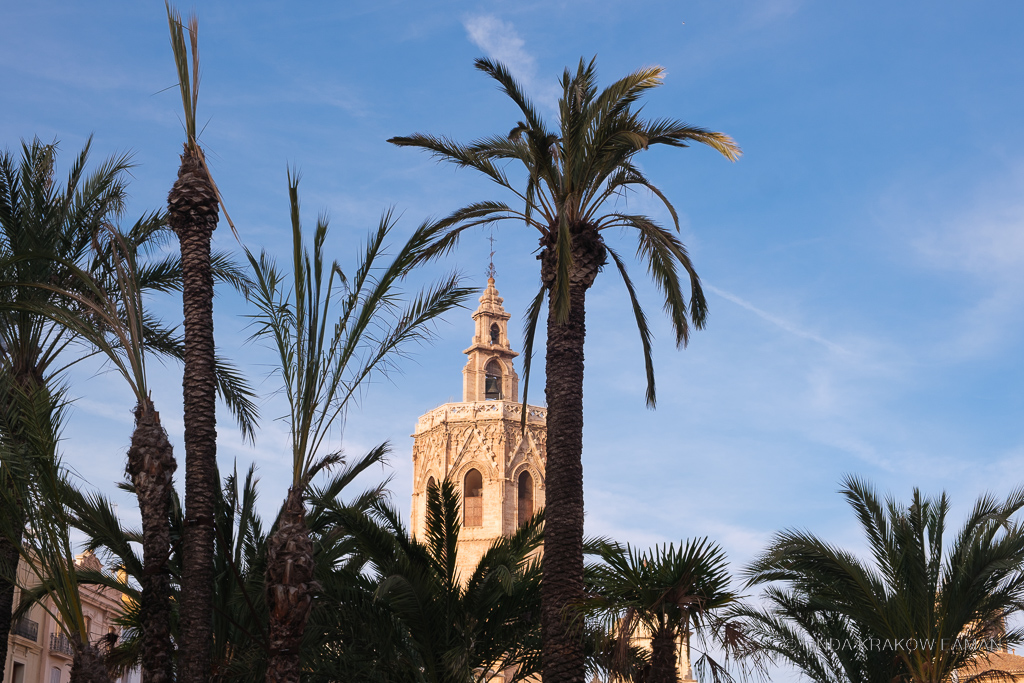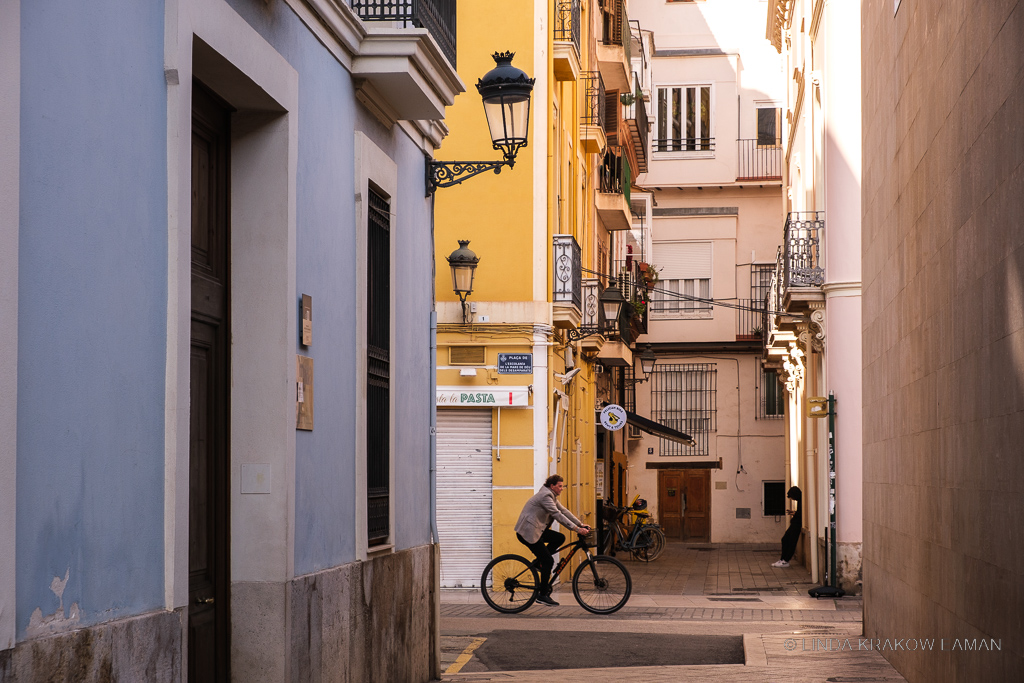 I wouldn't necessarily recommend visiting in January–it's a bit chilly–but holiday lights and markets are fun! This one is in Plaza de la Reina, which, along with some of the surrounding streets, was just recently converted to pedestrian-only.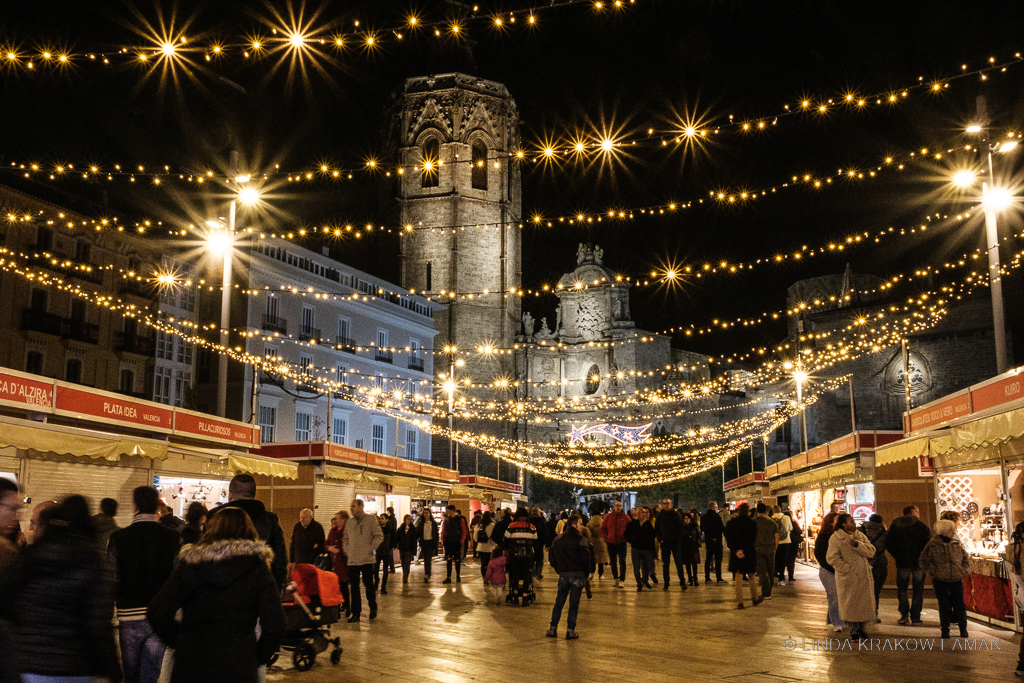 Palm trees and sunny afternoons always make winter days better! More exquisite architecture.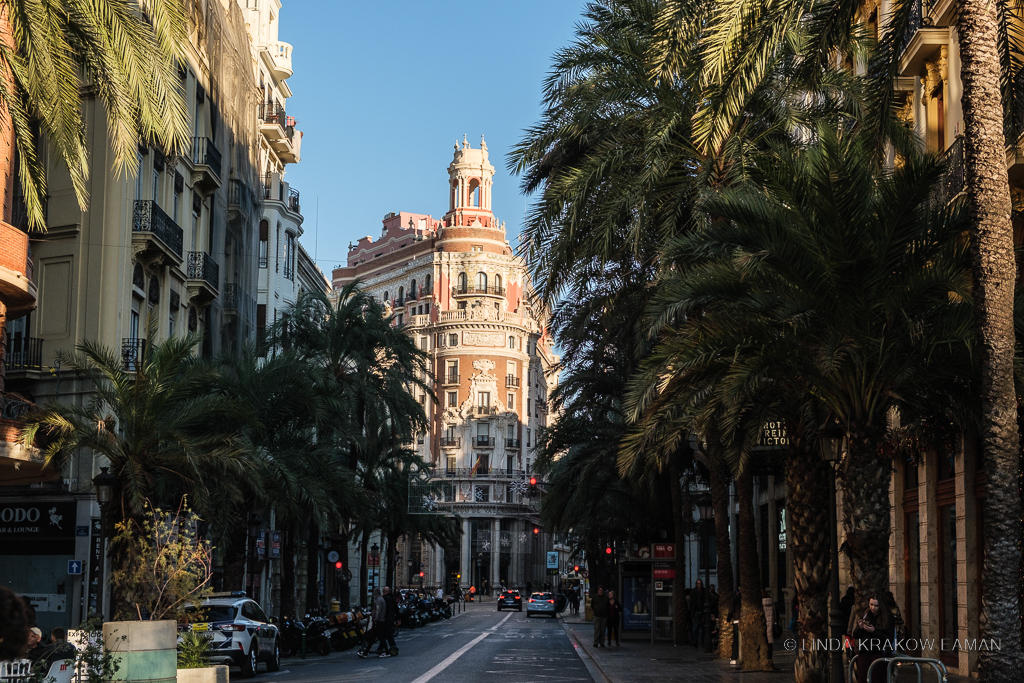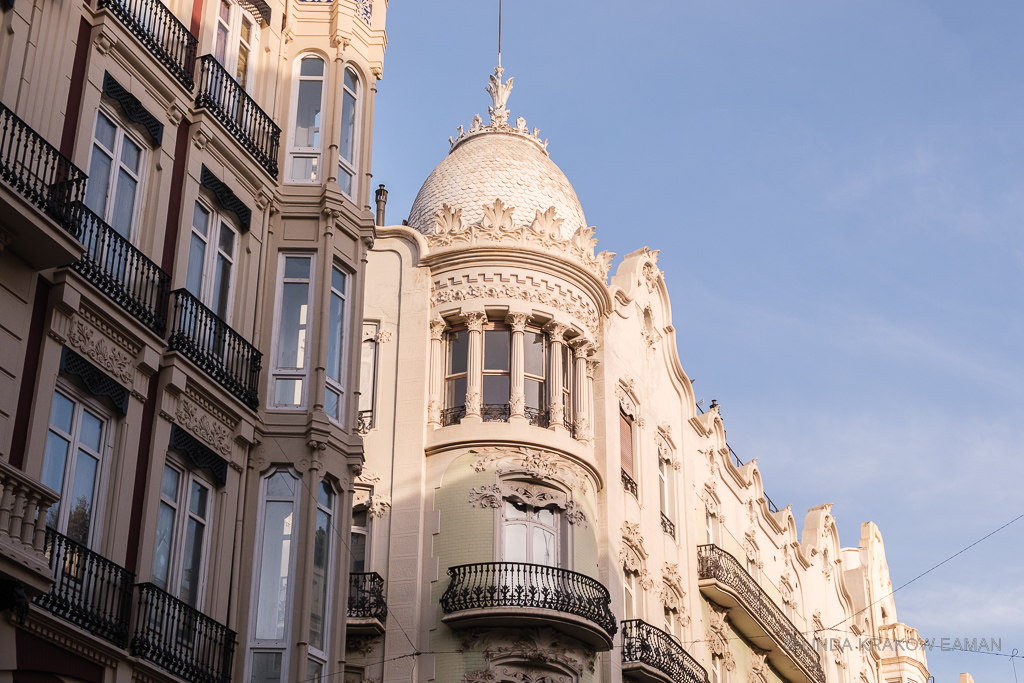 All about the food
Who can resist a market? The Mercat Central is a huge daily market–apparently the largest fresh produce market in Europe–selling fresh produce, meat, fish, cheese, bread, spices, and more. Our friends who live in Valencia come here to shop every few days. We bought sandwiches, freshly squeezed juice, the biggest, juiciest, sweetest dates we've ever had, and some Spanish paprika to take home.
Did you notice the word mercat instead of mercado? There are two official languages here: Valencian (or Valenciano) and Spanish (Castilian or Castellano). Signs are generally in both languages, with Valencian first and the "standard" Spanish second.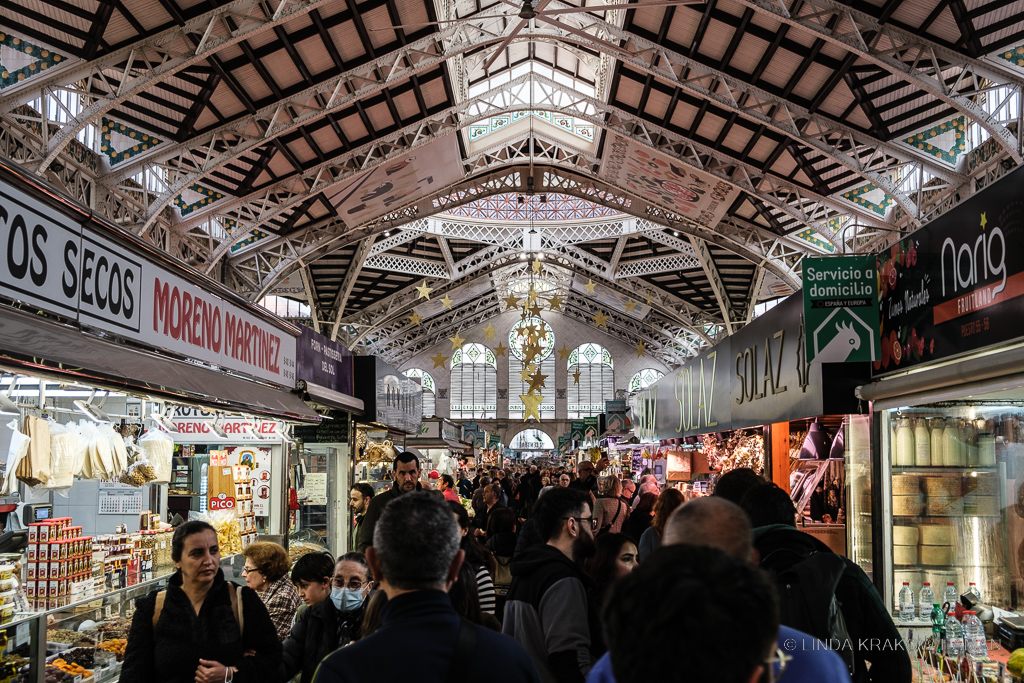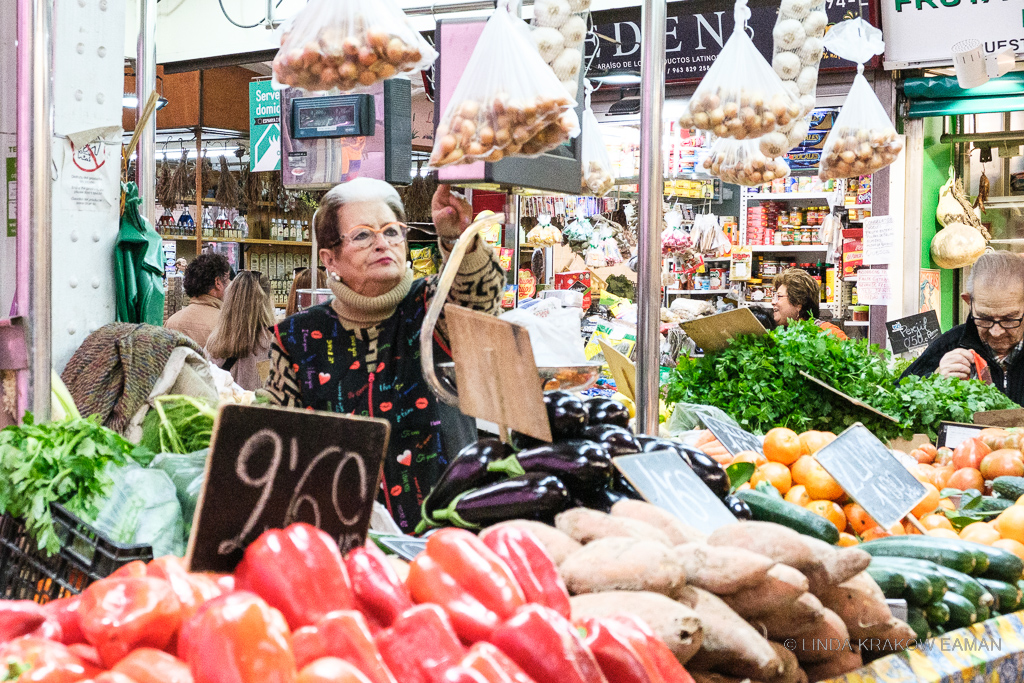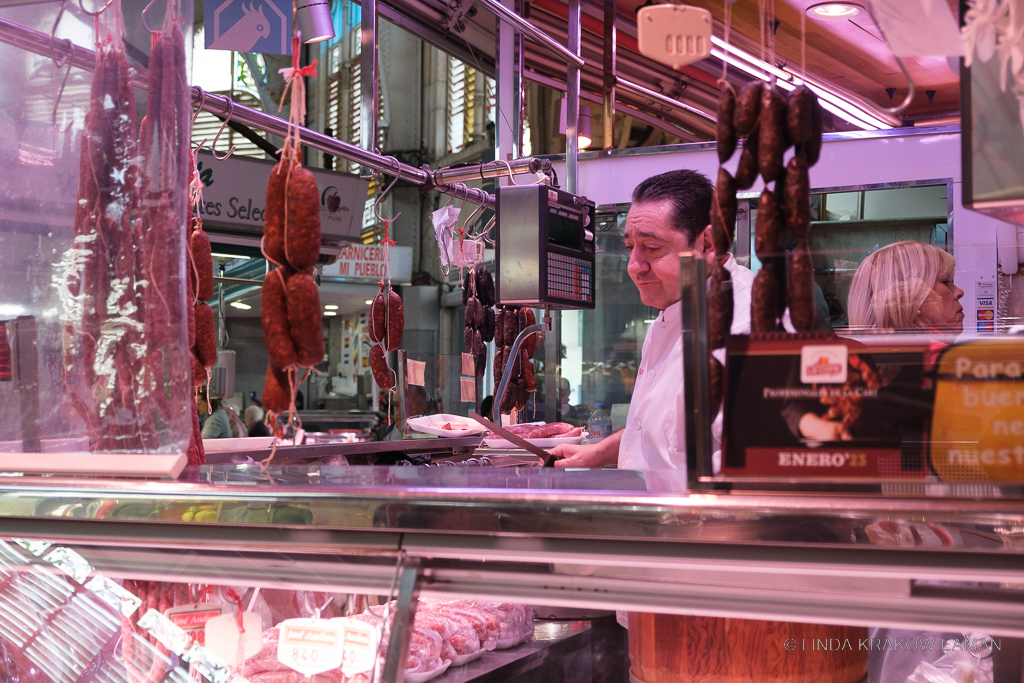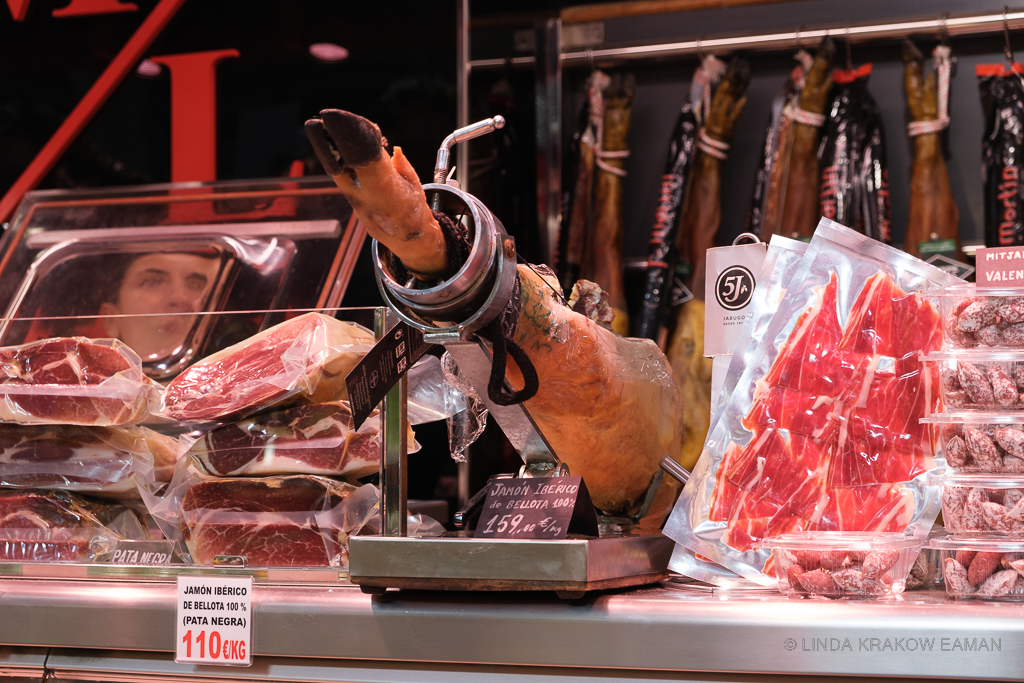 Blue and yellow tile on the exterior of the market building. I would love to have this in my kitchen!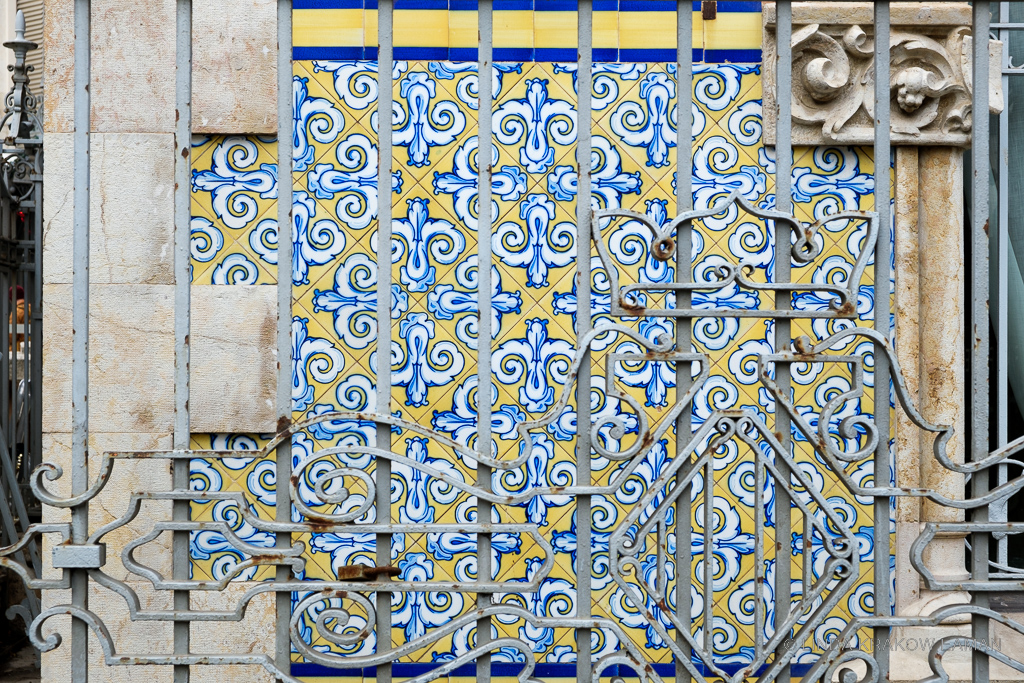 Chilly or not, it was still warm enough to sit outside. Every restaurant seems to have at least a few tables set up outside, and they are used at all hours of the day and night.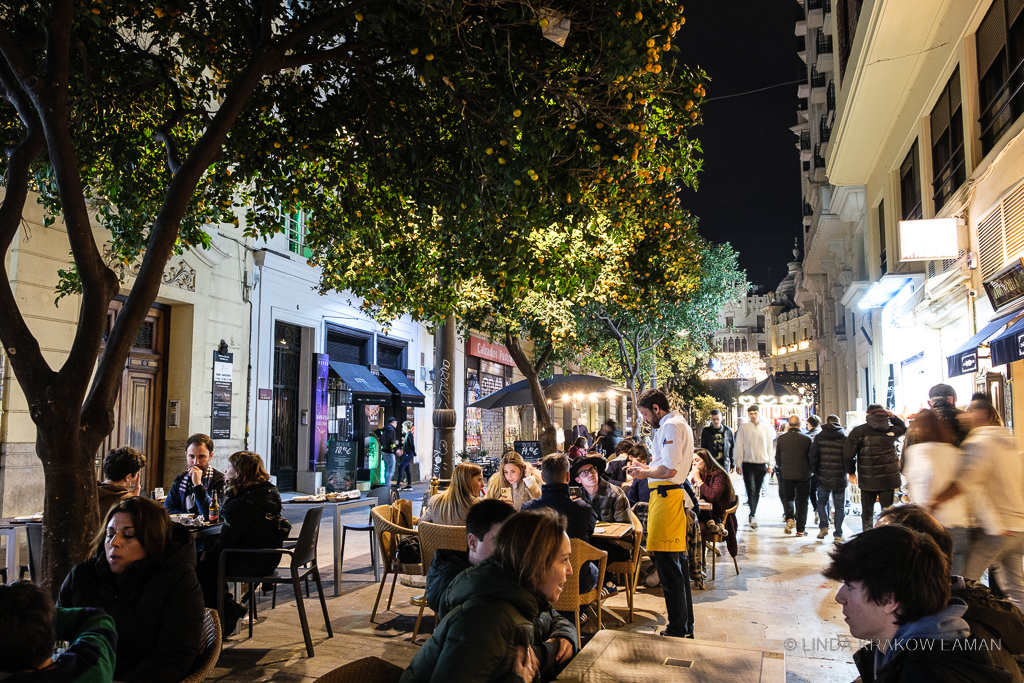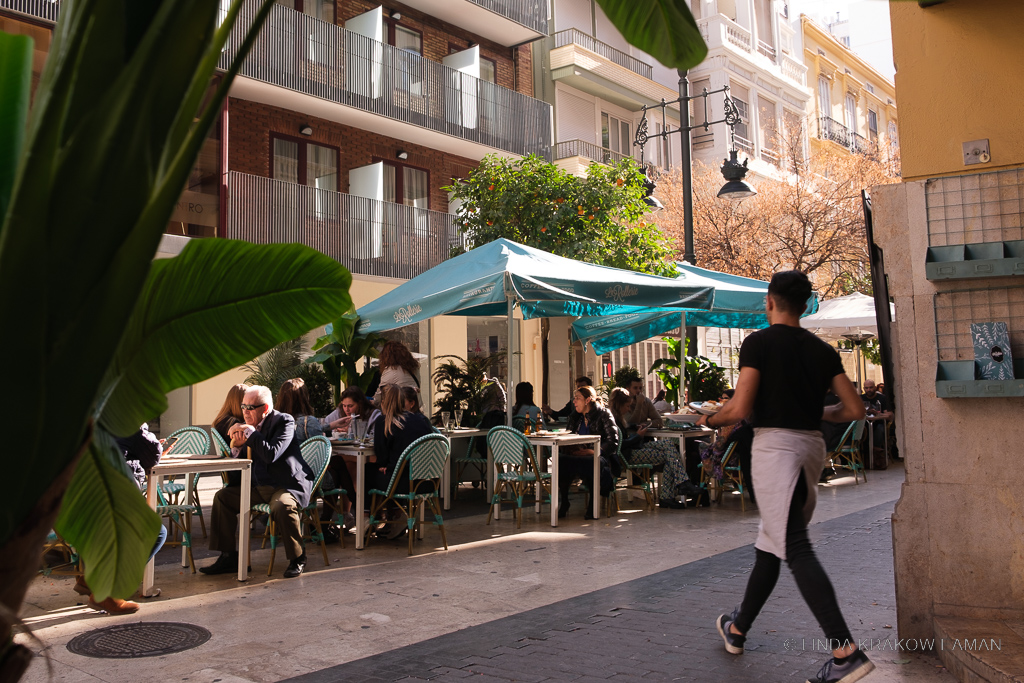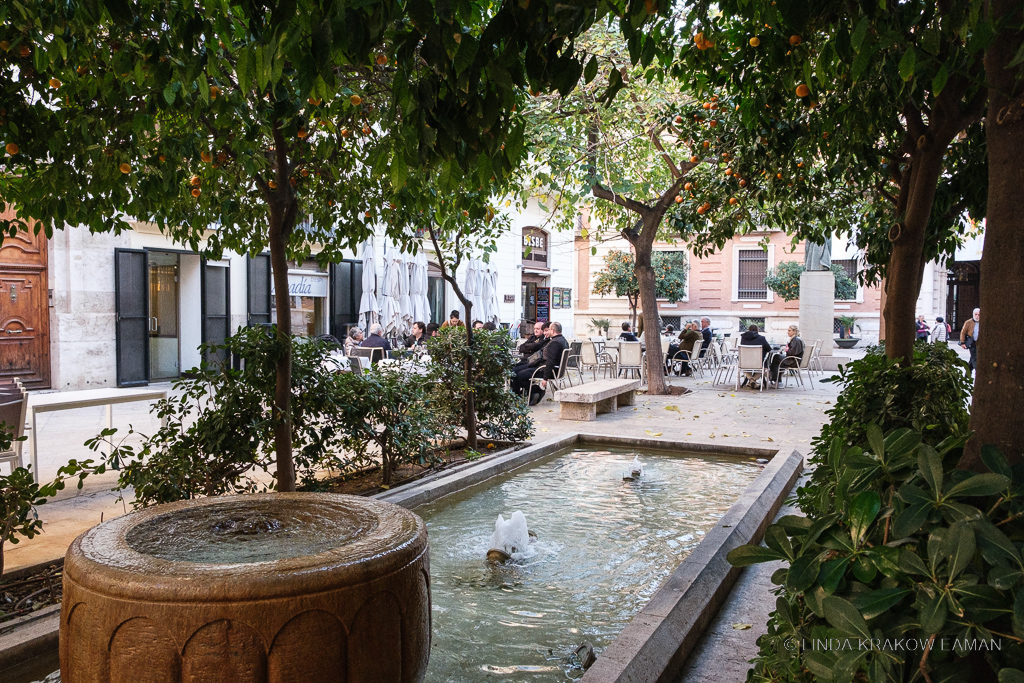 There are many meals in a Valencian day! It starts with desayuno (breakfast)–typically coffee or juice and a croissant or toast. I loved the traditional toast con tomate, a spread of crushed fresh tomatoes. And the coffee is soooo good! It's a small cup–my favorite is a cortado, a shot of espresso with an equal amount of foamed milk–but when it's that good, I don't need more.
My online Spanish course says Almuerzo is lunch, but here it's more like elevensies, a light meal or snack around 11:30, perhaps tapas with a glass of beer.
La comida is a proper lunch between 2 and 4pm. During this siesta time people go home from work (or out to eat), there's a break in school, and stores are almost all closed. But museums and parks are open, and many neighborhoods are still interesting.
Merienda is an afternoon snack: a sandwich, or bit of tapas, or something to hold you over. (We never did find this option–after 4 the kitchens all seemed to be closed until dinner.)
And finally dinner, or la cena, is served LATE! Restaurants open at 8 or 8:30. Occasionally we found one that was open earlier, but while you could sit down and have a drink, there was no food available until 8. We saw people sitting down at 10pm, often with young children! Many of the stores reopened at 4pm and stayed open late, until 10-ish, as well.
It was probably partly because some people were still on vacation, but the streets were crowded, even on weeknights, until at least 10pm.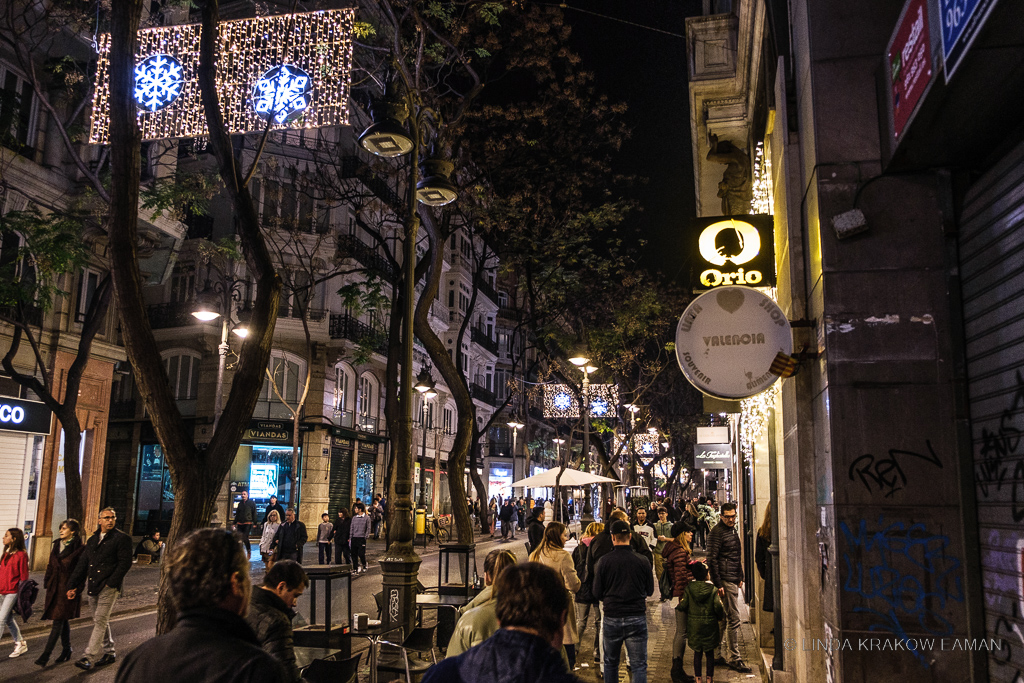 Of course we had to try the treats! Chocolate con churros is always delicious, although we didn't find any as good as what we had in Madrid a few years ago. We also tried the cold drink called horchata. Different than the Mexican rice beverage we knew in California, this is made with tiger nuts. It's creamy, rich and delicious! It's traditionally served with fartons, long donuts that are plain or filled with cream or chocolate.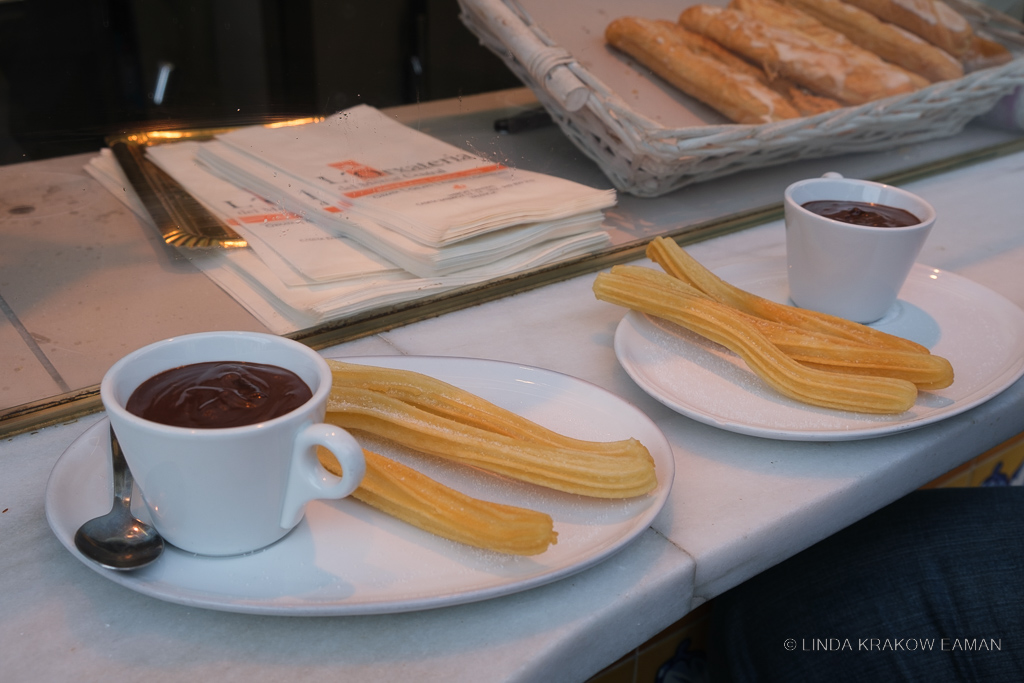 One of the local delicacies is jamón, a thinly sliced ham similar to prosciutto. You often see it being sliced off the leg, paper-thin. It's served in sandwiches and in every dish you can imagine from salads to pastas. The top grade, jamón ibérico de bellota, identifiable by certification tags and the black toes (pata negra) can be more than 150 euros per kilogram!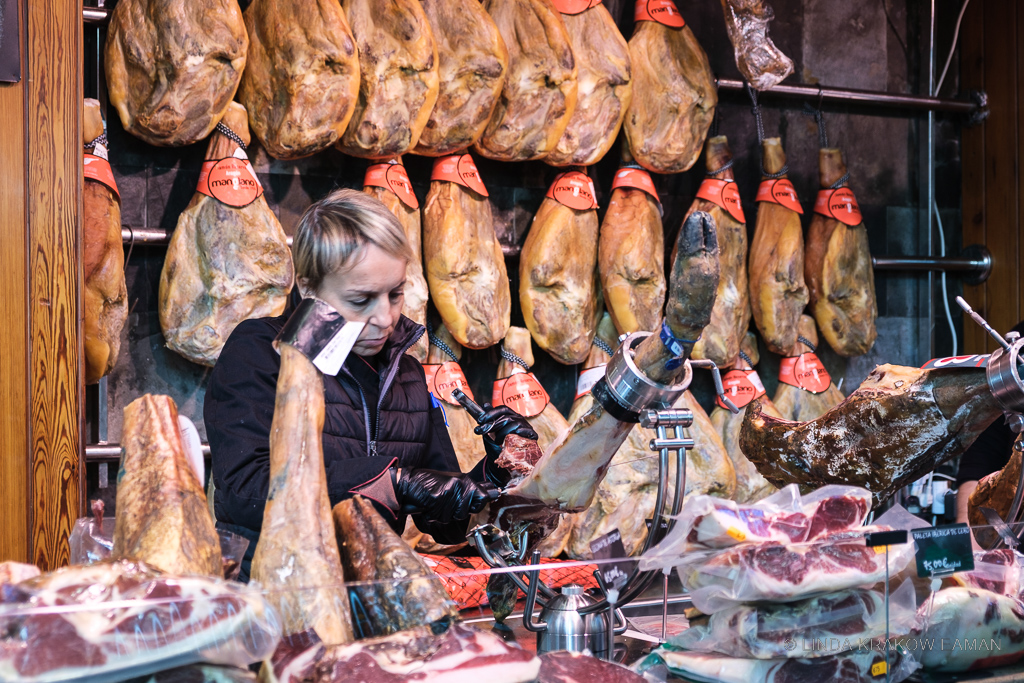 Fiesta tres Reyes Magos
January 6th is known as Three Kings Day (Fiesta tres Reyes Magos) in Spain. An enormous crowd, made up mostly of families with children, gathered in the streets and in Plaza del Ayuntamiento for an evening parade (Cabalgata de Reyes) that featured huge animatronic floats and giant balloons.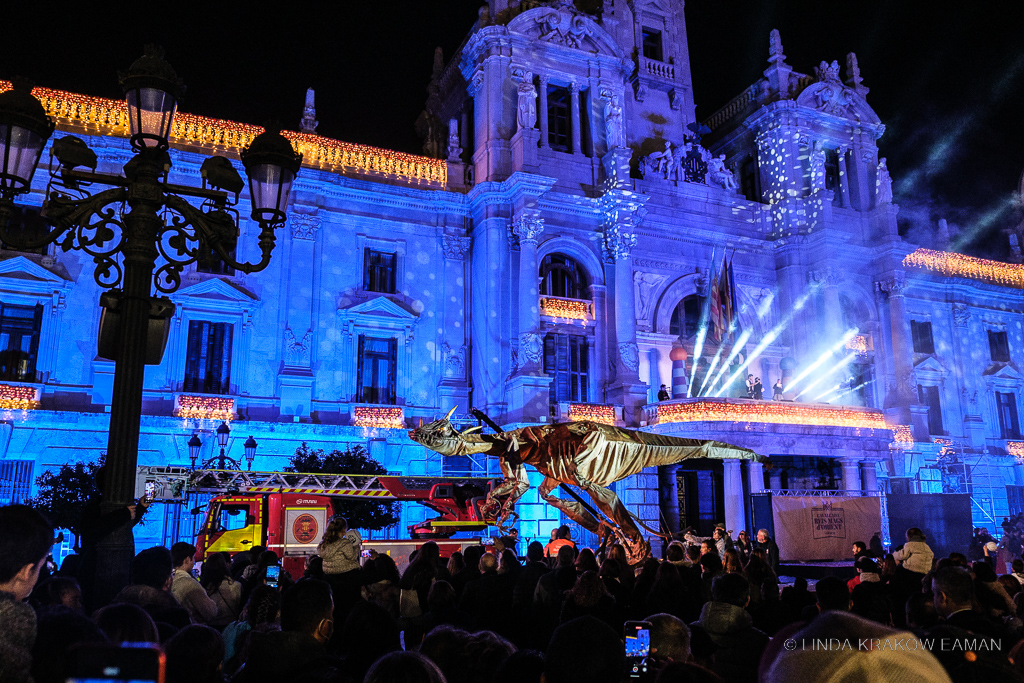 More Wandering
Valencia was once a fortified city, surrounded by a wall. Today only bits of the old wall, and two of the original 13 towers, remain. On this tower's exterior you can see the pockmarks made by French cannonballs during the Spanish War of Independence in 1808.
La Lonja de la Seda
The old silk exchange is a UNESCO world heritage site, a 15th century gothic building from Valencia's heyday as a major trading city.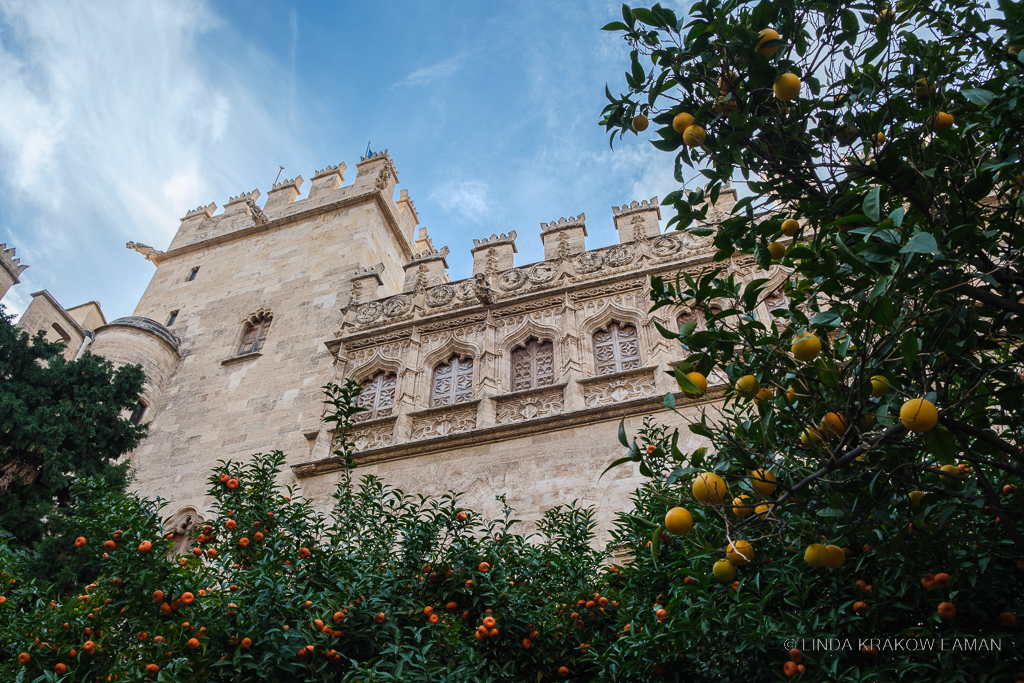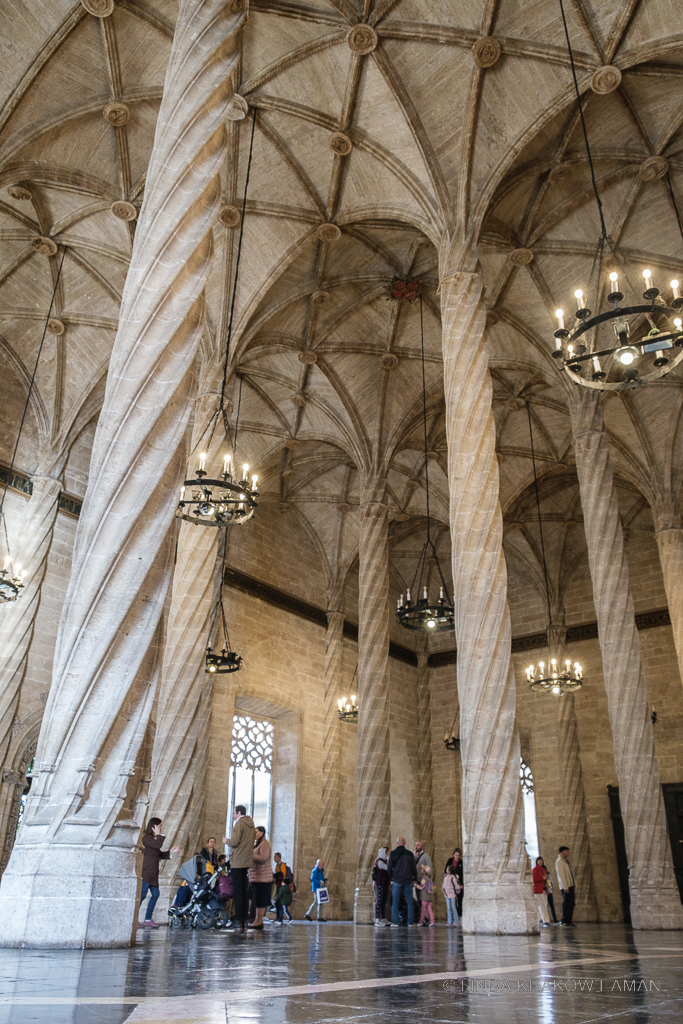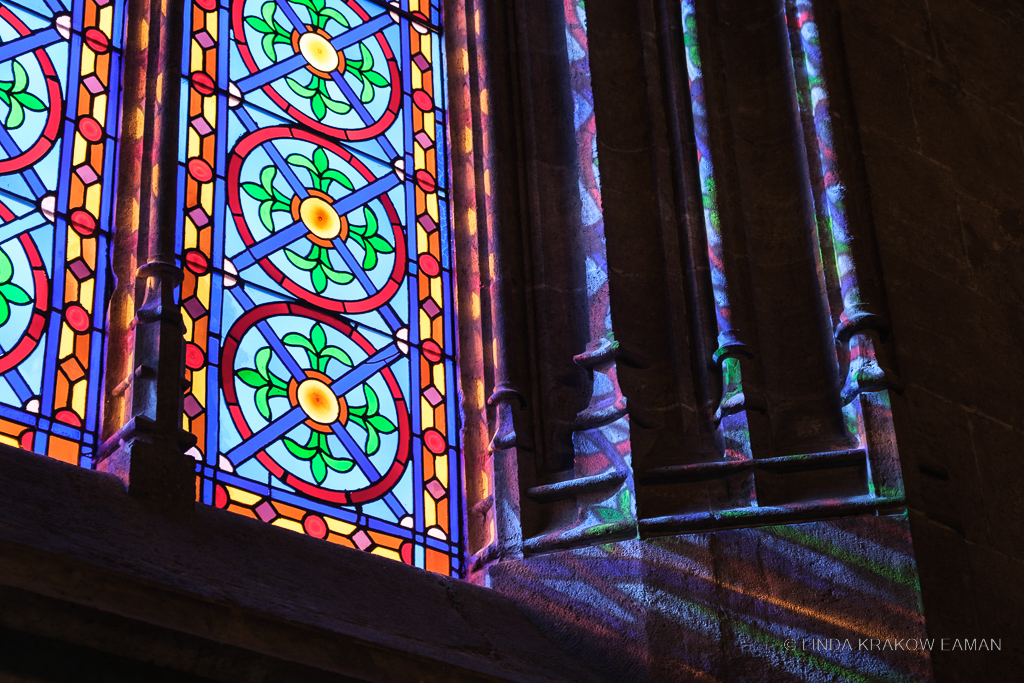 El Carmen is an eclectic maze-like neighbourhood of narrow cobbled streets and alleys, known for its street art.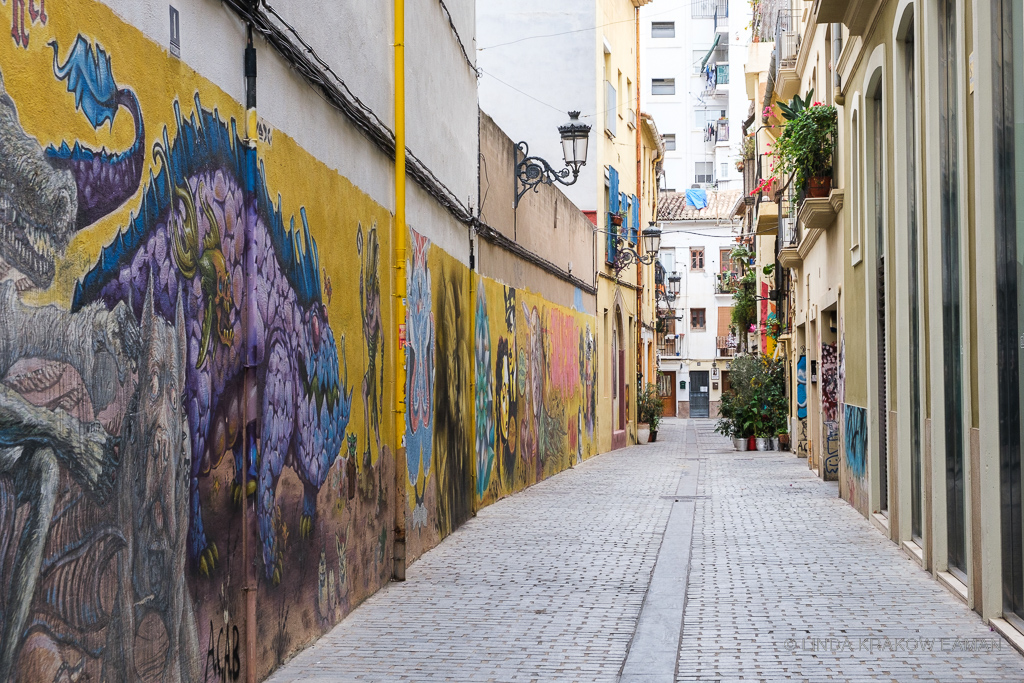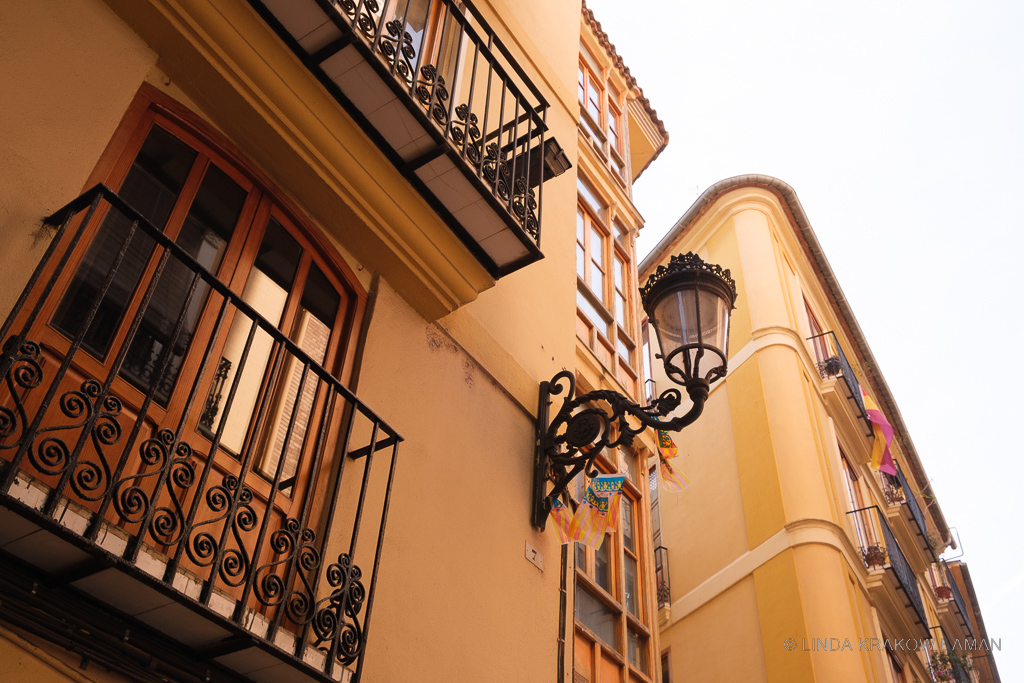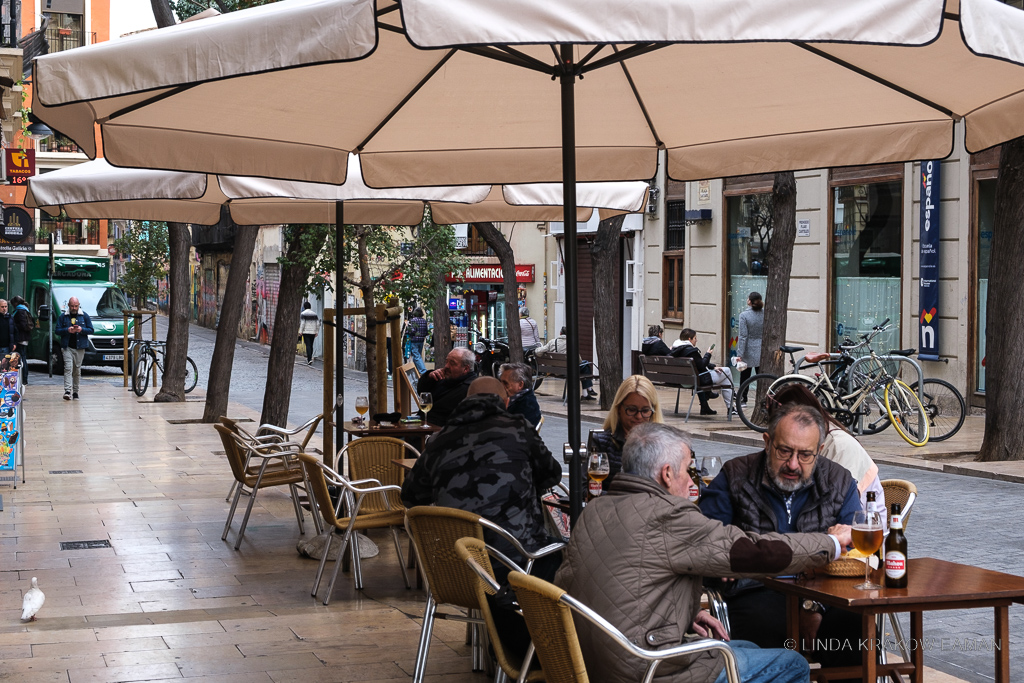 This arch in El Carmen is the Portal de Valldigna, built in 1440. It's a tiny bit of the old wall, that once marked the entrance to the Arab quarter. Apparently the owner of the adjoining houses bought the top part in 1678 and expanded his house over the arch!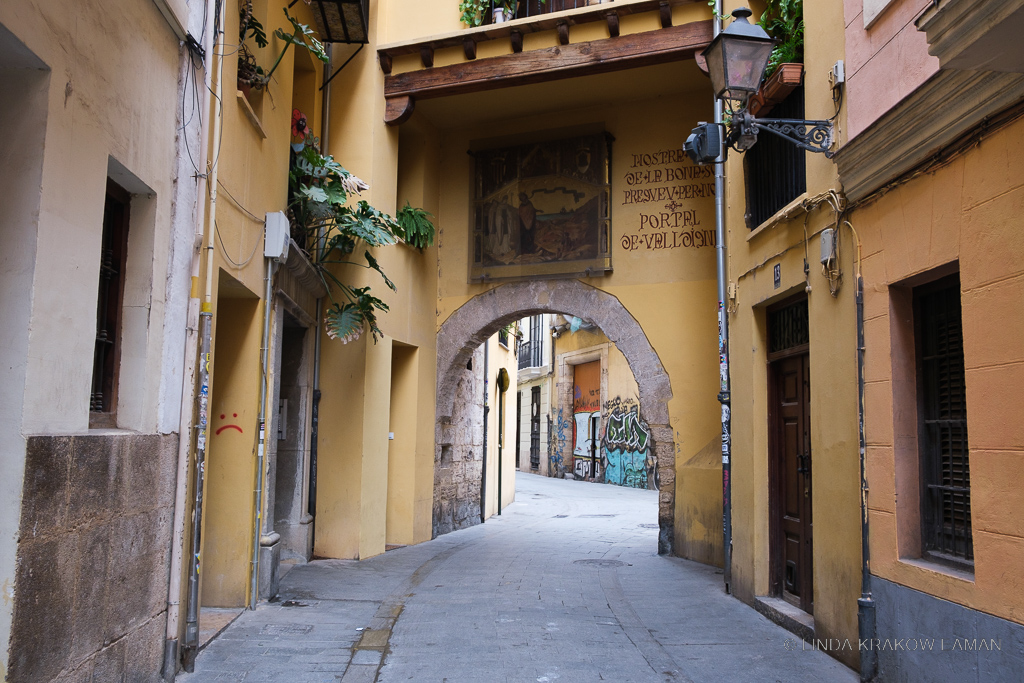 The Holy Grail
Valencia's gothic cathedral features a particularly interesting artifact: an agate chalice that is believed by many to be the one Jesus drank from at the last supper: the holy grail. The fancy base and jewels were added centuries later.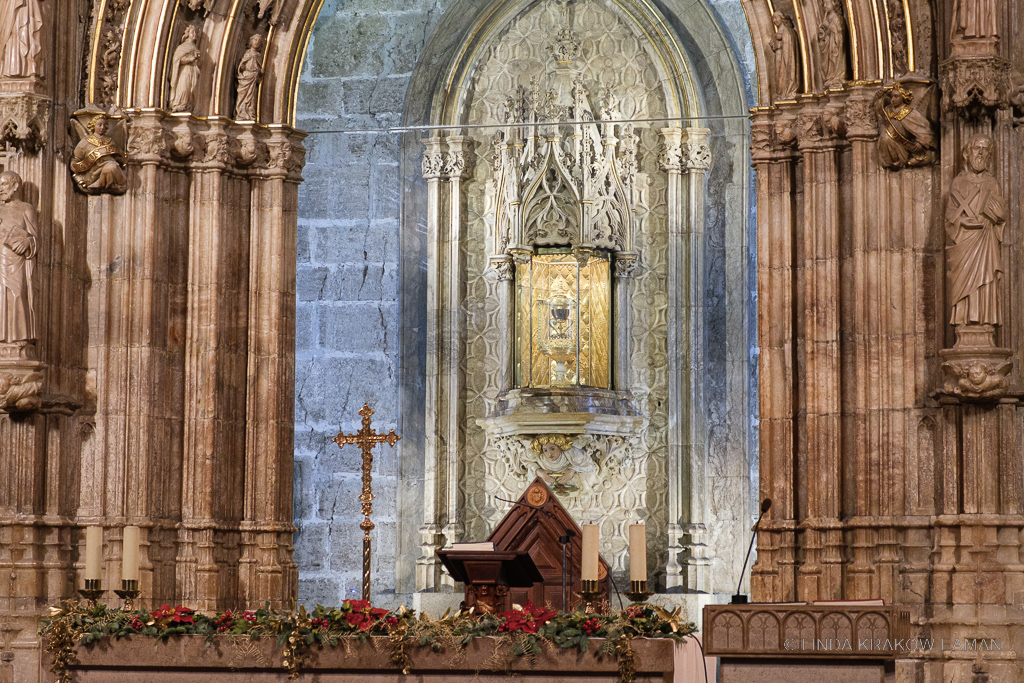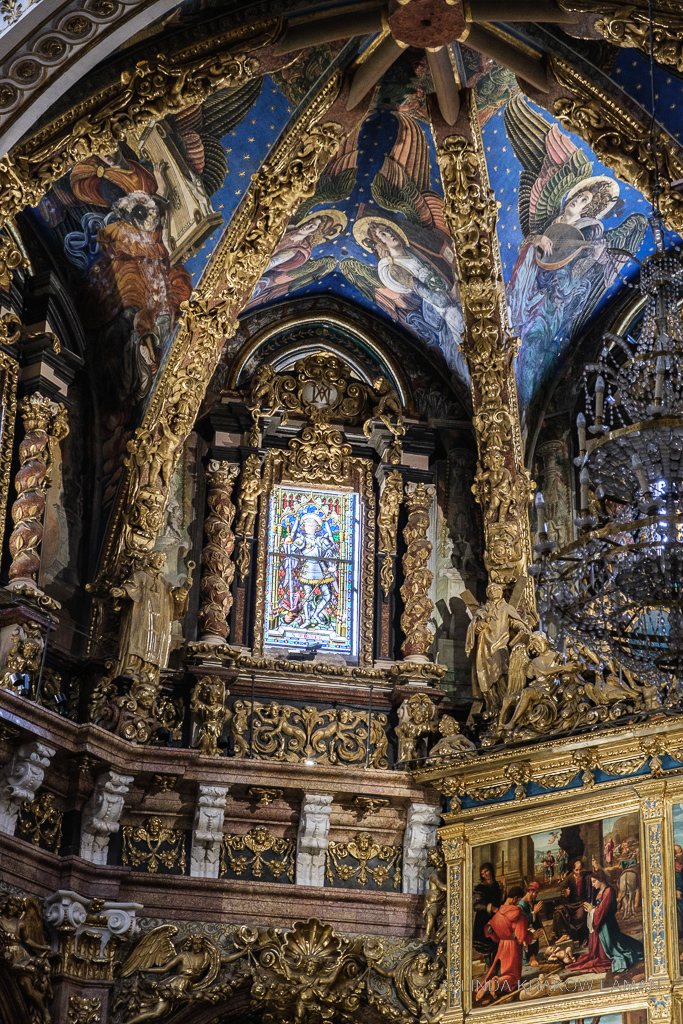 A diverted river, and Ciutat de les Arts i les Ciències
There used to be a river running through Valencia, just outside the old wall. Yes, used to be! After a devastating flood in 1957, the river Turia was diverted and the former riverbed converted to a nine- kilometer park. From the old city, about a half hour walk through the park brings you to the City of Arts and Sciences (Ciutat de les Arts i les Ciències in Valencian, Ciudad de las Artes y las Ciencias in Spanish), a complex of modern buildings opened in the late 1990s. It includes a performing arts center that looks, from the outside, like a Spartan helmet. If you're at all interested in the performing arts the tour is well worthwhile. There are also museums, an IMAX cinema, planetarium, laserium, aquarium, and a lovely covered garden called the Umbracle, where we enjoyed the green parrots squawking in the greenery.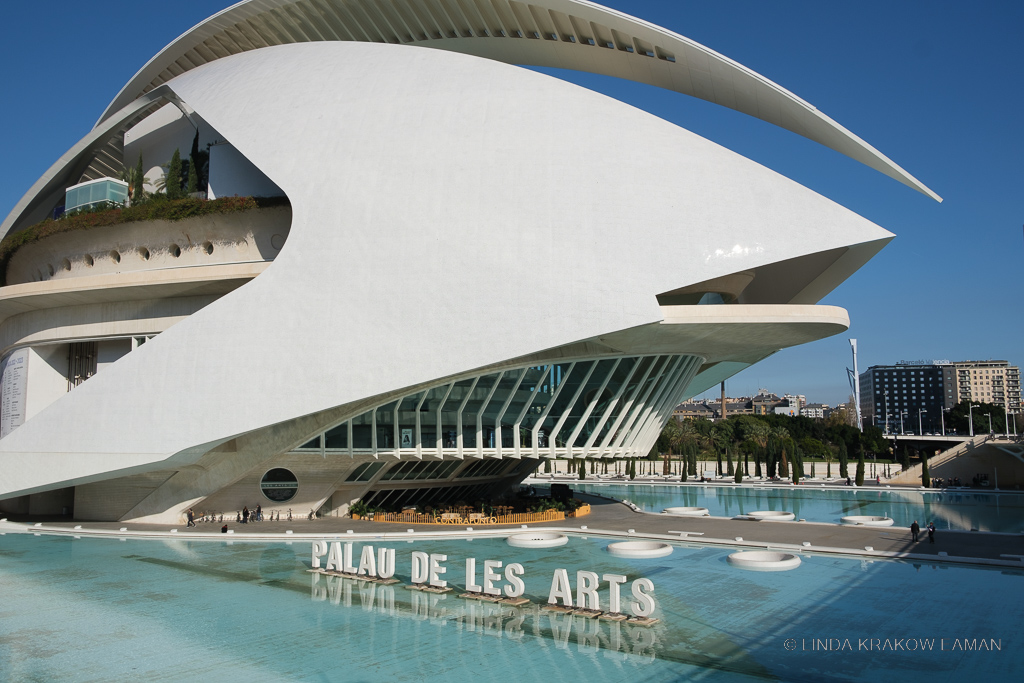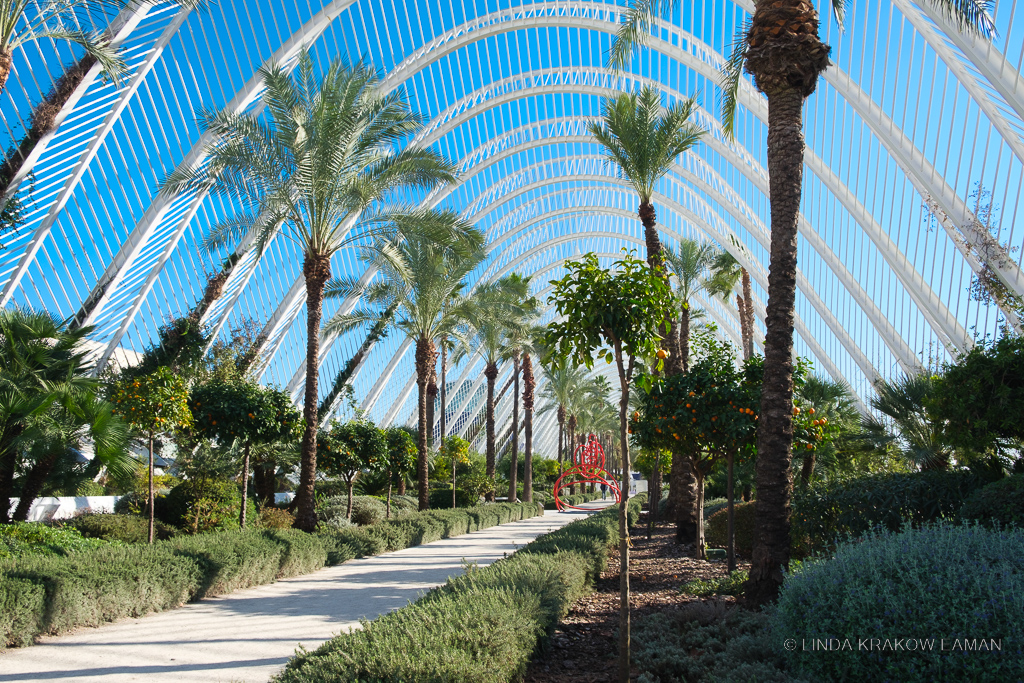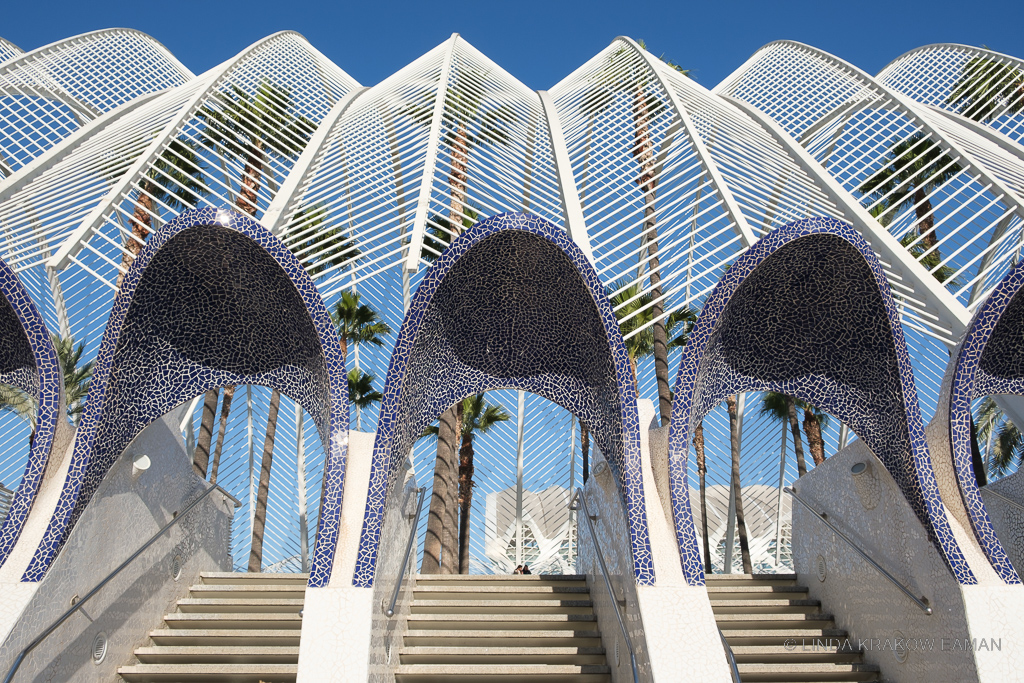 The bullring is beautifully lit at night. The "sport" of bullfighting is still practiced throughout Spain, including in Valencia where the bullring holds about 12,000 people and tickets range from 60 to 165 euros. The pageantry is intriguing–the costumes, the festivals, the art and history that surround bullfighting–but it's impossible to justify tormenting, torturing, and killing several animals at each event, in the name of entertainment. There seems to be some controversy about it, but not enough to make it stop.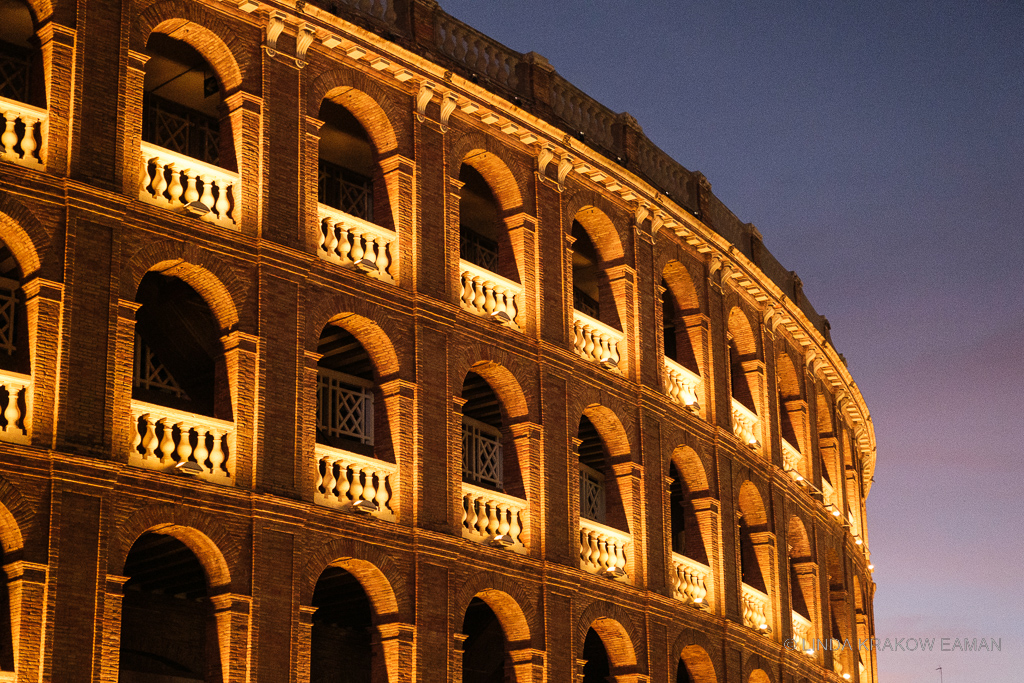 That's just a selection of the many historical buildings, parks and museums. There's a lot to see here, if you want to do more than just wander, eat, and look at beautiful buildings.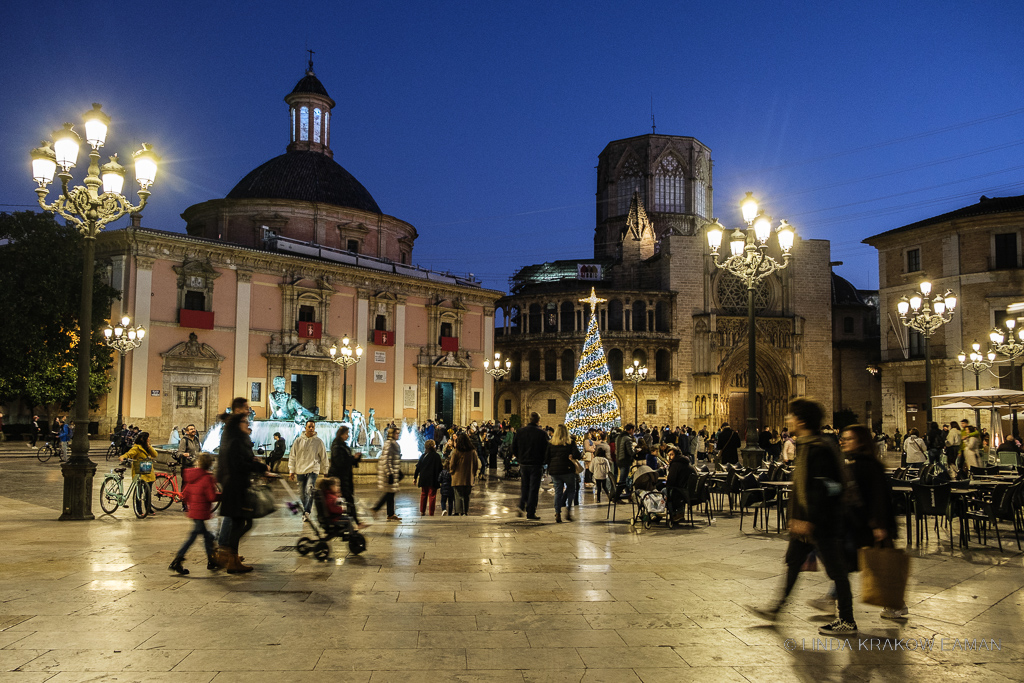 Albufera (Not to be confused with Albufeira, Portugal!)
About half an hour's drive from the city is the Parc Natural de l'Albufera de Valencia. This includes a lake and–most interesting to me–a lagoon and estuary that are a haven for waterfowl, including flamingos (wild flamingos!) that we could watch from an observation hide.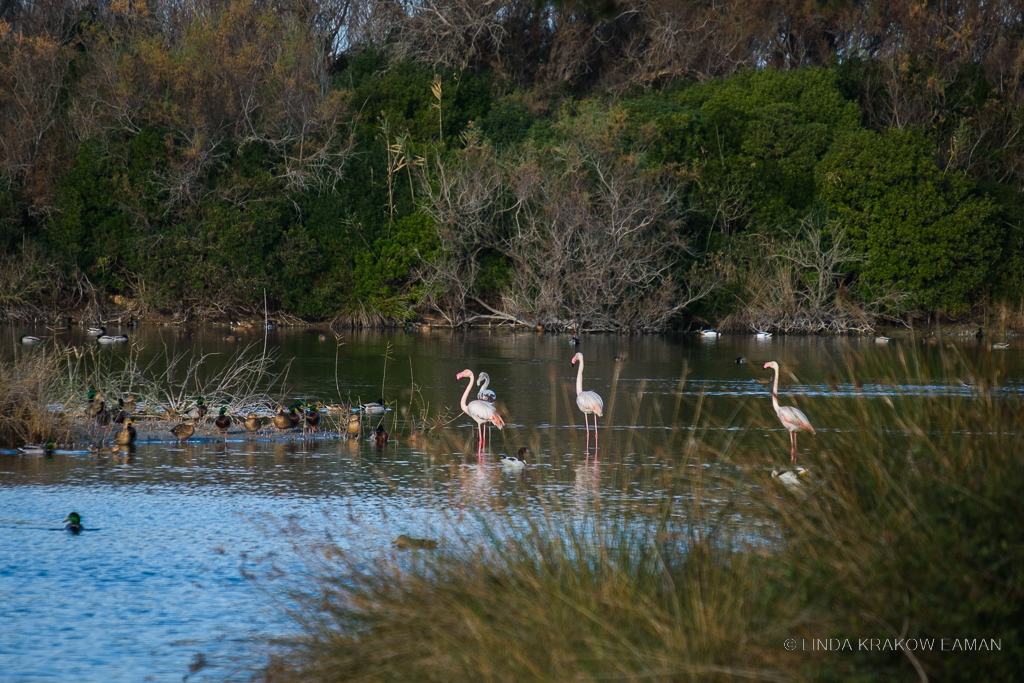 The small town of El Palmar–all of three blocks wide–is inside the park, surrounded by rice paddies growing the Bomba rice used in paella. In fact, Albufera claims to be where paella began, so of course we had to have some, sitting outside in the sun, overlooking the rice paddies. I was intrigued by the canals that run along the outside of the town; the little boats that the farmers use for going out into the paddies were all tied up.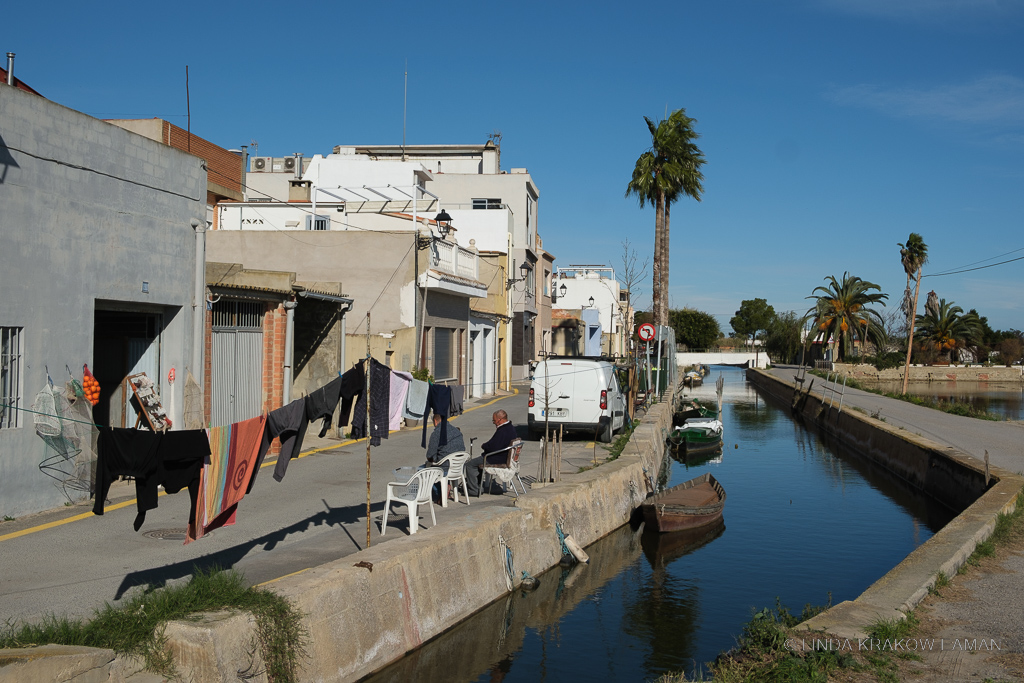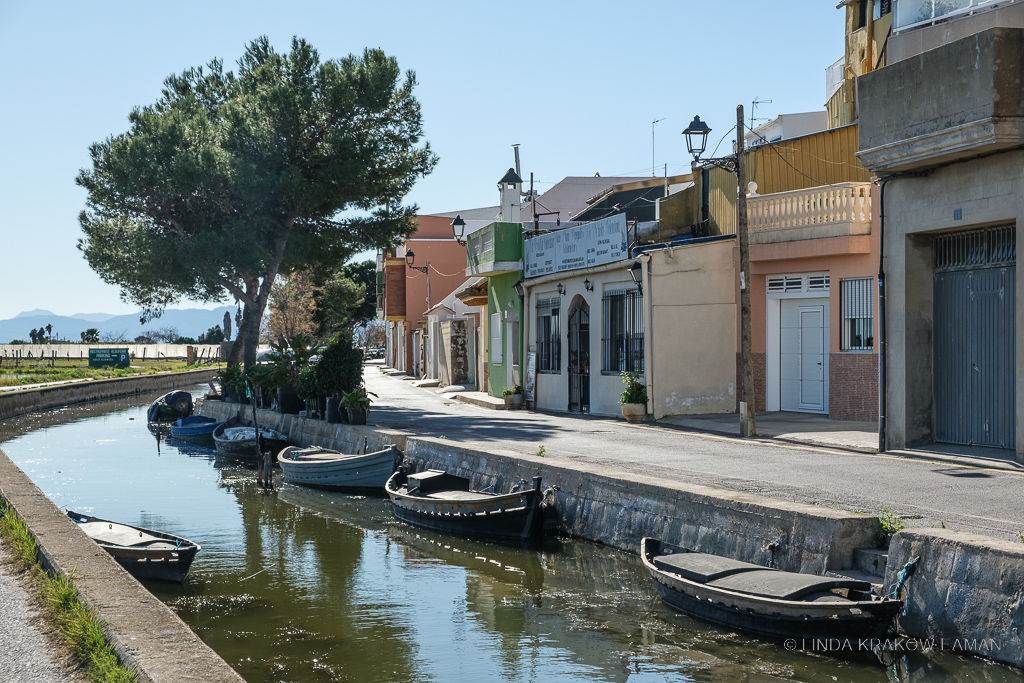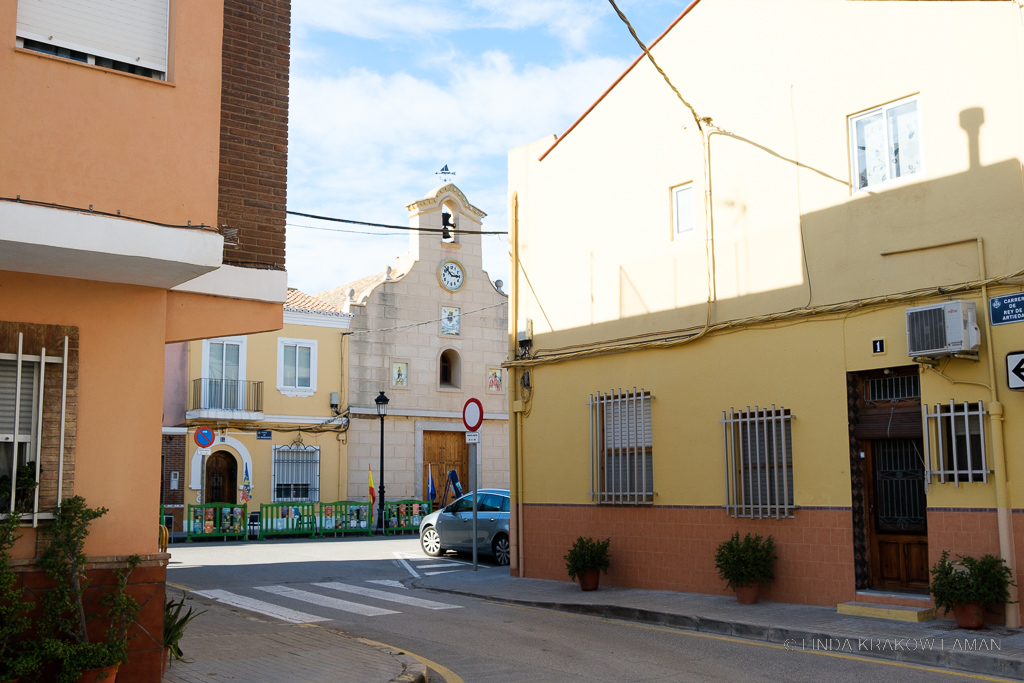 After a week in Valencia, we rented a car and went exploring. Stay tuned for Albarracín, Cuenca, and parts in between.