With Marc off work for the weekend (well, at least until Sunday afternoon), we thought we'd get out of Sydney and see at least a little bit of another part of Australia. Unfortunately it's such a huge country we had to settle for a really tiny piece of it!
A two hour train ride (it's actually a commuter train, so our fare was only $8.80 per person, each way) took us west into the Blue Mountains, and we arrived at our hotel on a blustery evening unable to see much of our surroundings. We were staying in an inn right by the Leura station, a building constructed in 1904 with an old fashioned Australian pub/restaurant downstairs and just a few rooms upstairs. I'm pretty sure our room, quite lovely with a king sized bed, was the only one with an ensuite bathroom; the other guests used shared facilities down the hall. We had been warned that the pub would be noisy until midnight so we were well prepared; unfortunately the sounds of the various parts of the tin roof, and the old windows, banging and clattering in the wind all night were a bit more than we bargained for. But we enjoyed our stay, including Friday evening supper in the pub with some excellent beer.

Leura is a pretty little town, with a small main street lined with cute mostly upscale shops, cafés and restaurants. We loved the Leura Gourment Café and Deli with its wall of windows overlooking the town, and had breakfast there both days. It was always packed with well dressed people obviously enjoying their weekends, and we got the impression of a mountain village much like Tahoe in California, or Stowe in Vermont. A cabbie later told us that the town is a mix of full time residents, residents who commute to Sydney during the week, and weekenders.
There's a hop on, hop off bus service to take tourists between the towns of Leura and Katoomba and to various points of interest, but we opted to walk (a lot) instead. With an elevation of about 3200 feet, it was quite a bit chillier than Sydney (they had had snow the week before). A lovely walk through the town brought us to Cliff Drive, which turned out to run alongside the Blue Mountains National Park. Signs every once in a while led to hiking trails with absolutely stunning views. And parrots. Have I mentioned the birds of Australia? Already captivated by the lorikeets and cockatoos in Sydney, I was beside myself when we discovered crimson rosellas–large, stunningly beautiful parrots–in the trees here. (No, at the time I had no idea what they were called. I looked it up afterward!) THIS was what I had lugged my 200mm lens to Australia for, and for once I was smart enough to have it in the bag on my back rather than in the hotel room.
I'd love to go back one day. There are miles of trails, some of which go down into the valley, as well as a train ride and gondolas (to help you get back up!) But by the time we reached the viewpoint for the formation known as the Three Sisters (where we joined the crowds of tourists who had arrived on buses and in cars) we were ready for a break. There's an aboriginal center nearby, which was interesting for Marc but not as good as what I had already seen at the museums and galleries in Sydney. We opted to skip the half hour $18 per person show. We probably would have enjoyed it, and I was a bit leery of skipping a possible once-in-a-lifetime experience, but sometimes you've just had enough, and the very touristy lookout and center was a bit jarring after the spectacular hiking we had just done.
The towns of Leura and Katoomba sit on the edge of the valley (or maybe canyon is a more appropriate term). If you picture a U, the vertical lines are the towns, and the bottom of the U is at the edge of the mountains overlooking the valley. We had walked down the right side of the U through Leura, and along the bottom, so now we turned up the left side of the U and walked back (mostly uphill) into the town of Katoomba. The town center is quite a bit larger than Leura, and although a little less perfectly cute, it's more eclectic, artsy and interesting. And it also offers a variety of quirky coffee shops, perfect for that afternoon cappuccino when you just need to sit down!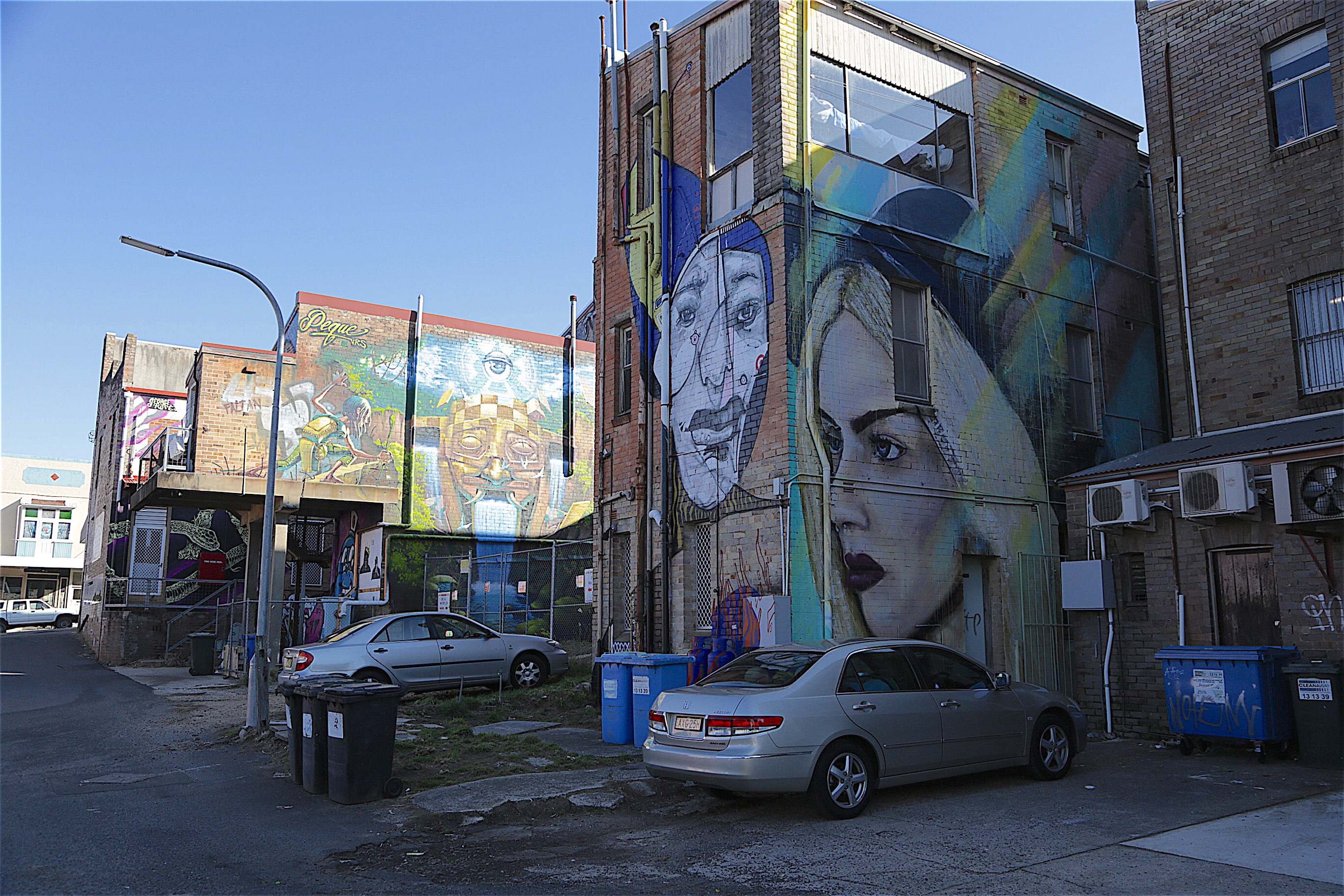 We eventually cabbed it back to our hotel, and after a brief rest ventured out again for a meal at a French restaurant where to Marc's disappointment we never had an opportunity to chat with the one guy with the French accent.
It was a brief trip… The next morning after breakfast, braving very strong winds that we were glad hadn't arrived the day before, we headed back to Sydney on the train.