Moving to London!
Marc and I have talked about it for years: the idea of living overseas for a while. So when he was offered an assignment in London, it was an easy decision. And now, after a few months of planning and preparation, we are here!  We plan to get to know London and the U.K., and take the opportunity to see more of Europe as well.
We've traveled a lot, but it's a bit surreal to arrive in a different country without a return ticket, knowing you're going to be moving in for a while. The nicest part is the luxury of time, the lack of pressure to see all the sights right away. (Keeping in mind, though, that time flies and it's easy to get complacent or to let everyday life get in the way. After twenty years in California I still have a long bucket list of trips that are only a day away from home.)
Our temporary accommodation is a compact one bedroom apartment across the street from Old Spitalfields Market, in Shoreditch–a formerly industrial area that is now a gentrified mix of commercial and residential. The old market building hosts food trucks, clothing, jewelry and leather goods stalls, and some upscale (mostly chain) stores. Our corner is a stop on the Jack the Ripper walking tours.
There's a little group of tiny streets nearby, which we have returned to repeatedly just for the atmosphere. The stores and restaurants are modern and mostly upscale, but you can imagine yourself back in olden days when the characters at the corner pub were dressed a little differently. We were told that the area was used in a Harry Potter movie, although I haven't found any confirmation of that.
Marc had a week off to get settled, so after some house hunting (more on that later) we spent some time exploring–but mostly stayed away from the traditional tourist sites. We've both been here before and done those, and enjoyed just wandering.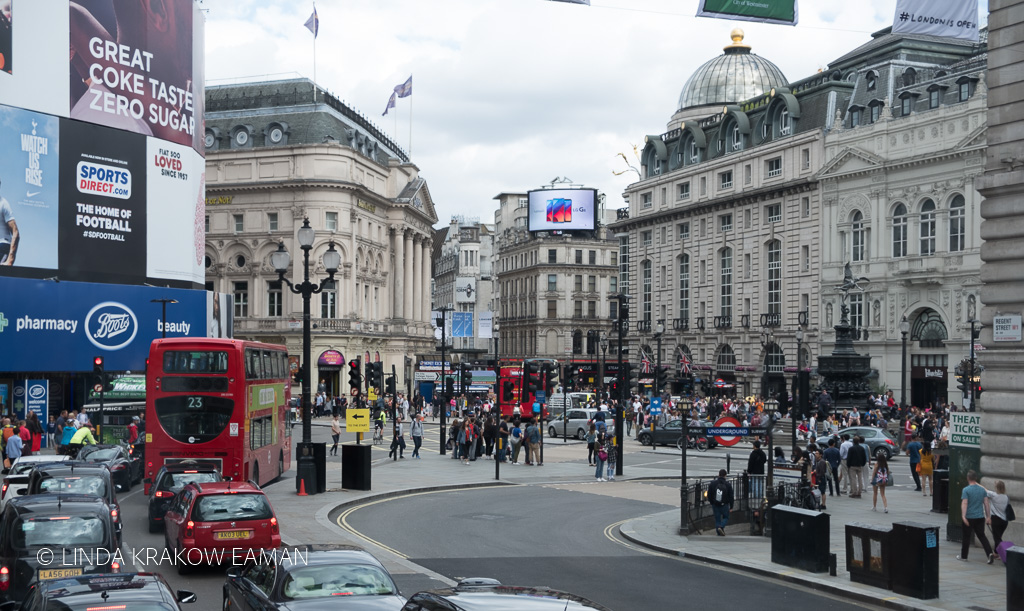 I want to put a plug in for London Walks. We took an excellent walking tour about London's Jewish history which goes back to the time of William the Conqueror. One stop was the Bevis Marks synagogue. Like the others we've noticed here, the exterior is purposely inconspicuous–the idea was to keep a low profile. Inside, we were treated to a lively overview of the construction, current congregation, and famous sons including Moses Montefiore and  Benjamin Disraeli. It wasn't until afterward that I discovered that our guide at the synagogue was the rabbi! Sadly, as at all the synagogues we have visited in Europe, security was tight and photographs were not allowed.
The tour ended at Liverpool station, in front of the Kindertransport statue. This commemorates the rescue efforts that brought 10,000 Jewish children to Great Britain–they arrived here, and went on to hostels and foster homes. In 1939 and 1940, parents in Germany and Austria, with no other options, put their children as young as two onto trains, in hopes that they would find safety with unknown families. While the statue portrays children with their heads held high and hope on their faces, I could think only of the parents and found it overwhelming.
What unimaginable heartbreak there must have been in sending a child away, knowing you would likely never see her again or even know her fate. And in having to choose which child to send because only one is allowed, knowing there was little hope for anyone who stayed behind. Such terrible, terrible choices. If we could go back to this refugee crisis of the 1930s and 40s, would we act differently? People in our world are again in crisis, and so much of history is repeating itself.
On Tuesday morning Marc and I walked the 15 minutes to a Lloyds branch for an appointment to open a bank account. We became part of the tide of people on their way to work.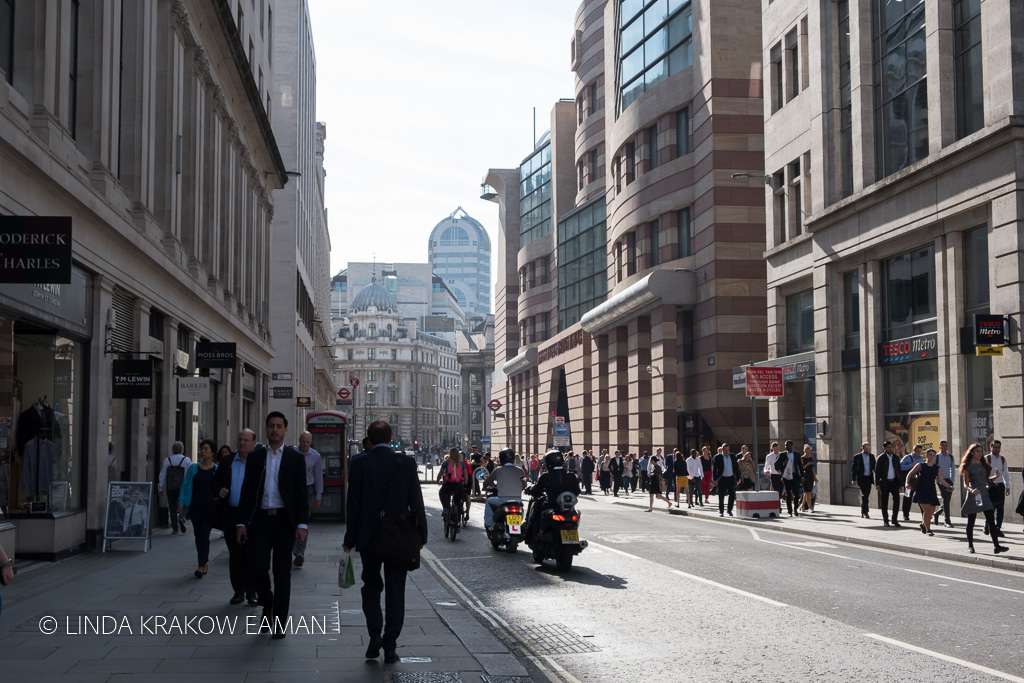 Like many things here, the bank account process involves lots of steps, many documents, and even a "wet" signature. No PDF accepted, even though the bank apparently uses "Adobe" as a verb. The people are competent but the expectation of speed that we've been used to in Silicon Valley is definitely not there! We were at the bank well over an hour and because we were missing said wet signature the process would only be completed the next day. On the plus side, the banker offered to stop by Marc's office to pick up the document!
Shortly after, with coffee and toasted teacake (a bit like a raisin bread bun, which I slathered with the pat of butter that came in the bag), I found myself sitting in the courtyard next to St. Mary Le Bow church, the sounds of the organ wafting from within, and the bells occasionally pealing. One must be born within earshot of this church's bells in order to be a true Cockney. The church, like so many in the city, was rebuilt after the Great Fire of 1666 by Christopher Wren. There's a statue of John Smith, one-time parishioner and founder of the Jamestown settlement in Virginia. Yes, this is the John Smith of Pocahontas.  My company in the courtyard, other than the pigeons on the constant search for crumbs, included young mums with babies, a cyclist rolling a cigarette, a construction worker, a man in a pinstriped suit reading a novel, and a constant stream of suited businessmen on break.
The amazing thing is that I didn't go looking for this bit of history; it was just there, down the block from the bank, across the street from the Boots I popped into for contact lens solution, and beside the first chain coffee shop that caught my eye.
London is dense and very walkable, and I meandered my way from here to Covent Garden and St. Martin in the Fields Church.  At the sight of the huge crowds in Trafalgar Square, though, I turned the other way and headed "home" for the day.  After all, living here means grocery shopping, cooking, and laundry must be done too!
I'm not sure exactly how I'm going to spend my time here. I'd like it to be a sort of sabbatical, an opportunity to focus on creative pursuits. There will be photography, of course, but I'm not sure what that will look like. Writing? Art classes?  Regardless of the details, I always hope that sharing what I see will provide enjoyment and help to connect people around the world.