The Road Ahead

It was only two months ago, on June 2nd, that Marc and I decided to move back to Canada. After 23 years in California, we were feeling the pull of homeland and family in a way we hadn't before, and increasingly uncomfortable with happenings in the US. Everything came together quickly: packing, selling the house, renting a new one, hiring movers, lots of cross-border documentation.
A cross-country, international move during a pandemic? Gulp. Since early March we have kept forays away from the house to a minimum. No day or weekend trips, no restaurants even with outdoor seating, store outings only for necessities and as infrequently as possible. A big trip was out of our comfort zone. And we have an elderly dog, so we'd have to drive. In the midst of all the other preparations, we traded in our cars for a used pickup truck and a camper to go on top.
On August 1st, after saying good bye to some of our most beloved friends via text messages, zoom calls, and waves from the front yard, we drove away. We'll be traveling for five weeks. Five days to get to the border, two weeks of quarantine, and then two weeks to cross Canada to our new home in Ontario.
The drive through Northern California was familiar, but the emotions were new. I found myself reflecting on the many things I love about California, and my regrets—the places we never visited, the scenes I never captured to my satisfaction in photographs. We admired the hills, golden through the rainless summer and dotted with California live oaks, and, as always, gazed in awe at the redwoods, before reaching the coast.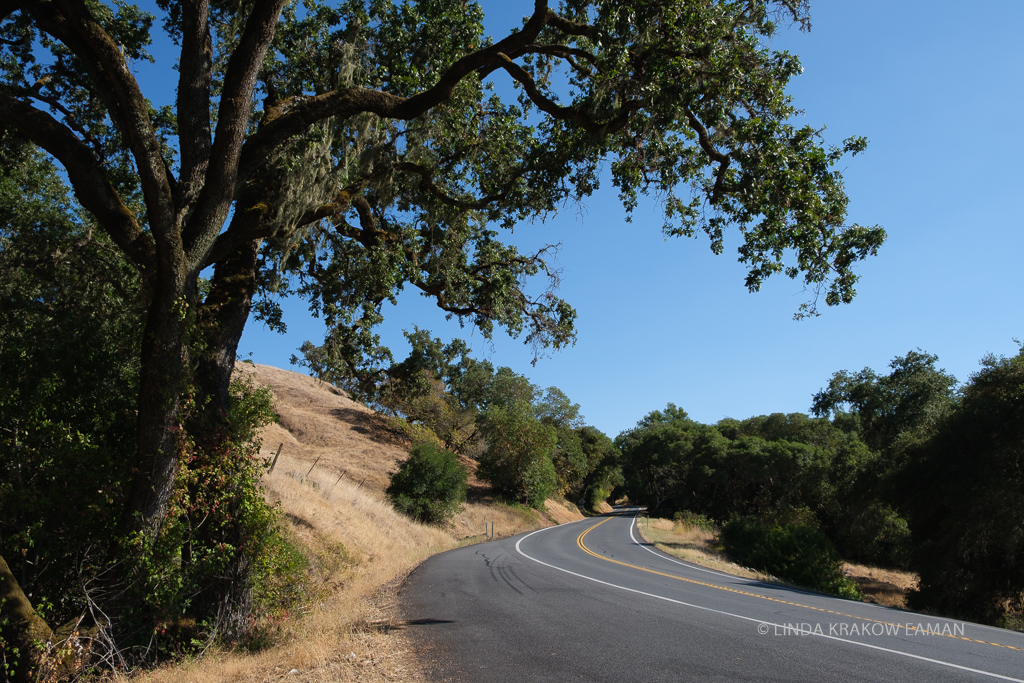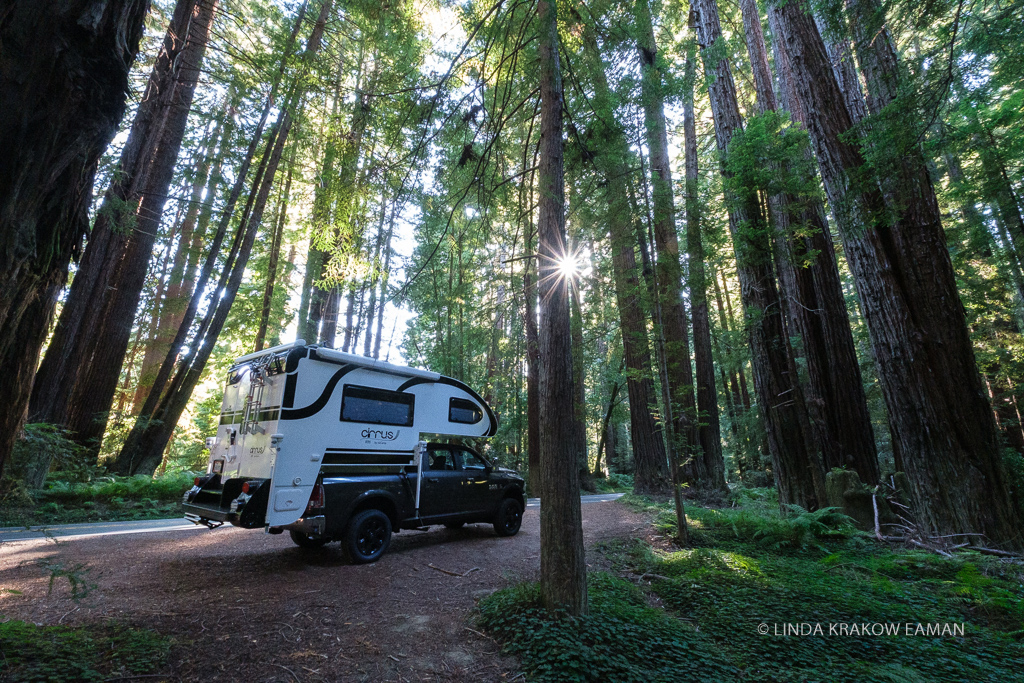 We're newbie truck campers. Thanks to a well-written blog (complete with GPS coordinates) we found a pull-off by the ocean just north of Fort Bragg to spend the night alongside a few other cars and campers. What a treat to go to sleep with the sound of the waves crashing, and to wake up to this foggy scene.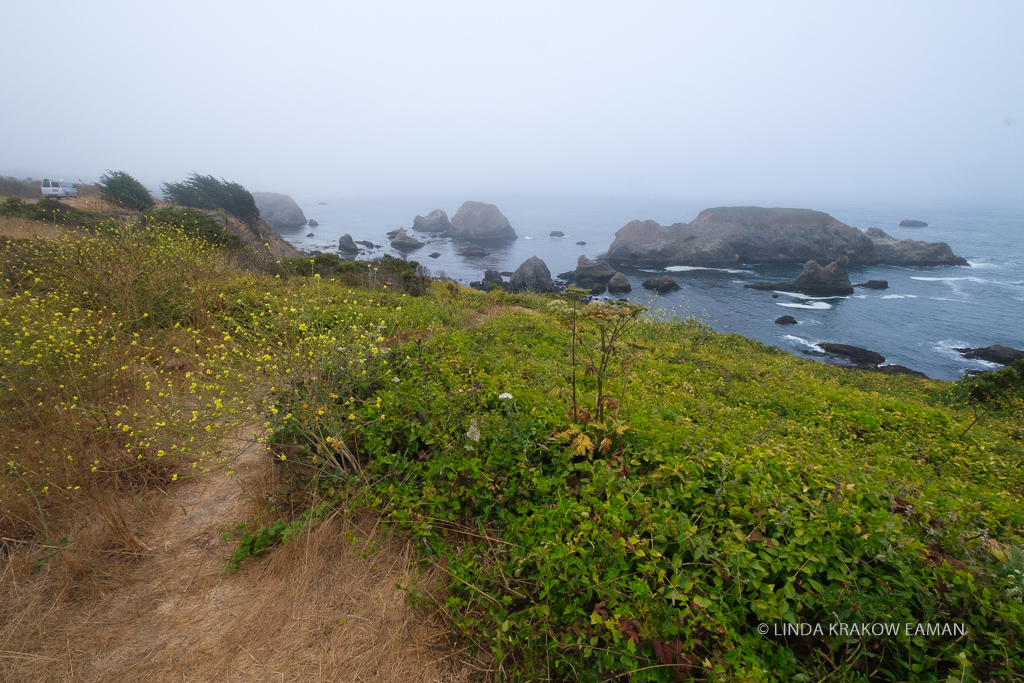 We hope to find a mix of roadside camping, stays at farms and wineries through Harvest Hosts, and RV parks—the latter making it easier to take a shower, dump our gray and black water tanks, and fill up with fresh water.
Day two took us into Oregon, where our first RV park embodied almost every negative impression I've ever had of these places: campsites too close together, little privacy, and few trees. I was tired and grumpy. We had skipped a stop a few miles back because we were worried about arriving too late, and the discovery of a path to the beach didn't quite make up for it. For me the missed photograph or sketch is like the fish that got away; it's hard to let it go. So we agreed that while we don't have time for a lot of exploring, we'll try to stop at anything one of us (usually me) really wants to see. And I will work harder at just appreciating what we do see, and letting the rest go.
The drive through Oregon is spectacular. Dense evergreen forests, snow-capped peaks, an interesting mix of small towns.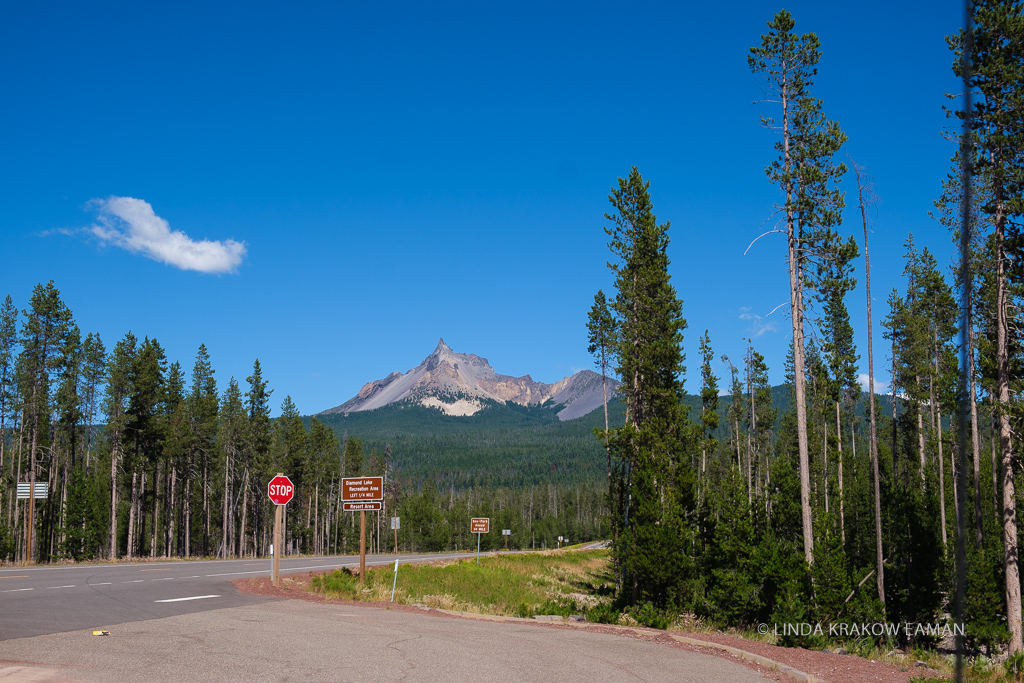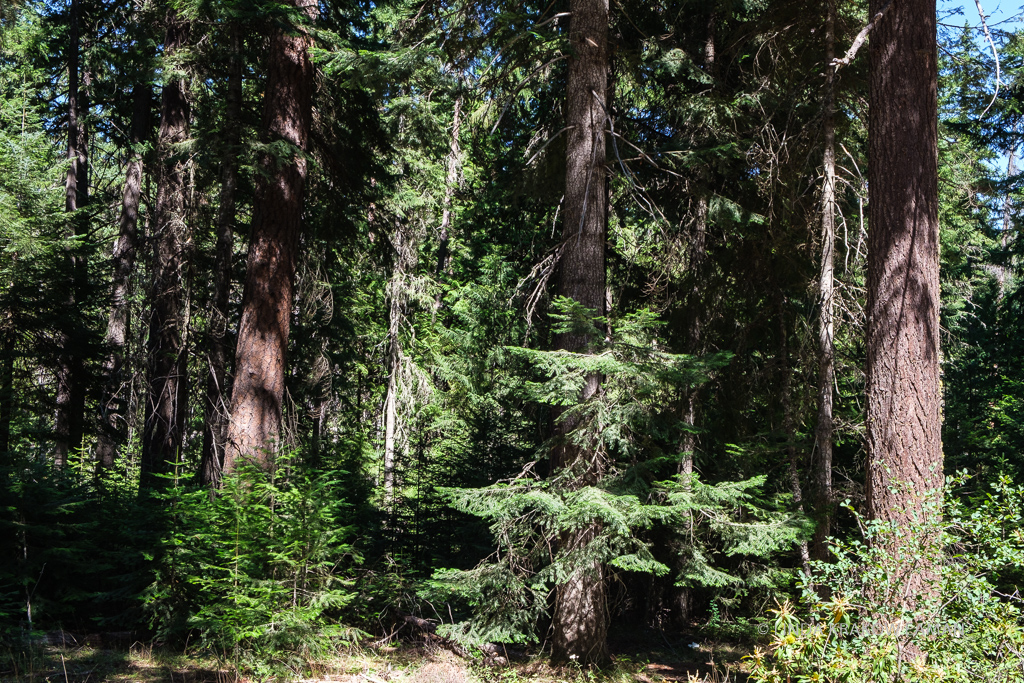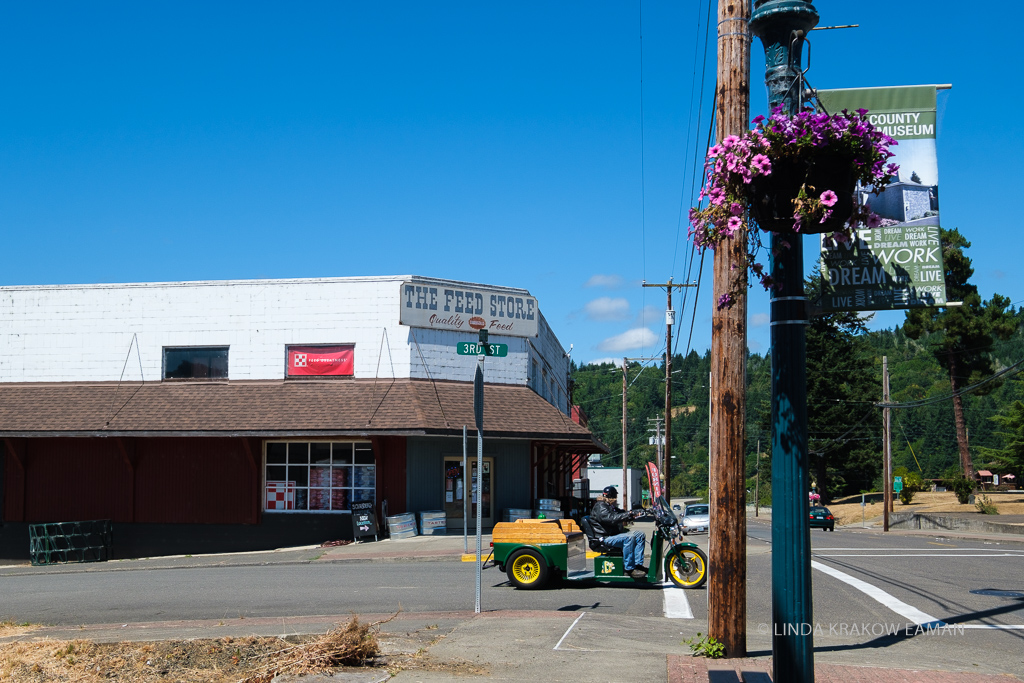 While our timeline doesn't allow for a lot of exploring, we decided to spend a few hours at Crater Lake National Park; just enough for a drive around the rim and a short walk to see the Pinnacles.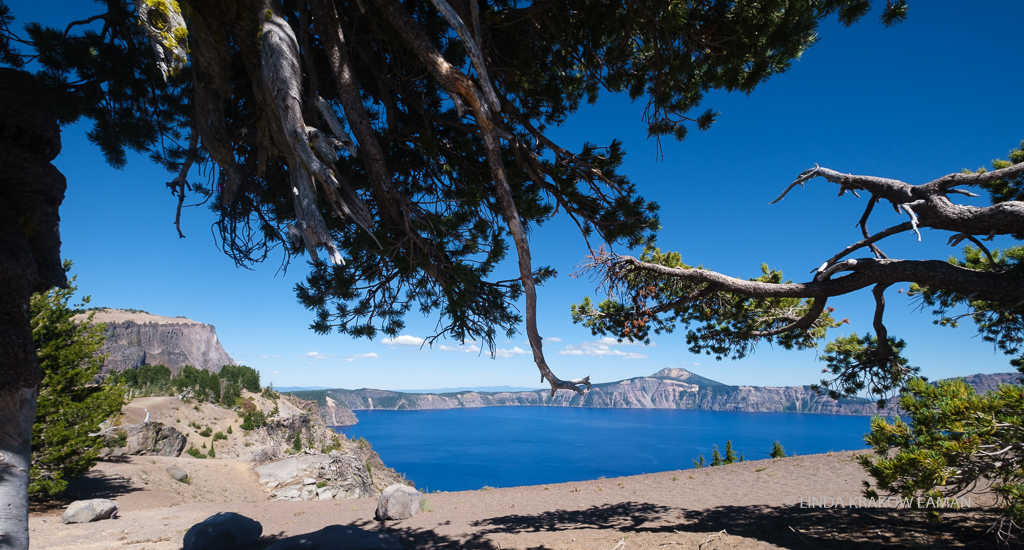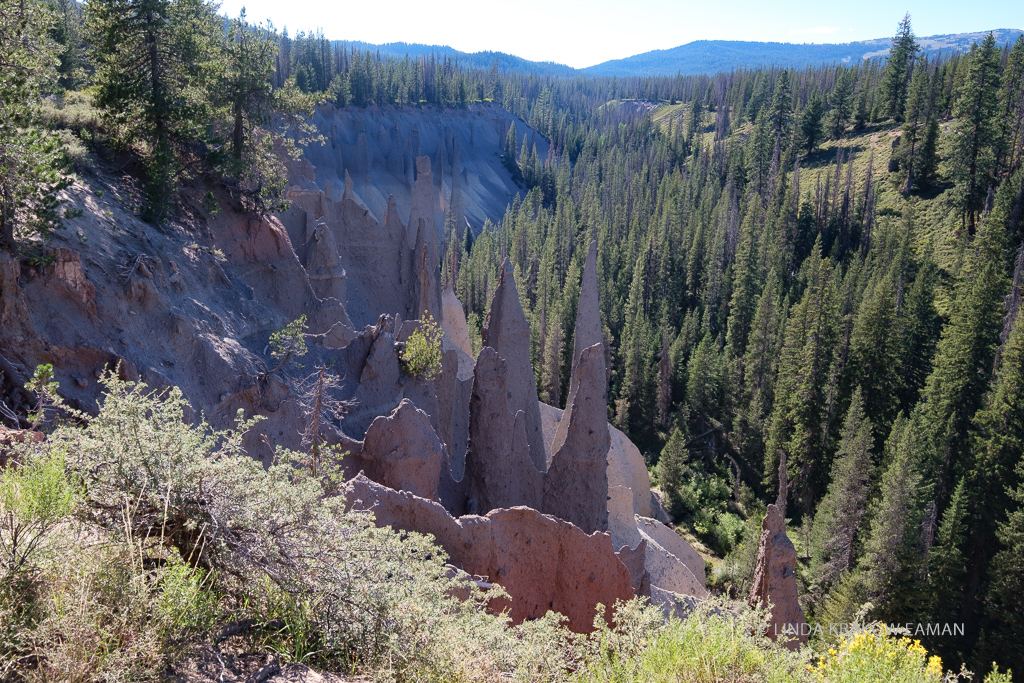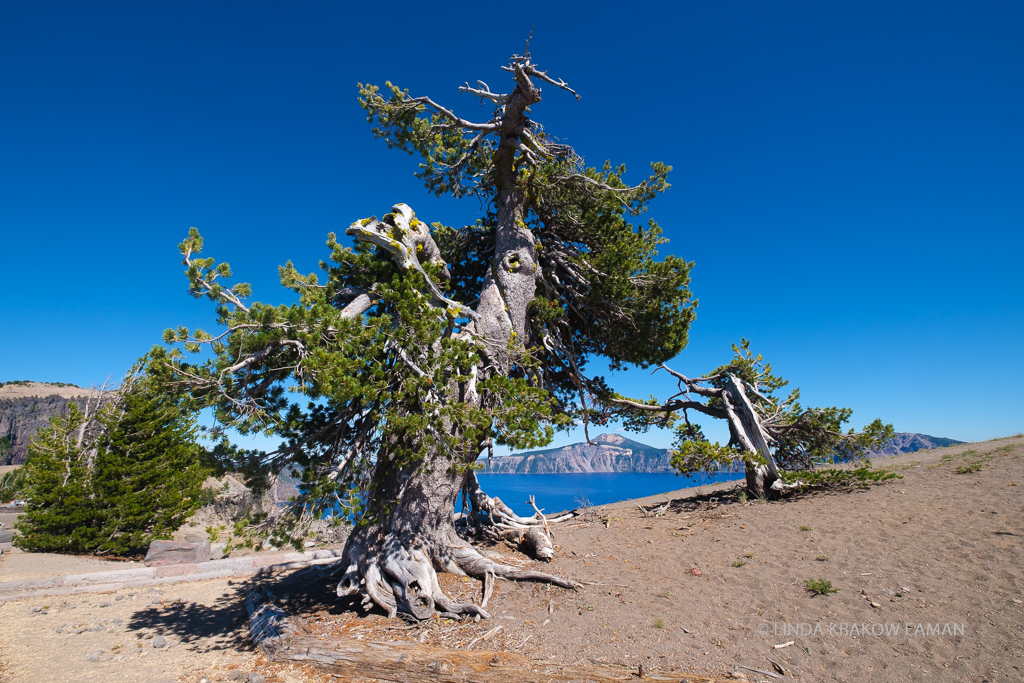 And then another RV park, this time on National Forest land. We had a site that backed onto trees, near a path leading to the lake and a pizza place with a window for ordering. We ate takeout at a picnic table, and I was a much happier camper (literally).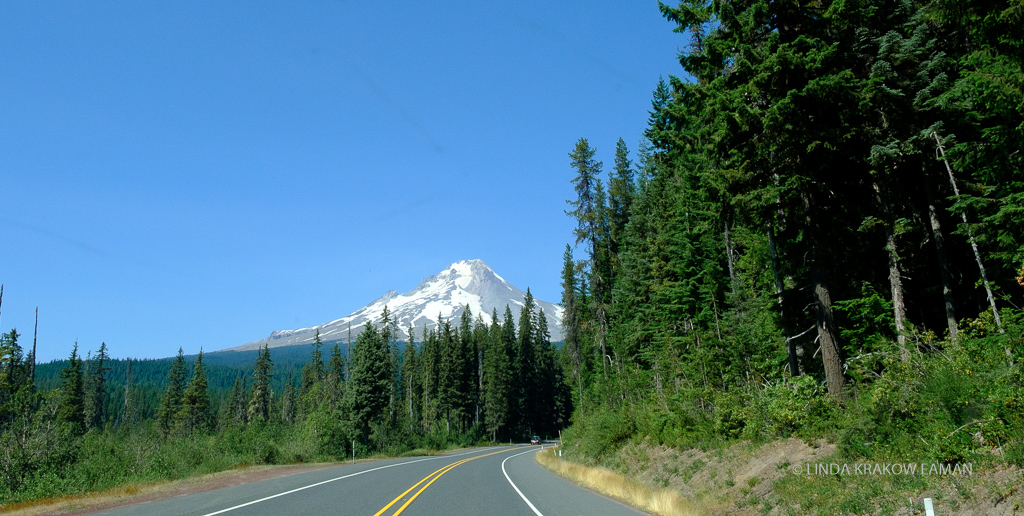 For night number 4, we gave our Harvest Hosts membership a try and found ourselves parked on the edge of a small vineyard at Confluence Winery, just outside Vancouver, Washington. The deal is that the campsite is free (you must be 100% self-contained and book ahead), but you should buy something from the host. We were treated to a private, outdoor tasting of some superb wines, and more than happy to buy a bottle.
We have a new word in our vocabulary: moochdocking. The act of parking your camper in your friends' driveway, hooked up to their power and water. Socially distanced dinner in the backyard a bonus. Thanks to Dave and Jennifer for their hospitality!
So far, four thumbs up for camper travel. We've had some nerve-wracking moments as we learn our way around the truck and the house we're carrying on it. We're still not sure if we've got it right. But we've always enjoyed road trips and being self-contained is fun. It's definitely a good way to go if you have to travel in a pandemic. No public restrooms, no hotels, no restaurants; we can cook and wash and sleep in our own space, albeit a tiny one. And with a good sized fridge and storage, we can minimize trips into stores.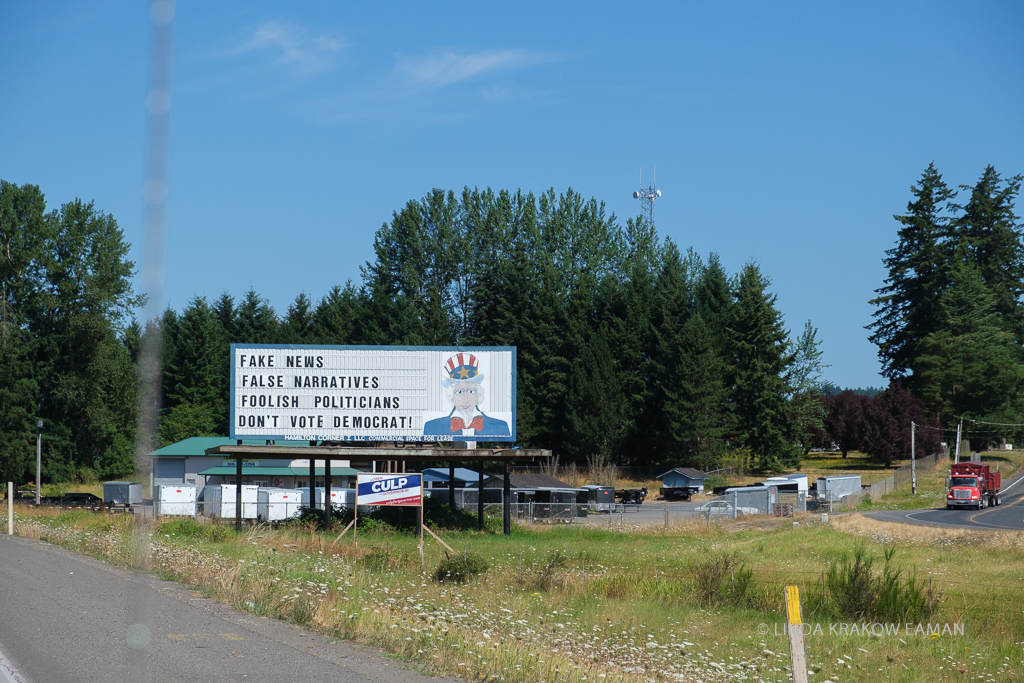 It's not quite a vacation. I'm extra nervous about the idea of getting sick along the way. Marc has been working at rest stops, doing email in the evenings, and taking calls on the road. Jokes about standing on one foot to get a cell signal aren't really funny when you really do need to reach the bank from the middle of a forest. And let's not get into the dog's gastro-intestinal issues. But it is an adventure.
Yesterday we crossed the border and started our 14-day quarantine in a rented house. Canadians are strict about this. Anything we need—including food—will have to be delivered, and we can't leave the house, beyond the yard, for any reason. But we got to wave through the window to our son who we hadn't seen in eight months (thanks for the grocery run, Richard!), the house is comfortable, and we're feeling very thankful.