Spain!  Part I: Madrid
Here is the first installment of this trip. It's amazing how long it takes to put these things together, especially without a real computer. Note that I can't do much in the way of photo processing on my iPad, so these are a bit rough! Enjoy!
One of the advantages of vacationing with a frequent traveler are the airline perks. Delta lounges offer free food, and when our 7-hour overseas flight was oversold, we were bumped up to first class! That was a surprise since we had used points to buy our tickets and there were two of us (normally Marc alone would be bumped up), but a welcome one! Kudos to Delta for knowing how to keep your frequent flyers coming back.
First class seats mean lie-flat beds which means we actually got a few hours sleep on the way to Madrid, but when we arrived at our hotel at 9am we were happy to pay a bit extra for a room that was ready right away, and to nap for a few hours. Then, out to see the sights!
Around our hotel are busy shopping streets, filled with people from morning until well past midnight. We're just off the Puerta Del Sol, a large plaza that is a hub for locals and tourists alike. There's a metro station right there, but so far we have found that the major points of interest–all within the old city–are within walking distance. Puerta Del Sol is the historic geographic center of and in fact we found that most of our destinations could be reached by taking one of the roads that spread out from the plaza like spokes of a wheel; the maze of smaller streets between them ensure that there's always something new to see.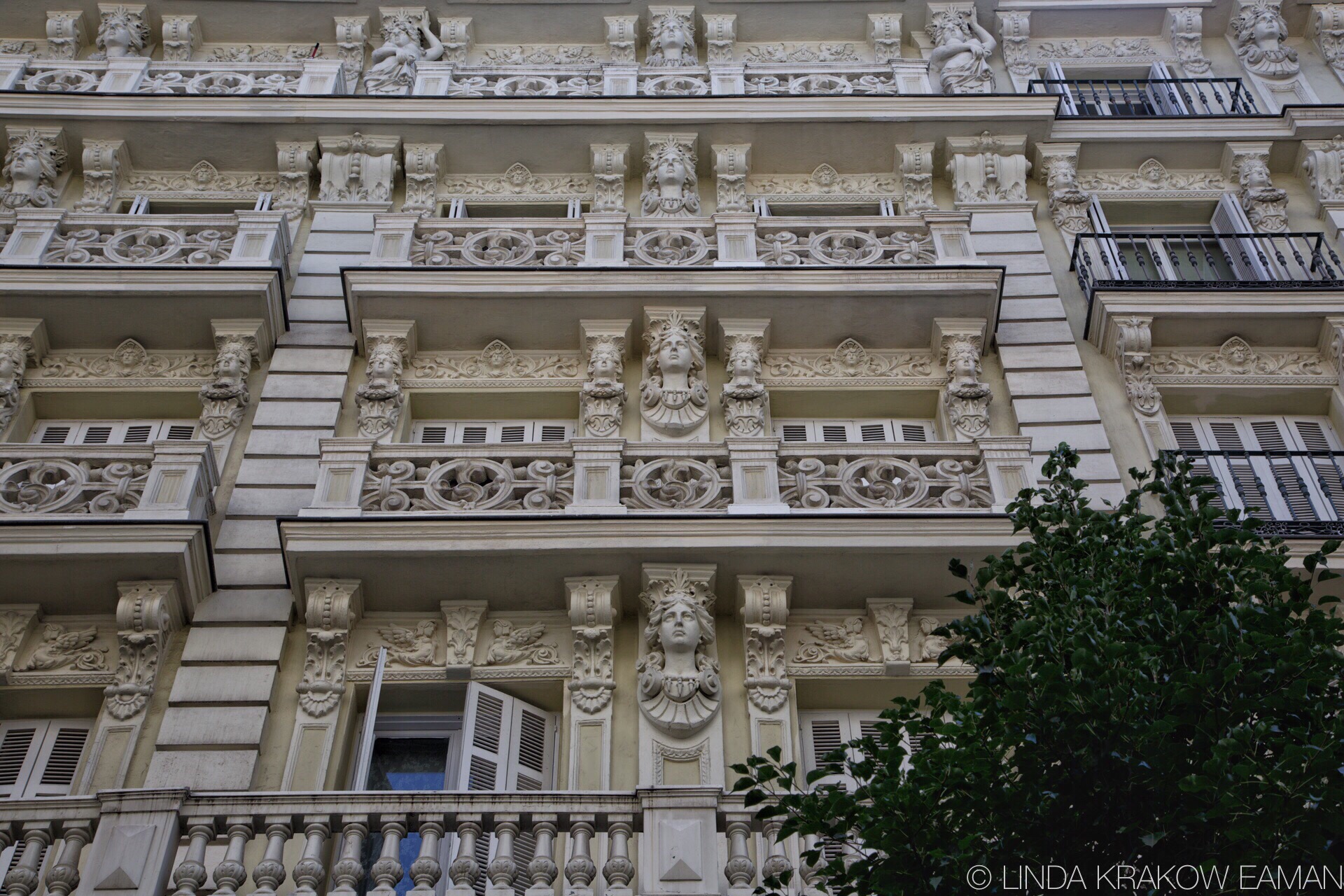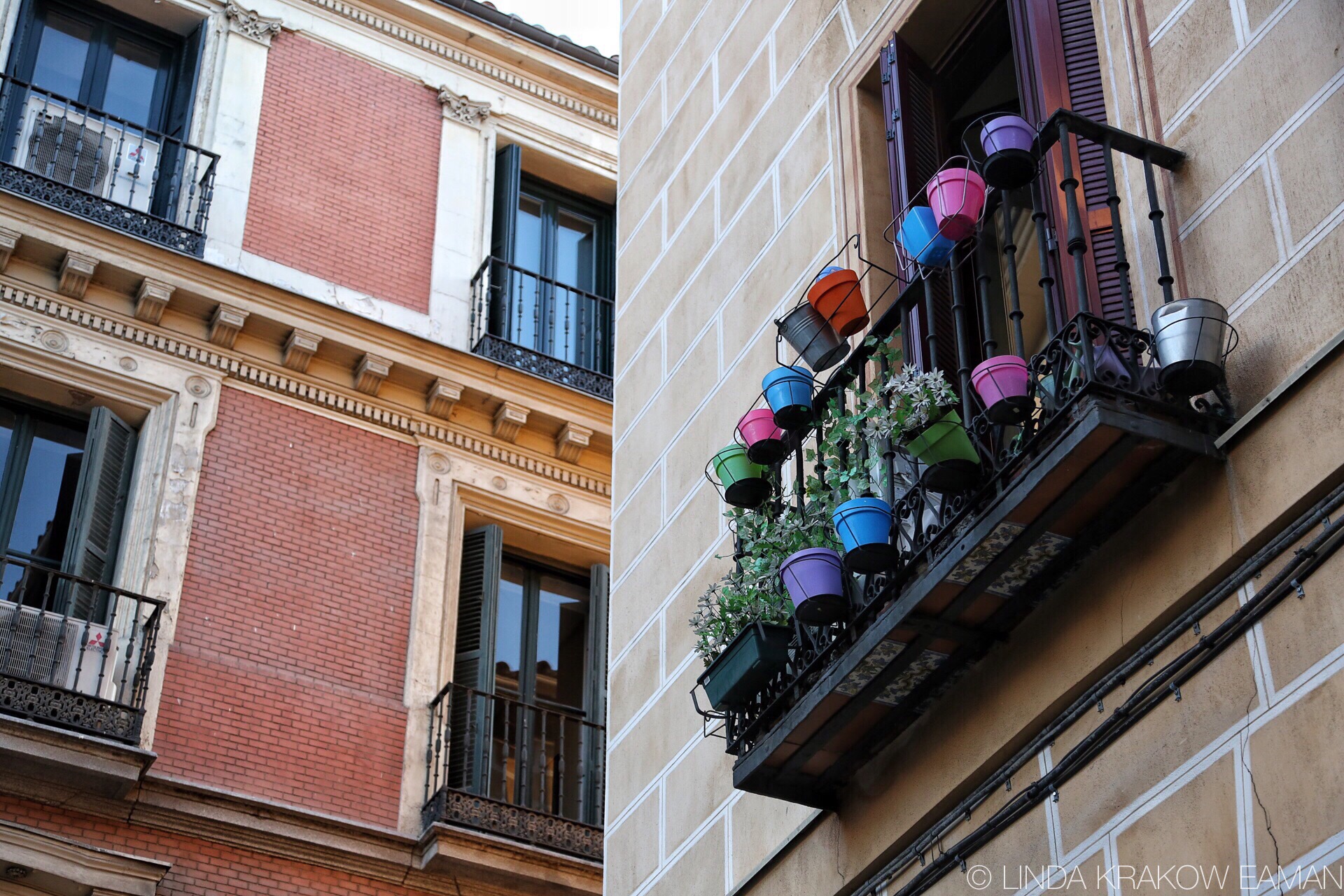 Just a few blocks from Puerta Del Sol is the Plaza Mayor. I was especially excited to be here as it is one of the clearest memories I have of our family trip in the 1970s. I remember our nearby room in a old hotel with a shared bathroom down the hall, my first jet lag experience, and my dad poring through a display of knives with beautiful bone handles in one of the shops on the square.
Today, much remains as it probably always has been, although now restaurants with outdoor tables and umbrellas (which periodically spray a cooling water mist down on diners) line the square, a great place to sit and watch the world go by with a cold beer and tapas. There is a constant stream of people, but at night the crowds swell with tourists and locals, street performers, people selling propeller toys that light up when you throw them in the air, and young African men who spread out their wares (sunglasses, purses, souvenirs) on squares of cloth rigged with ropes so they can instantly bundle them up and take off when the police are spotted. On Sunday a little market of antique, stamp, and coin dealers pops up in the shaded stone passageways.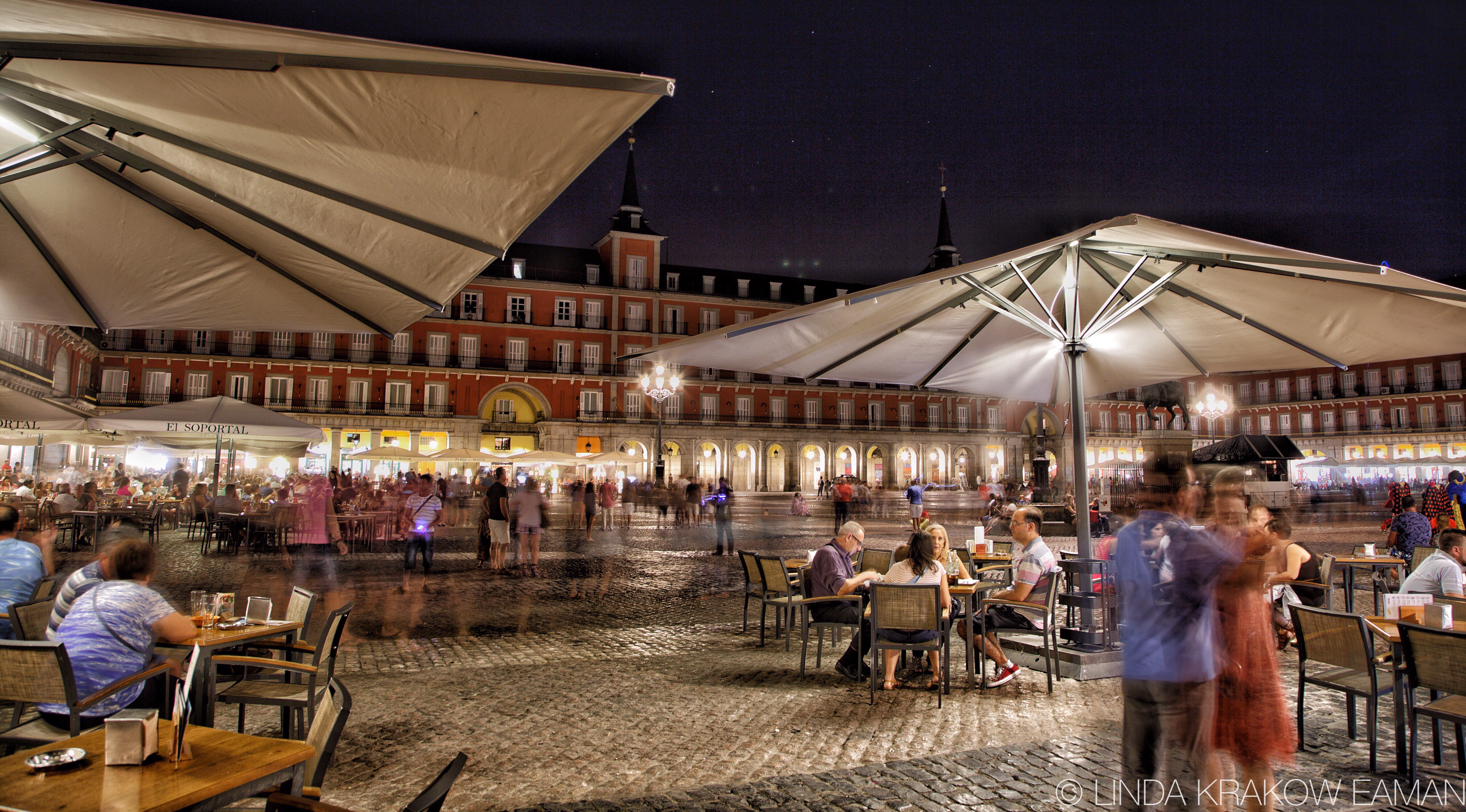 We've seen a group of six or eight young gypsy women (in their late teens or early twenties, perhaps) who walk around begging. They look sad and tired… And one morning we saw them gathered in the Puerta Del Sol, with a couple of men who appeared to be with them, perhaps giving them their instructions for the day. We know not to give them, nor any of the older women who reach out to try to give/sell us a sprig of rosemary, any money, but it is hard to watch.
Near Plaza Mayor is the Mercado San Miguel, a hip, artsy, hopping place where we joined hundreds of other people at bar height tables to enjoy beer, wine, and tapas on a hot evening.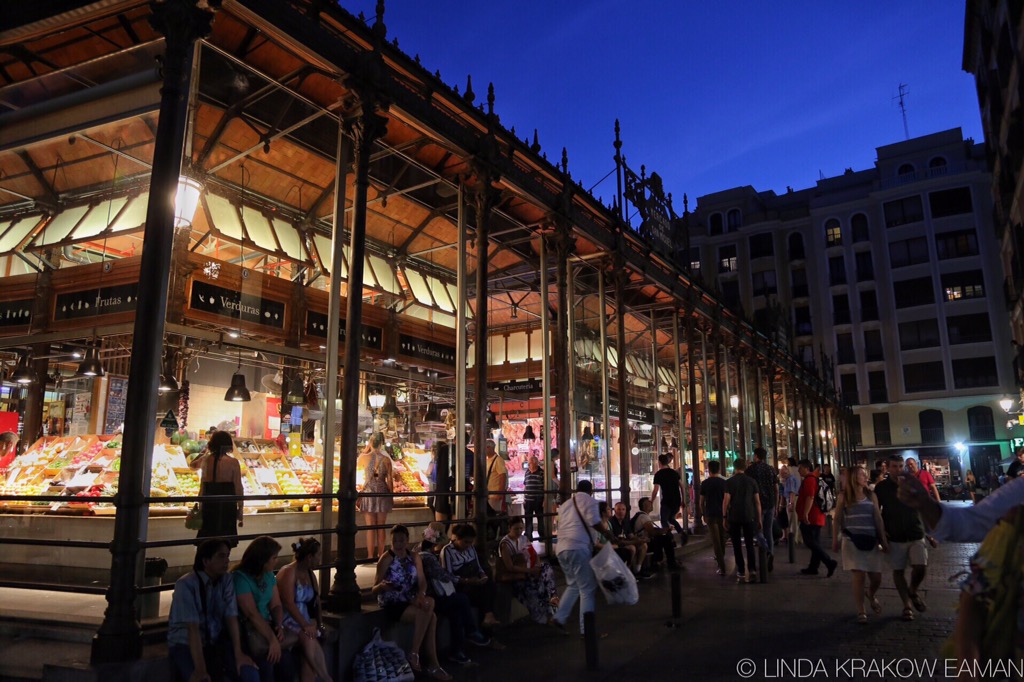 I love tapas! Small plates for sharing, to be enjoyed with wine or beer (or sangria, although I think that's mostly for tourists), as a snack or a meal. We've enjoyed fried sardines, roasted peppers, olives, smoked salmon on slices of bread (canapés), paella, beans with jamon (more about jamon later), fried anchovies, calamares (squid), potato croquettes with cod and jamon, and more.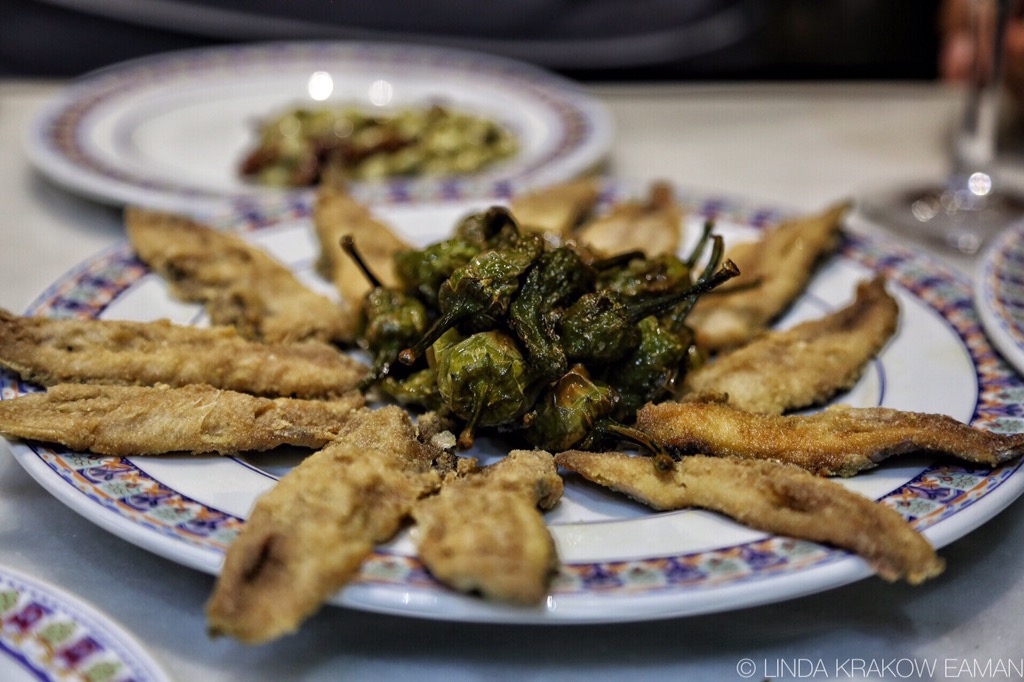 We've also tried a traditional Madrid breakfast–chocolate con churros. The hot chocolate, dark or milk, is a thick concoction resembling chocolate sauce, but served in a cup. The churros, unlike the big fat ones we see in California, are skinny and made to order. They're nothing special on their own, but dipped in the chocolate… Oh my!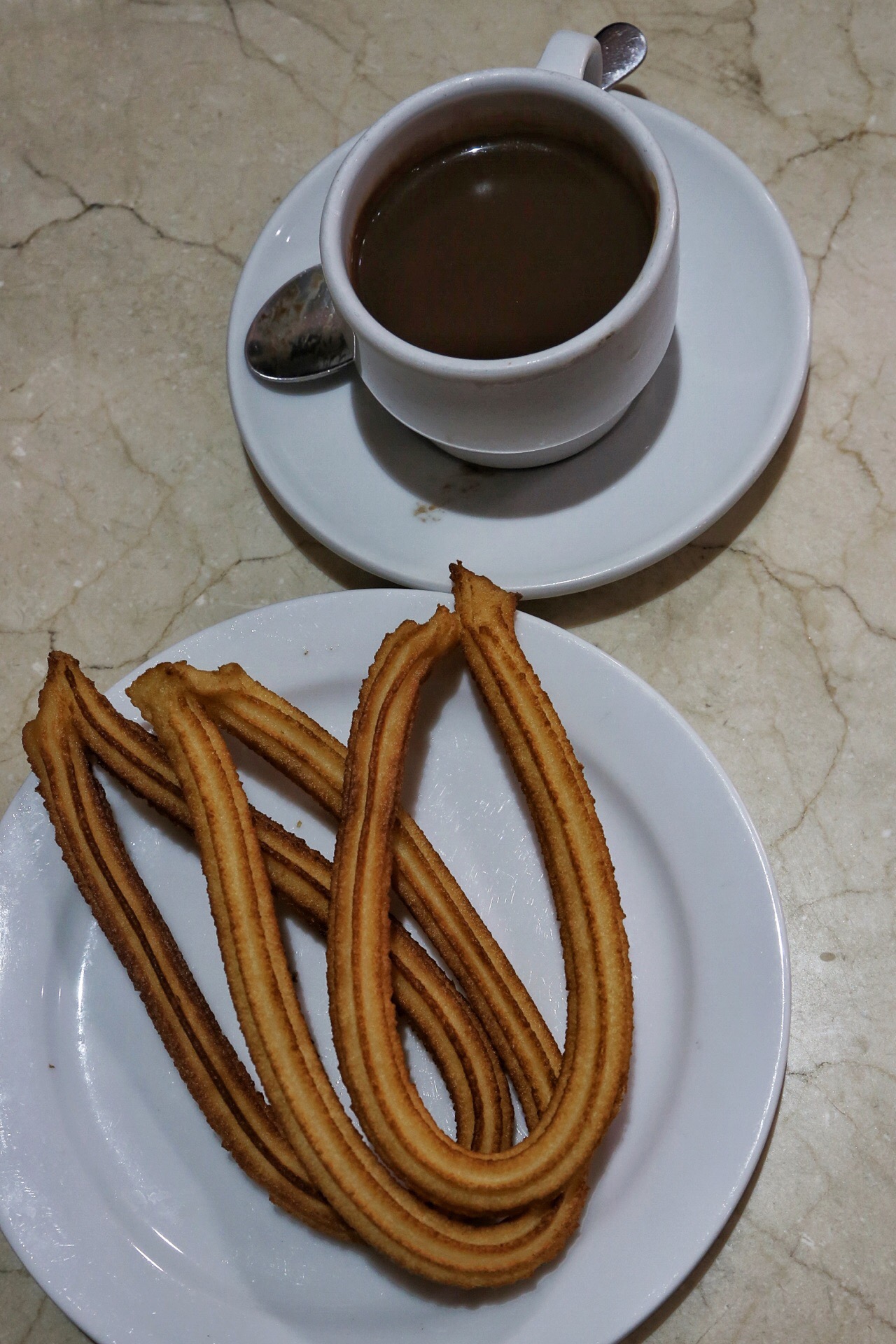 Another food of note is the Jamon Iberico. The local specialty is cured ham from black footed Iberian pigs, related to wild boar and fed the acorns that fall from oak and cork trees. The ham is cured for two years, and if it is certified to be the real thing, fetches a pretty penny. The price in the picture converts to about $86 U.S. per pound! It's always displayed with the black hoof attached, even in restaurants, where it is carved to order.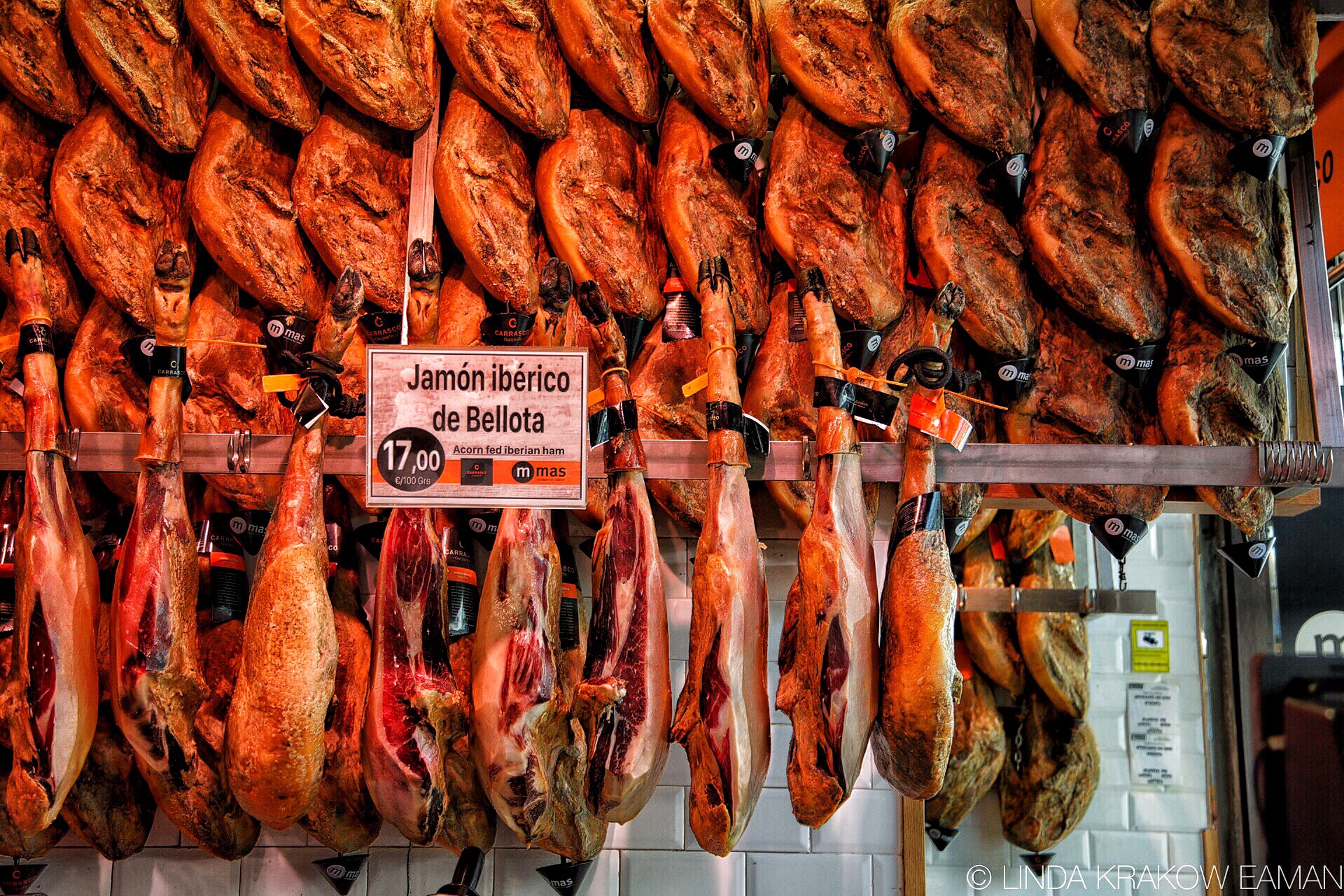 We've spent a lot of time just wandering the streets, soaking up the atmosphere, but we've seen most of the major attractions too.
The Catedral de la Almudena, which took 100 years to build and was completed in 1993, is probably my favorite of all the many (many, many) churches I've visited. The style is similar to the old, gothic churches, although less ornate than many. But the ceilings–oh, the ceilings! Beautiful, vibrant, cheerful paintings are a big surprise.
Spain still has a king, so the imperial palace is still in use, at least for formal occasions. It sits at the top of a hill, at one end of the old city, with a river below. Surprisingly (perhaps because everyone goes during the evening, when admission is free) there was no line to get in and the spectacular rooms were not crowded with tourists. This is a great introduction to the history of Spain and Madrid (especially with the audio guide).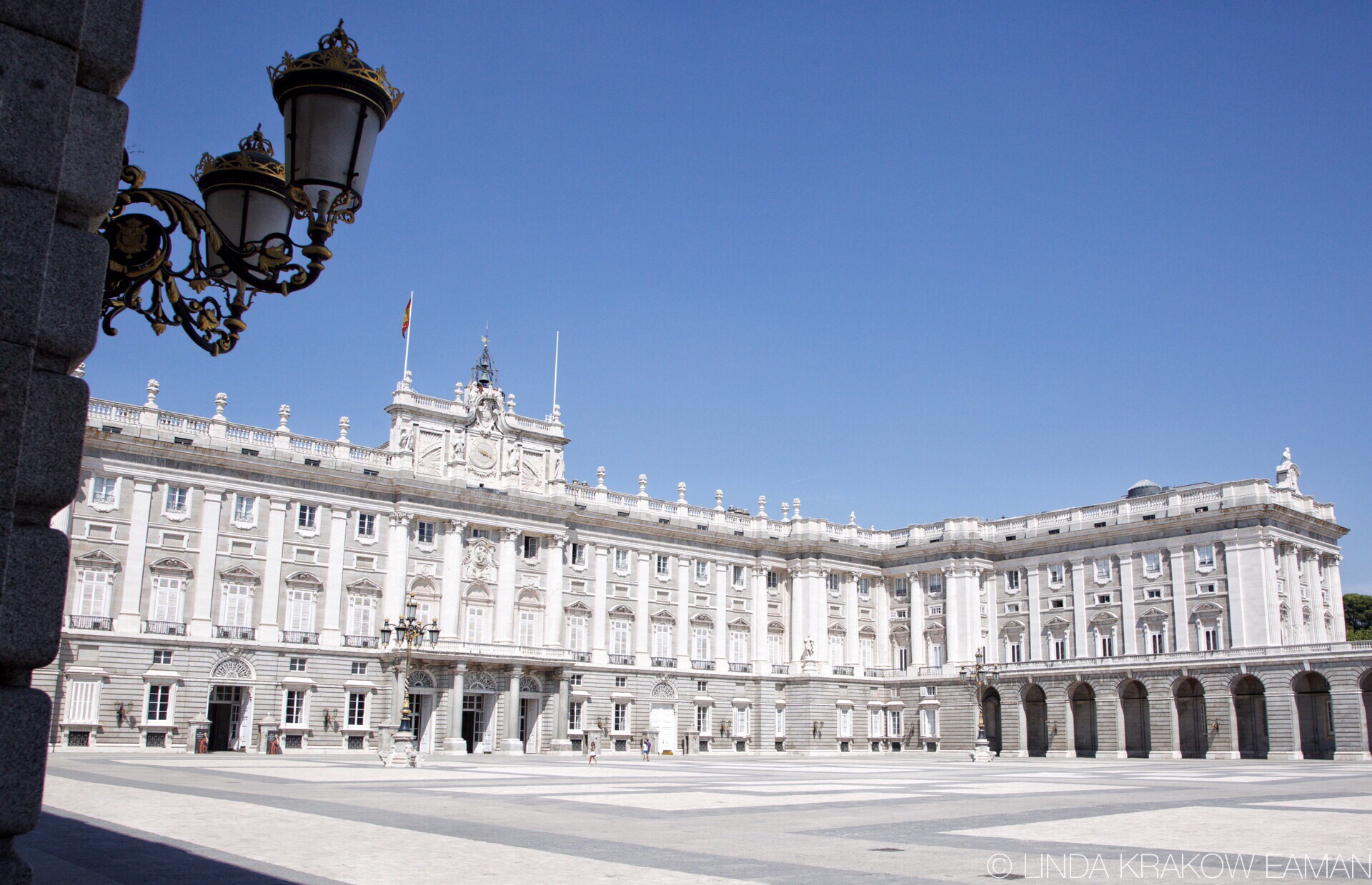 On the back (north) side of the palace, down a set of stairs flanked at the top and the bottom by accordion-playing buskers providing background music, are the beautiful Sabatini gardens.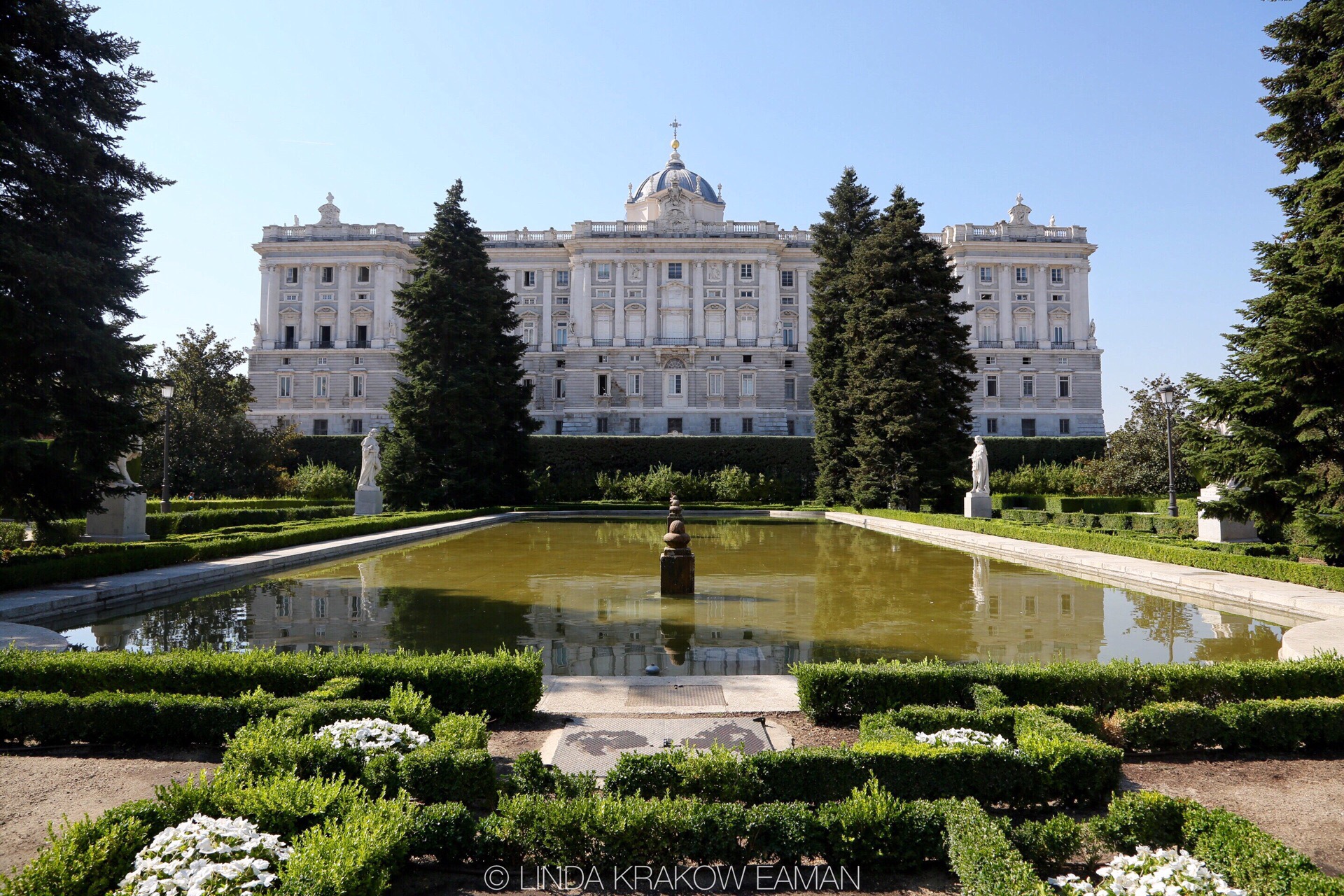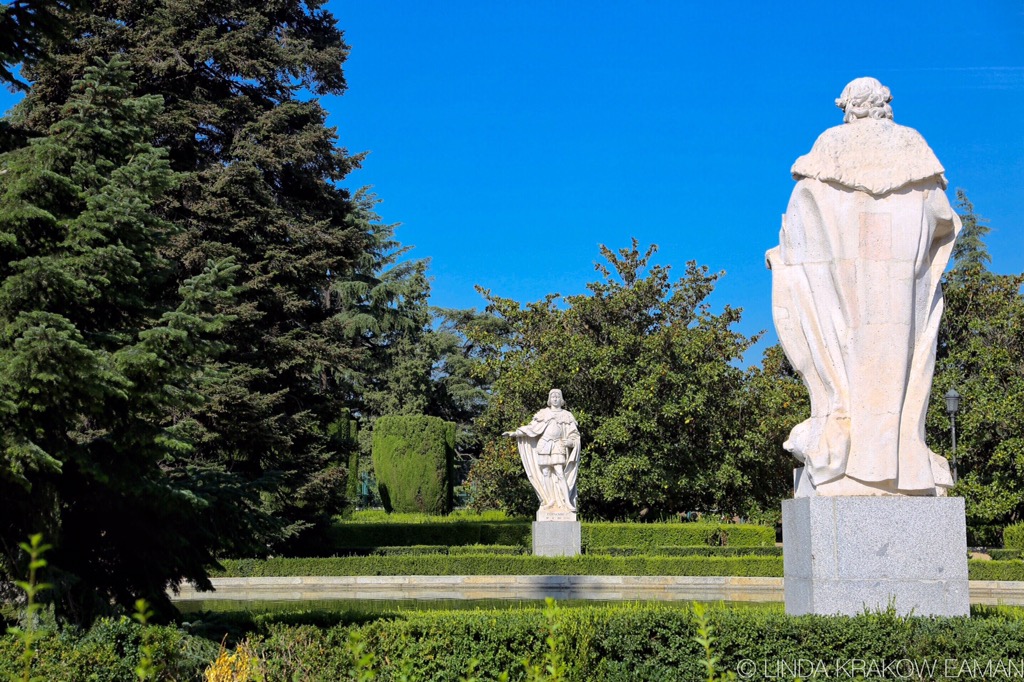 An unexpected point of interest is the Templo De Debod–a real Egyptian temple that was a gift from Egypt to Spain in thanks for Spain's help during a crisis in the 1960s. It sits in a park that offers a great view of the palace overlooking the city and a shady place to hang out during the afternoon heat. It's a people-watchers' delight, with kids playing soccer, old women sitting on benches, and a huge group of young people dancing with Hare Krishnas.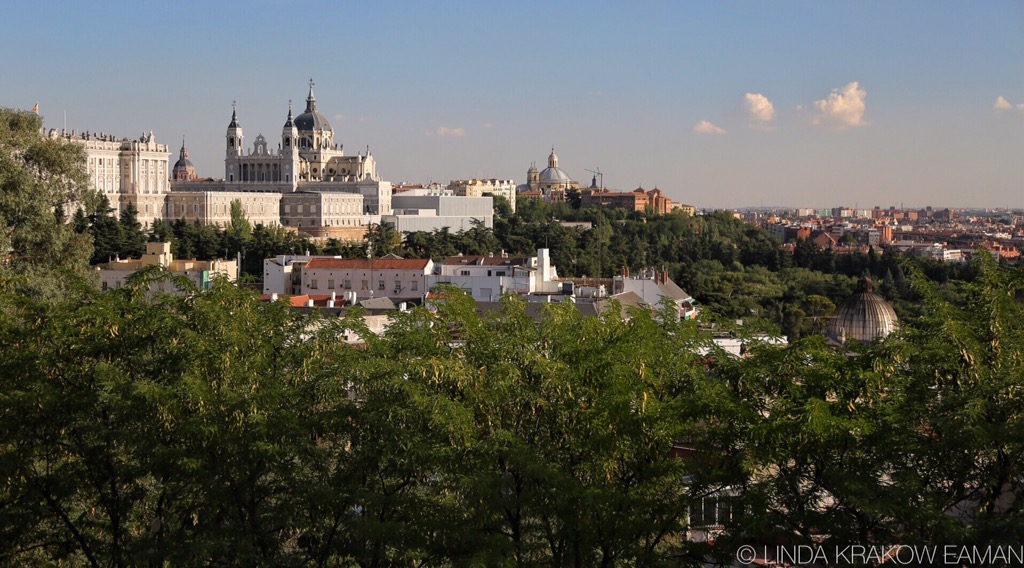 At the other end of the old city are the art museums and Retiro Park. We discovered that there appears to be no line for the Prado during weekdays, but if you want to get in during the free evening hours it's best to arrive early. We ended up in a line on the weekend, but were able to buy tickets online using our cell phone, then jump to the no-waiting entrance immediately. Skipping the only partially shaded hour-long wait in 90+ degree weather was worth the small administrative fee. The downside was not being able to get in to the special exhibition, but there were enough masterpieces in the permanent collection to satisfy us! Titian, Goya, Velazquez, Rubens, and more… Amazing.
The Reina Sofia is the contemporary art museum, housed in a 1750s-era building that was originally a hospital. We skipped pretty quickly through some of the galleries, but seeing Picasso's Guernica in person, along with other pieces by him as well as Dali and others, was great.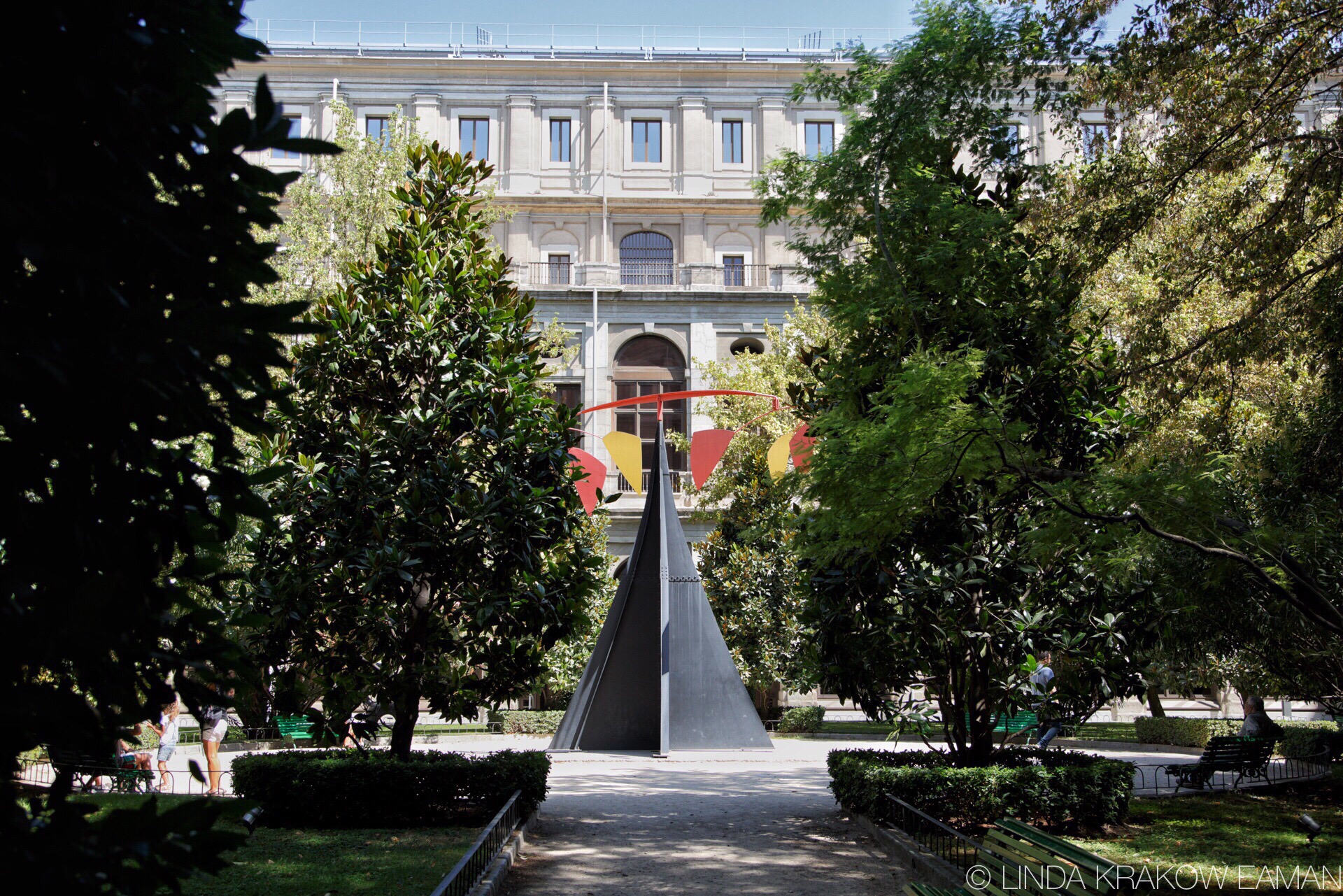 Retiro park, originally the royal hunting grounds, was opened to the public in the 1800s and is a beautiful green space with cafés surrounding the "lake" where hardy souls rowed rented boats in the extremely hot sun (we chose to sit with beer and iced coffee and watch them instead). Other features include a smaller pond with fountain, a museum (history?), a "crystal palace" which I had hoped would be a conservatory of flowers but instead housed a contemporary art exhibit.
Sunday morning is the weekly El Rastro flea market, where vendors sell just about everything! Souvenirs, leather bags, jewelry, clothes, underwear, pottery, books, antiques, even gas masks. It spills out over a maze of streets and squares, with a tide of people wandering through. Quite entertaining, and markets are always fun to photograph. We didn't buy anything.
The rest of Sunday was spent doing laundry (remarkably painless thanks to a nearby laundromat with big, efficient washers and dryers), catching up on writing, and having a last cafe con leche con helado (an amazing invention… espresso with a bit of steamed milk, in a glass with a small scoop of chocolate ice cream, with chocolate chips that slowly melt into the coffee. Heaven!) Then we were off to see a phenomenal performance of Carmen, by the Ballet Flamenco De Madrid–an intoxicatingly combination of Bizet, flamenco dancing, and flamenco music, and the perfect end to our Madrid visit.
Tomorrow we head for Toledo!