Moose Quest in Algonquin Park: A Backcountry Canoe Trip

I've always wanted to go backcountry camping, by canoe or on foot. My family, though, is not remotely interested, so I've somehow let it sit on a back burner for years. Until now! In April I spotted a four day trip led by photographer Chris McQuarrie and a guide from Algonquin Outfitters, with all the camping equipment and food included–a huge hurdle for a beginner like me–at a price that seemed reasonable. YES! I quickly snagged a spot and spent the next few months in eager anticipation.
Into the wilderness
Algonquin Park is HUGE. At more than 7600 square kilometres (almost 3000 sq. miles), it's bigger than Prince Edward Island, about the same size as Delaware and Rhode Island combined, almost the size of Jamaica. And it's almost all wilderness. Road access is mainly limited to Highway 60 that runs from one side to the other (see Spectacular Fall Colour and Fabulous Fungi in Algonquin Provincial Park), and most of the park is accessible only by canoe or on foot. Wildlife includes wolves, black bears, and–the focus of this trip–moose.
Early mornings
As with most landscape and wildlife photography trips, we set out before sunrise each day for the best light and the best chance of sighting wildlife, used the middle of the day for meals, downtime (for me, that meant sketching) or travel to a new location, and then went out again just before sunset.
Getting up at 5am has its advantages. There's a sense that you're going to make the most of the day, not wasting a minute. And if you're lucky, you'll be rewarded with colourful skies or a rising sun breaking through the trees, illuminating the mist that's still hanging over the lake.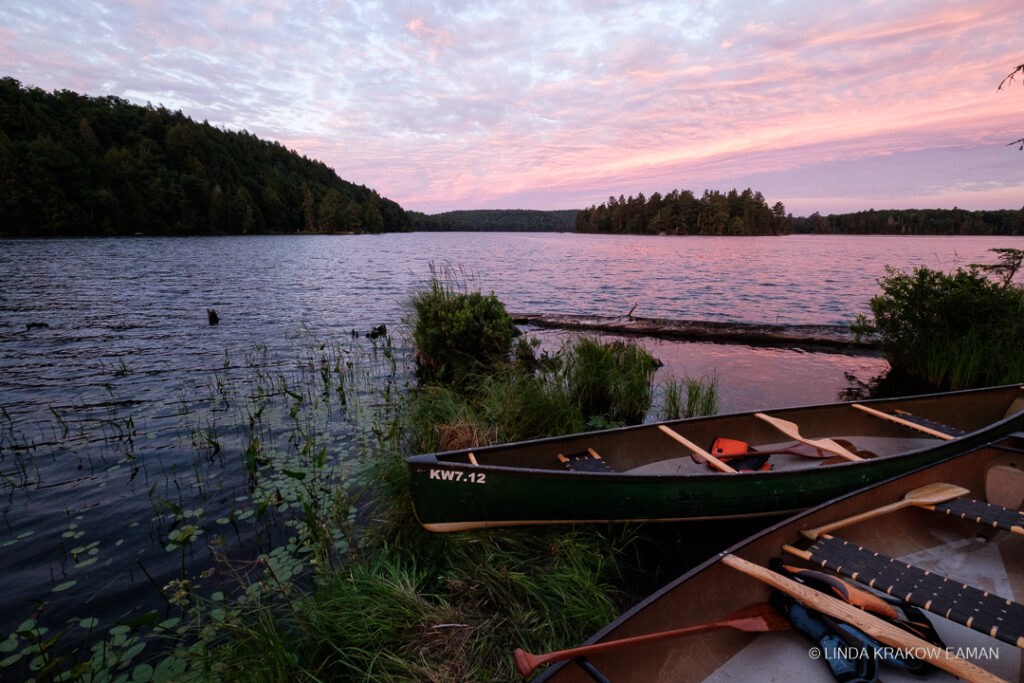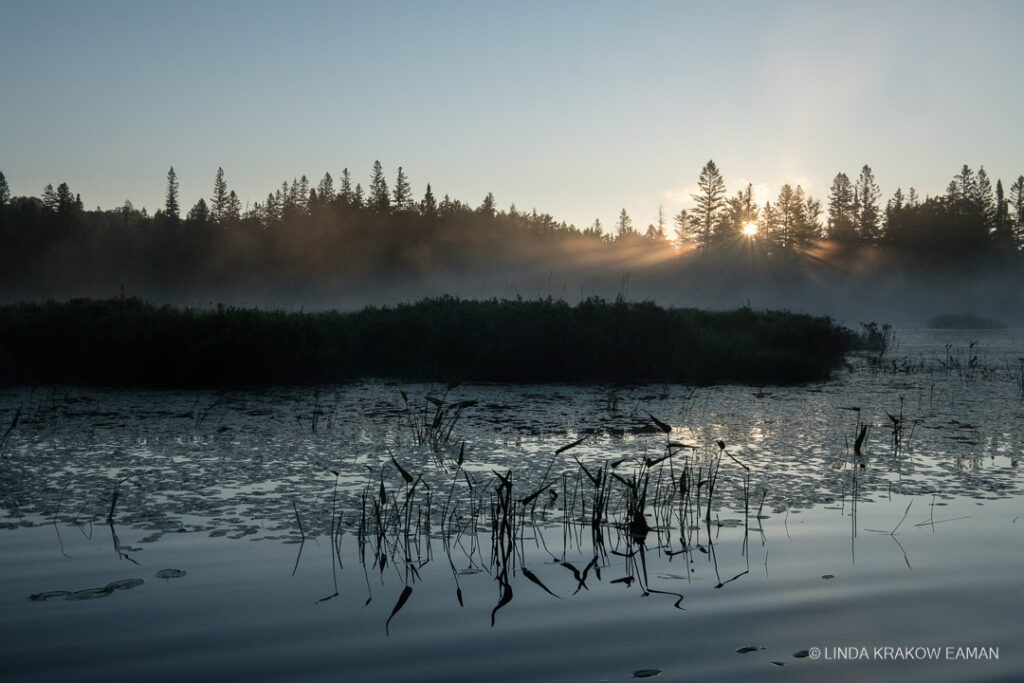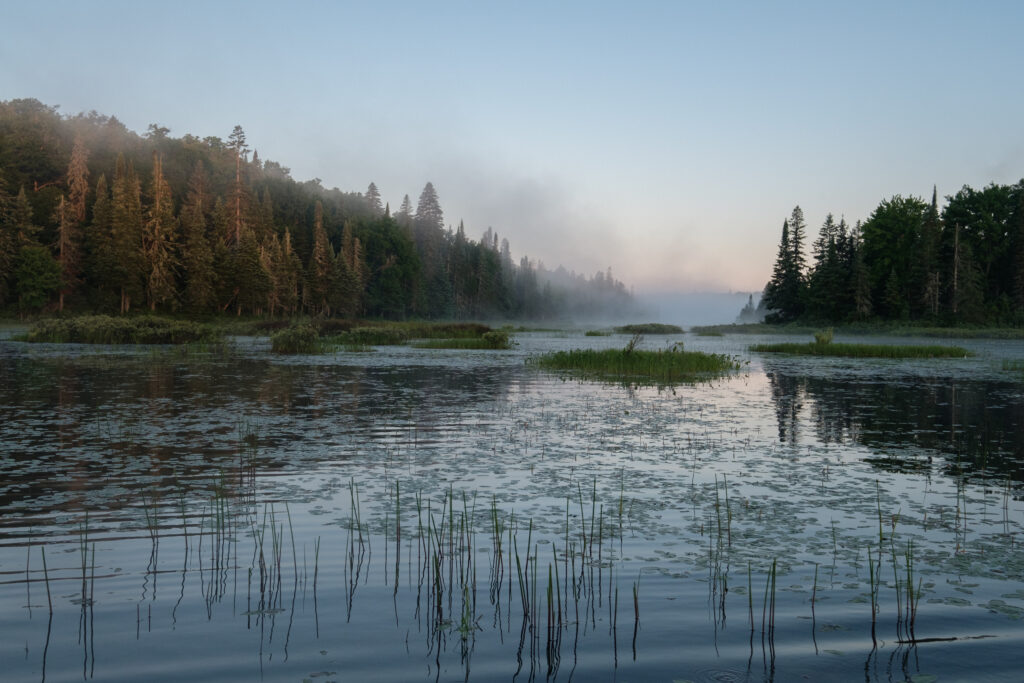 Wildlife!
We didn't see wolves or bears, but we did find moose. They venture out of the dense woods into shady bogs and marshy areas to feed on aquatic plants–in particular, the roots of water lilies–and to get away from the mosquitos and blackflies.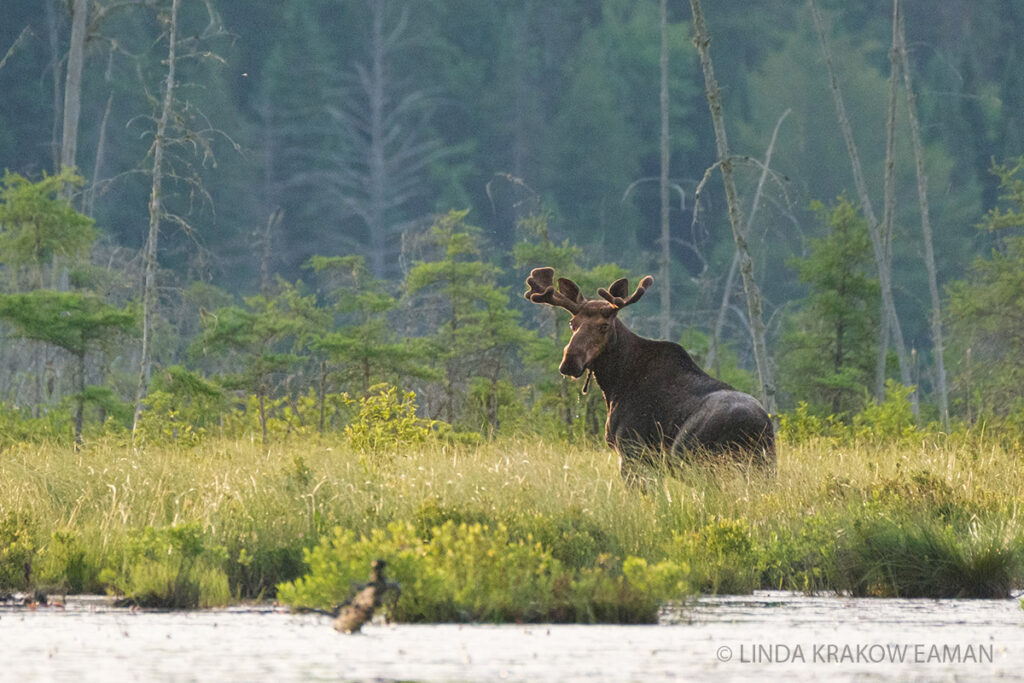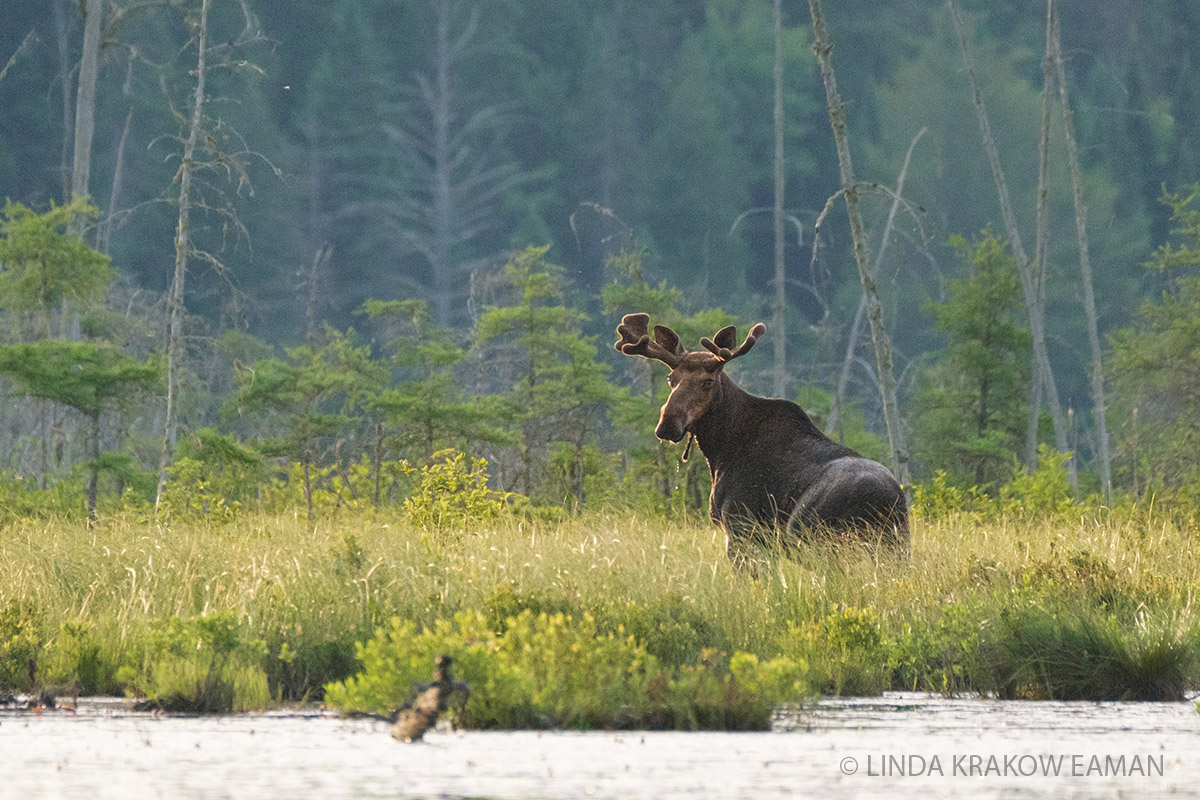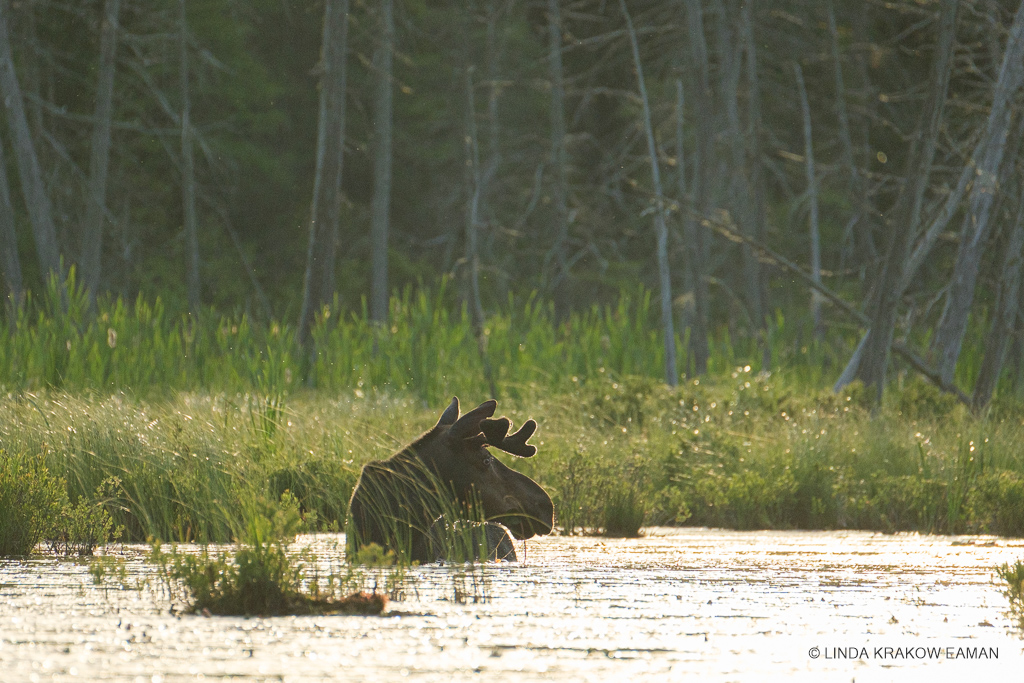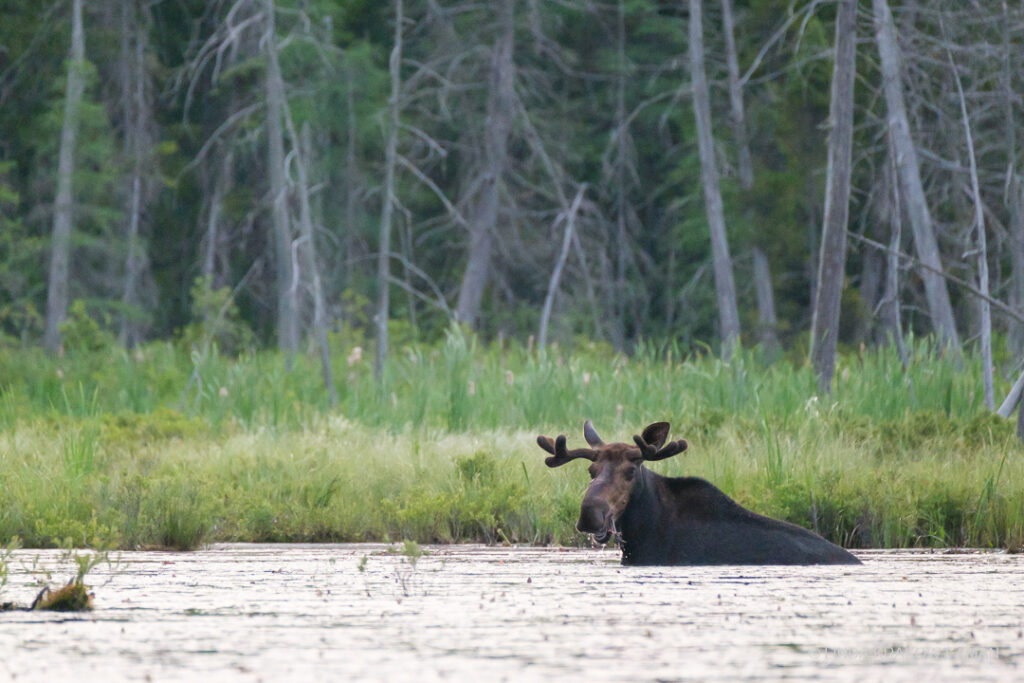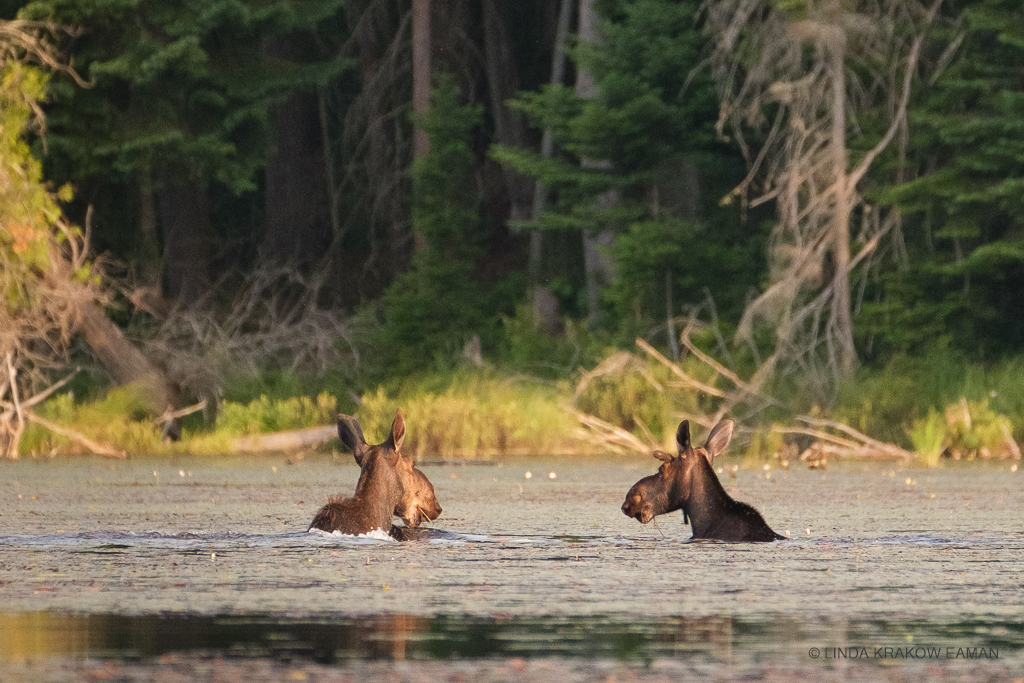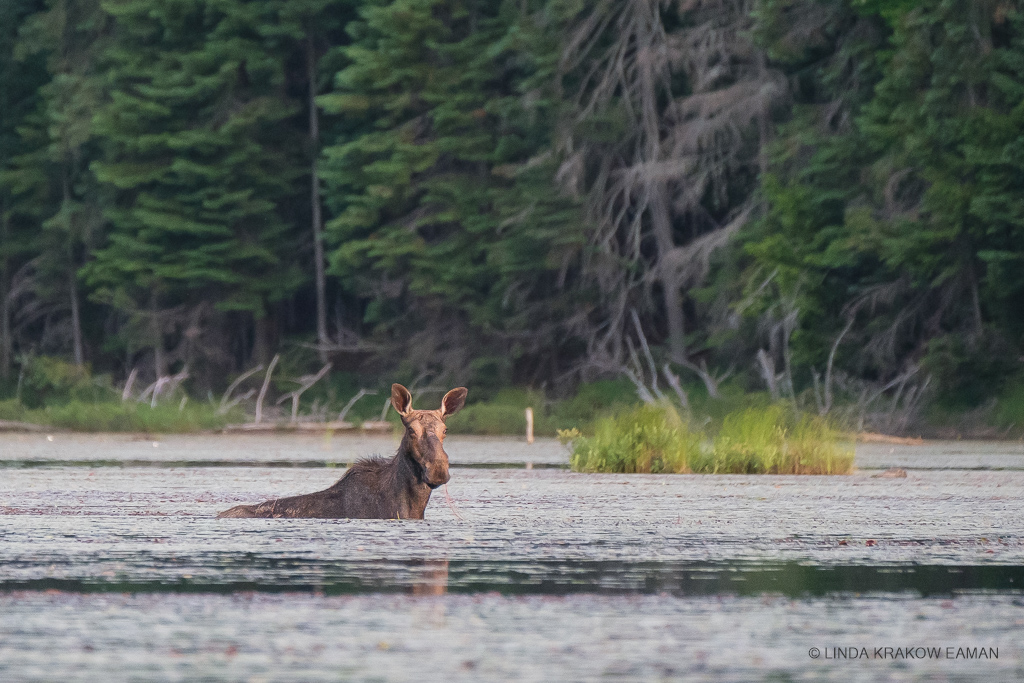 This is iconic Canada: dense forests, myriad lakes, the call of the Loon.
We saw other wildlife as well. A beaver slapped the water with its tail when as we paddled passed its lodge, one of many along our route. A young white-tailed deer, his antlers just a few inches long, frolicked like a puppy in the shallow water across from our camp site. And we saw and heard birds of all kinds including Loons, Great Blue Herons, Mergansers with chicks, and White-throated Sparrows that serenaded us from high in the trees near the shoreline. This grouse (my first) was hiding in the undergrowth at one of our camp sites, just a few feet from my tent.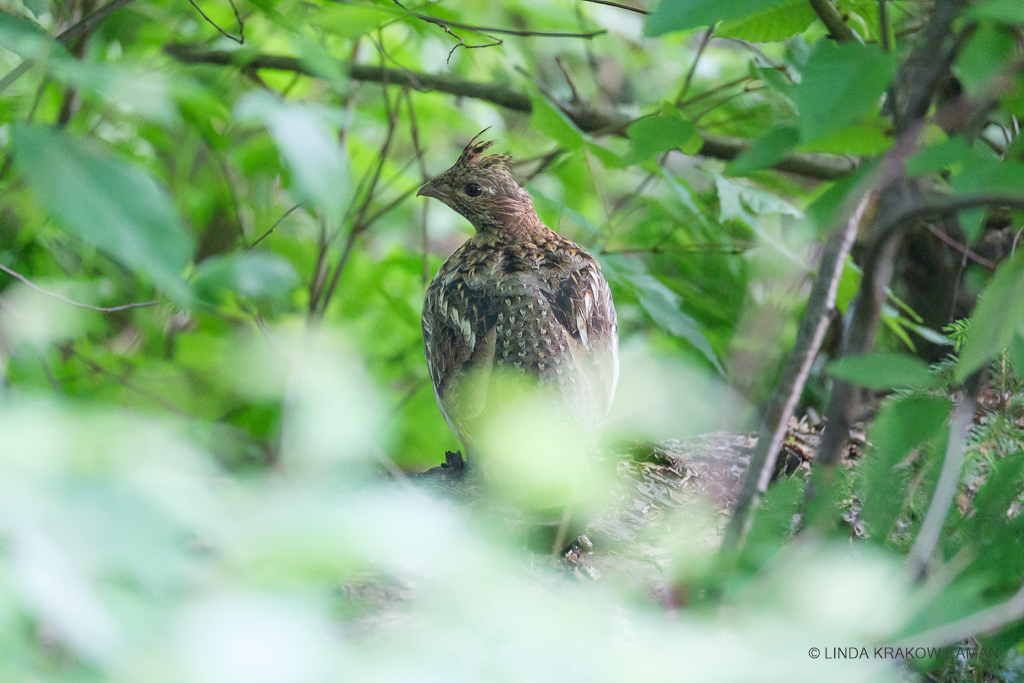 The sound of bullfrogs, including through most of the night, was loud enough that one of our group moved his tent away from the water! We also saw many smaller frogs like this one, well camouflaged among the lily pads.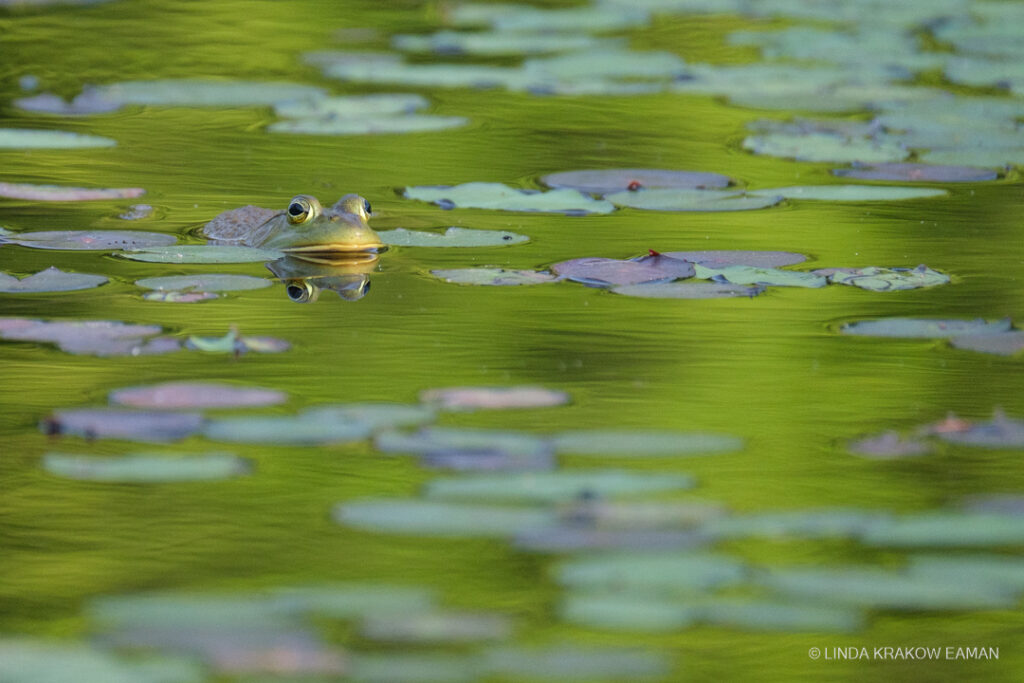 A female red-winged blackbird hopped from one lily pad to another in search of insects.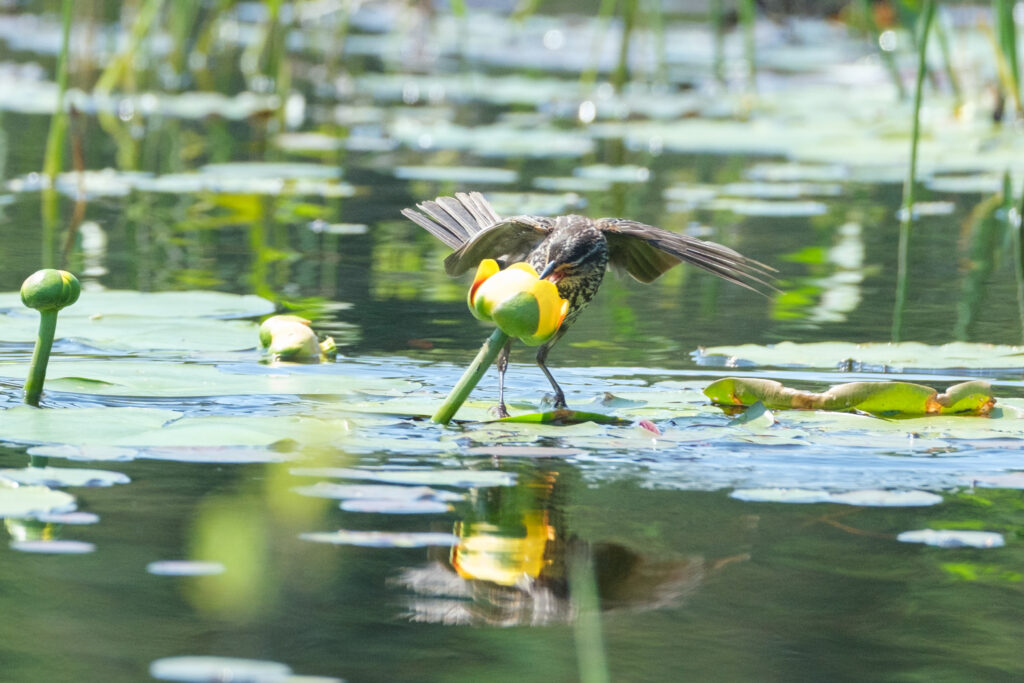 Camping
For me, the opportunity to experience backcountry camping was as big a deal as the moose. I tried to participate in the portaging, beaver dam crossings, cooking, etc. as fully as I could, and learned a lot. I loved every minute of it! I'm sure it helped that Algonquin Outfitters provided us with great food and high quality tents, mattress pads, and sleeping bags. The mosquitos were manageable with lots of bug spray, and the blackflies weren't out yet. We mostly had good weather, too: sunny, warm days that were not too not, two afternoons that were fine for a dip in the lake, and only one evening of rain. Although I don't need to paddle across a windy, choppy lake in the rain again anytime soon.

Our camp site for nights two and three was nestled in the woods on the right side of this photo.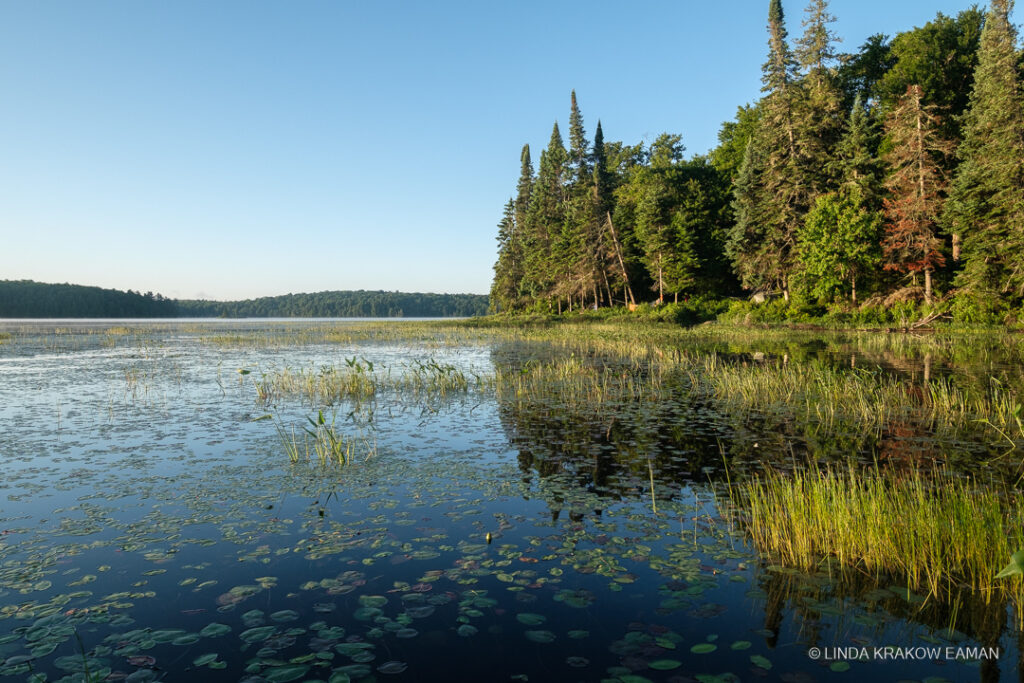 Here we are approaching one of four beaver dams that we had to shove the (fully loaded) canoes over.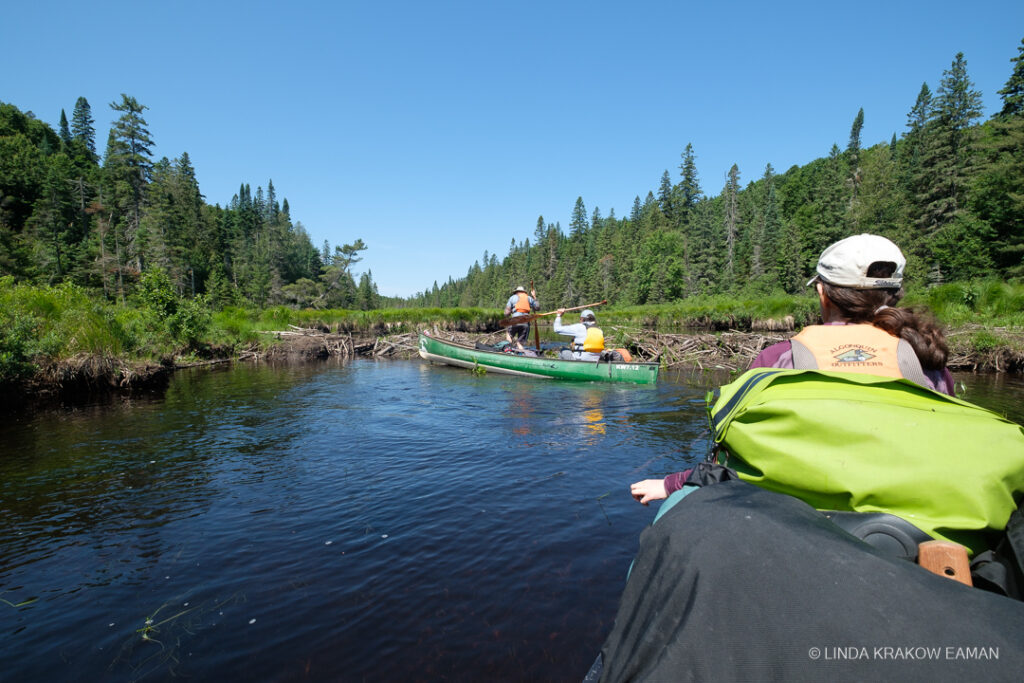 All good things must end… for now.
On the last morning, before starting out on our final long paddle back to the access point, there was one more A+ moment as a Merganser with her babies swam past us, through the mist on golden water, and we watched in awe.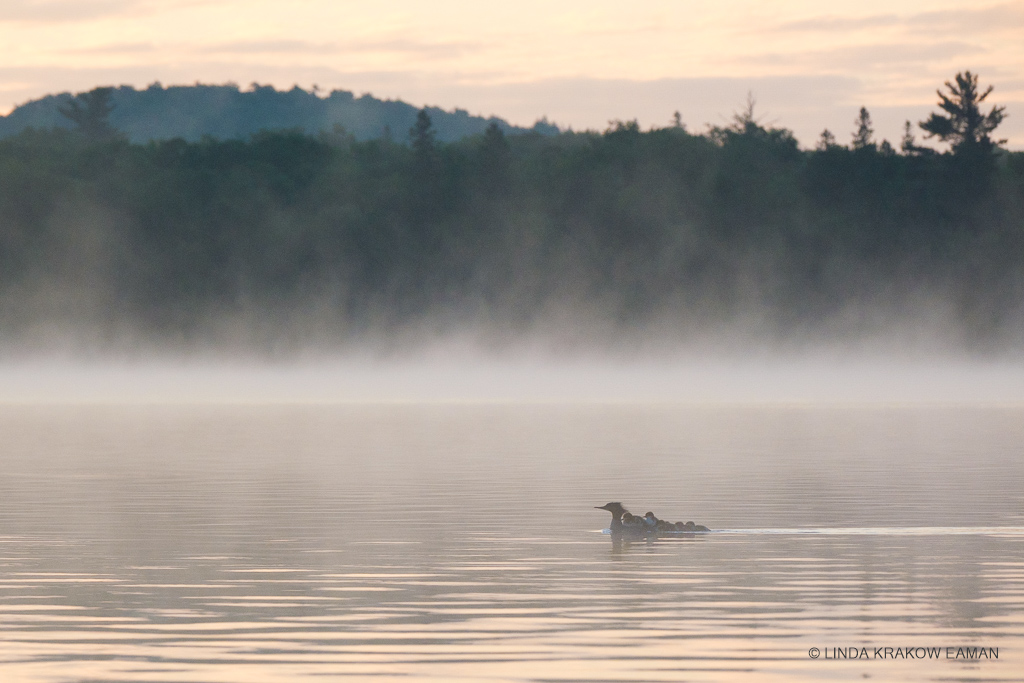 By the end of four days we had paddled about 50 km (30 miles). My first backcountry trip was empowering and confidence boosting, and now that I've seen moose I'm eager for another chance to photograph them. I look forward to the next time!