Nova Scotia, Briefly
Oops. Last September we took a little trip with the camper, and I never got around to sharing it. So here, a few months after the fact, is a little vicarious travel for you. Maybe something to add to your travel plans for the summer!
We hadn't been to Canada's maritime provinces in thirty years (!) so we were due for a visit. We have fond memories of rugged coastline, masses of wild lupines and other wildflowers lining the roads, and little fishing villages. So we were eager to see it again, even though we knew that the summer there is short and late September would already be chilly and the wildflowers finished.
Our plan was a drive around Nova Scotia, starting in the south and, time permitting, ending with a trip around Cape Breton. We were only a few days in when the hurricane warnings started, though, so we had to make some adjustments as we went along!
High tides and a little bore
The drive to Nova Scotia took us through New Brunswick, and we stopped for a walk and a sketch at Hopewell Rocks Provincial Park.
The Bay of Fundy is the site of the highest tides in the world: as much as 16 metres/52 feet! There are several parks in New Brunswick and Nova Scotia where you can walk out onto the ocean floor when the tide is out, and many locations for watching the tidal bore–the effect that occurs when the incoming tide moves up a river, effectively reversing the current. During full moons and when the tides are highest the bore effect can be several feet high, but when we were there it was hardly visible 🙁
Wolfville surprise
We sometimes stay at campgrounds, where we can connect the camper to power and water. But being fully self-contained, we like to explore other options. Our Harvest Hosts membership and apps like ioverlander are helpful in finding these. In Wolfville, NS we found a gem through Harvest Hosts: Hennigars Farm Market. At first glance we thought we'd be staying in the parking lot by the road. But our host led us up the hill behind the store, to a spot between a sunflower field and an apple orchard! We stocked up on fresh produce and a pie, and enjoyed a beautiful sunrise the next morning.
Digby, scallop capital of the world
Digby, Nova Scotia is a working town. In the harbour, the wharf was quiet and the fishing boats were tied up waiting for the start of scallop season, but on opening day there would be trucks and people everywhere, and many more boats as well. As we wandered on the wharf, several people were happy to chat and tell us all about the scallop fishing business.
We ate a lot of seafood on this trip! From nice restaurant meals to fried clams and chips at roadside shacks, it was all good. At the fish market in Digby–a little counter in a building by the wharf–only frozen scallops were available, since scallop season was still a few weeks away, but they were a treat, pan-fried on the camper stove!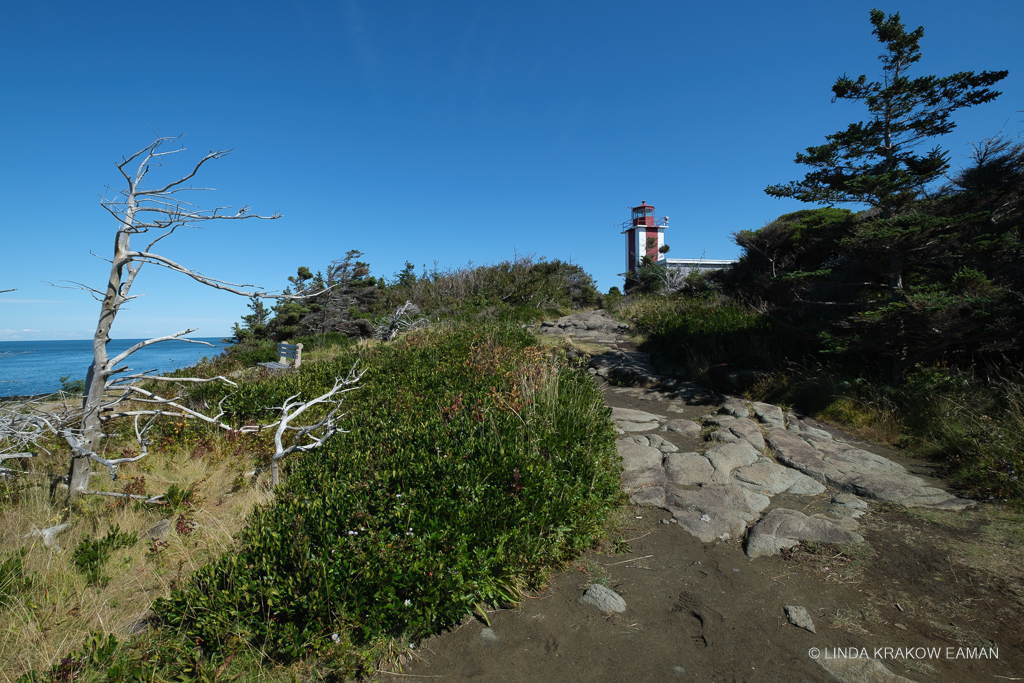 Bear River
Sometimes the smallest places turn out to be the most enjoyable. Fifteen minutes inland from Digby is the tiny village of Bear River. Many of the town's buildings have their feet in the tidal river, and are propped up on stilts to keep them dry when the river rises each day. We enjoyed coffee and a treat at the Sissiboo Coffee Roastery and Gallery, and then wine tasting up the hill at Bear River Vineyards. We missed the Mi'kmaq Heritage and Cultural Center nearby, at the nearby Bear River First Nation, but it's on my list for next time.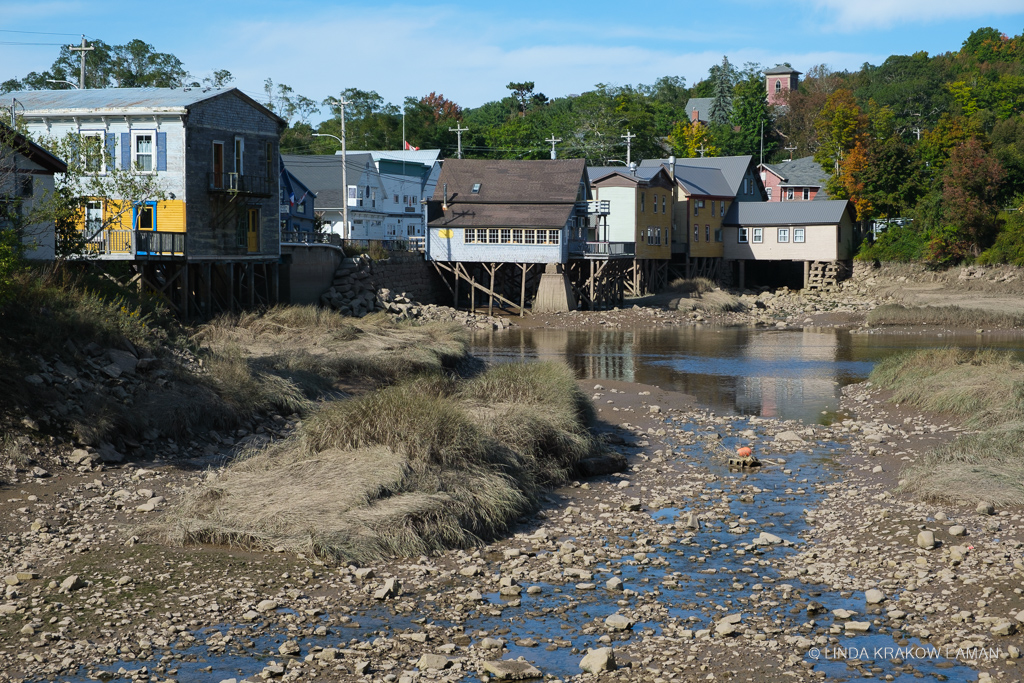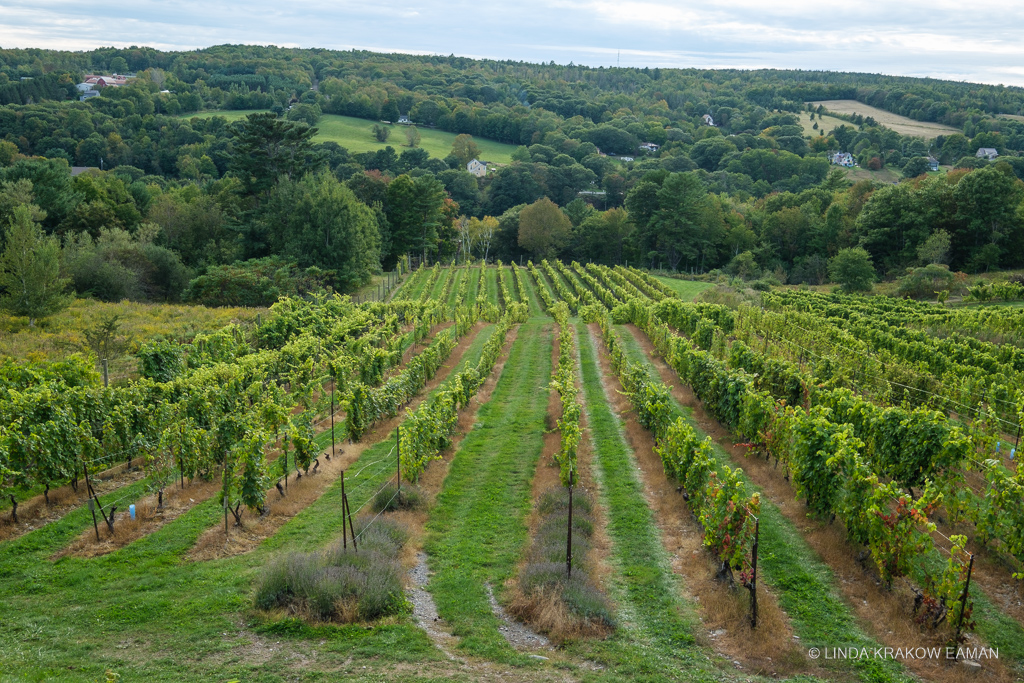 Lovely Lighthouses
There are more than 170 lighthouses in Nova Scotia, so you don't go far without seeing one, and they're always picturesque even in gray weather.
We arrived at Cape Forchu lighthouse early on a chilly, damp morning. The lighthouse and restaurant weren't open yet, but we enjoyed having the surrounding grounds to ourselves. A lovely place to tromp around and soak up the atmosphere, as long as you're dressed warmly!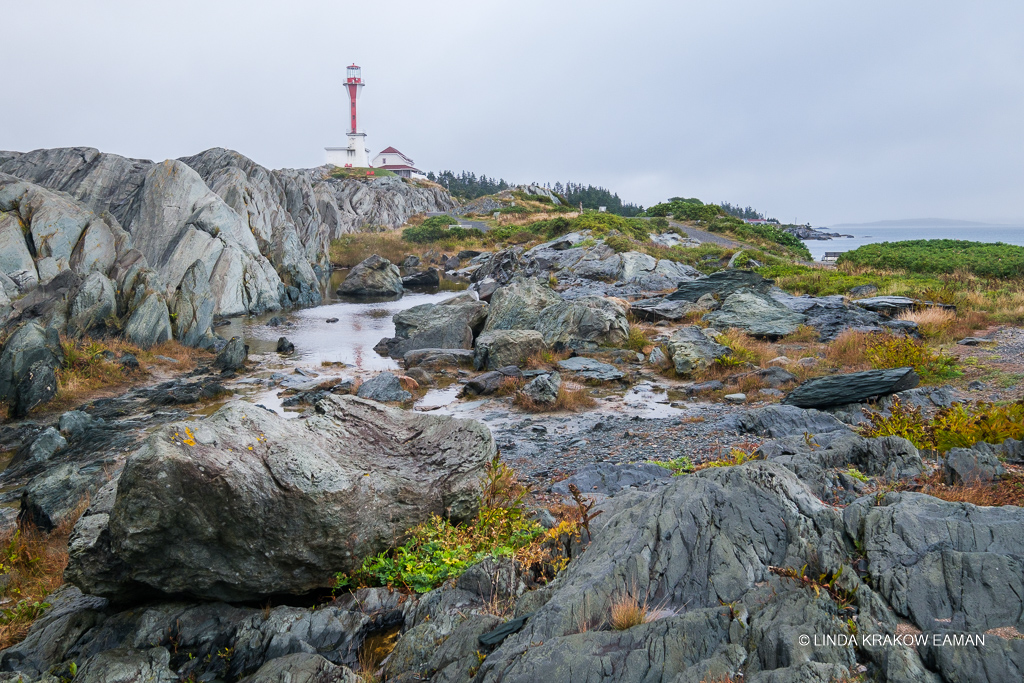 On an extremely windy day, we climbed a ladder to the light at Gilbert's Cove lighthouse, explored interesting exhibits, and tried to imagine the life of the lightkeeper and his wife, living in a tiny space with their five children. And yes, we had tea at the little table in the corner!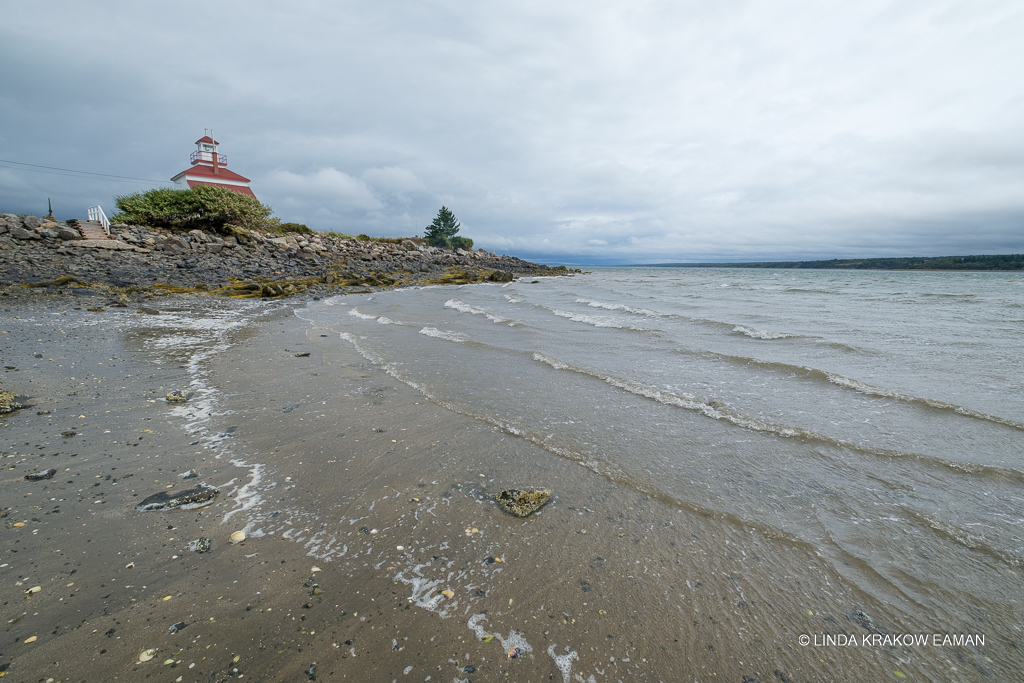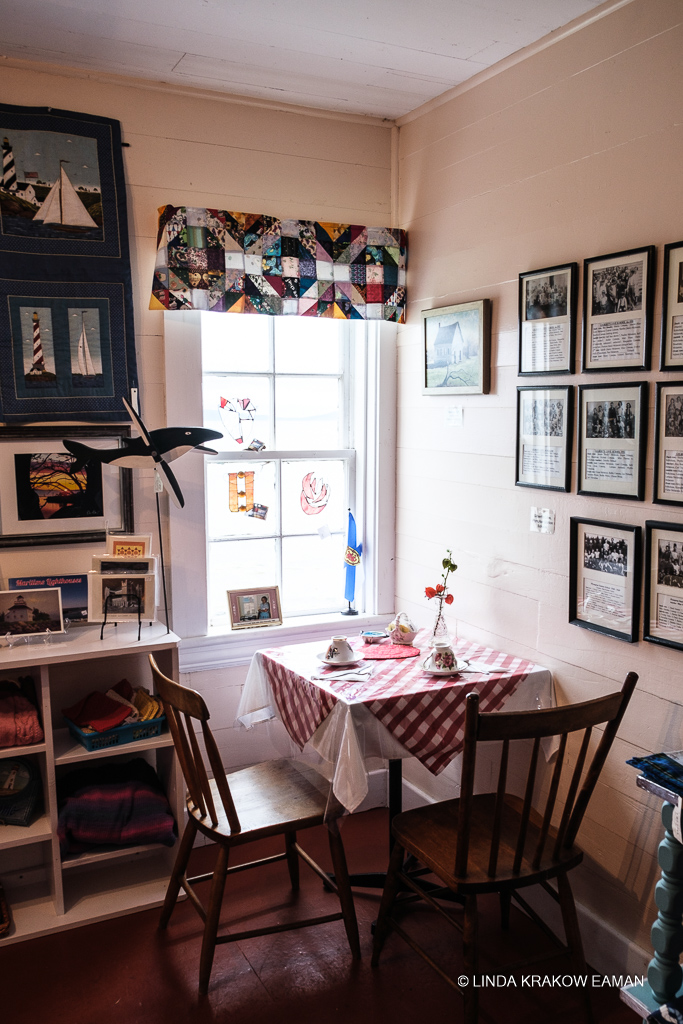 Pretty villages and a few oddities
All along the coast, there are pretty little villages, beautiful farm houses, and a few oddities too. In every town of any size, and many of the villages as well, we noticed memorials to those lost at sea; a reminder that life here can be difficult and dangerous.
This area is known as Acadia, with a culture, customs, and language that go back to the time when this was part of New France.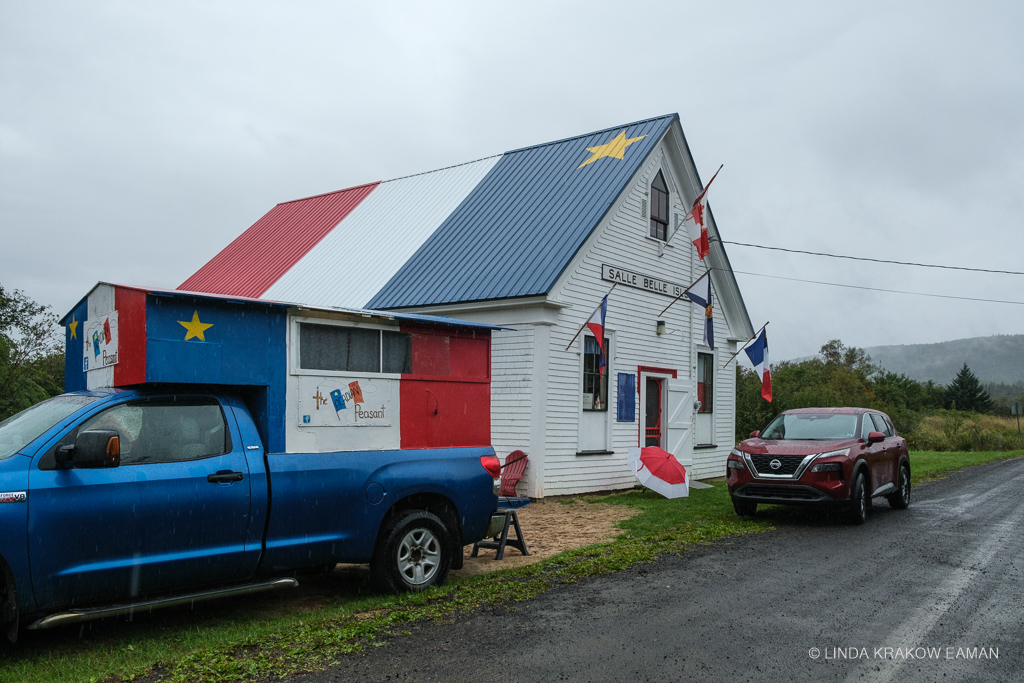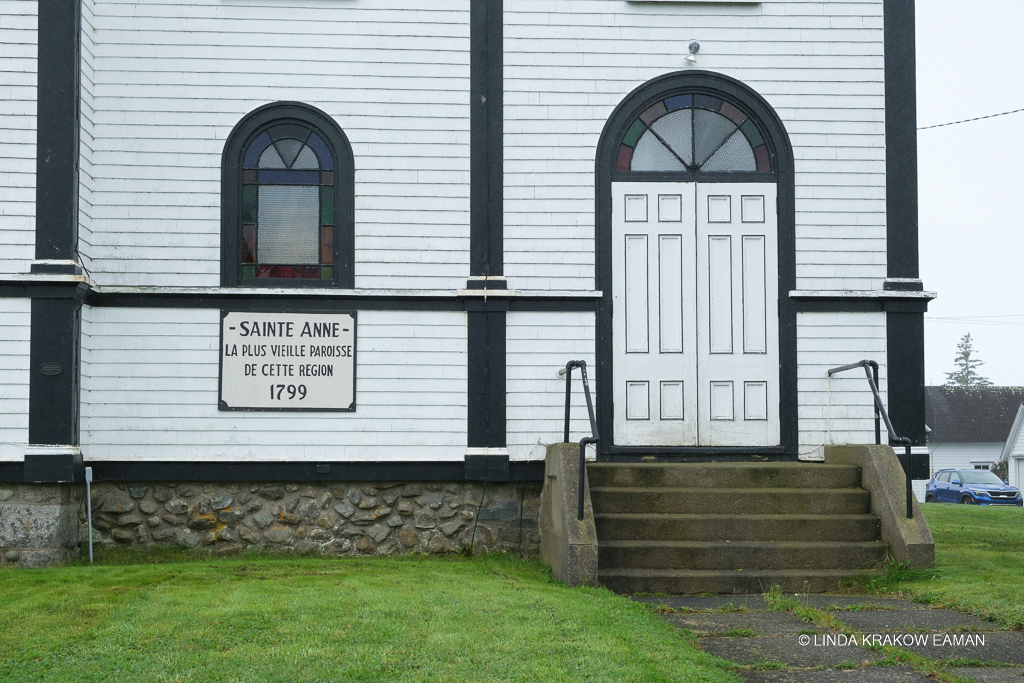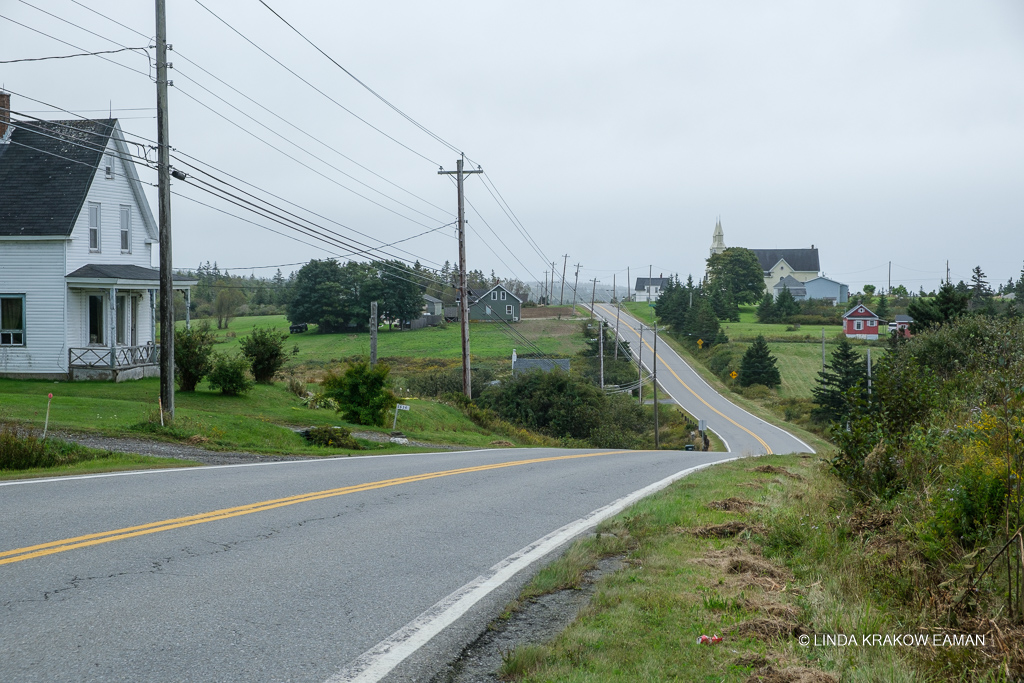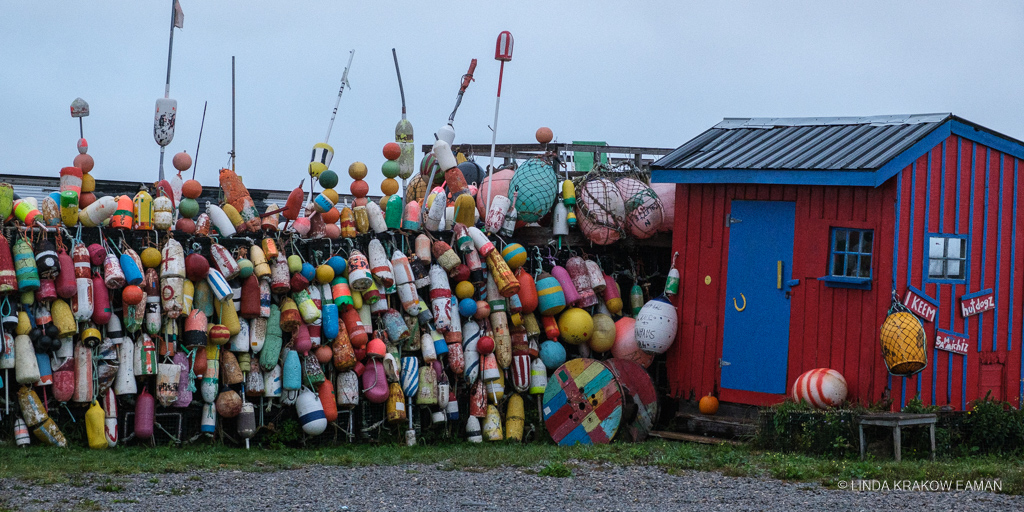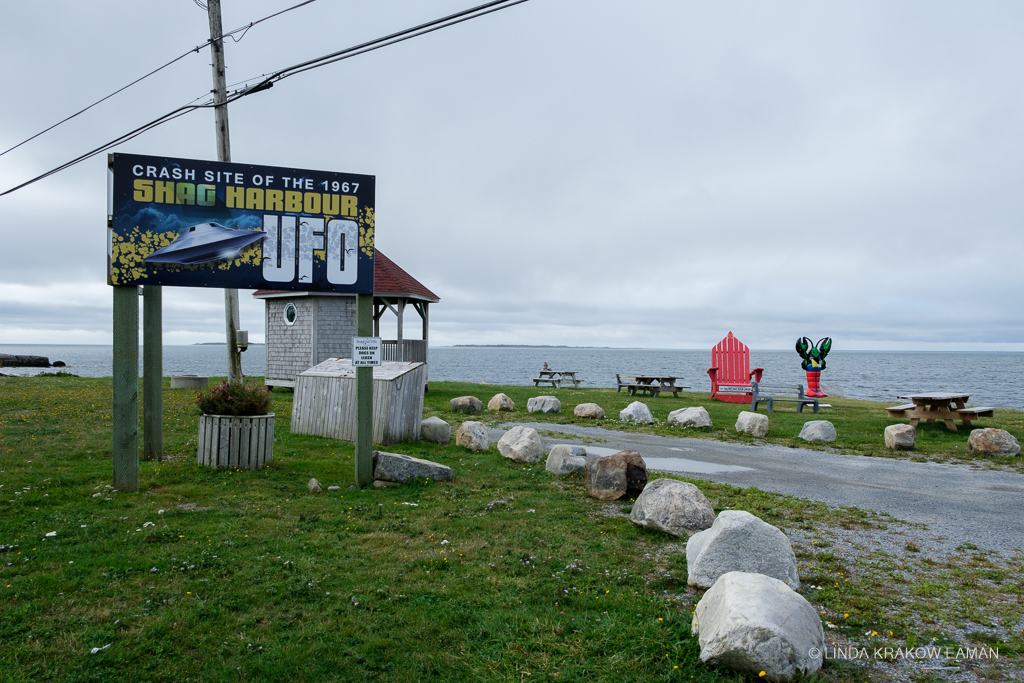 Yarmouth
Yarmouth was an unexpectedly enjoyable place. The visitor information center provided a pamphlet with a lovely walking tour, and we discovered the historical museum is an absolute gem!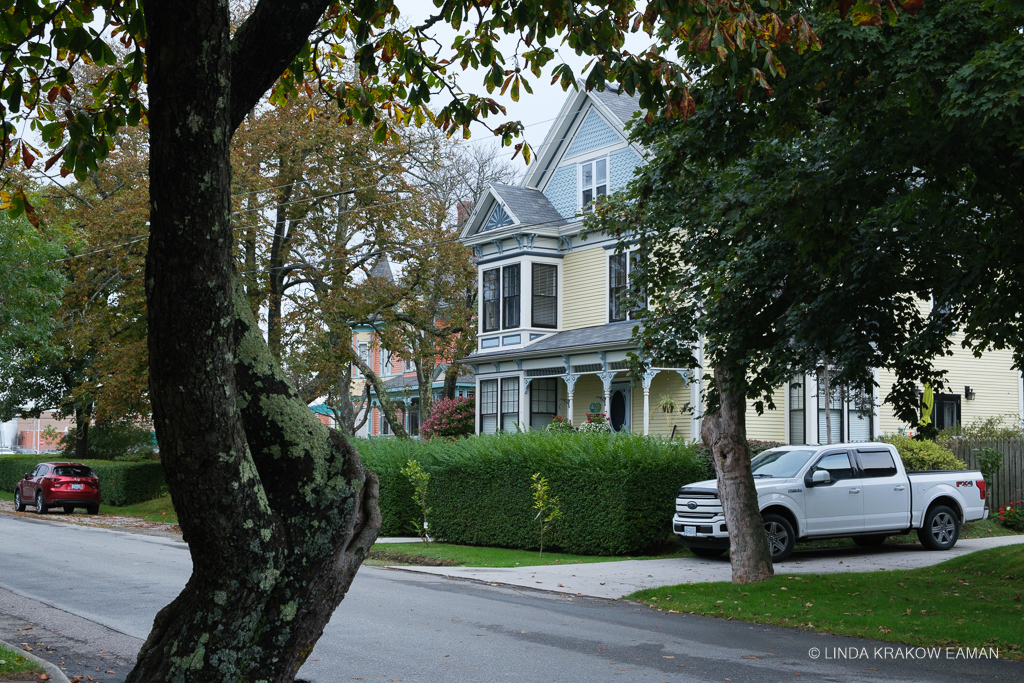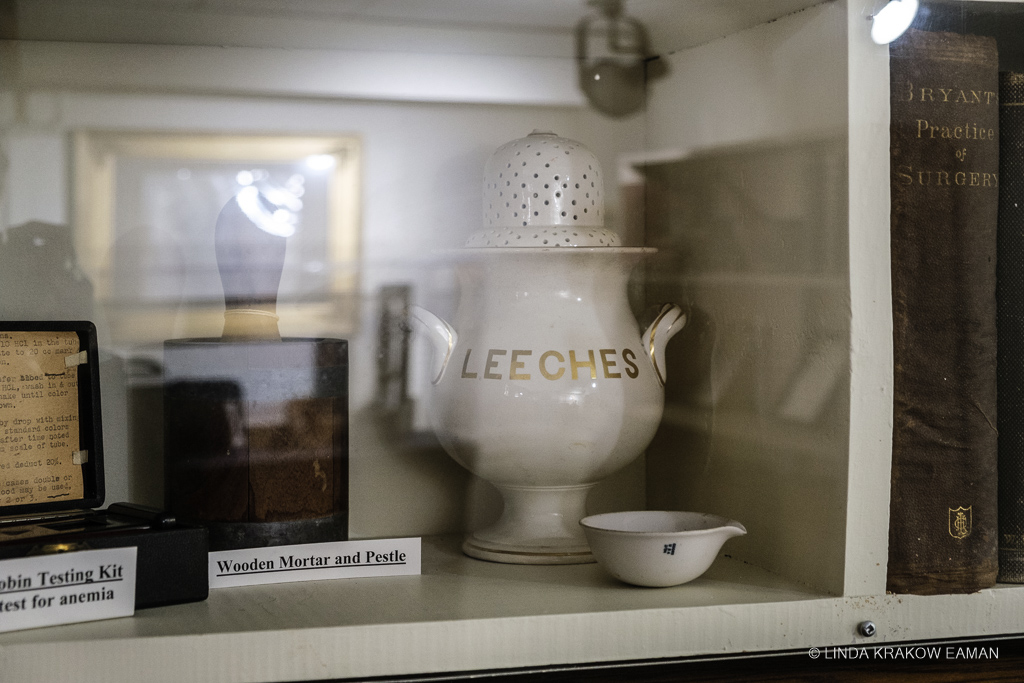 Lunenburg
Lunenburg's Old Town is one of two urban communities in North America designated as a UNESCO World Heritage site. According to Novascotia.com, seventy percent of the original 18th and 19th century buildings are still standing. It is indeed very pretty, and very colourful—and very touristy, even in the off season. After the smaller villages we had been enjoying, we found it a bit much and moved on after just an hour or two.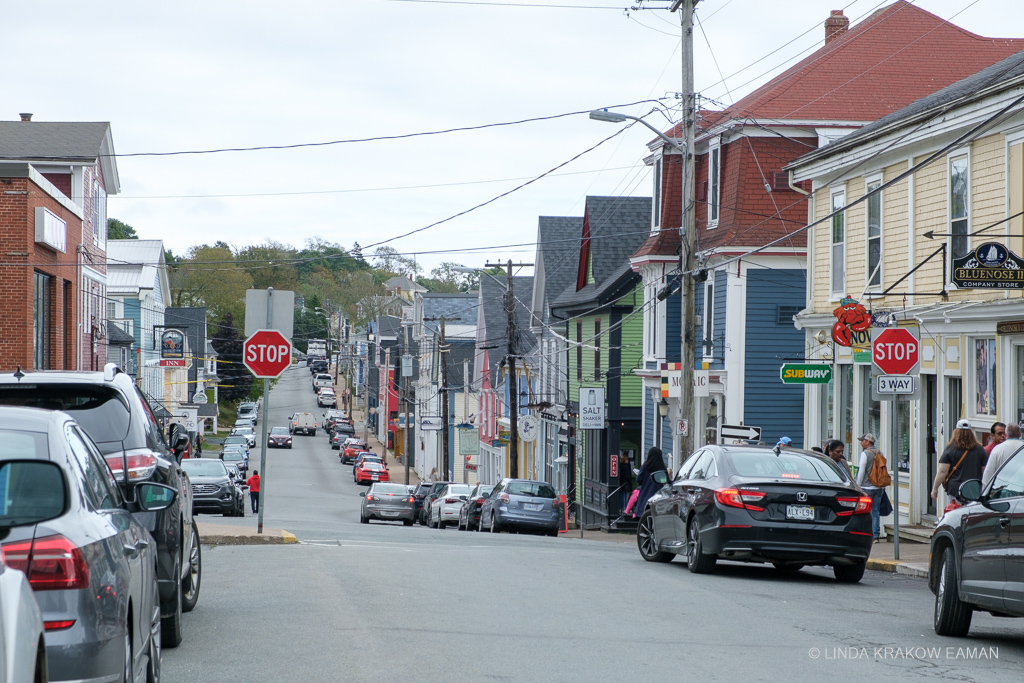 Tiny harbours
My favourite spots were the tiniest villages with the tiniest harbours. I'm always intrigued by what it's like to live in remote places–maybe that's why I now live on an island accessible only by ferry–but I know that life here can be challenging as well as beautiful. Just a few days later these villages and their people were on our minds as hurricane Fiona battered the coast.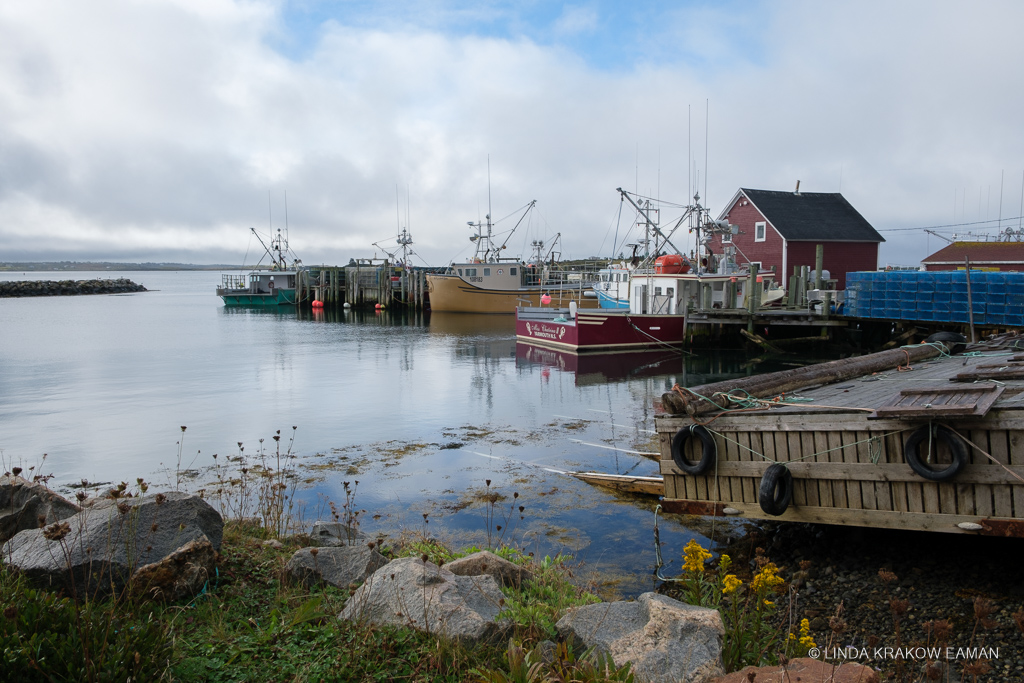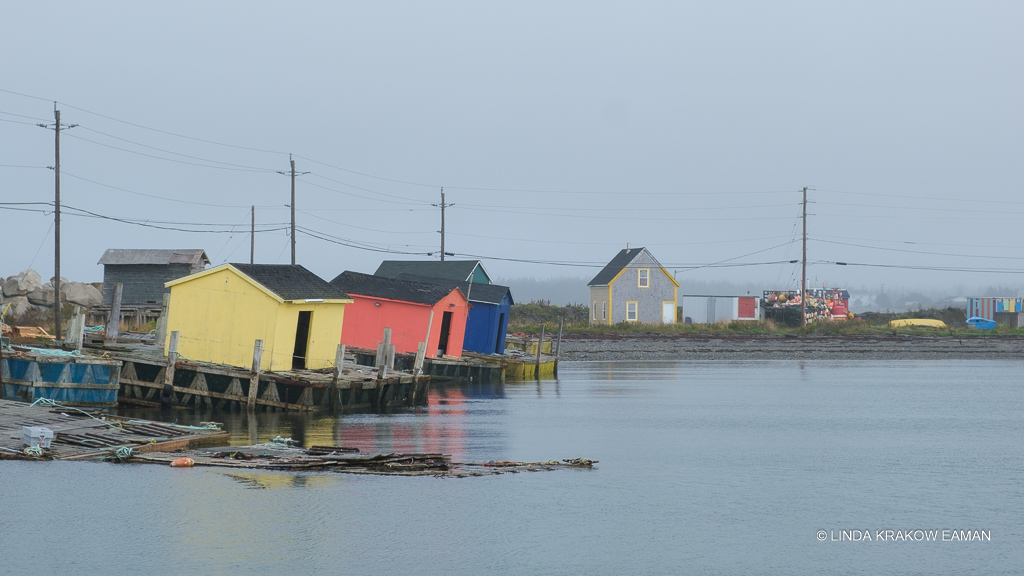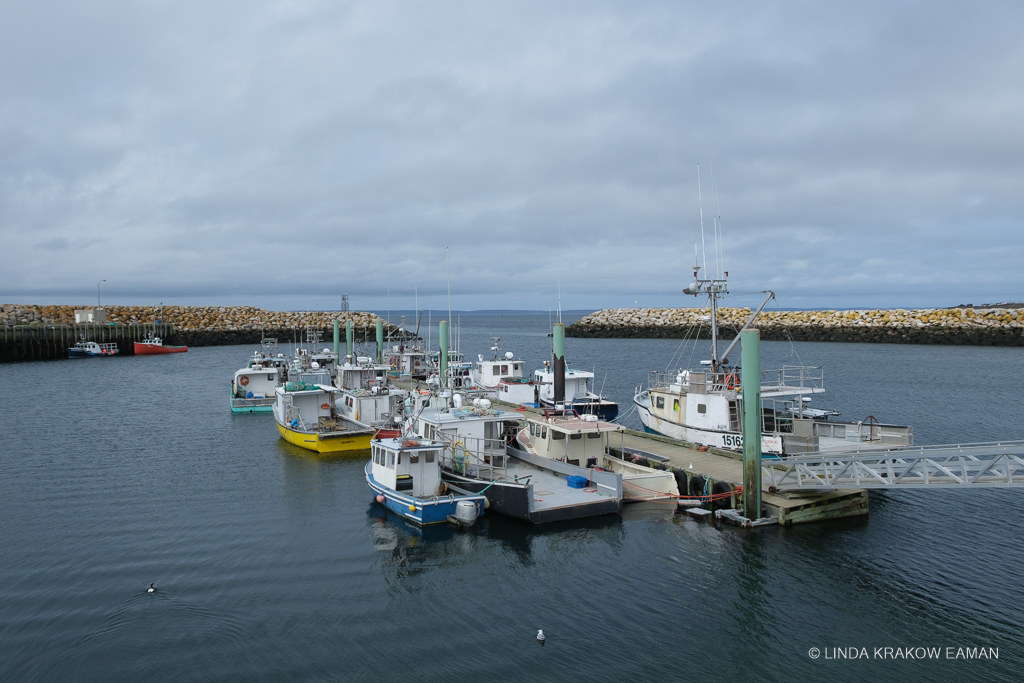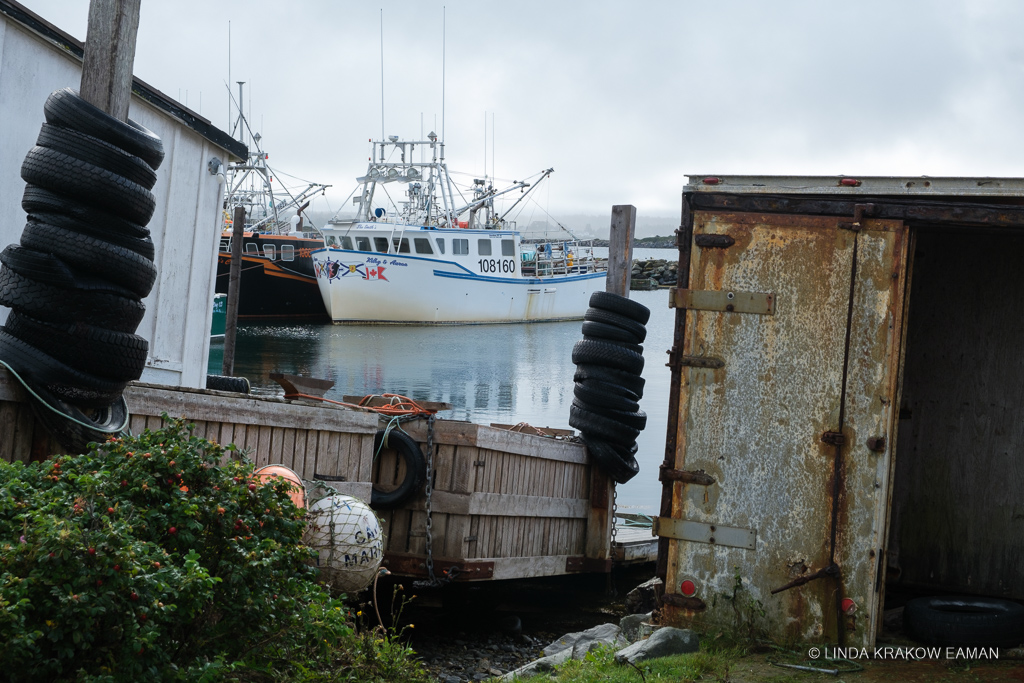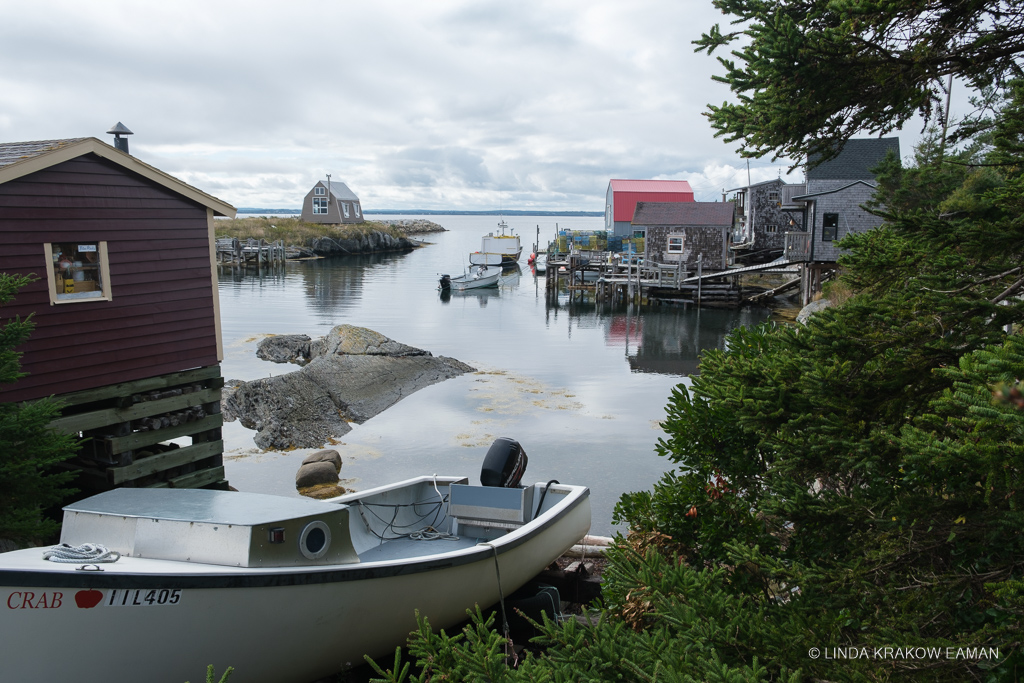 Peggy's Cove
Peggy's Cove is a highlight for many visitors to Nova Scotia. Tourists arrive by the busload from cruise ships docked in Halifax. We arrived very early, though, and were able to enjoy the sights without many other people around.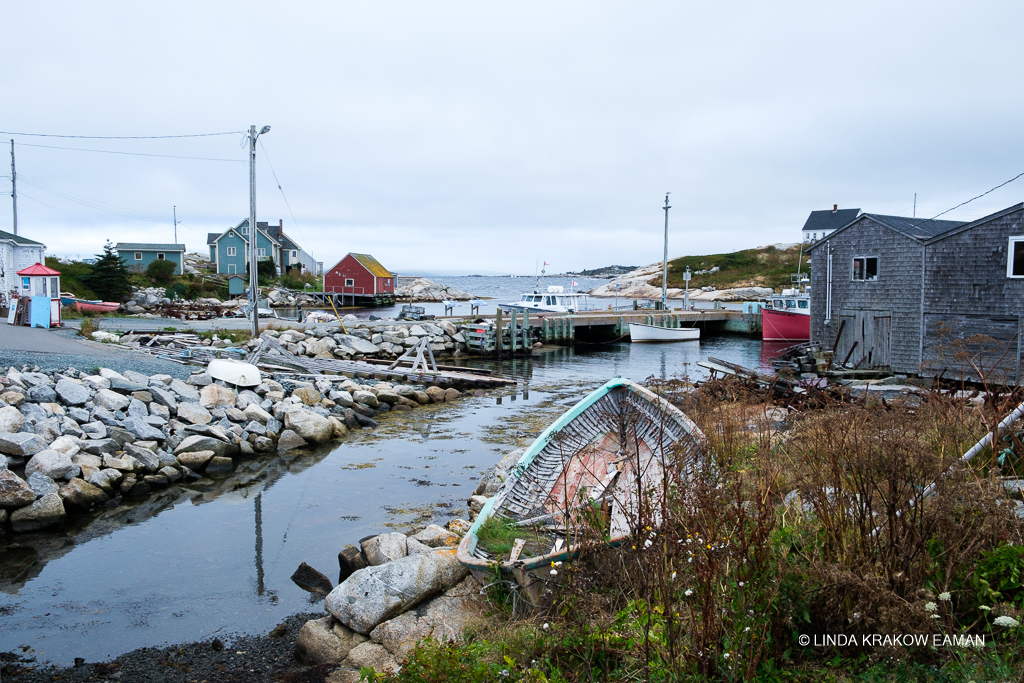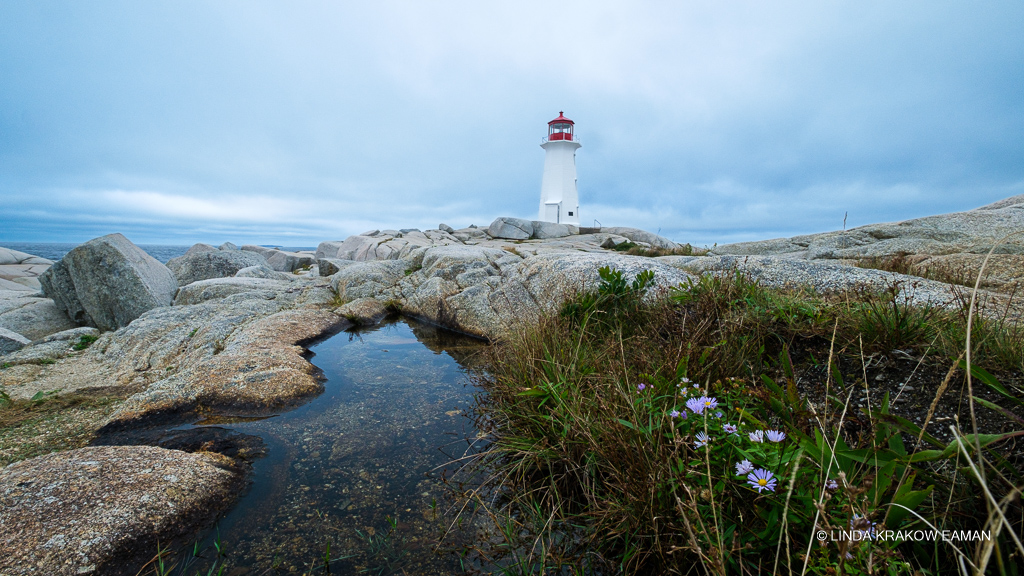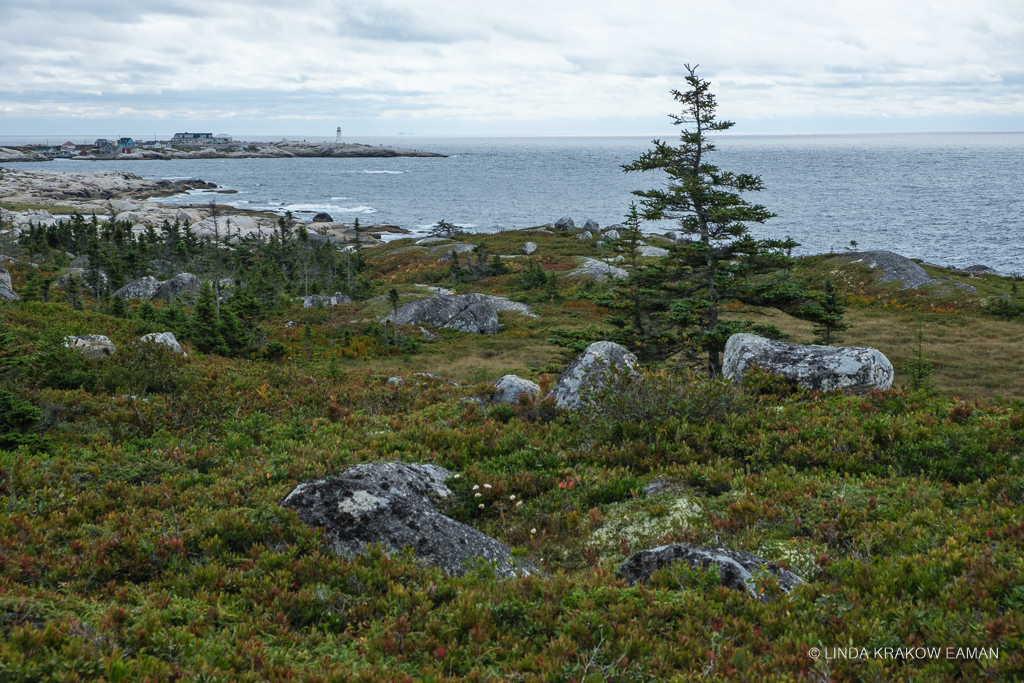 A change of plans
By now we were only a week into our two-week trip–but hurricane Fiona was on her way. We spent an afternoon in Halifax and then, sadly, abandoned our plans to visit Cape Breton. Driving inland we listened to weather reports and watched scores of power and tree service trucks going the other way, heading toward the storm in preparation for the aftermath.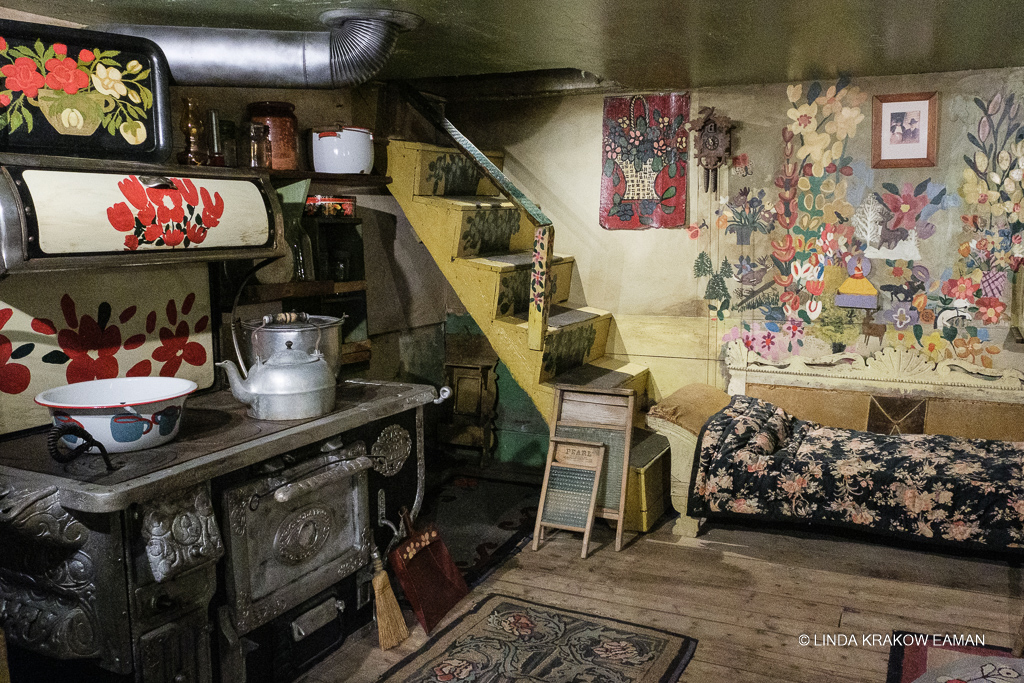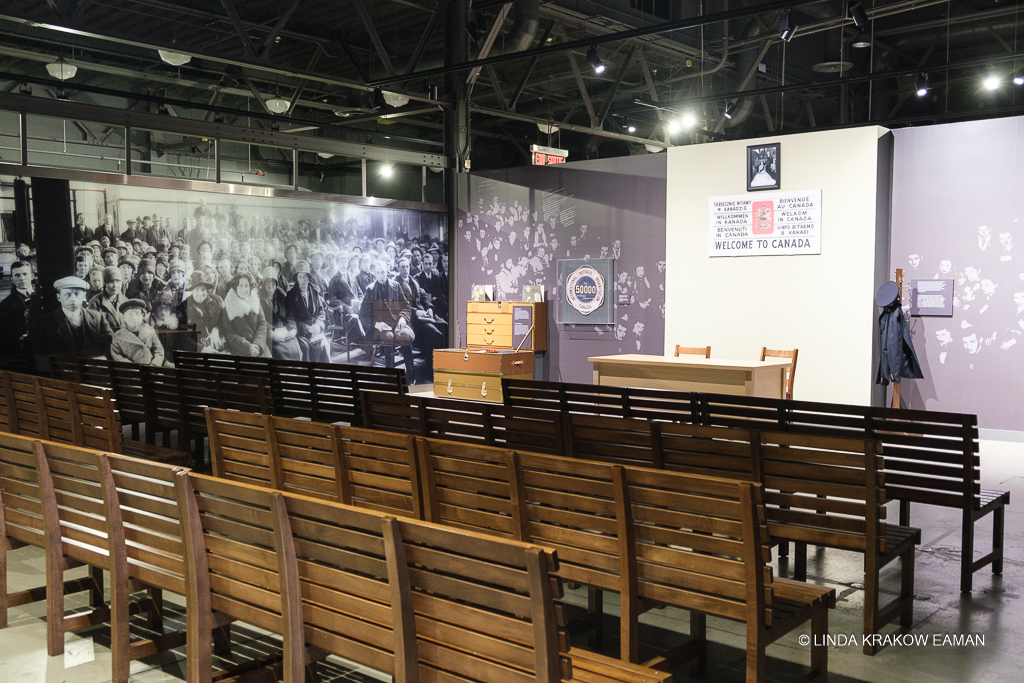 Appalachian Range Route and Mt. Carleton park
We took New Brunswick's Appalachian Range Route. A bit early for fall colour, but I can highly recommend Mount Carleton Provincial Park.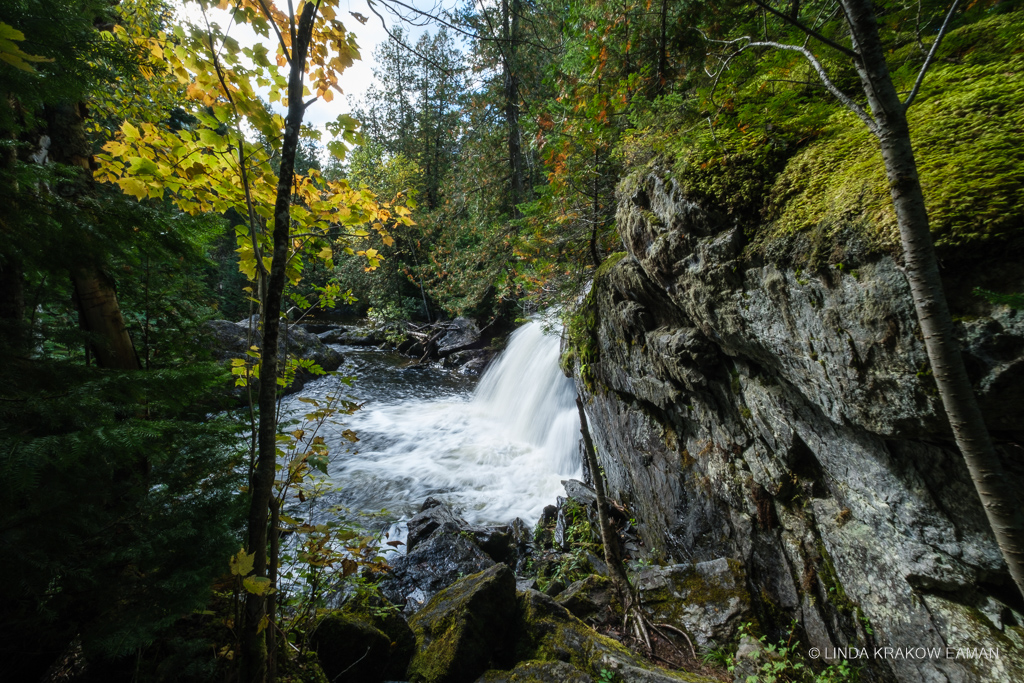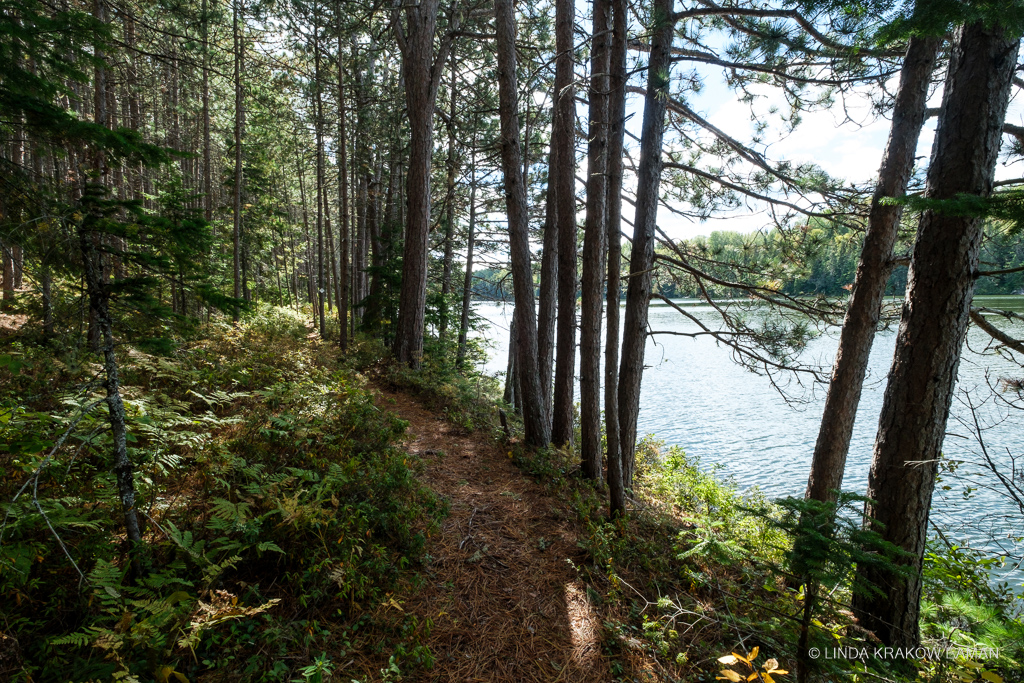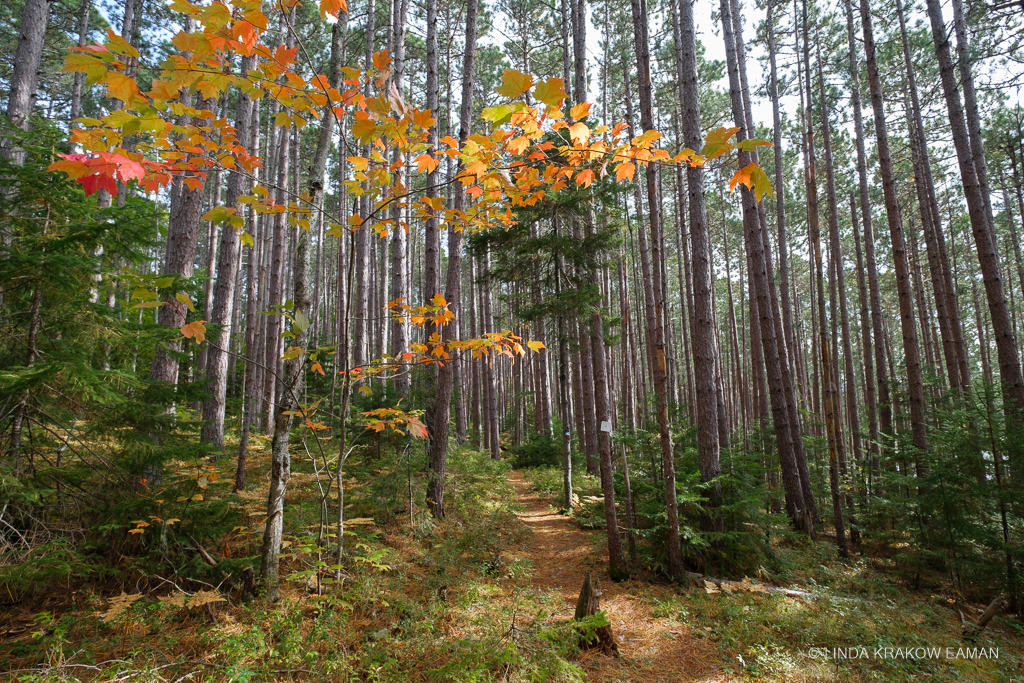 South shore of the St. Lawrence River
The last leg of this trip had us starting to think about another. With home on our minds and rain pouring down we didn't stop much, but we got a glimpse of places we'd like to see more of. Beautiful landscape, pretty towns, and good camping spots. We'll be back, hopefully in better weather!