Yup, I'm traveling again. Yay! Thought I'd share a few impressions of Sydney, Australia. All images are more or less straight out of the camera (limited editing on the iPad); there are many more, to be sorted through when I get home!
I've always thought of Australia as being on the other side of the world. Because it is. For starters, sometime during the flight from Los Angeles, a whole day completely disappears. You leave one evening, and fifteen hours later you arrive and it's two days later. In my case, July 17, 2015 disappeared before it arrived, never to return. It's a pretty neat trick.
My first impression was a bit of a disappointment. When you travel all the way around the globe, you expect to get off the plane in a different world. Arriving in Asia or India, or even England or Europe, you are immediately aware of being in a completely different time, place and culture. Sydney, on the other hand, feels a lot like home. Maybe not like my current home of San Jose, California, but a lot like a big North American city, and particularly a big Canadian city like Toronto or Vancouver. I keep noticing that it smells like Montreal, where I grew up.
Tagging along on hubby's business trip, I have ten days in which to get to know the place and its people. I started with a book recommended by a friend: "In a Sunburned Country," by Bill Bryson. It's a great introduction to the history, culture, and geography of the county, and enormously entertaining.
You arrive first thing in the morning, with the challenge of staying awake all day. So we dumped our bags at the hotel and went for a walk and some caffeine. My first indication that we were in fact not in Vancouver or Toronto was the ibis scavenging along with the gulls on the Pyrmont bridge over Darling Harbour. (Note that this Canadian is very comfortable with the British spelling!) And there is no question that sipping a cappuccino in a coffee shop in any city that's not home is definitely my happy place. Things were looking up!
Sydney is a city with a population of about four million. Its downtown shopping and business core is known as the CBD, short for Central Business District. I feel like such a tourist trying to find the perfect shot that captures the feeling of the very tall buildings and mix of old and new. Because Australia is, like North America, part of the "new world" having been established in the seventeen and eighteen hundreds, you don't find the very, very old buildings you see in Europe. But there are a significant number of beautiful buildings that are still old by North American standards–built in the mid 1800s to early 1900s–and they're mixed in side by side with ultra modern high rises.
Of course one of our first destinations was the Sydney Opera House, and the guided tour. With a design selected from entries in a contest, the iconic building seems to watch over Circular Quay, the harbor from which dozens of ferries depart throughout the day carrying commuters as well as sightseers to nearby points. Construction took 16 years instead of the planned two or three, and the final $102 million cost was about ten times the original plan, but in an illustration of Australians' huge love of pokie and other gaming, it was paid for by gambling revenues.
Having come all this way, we decided to see a couple of shows. A symphony concert in the largest of the five halls, and La Traviata in the slightly smaller one. We couldn't believe our luck in snagging last minute tickets in the center of the front row behind the orchestra, the perfect place for a couple of brass musicians. I could have reached out and held the tympanist's mallets for him, and we could read the trombones' sheet music on their stands. We had more traditional seats for the opera, and after the two shows felt that we had an important Sydney experience under our belts.
Also on most top ten lists is a trip to Manly. It's a small town half an hour (by ferry) to Sydney. Following the crowd off the boat takes you down a few blocks to the beach, a gorgeous expanse enjoyed by walkers, joggers, locals and tourists in seaside restaurants, and some hardy surfers. Although temperatures are scorching in the summer, it's winter now and with the air temperature in the mid sixties, that Pacific Ocean water must be pretty cold. We walked along a paved path with a gorgeous view, and quickly found ourselves climbing a rocky trail to a high overlook. From there we went exploring and climbing through an opening in a stone wall (which we later learned was the remains of a quarantine area) found ourselves in the North Head Sanctuary. A beautiful hike took us through vegetation I'd only ever seen in botanical gardens, with unfamiliar birds calling from the bush and flying by. An old military base has been repurposed but maintains a sense of history, and a few kilometers in, thanks to well maintained trails and strategically placed signage, we found ourselves signed up for a tour of the gun emplacements and underground tunnels where ammunition was stored, and electricity generated, for the defense of Sydney in the Second World War. We hadn't realized that Japanese submarines had actually made it into the harbor and in fact bombed Sydney.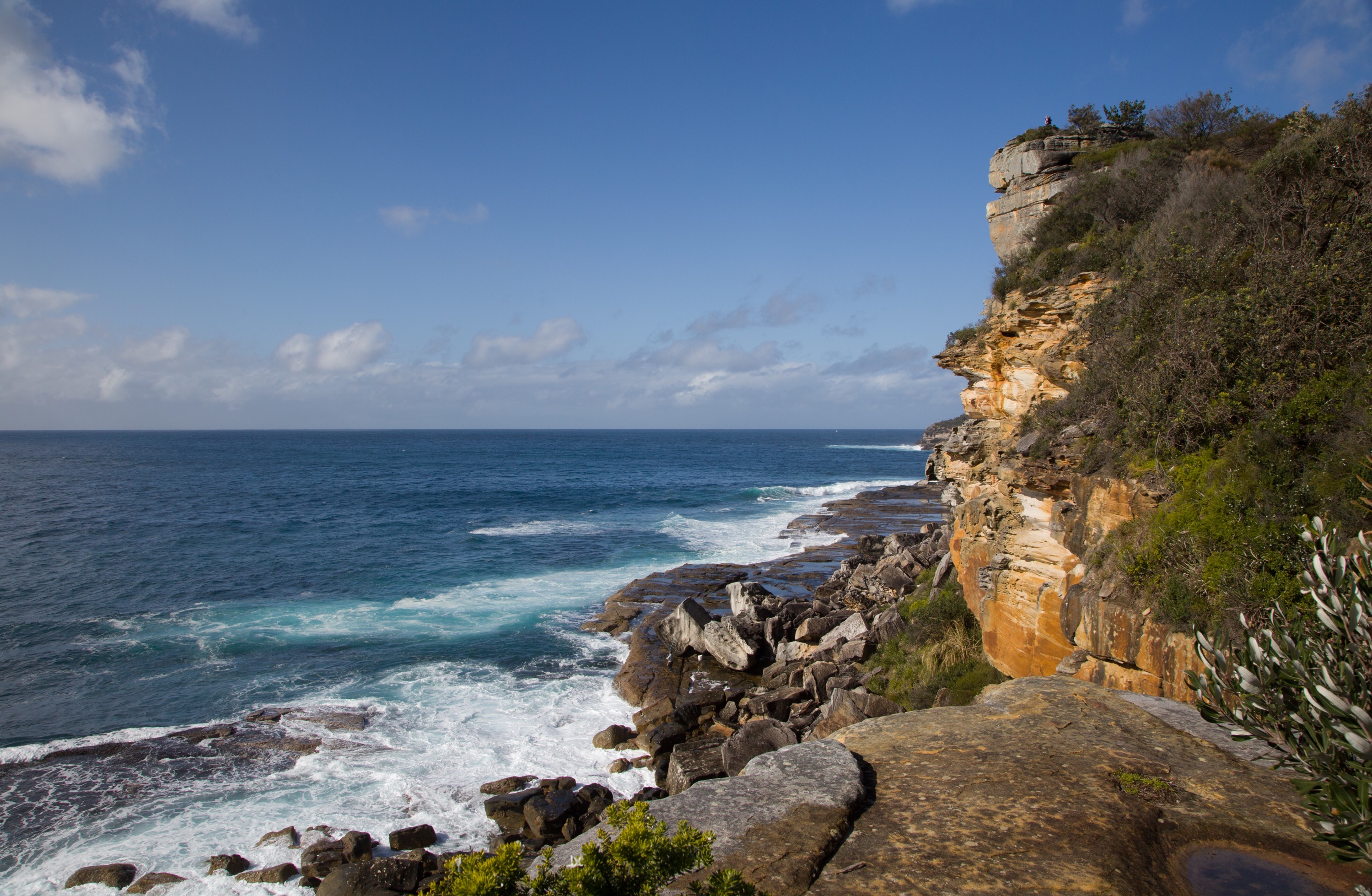 My days tend to start with a search for a coffee shop for coffee and breakfast. Coffee comes in short black (espresso), long black (sometimes like a French café allongé, sometimes more like an Americano), and flat white (regular coffee with milk), as well as cappuccinos, lattes, etc. Other interesting menu items include sandwiches made with "tasty cheese", as well as kangaroo burgers, crocodile, and barramundi (fish). The fish is delicious, but I haven't tried the kangaroo or crocodile. I'm pretty sure they are just on the menu for tourists!
Restaurants are expensive, but it's because Australians are guaranteed a livable wage, including benefits. For the same reason, there's no expectation of a tip although a small one is not unappreciated. There are some excellent restaurants; we've enjoyed excellent Indian food at Circular Quay and in the Pyrmont neighborhood we found an Italian restaurant with pizza just like the ones we had enjoyed in Rome!
Monday morning Marc headed into the office and I set off for my first day of exploring on my own. I decided to start with the Australian museum in order to get a better sense of the history and culture of the area. It was a particularly good introduction to the Aborigines and some of their history. Dating back more than 50,000 years theirs is the longest continuous living culture in the world. Unfortunately their more recent history, starting from the arrival of the colonists in the 1700s, is remarkably like that of native North Americans, a story of devastation by smallpox and other diseases, dispossession, violent oppression, discrimination and continuing struggle for equality. I was particularly struck by stories of aboriginal children having been removed from their families by the thousands, to be raised in institutions and white homes; Canada too has a tragic history of treating its native peoples this way. I was shocked to learn that Aborigines weren't allowed to vote, or counted in the census, until 1967!
A few sights along the walk to the museum…
The Art Gallery of New South Wales was my next museum destination. It's in a large, absolutely gorgeous park known as The Domain, which in colonial days was the governor's buffer zone between his residence and the penal colony. The museum is free except for special exhibits, and I particularly enjoyed the Aboriginal art collection as well as the display of Matisse's Jazz book which was recently acquired by the gallery. An additional highlight was the wild lorikeet on the outdoor patio at the museum café!
Also bordering the Domain is the Royal Botanic Garden, another huge park, filled with interesting plants and trees, and also with no admission charge. I quickly discovered more interesting birds, ones which I had only ever seen in cages, and enjoyed an afternoon wandering through the garden and along the waterfront park.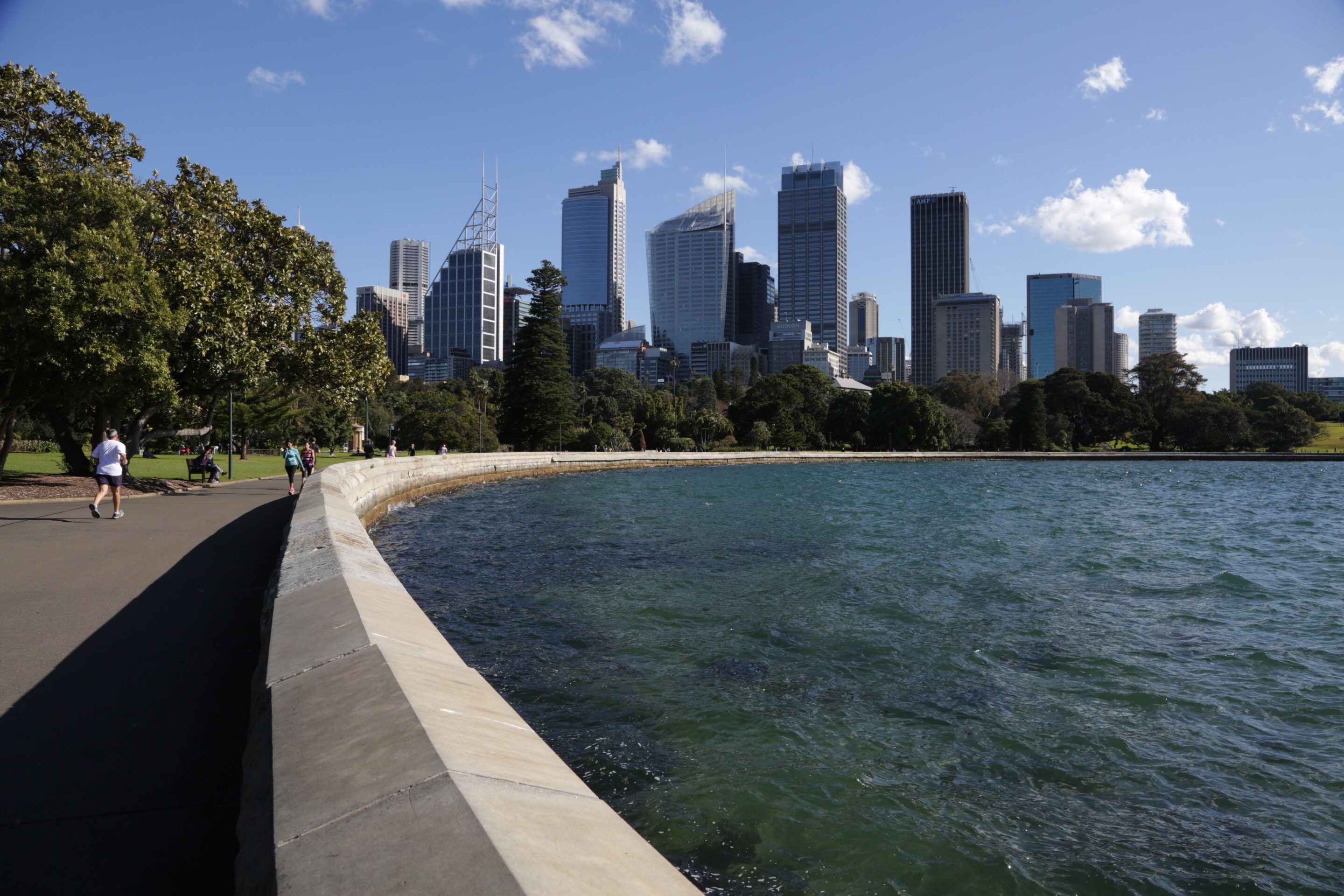 The area known as "The Rocks" was a working class neighborhood in the 1800s and early 1900s. Today it's a mix of old and new buildings, narrow streets filled mostly with trendy bars and restaurants. On Saturdays and Sundays a market of artisans and a few eateries pops up. But with a bit of searching I found evidence of its history. On the edge of the Rocks, near the south end of the Sydney Harbour Bridge, there's an archeological dig (not much to look at, but nice to know it exists!) and a real gem: the Susannah Place museum. Three townhouses built in 1844 by Irish immigrants, maintained to feel as though you are going back in time. An excellent hour long tour introduces visitors to a handful of families and the way they lived (based largely on oral histories from family members). I had heard of Australia's history of convict settlement, but hadn't known that tradespeople from the UK (including Ireland, especially during the potato famine) and other parts of Europe were "assisted immigrants" whose passage to Australia was subsidized in order to bring needed skills to the new society. The tour really brought The Rocks, and Sydney's history, to life for me.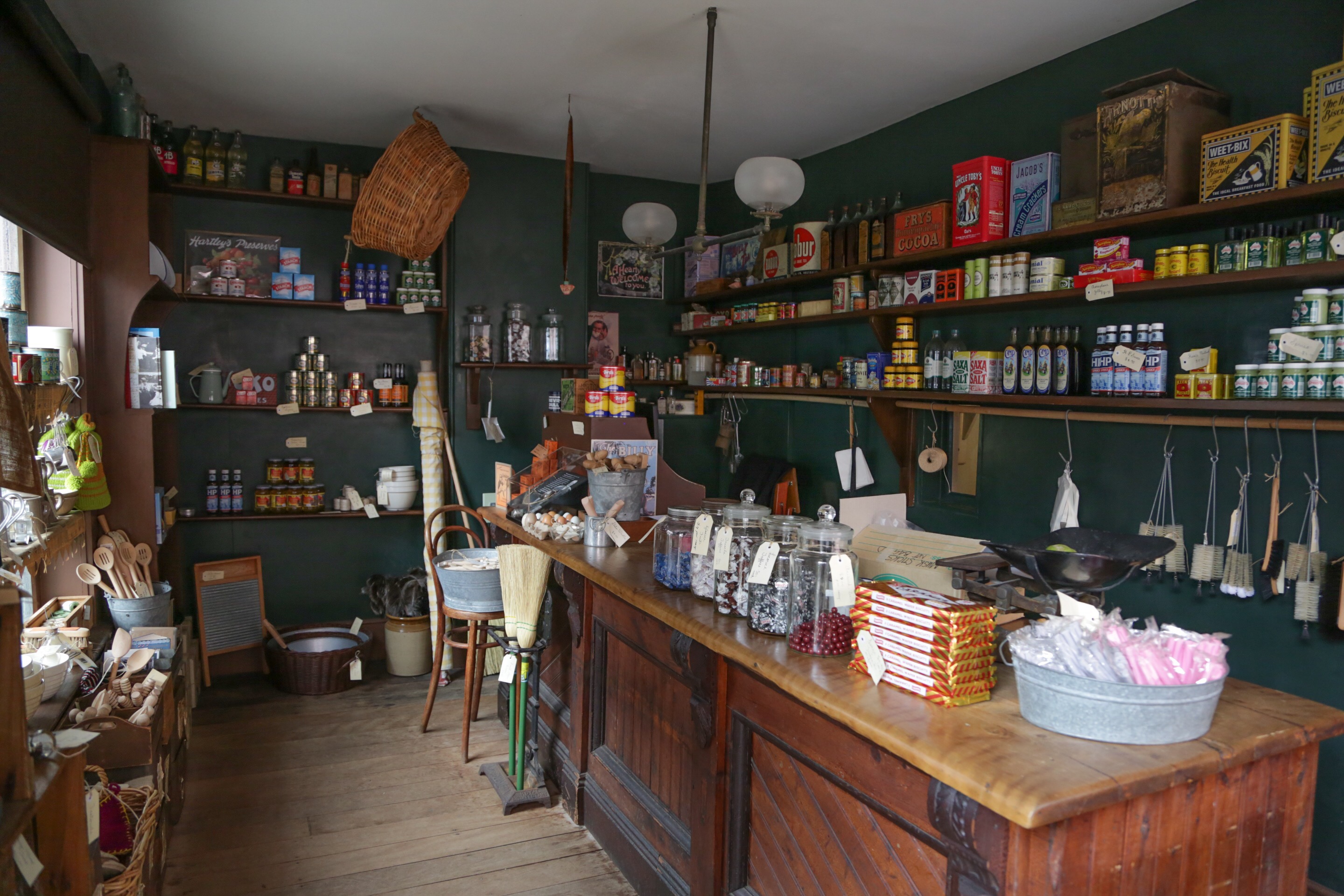 The shop at Susannah Place. Photos not allowed inside the living areas.

The day had been cloudy but I've discovered that if you wait long enough the skies invariably clear, and at four o'clock I found myself at an entrance to the bridge. A short walk brings you to the Southeast Tower, or Pylon, which offers a lookout and museum. I arrived at the top of the 200 stairs just in time for a few shots of the harbor with the light on the Opera House. Within minutes the light had moved and the magical moment was gone, although the view was no less striking. The museum is an excellent testament to the building of the bridge, which kept more than 1500 people employed during the Great Depression.
The bridge is also a great place to watch the evening fall over the harbour, as the sun sets behind you.