Spain! Part IV:  White Hill Towns
From Granada we headed for the coast. Marc really wanted to see the Mediterranean, and maybe have a beach day. On the way, we spotted Salobreña, a town of white houses on a hill overlooking the water, and a castle at the top. I don't think a castle on a hill will ever cease to be magical, but now in addition to being extremely hot it was extremely humid, so our exploration was limited. We were happy to find a restaurant with a shaded patio and a great view. Marc deserves a medal for driving on the unbelievably steep, narrow and winding streets in these towns–in a stick shift, large-for-Europe Hyundai Tucson, no less.
Castle walls. It's amazing to touch something that was built more than 500 years ago.
The Costa Tropical and Costa Del Sol are quite developed, with lots of highrises right by the ocean–not very attractive, although there are some undeveloped natural areas, with beaches, that seemed to require hiking down a cliff to reach. We decided to forgo the beach day or even trying to get right down to the water.
We arrived at our hotel in Velez-Malaga, a town a bit away from the water, earlier than planned, and what a pleasant surprise! Velez-Malaga is not touristy, also set on a hill with a castle on top. We had finally seen so many churches and castles that we were content to view this one from afar. By the time we arrived, the shops were closed and the streets were quiet. Restaurants would open at 8:00, but only the tourists eat that early! (We're getting pretty good at the late dinner thing.)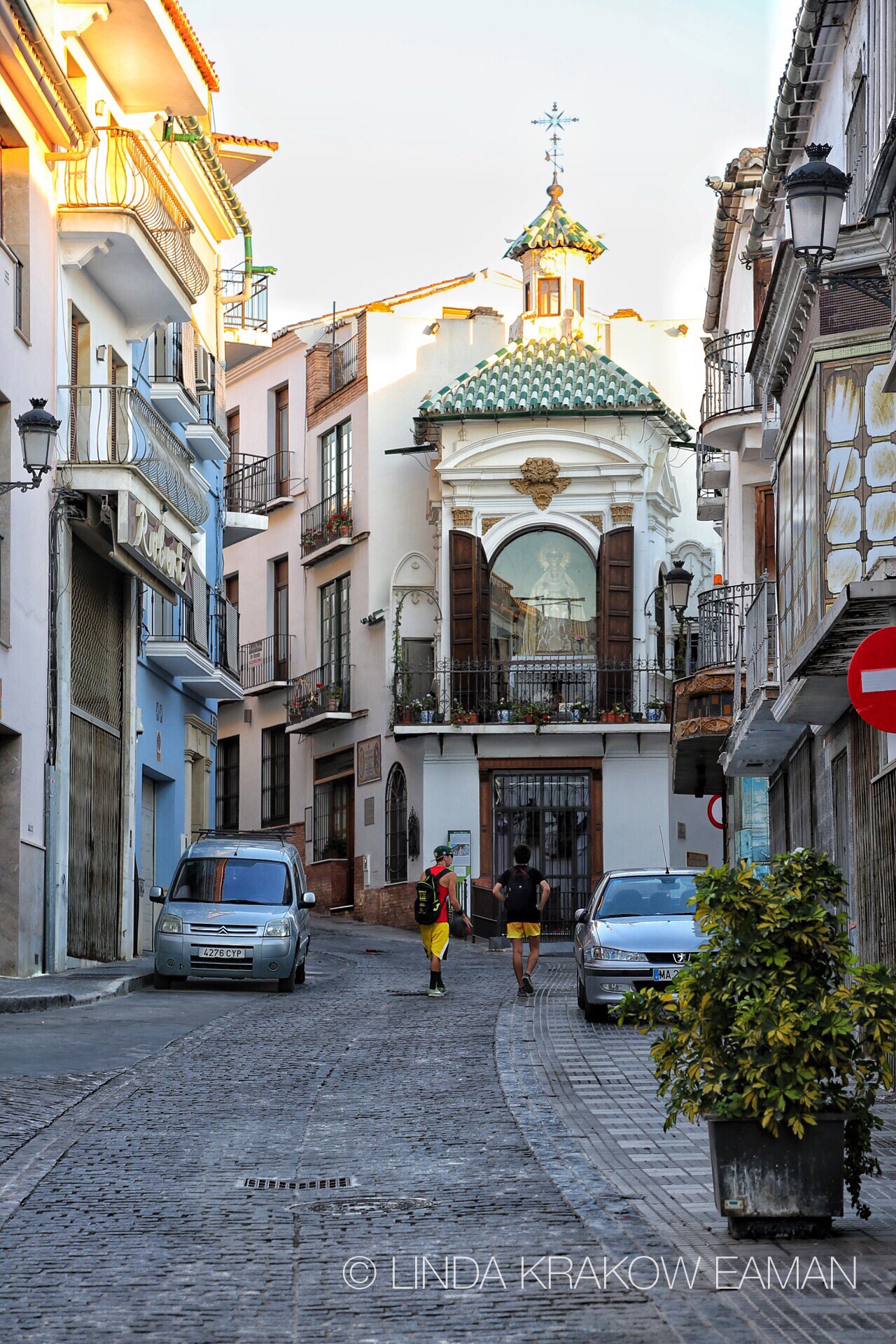 I don't normally mention hotels but this one deserves some attention. We had no idea we had booked such a remarkable place. The beautifully designed boutique hotel (its renovation was the subject of a BBC documentary some years ago) is set in an 18th century building, with the rooms opening onto a central courtyard, and a small pool–more like a hot tub–perched on the top floor so you can sit in the water and see the church and castle illuminated against the night sky. Our host was a lovely Dutch woman who had moved there to buy and run the hotel. After a long day of driving and walking around in heat and humidity it was lovely to have an extra special place to relax.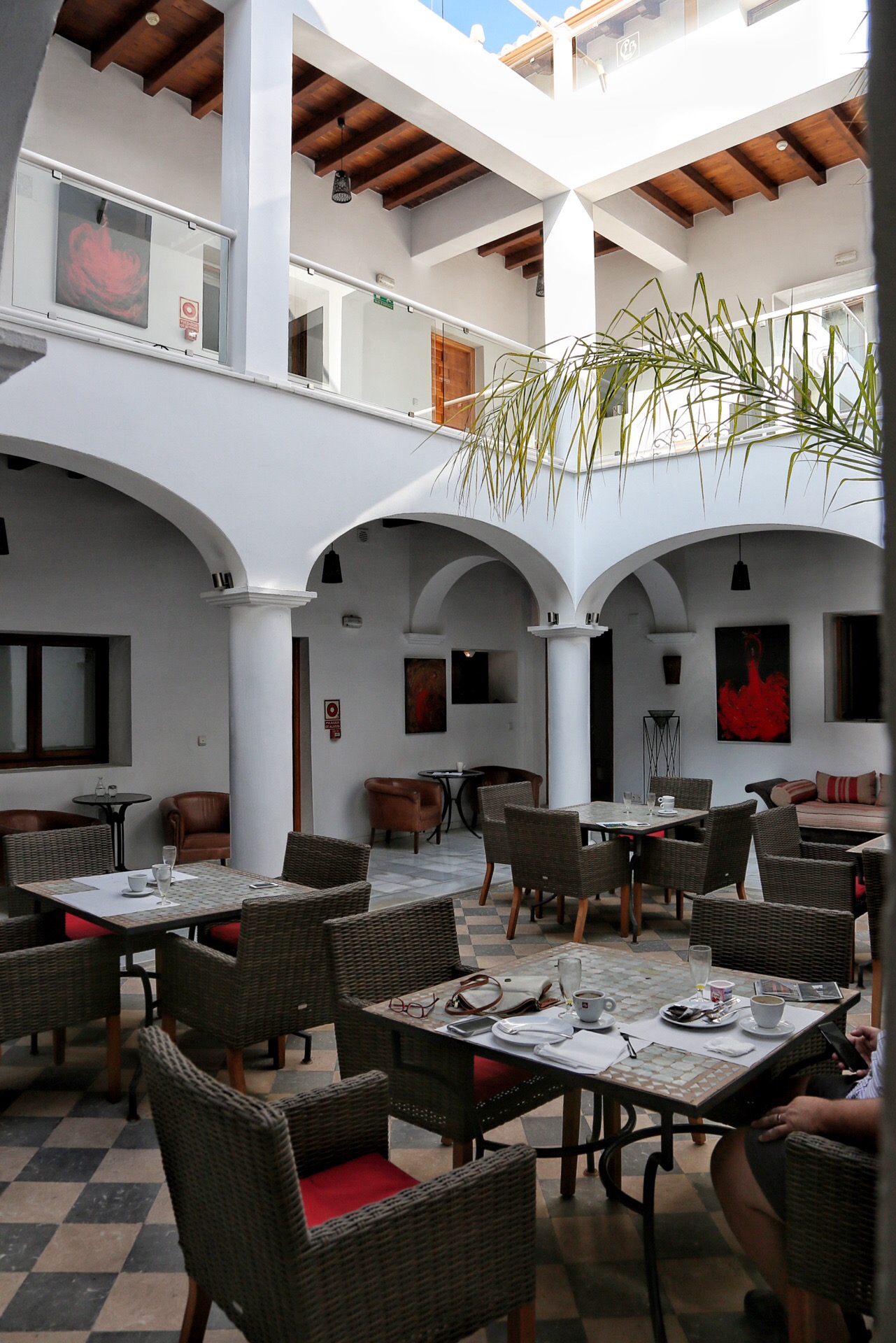 The next day we were off to visit the white hill towns of Andalucia. We had already visited three or four white hill towns, but there is a stretch of them that are known by that term. The best known is Ronda, perched on the edge of a gorge and known for the bridge that connects the old and the new parts of the city. We arrived during Feria (a celebration) so the town was hopping!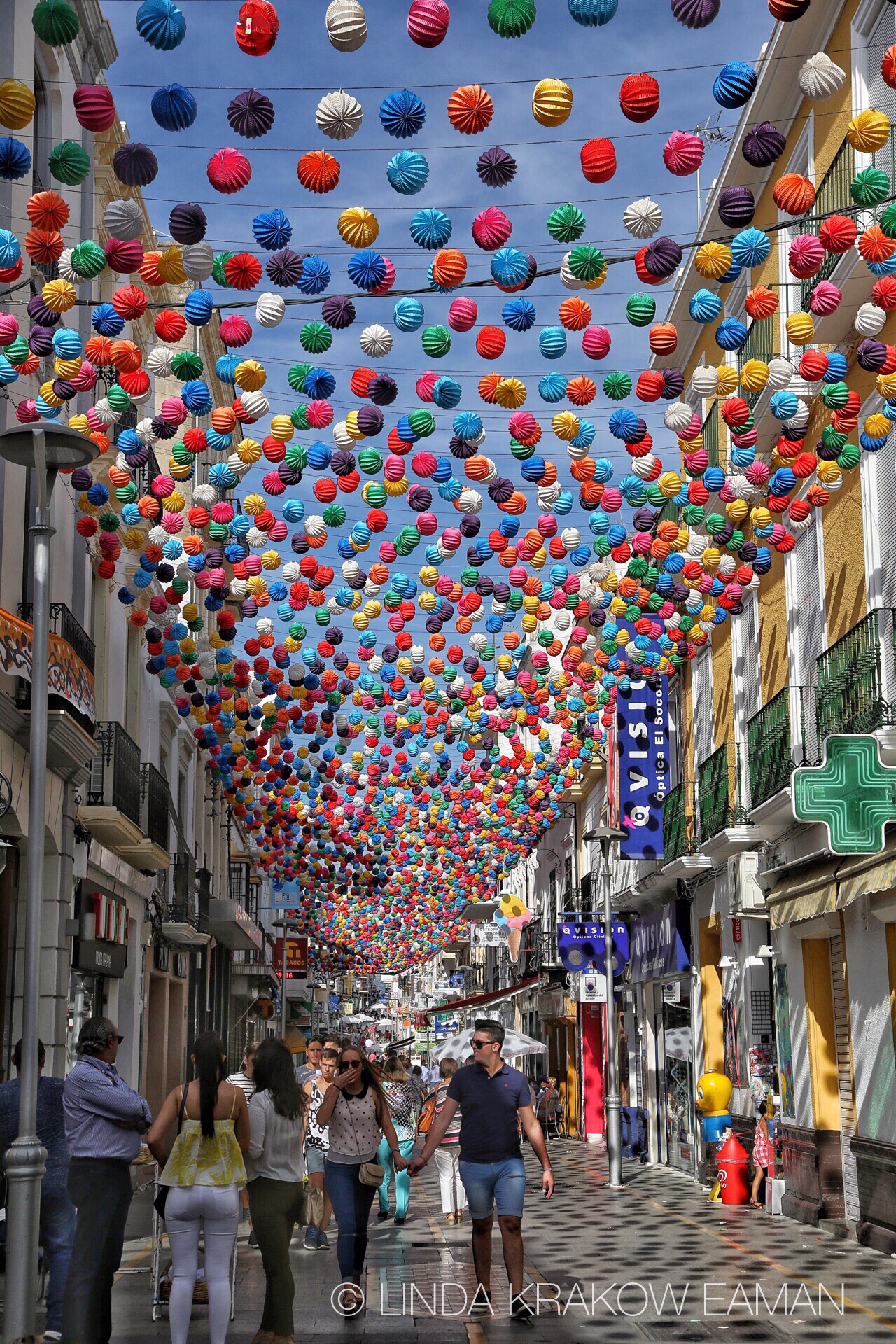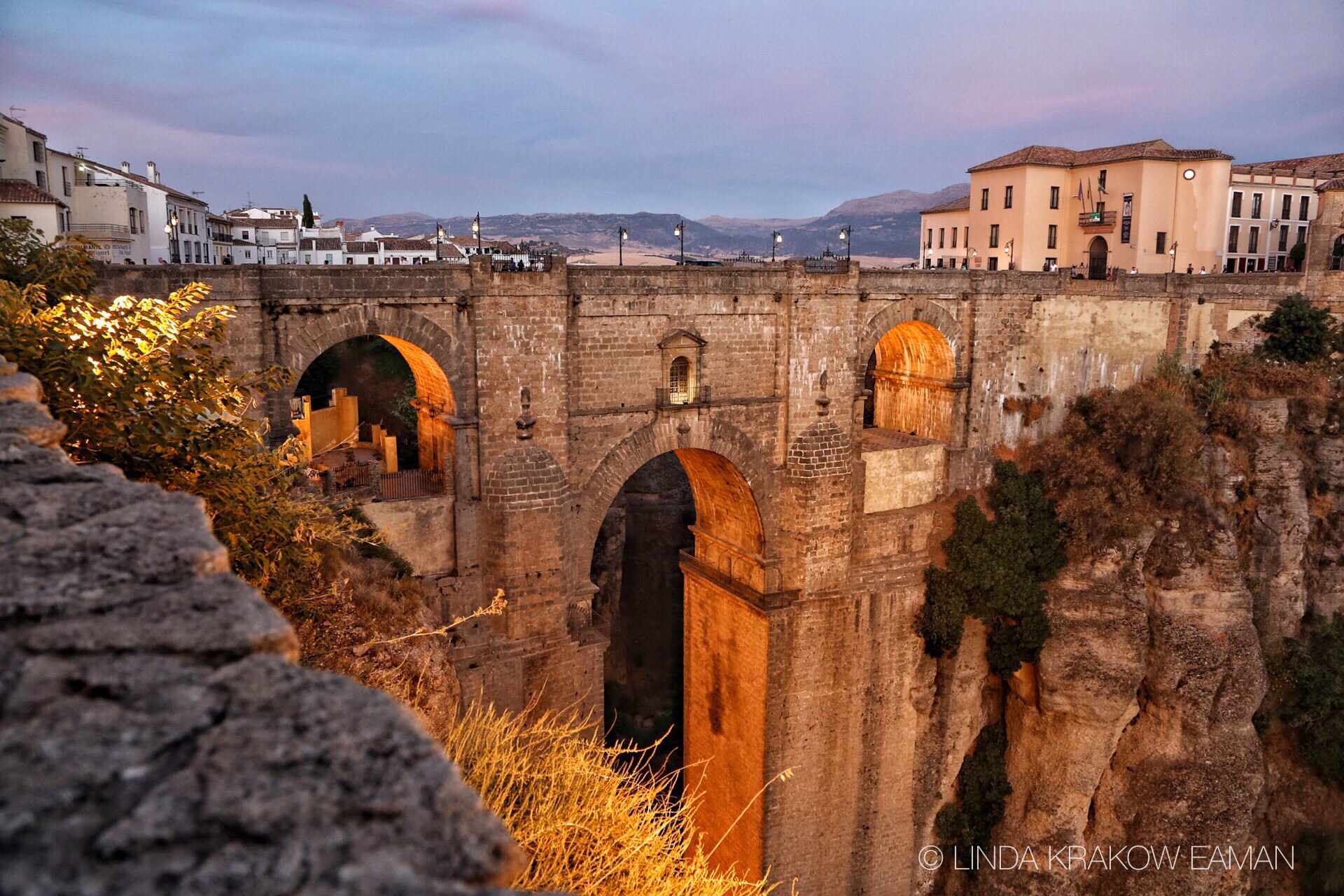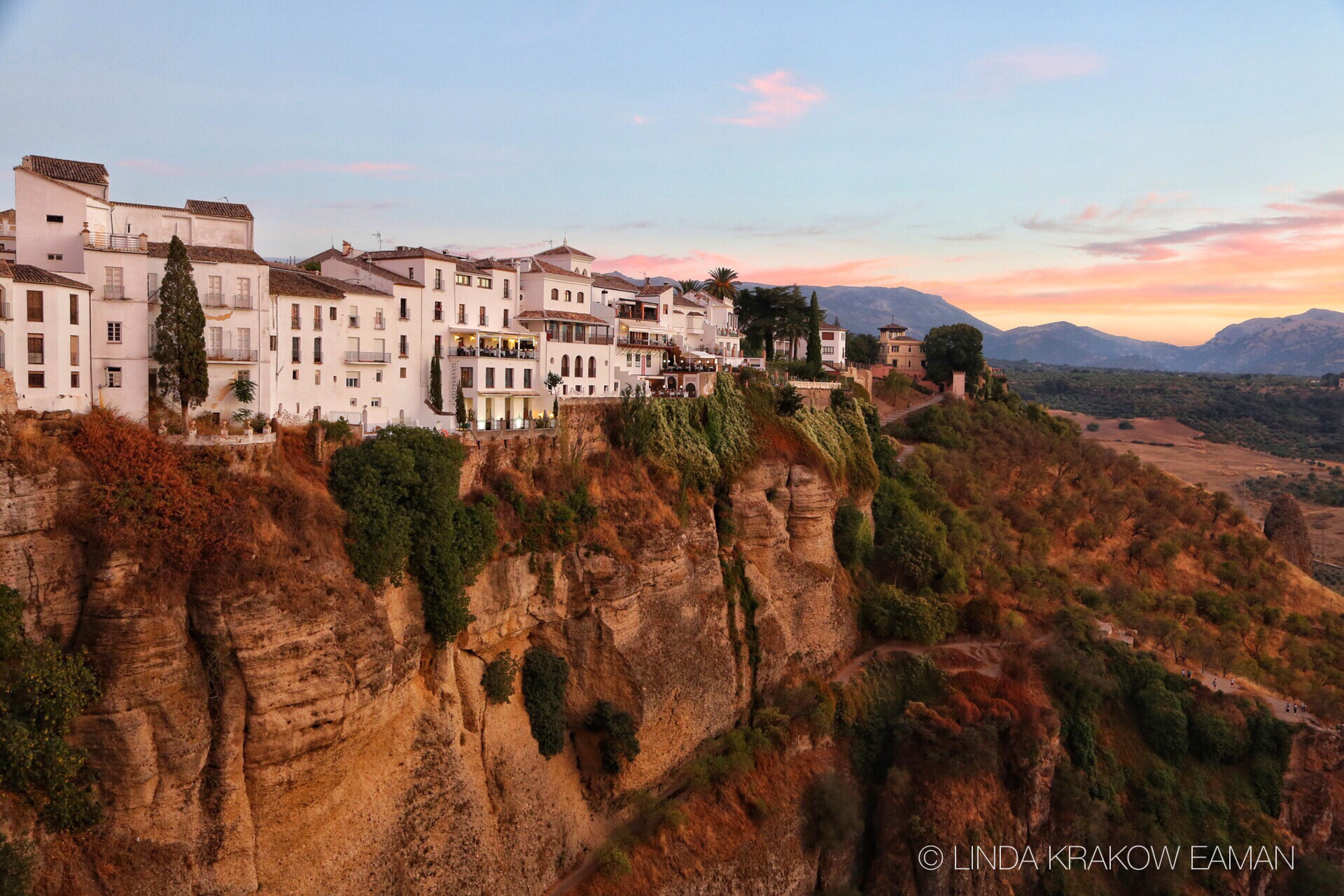 Ronda's bull ring, one of the oldest in Spain, is well worth a visit, and includes a small museum and the attached equestrian school. Bullfighting is a horrible sport/art that involves injuring and killing a frightened animal in a twenty minute show of bravado (actually six bulls in a two-hour bullfight) but the history, the posters, the costumes, and the pomp and ceremony are fascinating. Interestingly, a king hundreds of years ago tried to abolish bullfighting and replace it with other shows of skill, but that was overturned by a later monarch and the practice continues today.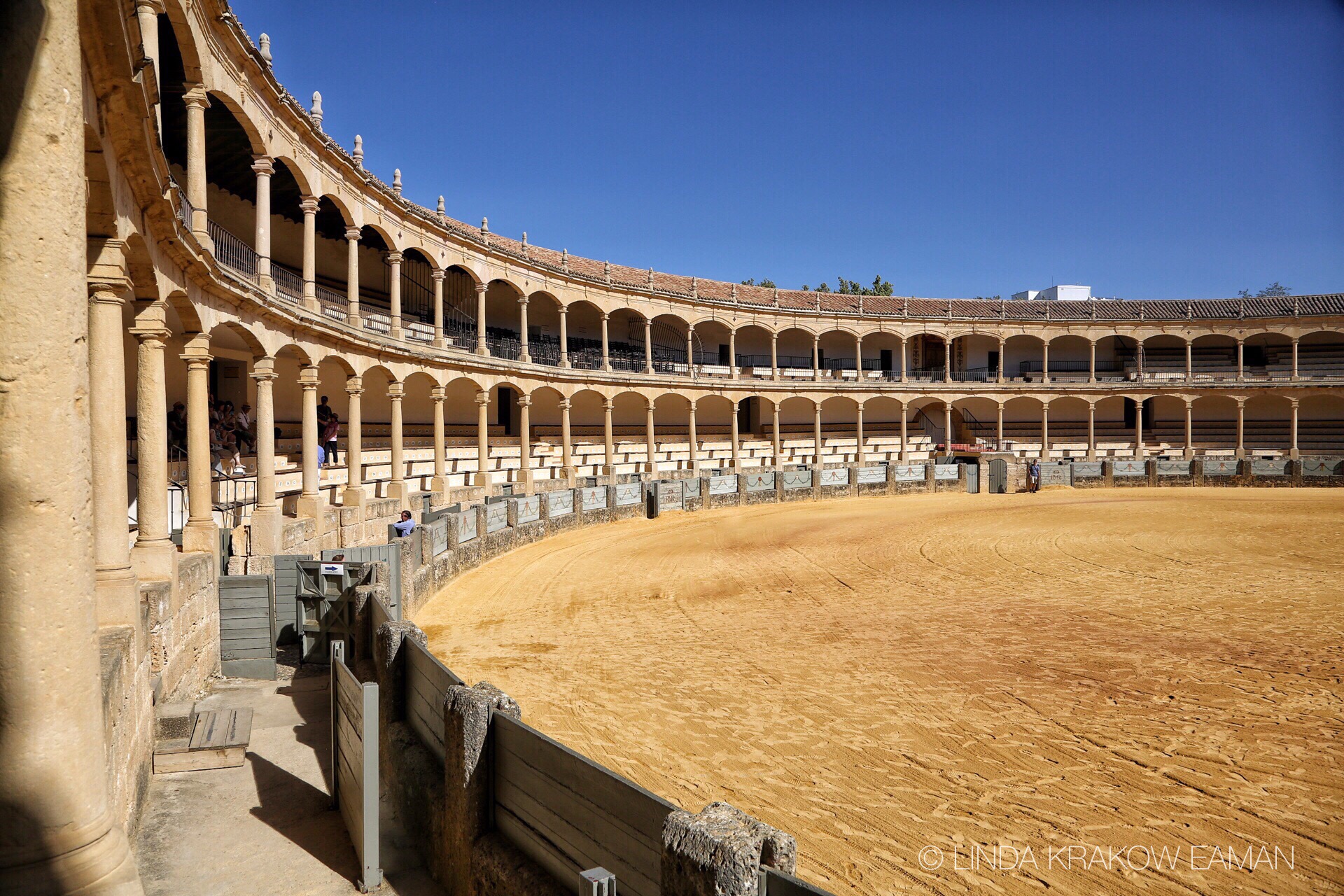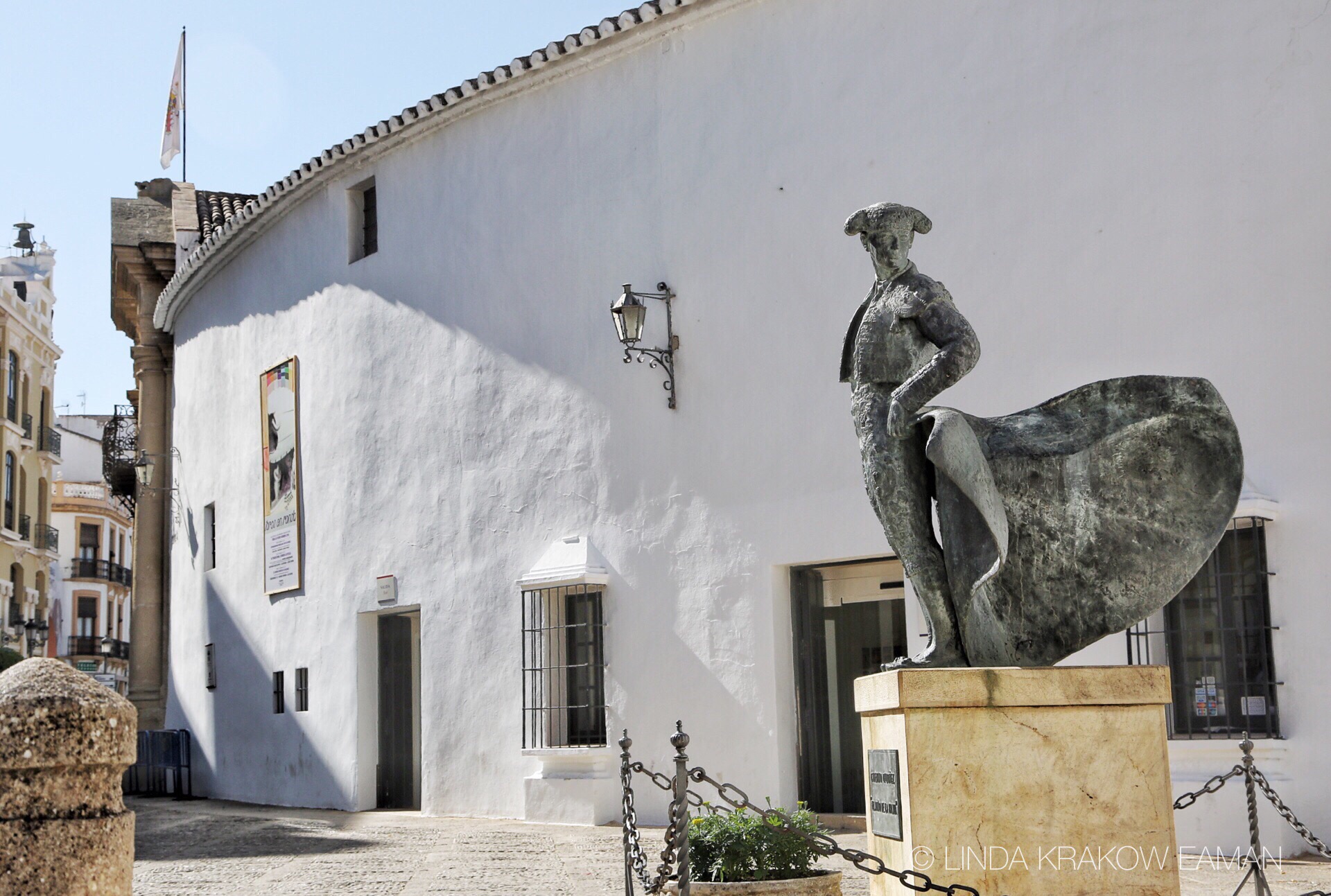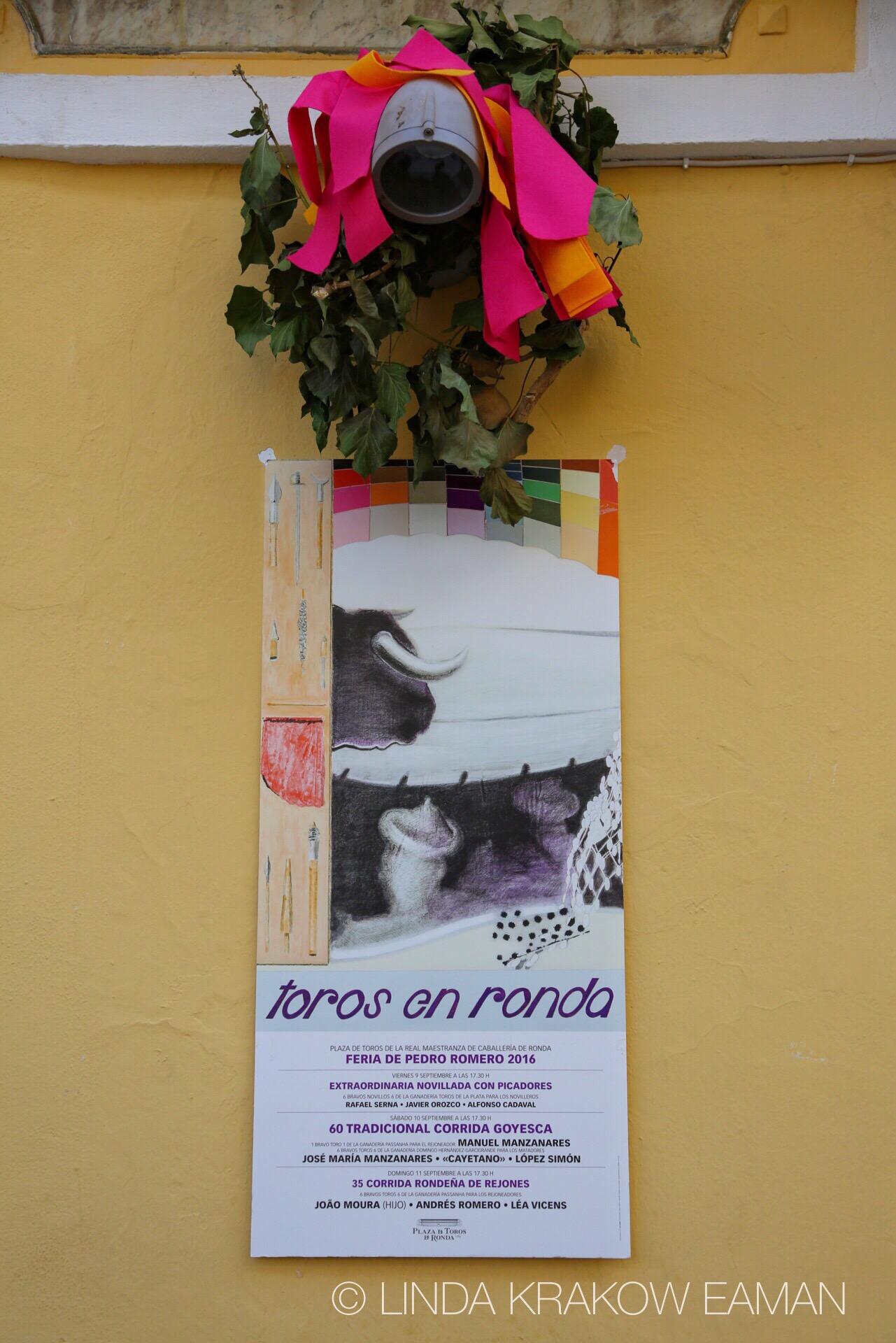 The next two towns, Grazalema and Zahara, are smaller and somewhat off the beaten path, and both are nestled into craggy mountainsides. We chose small roads and enjoyed a beautiful drive.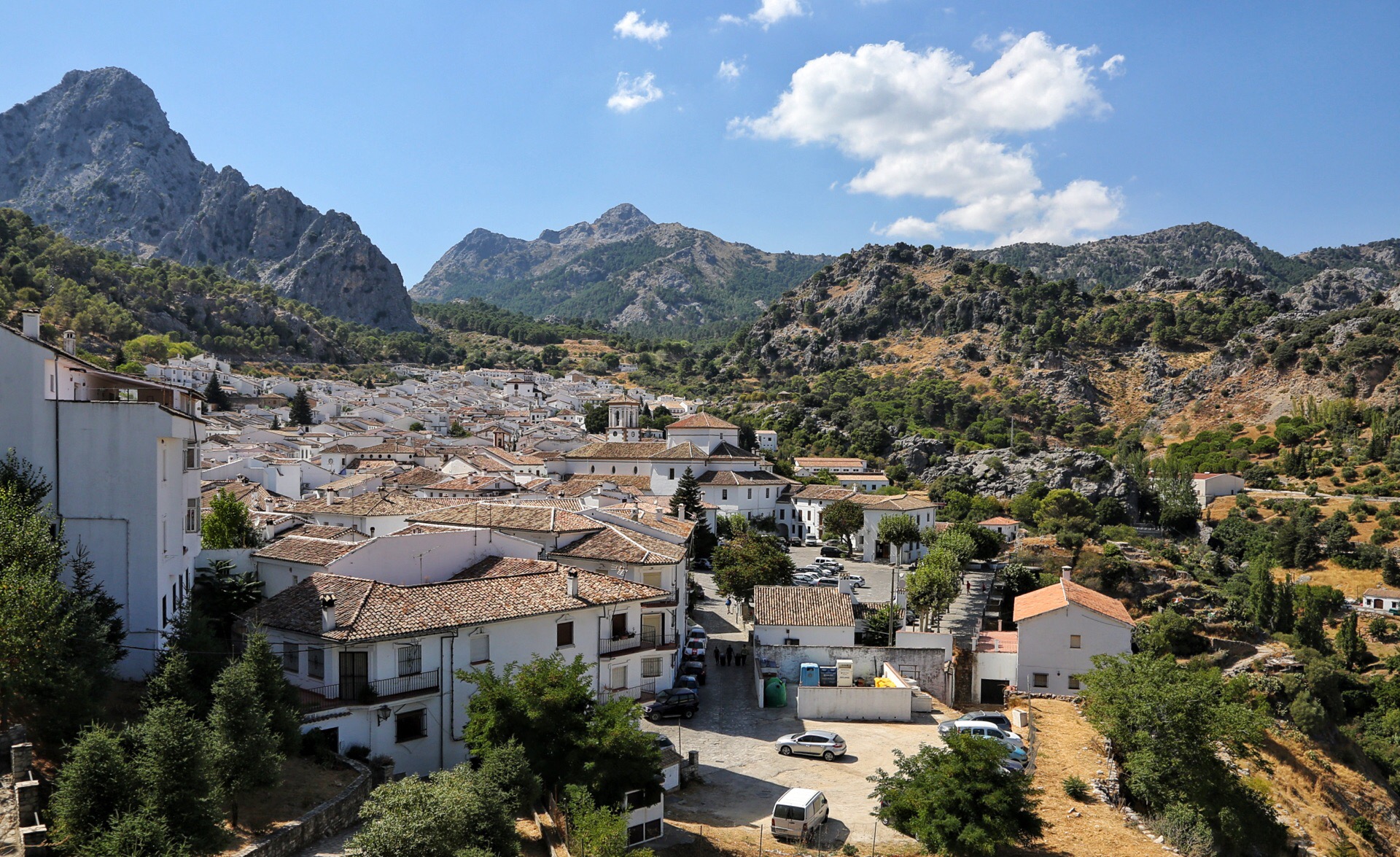 The road between Grazalema and Zahara took us through some of the most spectacular countryside I've ever seen. We stopped at a lookout at an altitude of about 1500 meters and watched vultures and other raptors soaring below us. It felt like we were on top of the world.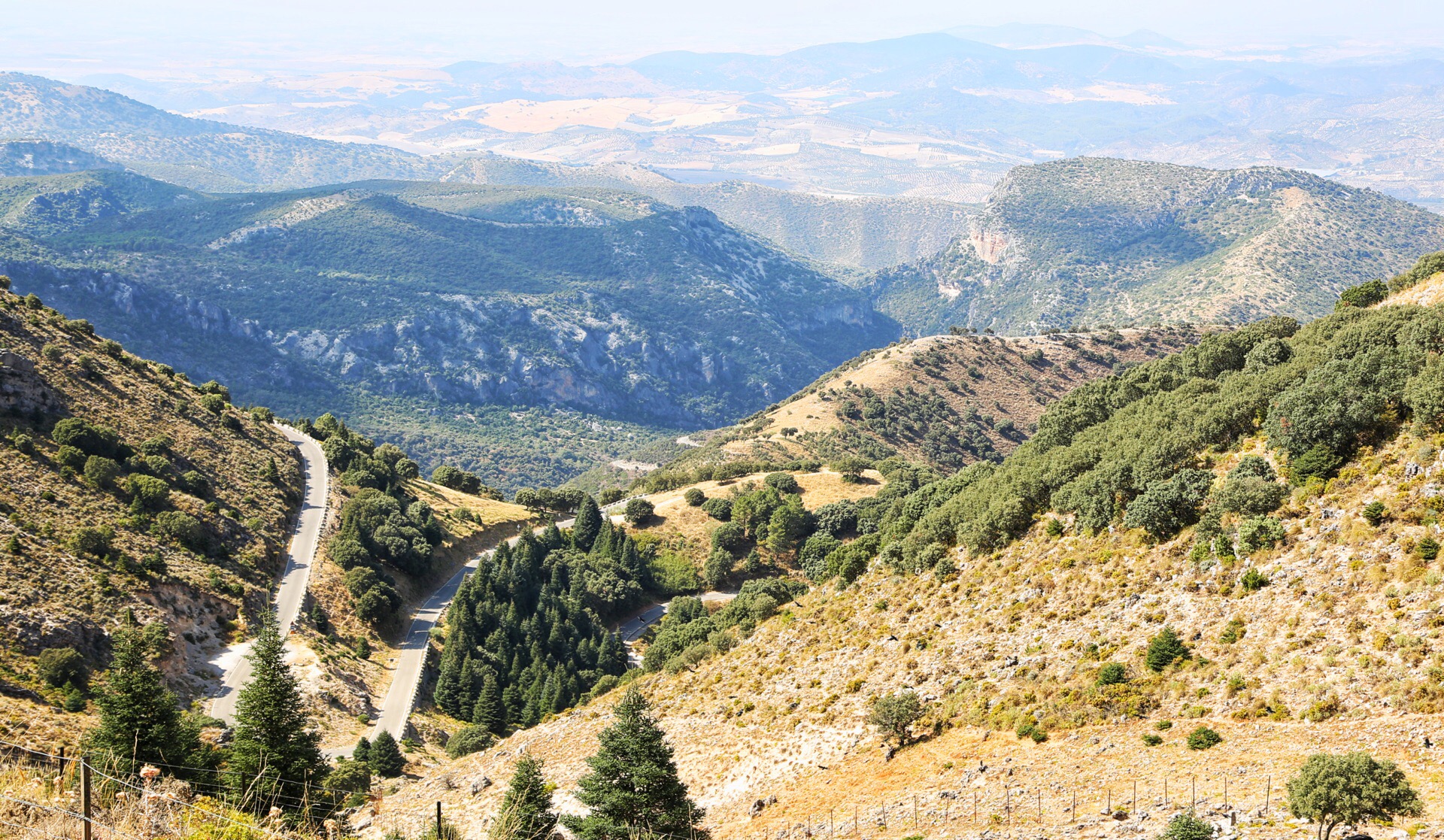 Our hotel that night was near Arcos de la Frontera–about five kilometers out of town, in the countryside. Another stroke of luck… Our least expensive hotel so far, it was a farmhouse built in 1754, with rooms overlooking a courtyard shaded by grapevines, a big (smelly) black Labrador retriever named Tara, and a beautiful swimming pool that we sadly ended up not using. The owner told us that it is also his family home.
We made a brief trip into Arcos de la Frontera for dinner, but decided to forgo a proper visit–by then we had wandered about half a dozen white hill towns, the forecast called for rain, and we wanted to enjoy the hotel as long as we could before moving on to Seville.