Spain! The Home Stretch
While I've heard European travel called the ABC tour–another big church, another big castle–and it's not hard to get tired of visiting them all, it's also hard not to stop in a pretty town with an old castle sitting like a cherry on top of a cake. At least, sometimes you need a break to stretch your legs, or for lunch or something to drink! So we made a brief stop in Carmona. Lovely!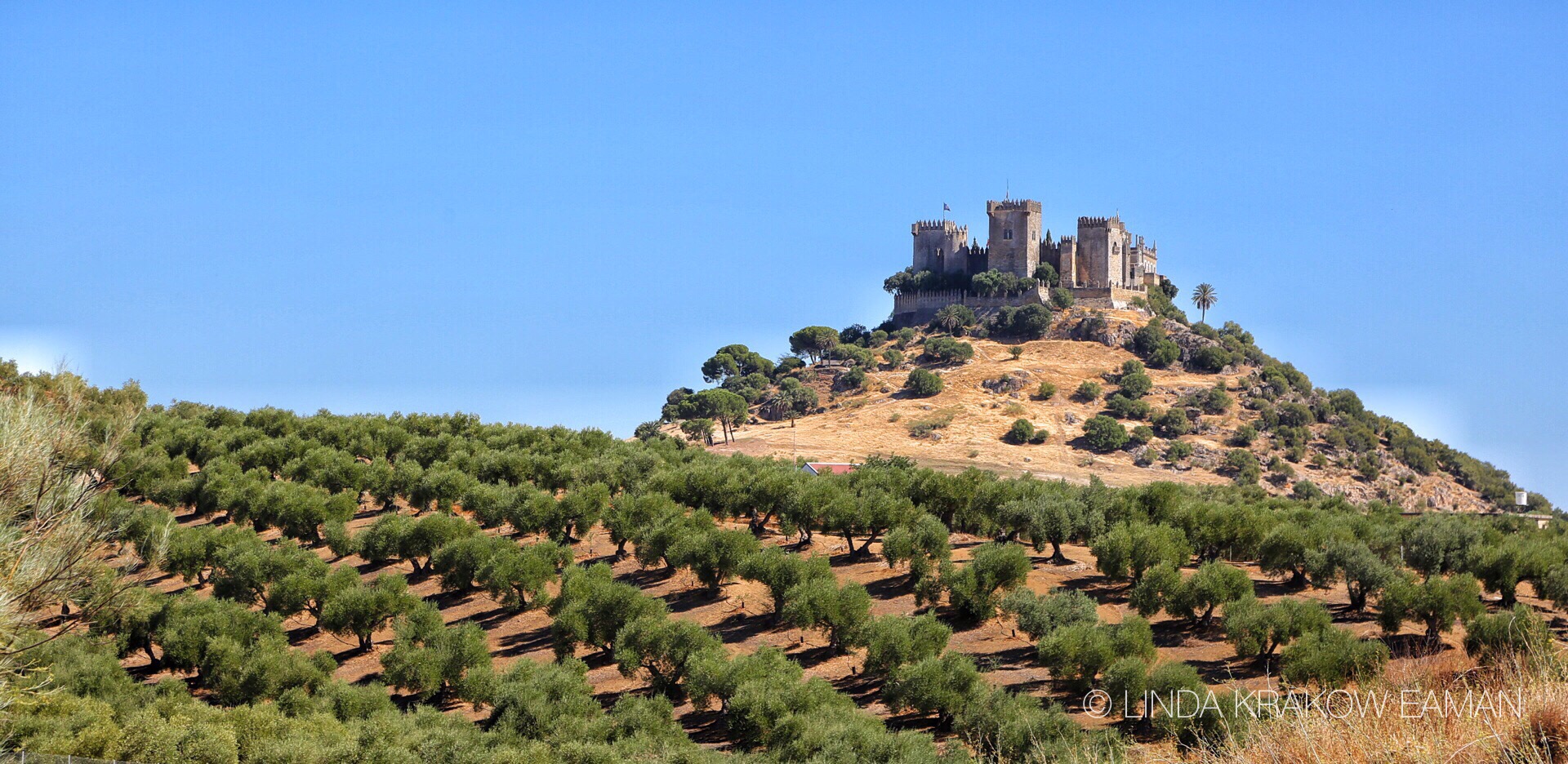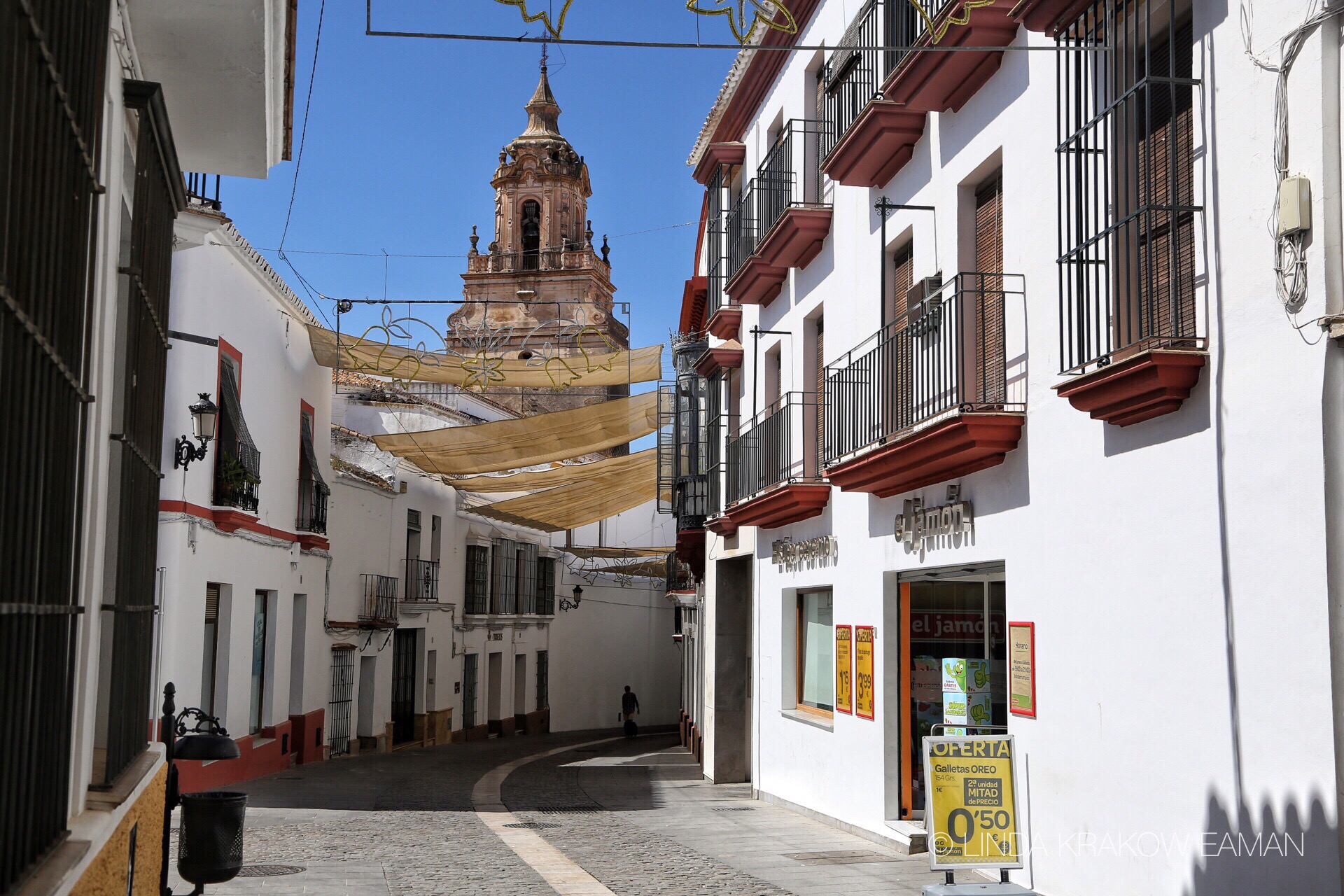 I also snagged a shot through the car windshield, in the rain, of one of the massive bull structures we'd seen along the highways. Originally part of a marketing campaign for booze, the "Osborne Bulls" are now considered cultural icons.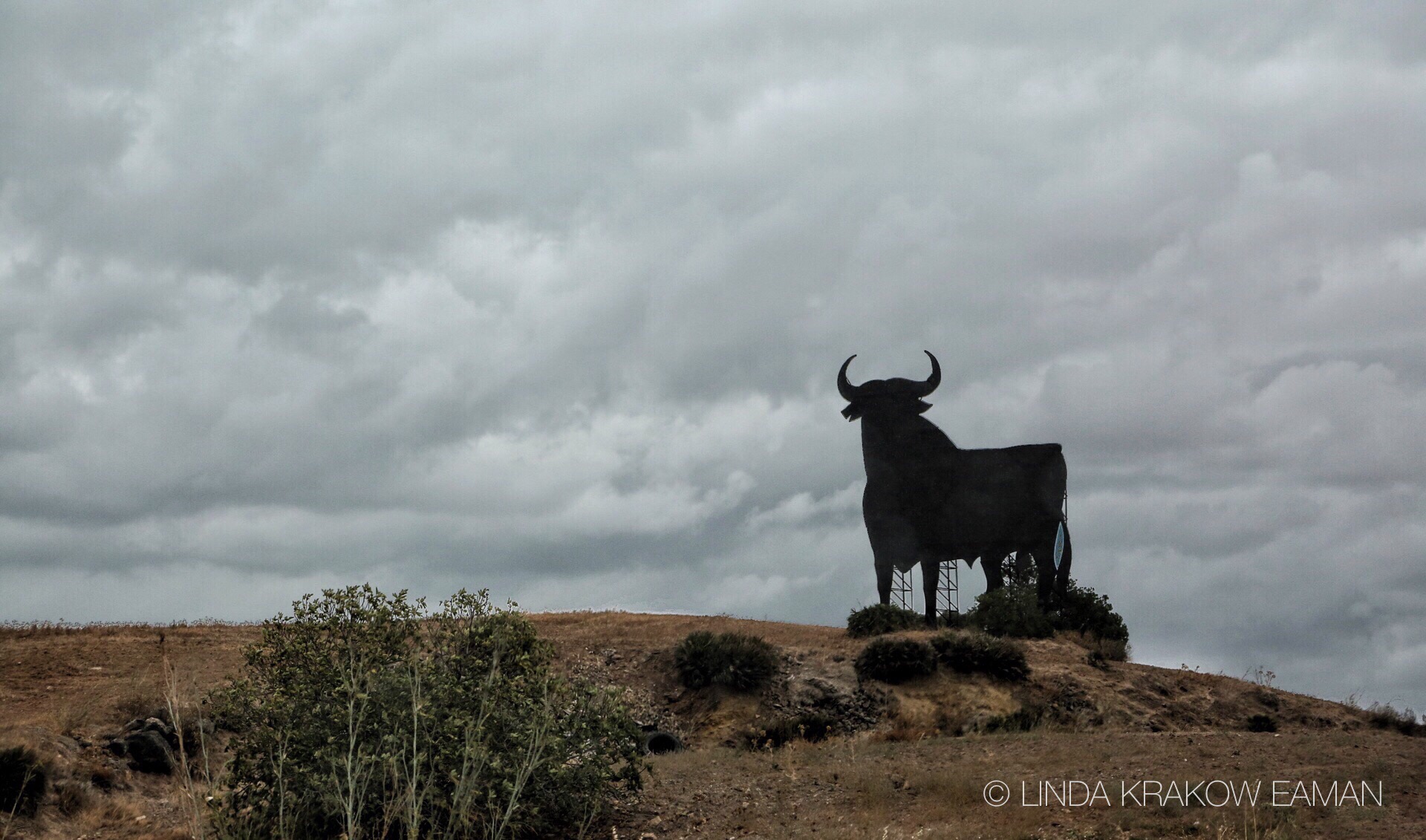 I generally prefer the smaller cities, and Córdoba was one of my favorites. With fewer "attractions" they perhaps offer less to report on, but I enjoy just absorbing the atmosphere and the vibe of each place. Once again, our hotel was just outside the main historic area, which meant the evening of our arrival we walked through a busy shopping area during the paseo–the evening stroll that seems to bring the whole city out to the streets.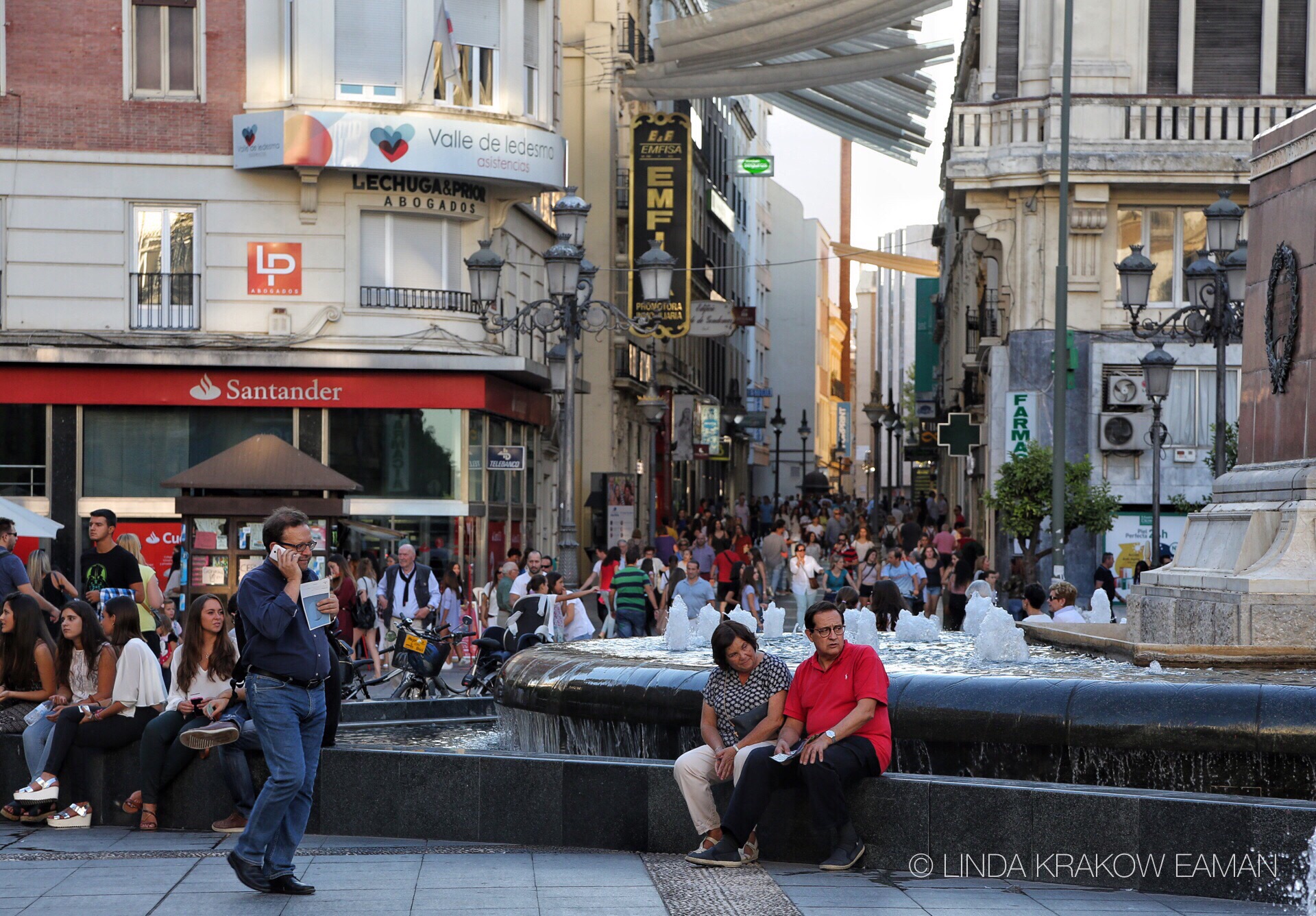 Córdoba has lots of green space, with long parks running several blocks in each direction along two sides of the area we explored, and fountains and even eateries in the middle of them.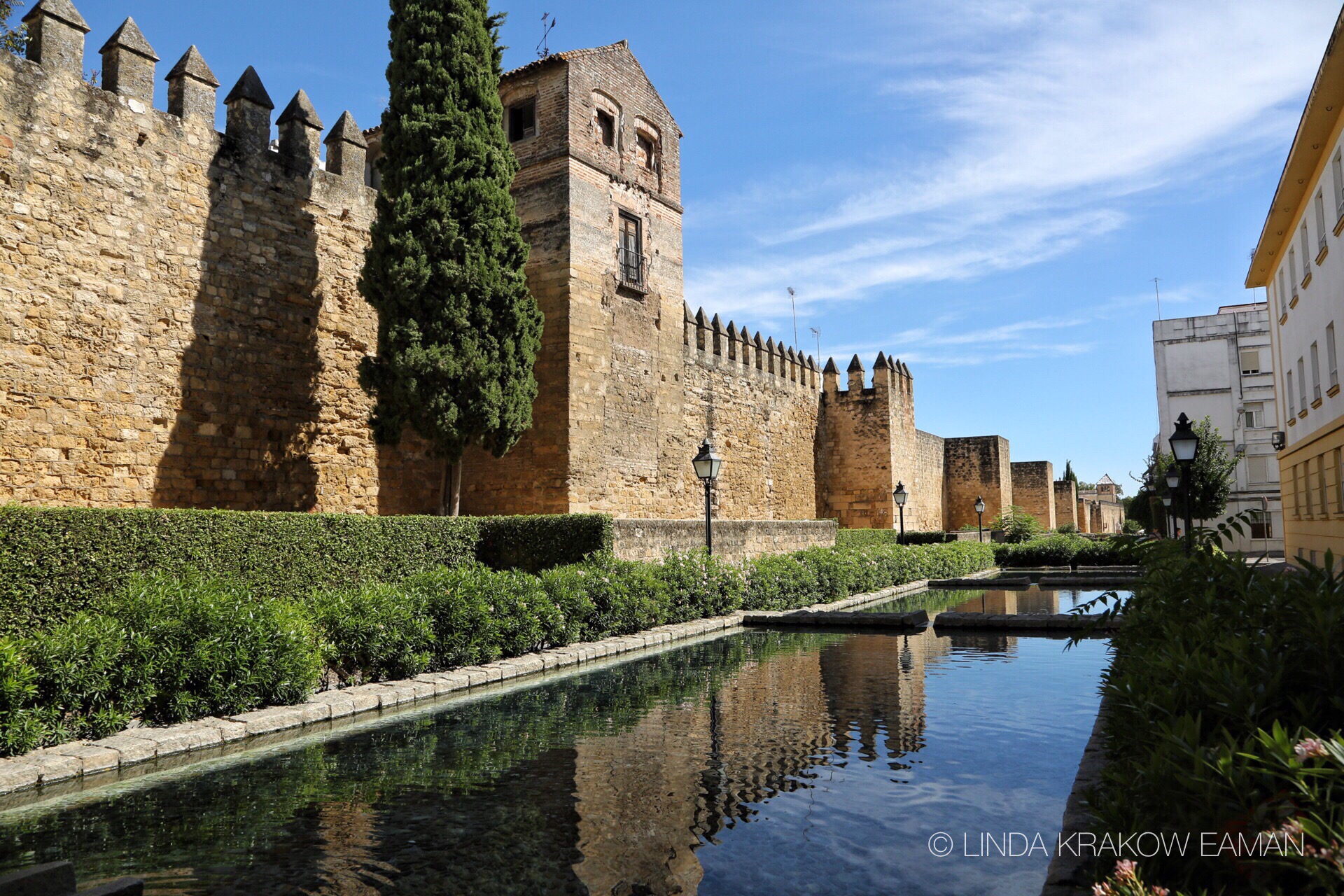 The historic area is partially surrounded by a wall and concentrated around an old Jewish quarter and the Mezquita-Cathedral. This is a stunning structure–a mosque that was enlarged several times, and then had a cathedral built right into the middle of it. The mosque or the cathedral would be stunning on its own–together they are quite extraordinary.
The view from the tower, which also has undone multiple renovations since its original, lower form with a minaret, really shows how the church is built right into the middle of the mosque.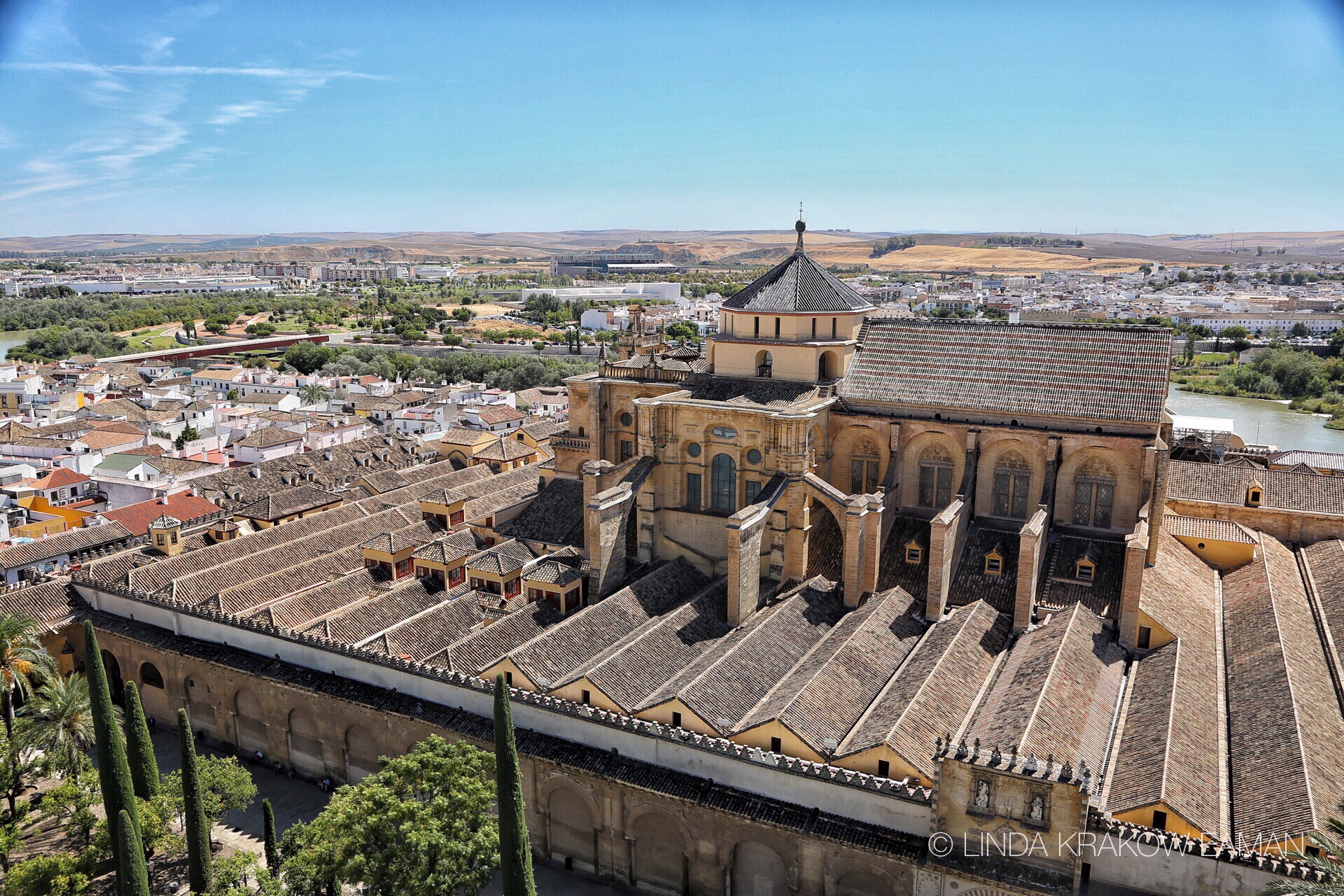 The tower: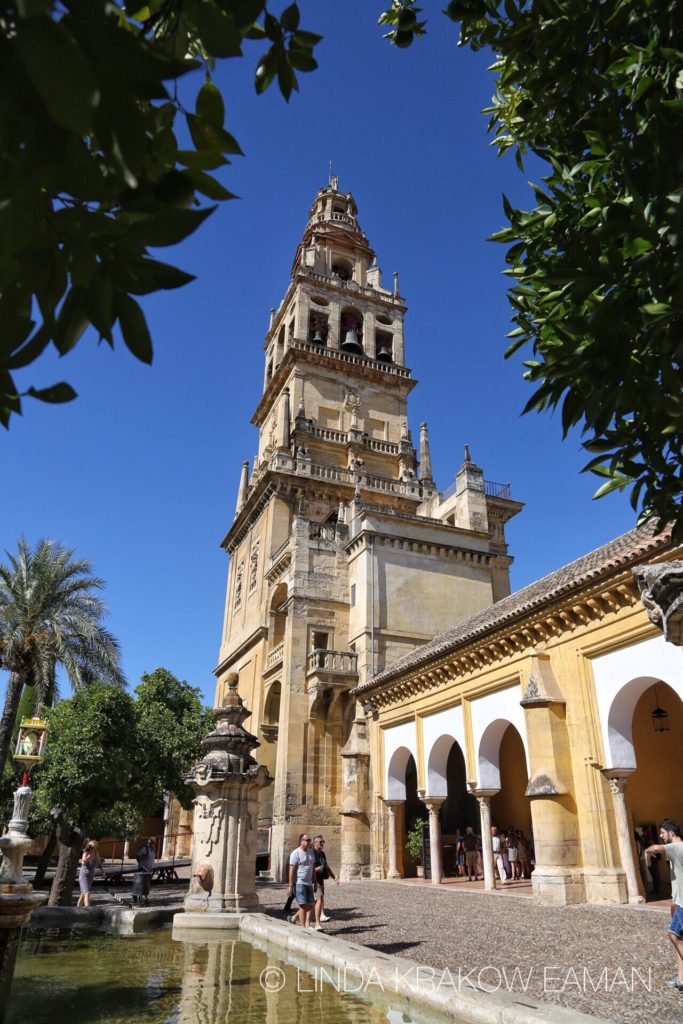 And the inside (I almost got a shot with no visible people in it!):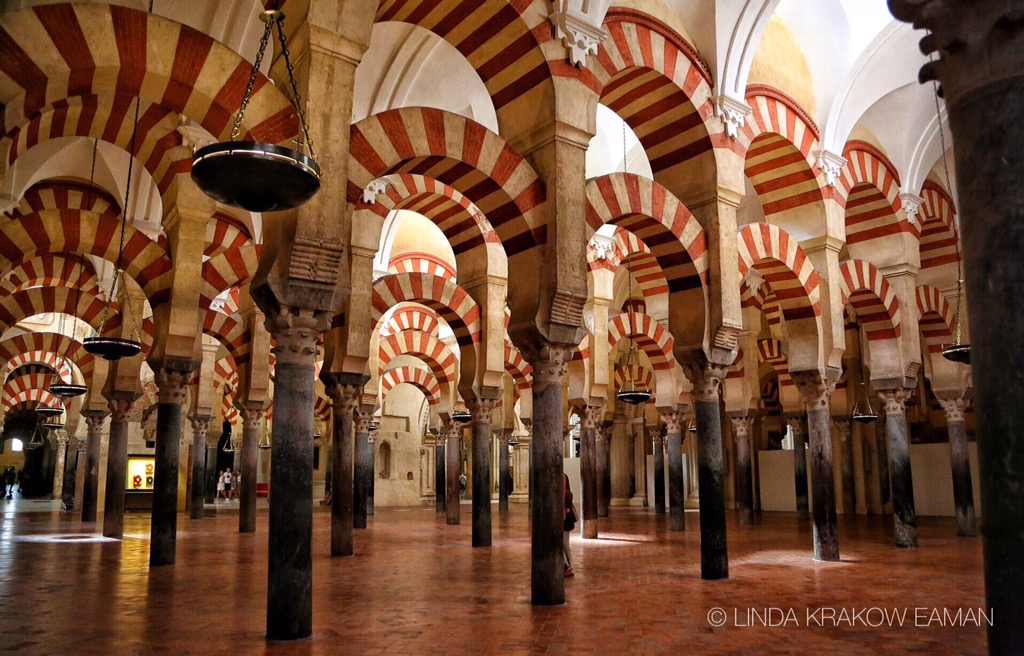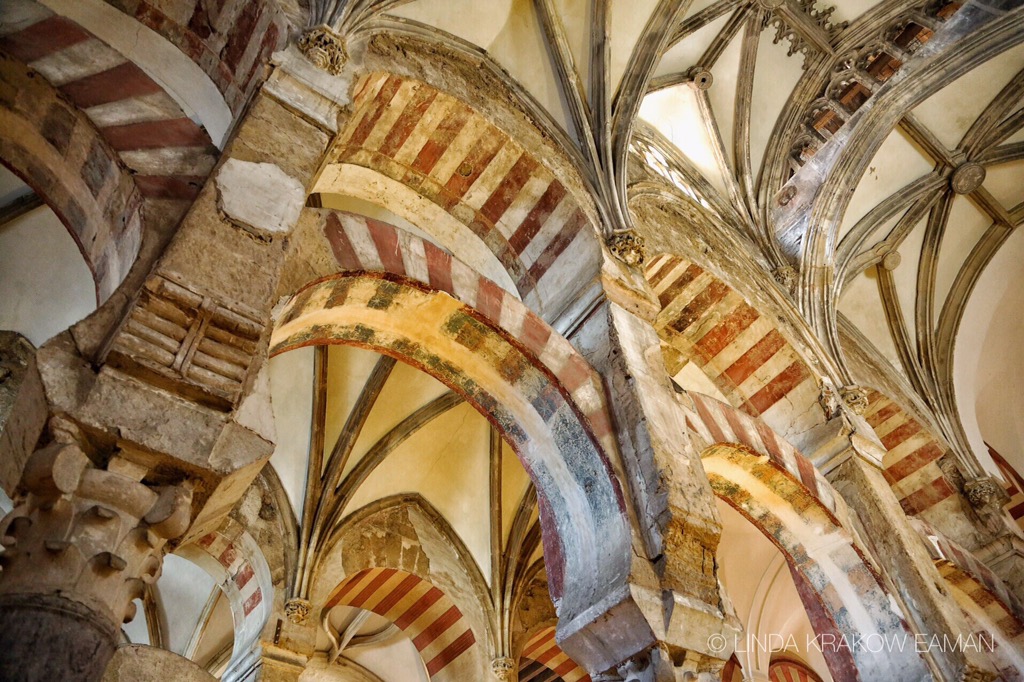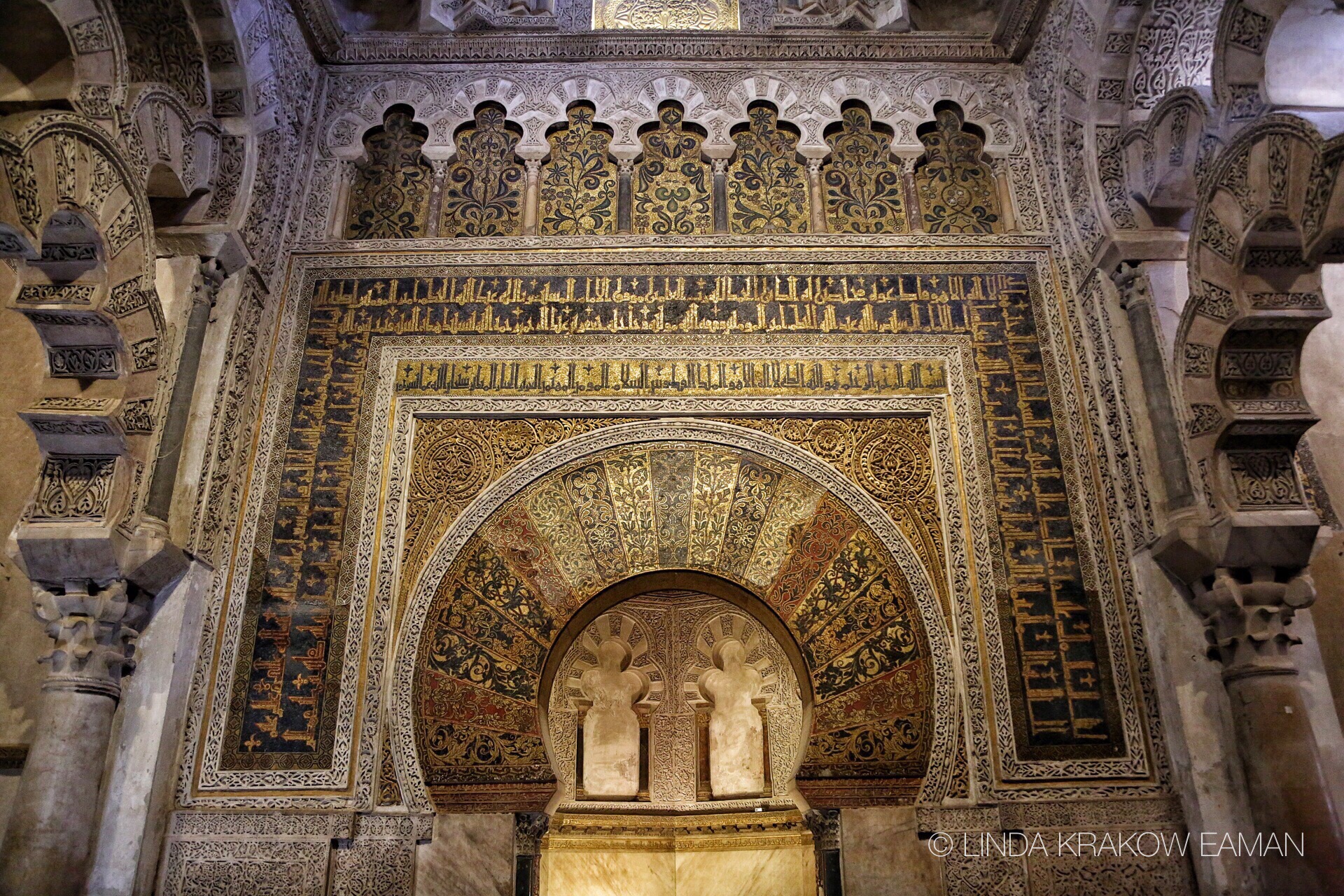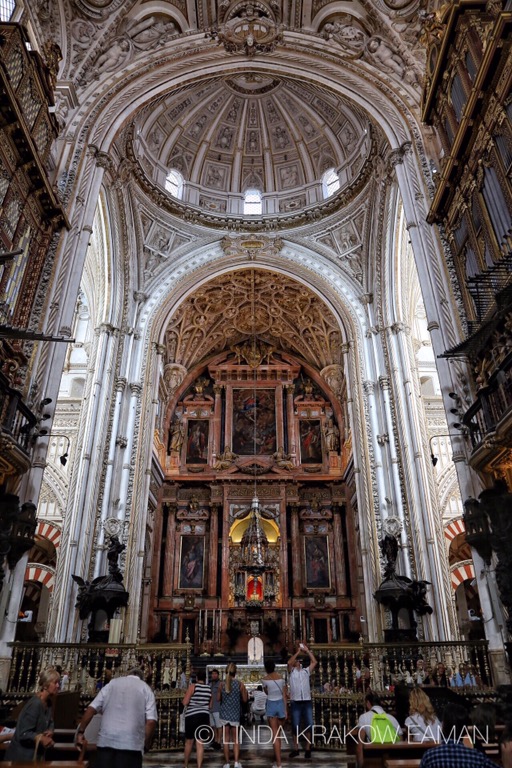 Córdoba has one small synagogue still standing. Like the others in Spain it had been repurposed by the church, but it is now open as a one-room historic building, across the street from a museum about Sephardic Jews. The decoration is typical of the Mudejar style seen in many of the buildings constructed by Muslim craftsmen.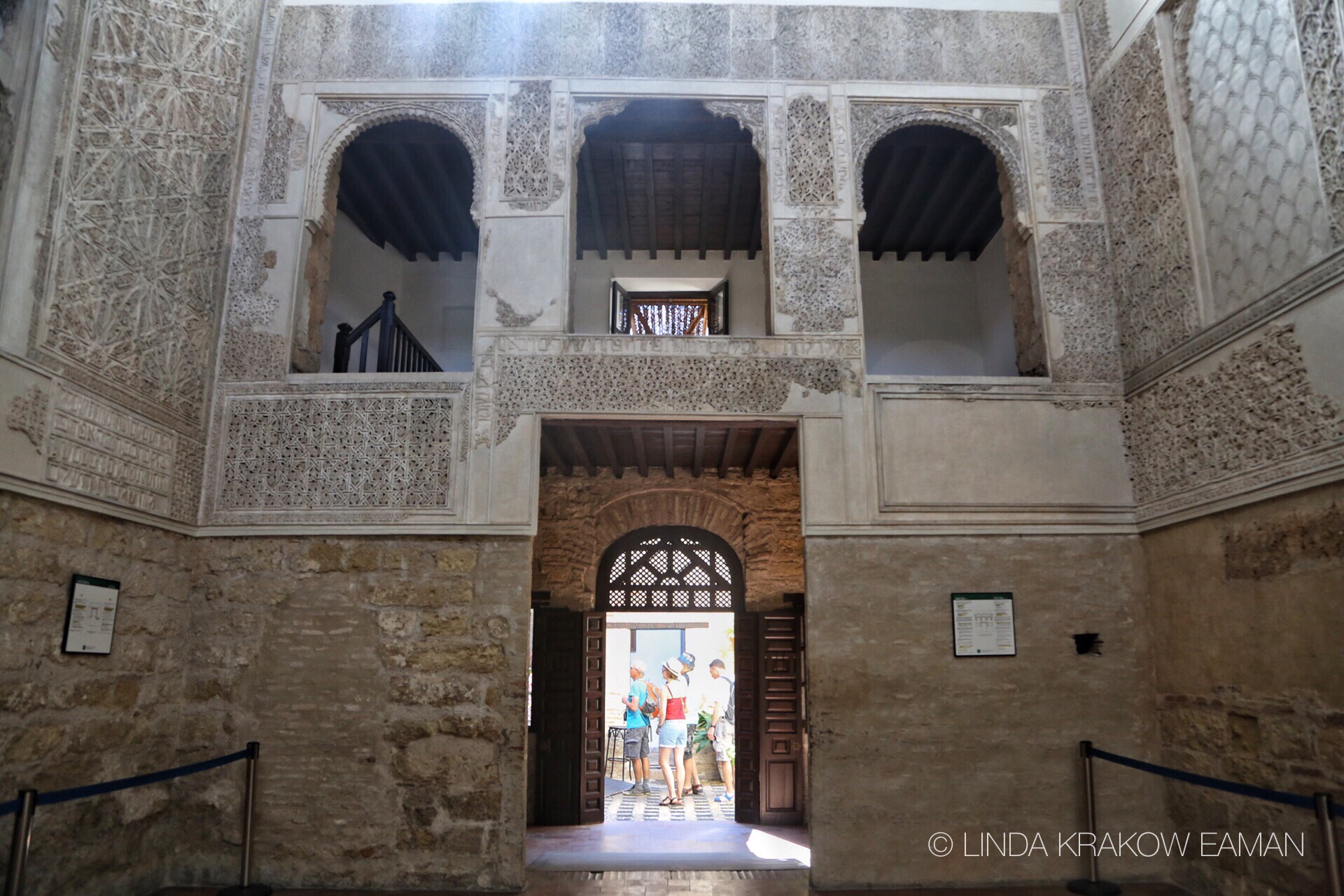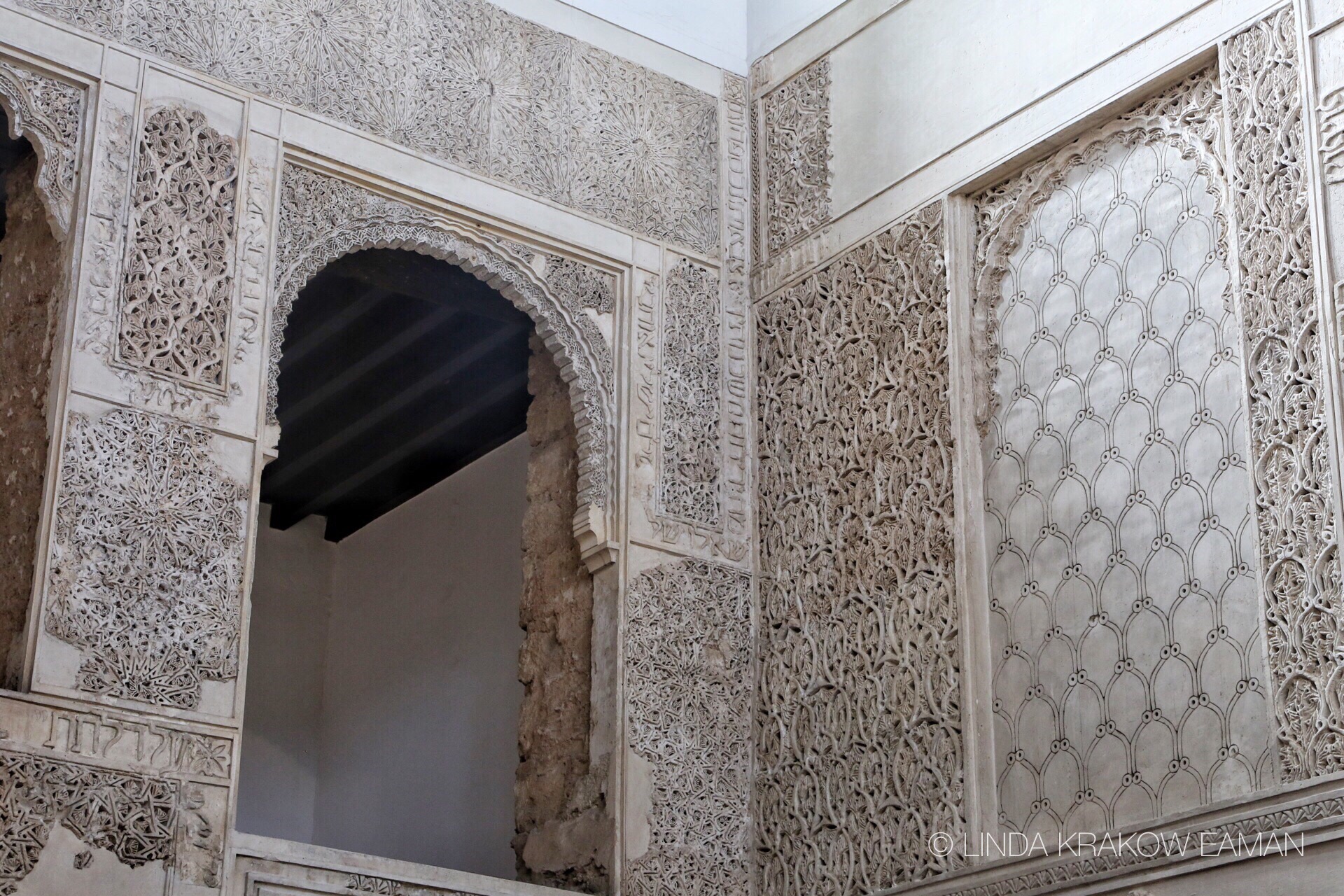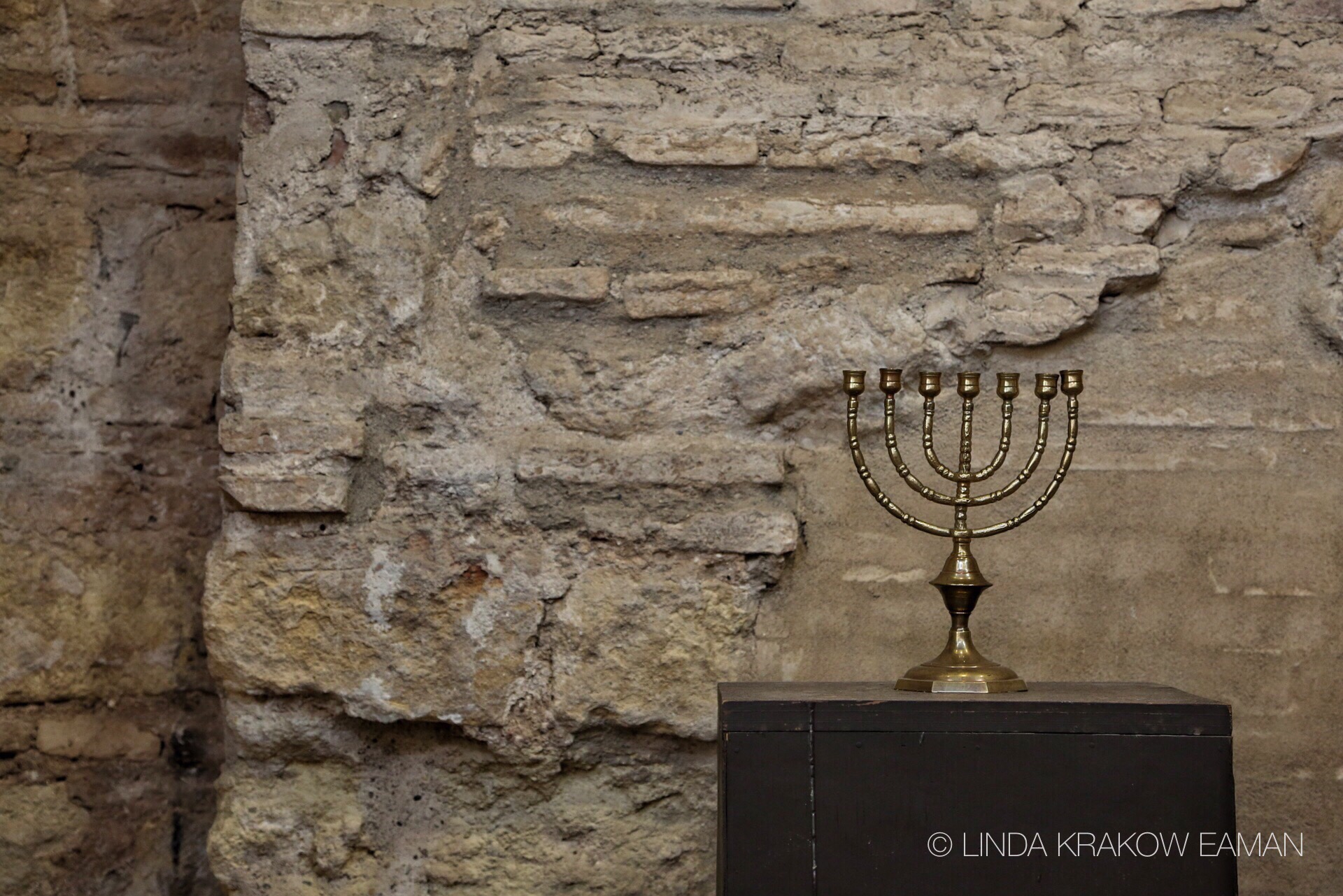 Our last morning in Córdoba we found a neighborhood coffee shop–once again, outside the tourist area–called Canadian! While there was nothing Canadian about it, it was a fun twist and we enjoyed breakfasting like locals. Here too we found green space, with gorgeous gardens and a park just outside the restaurant.
Our last two nights would be in Segovia, and as always we planned a route on smaller roads, avoiding the major highways. The approximately five hour drive it took us through a variety of countryside and towns. We stopped for lunch on the outskirts of Almaden, as usual around 2:00 looking for a place that might be open. It was an ordinary lunch in an ordinary town, but also as usual just after we arrived the whole neighborhood seemed to show up! There's always at least one large group, six to ten people of all ages including kids, spending a few afternoon hours sharing large plates of food, many beverages, and conversation. It's all very casual and a bit raucous.
Internet access on our phones has been wonderful, both for translation and for research. While waiting for our food we learned that Almaden has a 2000 year history of mercury mining, and produced most of the world's mercury until the mine closed in 2003. It produced most of the New World's mercury (used for, among other things, extracting gold from ore) until it started to be produced at the Almaden mine in California– more specifically, in San Jose and now a county park where I frequently hike! Unfortunately the mining museum was closed that day.
The drive also took us through beautiful mountains full of what look like well marked hiking paths. Spain seems to have an excellent system of national parks. A lookout at 1500+ meters also offered a closeup look at a Roman road that wound back and forth across the highway, as well as a water spout where people were filling large jugs from a mountain spring. We've found water spouts/fountains throughout most of the cities, allowing us to keep refilling the bottles we carried during hot days, but the water here was most delicious and very, very cold.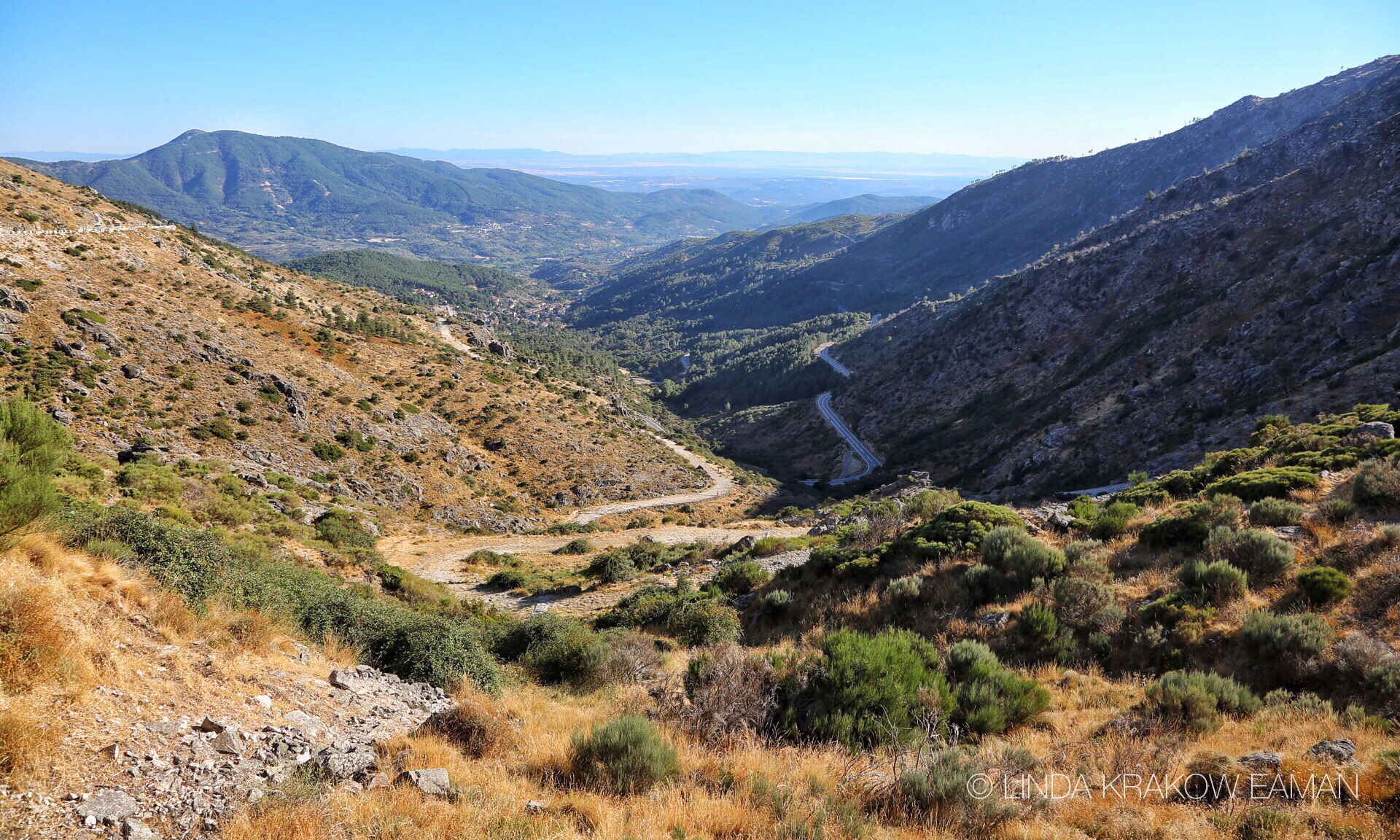 These little flowers reminded me of crocuses, but they grow directly out of the ground, without a stem!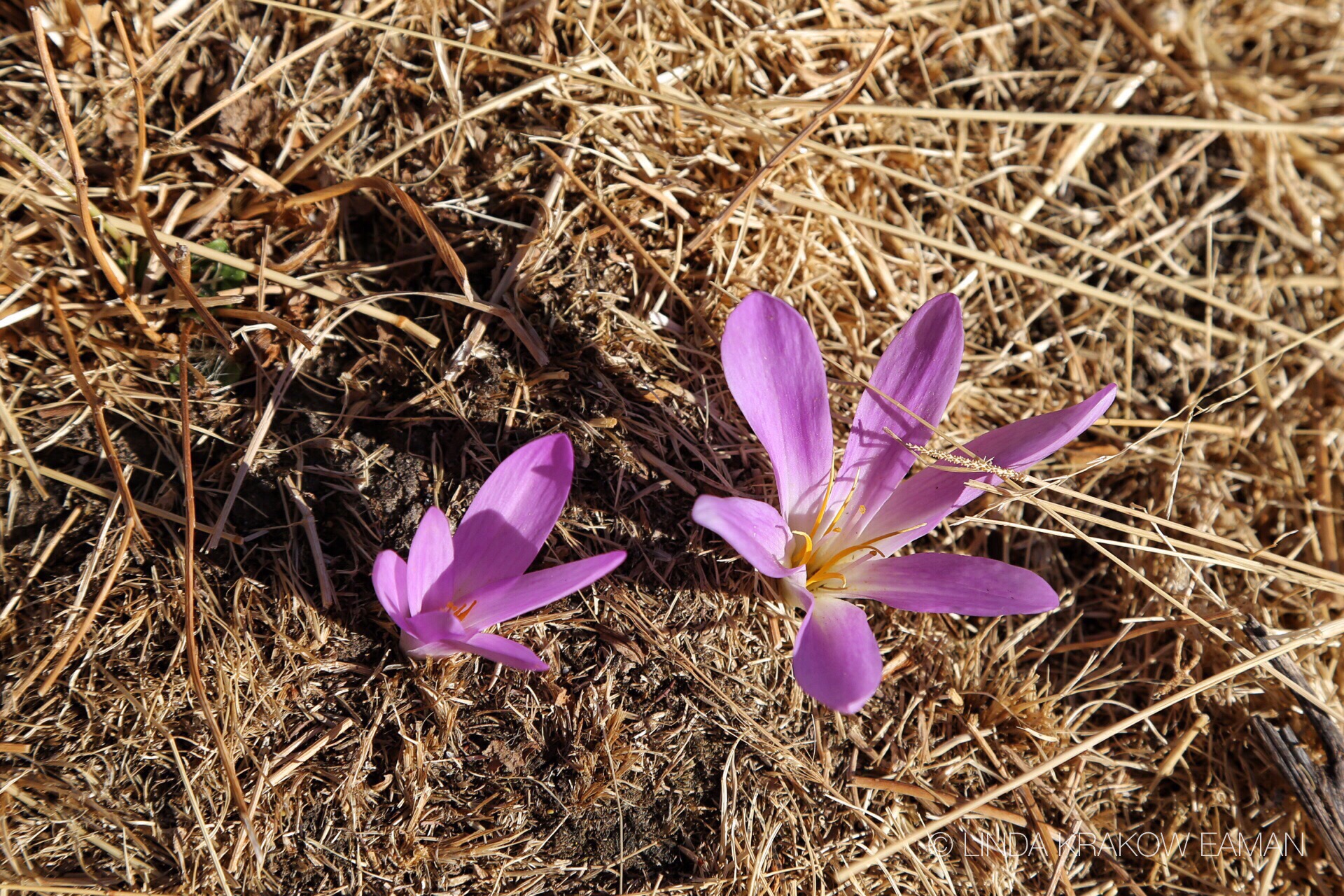 Maybe it was just the nostalgia that comes with the last stop and the last few days of a long trip, but I loved Segovia. Another small town with a population of only about 55,000, it is centered around a walled old city and a historical gem–a Roman aqueduct.
The aqueduct originally spanned almost 15 kilometers to supply Segovia with water; in the middle of the city a remarkably large portion has survived, and small plaques in the cobblestone streets mark its underground path too. It was built–without mortar–in the first century!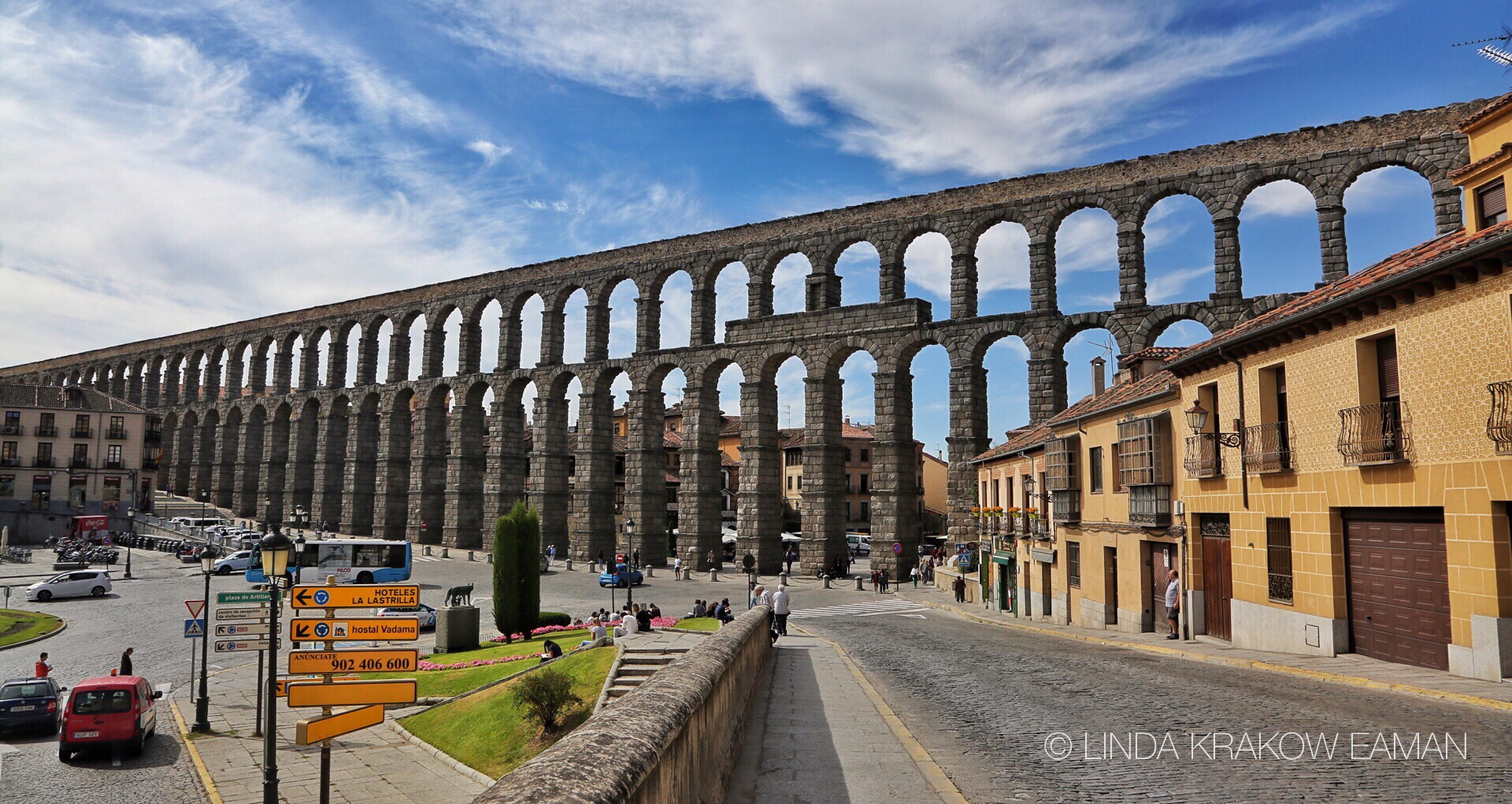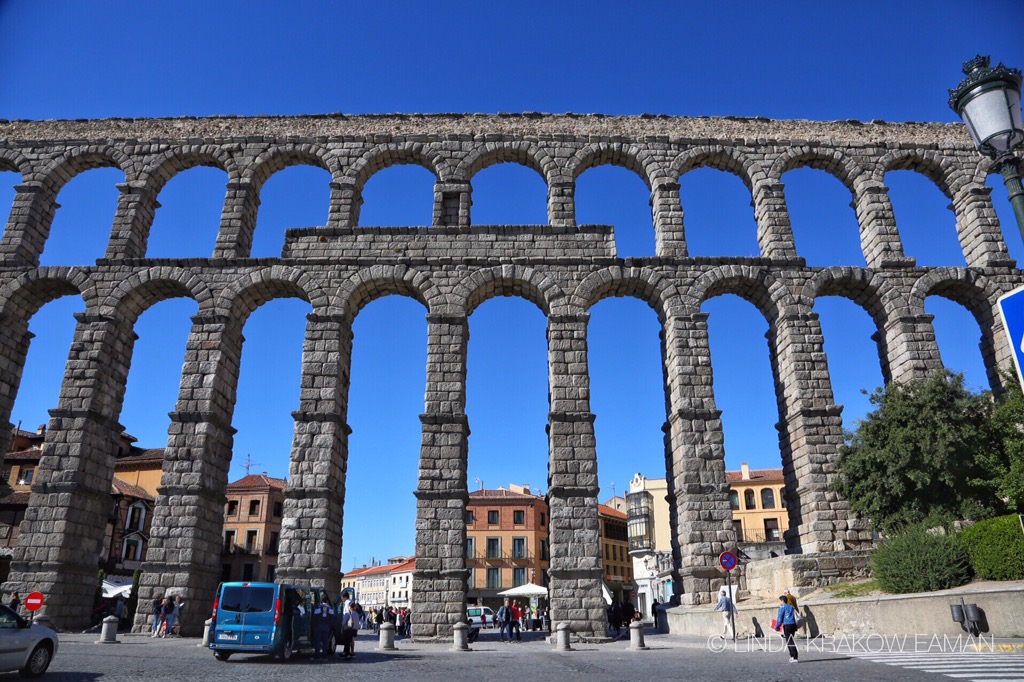 At the other end of the walled city, at its highest point, is the Alcazar–a castle. After a fire in the 1800s this was rebuilt for tourists, and its outer appearance is a bit Disneyesque. At this point we were all castled out and opted not to visit, but it is quite something to see it looming over the city.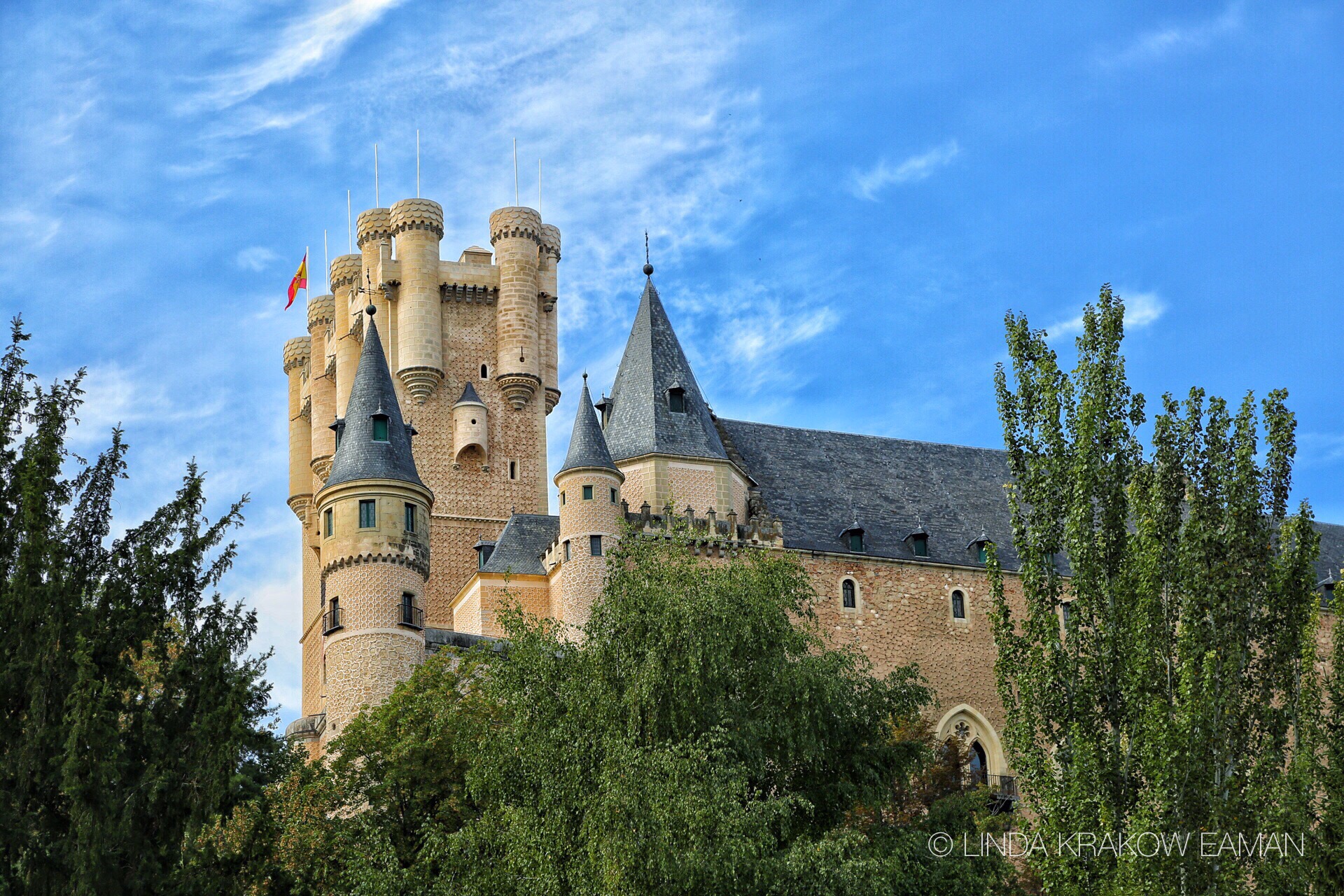 We enjoyed the Plaza Mayor (every city seems to have one, the Spanish plaza equivalent of Main Street), which is presided over by a gothic cathedral and is the center point for streets radiating out in every direction. A lovely place to sit with coffee and watch the world go by.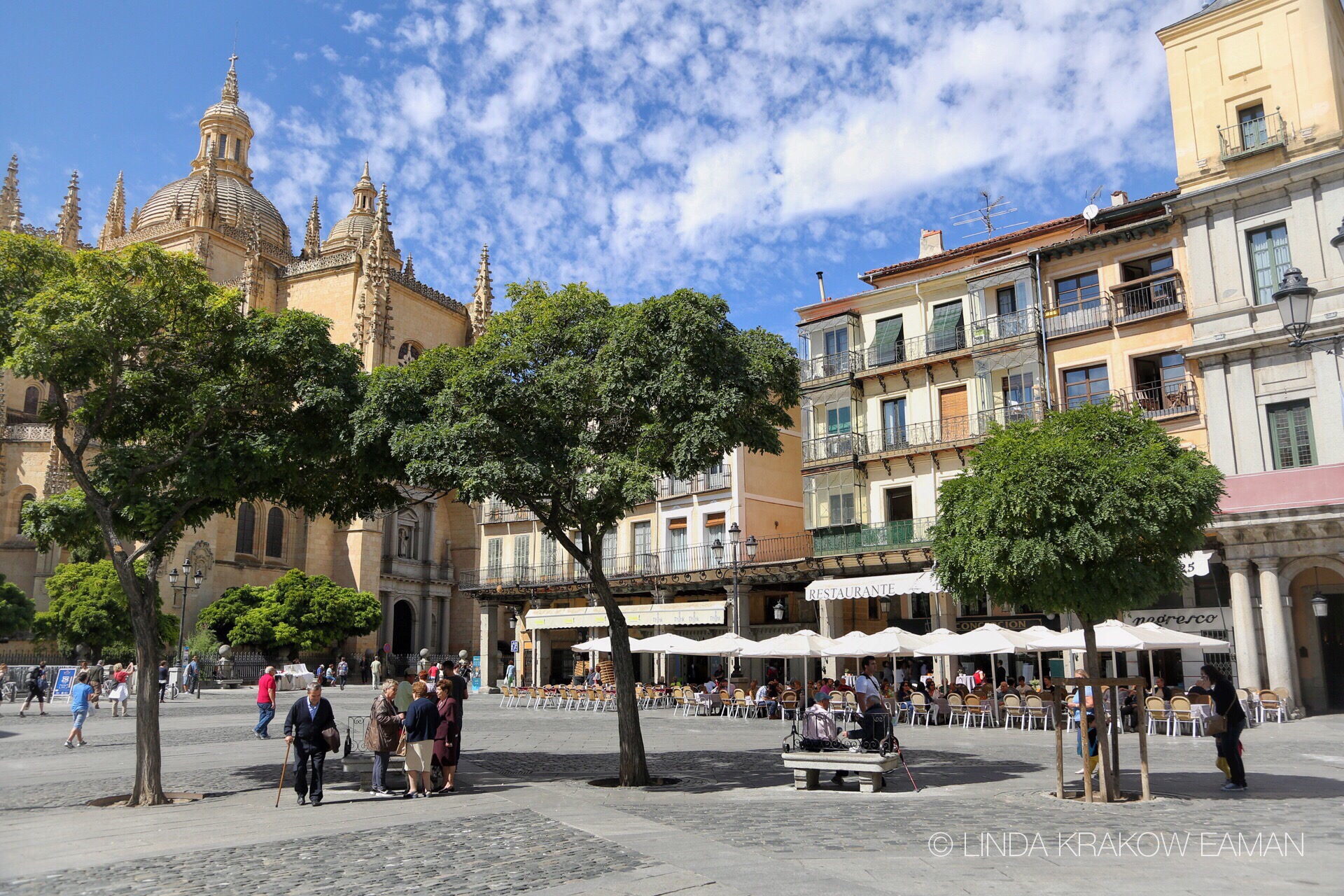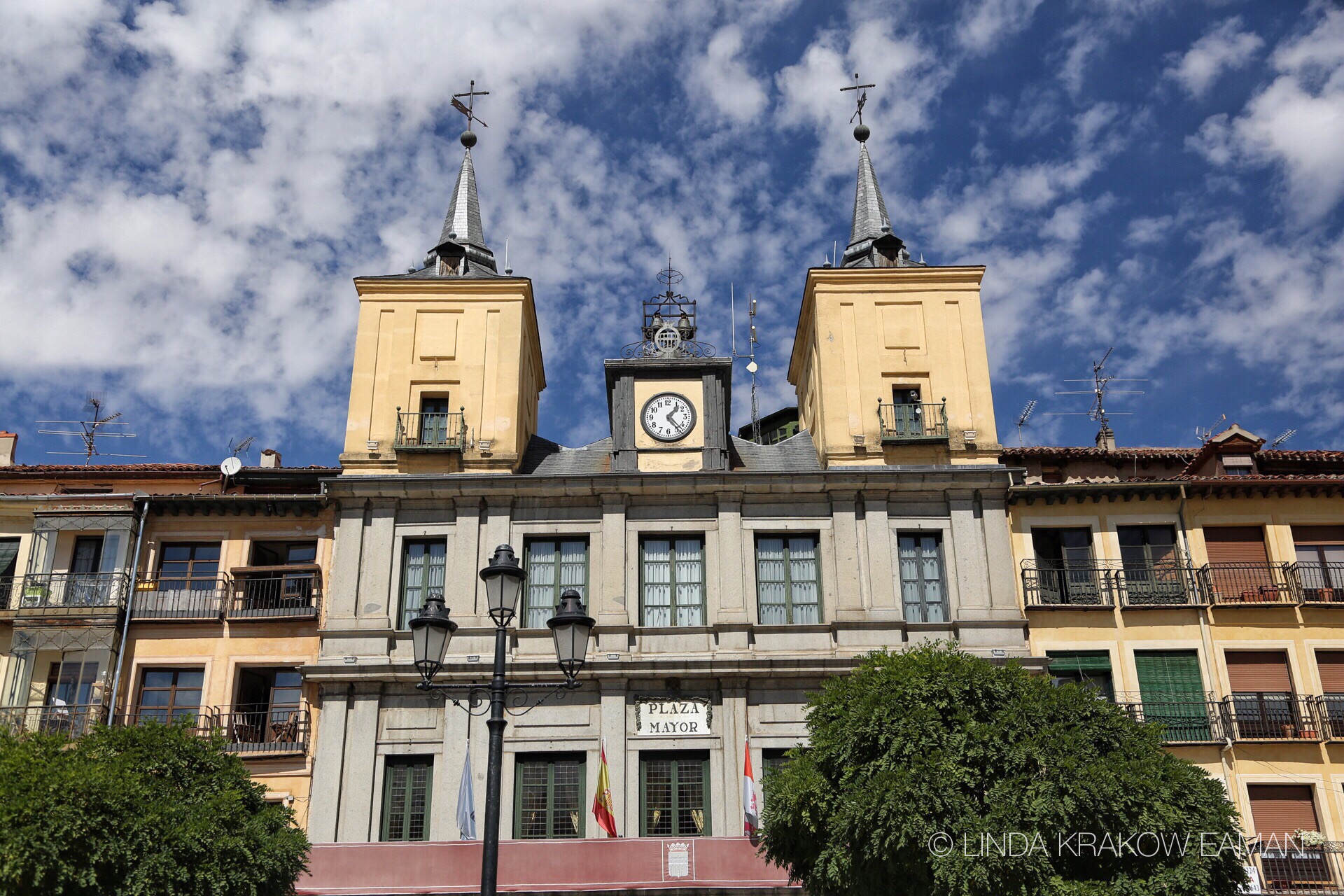 We enjoyed a few of the local specialties here. Almost every restaurant advertises cochinello asado–roast suckling pig–and while I had a hard time seeing that little hoof on his plate, Marc said it was superb. I opted for another local tradition, judiones de la granja, a plate of large white beans in a delicious, smoky sauce.
Segovia also offered a respite once we found ourselves "visited out"–an easy walk took us along the ancient city wall, through the puerta, and into a green belt running along the river, just below the wall, with the castle far above. It would have been easy to go for miles and even out into the countryside.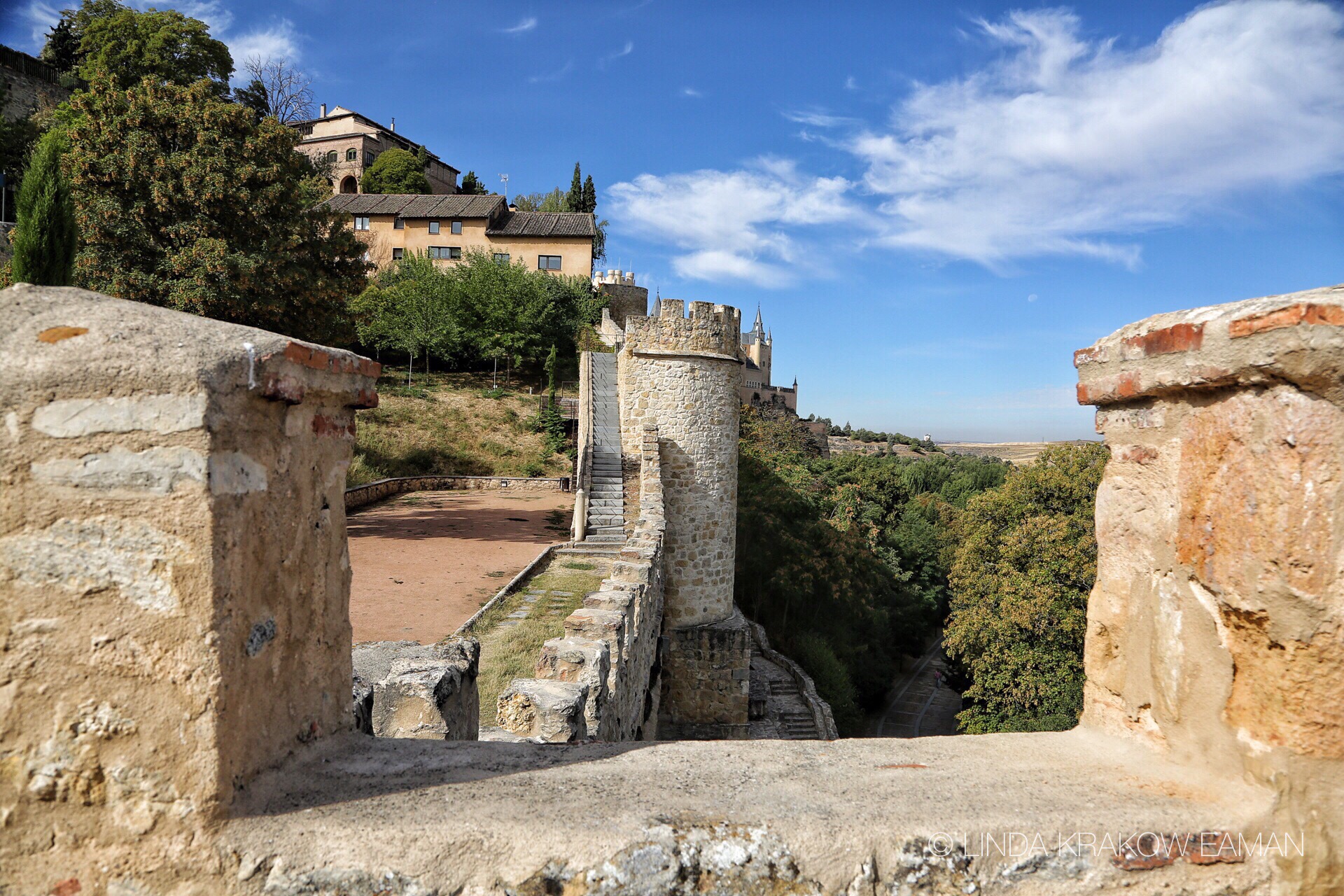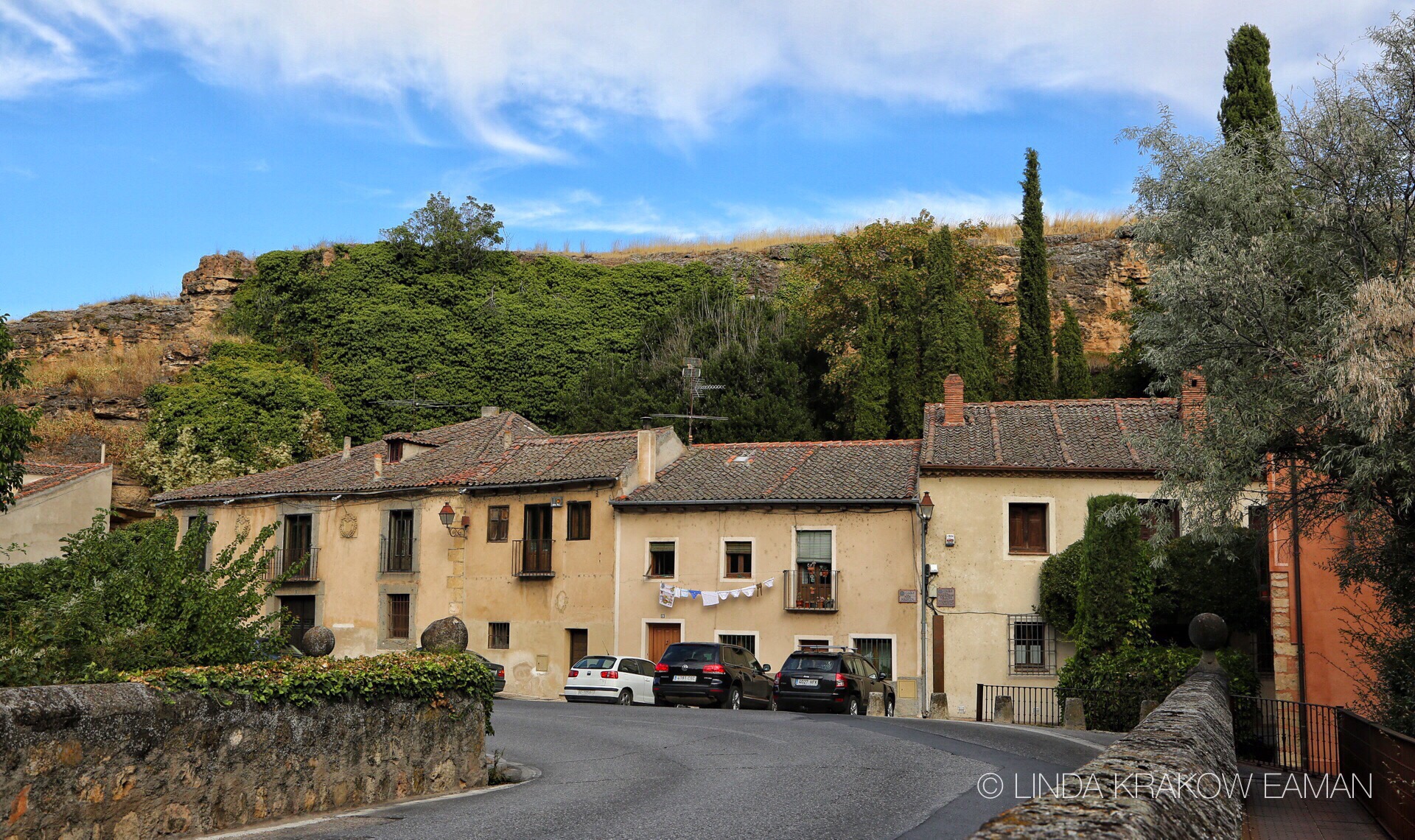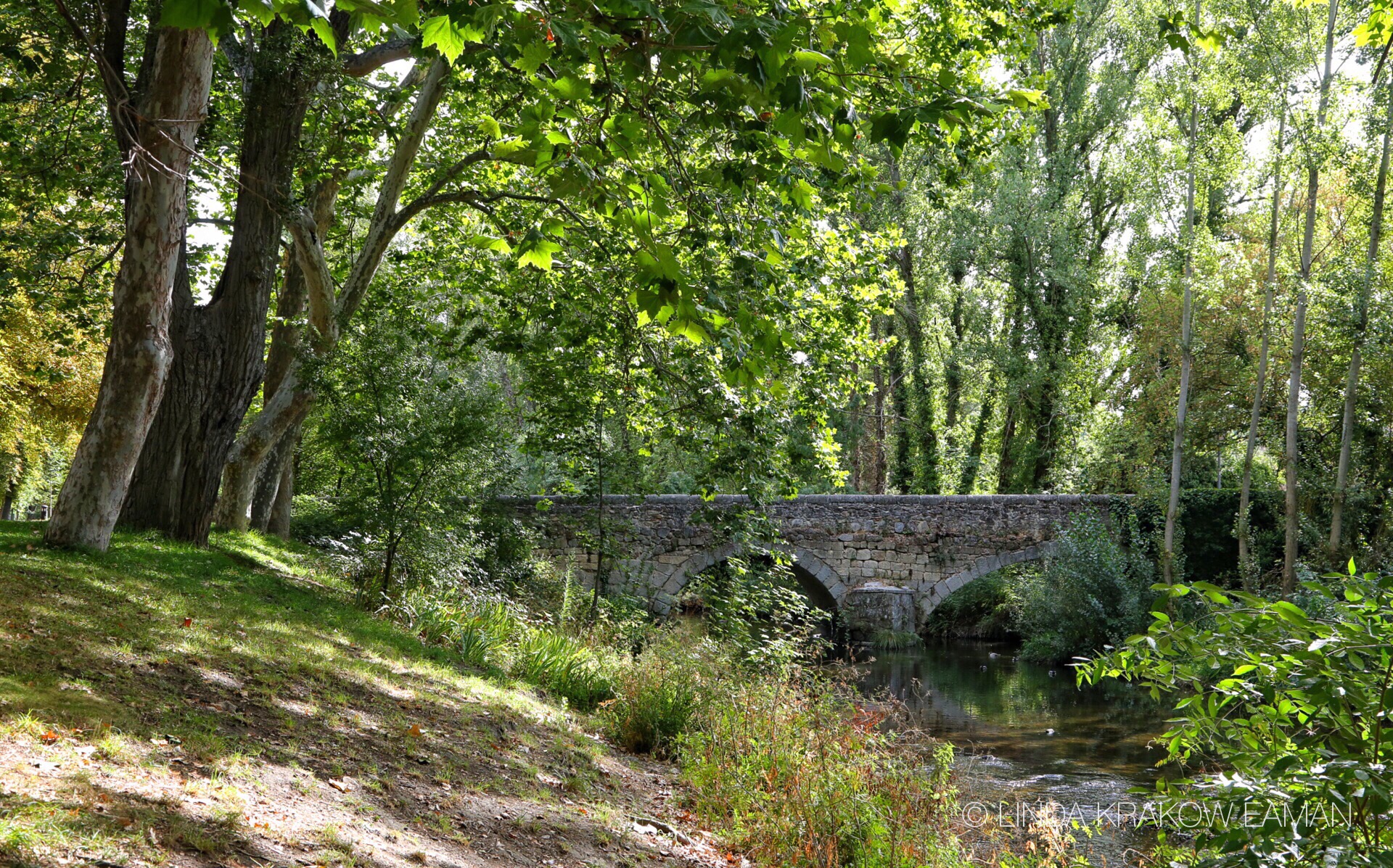 Eventually, all good things must end. We made one last stop on the way back to Madrid, to see the gardens of the palace at San Ildefonso de la Granja, possibly the place my beans were named for as we saw big bags of judiones for sale here (although granja just means farm). The castle was built in the 1800s and modeled after Versailles (King Felipe V, who built it, was the grandson of Louis XIV) and we skipped the interior, other than the adjoining chapel which houses the remains of Felipe as well as other royals, including some (children perhaps?) whose bones are visible through the glass walls of the small boxes on shelves.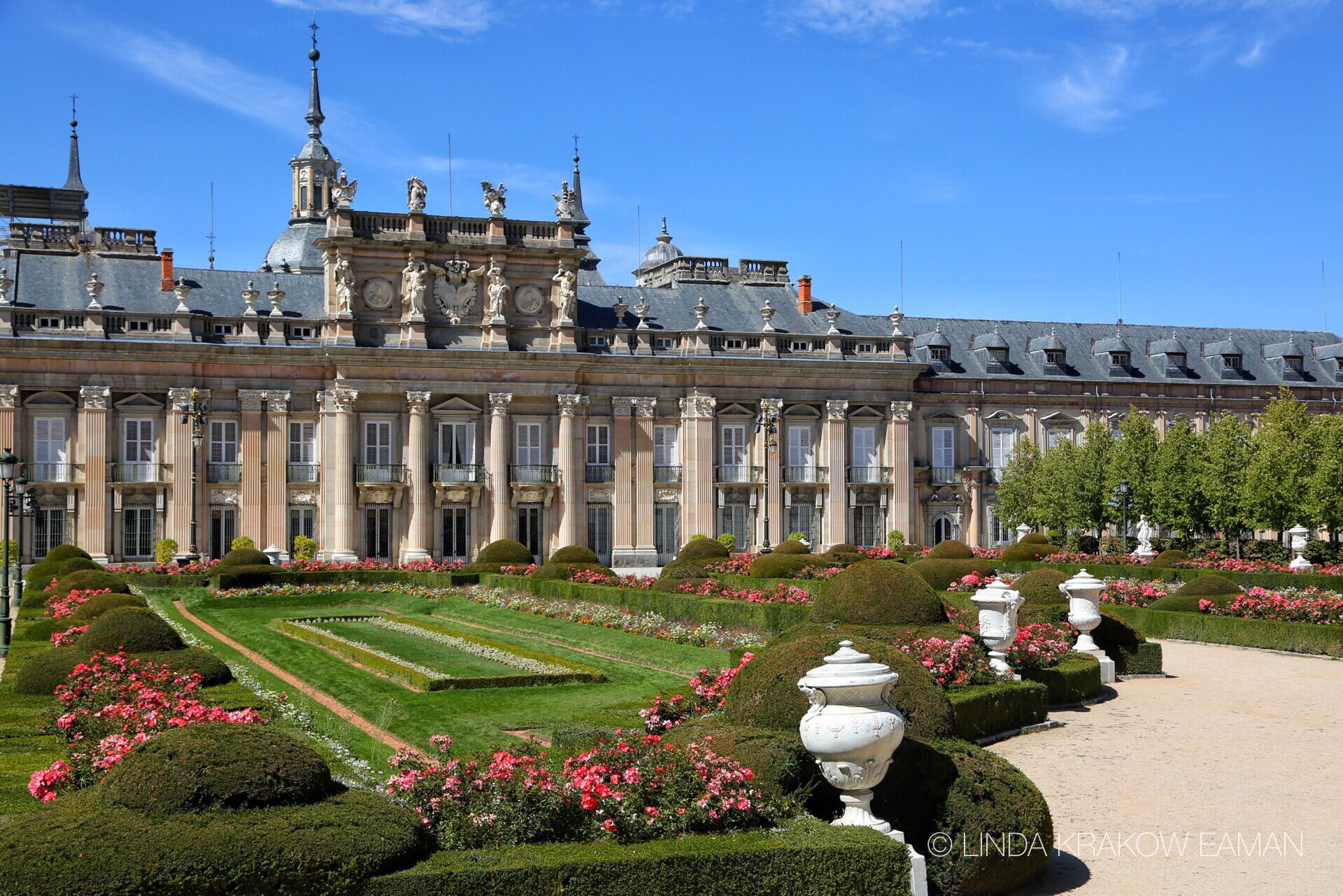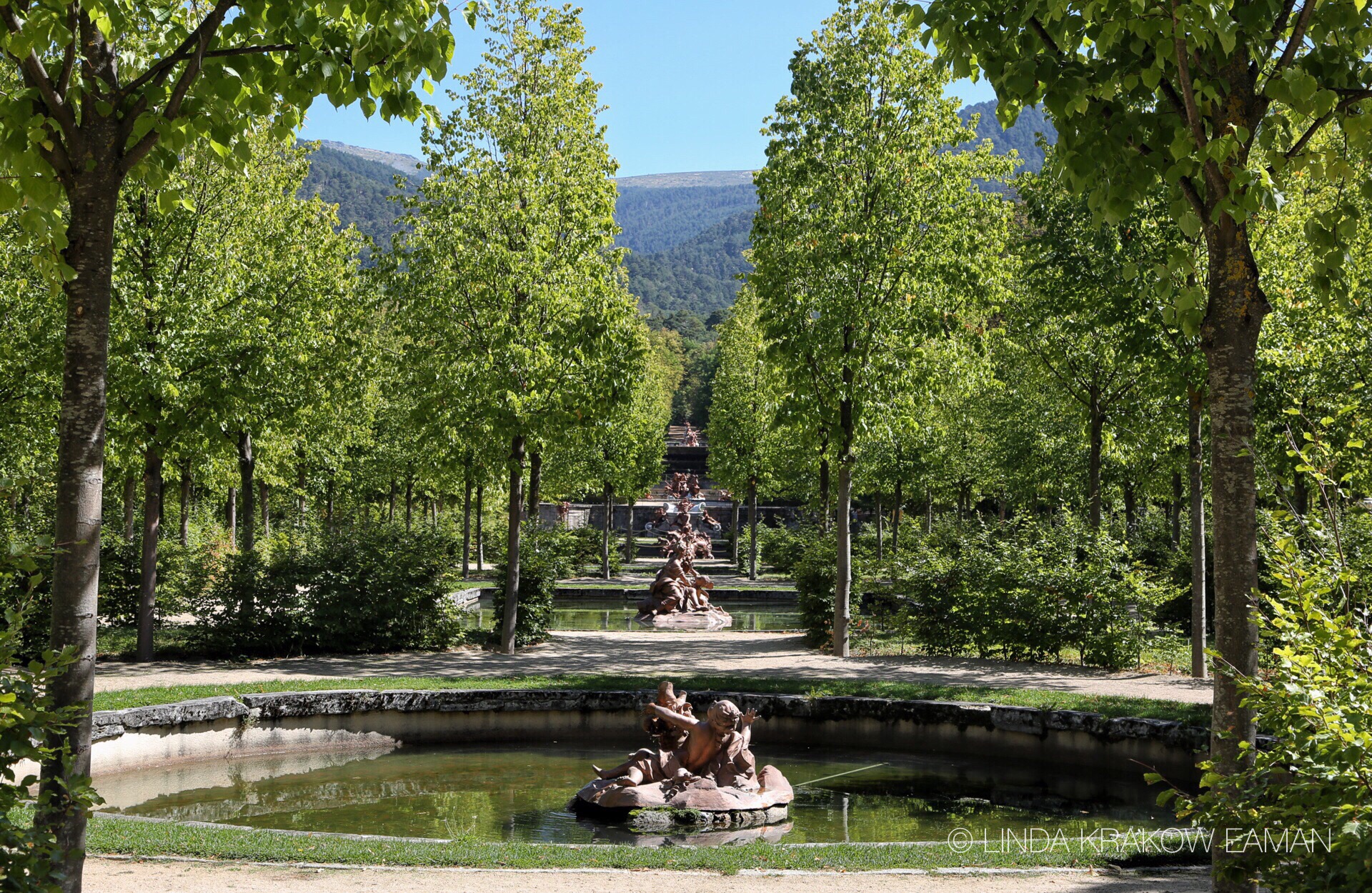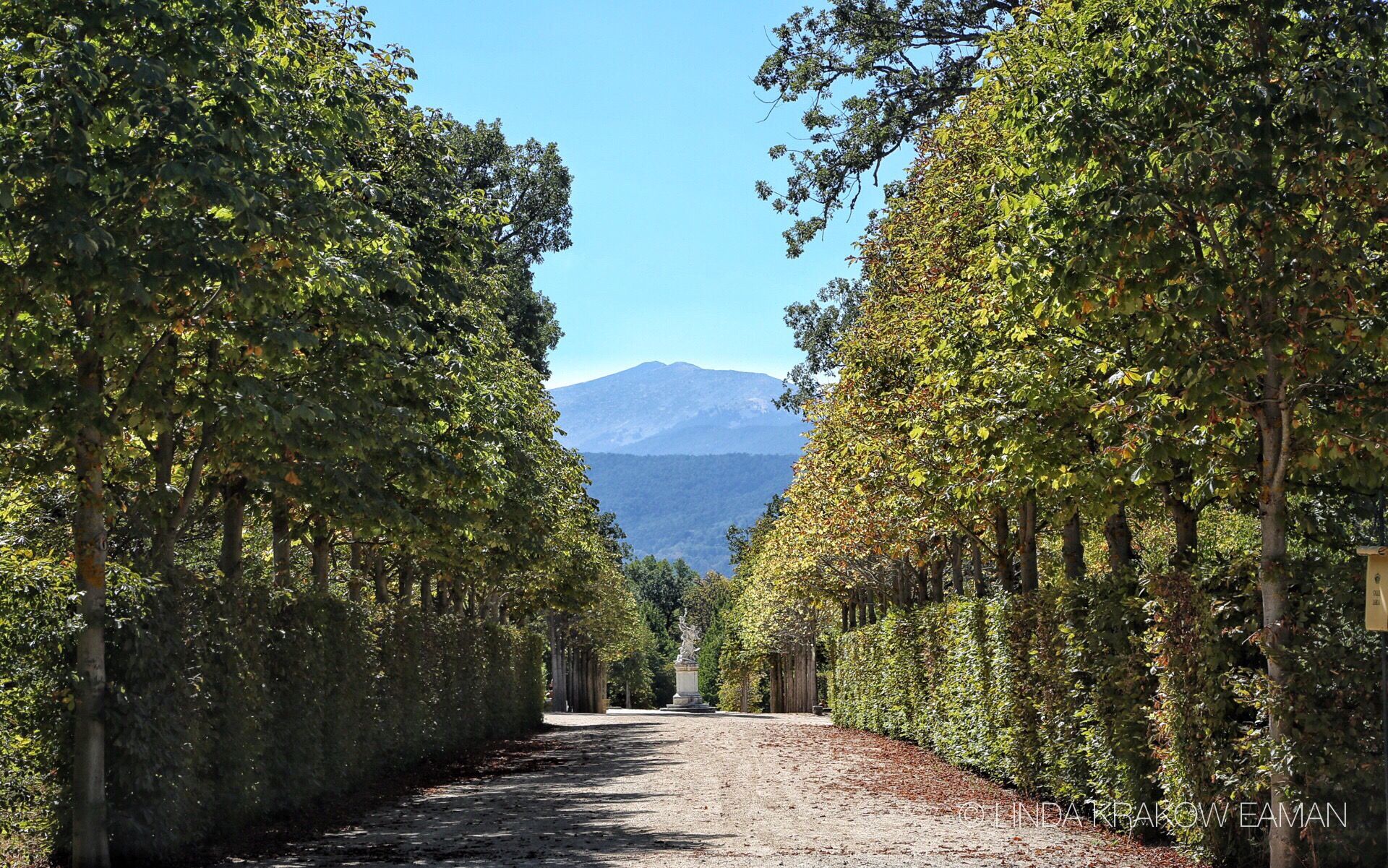 The drive back to Madrid was short (about 70 miles) but memorable, taking us up to 1880 meters through pine-forested mountains. A lovely last view of Spain before heading home.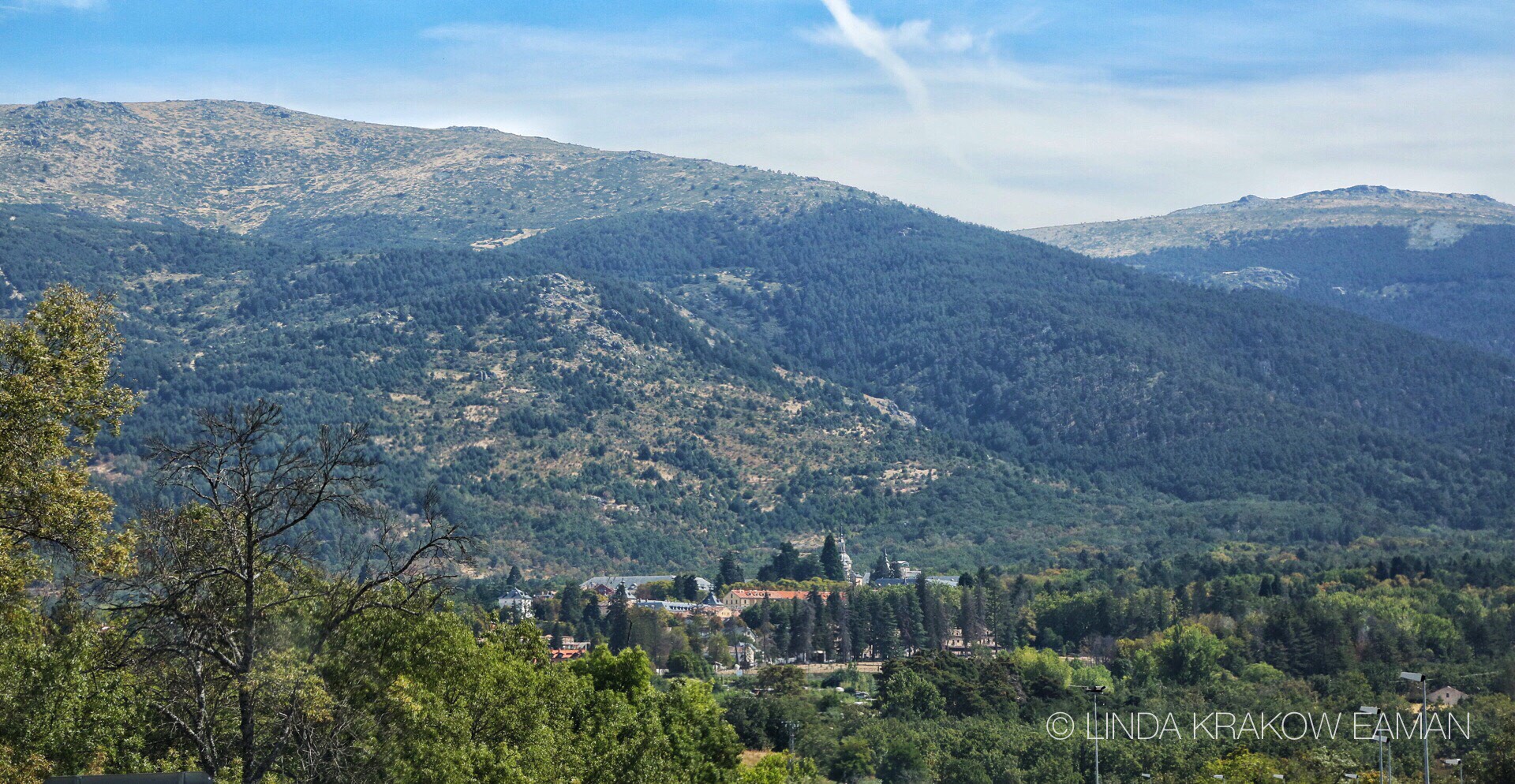 Note about the photographs: I'm traveling with an iPad that has limited storage capacity, so my process involves squinting at hundreds of thumbnails and picking out a few images that look like they will help me tell the story. They're usually not the best nor the most creative. It will take a few months to properly go through the thousands of pictures I took, pick out the keepers, and refine them, but I will eventually share some of my favorites. Shoot me a note if you're interested in seeing them, and I'll let you know when they're ready!