Spectacular Fall Colour and Fabulous Fungi in Algonquin Provincial Park

It has been a long time since we've seen really glorious fall colour. California had enviable weather, but the changing of the seasons was very subtle. And there's some colour here on the island, but not the big masses of orange and red. So we booked a few nights in Algonquin Provincial Park, about 3.5 hours north. Bonus: an opportunity to use our beloved truck camper, which sat mostly unused all summer.
We only reserved a few weeks ahead of time so we were lucky to get a spot in the last week of the camping season, but being able to go midweek must have helped. It's a popular place and they're limiting access (possibly because of Covid); even season pass holders must reserve their specific dates to enter the park.
Algonquin is Canada's oldest provincial park, established in 1893. It is huge: 7,653 square km (almost 3000 square miles). But you don't have to go into the back country to enjoy it. We stayed comfortable in our truck camper and kept our hikes fairly short, and had a lovely time. There are even a few restaurants inside the park, should you want to skip the cooking. Highway 60 runs from one side to the other, 56 gorgeous kilometers of conifers and hardwoods, lakes and swamps, trailheads, and moose crossing signs. And nope, I still have never seen a moose 🙁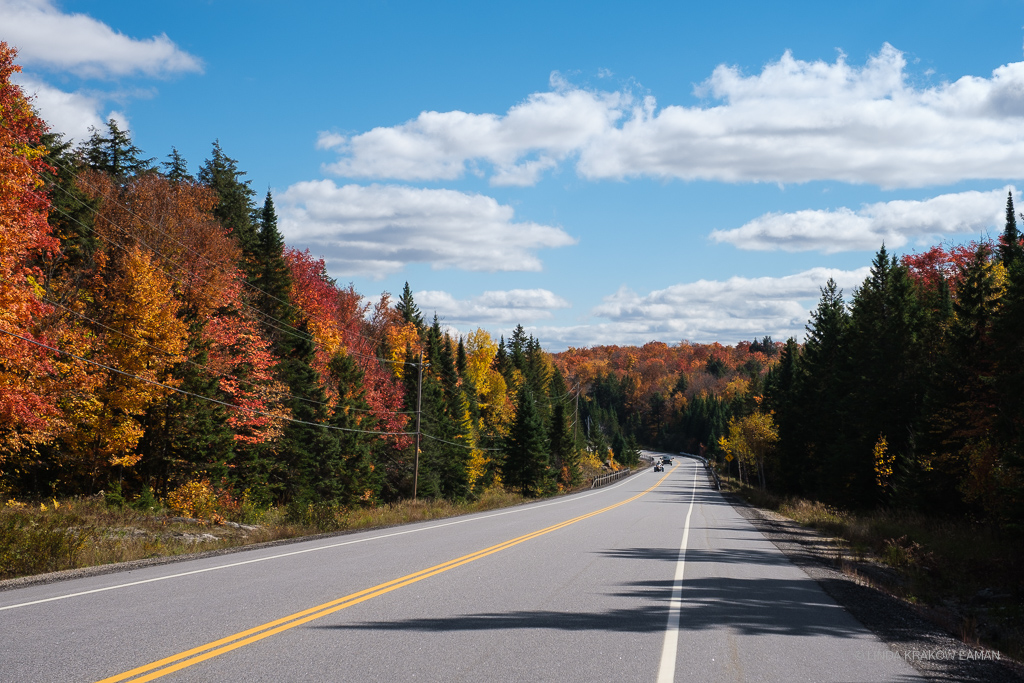 Maple leaves in fall are magical, with their infinite variety of colours and patterns. I especially love the reds.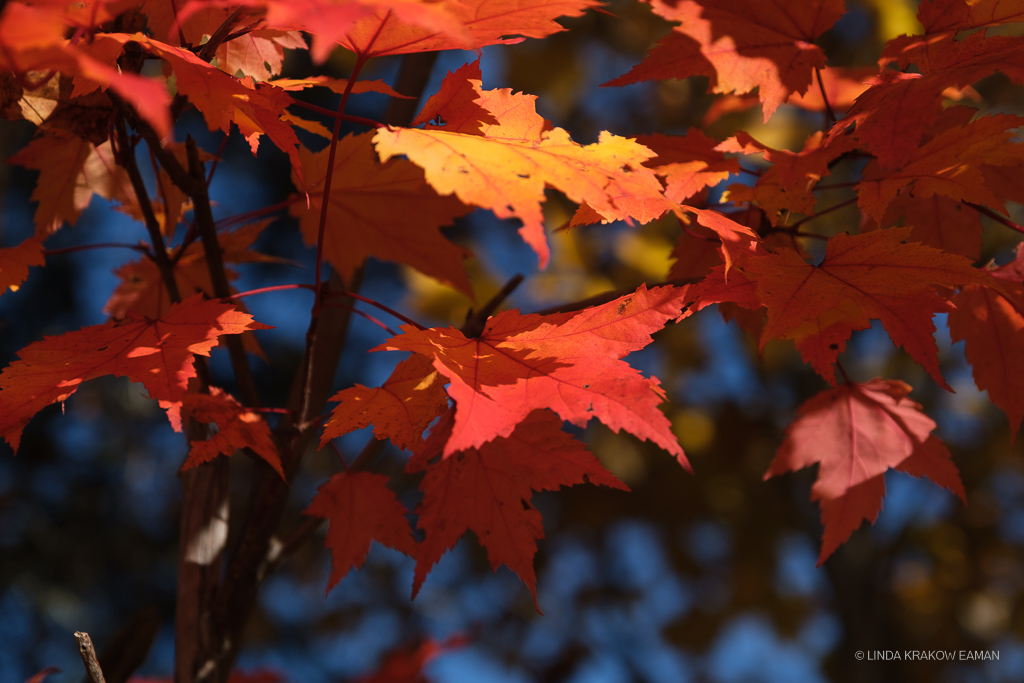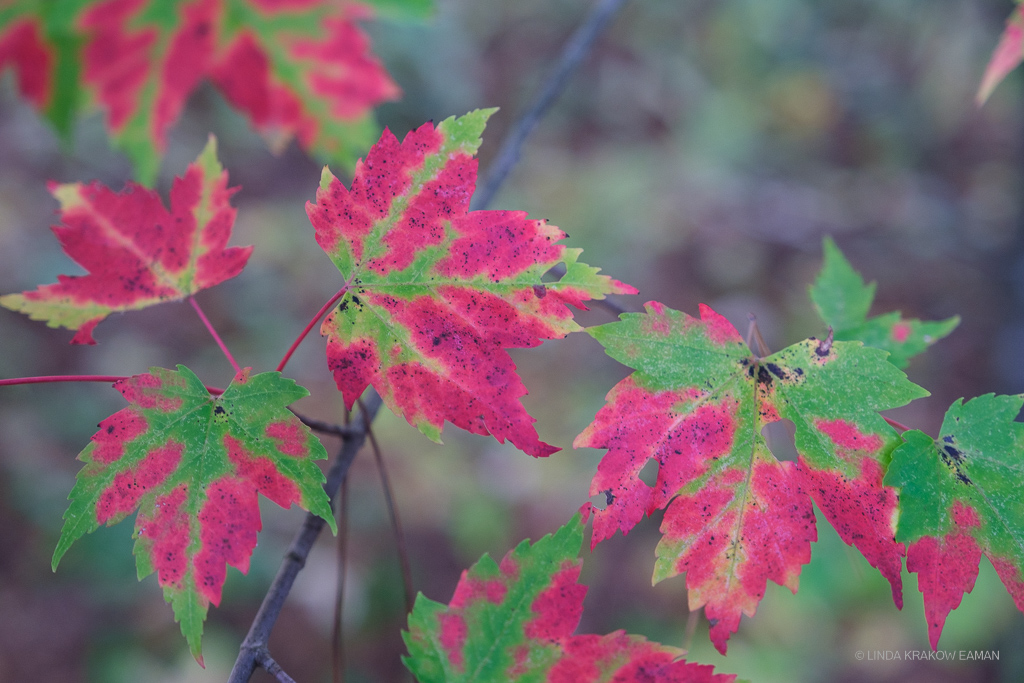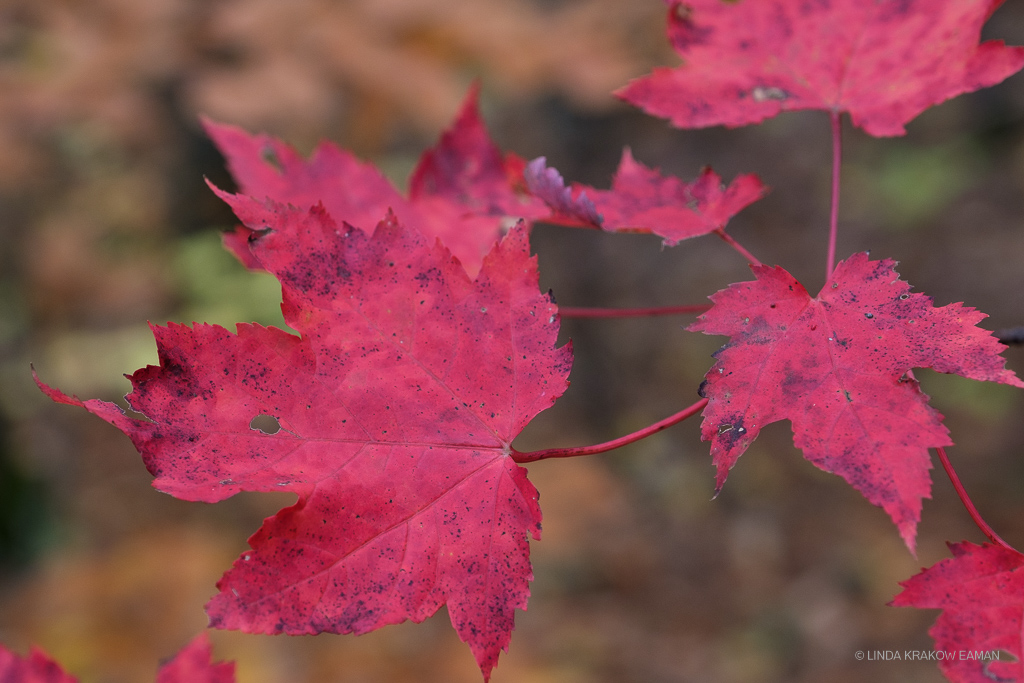 Our first hike was the Lookout trail, chosen because it seemed short enough for our almost-16-year-old dog. It turned out to be quite steep, but my stops for photography and sketching allowed him to rest, and he handled it like a champ! The view at the top is spectacular. The wide angle: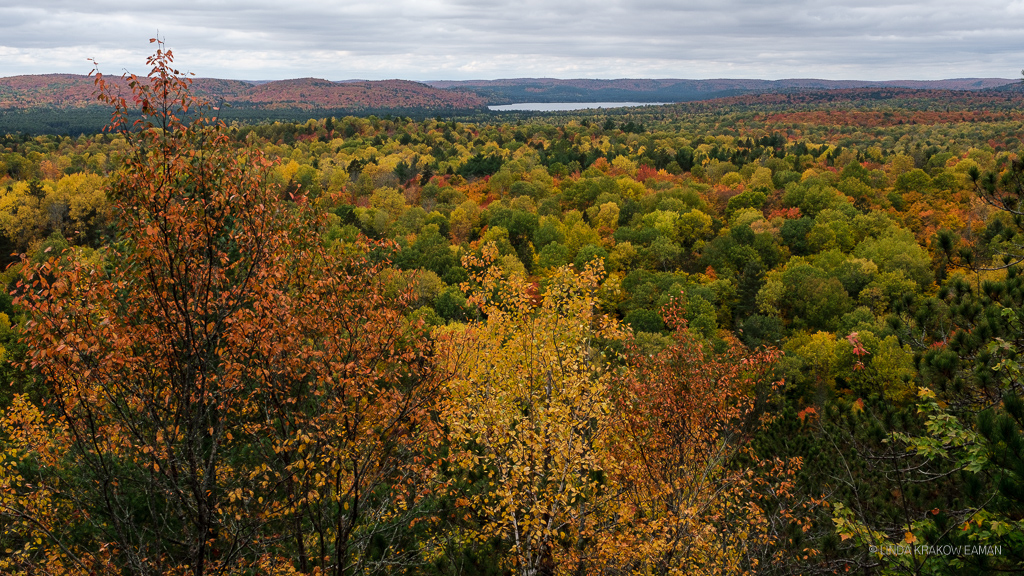 And focusing on the colour and texture, with a long lens (still not as much red as I was hoping for, though):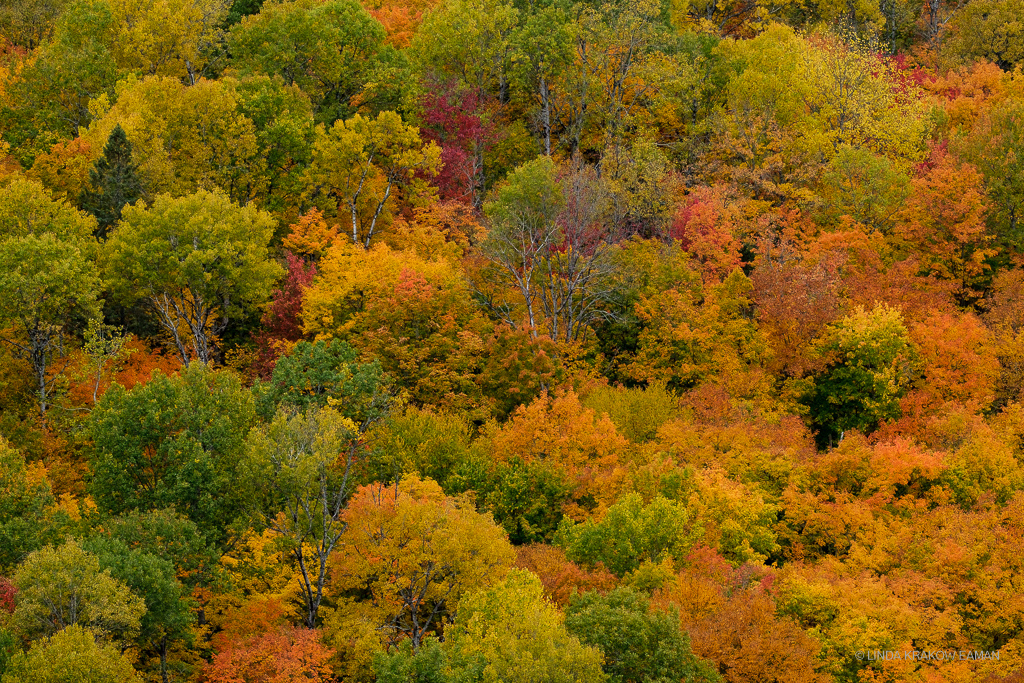 Ahhhh…. the red I was looking for!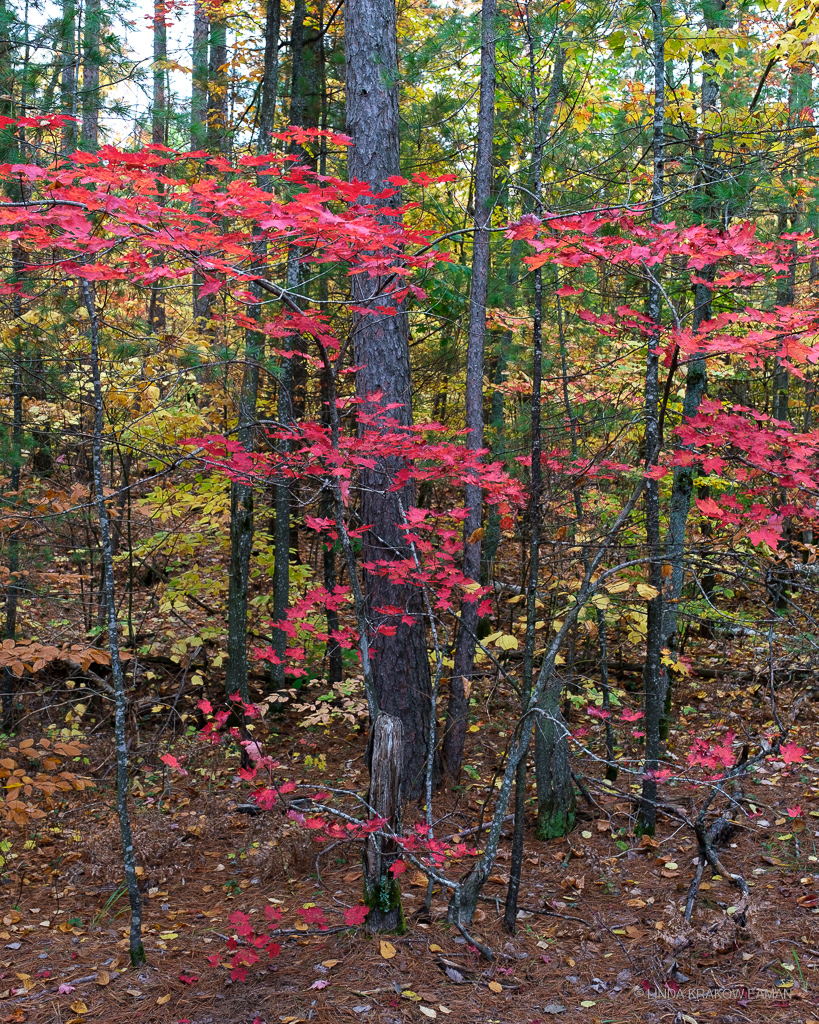 Light coming through the trees highlights special treasures. I did not touch these leaves, just photographed them as I found them.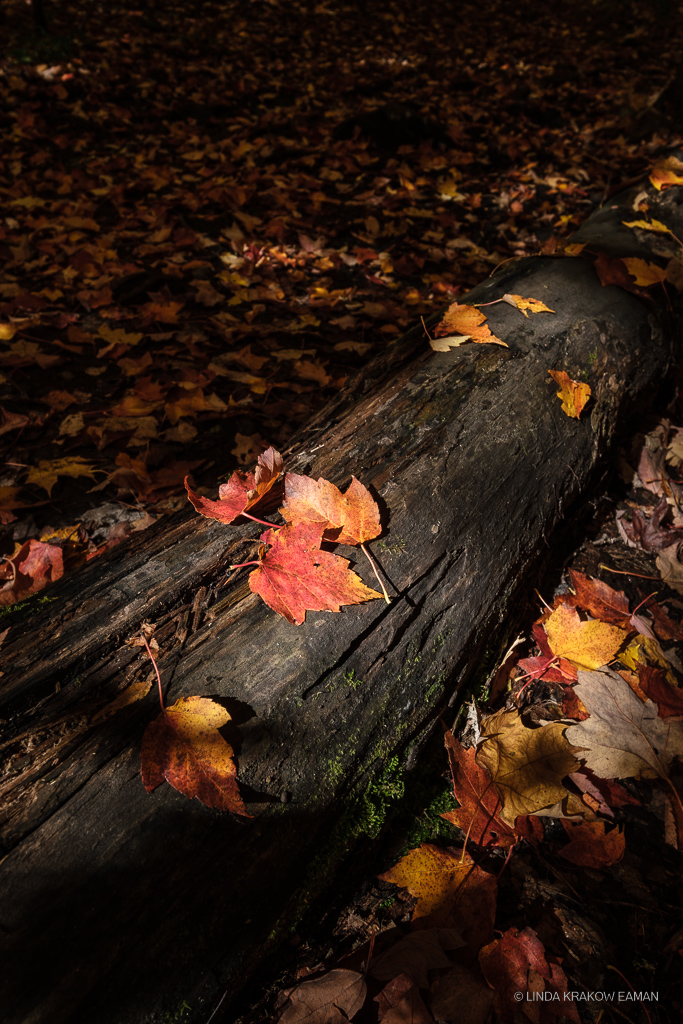 We didn't see bears or moose but there were plenty of chipmunks and red squirrels like this one.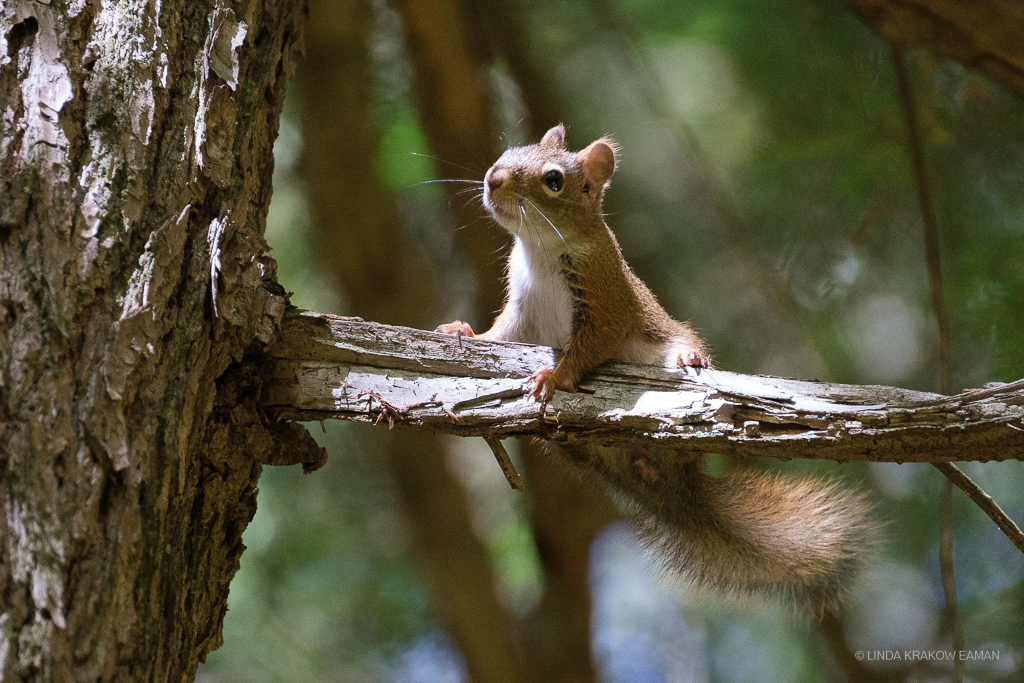 More hikes, more views.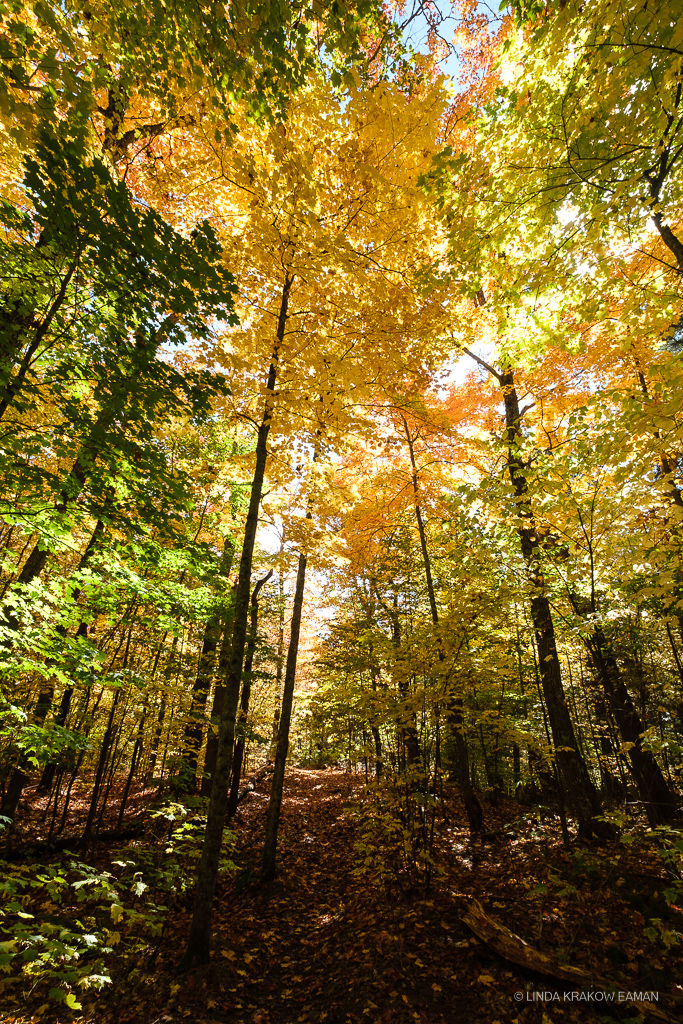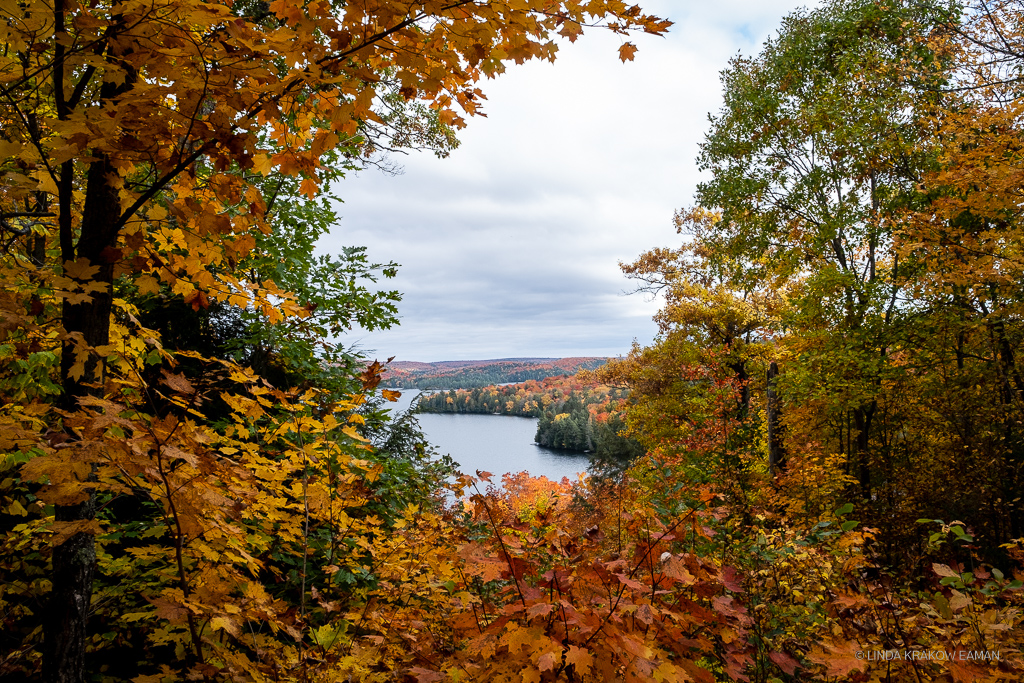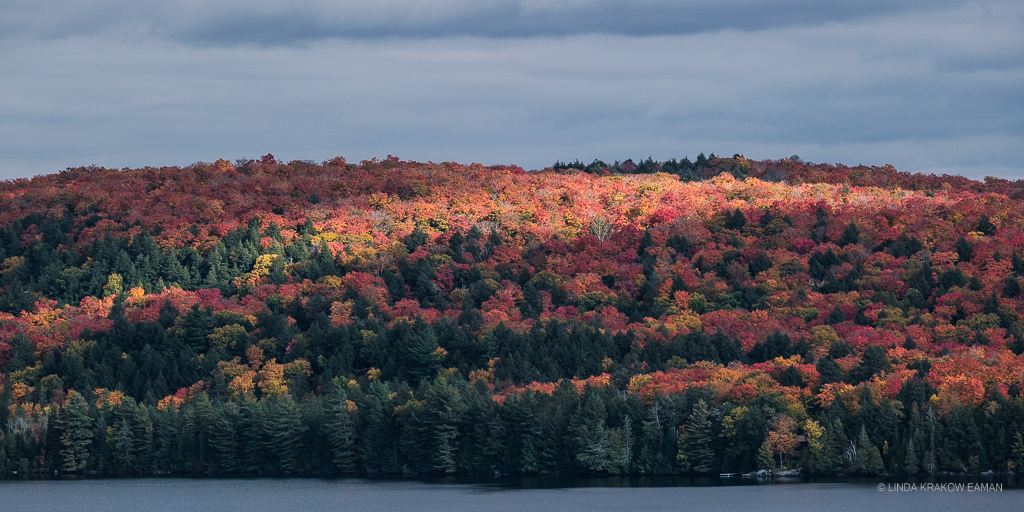 Not every colourful leaf is a maple. This is basswood, I think. Once again, the sun finds the most beautiful ones.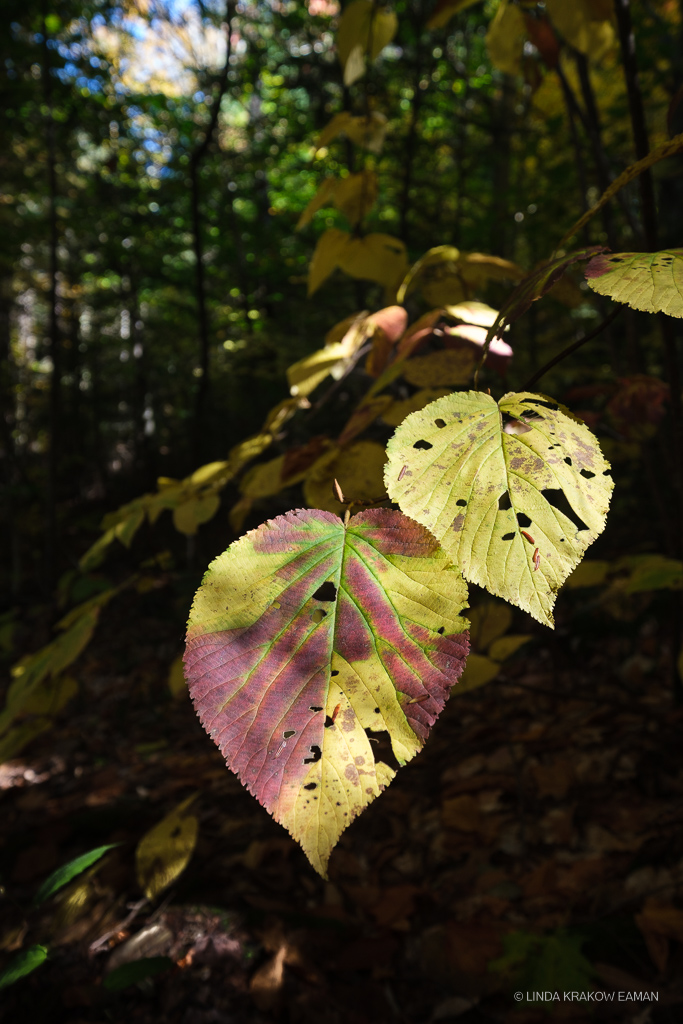 This perfect curl of bark caught my eye, and then I noticed the moss and then, looking at the photograph, what I think are fruiting bodies of slime mold poking up through the moss. The wonders of nature truly are endless.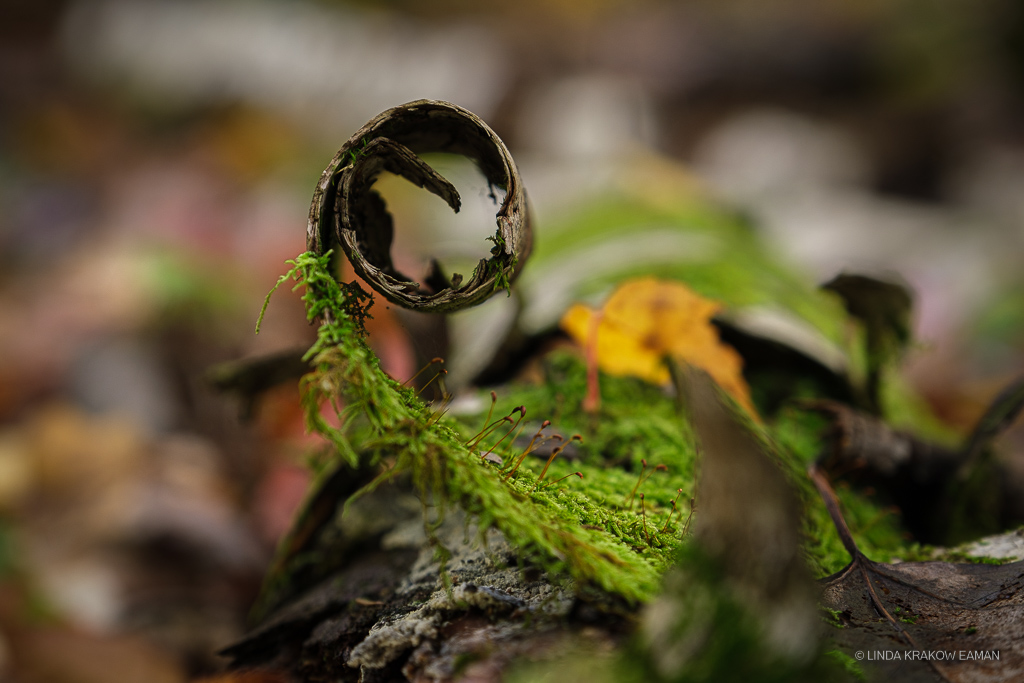 I was surprised to find myself attracted to the many mushrooms. Other hikers would stop to see why I was contorted on the ground, ask about the dog, and maybe snap a quick shot with their phone. I wasn't the only one noticing the fungi.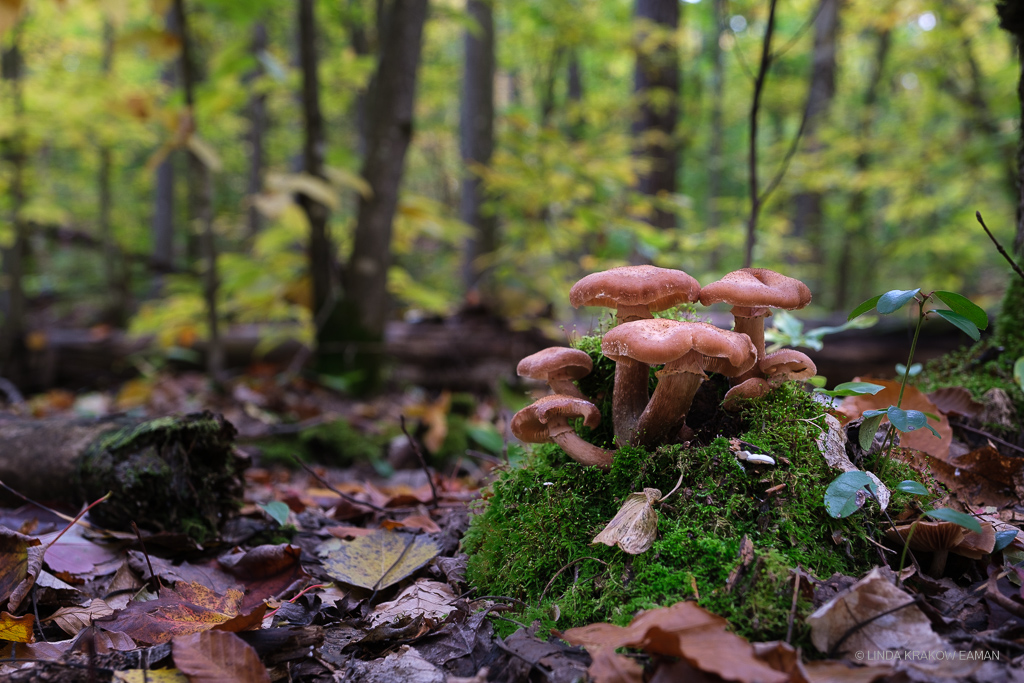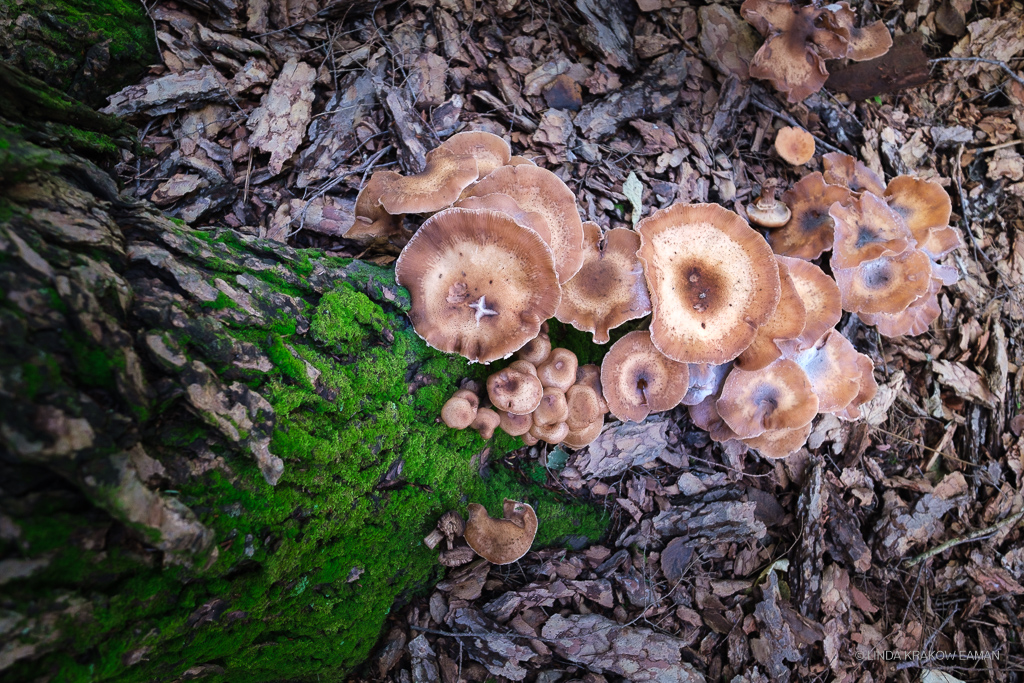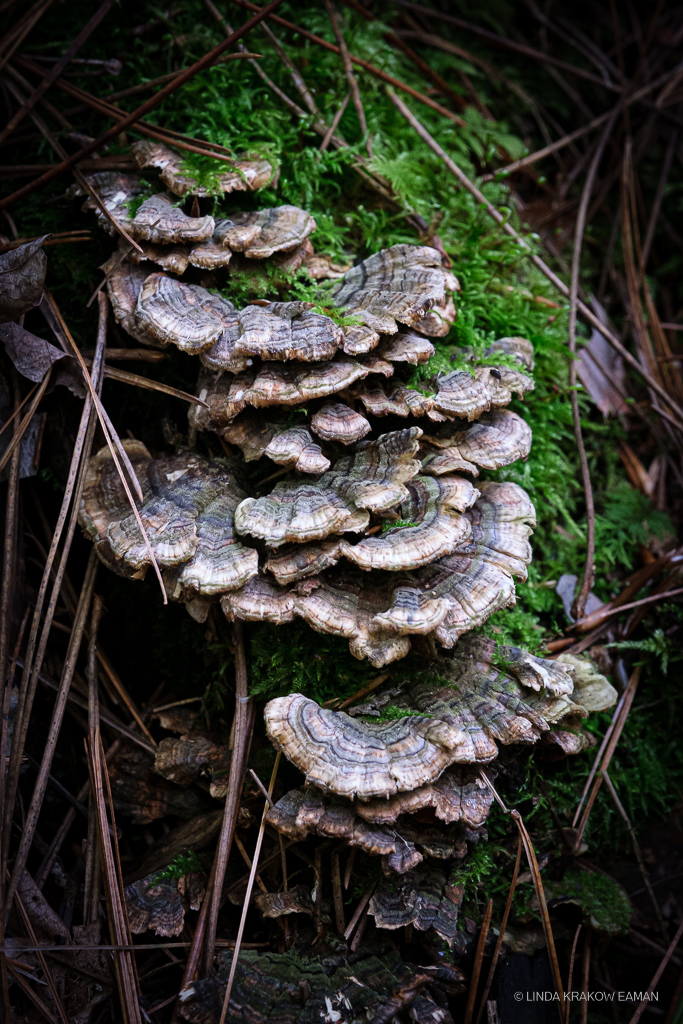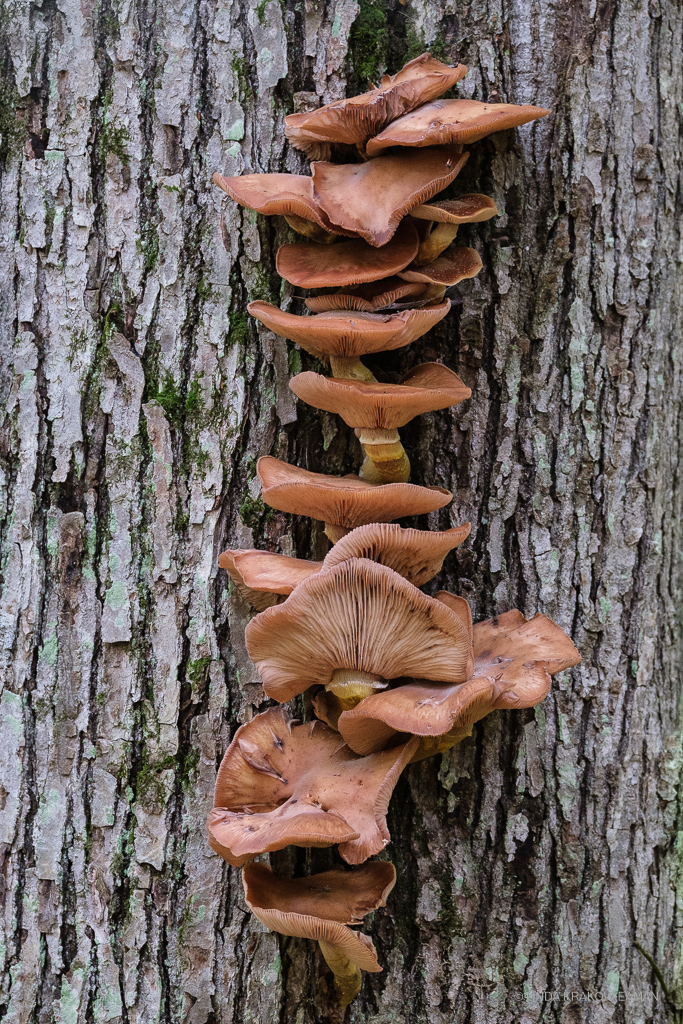 One of my favourite views was not even on a trail; we stopped on the side of the main road for this one. An overcast day provided nice even lighting.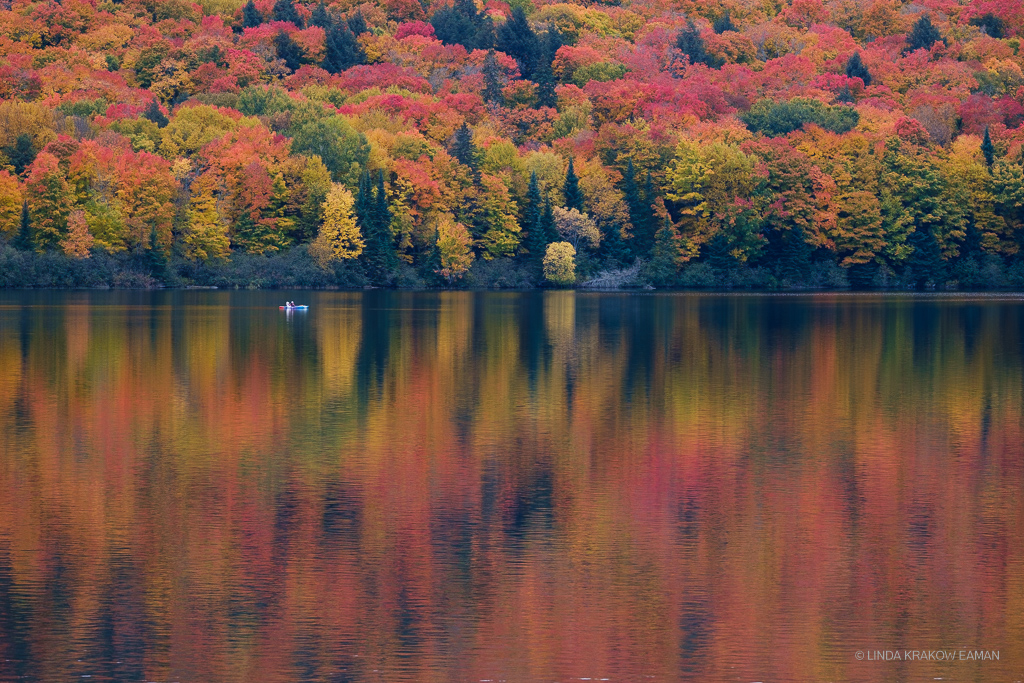 Later, blue skies also created beautiful reflections.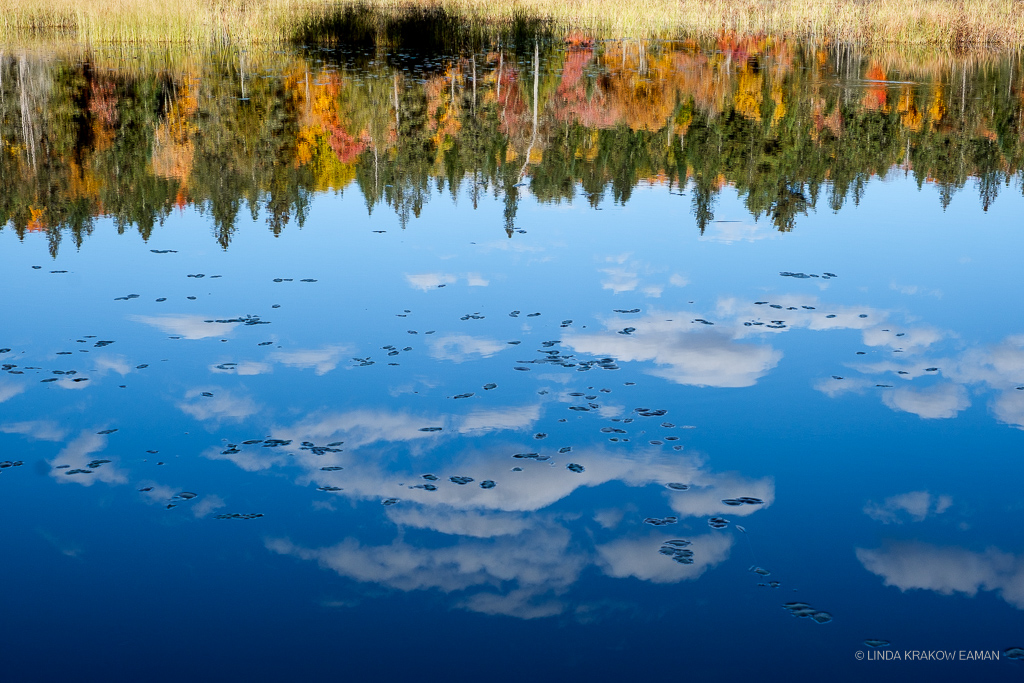 There are several outfitters who rent canoes and kayaks in the park, and many people bring their own. Next time, we'll have to get out on the water. This couple was paddling on Canoe Lake, where we stopped for gas and a cup of tea by the water. This is where Group of Seven artist Tom Thomson died. It's not hard to see how the Group of Seven, originally known as the Algonquin Park School, found inspiration here! The area continues to inspire artists (including me) and there's even an art gallery in the park.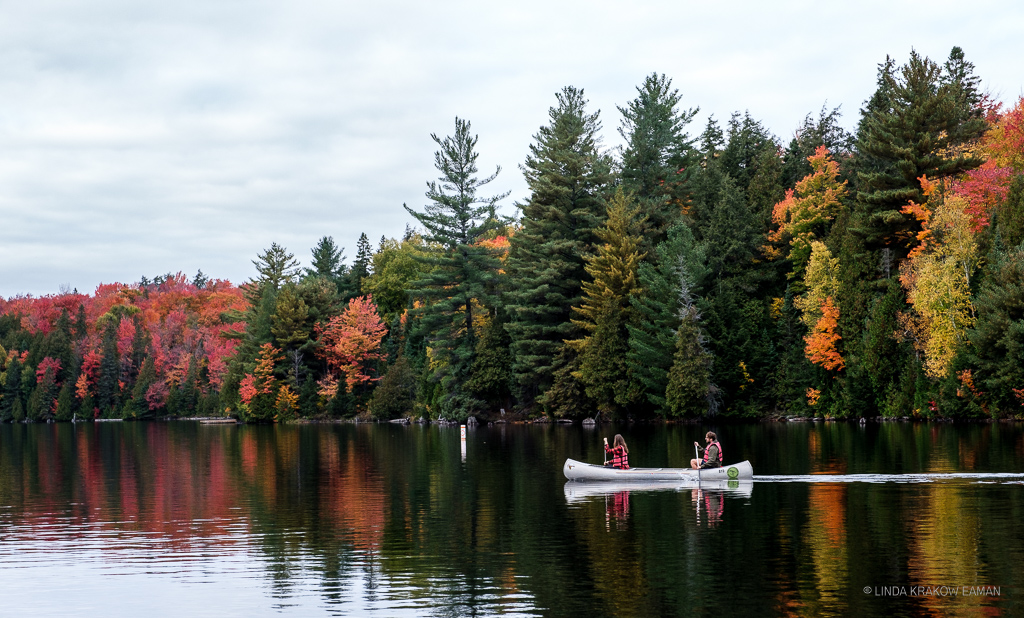 Three days wasn't nearly enough. I'm always sad to leave a beautiful place, but the beauty didn't stop at the park boundary. This was just outside. The wide angle version: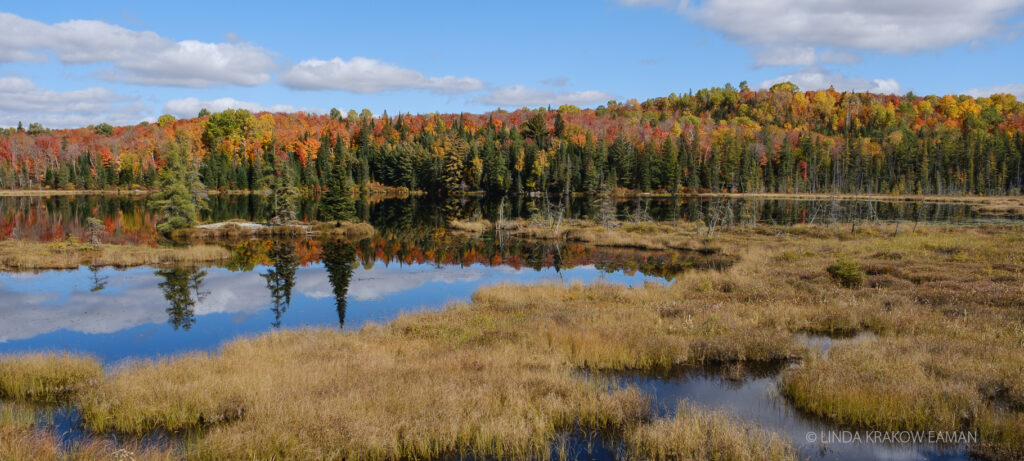 And the same scene, with a long lens: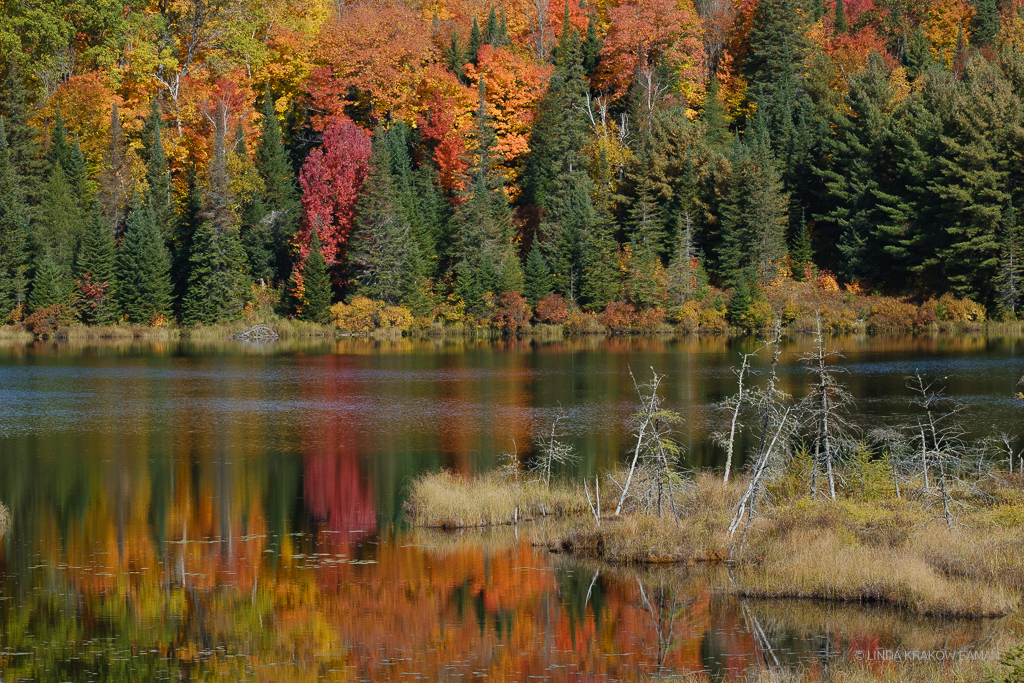 My recommendation for a fall pick-me-up: find a really beautiful maple tree, stand under it, and look up. It will fill your heart with joy. Happy fall!