Marc had events in Amsterdam, Paris and Zurich so we tacked on a few vacation days and made a grand tour of it. I'm a little behind on sharing some images!
This trip sort of crept up on me and I arrived without knowing any Dutch phrases. It turns out they aren't absolutely needed as just about everyone speaks English. As for weather, I would not recommend November! The days were mostly rainy, and it started getting dark before four o'clock. But off-season means fewer crowds, and a good umbrella goes a long way.
The old town is easy to navigate and we spent a lot of time just wandering. The canals,  created in the 1600s to facilitate the movement of goods from the rivers into the town, are very picturesque. And bicycles are everywhere–apparently more than 600,000 of them. People of all ages ride in all weather, while on the phone, with one hand holding an umbrella over their head, with kids and dogs, and carrying all sorts of things.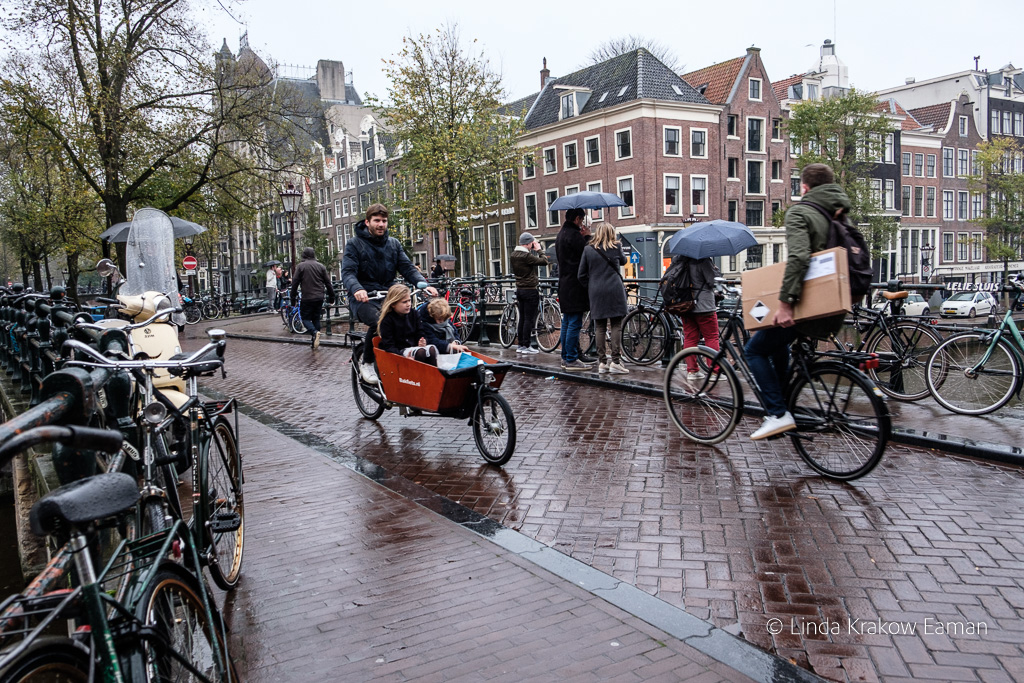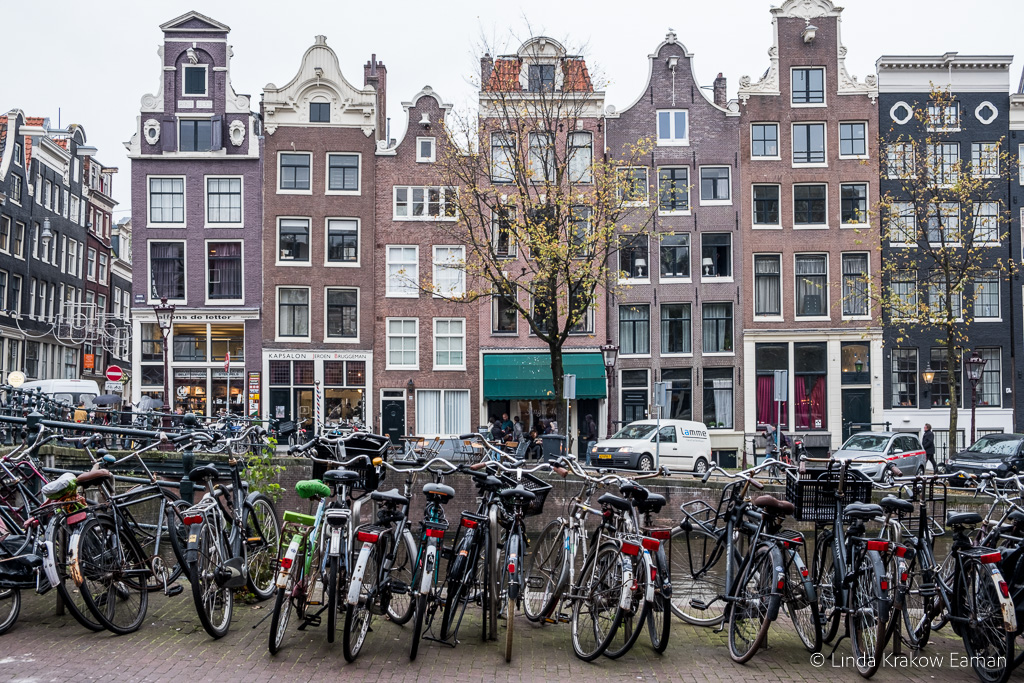 As in all European cities, the old town is anchored by several churches. The Oude Kerk (Old Church) is Amsterdam's oldest building and oldest parish church. It was founded in the early 13th century and features an exquisite, original, wood ceiling.


We had planned to visit the Anne Frank house, but it was completely sold out for the duration of our visit. If that's an important stop for you, buy your tickets (available only online) well in advance. However, Amsterdam offers a surprising number of other museums and I was keen to see one of the smaller ones: Rembrandt's house and studio. It's not exactly off the beaten path but it's clearly less popular than most of the other options, and it was awe-inspiring to stand where the master lived, worked and taught. Artists on site demonstrated etching and printmaking as well as how Rembrandt would have mixed oil and pigments to create his paints.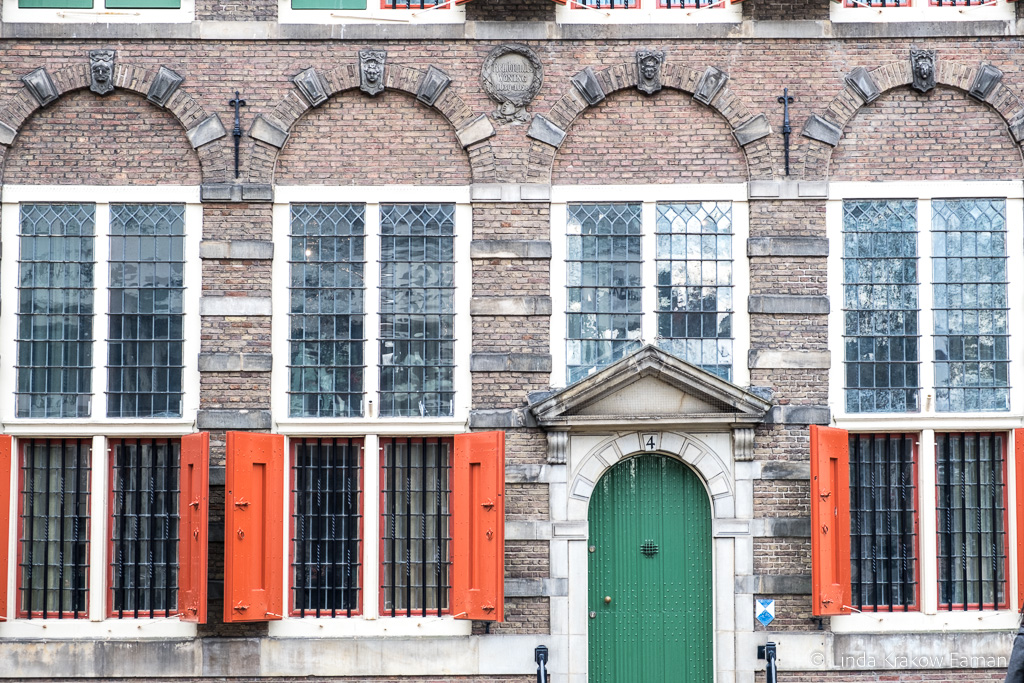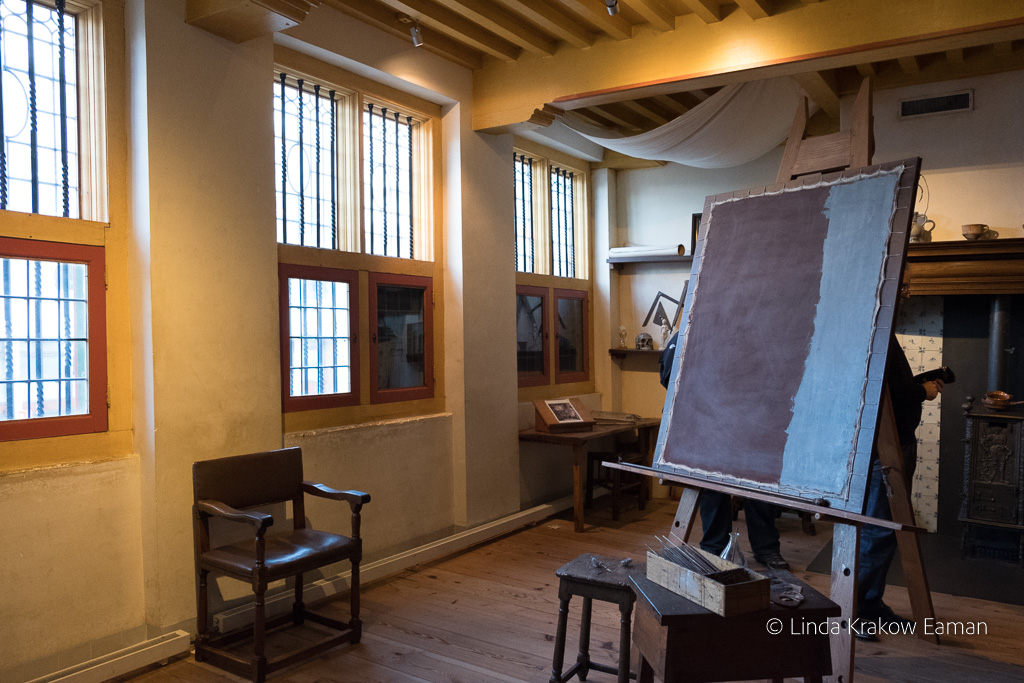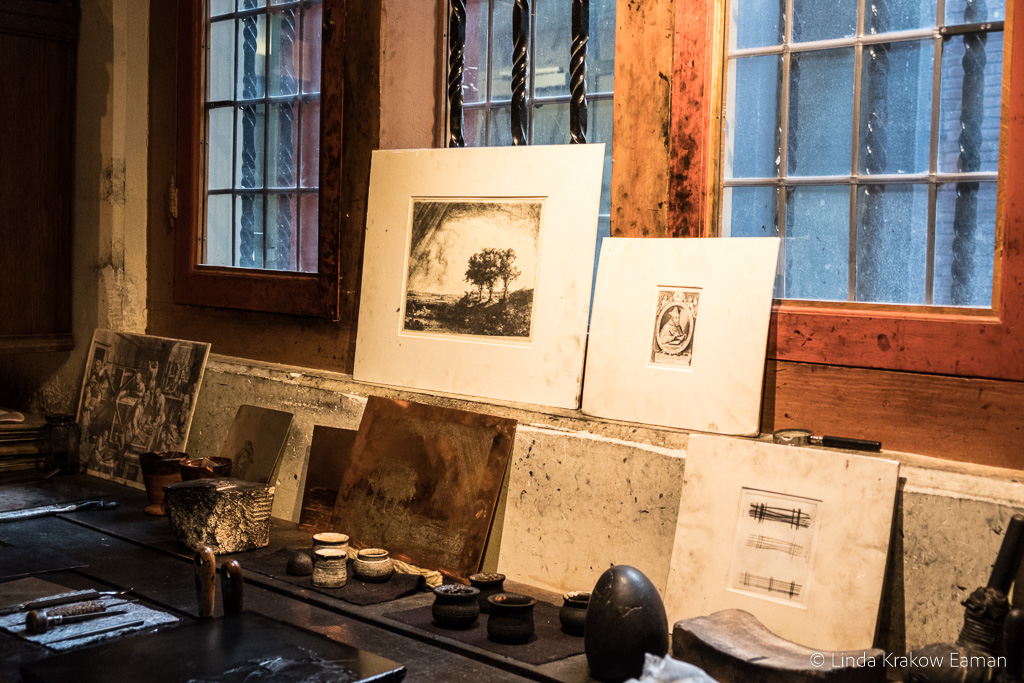 Another way to see the canals is by boat, and there is no shortage of companies offering tours. I have to admit I spent most of the ride being grumpy; the audio guide was only available inside the glassed-in cabin, and opting to sit outside to take photographs meant I missed all of it. And this turned out to be the only sunny hour and half of the day. But Marc says the commentary was interesting.


And the food? The Dutch love their cheese. From the hotel breakfast buffet, to cheese shops with wall-to-wall displays, to every restaurant menu, it's ubiquitous. There's also the beer. We met up with our friend Lindsay, who took us to Brouwerij 't IJ, a brewery in an old windmill. Not surprisingly, the snacks available consisted mostly of cheese, along with sausage and boiled eggs. At Lindsay's recommendation I went to the Happy Pig–a tiny restaurant with a few stools and a roaring takeout business–to try Dutch pancakes. A lot like a French crèpe, these were spread with sweet or savory fillings, sprinkled with icing sugar, rolled up, then cut into spirals and served in a long narrow dish. I chose Gouda (more cheese) and fig jam. Delicious!
One evening we found ourselves at one end of a street crowded with pedestrians. As I noticed the lighting it dawned on me–this was Amsterdam's famed red light district. Narrow windows provided glimpses of scantily clad women standing or seated, facing the street. Even the interiors of their rooms seemed to be awash in red light. I found it hard to look; they were set out like meat to be admired and selected in a butcher shop, and I felt I was contributing to a degrading situation. But it was hard not to look, too. In one window I saw a woman's reflection as she faced her mirror; I saw a perfect composition but was unprepared and a little flustered, and as I fiddled with the camera she noticed and quickly waved me off. "No photos" signs are everywhere and I was torn… I wanted to document this but also wanted to respect these women.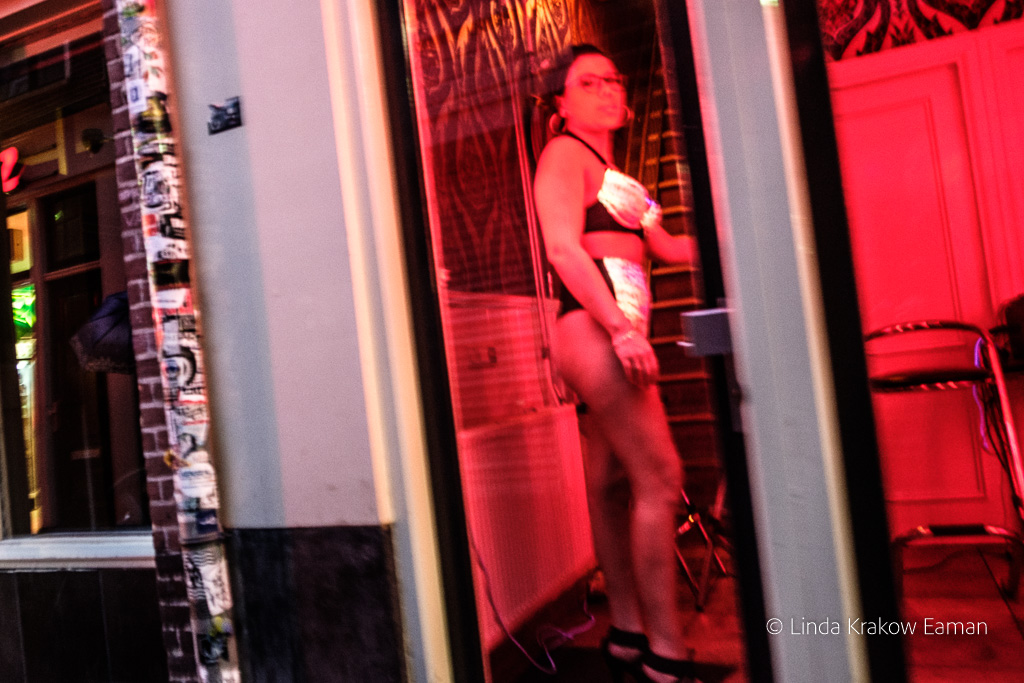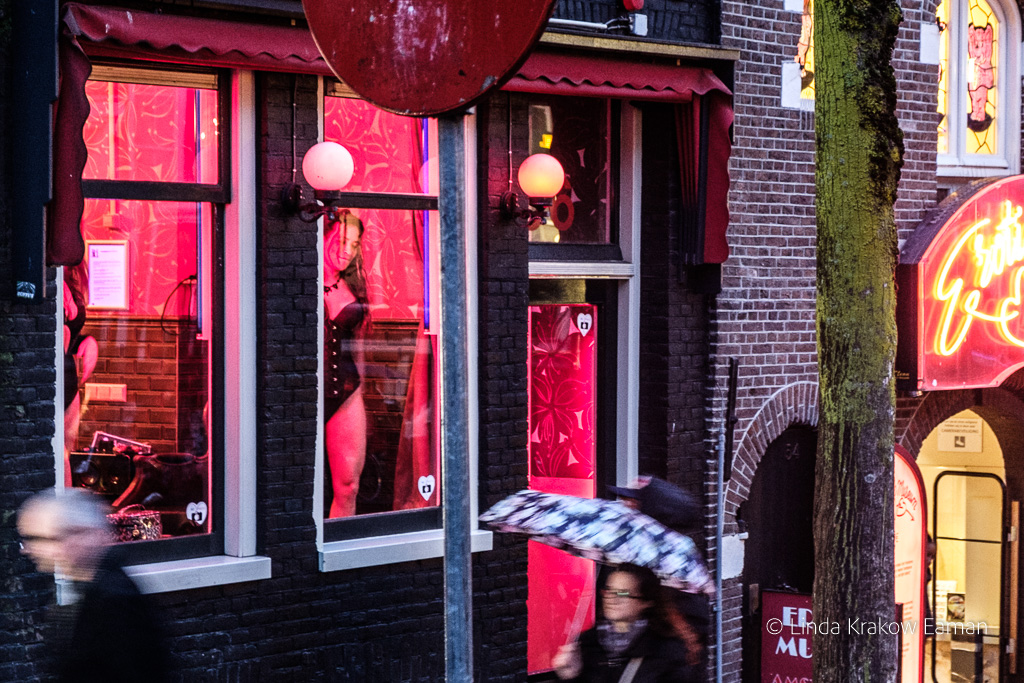 A discreet archway in an unmarked building opens into the Begijnhof. This complex of houses was originally built in 1346 as a sanctuary for the Begijntjes, a lay Catholic sisterhood who took in the poor and the sick; the houses are still occupied by single women. The space is quiet and peaceful, centered around a well kept grassy courtyard and the 15th century Engelse Kerk (English Church). Another chapel was used for clandestine worship during the Alteration, a period from the late 1500s to the late 1700s during which Amsterdam became fiercely Protestant.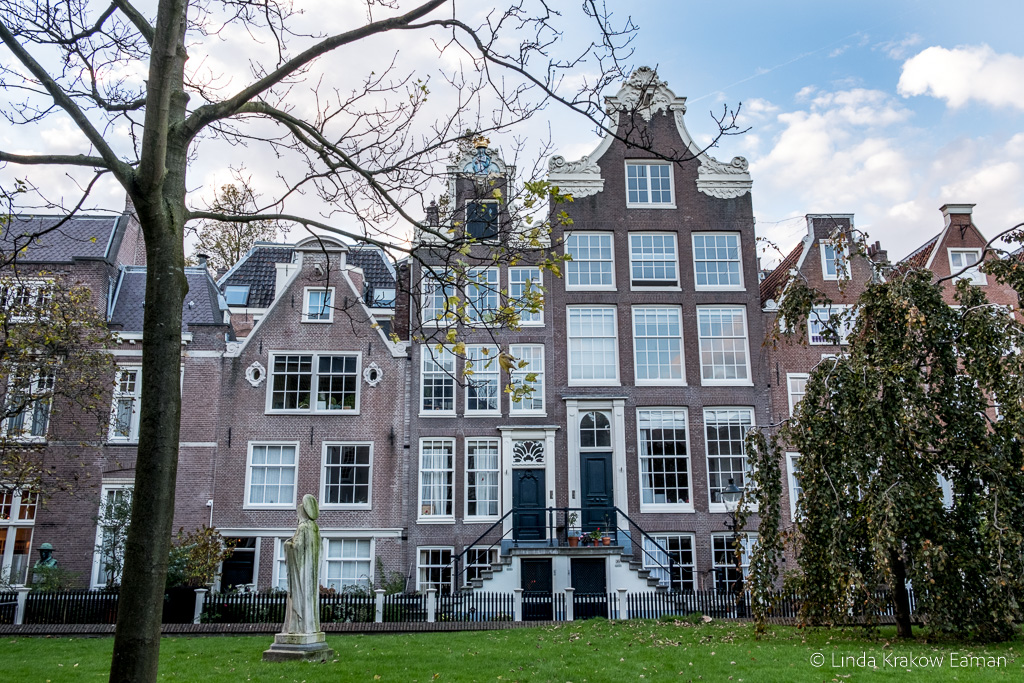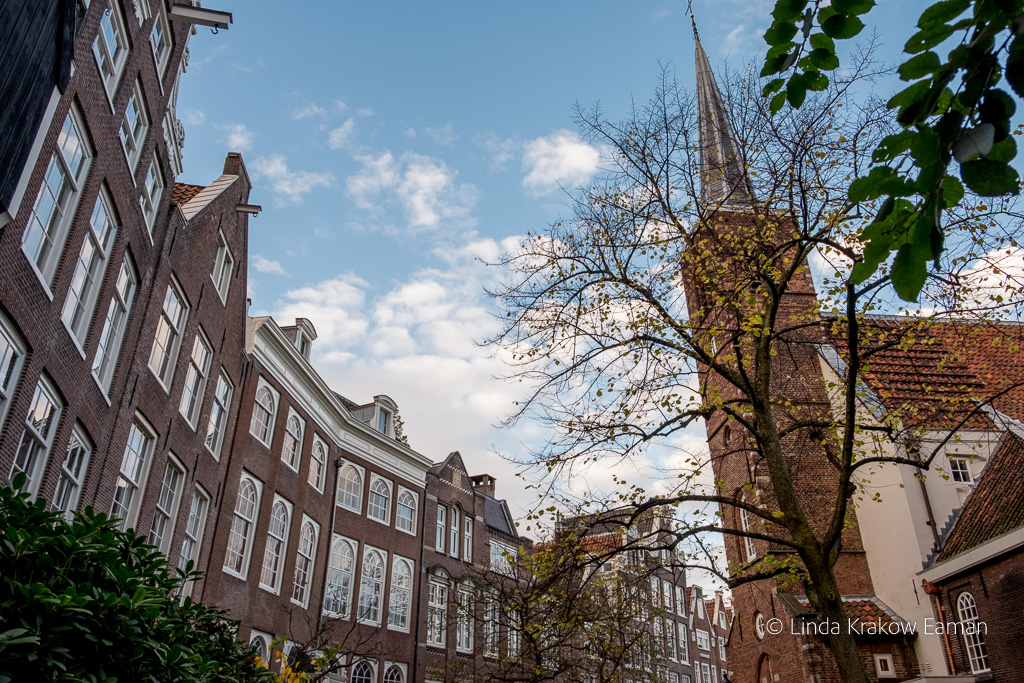 A few last images to share…