Christmas Markets and More: Munich
This year, I finally experienced Christmas markets. The warmly lit wooden huts, music, hot food and mulled wine are the perfect antidote to cold, dark winter days.  Our introduction to this fine tradition was in Munich, where a Christmas market greeted us at the airport!
Our first destination was the venue for Marc's work event. The spaceship-like BMW Welt BMW World) sits across the street from the car maker's headquarters. In addition to hosting events, it's BMW's delivery center–the place where you go to pick up your brand new Beemer.  I took a surprisingly interesting tour of the building, including the temperature- and pressure-controlled storage area and several exhibits. For true car aficionados there's also a 2-hour plant tour, and a museum in the headquarters building.
Having visited Switzerland just a week before, we were starting to understand a bit of German. Menus and street signs, at least. And we were eager to experience German food and beer. Instead of the famous Ratskeller beer hall, the hotel concierge recommended one favoured by the locals, founded in the 1300s.  We were ushered down a winding stone staircase into the basement. Arched ceilings and stone walls reminded me of many of the church crypts I've seen in London!  We sat at a communal table, drank beer, and ate sausage and potatoes. It's not my favourite food, but worth doing once! With that out of the way, we enjoyed excellent Thai, Indian, and Italian meals on other nights.
The Aldstadt (old town) is mostly pedestrianized, a lovely place to shop. Why do we build malls, when this is so much more enjoyable?  It's centered around the Marianplatz, a large plaza facing the Rathaus (city hall), a huge gothic style building constructed in the late 1800s. The Rathaus is famous for daily carillon performances in which the mechanical characters in the tower do a little dance. In the Marianplatz, Christmas market booths were in place and many of the vendors were setting up, but (sadly) aside from a few food booths most would not be open for business until after our visit.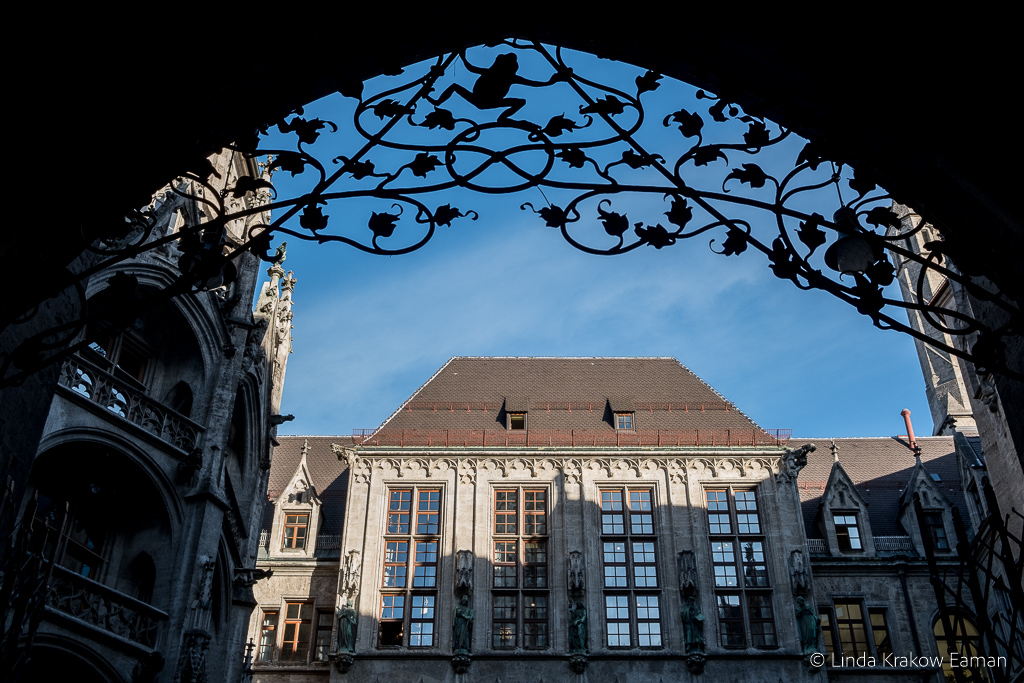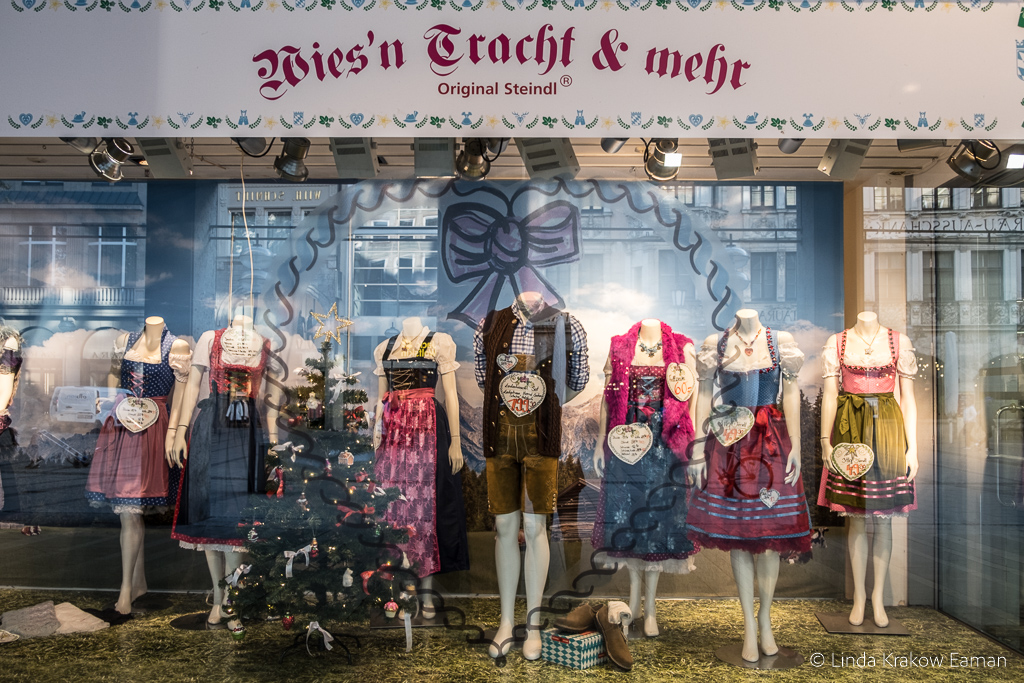 One of my favourite discoveries was the viktualienmarkt, just a few blocks away from the Marianplatz. The daily food market had partly transformed into a Christmas market with many stalls–perhaps florists at other times of year–selling festive decorations and treats. The village maypole stands tall over the market; we later saw these all in other towns as well, usually near the Rathaus.
With a few days to ourselves, we rented a car and headed over to Dachau for a sobering morning at the Concentration Camp Memorial Site. There is no charge to visit, and a free audio guide is available. But 3 euros each for a guided tour is money well spent. Our guide was knowledgeable and carried her own book of photos taken by her uncle who had been with the Americans who liberated the camp. Different parts of her family had been on different sides (Nazis and Jews), and her commentary resonated with a depth that we had not expected. I'm going to save most of my photographs for a separate post.
The town of Dachau is very pretty, and on this weekend afternoon, it was very quiet. The tiny Christmas market, mostly food and drink, started to show signs of life as darkness fell.
We considered visiting Schloss Neuschwanstein, upon which Disney's castle is supposedly based. However, it feels more and more Disney-like as you get closer, with tourist buses, signs pointing to ticket offices, and souvenir shops; it seemed that tickets may have been sold out for the day but in the end decided we just didn't want to see it. The day turned into a scenic drive with a stop in a lovely town called Füssen, and a very short trip across the border, just so we could say we had been to Austria!