Always a few days behind thanks to painfully slow and sometimes nonexistent Internet access, I'm writing this from the Bangalore airport and will probably do a final post (or two) about this trip from the comfort of home and high speed. But for now…
Debbie's plan to use Alleppey as a home base for some overnight side trips worked well. Our rooms were inexpensive enough (mine was about $15/night) that we could keep them, book rooms in another location, and venture out with just what we needed for a couple of days.
Our next side trip was to Thekkady, a town in the mountains about 100 km from Alleppey. The drive takes about four hours not including stops, thanks to traffic and winding roads. (The only reason you survive a drive on Indian roads is because traffic moves slowly enough for drivers to narrowly avoid disaster every five seconds or so!) The scenery is an eclectic mix of mountain vistas, rubber and tea plantations, some very large and very modern homes, tiny roadside villages, and even a large church. We stopped at a spice garden for an informative tour; I'm pretty sure the drivers get a commission for bringing people in, and there's a hard sell for spices and Ayurvedic products in the shop at the end, but seeing how cardamom, pepper, nutmeg, curry, and other spices and medicinal plants are grown is an experience not to be missed. The actual spice plantation is just behind the demonstration garden and not open to tours.
Thekkady itself is less than memorable, but it offers some worthwhile attractions including a program designed to show tourists Kathakali, the traditional art form of Kerala–a sort of dance/play. Not to be missed, the makeup and costume preparations as well as the demonstration of eye movements, facial expressions and hand gestures was fascinating. Every movement, even of the eyes, is stylized and has meaning. One of the two actors managed to get Debbie up on the stage to give it a try! I'm so glad it was her and not me; with her many years of dance training she gracefully mimicked the dance motions. I would have looked like a clod, something like the guy who was brought up after her. Following the demonstration, the two actors performed a section of a play. Not knowing the story or being able to remember the meaning of all the expressions and gestures it was a little hard to follow, but captivating nonetheless.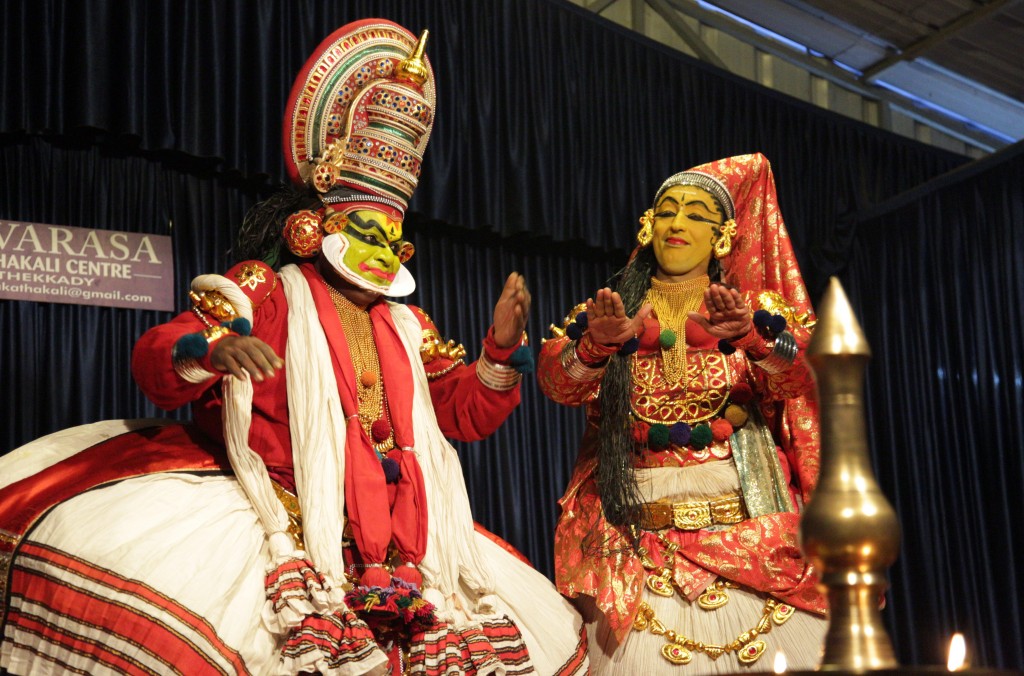 Next up was Kalaripayattu, the traditional Keralan martial art. This was a stunning display of strength and skill that included hand to hand combat, swords, flexible swords, knives, flaming torches, flaming hoops, and leaps, jumps, flips and more.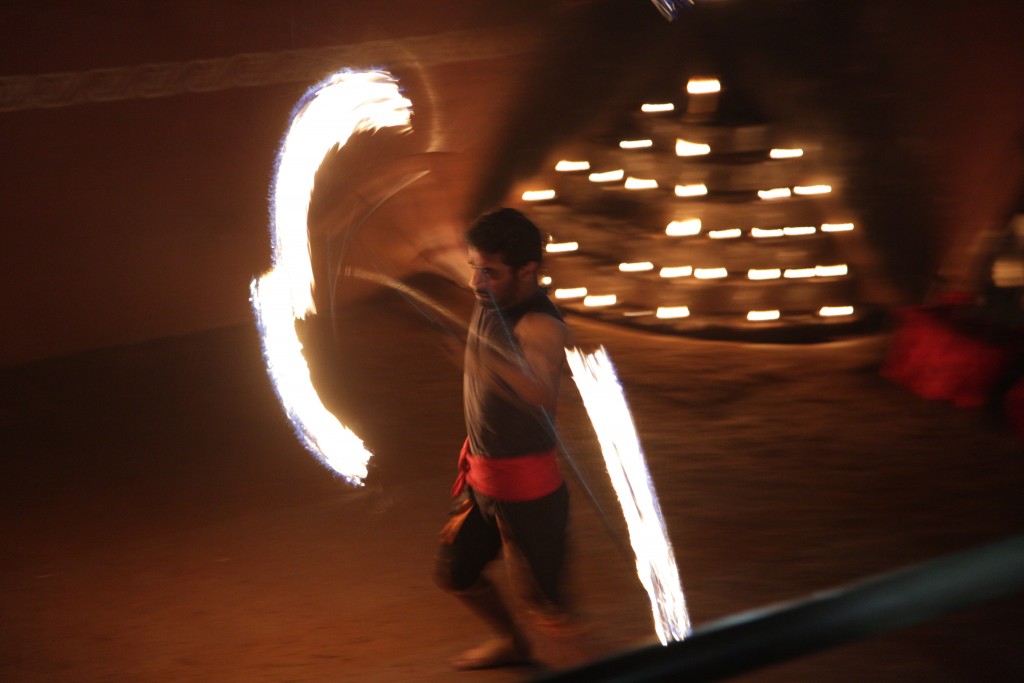 Thekkady is adjacent to the Periyar Tiger Reserve, a 1000 sq. km. national park. We opted for a full day raft and trekking tour, hoping to see some animals but also a little worried about being too close to animals while on foot!  We found ourselves part of a group of about a dozen people on three rafts, plus five guides and a guard armed with a rifle. We were told that at most he might have to fire into the air to scare an animal away; our guide had never actually had to shoot at an animal.
The forest is beautiful and it is awe-inspiring to walk in the domain of elephants and tigers, even without seeing them. The tour is part of a government run eco-tourism program that hires former poachers and local tribesman and turns them into custodians of the forest and the animals. Our guides were clearly proud to be showing us the forest, and several repeatedly took my arm to make sure I saw whatever they were pointing out, and to make sure I got photographs. (Unfortunately I am traveling very light and not expecting to be going on safari I did not bring a powerful zoom lens!)
The guides are experienced trackers and knowledgeable about the flora and fauna, pointing out birds and monkeys in the trees, a group of bison, elephant tracks and dung, sambar deer and wild boar in the distance, and tiger tracks and scratches left on a tree trunk by a male tiger marking its territory.  And they located a group of elephants that kept us mesmerized until we were told we should move on, even though they were barely visible through the trees.
Back at the hotel, we took advantage of a complimentary sari fitting. What fun to have a woman come to our room and help each of us dress like a local! We learned that while most women wear a one piece sari (six meters of cloth), we wore the traditional Keralan sari, the one worn for special occasions– two pieces, not counting the fitted, usually cropped, top that is worn underneath the sash.  While my sister and her daughter benefitted from the services of a professional portrait photographer, I'll post a shot of myself here…
On the return drive, we stopped at a tea plantation for a taste and a short tour. What a treat to be walked through the factory while it was operating, with the aroma of tea wafting over us. It felt like a trip back in time, with chalkboards keeping track of drying times, a wood fired furnace heating for the drying process, and only one piece of computerized equipment in sight. (Photography not allowed inside.)
I would have loved to stop at each village along the way back! But needing to be back by late afternoon we only stopped for a few seconds at a time so I could snap a quick picture of the amazing scenery. I could easily stay here for months, taking my time…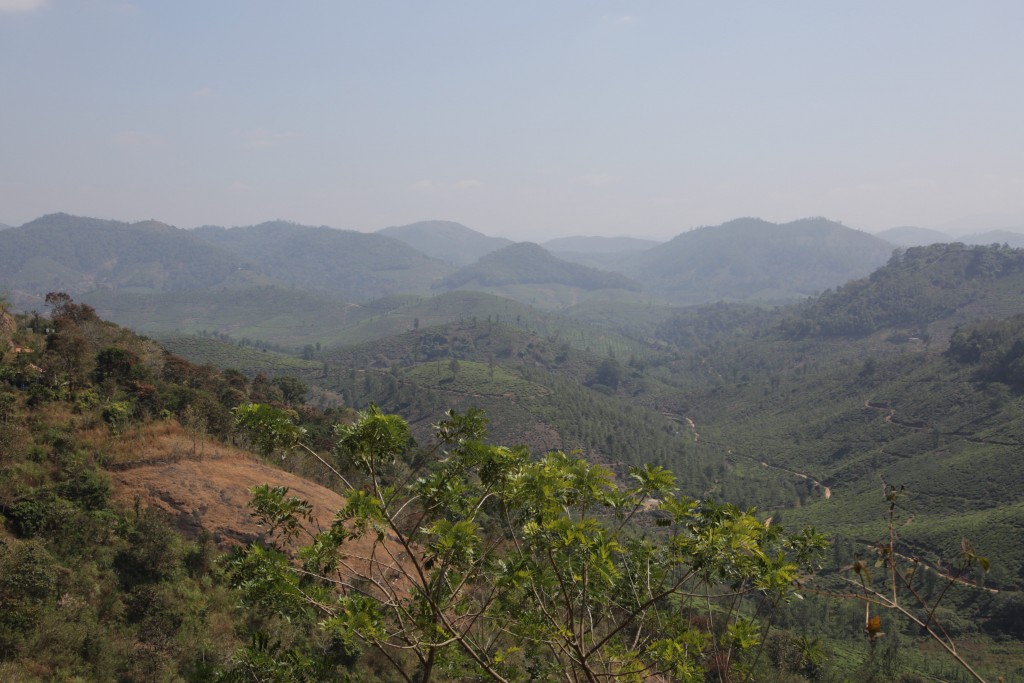 Next: My last stop in India, Kochi