Islands, Puffins and the Hogwarts Express
In some ways Scotland reminds me of Canada. A big space, much of it remote and wild. And in fact the landscape is similar to Canada's east coast; the Gaelic settlers coming to Nova Scotia in the 1800s must have felt right at home. 
We planned a loop, starting in Edinburgh and taking in the Isle of Mull and the Isle of Skye, with a few detours along the way. 
After a four-hour train ride from London, we arrived in the capital city with a room booked but no real plans. There are some tempting museums, from art to history to the imposing castle on the hill, but we decided to just wander.  It's an attractive old city and from busking bagpipers to stores full of tartan blankets, kilts, and scarves, it has a lovely Scottish flair. Don't be misled by the "Old Town" and "New Town" nomenclature–the "New Town" was new in the 1700s! 
Next up, renting a car!  You may have heard about our first foray with a vehicle in England, my white-knuckled drive in a tiny Yaris. This time, Marc made sure we had a car large enough for him to drive comfortably, but he inadvertently hadn't checked the "automatic" box. Yep, stick shift with the left hand!  Off we went, and I'm pleased to report all went well. 
Glen Coe, part 1
We had planned a scenic drive, intending to stop for a bit of walking along Loch Lomond and Glen Coe. The day started out sunny, but quickly turned to clouds and rain.  When traveling in Scotland, you take your chances with respect to weather. I remember seeing a friend's summer holiday photos, in which they were bundled up in winter clothes.  Aside from a few brief stops at viewpoints and for pictures, we mostly stayed in the car. 

We took the ferry to the island from Oban–and wished we had a bit more time to actually visit the harbour town.  In particular, the town boasts one of the oldest distilleries in Scotland.
Isle of Mull
A friend described the Isle of Mull as "the pass-through to Iona"–and indeed, if you're going to visit the famous abbey on that island, you will drive across Mull. But it is a beautiful destination in its own right, and we would have liked to stay much longer than the one day we had allowed for exploring. In fact, in general we liked Mull and its laid back vibe better than the more popular Isle of Skye.
Lunga and Staffa
In a departure from our usual methods, we had made quite a few reservations in advance. It turned out to be a smart move, as May is the start of the busy season and B&Bs, hotels, ferries, and excursions had few (if any) vacancies. We were very happy to have pre-booked tickets on staffatours.com.  The six-hour outing takes you to two islands: Lunga (puffins!) and Staffa. The weather was perfect, apparently one of the best days they are likely to have all summer!  A small pod of dolphins along the way was an added bonus.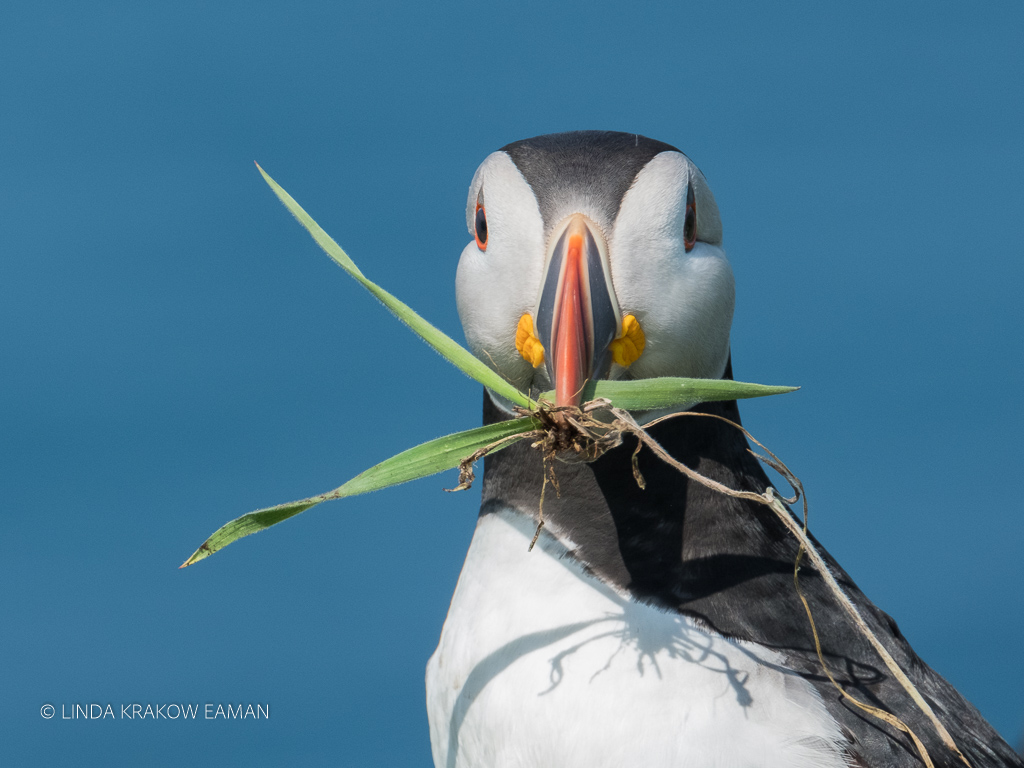 While it's also home to seabirds, Staffa is most noted for its rock formations. We had an hour to poke around. 
In preparation for the trip, we listened to Mendelssohn's "The Hebrides" also known as "Fingal's Cave." (You may want to do the same, while reading this!) The famous cave was closed due to erosion from winter storms (although a few people–intrepid or stupid, depending on your point of view–did go in along an edge that could at best be described as narrow and precarious) but even just the entrance is mesmerizing; a gaping black hole filled with dark, dangerous water.
From Mull to Skye
Pre-booked accommodations make it hard to adjust your itinerary as you go along.  So we very reluctantly said farewell to the Isle of Mull. We left via the smaller ferry at Fishnish for another drive through impossibly beautiful scenery.  Following advice to "keep your eyes to the skies" we spotted eagles along the way.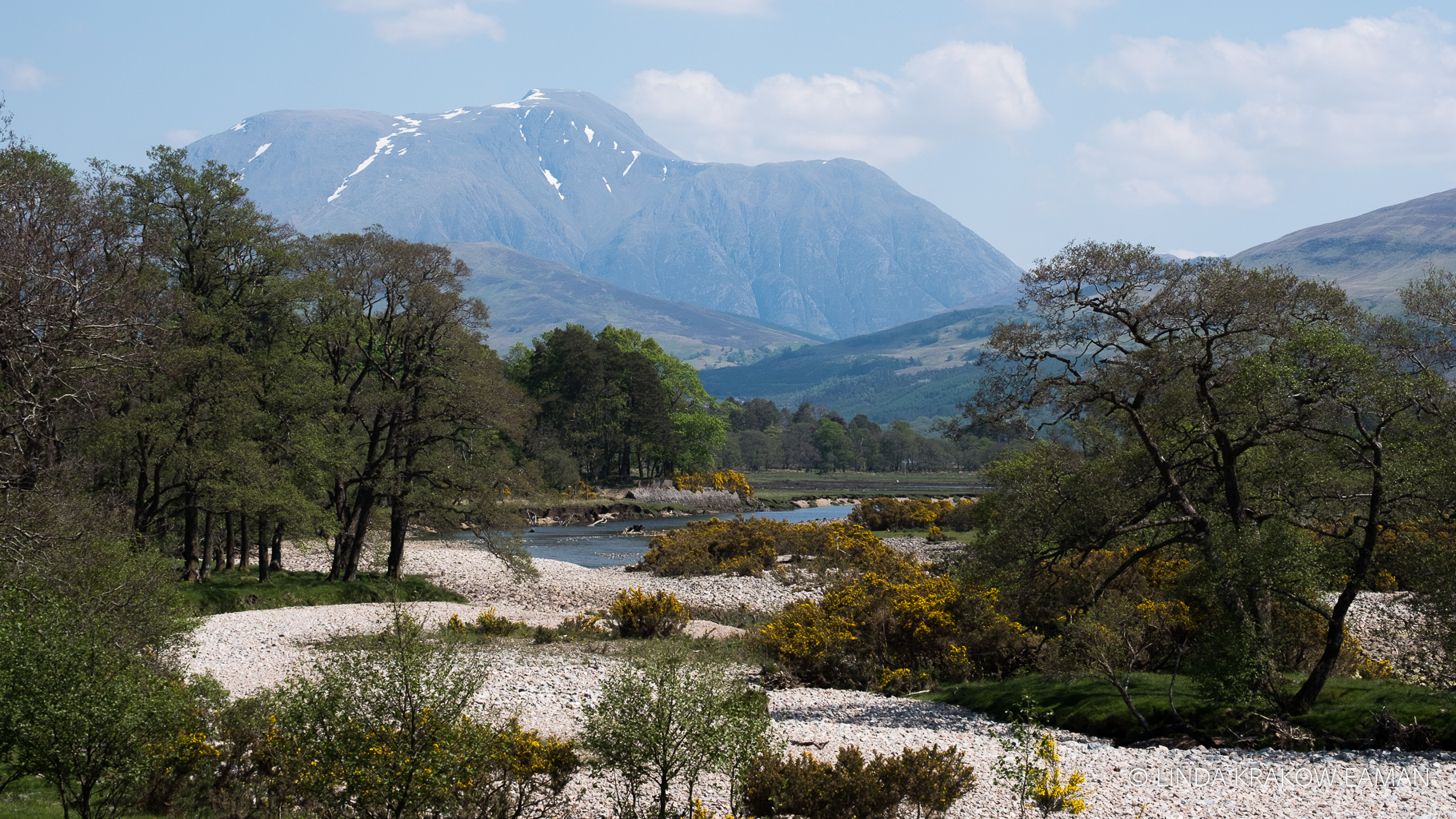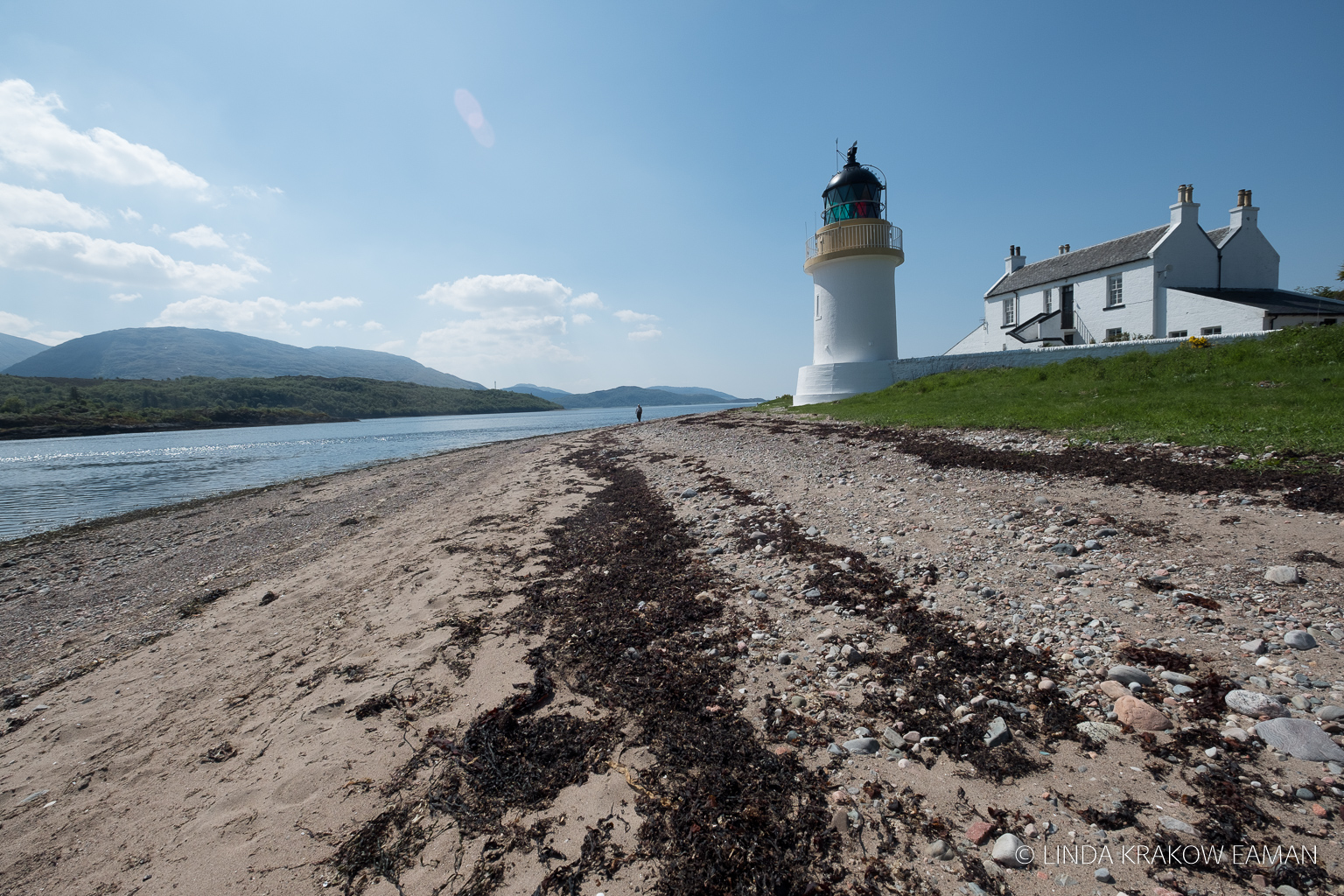 We had planned a stop at the Glenfinnan Viaduct to see the Jacobite steam train, made even more famous by the Harry Potter movies. This, friends, is the Hogwarts Express.  Be sure to check the train schedule ahead of time (it comes by once a day in each direction), and stop in at the National Trust shop for directions to the best viewpoints. The marked lookout near the shop is convenient but if you're willing and able to hike a bit there are better options.
(Video courtesy Marc Eaman)
Aside from the viaduct and trains, there's a lot of history here, stories of rebellion and massacre, and you might want to allow time to visit the monument and museum. We, however, had a ferry to catch. 
The road from Fort William to Mallaig is known as the Road to The Isles; Glenfinnan is about halfway.  It's a beautiful stretch, even if your ferry booking means you don't have much time to linger.  There is a bridge onto the Isle of Skye, but we had planned a more direct route, taking the ferry from Mallaig. 
Isle of Skye
The Isle of Skye is one of Scotland's most visited locales, and interest has outpaced capacity. Even booking three weeks in advance, our closest option was an Airbnb bedroom in a private home, sharing the family bathroom, a half hour drive from the island (via the bridge).  
The good side of that, though, was discovering the village of Plockton, six miles from the bridge. We spent an entire morning there, enjoying a coffee shop, wandering out into the harbour at low tide, and having fish and chips at a picnic table. There's not much there other than a few shops, cafes, and a harbour that empties at low tide, but we loved it and would happily make Plockton a destination for a few days of R&R. 
On Skye, the countryside is beautiful and surprisingly varied. Many of the roads are single lane, and the distances are fairly significant–so if you want to cover a lot of it you'll definitely need several days.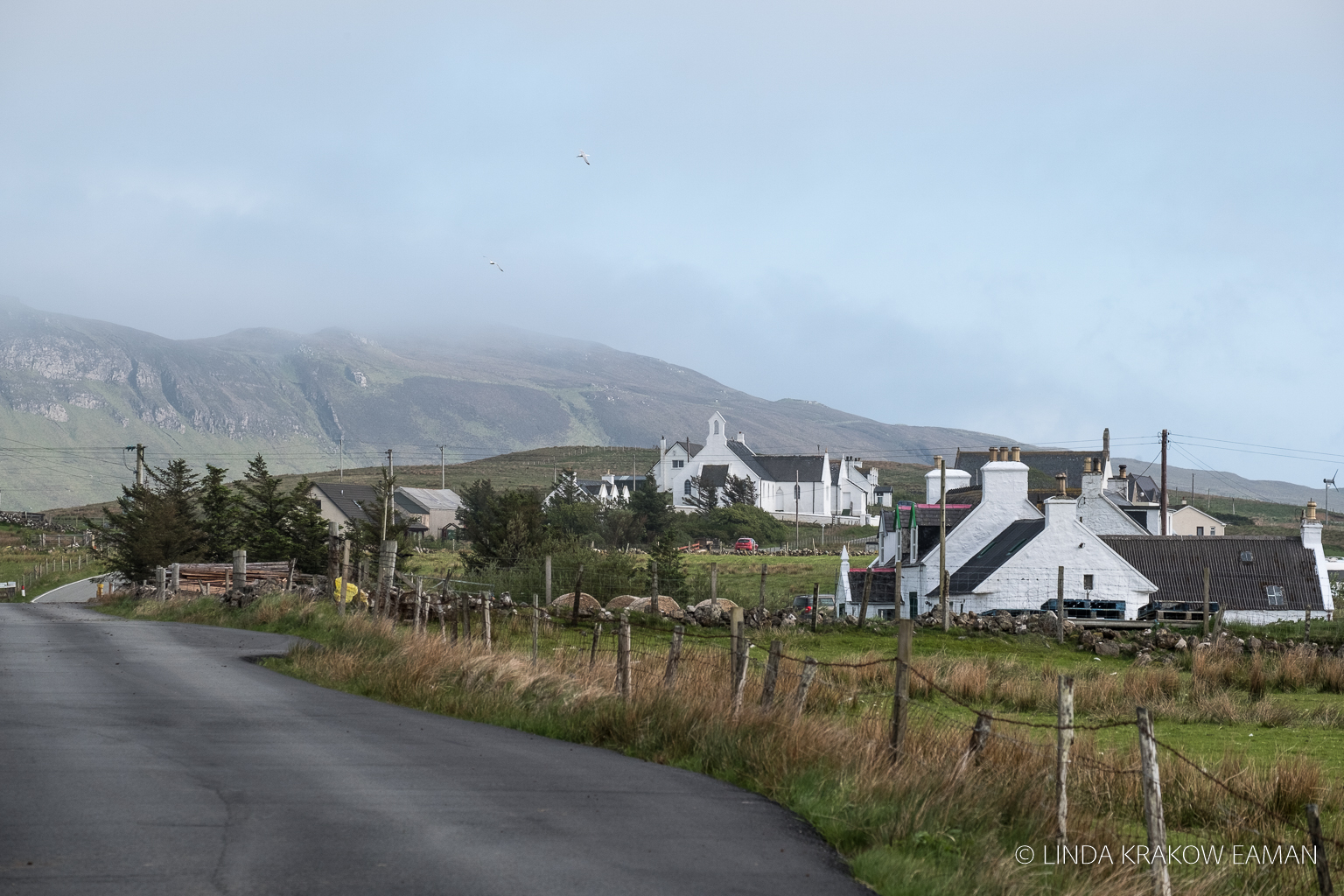 The highlights are mostly of the natural variety; mountains and waterfalls, in particular, and there are some well-known hikes to be done, weather permitting. 
The number one hike on everyone's lists seems to be the Old Man of Storr, and since the weather looked good–sunny with just a few little clouds–we headed straight there on day one. The mountains seem to make their own weather, though, and before we knew it we were in the clouds. After a while, visibility was almost nil, we had realized the paths are unmarked, and for the first time there were no other people in sight. I was ready to head back down, and quickly (wimp). But having convinced me he could find the way back, Marc found a rock for shelter from the unrelenting wind, and we took a lunch break–until I looked up and saw just a hint of a HUGE formation above us. The wimp was banished and I climbed a bit further.  As we spent another half hour or so there, the clouds came and went, revealing glimpses of the remarkable formations, ghostly apparitions in the sky. 
Everywhere you go on Skye there are streams and waterfalls large and small, rushing from craggy mountains through a rocky green landscape. At the famous Fairy Pools, the water moves through a long ravine, dropping from pool to pool–some shallow, others deep enough that teenagers were jumping into them from great heights. In spite of the hot day the water was cold (the happiest people seemed to be those in wetsuits) but not too cold to strip down to bra and undies for a quick dip–just so I could say I did!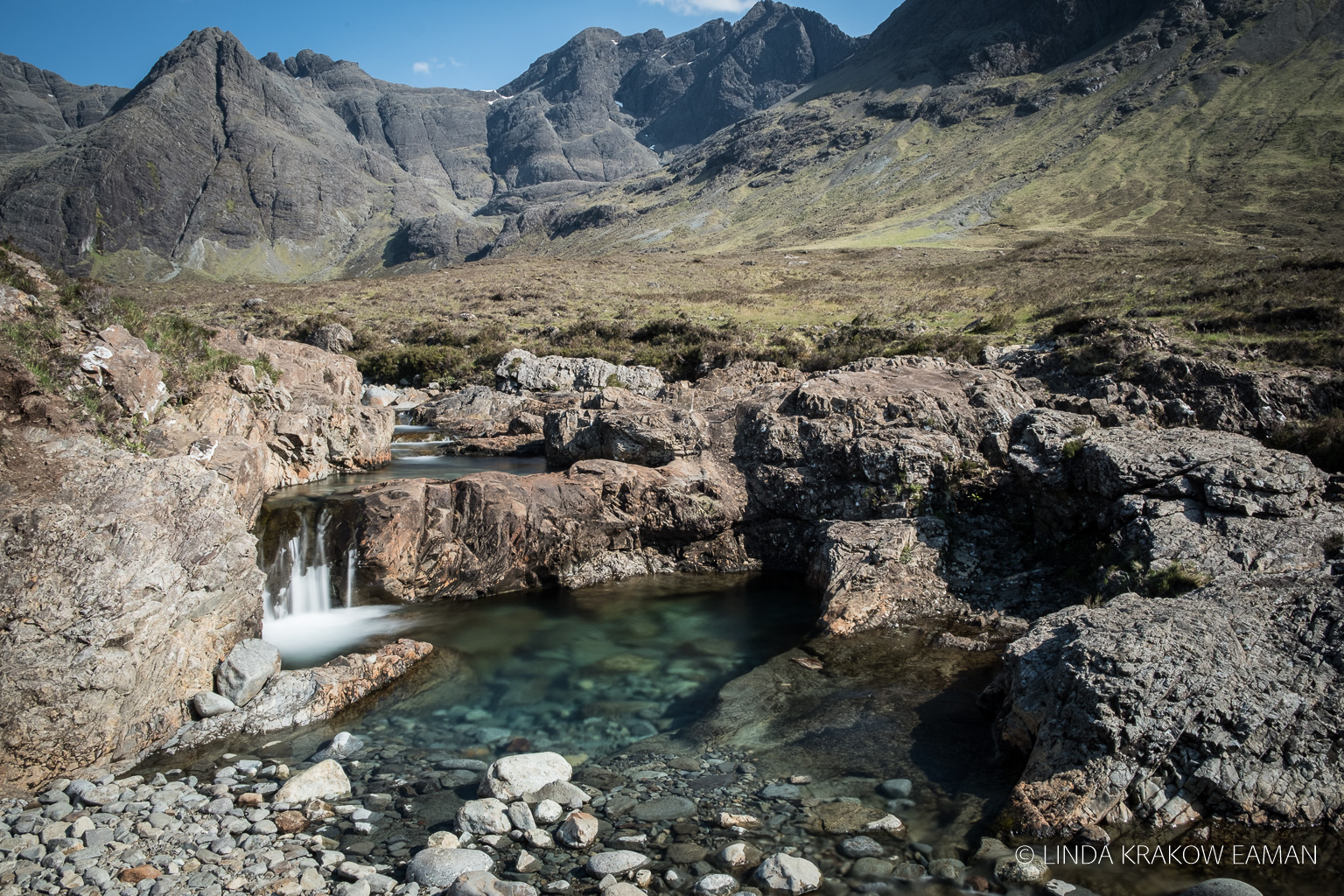 For years we have done long road trips–sometimes a few thousand miles in just a couple of weeks, in our quest to get a taste of everything. But lately we have found ourselves preferring a more relaxed pace. Maybe we're getting old and tired, but I think it's just an evolution; there's a lot to be said for staying put and soaking up the atmosphere.
Having accomplished all of the above in a week, we decided to slow down.  We booked a hotel near Fort William, meaning the next day's drive would amount to no more than 2-3 hours in total. What a great move!  We had time to stop for sketching and walks. Fort William also seems to be treated as a pass-through, between Glen Coe and the Isle of Skye, but we stayed two nights and found it charming, with plenty to do.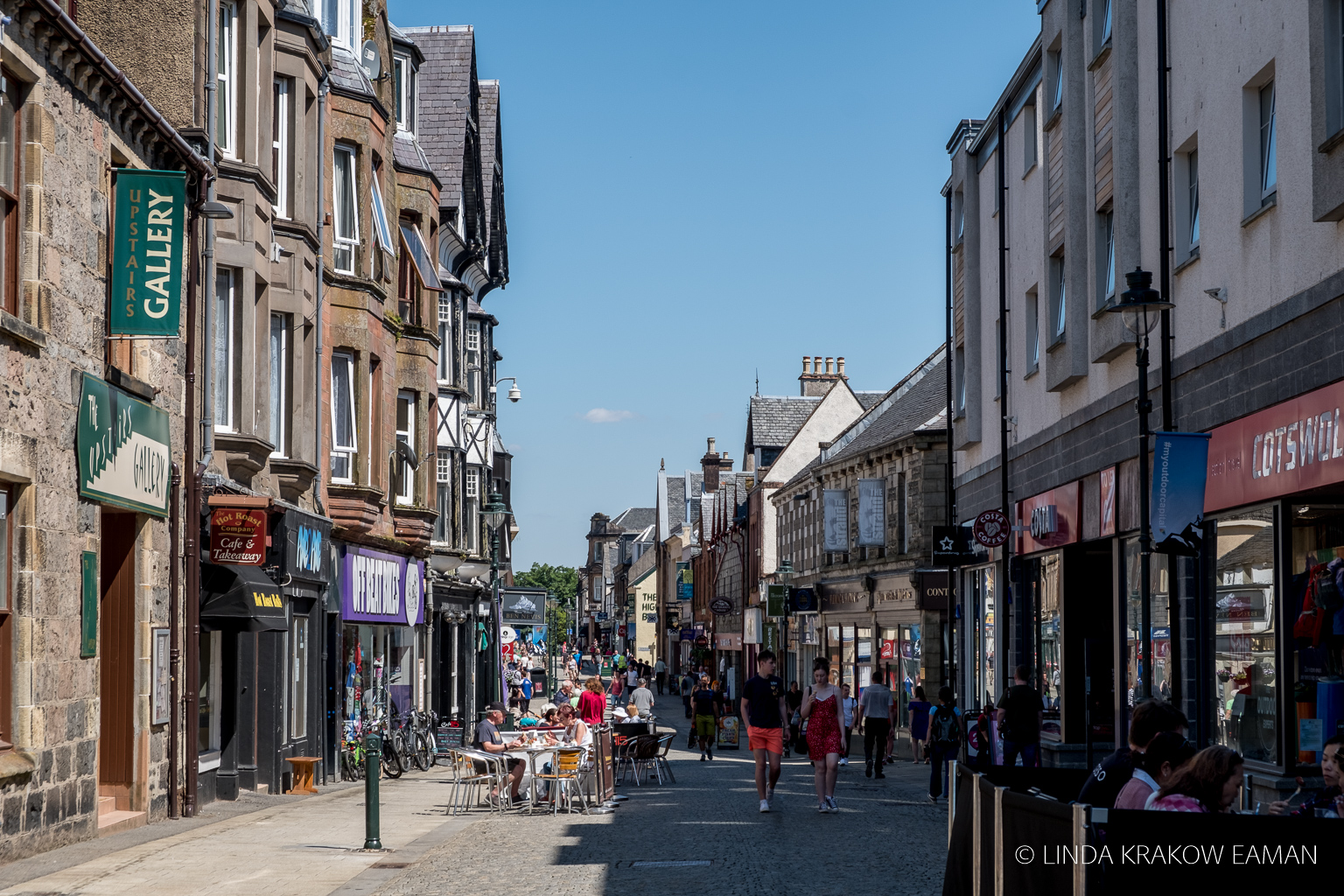 Some more things to do here: The Fort William museum is well worth a visit, especially the section about the WWII commandos, which were formed and trained in this area.  A tour and tasting at the Ben Nevis distillery. And a visit to Neptune's Staircase, a flight of 8 locks built in the early 1800s on the Caledonian Canal.
But we finally did have to get moving, so on to Glen Coe for the second time, and we were rewarded for our persistence!  Fashioned by volcanic activity and glaciers, it affords jaw-dropping views that seem to go on forever. There are trailheads all along the way, and at the recommendation of a ranger at the National Trust visitor centre we walked to a spot called "The Study" along a disused road through the hills.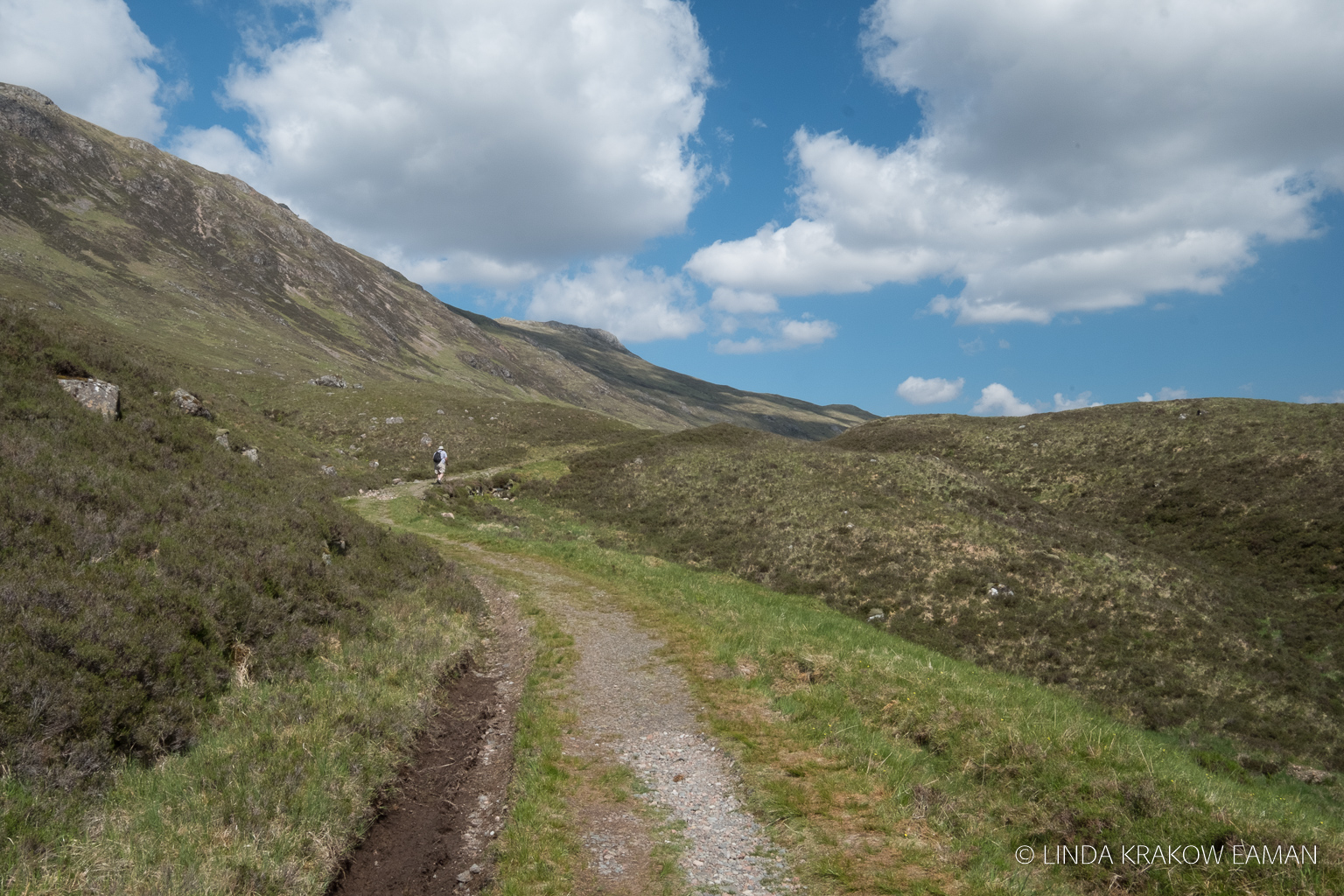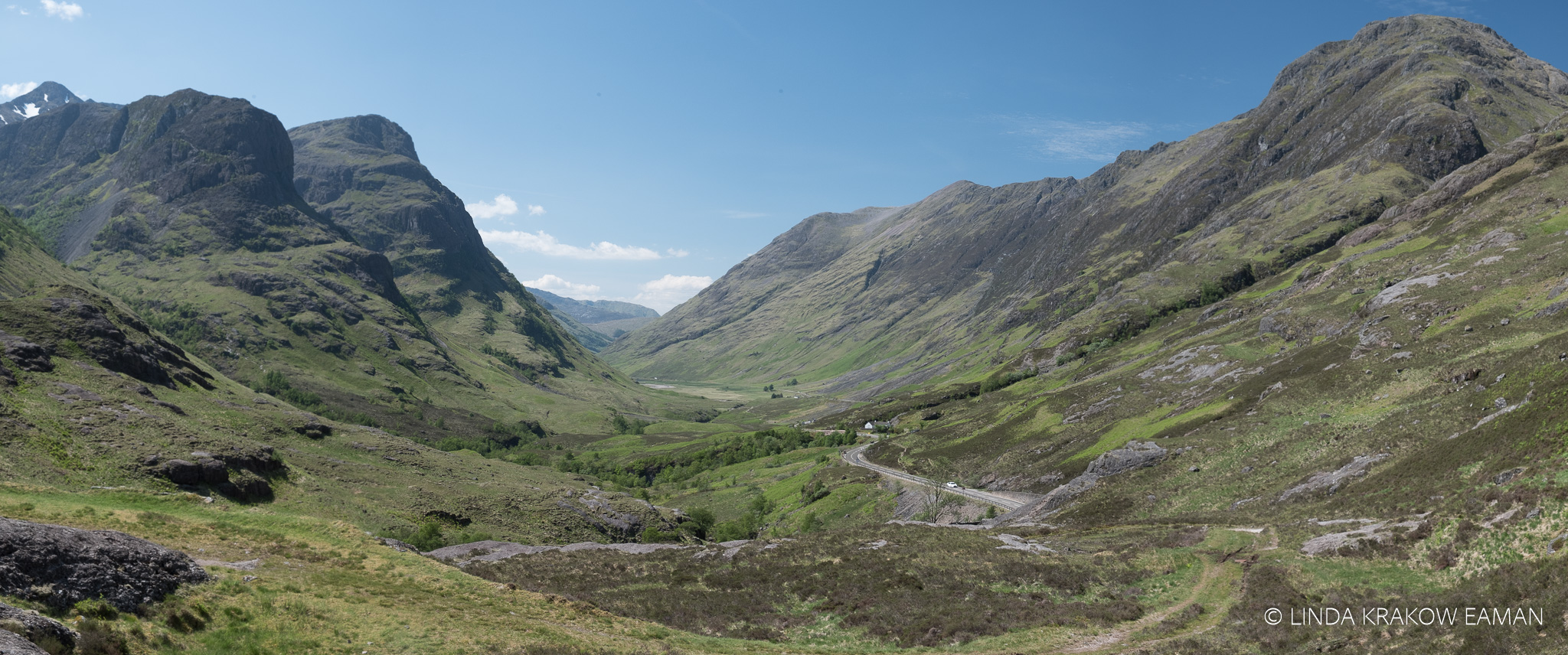 With one last night in Scotland, Marc started the online search for a place to stay. Flopped on the bed in the hotel room, he asked "how would you like to sleep on a boat?"  What? 
This was to be our last night in Scotland, but I have one more spot to recommend: the Robert Burns museum and house in Alloway.  An insight into Scottish culture through the life and work of one of her favourite sons, then lunch on a tiny streetside patio across from the thatch-roofed cottage his father built by hand. The perfect end to our trip.  
Although it's English speaking and part of the UK, Scotland is unique and proudly so, with its own culture and personality. The glorious accent (thanks for the coffee, now please just speak to me more, about anything, so I can listen!), bagpipes and kilts, horned highland cows, sheep grazing in a rugged landscape, signs in gaelic, haggis with neeps and tatties on the menu… there's much more to see but even a taste of it is wonderful!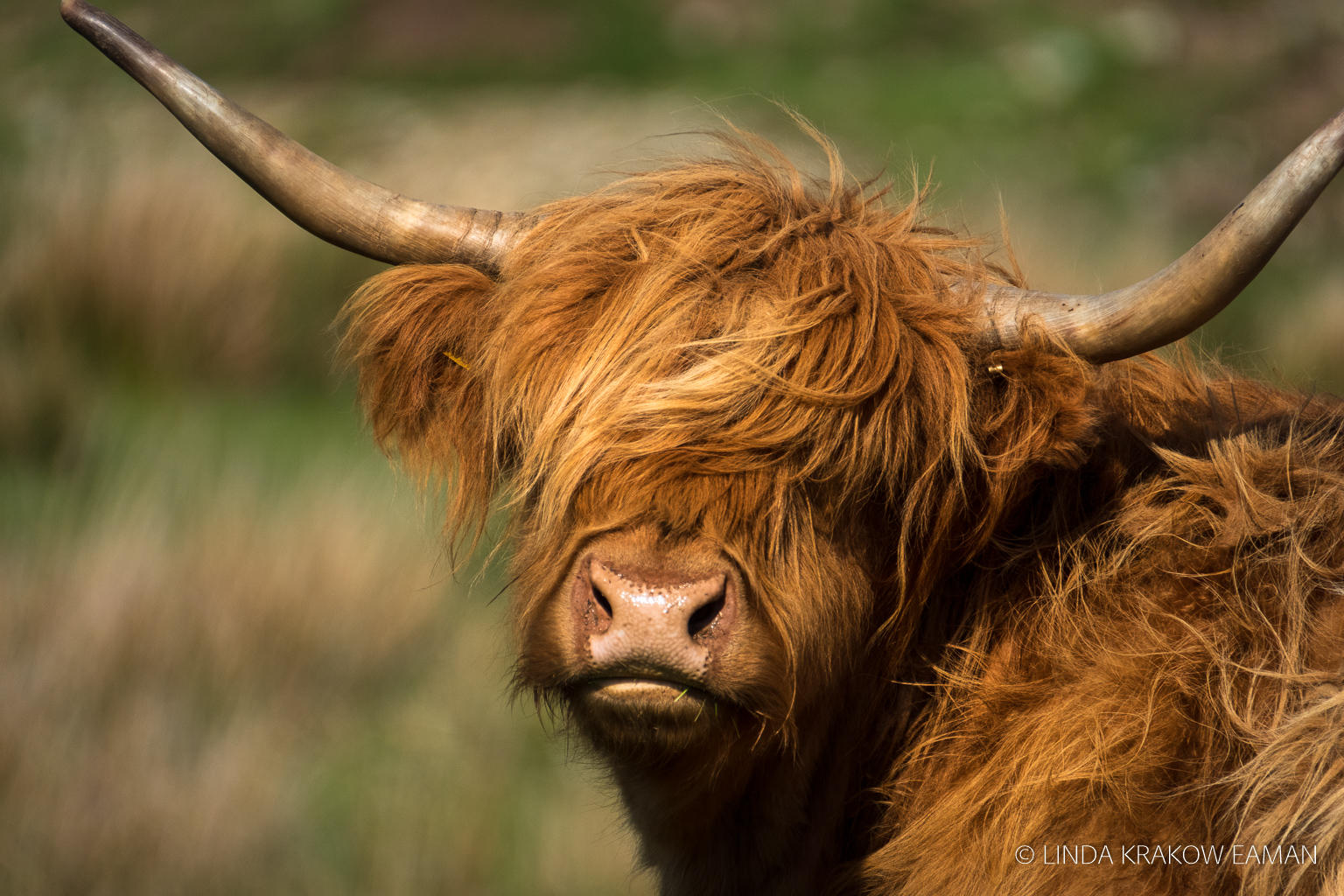 If you go:
Outside of the cities, cell reception is spotty at best. Most restaurants, cafes, pubs, etc. have wifi, but don't count on your phone for maps or research when you're on the road.
Spring means very long days–in late May, sunset was almost 10pm, sunrise before 5am, and it never got completely dark. It's great for packing a lot in, but stores still close at 5 and restaurants tend to close earlier than we expected as well. 
Unless you're going in the winter, book early. Especially rooms, but it was even helpful to reserve at a restaurant earlier in the day; walk-ins were often turned away or asked to wait a long time.
Bring layers. Weather can be everything from cold, rainy, and windy to sunny and hot. I wanted sunscreen and shorts some days, a wool sweater and windbreaker on others–all within a week, sometimes the same day.