A January Trip to Spain, Part 2: Teruel, Albarracín, Cuenca and parts in between
After a week in Valencia we decided to rent a car and explore a bit. There are plenty of websites listing day trips from Valencia; we picked a couple and combined them into a circular itinerary, and planned to spend two nights in each of two towns (Albarracín and Cuenca) for a more relaxed pace. Here are some highlights.
Teruel
Teruel was a lunch stop on our way to Albarracín, and I think it really warrants more time than we spent there.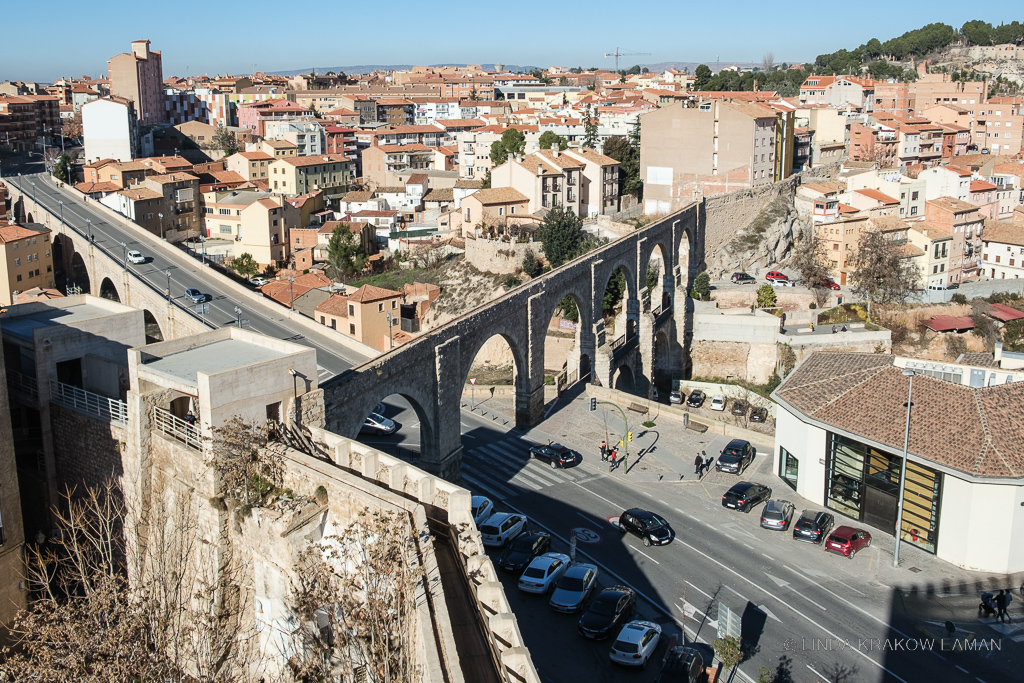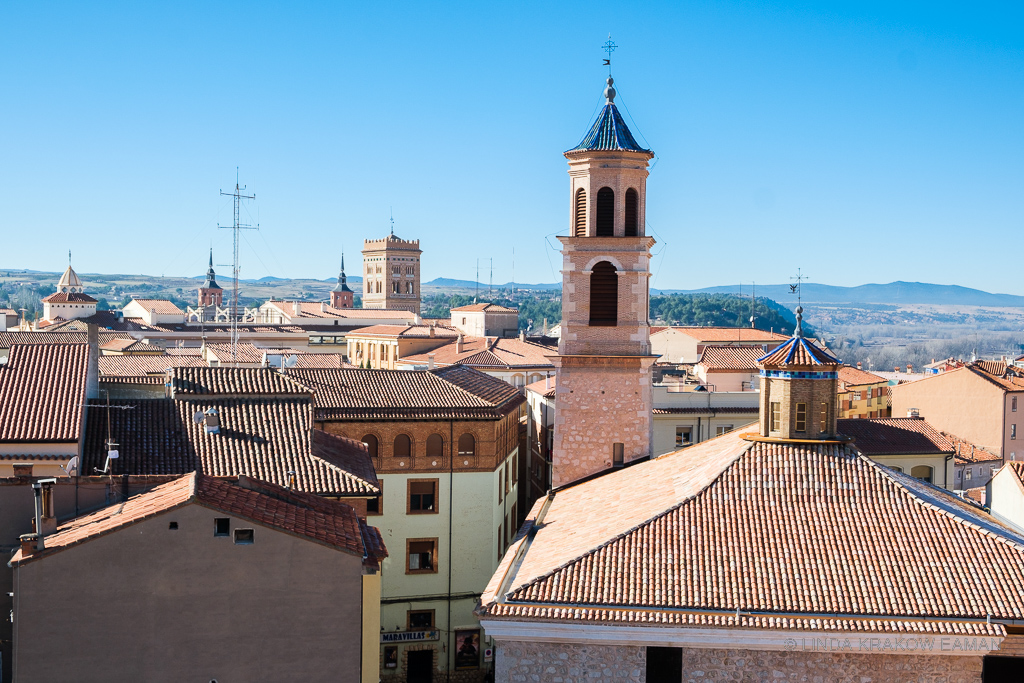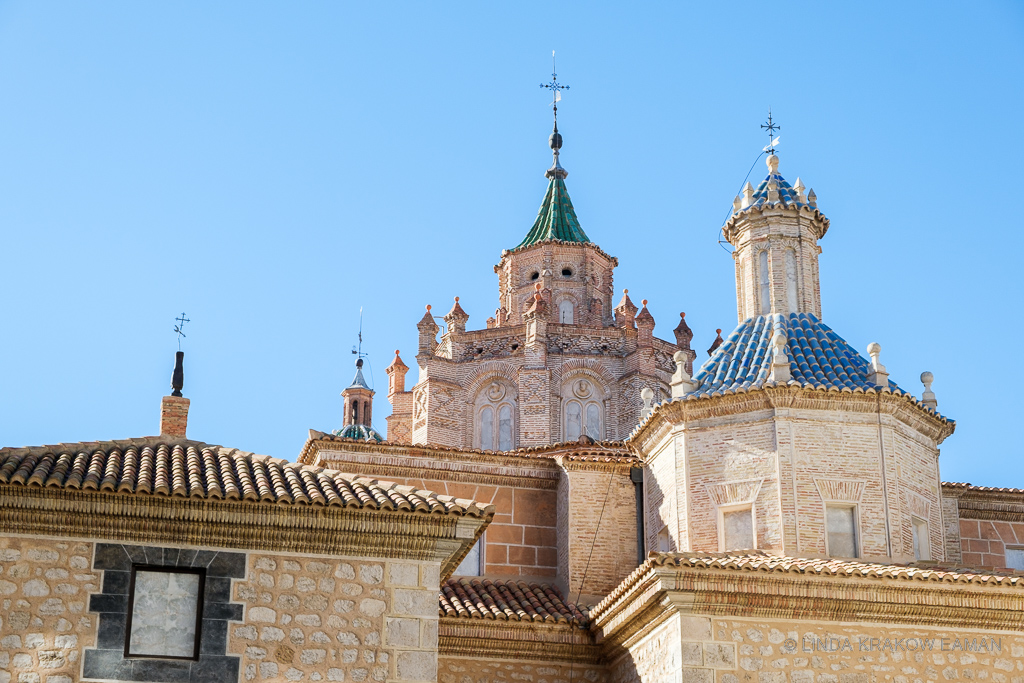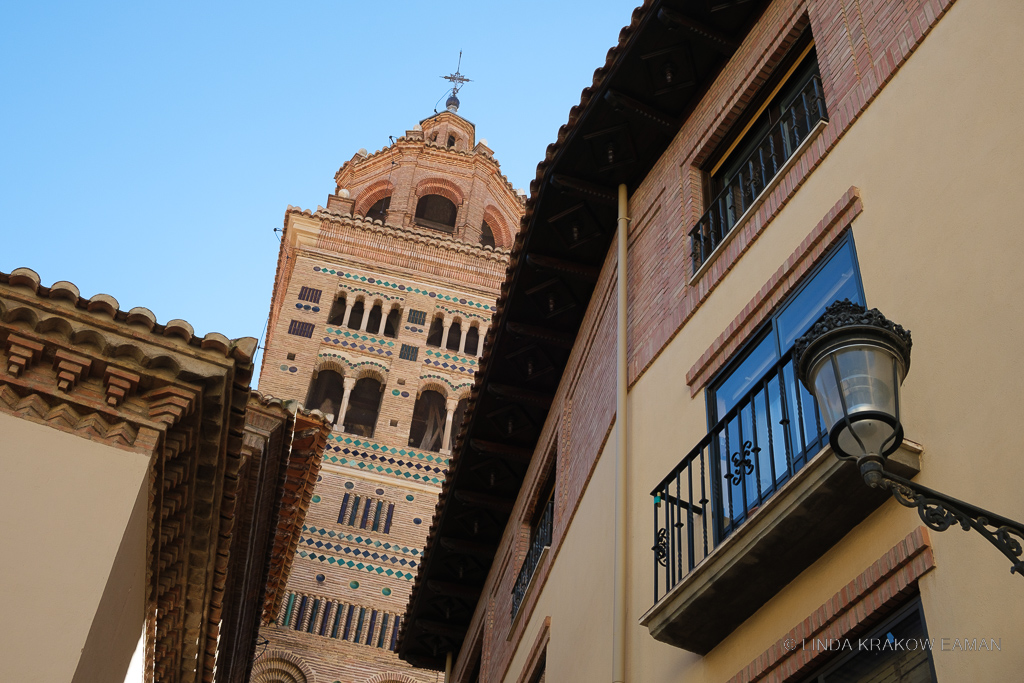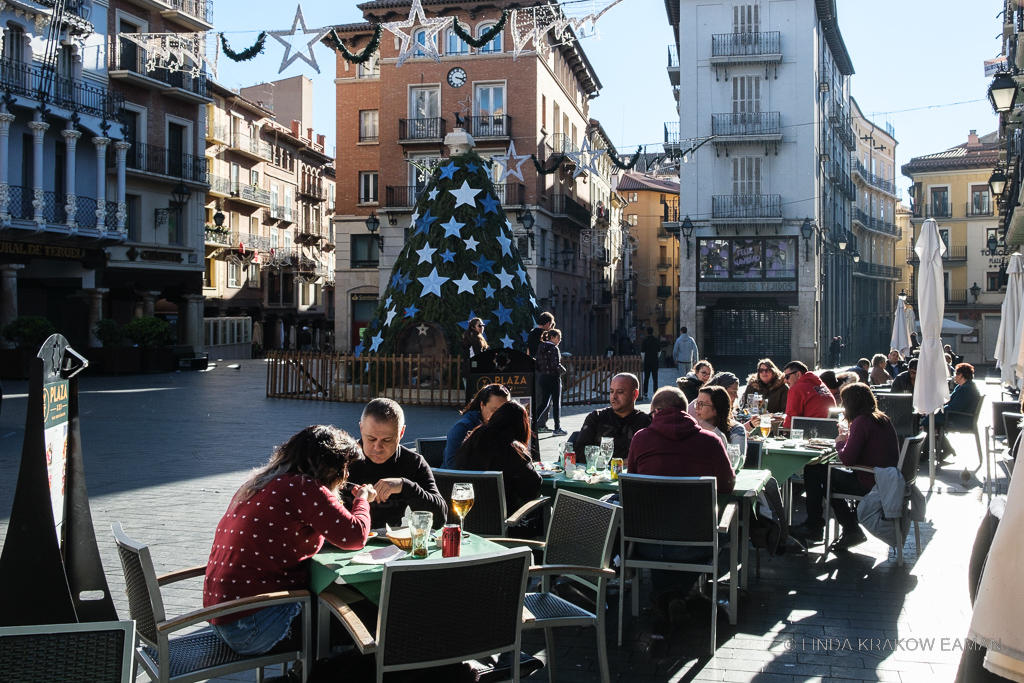 Acueducto Romano de Albarracín – Cella
On the way from Teruel to Albarracín there is a Roman aqueduct, built in the first century to carry water about 25 kilometers from the Guadalaviar river. It seems to be accessible at various points; we stopped at the one just outside Gea de Albarracín, called Barranco de los Burros (ravine of the donkeys).
Unfortunately it was starting to rain, the terrain was a bit rough and signage indicated it would get more difficult, and we hadn't packed hiking shoes (I won't make that mistake again). So we just went far enough to see this. I think if you continue on, you can actually get right up to the excavated portions. I was pretty disappointed to miss the rest, but happy to have seen what we did.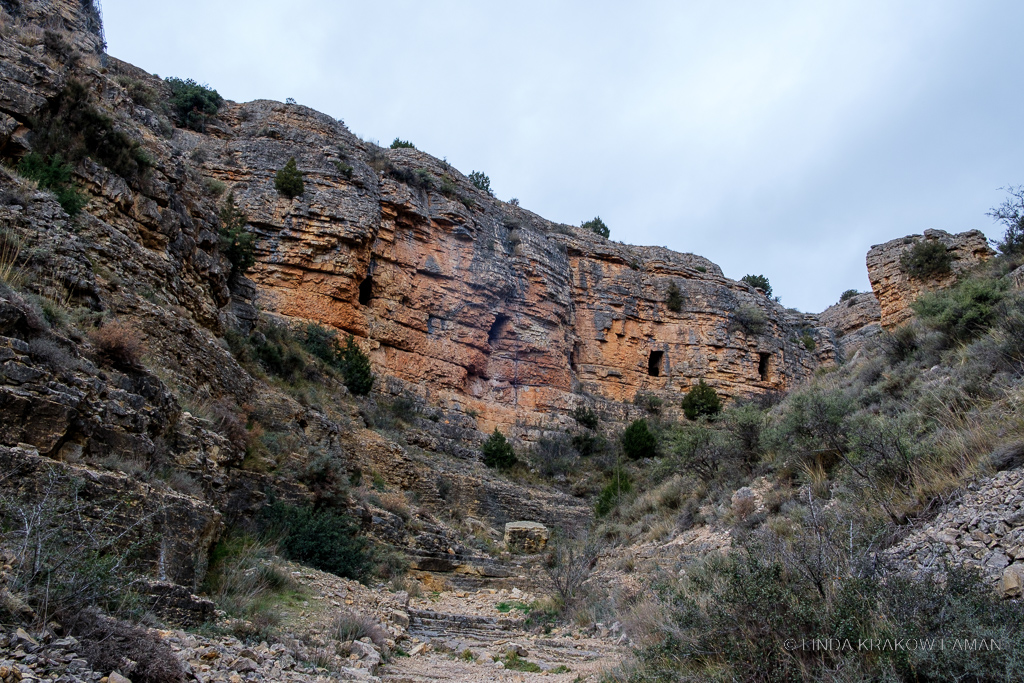 Albarracín
Albarracín is a beautiful medieval town with steep cobbled streets and magnificent views. We booked two nights here, so we could explore at our leisure–and still we somehow missed a few things!
While it did warm up and sunny afternoons were beautiful, it was cold here. We were now in the mountains, away from the Mediterranean, and I needed all my layers and a hat.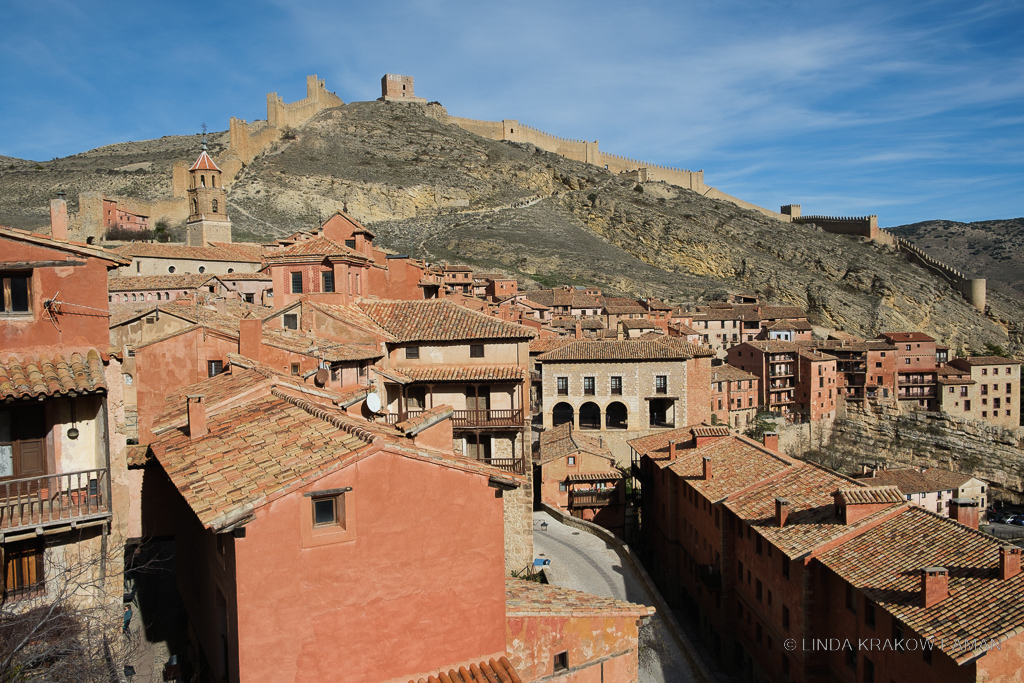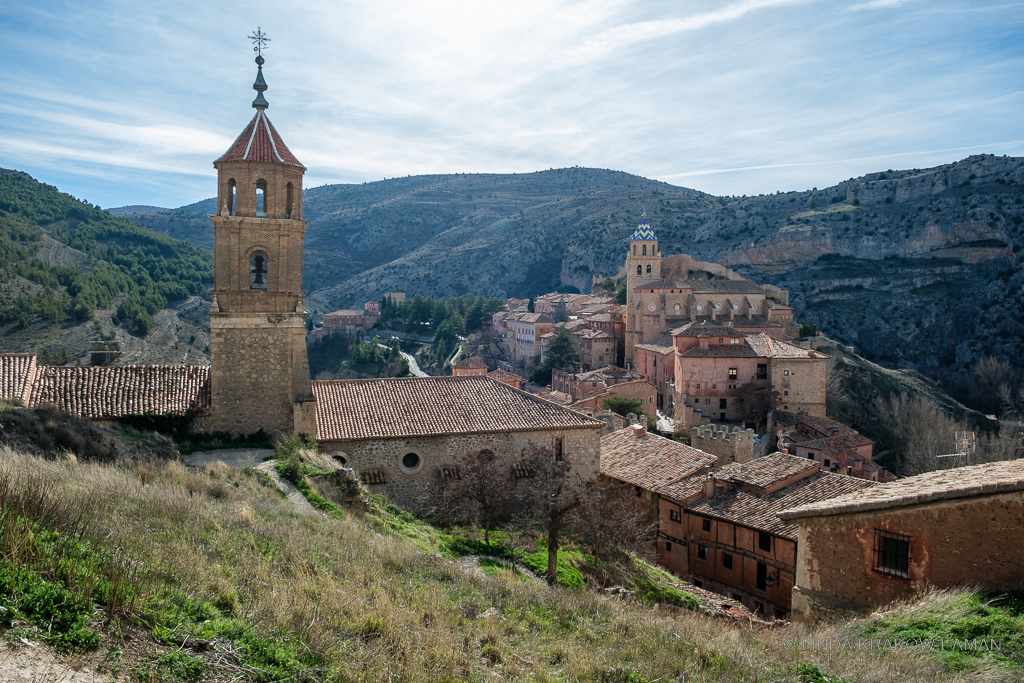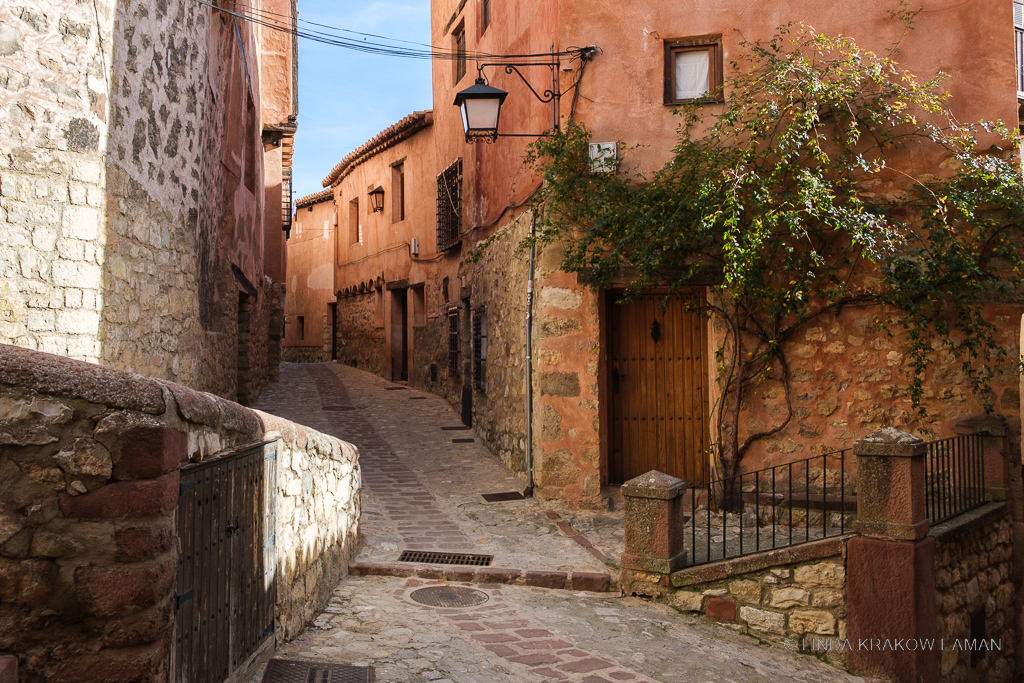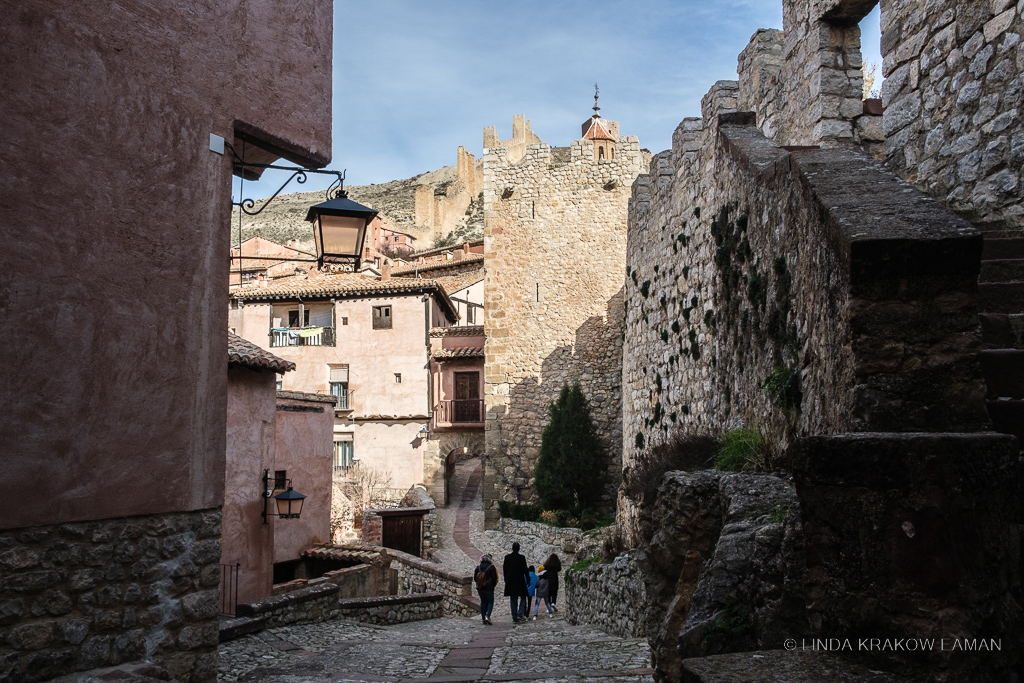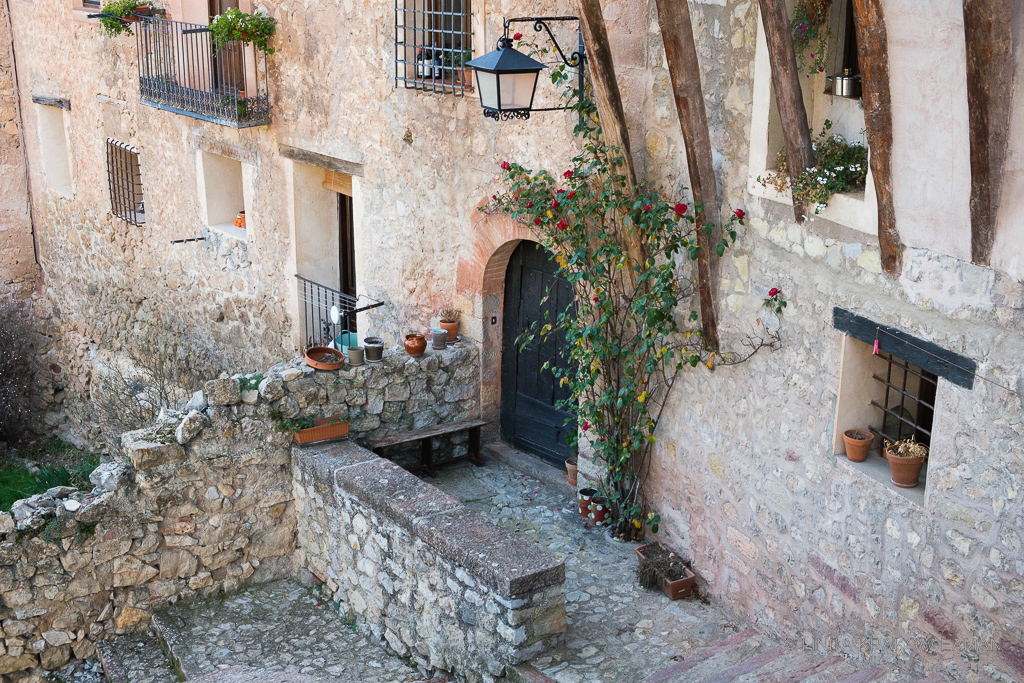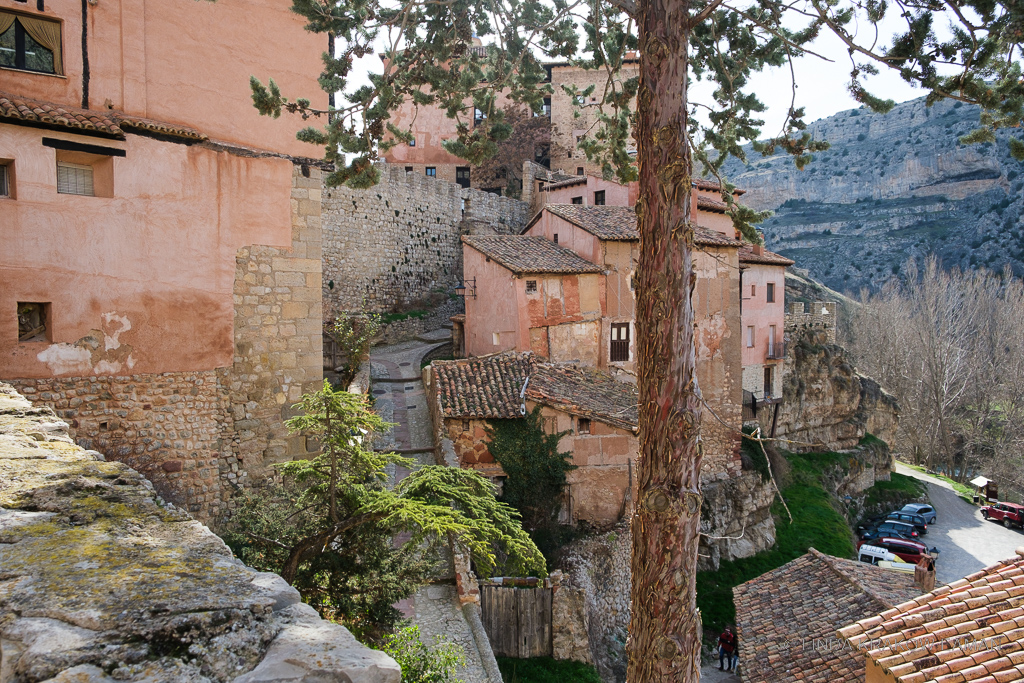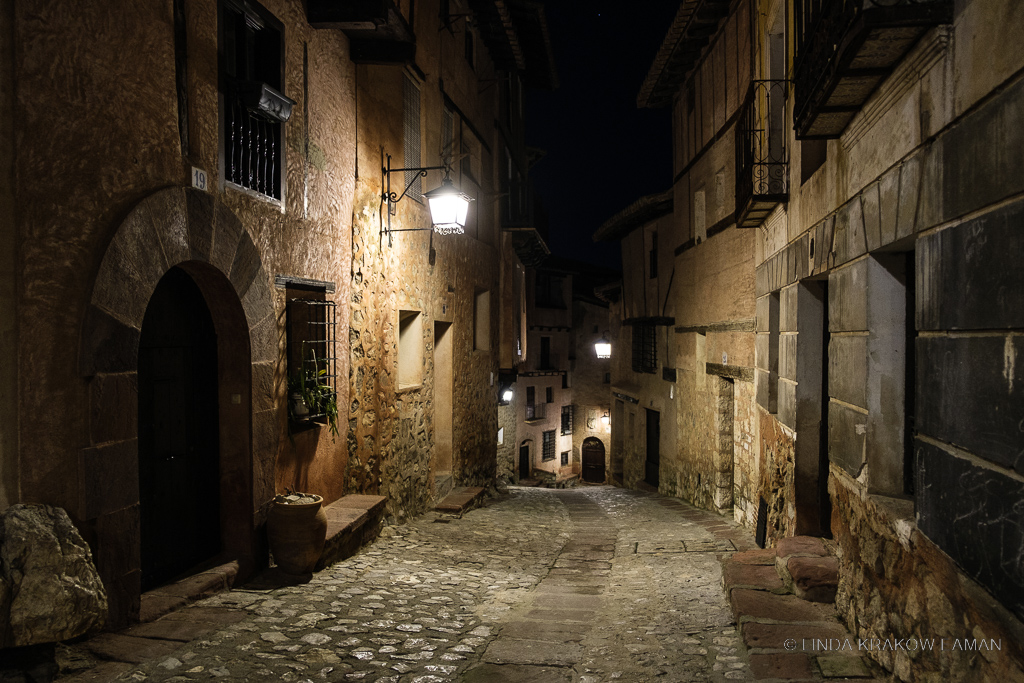 Cuenca
Cuenca is famous for its Casas Colgadas, the 15th century "hanging houses" on a cliff overhanging the Huécar gorge. Only two of the houses remain, and they have been converted to an abstract art museum. In fact contemporary art seems to be a theme here and there are quite a few museums and galleries.
We splurged and stayed at the Parador de Cuenca, part of Spain's national chain of hotels in historical properties and unique locations. This one is in the 16th century Dominican convent across the gorge from the hanging houses. I highly recommend a meal in the hotel restaurant–the food was superb and the dining room spectacular! In fact the entire ground floor is spectacular, and the hotel room was very nice too.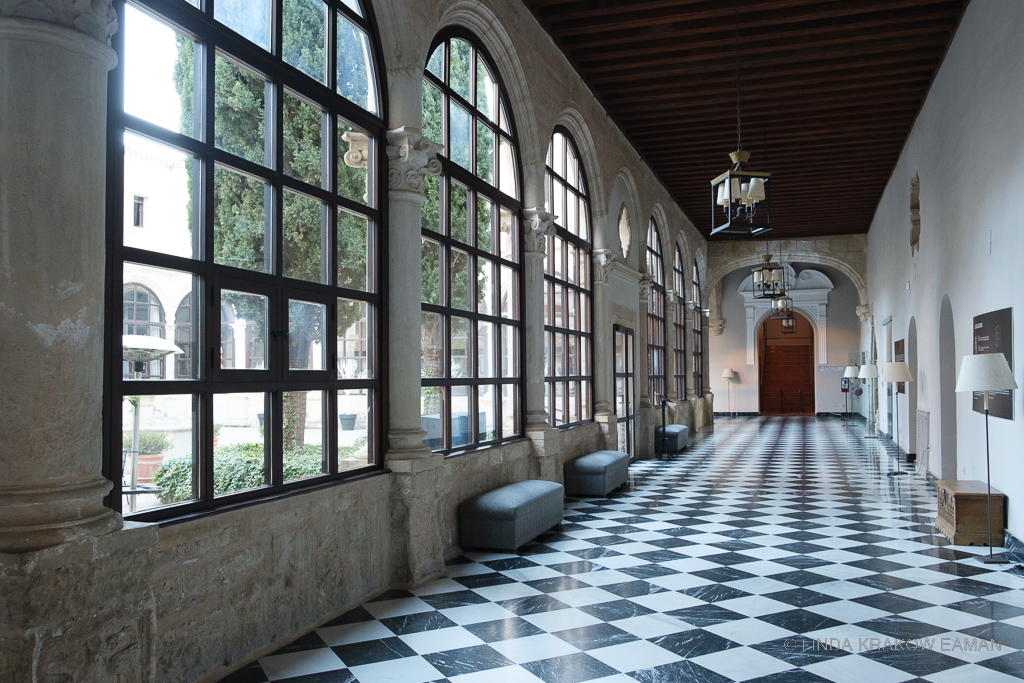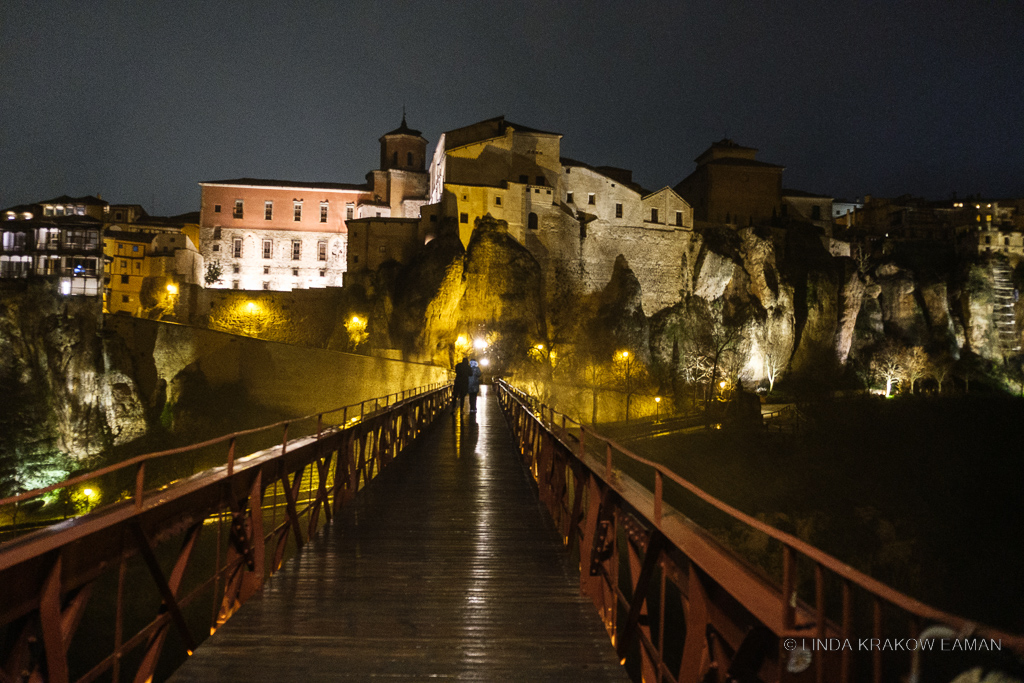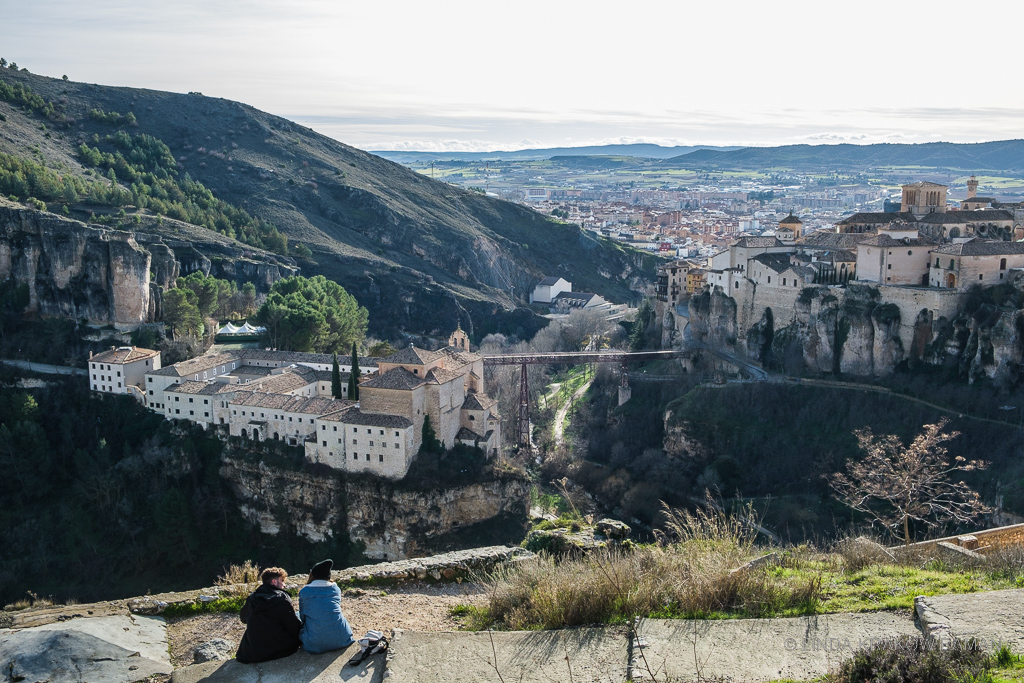 These colourful houses were a pleasant surprise!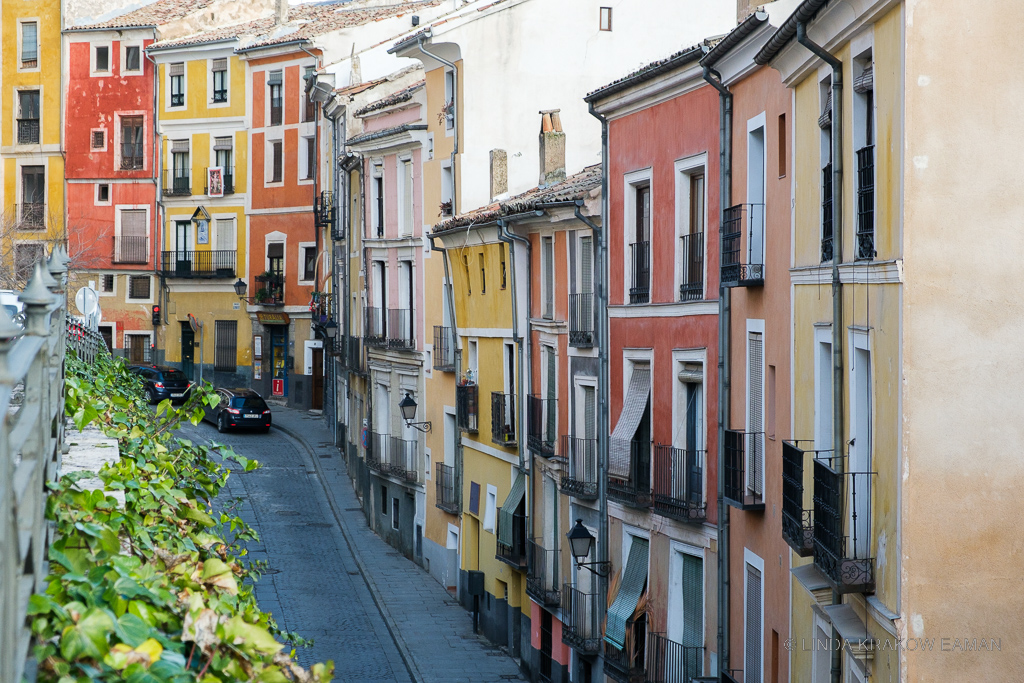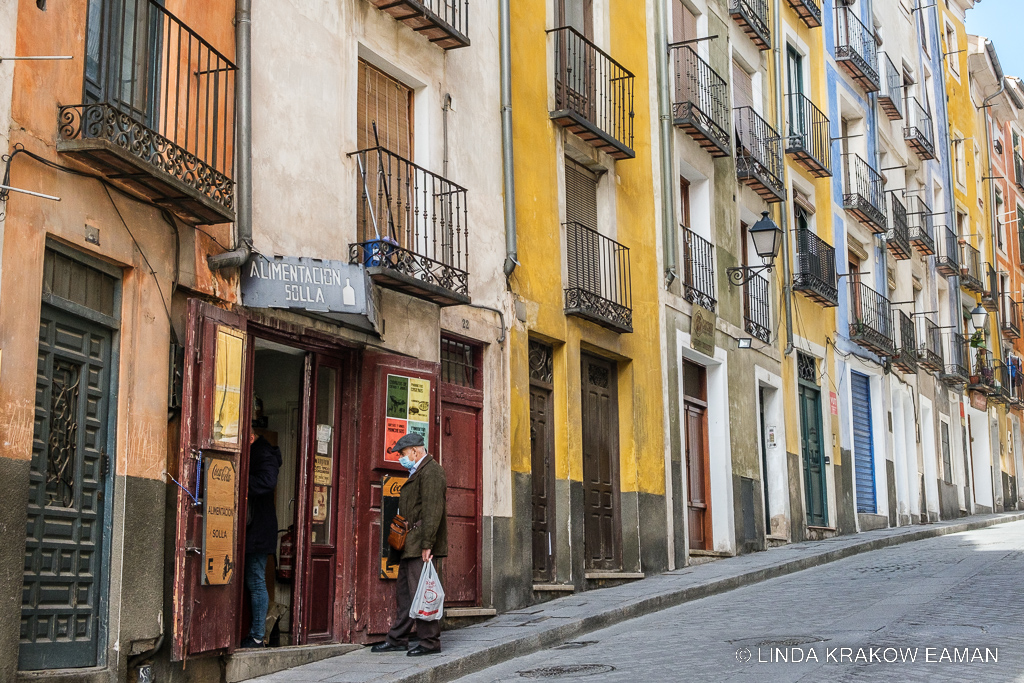 Cuenca's gothic cathedral is right on the Plaza Mayor, the main plaza. It's easy to become blasé about these churches after you've seen more than a few of them, but they really are spectacular, with massive stone columns, soaring ceilings, ornate wood carvings, gold ornamentation, and ancient paintings. This one has something special: contemporary stained glass created by local artists in the 1990s. The sun shining through them projects beautiful designs onto the opposite walls.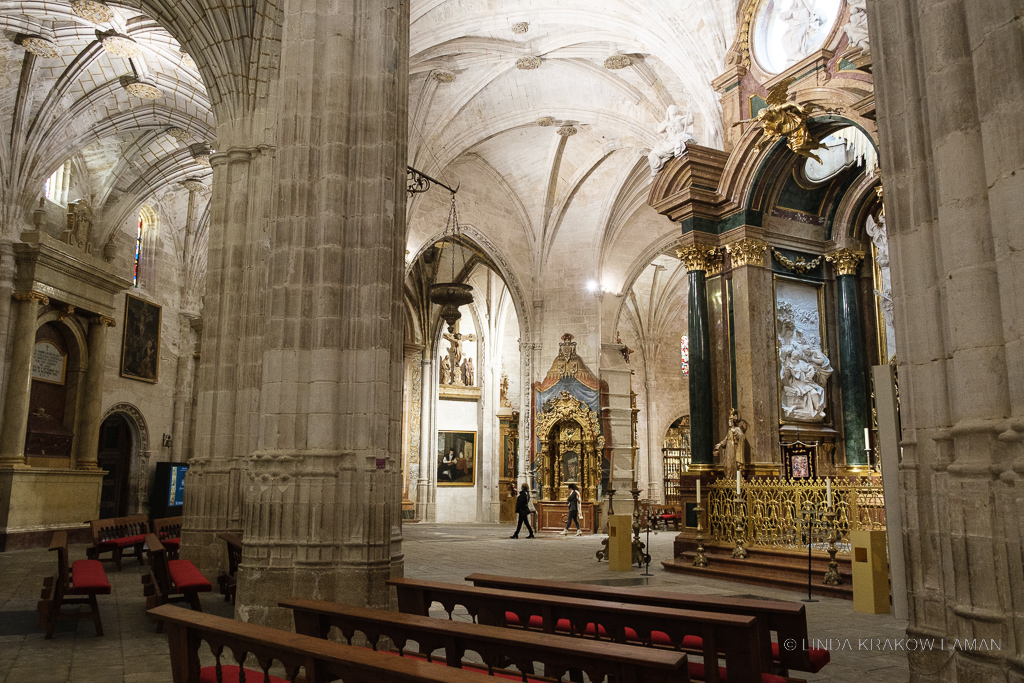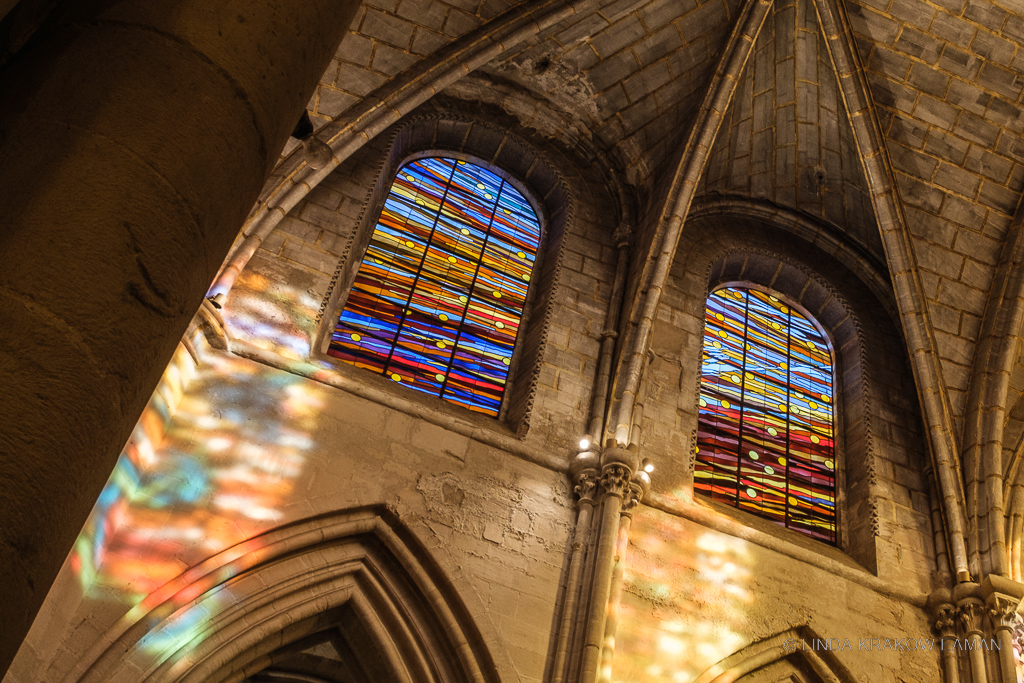 Requeña
If you arrive at a town during the siesta, it can feel like the whole place has shut down. To see it come to life, you have to stick around until 4 or 5 o'clock, or even into the evening. If you're hungry, you might have trouble finding something to eat for a few hours.
When we got to Requeña–a town of just 20,000 people–the streets were pretty quiet, the stores all closed. We found the historic center, and wandered around quiet, charming medieval streets.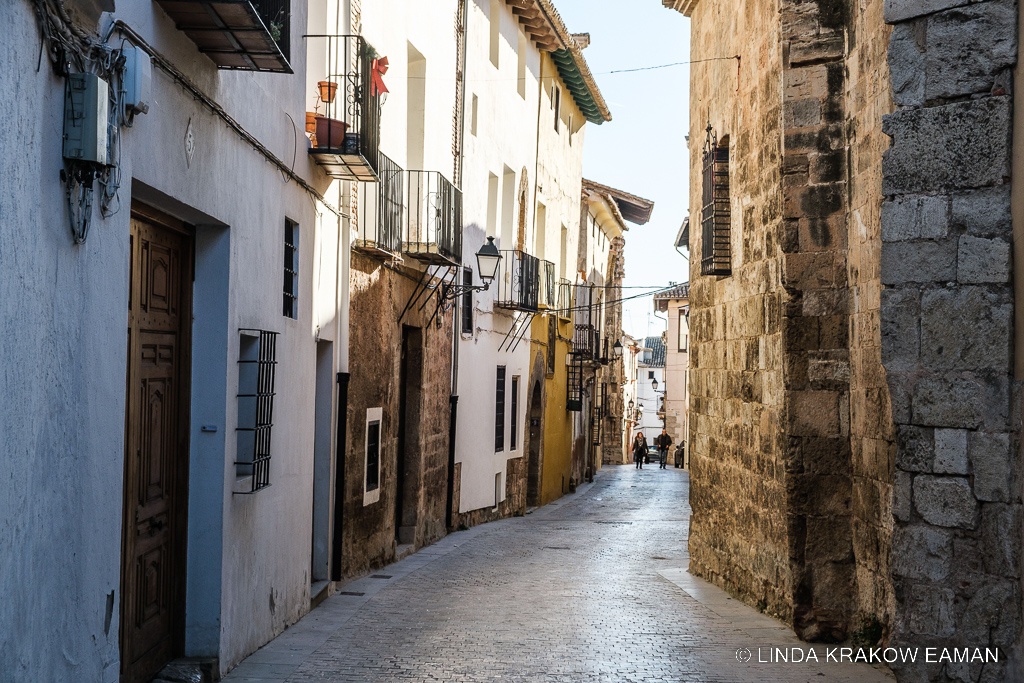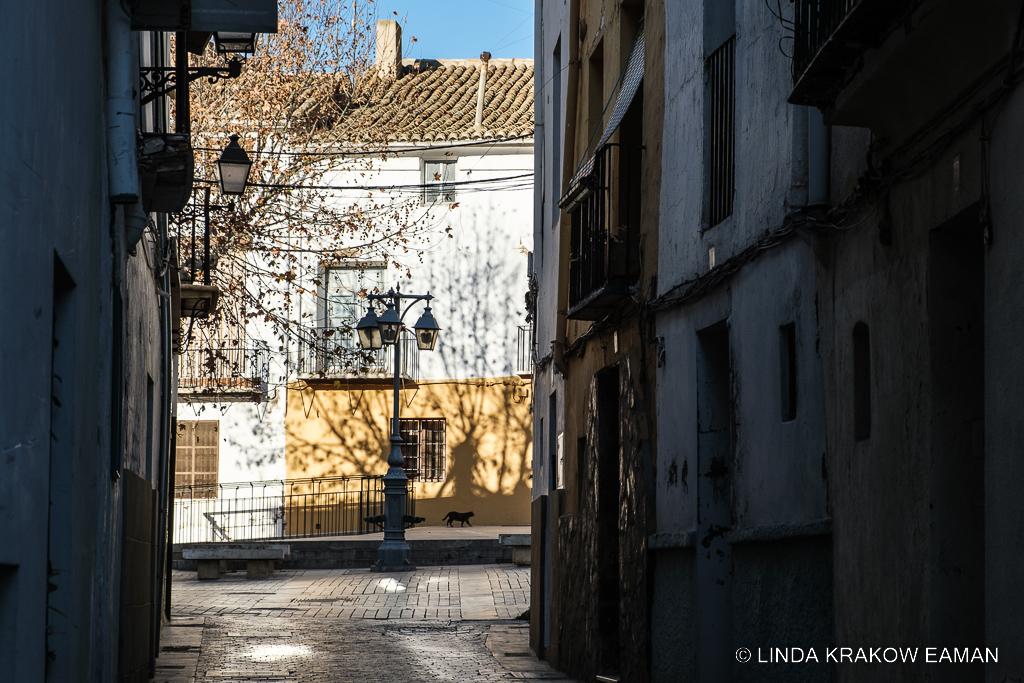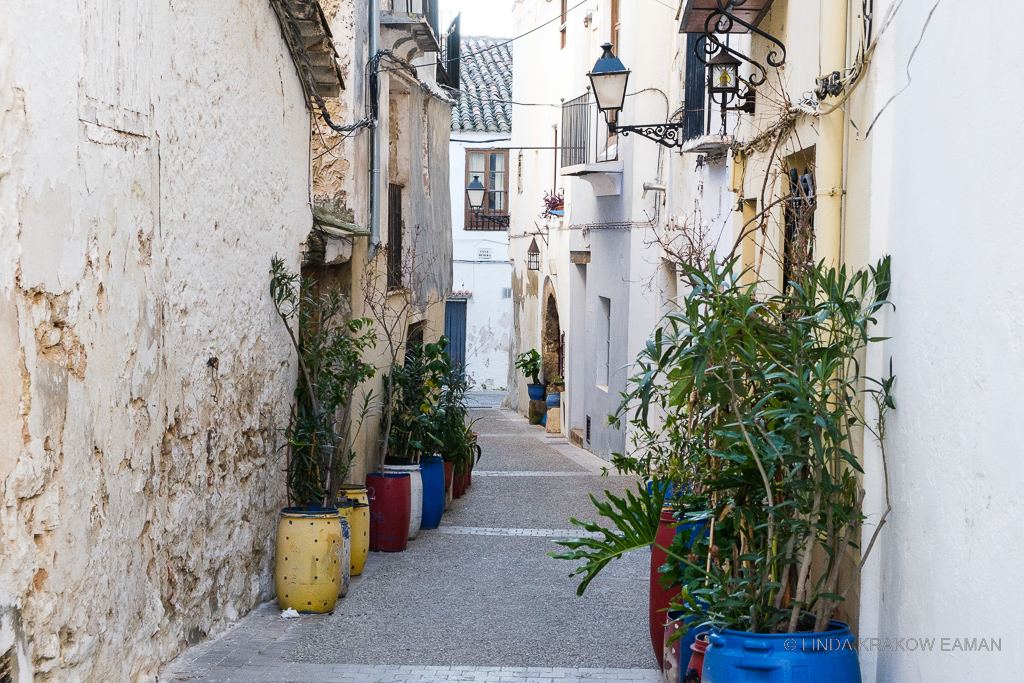 The old neighbourhood seemed a bit run down, and you could see how the three ancient churches in such a small, somewhat off-the-beaten path town would have trouble maintaining or restoring their buildings.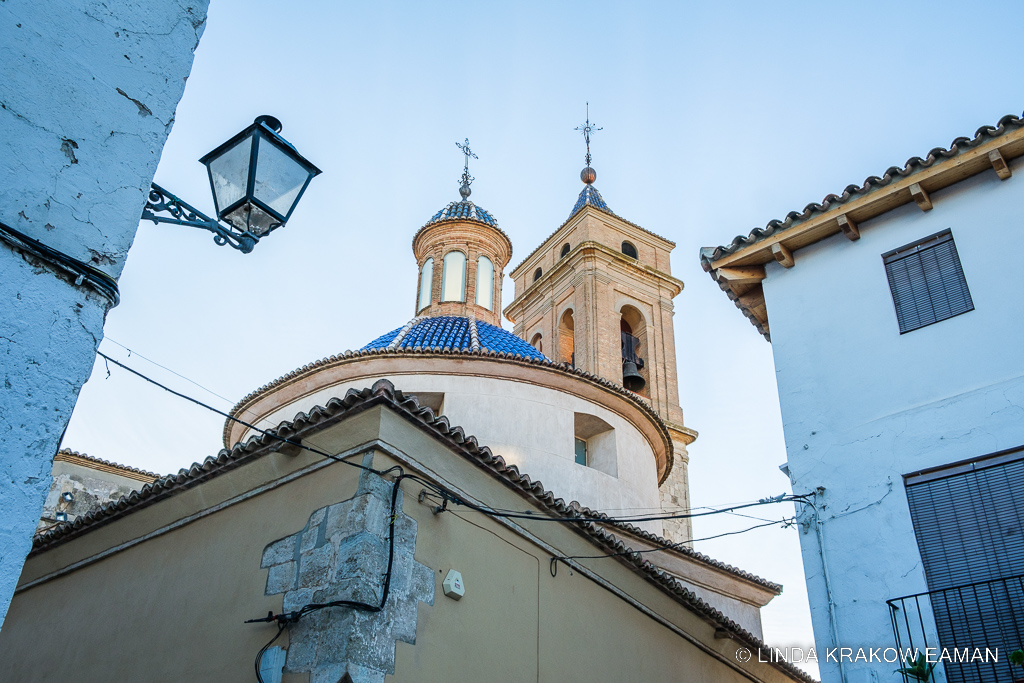 The area seems to be known for its wine, but the place where we could have sampled some was–you guessed it–closed.
The Cuevas de la Villa, though, were open. For four euros, you can explore these caves under the old city that date back centuries. An excellent self-guided audio tour explains how the caves were used: as grain silos, for winemaking and wine storage, for well access, and as an ossuary (all bones have been removed). Thankfully museums tend to be open all day, and on this January afternoon I had the place to myself.
As we walked back to the car, stores that had been covered by rolled-down garage doors were opening up, people were emerging onto the streets, and it seemed like a whole new place.
On the Wild Side
Spain has a lot of beautiful countryside, with many hiking paths. We drove through gorgeous red rocks and made our way through a Parc Natural where we caught glimpses of little mountain goats. For various reasons we weren't hiking on this trip, but next time I would definitely pack the hiking shoes and plan some time for it.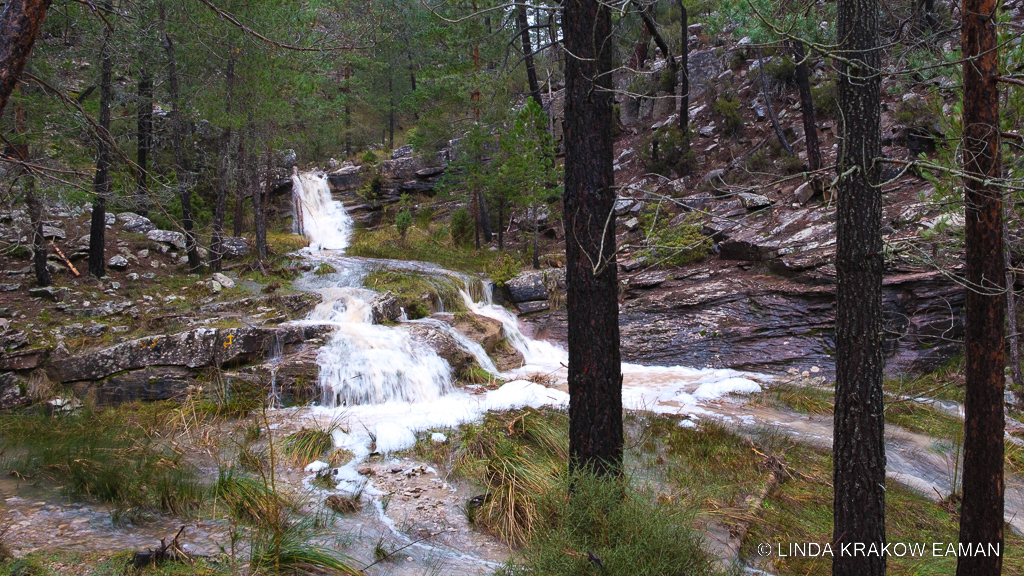 Traveling to Spain in January? While it the weather is colder and grayer than in the summer, it's also quieter and less crowded and there's still plenty to see and do! Four thumbs up for this trip!