…
I feel like I'm in a jungle. It's unseasonably warm for September, over 90 degrees and the air is almost dripping with humidity. Trees tower overhead, and all I can hear is the loud, insistent buzz of insects and birds. The Nezu shrine, with its ponds, vermilion gates (called torii), and quiet corners is my favorite spot in Tokyo–and that's without having seen it in spring when azaleas blanket the hillside with color.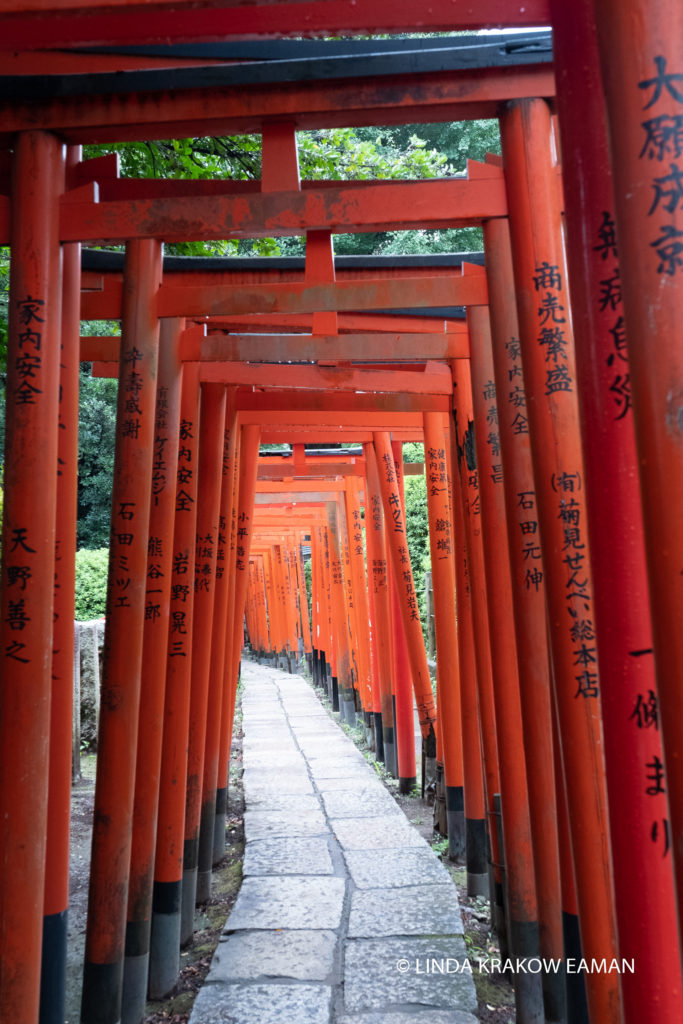 Tokyo is crowded, bright, noisy. It can be exciting, and overwhelming.  Walking across the famed five-way Shibuya crossing, or indeed finding yourself in any downtown street amid the rush-hour onslaught of business suits and briefcases, is like being swept along by a current.  The neon signage from ground to sky, sales pitches from storefronts, and music from loudspeakers can be a feast for, or sometimes an assault on, the senses. 
So it's no wonder that there are oases of quiet in almost every corner.  Temples and shrines large and small are visited by people of all ages on their way to or from work. Gardens take pride of place, large swathes of green for strolling, and discreet corners with koi ponds and seasonal color.  I find myself seeking the invigorating buzz of the markets and crowds, and then reveling in the moments of quiet when I find them. 
Another day, I visit the Hie Jinja shrine in the morning, to see its torii and to sketch.  By noon it's hot and humid again, and like many of the women I put up my umbrella for a bit of portable shade.  The streets fill with the lunchtime rush of office workers.  With very few exceptions the men all wear black or blue suits, with white shirts and dark ties.  The women are almost all in demure blouses, and full skirts that fall below the knee (often with nylons); I feel a bit out of place in my shorter, sleeveless dress. Just off the main roads, a tangle of electrical wires overhangs remarkably quiet, narrow side streets on which tiny restaurants seem to appear out of nowhere.  
Every walk here turns up gems.  I discover the Japan Traditional Crafts center at Aoyama Square. Air conditioning!  And gorgeous art: painted and woven silks, lacquerware, knives, calligraphy brushes, glass, metal, woodwork and more. It's a spectacular display, with prices ranging from around $10 for small items to thousands for some of the more exquisite pieces. 
Always on my agenda in Tokyo, Asakusa falls squarely into the crowded category.  The main attraction here is Senso-ji, a Buddhist temple and Tokyo's oldest, with a history going back to the year 645–although like most of Tokyo its buildings were rebuilt post-WWII.
The maze of streets surrounding the temple is fun to wander, and a walk from there to Ueno park takes you past shops selling home altars, a ceramics store filled with bowls, cups, teapots, and other tempting items, more shrines, and even a drum shop/museum with fascinating displays including festival shrines, masks, and clothing as well as all manner of drums. Prices run into the tens of thousands of dollars!  
Not far away, and also crowd-filled, the Ameyoko market sits under the rail lines at Ueno station. You can buy almost anything here, from eels to shoes, and it's a fun place to browse and try street food.  And here too, you'll find a small temple on a side street.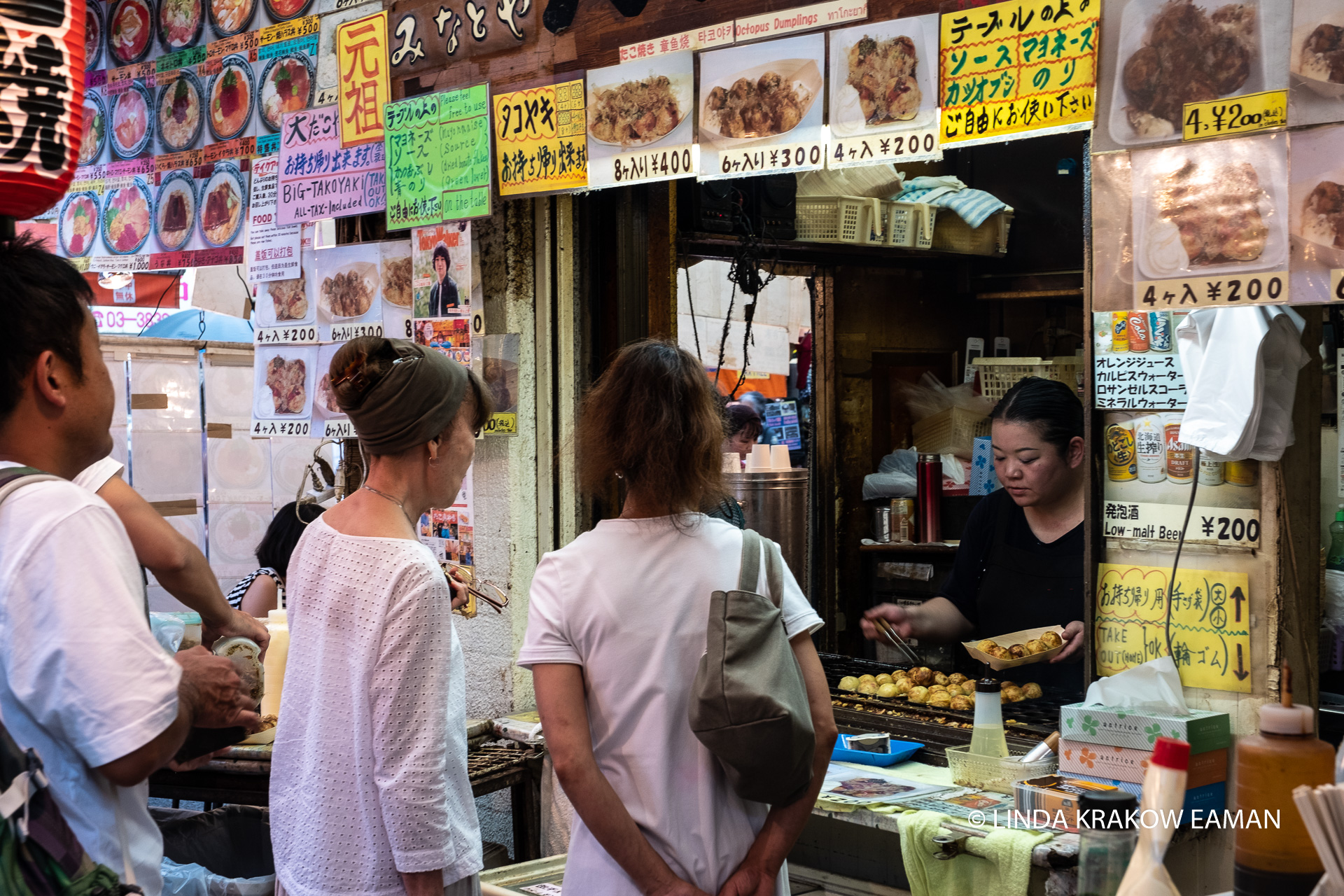 I chose my snacks based on how much other people seemed to be enjoying them. This lady's Takoyaki (octopus dumplings) were very popular and, generously heaped with toppings, delicious!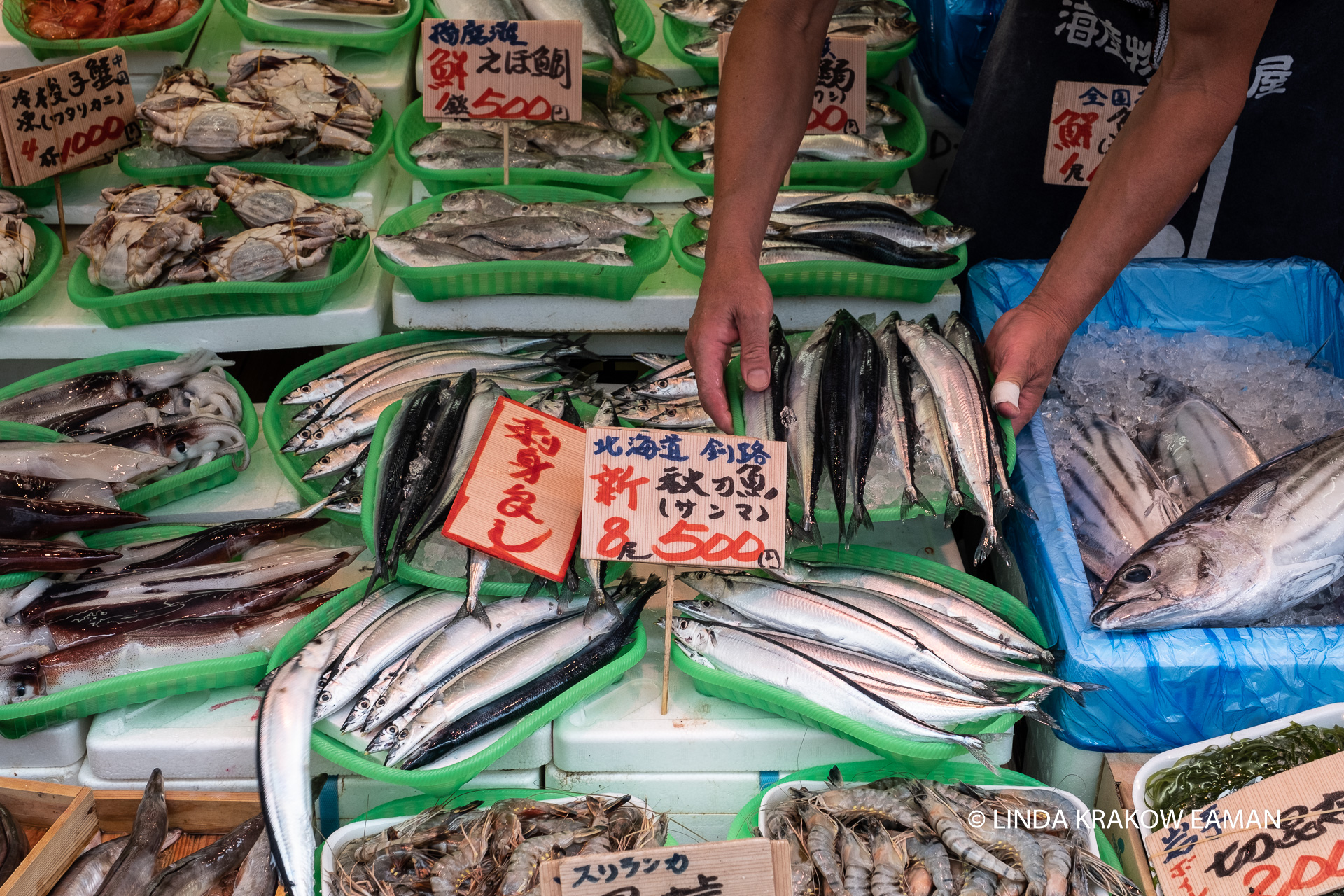 Another crowd/quiet juxtaposition is lively Harajuku, and the nearby forest surrounding the Meiji Jingu shrine.  Although the shrine itself dates back only a hundred years–and was rebuilt after being destroyed in WWII–more than a hundred thousand trees were planted around it and walking through the huge wooden torii and along the wide path makes me feel transported back to ancient times.  There's a museum of treasures on the grounds, and an inner garden that is well worth the entrance fee, especially when the irises are in bloom.  The shrine itself is popular for weddings and if you're lucky you'll see a procession. I like to just hang out here a while, and soak up the atmosphere. 
It is possible to find glimpses of an older, quieter Tokyo.  Not far from the Nezu shrine, Yanaka is one of the few neighborhoods that survived the bombings in WWII.   The Yanaka cemetery and the many temples and shrines nearby are peaceful and quiet, and Yanaka Ginza, the main shopping street, brims with treasures from kitschy to high-end: postcards, ceramics, handmade baskets, leather goods, and more. Nearby, a century-old rice cracker shop, a
puppet maker
,
 the
Isetatsu paper store
 selling everything from origami paper to handmade cards to exquisite wood block prints, and even a
lucky cat store
 selling handmade figurines and other "lucky cat" items. 
Yanaka Ginza shopping street
A neighborly side street in Yanaka
A cemetery in Yanaka
Every time I visit Tokyo, I struggle to find a balance between revisiting places I love, and looking for new ones.  But in this city of more than nine million people, it's the quiet corners that always draw me in.