My travels in India continue…
December 31:  New Year's Eve, and Debbie's birthday – Madurai
Hakeem drove us back down the mountain to our hotel in Madurai. The drive was fascinating… We drove with the windows open, past tiny villages, roadside vendors, and men and women walking with their cows.  I could have spent the whole day just stopping for pictures, but time and safety suggested that it might be best not to, so I satisfied myself with grab shots from the window.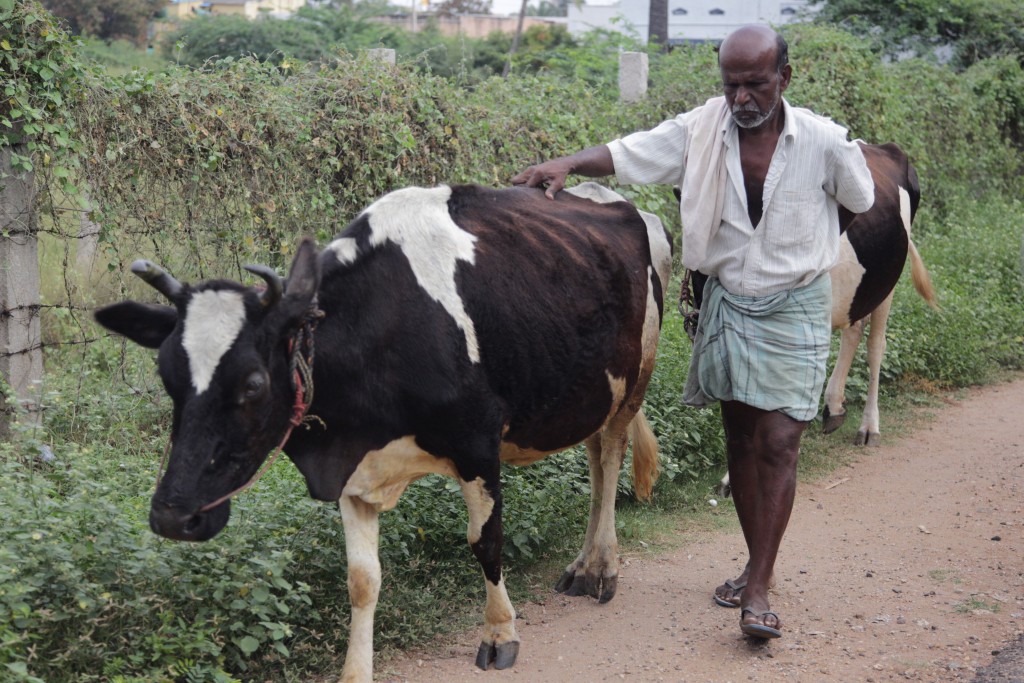 The Madurai Residency Hotel is surprisingly nice, with a large, comfortable bed, good air conditioning, and an excellent fan over the bed. Like the bathroom at Debbie's house in Kodaikanal, there is no tub or shower enclosure; only a drain in the floor. Hot showers were available between 5am and 9am; at other times you wash from the spout or fill the bucket that is always provided.
We wandered the streets around the huge Meenakshi temple and I bought some art, jewelry and clothing to bring home.
Next door to the temple a huge building, once an entrance hall, features spectacular stone carvings, and in addition to dozens of men hunched over sewing machines (tailors) is filled with vendors selling beautiful fabrics, books, calendars, artwork, souvenirs and more.  We spent quite some time sifting through and selecting some artwork to take home.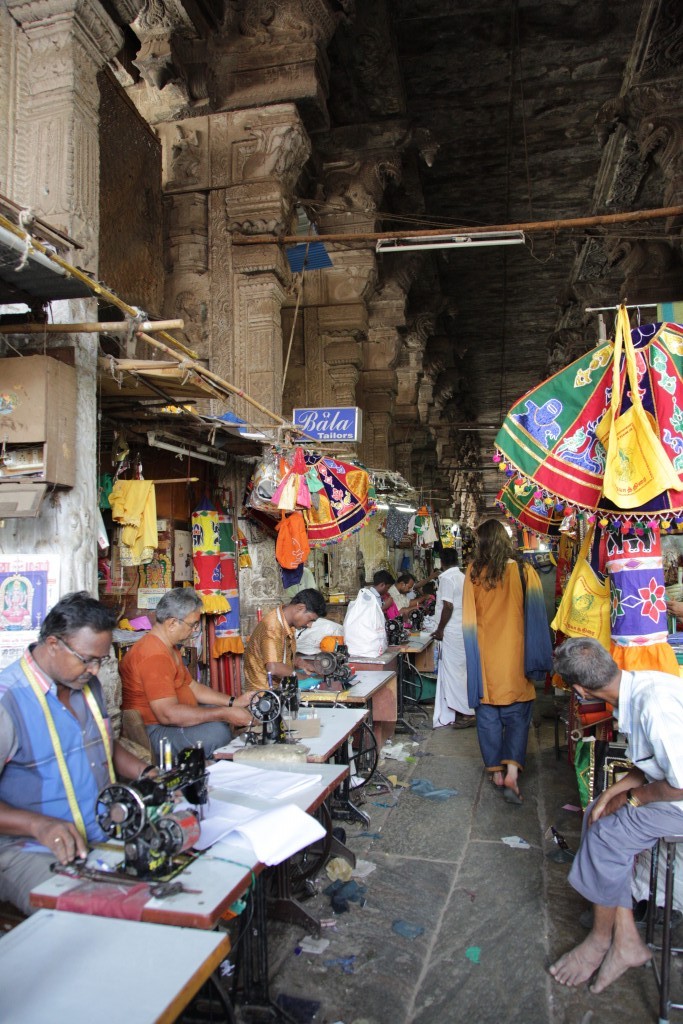 At the vendor's suggestion we returned to the hall at 6:30 in hopes of seeing a festival procession. A thunderstorm began as we walked over and we listened to it from inside the cavernous building, now empty of vendors and dramatically lit. We waited with a few people including a group of sari clad women who sat on the stone floor.   In the end the thunderstorm moved the festival procession to the adjacent temple, and we would have had to leave our cameras in order to enter and see it.  We made plans to visit the temple in the morning instead, so we could leave our cameras at the hotel.
We ate at the hotel's covered but outdoor rooftop restaurant, a delicious meal to celebrate Debbie's New Year's Eve birthday, and I was awakened at midnight by the sounds of fireworks in the air.
The next morning we visited the temple as planned. Cameras are not permitted and unfortunately we had left our cell phones at the hotel as well, not realizing phone cameras were permitted for a small fee. If you're interested, look up Meenakshi Temple and you'll find plenty of pictures!
Later we split up and let the kids do their own thing while we took a three wheeled cab, known as an autos or a tuk-tuk, to the Gandhi museum. Unfortunately it was closed for New Year's. (Note that their web site did not mention hours or closures at all!) Our driver offered to wait for us while we wandered around the grounds, which included a large outdoor amphitheater, an assortment of sculptures, and a huge dinosaur.
Our next destination, on the recommendation of our driver, was the flower market. What a treat! We had seen vendors selling flowers everywhere–but not on stems as we're used to seeing. They use only the blossoms, and painstakingly use a needle and thread to string them together into beautiful garlands that are used to decorate women's hair as well as temples and even trucks.  The jasmine ones smell heavenly! Well this was a wholesale market where the vendors bought their flowers. A riot of color and a bustle of activity.  And although no one objected to our being there, they certainly did not want us slowing them down and several times Debbie and I were pushed aside by someone in a hurry to get through. (Note to anyone planning to visit: the ground was very muddy and our feet were even dirtier than usual after this.)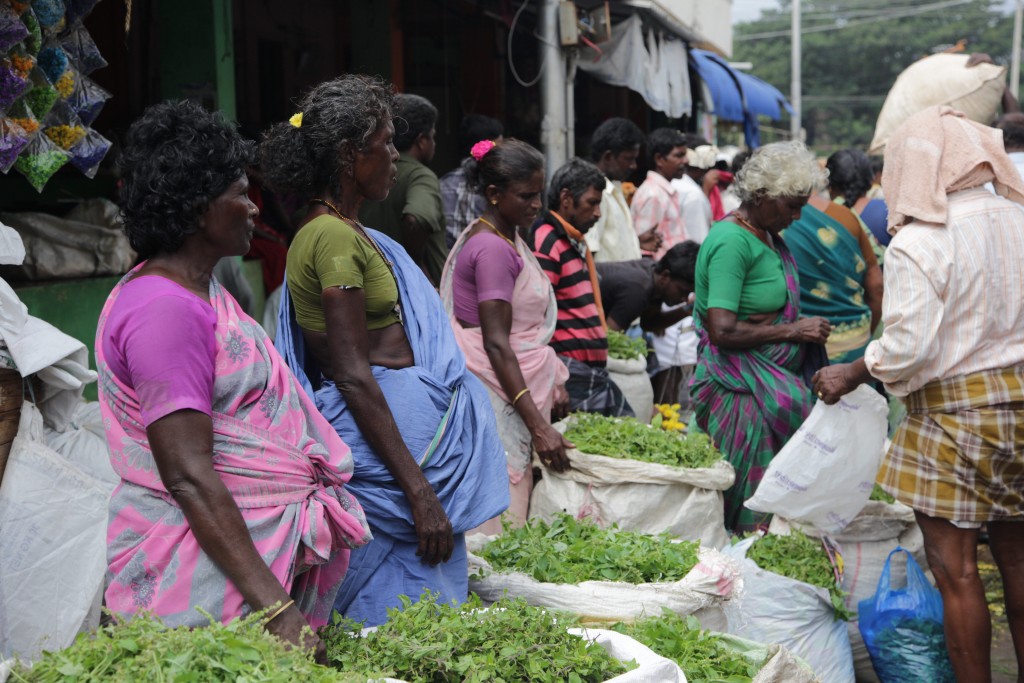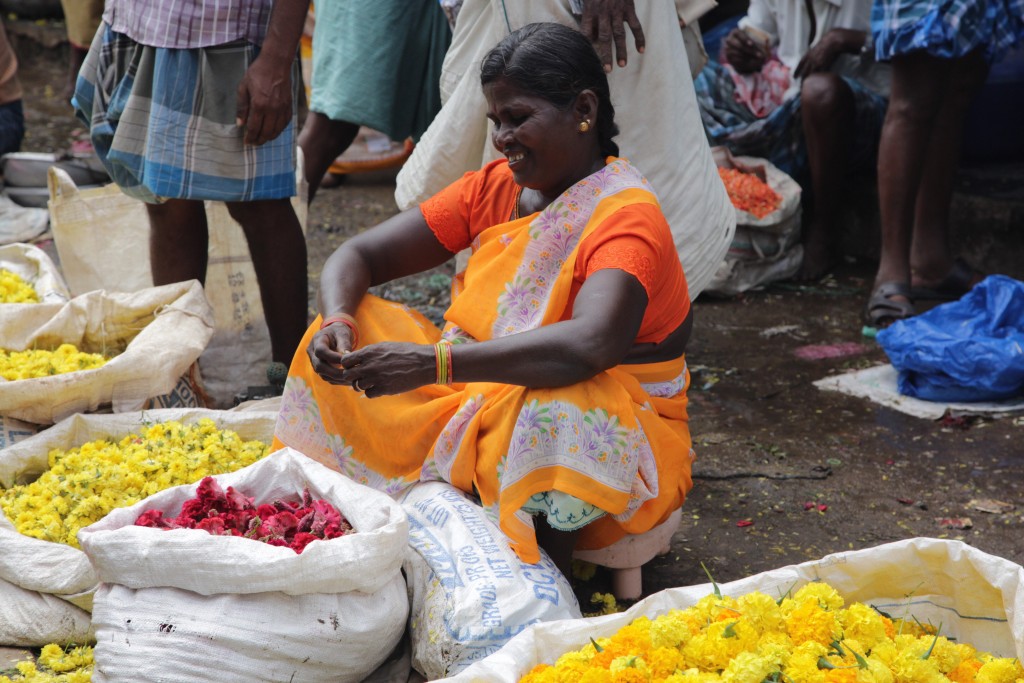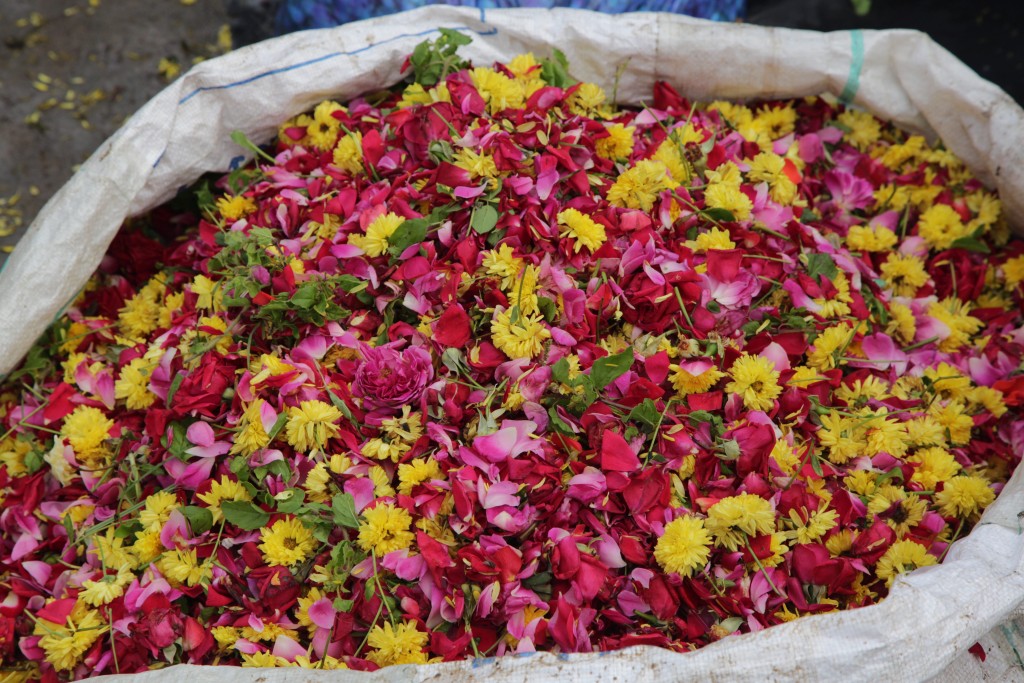 One last scene from Madurai:
Next: Trains and Trivandrum.