Spain!  Part V: Seville
Our hotel in Seville turned out to be a two bedroom apartment in a neighborhood outside the historic (and most touristy) part of town. The downside was that it was a bit of a hike if we wanted to go back to the hotel for a few hours, but since we had booked it for three nights we weren't in a rush. The upside of staying in a regular neighborhood is that you get to experience a bit of regular life in the city. We quickly found a favorite coffee shop and a favorite bar/restaurant, both frequented mostly by locals.
Our walk to the old area took us through the Plaza de La Encepcion, in which there is a huge modern structure with a market inside, a museum of Roman ruins underground, and a viewing area upstairs. It's always cool to see interesting new architecture blending in with the old.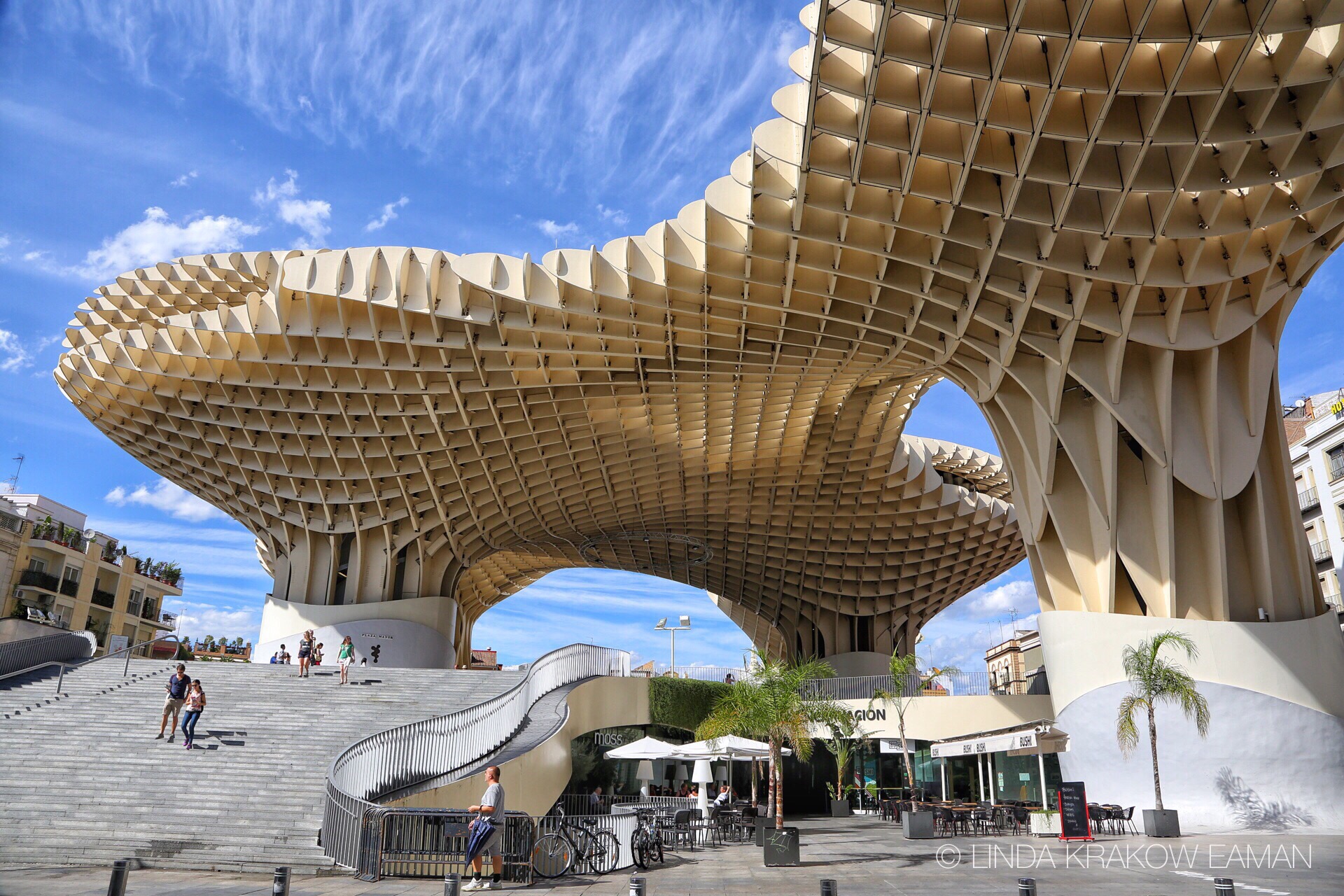 Just past this structure was a large downtown shopping area. These downtowns are wonderful and always crowded with people. The stores are a mix of big chains I'm familiar with, and some new stores I've never seen. The El Corte Ingles department store has been in every major city we've visited–in Madrid they actually had several stores, one for housewares, furniture, electronics, even kitchen and bathroom hardware, with a fancy food court on the top floor, and the other had the more typical clothing, shoes, towels, etc, and a huge beautiful grocery store in the basement!
Our first destination in Seville was the area called Triana. Across the river, this was once "the wrong side of the tracks" that housed Seville's ceramics factories, and is now a colorful and bustling part of town filled with tapas bars. The market building that greets you as you cross the bridge was formerly church headquarters during the inquisition.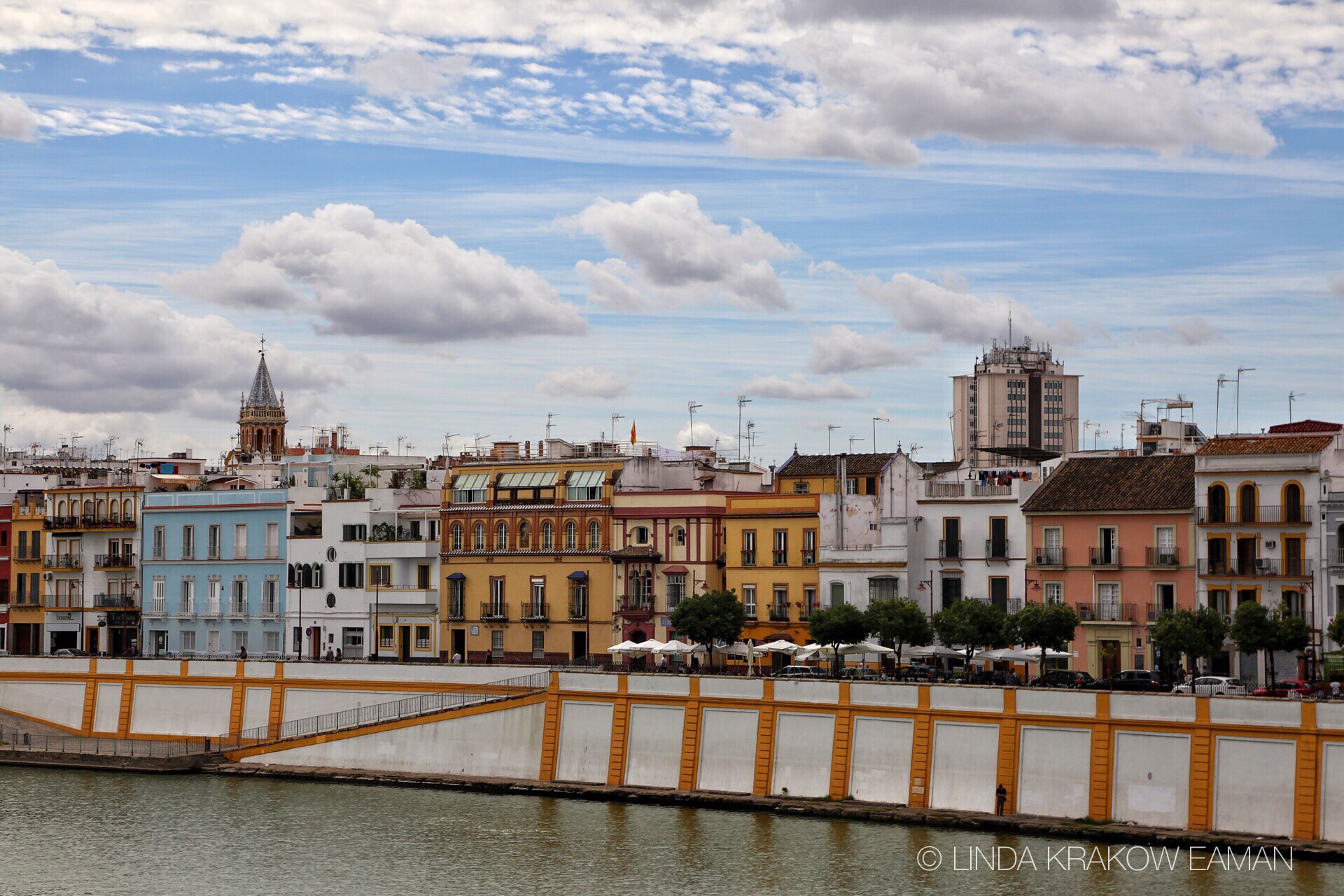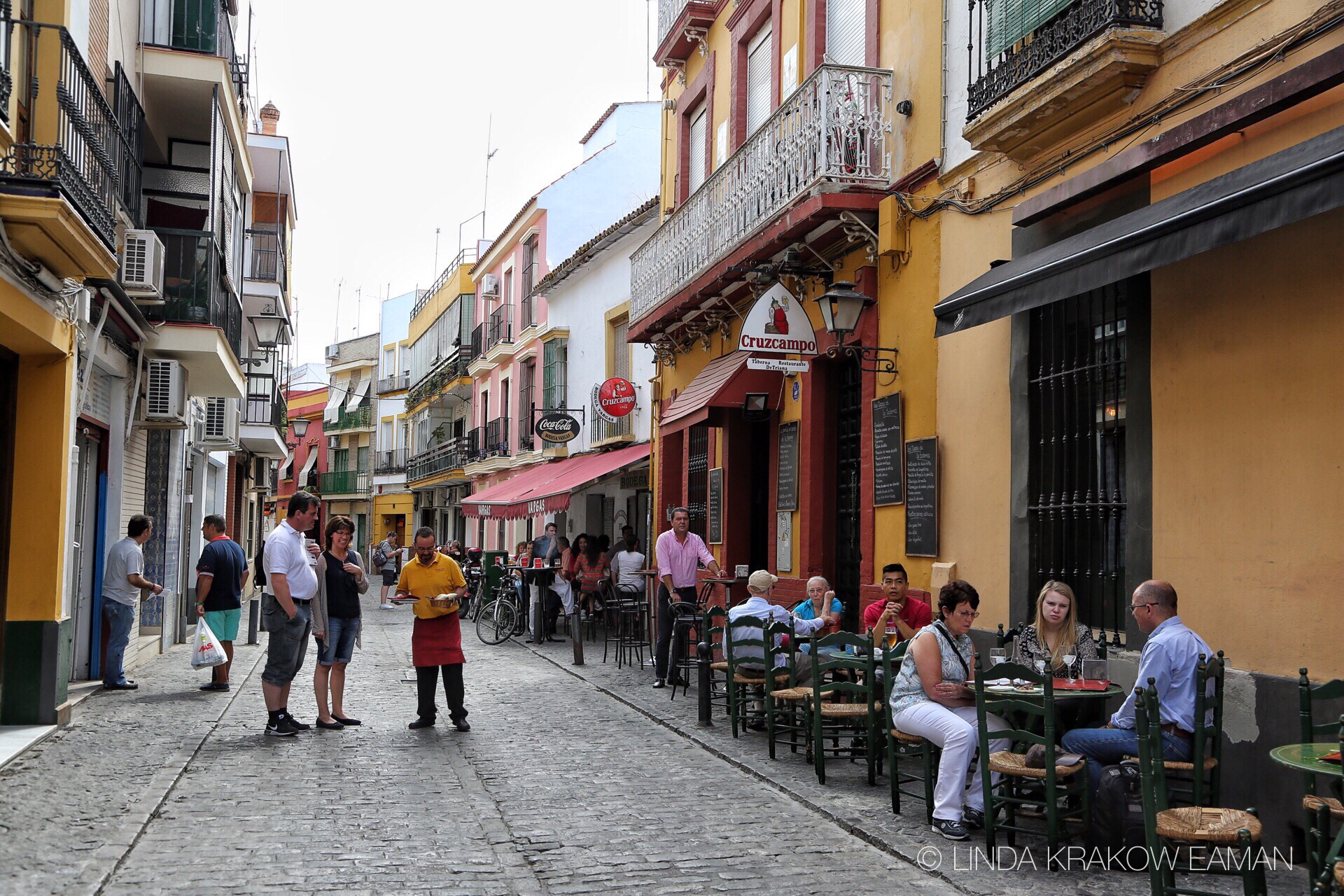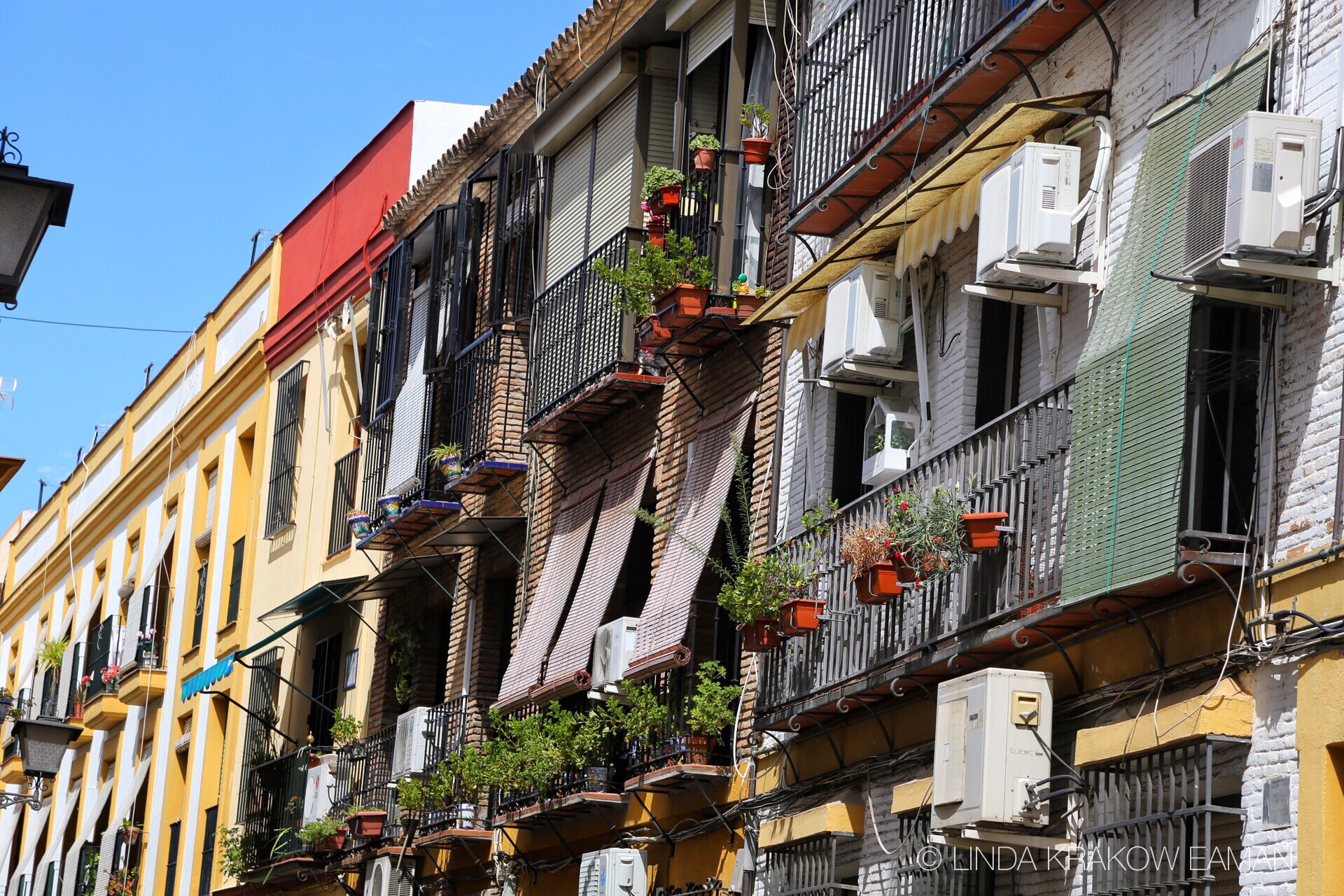 And yes, we found a church to visit… We turned a corner and there it was, so we wandered in… Like many of the churches in Seville, its steeple was beautifully tiled, and visible from blocks around.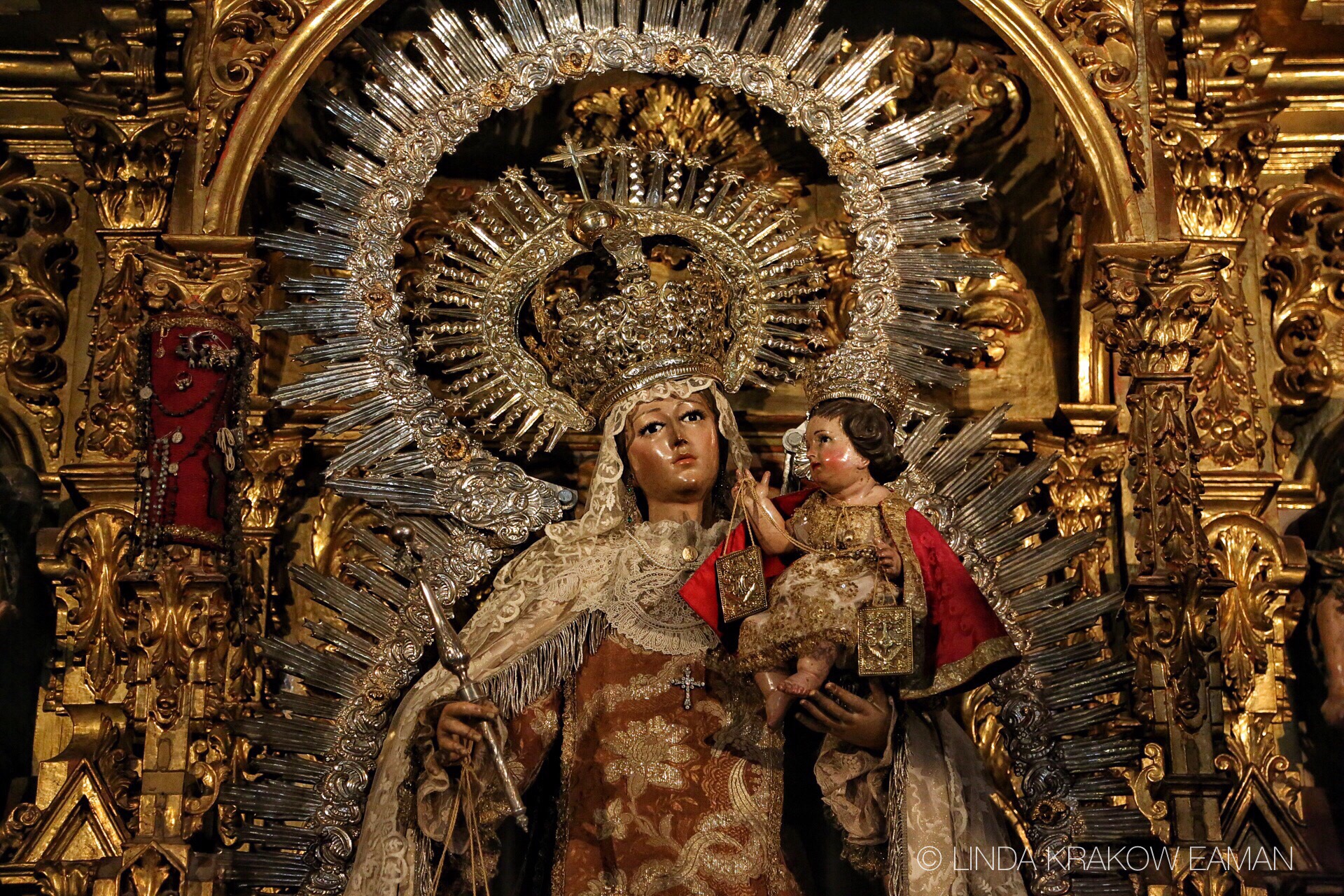 We walked back along other side of the river, to the bullring. I was glad to have had the audio guide tour in Ronda, as it allowed us to go at our own pace and wander right into the ring, while in Seville we were ushered along a good but carefully timed guided tour. For a little perspective, Ronda's ring seats 5000, while Seville's seats 12,500.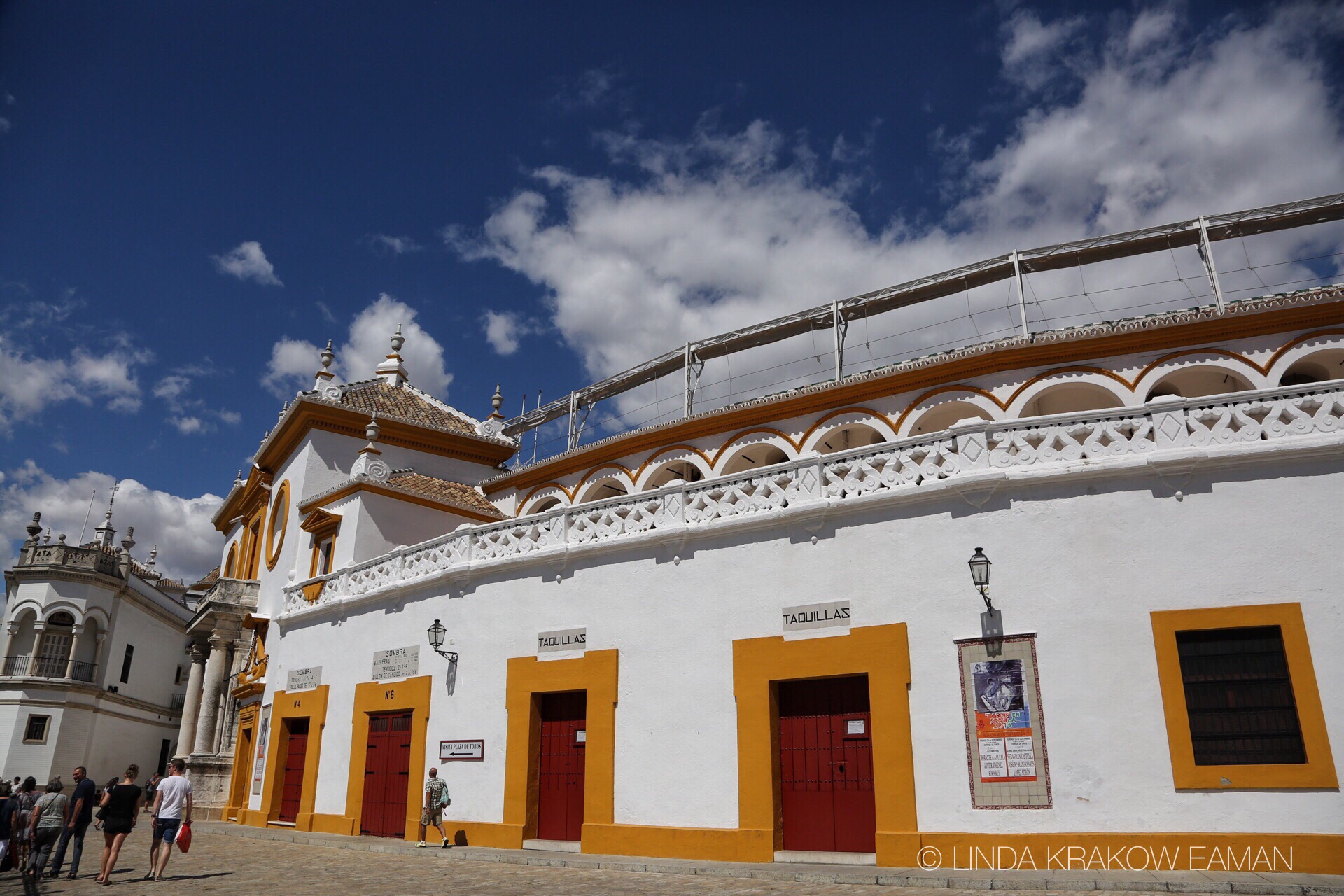 And then, into the old part of town. The central point is (surprise) the cathedral, an imposing gothic structure with spiky towers and flying buttresses surrounded by a large plaza, dozens of horse drawn carriages (for tours), restaurants and souvenir shops, and thousands of tourists.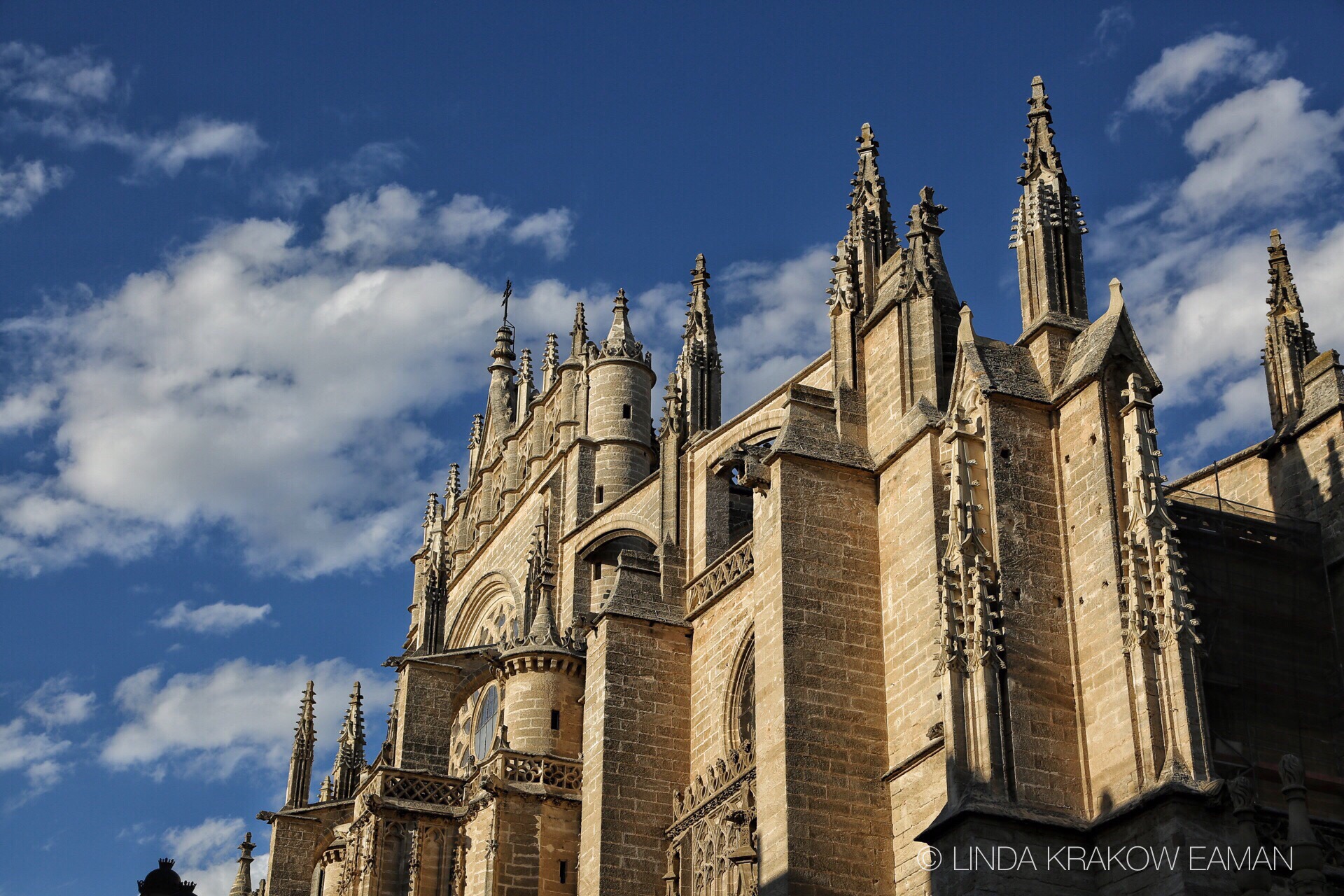 Seville is the heart of flamenco country, so our first order of business was to snag tickets for a show. Thanks to our Rick Steves guidebook (useful in some ways, lacking in others) we chose one with an intimate courtyard setting with only two rows of chairs, and arriving early that evening ensured that we had front row seats. What a treat! I had always thought of flamenco as mainly a dance art, but the singer and the guitar player are equal contributors, and the guitar player's two solo numbers were a mesmerizing display of technical mastery and musical beauty. Unfortunately our rudimentary Spanish was woefully inadequate in trying to understand the lyrics that are the foundation of the art.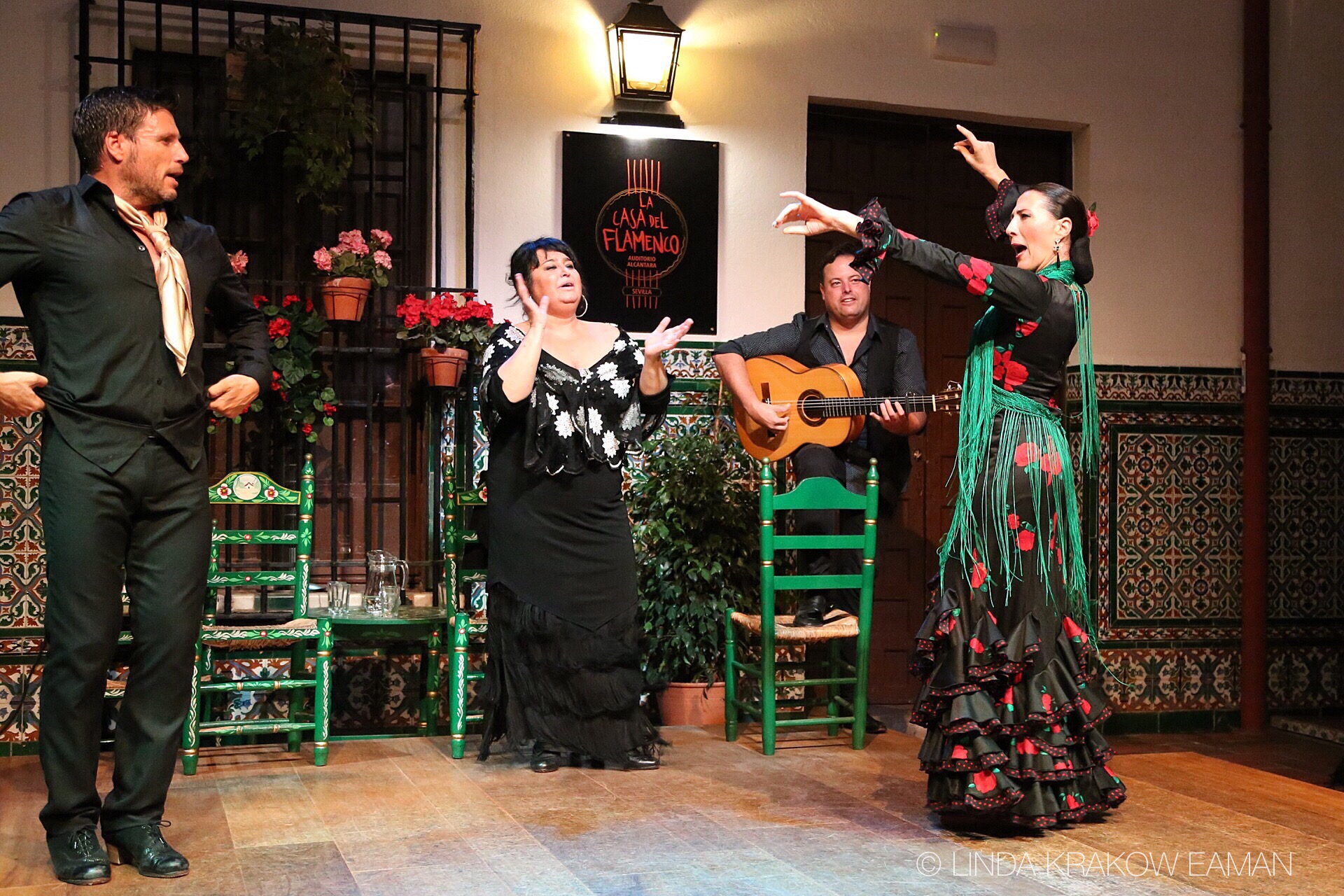 Signs of flamenco are everywhere…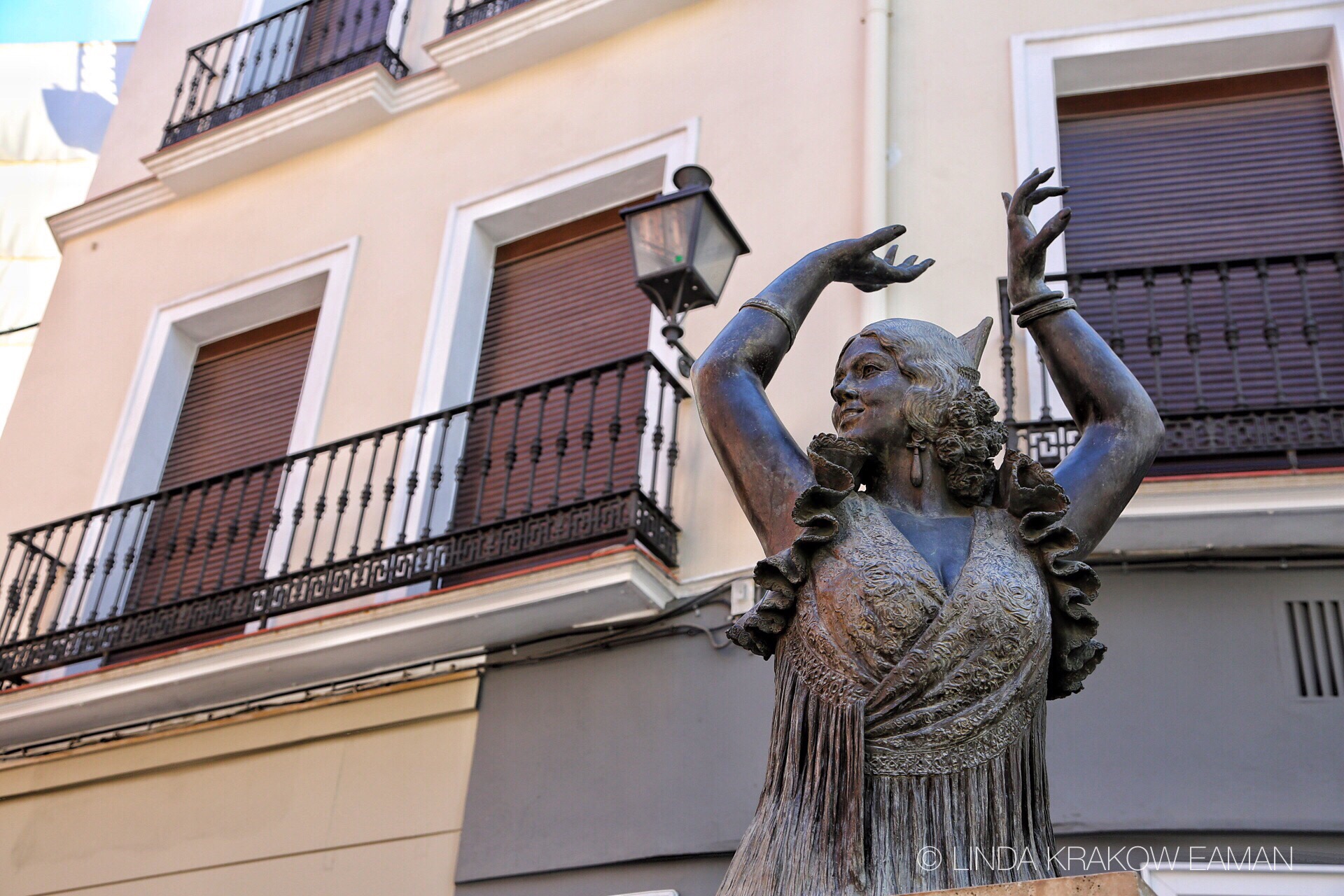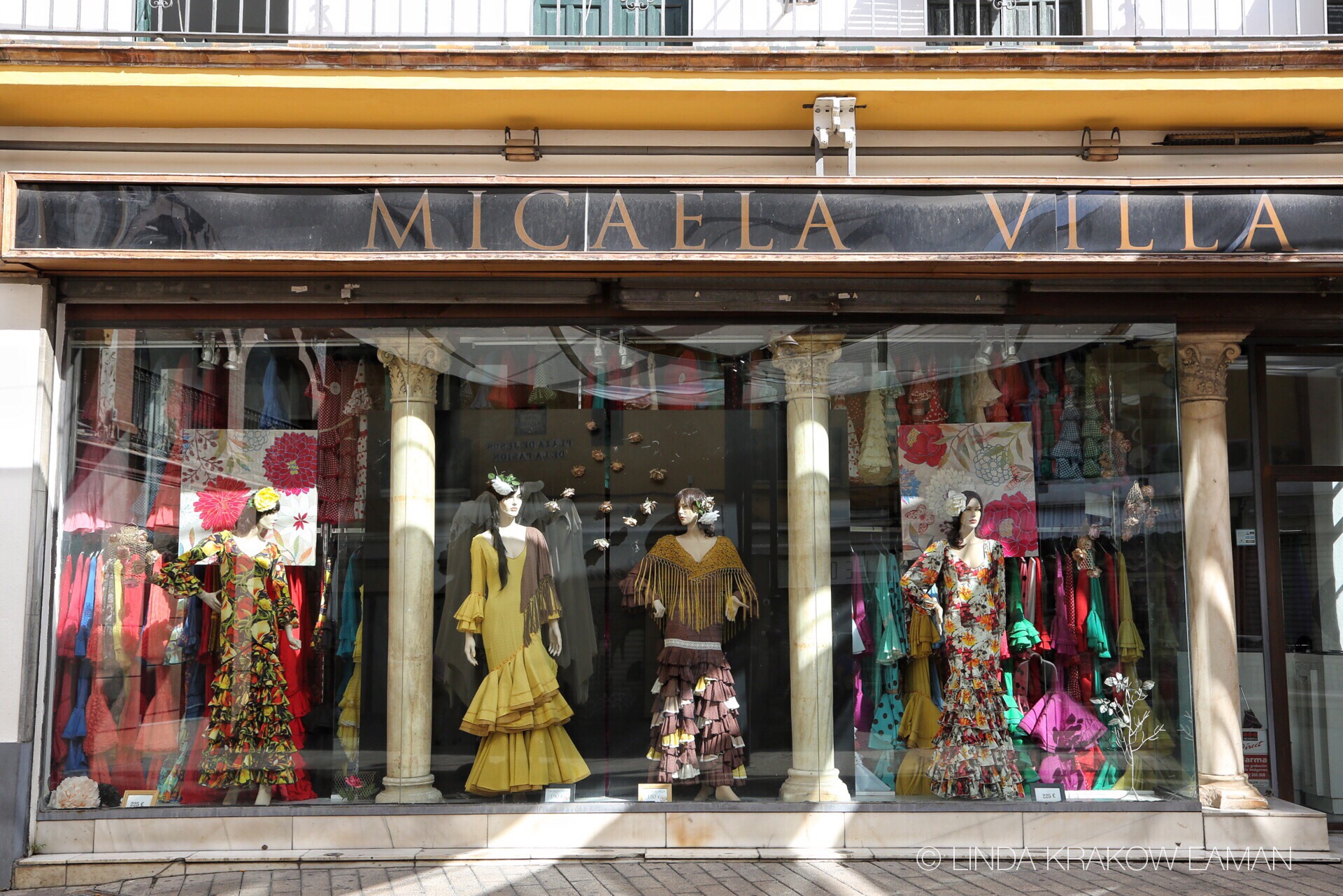 Another key visit in Seville is the Alcazar–the castle. Similar in many ways to the palace in the Alhambra, but the Alcazar is the Spanish royal family's home in Seville so it feels more like a living place than just a museum. (We toured some of the currently used rooms, but the camera had to be left in a locker, after being run through a second scanner, along with rest of our belongings.) The palace also has huge, lovely gardens behind its walls. As usual, my technique for keeping tourists out of my pictures is to aim above their heads… But I also like to focus on the details.
Spain has a history of ceramics, and the art was especially prevalent in Seville, on buildings, in courtyards and on benches, and of course in the Alcazar. The wall tiles below are hundreds of years old.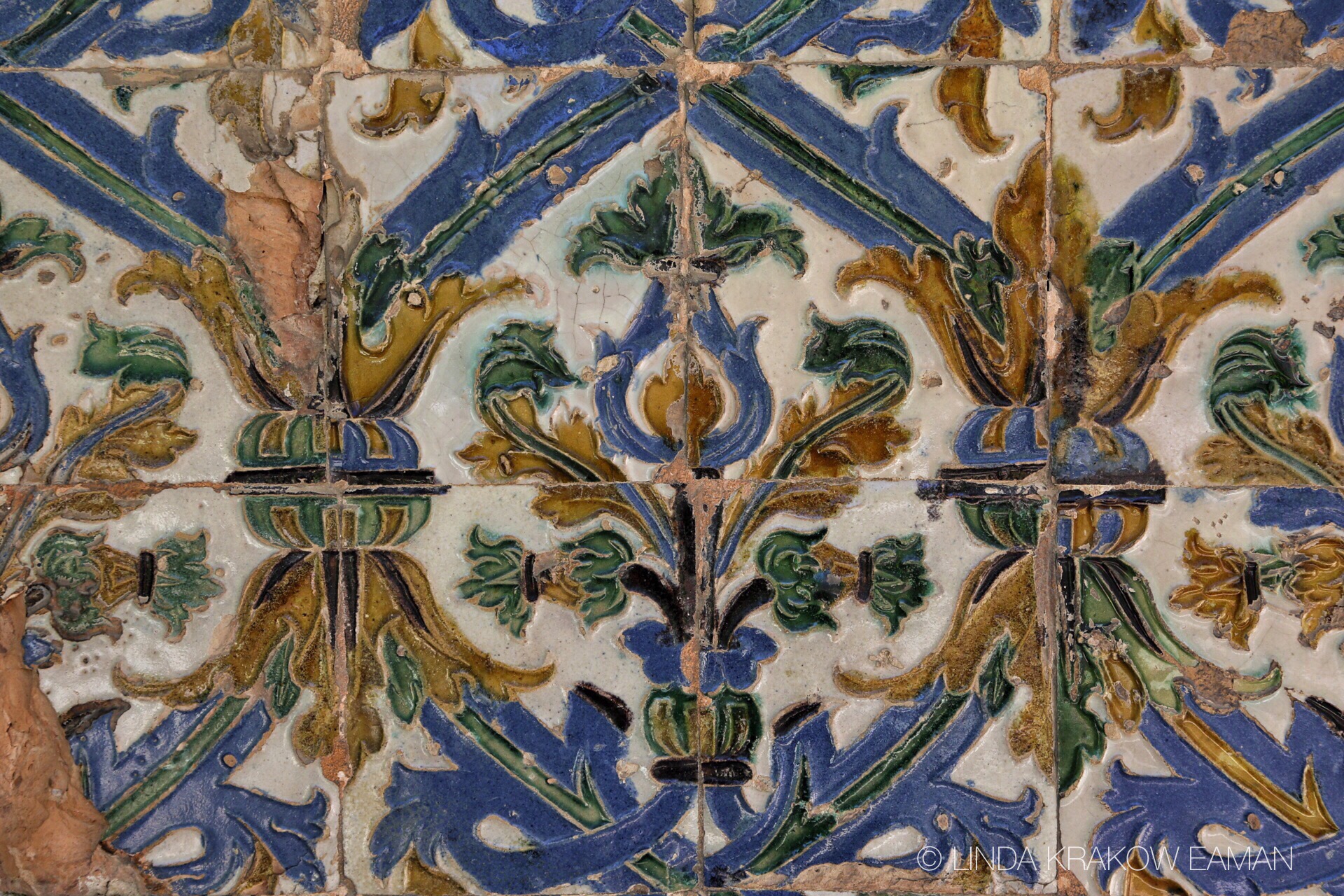 We returned several times to a tapas bar around the corner from our apartment both for the convenience and for the food. Seville has a vibrant, artsy vibe, and we found that tapas here was far more creative and interesting than the fare in the other cities we visited, where you could pretty much guess the entire menu as they were all almost identical.
We had two memorable evenings at our neighborhood tapas bar. First, there was a Champions League soccer game on TV and the crowd was rooting for the local team. It was fun to watch the people in the bar as well as those who stopped to watch through the windows for a while. The next evening, Friday night, we arrived around 9:00 or even later, and the streets were crowded with people! A small playground in the plaza down the street was full of kids, and the whole neighborhood seemed to be out walking, talking, and standing at the tapas bars that seemed to have appeared from out of nowhere. While most of the tapas bars do have seating indoors and out on the sidewalk/plaza/street, many also or only have bars and bar height tables with no stools–the Spanish seem to be quite comfortable spending an evening standing up. We discovered a little platform had been set up in the corner of our bar, and around 10:30 a flamenco group took the stage. Thank goodness we've got the hang of the long, late dinner!
Next, we head to Córdoba, Segovia, and parts in between.