More wanderings… off the beaten path
One of the great things about the luxury of time is the ability to explore beyond the obvious. Once you get through the major sights you can go looking for the hidden secrets, which sometimes end up being real treasures. Here are a few more (ten, to be exact) of London's less well-known sights. 
1. Highgate Cemetery
In the mid-1800s, London's church cemeteries were getting overcrowded and private companies stepped up to fill the need by opening "garden cemeteries" on the edge of the city. These offered a more luxurious setting as well as an option for people of all denominations.  Over the years, as space ran out and costs increased, many of these fell into disrepair and were eventually taken over by city councils. Highgate Cemetery, though, was saved (and is still run by) a non-profit trust called the Friends of Highgate Cemetery. 
The place has a wonderfully overgrown atmosphere, partly by design and partly as a result of resource limitations. Ivy winding its way up the gravestones which lean this way and that, century-old vines encircling anything that gets in their way, and a forest of trees all combine to create an atmosphere that feels serene and mysterious. 
The East section of the cemetery is open for wandering (there is a small entrance fee), but for the West cemetery you must sign up for a tour.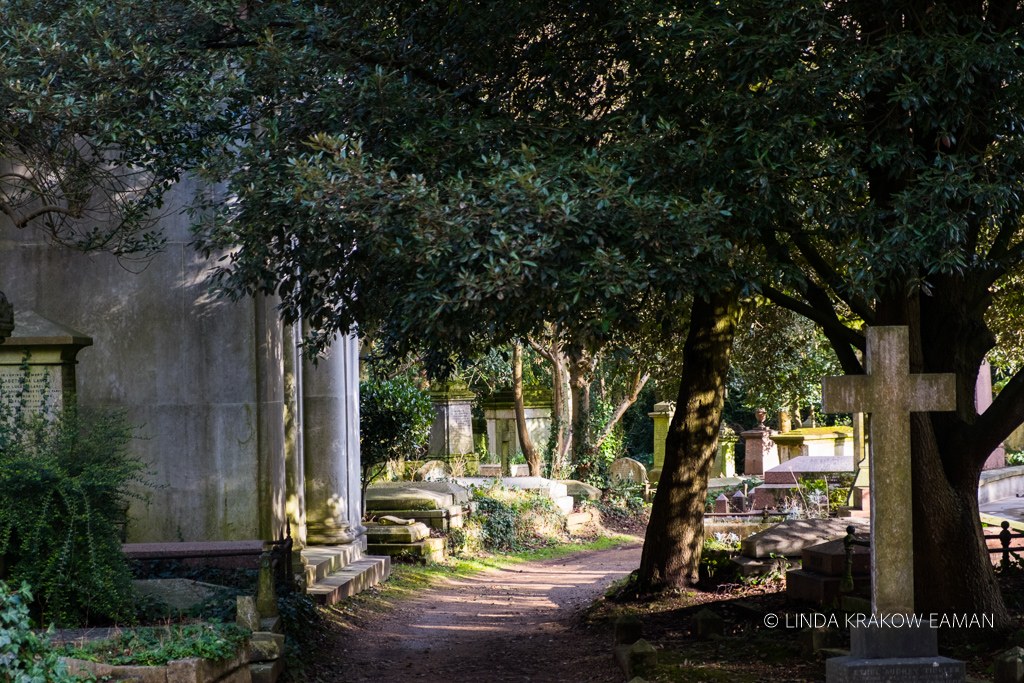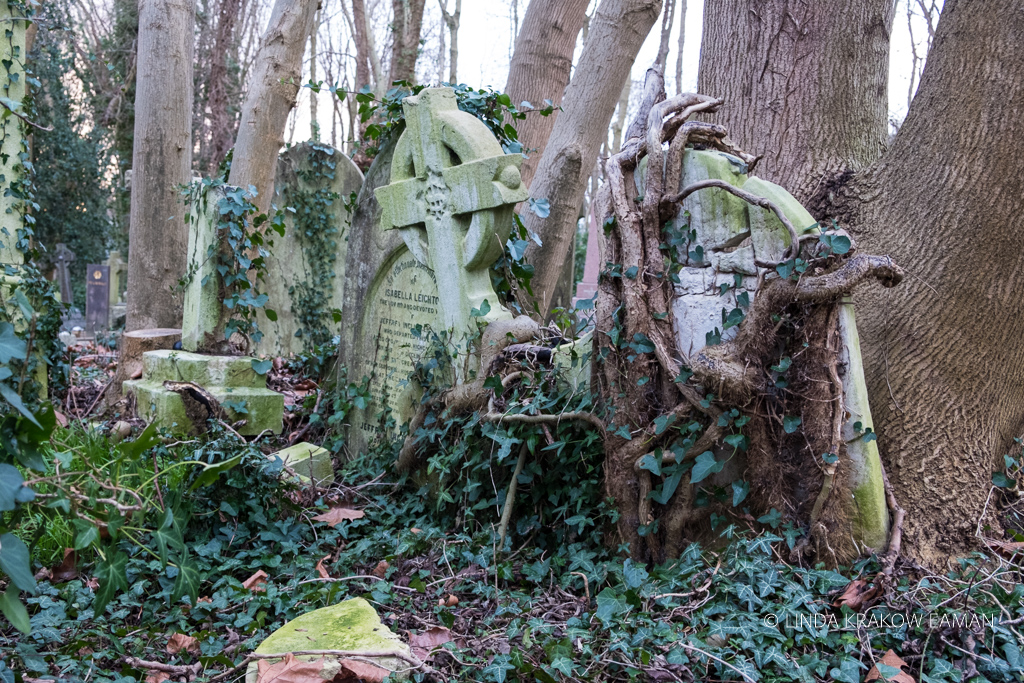 2. Bunhill Fields
Is two cemeteries too much for one list? I hope not, because this one is delightful. Wedged between a busy commercial street and a downtown neighbourhood is a little cemetery you might easily ignore. But turn down the path (closed after dark) and discover the burial place of poet and artist William Blake, and writers Daniel Defoe (Robinson Crusoe) and John Bunyan (Pilgrim's Progress). 
3. Kensington Rooftop Garden
Just off the fashionable Kensington High Street, steps away from the clothing chains and coffee shops, is an unassuming office building with a rooftop secret. You sign in at the front desk and then take the elevator to the top floor, where the doors take you into a restaurant/bar with a disco vibe that's a little strange and empty during the day. But outside the doors of the restaurant is a delightful garden with ponds, goldfish, ducks, and… flamingos!  It's a great place to get a coffee and sit and watch them parading around.  Edit: Sadly, I've just discovered that the venue is closing…I'm keeping it here because, well, flamingos. I hope someone will find a way to keep the gardens going.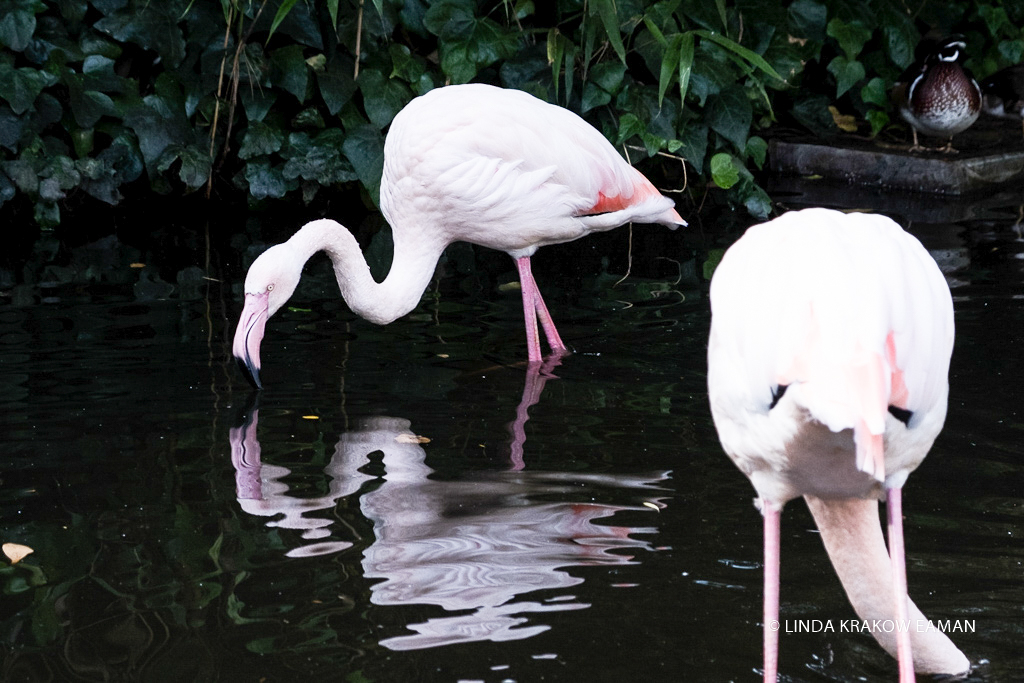 4. The Charterhouse
Marc and I discovered this gem on a random walk. It pays to stop and read signs in parks; otherwise we would never have known there was anything special about the old buildings behind the gate. Since the 1300s, The Charterhouse has served as a monastery, private mansion, boys school, and an almshouse, which it remains to this day. It is an active community, with about 40 residents known as Brothers, all men in need of financial and social support. We visited the fascinating museum and chapel, but the living areas and gardens were off limits. I've signed up for a tour guided by one of the Brothers and am looking forward to seeing more. Stay tuned!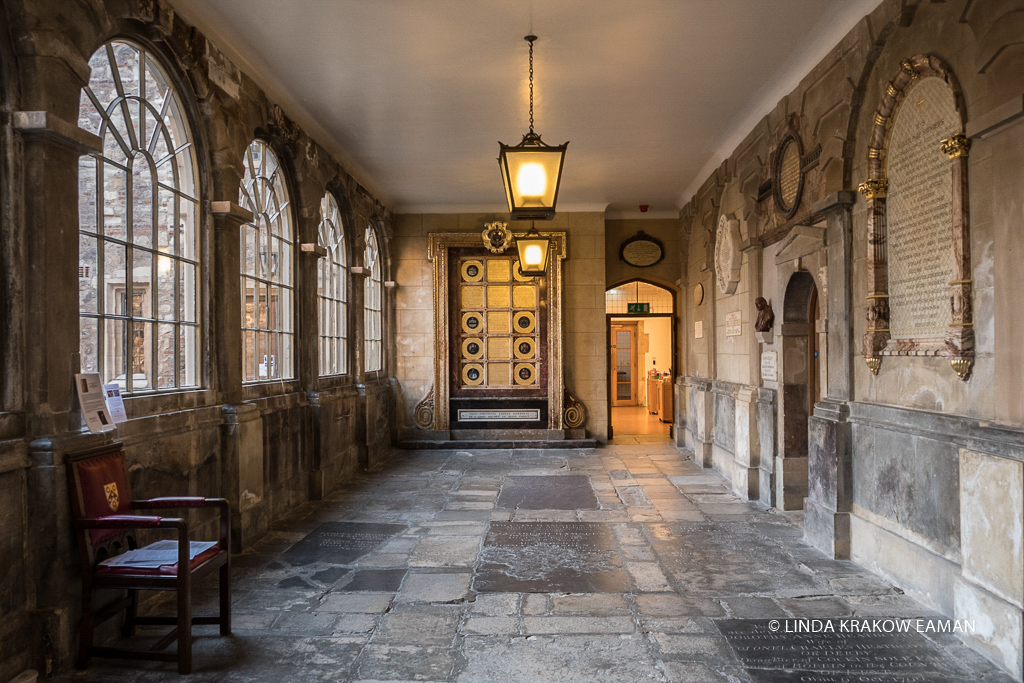 5. The Canals
Most people who have visited Camden Town (decidedly ON the beaten path, a quirky but hugely crowded market you'll find in any guide book) have noticed the canal.  But you might not realize that you can walk quite a distance along the canal, following the towpath that was once used by the animals pulling the barges. The vibe varies from verdant to gritty, but it's always interesting.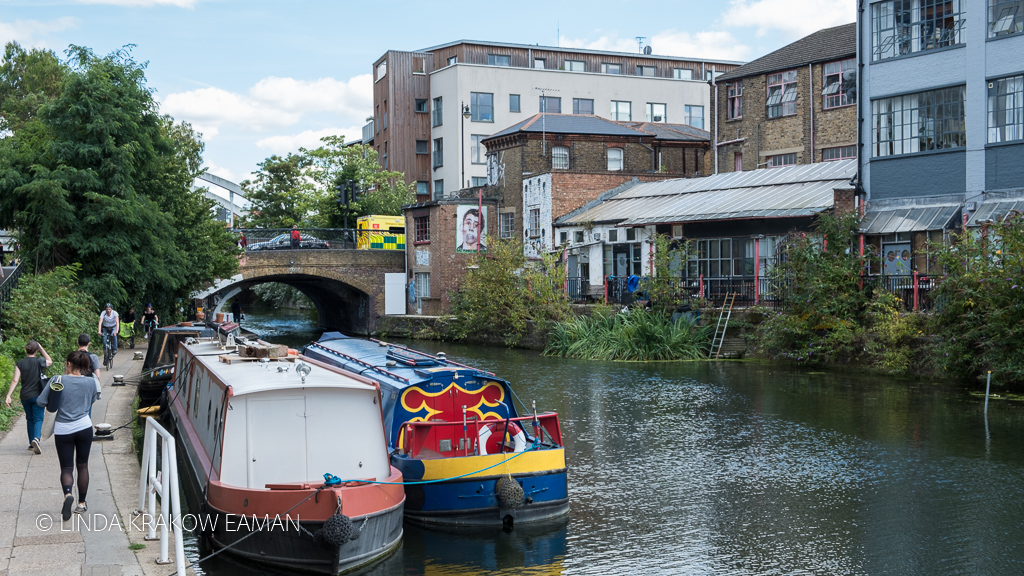 6. Gas holders and Gasholder Park
In the nineteenth and early twentieth centuries, coal gas was used for street lighting and in private homes as well.  Produced by companies like Pancras Gasworks, the gas was stored in huge towers near the river and the boats that brought in the coal. Most of these have since been dismantled, but an inspired project near King's Cross saw four of them carefully restored and rebuilt; three now surround high end apartments and one encloses a park space. The ornate Victorian wrought iron and sleek modern glass are a striking combination.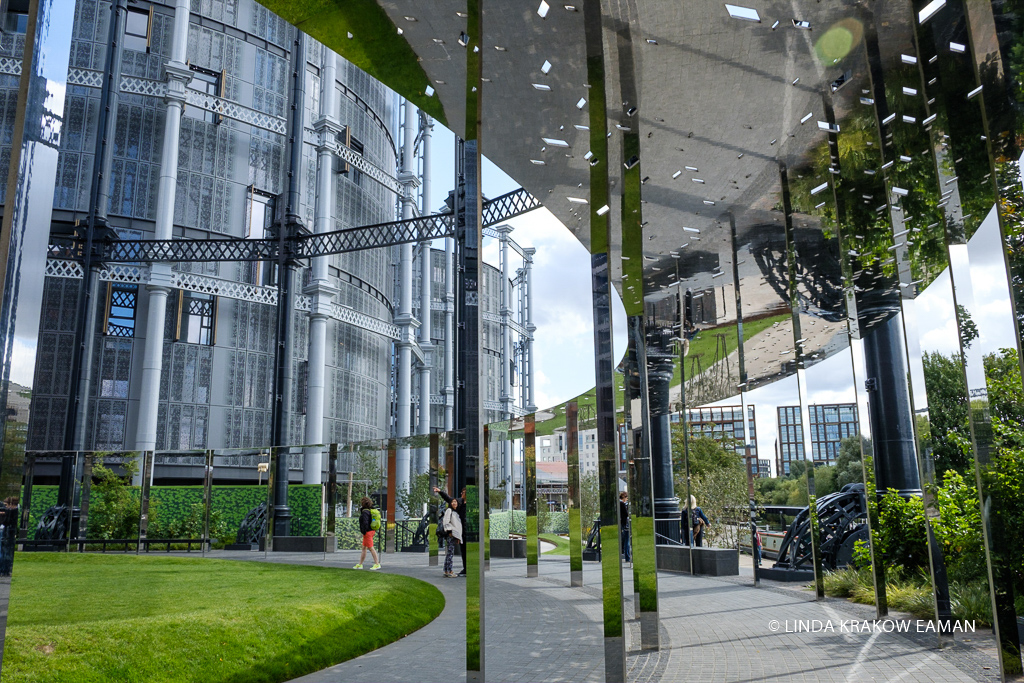 7. and 8. Christ Church Greyfriars and St. Dunstan in the East
Visit almost any church in central London and its history, which you will find on a plaque or poster, will go something like this: a church was first on this site around 1000 AD, although there's evidence of a Roman site before that. That first church burned down and successive churches have replaced it (often after additional fires); most recently it was destroyed or damaged by WWII bombing and reconstructed/repaired.  In the case of Christ Church Greyfriars and St. Dunstan in the East, the churches were turned into gardens rather than being rebuilt. They're little oases in the city. 
9. Guildhall
This is a whole lot of history in a small place. As the seat of the government of the City of London it's not exactly unknown, but I don't think a lot of tourists get to it. The City of London is actually only about a square mile, and has its own local government separate from the greater London government which includes all the boroughs. There are 100 elected Common Councilmen, 25 Aldermen, and a Lord Mayor who serves a largely ceremonial role for one year. And the medieval Guildhall is where they all work. 
The Great Hall is in a Gothic building with 5 ft. thick walls, arched ceiling, and stained glass; it can be visited whenever it's not in use. This is where visiting heads of state and other VIPs are received. It's essentially a big empty hall, but there are lots of interesting details, from monuments of national heroes, to the banners of London's twelve Livery Companies, to the figures of the legendary giants Gog and Magog who are said to have founded London. 
Surrounding the same courtyard are also a historic church (St. Lawrence Jewry), and an art gallery (free admission except for special exhibits) housed in a modern building. During excavations for the construction they discovered the remains of Londinium's Roman amphitheatre; they're displayed in the basement, and an oval line in the courtyard marks its outline. 
10. Barbican Conservatory
The Barbican is a 35-acre complex built in the 60s and 70s on a site that had been left mostly in ruins by the bombings of World War II. It consists of the Barbican Estate (more than 2000 residential units) and the Barbican Centre, which includes a concert hall that is home to the London Symphony Orchestra, cinemas, a library, three restaurants, an art gallery, a museum store, and a conservatory. Its sprawling brutalist architecture, characterized by lots of exposed concrete, includes elevated walkways, green spaces, and fountains–it feels a bit like someone tried to make The Jetsons come to life. But it's quite a livable space and being right next door to the complex we've made good use of its amenities. The conservatory, open to the public on selected Sunday afternoons, is often crowded but is a welcome spot of lush greenery in the middle of a gray winter. You can even enjoy a fancy afternoon tea amid the tropics (book in advance). 
We have five months left, and I'm still wandering. So stay tuned! If you have any suggestions about where I should explore next, let me know!