This post falls into the "better late than never" category–I'm finally sharing a trip to Zurich from the fall.
The Swiss promote their "
Grand Tour
": a 1600 km road trip through villages and cities, meadows and alps, UNESCO heritage sites, and more. (For a dose of wanderlust, click
grandtour.myswitzerland.com/en
!) I'd love to do the whole thing, but this fall we were able to get a taste of it.
My guide book seemed to suggest a half day might enough to visit Zurich. How could that be? It turns out that Zurich's old town can easily be explored in a morning, leaving you plenty of time to venture into other areas, visit museums, or see the countryside. But Marc's work schedule meant we had a few days to soak up the atmosphere, and then a weekend to go exploring!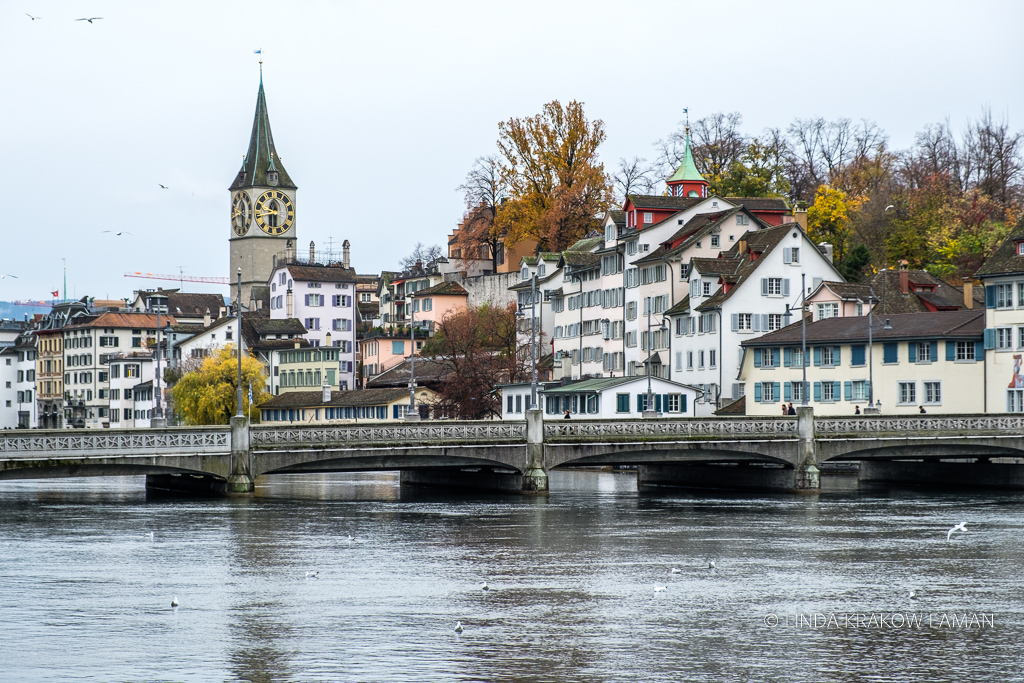 It's always exciting when you unexpectedly discover a festival. As we wandered the Aldstadt (old town), we noticed small groups of people in elaborate costumes and fully painted faces, carrying musical instruments. Many also had beer in hand—drinking in the street is clearly acceptable here. We had happened upon Fasnacht, a celebration mostly associated with the period before Easter (like a Swiss version of Carnaval)–but for reasons unclear to us it has a November component here. The square gradually filled with bands and spectators. Then at 11:11 (on November 11) the bands started up, all playing the same tune loudly and perhaps intentionally a bit out of tune. It was a raucous celebration, with people bouncing kids on their shoulders and dancing along.  After the first song some of the bands would take breaks (more beer) while others played, sometimes different tunes at the same time. Gradually they wandered off, playing as they went. We saw them again throughout the day and into the evening, some performing in bars and restaurants; a giant pub crawl with some music along the way. And they were completely undeterred by the rain.
The old part of Zurich lies along the Rhine, with an ancient church on each side, and bridges at regular intervals.  There's a nice mix of eclectic shops and restaurants on the East side; the stores on the West tend toward high end brands.  On our one sunny day,  snacking on roasted chestnuts from a street vendor, I walked down the river beside parks, a marina, and people feeding a flock of swans. During the summer this would be filled with buskers, ice cream vendors, and people enjoying the sun.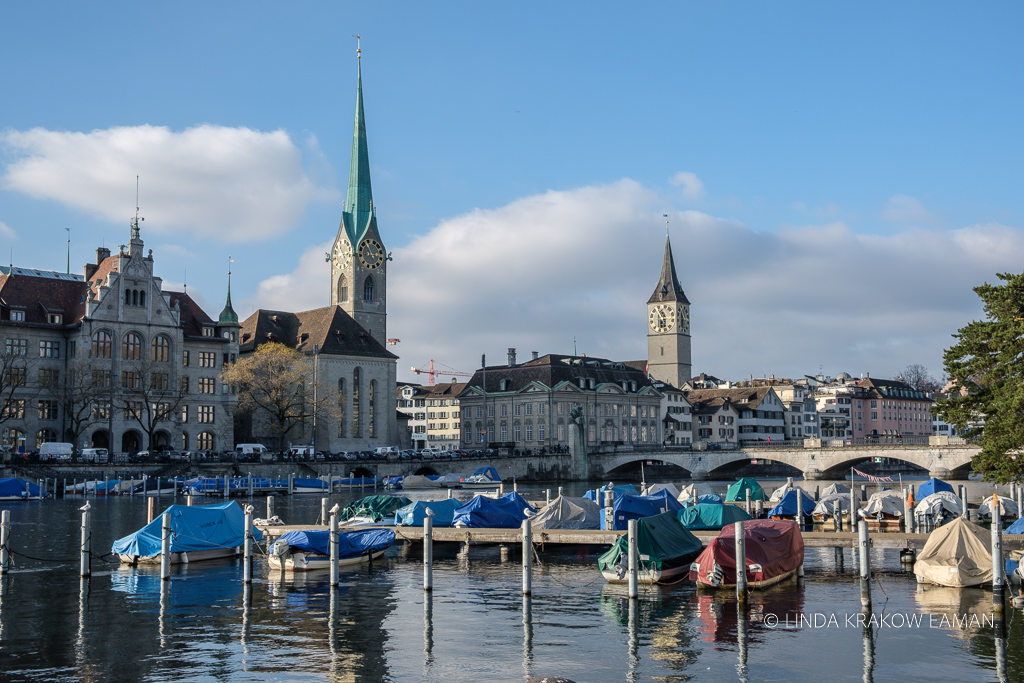 This is probably the most expensive place we've ever been. The Swiss Frank (CHF) is about at par with the US dollar, making conversion easy.  A regular cup of tea or coffee is 5 CHF; a main course in an average restaurant is 20 CHF.
We felt very comfortable in Switzerland. There seems to be an expectation of honesty and decency, and it permeates everything. In the city and the countryside we noticed children who looked no more than six years old walking to and from school in little groups, with no adult in sight. Bus and tram tickets are purchased at a machine, but it's largely an honour system as tickets are checked on board only sporadically. (There is a steep fine if you get caught without a ticket.) In the museums, ancient artifacts are displayed without glass, close enough to reach out and touch. And after the Fasnacht celebration, we noticed drum sets and brass instruments propped up against walls in the street, parked there while the musicians went inside for a drink.
We stayed in a newer part of the city and discovered that public transportation works well; a short tram ride took us anywhere we needed to go. But to see beyond the city, we rented a car for a few days.  First stop, the Rheinfall.  An admission fee of 5 Euros is charged to get close enough to see the falls; we reluctantly paid it but I'm happy to report that it's worth the money.  A series of short staircases and walkways bring you successively closer to the water; at the last one the water is just a few feet away and rushing directly toward you–a truly awesome display of power.  During the summer a boat goes out to the rocks in the middle; we could see a staircase and lookout that even from far away look pretty scary!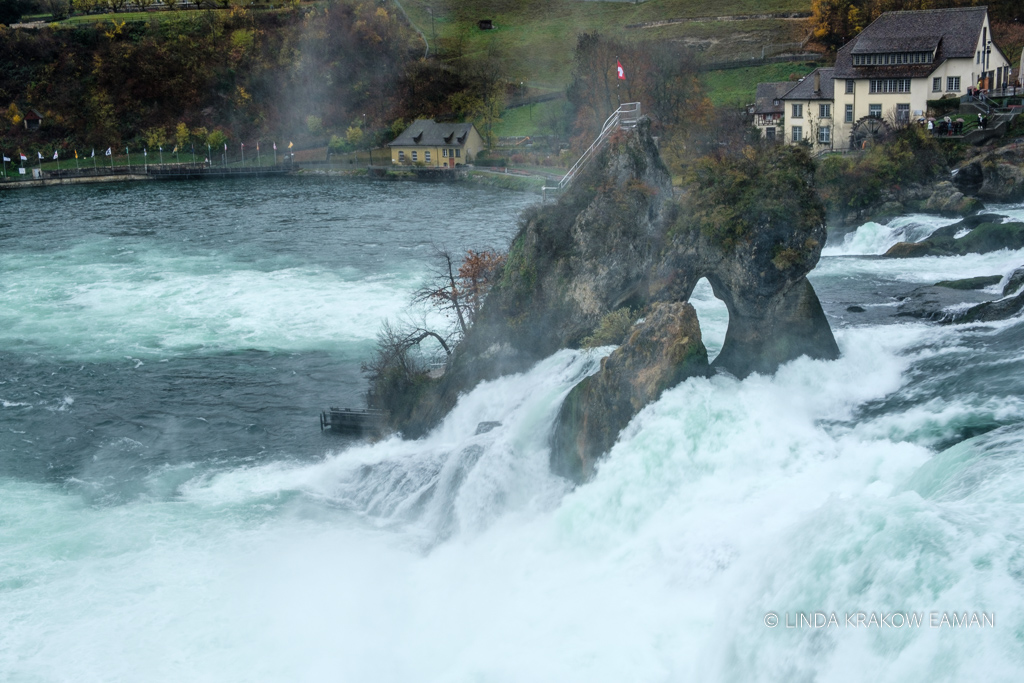 Just a few minutes from the falls is the town of Schaffhausen. On a rainy Sunday, the town was quiet. We were getting used to seeing a fountain at almost every intersection, a lovely feature in Zurich and all the other Swiss towns we visited. Apparently most of the original stone sculptures are now stored away for safekeeping in museums, but the replicas look genuine.  
A steep staircase leads to an old castle, offering a view of the grapevines, rooves and steeples. By this point it was raining sideways and my picture taking efforts were severely handicapped.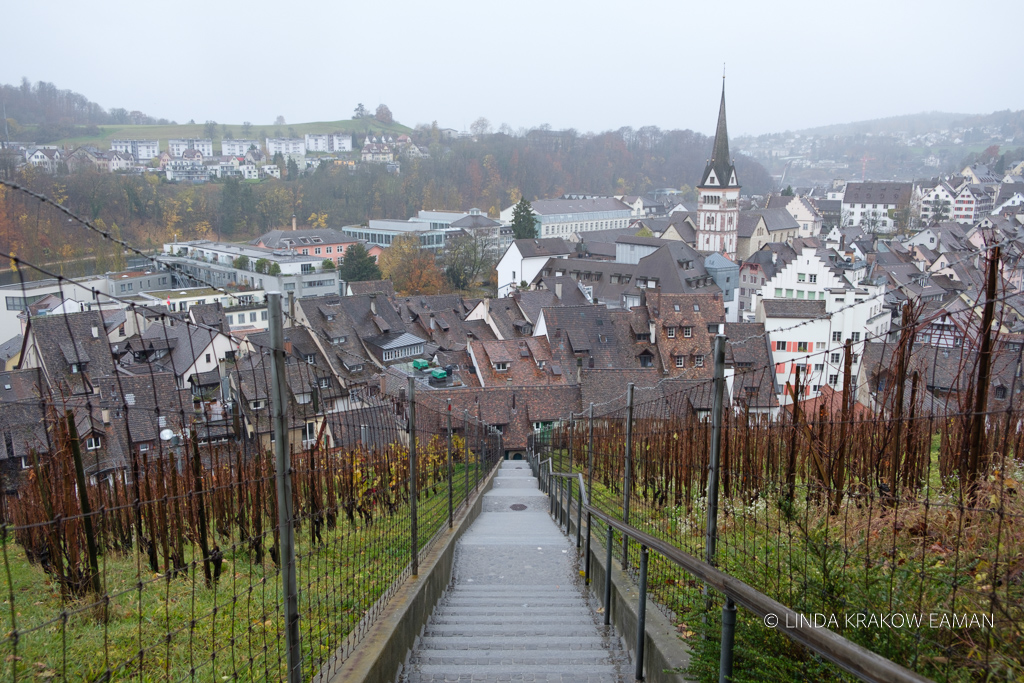 Stein am Rhein was one of the nicest towns we've seen. We arrived around two o'clock and after just a few minutes of walking (still raining) we were cold and hungry, but there was not an open restaurant in sight. We finally spotted an open pub across the bridge. Inside, the owner and his buddies were sitting around a table drinking beer and watching motorcycle racing on TV. When we asked if we could eat–a combination of words and improvised sign language–the proprietor told us he had "chicken and patatas."  Chicken wings, french fries and beer have never tasted so good!
Our next destination, St. Gallen, was an unexpected treat. The centerpiece of the city is the abbey, a UNESCO world heritage site. Its library is one of the oldest in the world, an absolutely remarkable place–which was closed for maintenance! The cathedral was spectacular though, an enormous Baroque masterpiece with ornate decorations at every turn.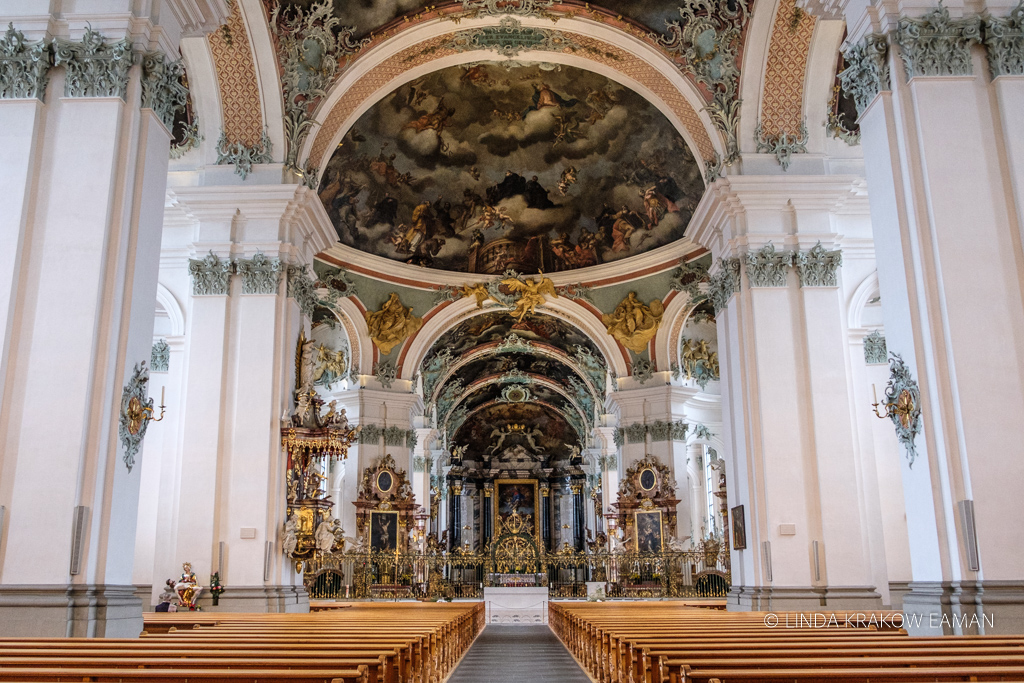 We had arrived just as Christmas decorations were being put up… and were treated to a dusting of snow!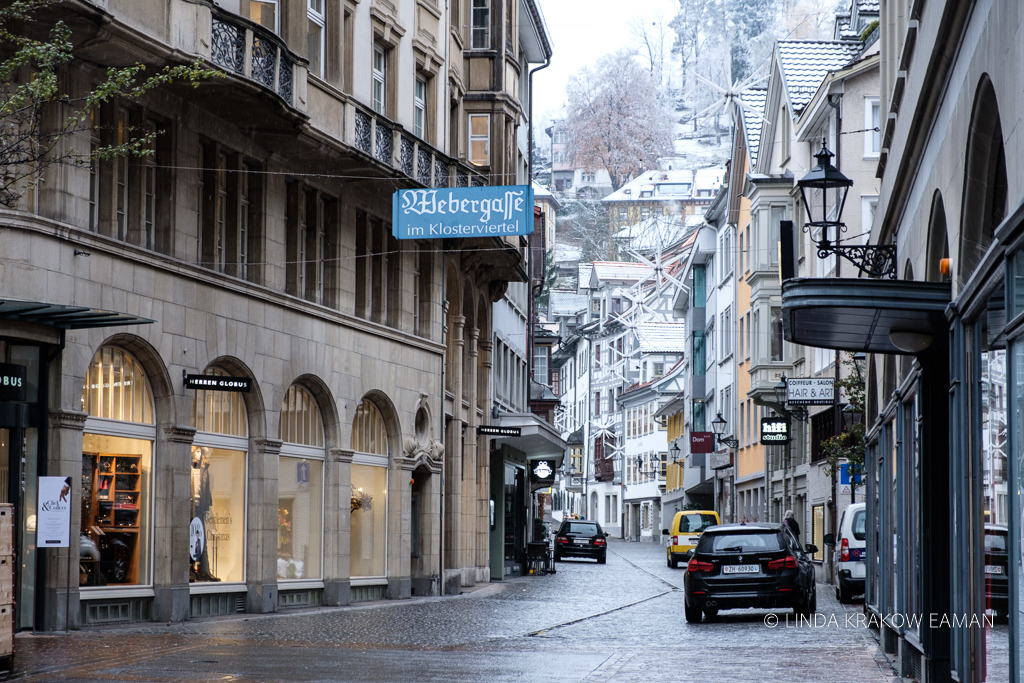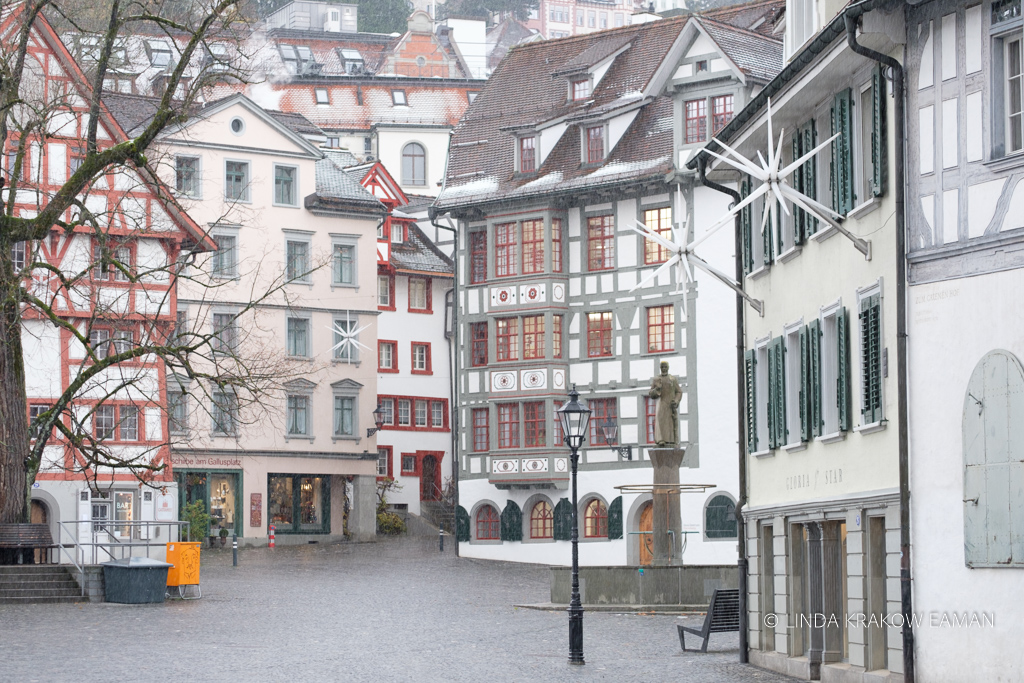 St. Gallen–like many parts of Switzerland–has a long history as a textile center, the source of exquisite woven and embroidered fabrics still in high demand by well known designers the world over.  So the textile museum seemed worth a visit. It was smaller than I expected but interesting, with displays of historical fabrics and clothing, embroidery machines, and an impressive gallery of modern textiles ranging from firefighting and astronaut suits to car interiors to prosthetic limbs. Not all the displays had English descriptions, but I was able to understand enough. The ticket, printed on a swatch of fabric, is a nice souvenir.
From St. Gallen we drove to Appenzell.  A tiny, postcard pretty town, it is known for its beautifully painted facades. Interestingly, the paintings seemed to be different than the ones shown in our Lonely Planet guide. I wonder how often they get changed.
The last day of our road trip brought glorious sunny skies, perfect for a visit to Saentis. A scenic drive takes you to a large, modern building with a parking lot–a hotel and the base for the gondola ride to the summit (about 2500 meters).  The gondola ride was worth every penny of the €45 (per person) fee. I was glad there were only about a dozen people in the gondola. The posted capacity is a whopping 85, and you'd have to be crammed in like sardines to achieve that.  As it was, the ride up offered a spectacular view of the mountainside and the valley. 
There's another big modern building at the summit, featuring a restaurant and, more importantly, observation decks with awe-inspiring views and bitterly cold winds. It feels like the top of the world.