My travels in India continue. My sister Debbie has been here with her family since September, and I'm joining them for three weeks of their six month stay. All photographs are straight out of the camera… Editing will happen back at home.
We've arrived in Allepey. I've decided to skip over the two train rides and brief bout of food poisoning that occurred in the two days since after leaving Madurai, although I will touch on my impressions of Trivandrum (which I saw for a few hours). At some point I will have to come back to the curious thing that is Indian train travel.
Kodaikanal, where my sister Debbie and her family spent the last four months, is in the state of Tamil Nadu. Trivandrum and Alleppey are in the state of Kerala (Trivandrum is the state capitol.) Some differences are immediately apparent upon stepping off the train in Kerala. Trivandrum is clearly a more affluent, modern city than what I had seen to date. There are sidewalks everywhere, and they are intact, as compared to Kodaikanal where sidewalks, if they existed at all, were bumpy and broken. Traffic actually stops at the stop lines in intersections and motorcyclists wear helmets. There are no cows in the streets, and far fewer dogs.  Stores are larger, we saw neon signs and big brand names, and power seems to be more reliable.  Not everything is different though; traffic lanes are still virtually nonexistent and the honking is nonstop!  It should also be noted that Kerala boasts a 100% literacy rate and an average daily wage several times that of Tamil Nadu, although from what we have been told, it's still only about $10 a day with many workers earning far less.
Alleppey is a smaller town, with a population of about 175,000. The streets are crowded and the traffic is hectic although like everywhere we've been, the secret to walking alongside it or crossing it is to walk at a steady and predictable pace. Although the infrastructure is in fairly good shape with mostly well paved roads and apparently reliable power, there are few intact sidewalks. The air quality is generally quite poor; there appears to be no garbage collection (our hotel collects plastic bottles for recycling, composts food waste, and burns the rest, including plastic bags) and small piles of garbage smolder along the street, creating acrid smoke that mixes with vehicle exhaust to the point where we wonder how the residents can tolerate it.  Waste management is a huge problem in many parts of the country, with age-old methods being used in a plastic world.
Our hotel in Alleppey is the Snehadara Homestay, sort of a bed and breakfast although the meals are extra and optional. The rooms are sparse, the beds are thin mattresses on a hard base, and there's no hot water, but the Internet and power seem to be reliable and the cold water is never really cold anyway. Being here for six months, the family is on a budget and this will work just fine. We also have access to an outdoor kitchen which is useful although we've discovered that cooking an evening meal outside is a challenge because of the mosquitos.
Speaking of mosquitos, we're definitely in a tropical climate now. It's hot and fairly humid (about 90F/32C, 45% humidity) and thanks to the threat of malaria, dengue fever and other scary illnesses we must be vigilant about using insect repellent and nets over the beds, and, as much as possible, wearing long sleeves and pants and keeping bedroom doors closed.
Alleppey is known for its backwaters (lakes and canals) which support a huge houseboat industry. We were planning to book one for a night, but after a five hour Shikara boat ride along the canals,  and a kayak ride that allowed us to go through even smaller canals, we've decided it would be too much of the same. And a houseboat is very close quarters for a teenager, a young twenty-something, two parents and an aunt!
You pick up the boat rides in town but within minutes the town is behind you and you've entered the backwaters.  The canals are both natural and man made.  This area is known as the rice bowl of Kerala, and on either side of the canals are extensive rice fields. They are on land, four to ten feet below sea level, that has been reclaimed from the lake. The canals, bordered by dikes, are above the level of the surrounding fields, and water in the fields is regulated by electric pump houses.  We could see women weeding in the paddies; they are paid 300 rupees to work 7am to 1pm. This is three times the rate paid for field labor in Tamil Nadu.
Along the dikes, between the canals and the rice fields, are homes ranging from shanties to new, freshly painted houses with satellite dishes on their rooves. Regardless of apparent affluence or lack thereof, every house has a step down to the water, where the women could be seen washing laundry by rubbing and slapping the clothes against a flat rock and rinsing them in the canal, washing dishes in the canal, and fishing and cleaning fish at the water's edge. We saw men and women bathing in the canals (always clothed), and, in the early morning, standing outside brushing their teeth. Although their lives are clearly intertwined with the canals, the residents in this area do not drink the water; bottled water is delivered by trucks, and there are communal taps as well. Toilets are in outbuildings.
We also saw shops,  temples, churches and a school, as well as neatly uniformed children on their way to school in the morning and home at the end of the day, led by parents along the walking paths or in boats serving as school buses.
Long, wide wooden canoes (with small outboard motors)  are used as transport vehicles, carrying everything from construction supplies to food. While people catch the freshwater fish outside their homes, they also buy ocean fish from peddlers who ply their trade throughout the canals in tiny canoes barely wide and long enough to hold a single person, a few small piles of fish (often sardines), and a small scale for weighing purchases.  We also saw a man and woman, probably in their sixties, rinsing large baskets full of mussels which they collect from the canal beds and sell for about 150 rupees per kilogram.
The width of the canals varies, with some wide, major thoroughfares large enough for the big houseboats, and some tiny ones barely wide enough for two canoes to pass. We were able to explore some of these by kayak, but not knowing what to expect I opted to leave my camera behind.
Flora and fauna are tropical. Coconut palms, banana, mango and henna trees, hibiscus and sprays of purple orchids tower over the houses and lean over the canals. Brightly colored kingfishers, small herons and other birds are everywhere. We learned that a Banyan tree, with religious significance, stands in front of every Hindu temple of which we saw several along the canals.
The backwaters are on the east side of town; the Arabian Sea is on the west, with a long sandy beach and water that feels as warm as the air. There's a steep drop off at the water's edge and although we saw people in the water no one ventures out very far.
We succumbed to one tourist attraction at the beach: camel rides!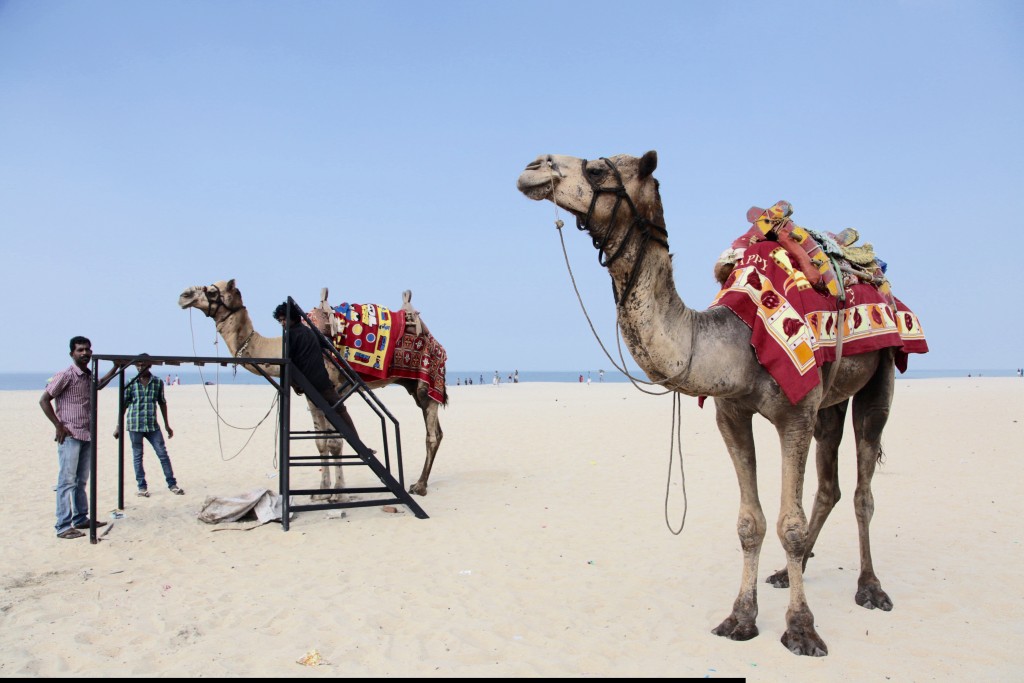 On a morning walk, away from the main beach area, we found a half dozen or so fishing boats. (As well as lots of evidence that the fishermen use the beach as a toilet.) Venturing back off the beach took us into a small village where we met women bathing children, washing clothes, and preparing food, all outdoors, as well as an assortment of goats, dogs, cats, and chickens.
We have returned to the beach several times already. My nephew Liam, a frisbee expert, loves the wide open space. Locals and tourists flock to the water's edge in the evenings  to enjoy the cooler air, steady breeze, and sunsets. It feels very much like any beach town, with an assortment of restaurants, vendors hawking kitschy souvenirs, and gaudy lights. A lovely place to spend an evening in India.