White cliffs and lighthouses
I think my fascination with the English countryside started as a child, when I first read The Secret Garden. The descriptions of the foggy, heather-filled moors grabbed me and didn't let go. Then, James Herriott's stories about Yorkshire, with its rolling dales, stone walls, and terse and quirky farmers further cemented my impressions. So I've been itching to get out of the city. And I had a new pair of hiking shoes to break in!
With a rain-free forecast for the weekend, we booked a room at a B&B and were on our way. Just two hours from our London doorstep we were stepping off the train in Eastbourne, a Victorian seaside town on England's south coast. We made our way through the nicely busy pedestrianised shopping district to the seaside, which features a very tasteful Grand Parade–a long, wide walkway along the beach, with little snack shops, cafés, and even public restrooms at convenient intervals. Across the street, grand Victorian hotels face the sea. It's easy to picture Victorian women in their long bustled skirts and big hats taking a stroll here, enjoying the sunshine.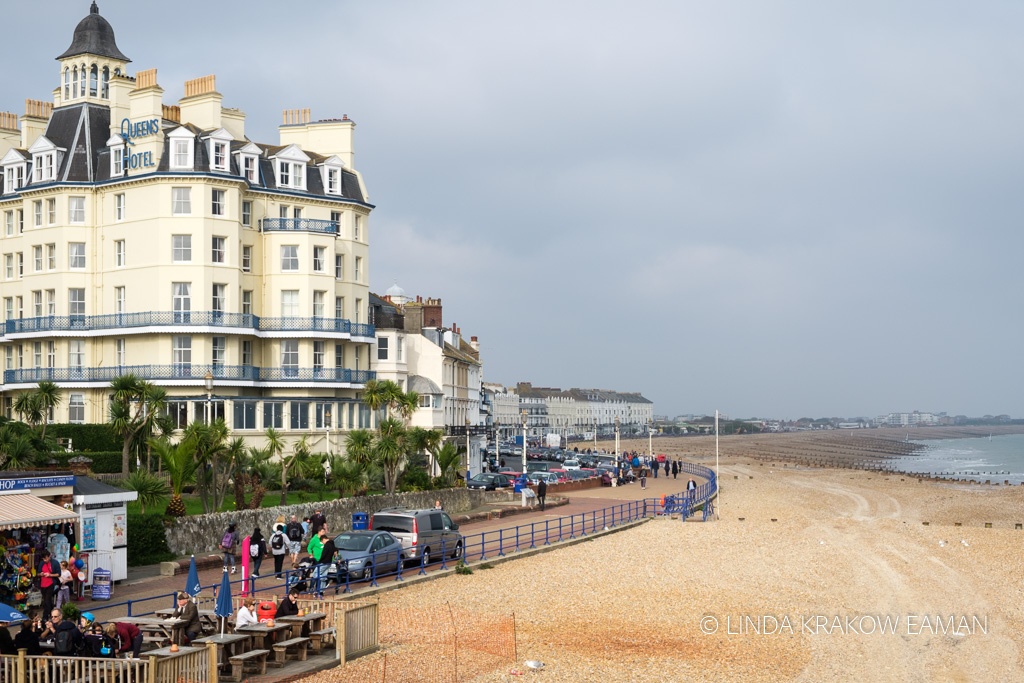 Our B&B was in a traditional Victorian townhouse. We found ourselves in the uppermost room, overlooking rooftops. It was a thrill to be inside one of these and get a sense of what it might have felt like to come here a hundred years ago. It also provided a little unexpected exercise. Our room was at the top of 65 stairs (not counting the ten steps from the street to the front door), which are mostly broken into short flights with a room or two at each landing. Breakfast the next morning (down more stairs, below street level) was a delightful surprise, with a buffet of fruit, granola, yogurt and more, as well as a choice of eggs or a Full English Breakfast–a fried egg, bacon (more like ham), sausage, fried tomato, mushrooms, beans, and fried bread. Not to mention fresh juice, homemade marmelade, and good coffee.  And in case "below street level" sounds dark and dingy to you, it's not. The kitchen was in the middle of the basement, but the front of these buildings have a sort of space dug out so the lower front room has large windows and is bright and cheery.
On the edge of town, just a few blocks from our B&B, is the start of the South Downs Way, a 100-mile trail along grassy hills atop white chalk cliffs that rise from the ocean. (You've heard of the white cliffs of Dover, just 70 miles to the east.) Our plan was to walk the first few miles. The trail starts with a butt-busting hill but once past that, it was mostly rolling ups and downs. And breathtaking. The scale is hard to fathom, even in person; you realize that the people who seem to be not so far away are tiny dots, and the distances are much greater than they appear.
The first landmark was Beachy Head lighthouse, which stands below the cliffs.
From here, the South Downs spread out before you like a vast grassy table cloth, dotted with walkers, with the Belle Tout lighthouse in the distance. Belle Tout is now a private property operated as a B&B. Although it doesn't offer public bathrooms they do have a snack shop set up–it seems there is nowhere in Britain you can't find a cup of tea!
I don't know exactly how far we hiked that day, but according to our phones, our total distance including a bit of walking to and from train stations was almost 10 miles. It was a one-way hike; we went as far as Birling Gap where there's a spectacular view of the Seven Sisters, a series of chalk cliffs extending along the coast. From here we planned to take the bus back into town. But first I had to spend some time watching and photographing the Exmoor ponies grazing nearby; they are there to manage the chalk grassland which, according to signage that also talked about the tenant farmers' sheep grazing inland, is being well cared for.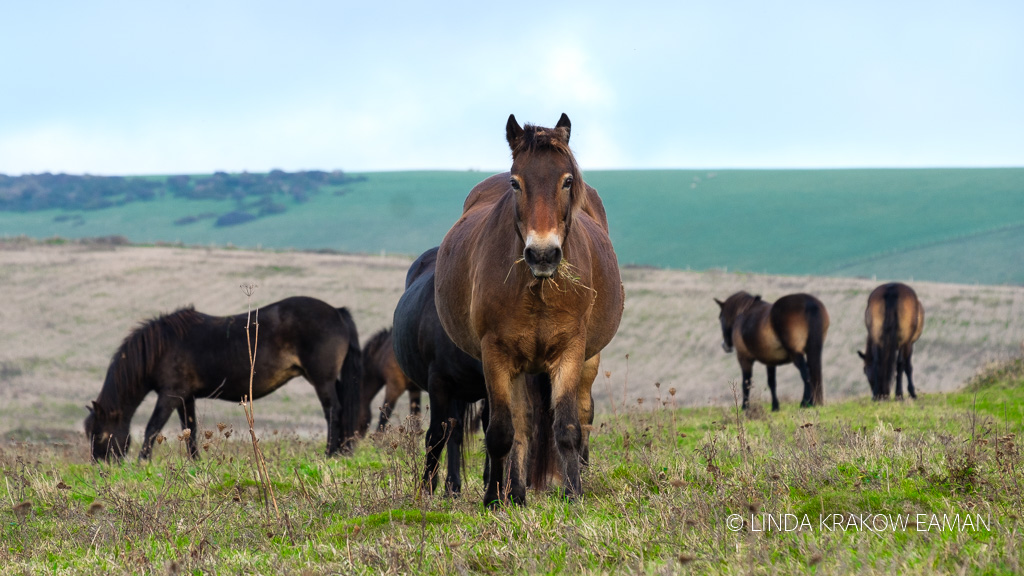 I'm a big fan of traveling in the off season. Being mid-October it was too cold for bathing suits, and there were very few people on the beach. The restaurants were busy but not packed, and it wasn't hard to get a last minute hotel room. But off season also means that buses don't run very often or very late! At 5:30pm, we had missed the last one. We managed to snag an Uber, with a friendly Italian driver who told us he was probably the only one in Eastbourne that day!
The next morning I wanted to see the Beachy Head lighthouse from another vantage point: the beach. The walked started at the bottom of the same butt-busting hill, but we only went partway up before turning off to stay on a lower path that eventually led to the rocky beach. Having heard that tides here reach 20 feet, and not knowing how much further we would have to go, we checked a tide table to make sure we wouldn't get stuck. The tide had just started to go out and low tide was still five hours away, so we pressed on! I think Marc was a little tired of hiking at this point, and was mostly humouring me; but he was a bit ahead of me when we finally rounded a bend and I heard an exclamation that implied that the effort had been worth it!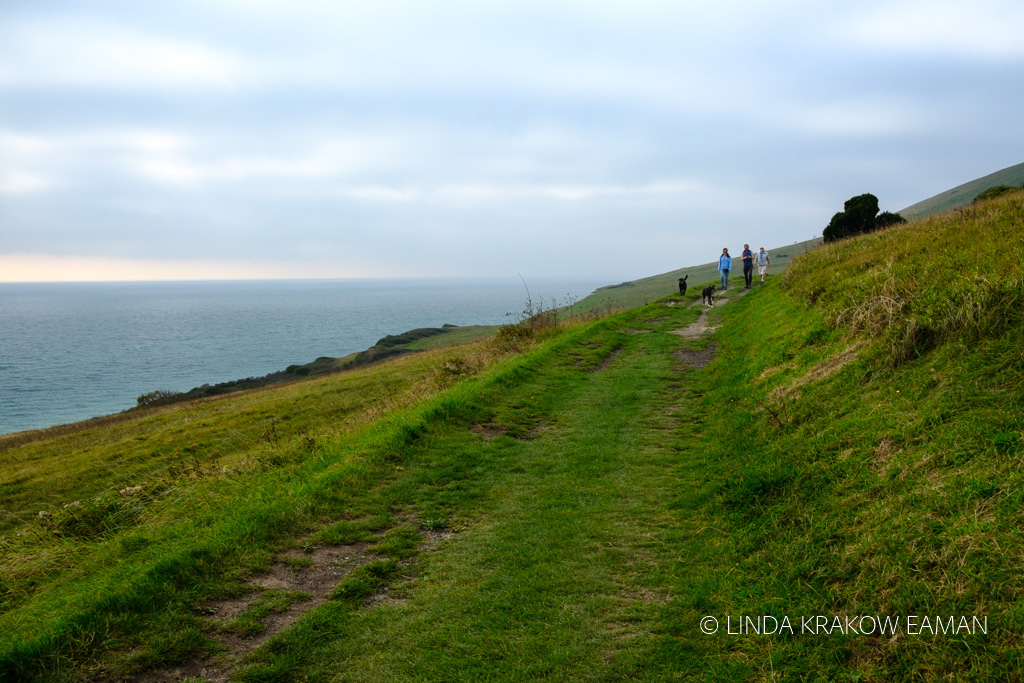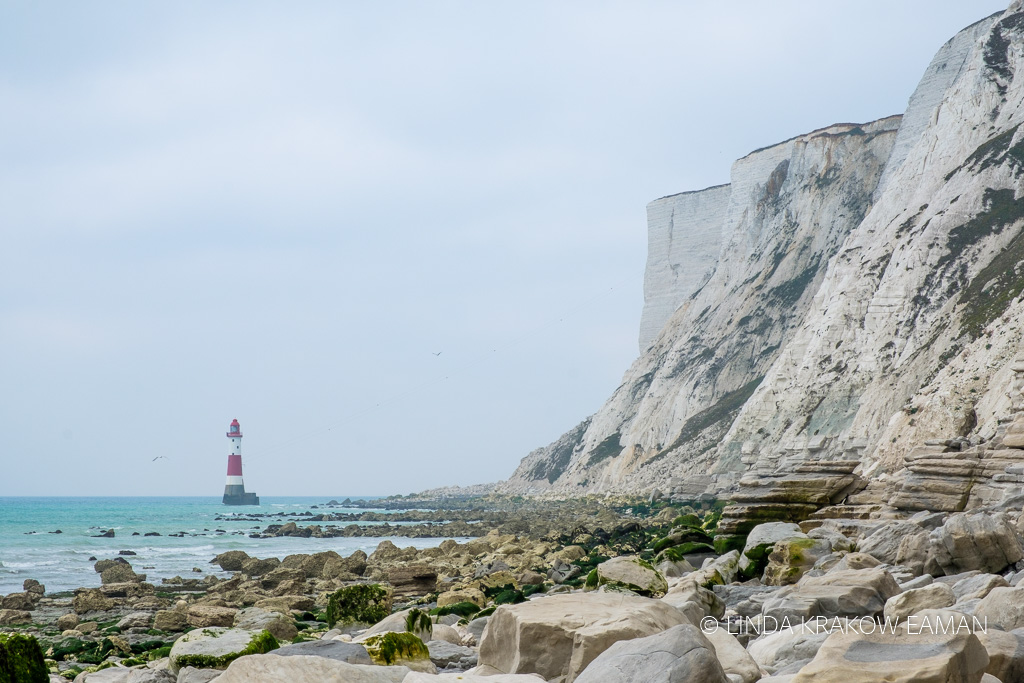 Atop the cliffs there are frequent signs warning that the edges can be unstable and we learned that the Belle Tout Lighthouse had once been moved to save it from the land eroding from under it. But from below we thought we could see large cracks, which really brought home that this coastline is like a living, changing being. We saw a helicopter spend a great deal of time in the air nearby; it must have been surveying the cliffs to evaluate any imminent danger.
Ready for lunch and a bathroom, we found a pub in Mead Village, a picturesque area on the western side of Eastbourne. And then we made our way back along the Grand Parade to Eastbourne's most prominent feature: the pier. Although this has been rebuilt several times due to fires and other setbacks, it looks exactly the way I imagine a Victorian era pier would, its wrought iron railings painted royal blue with gold accents, white buildings topped by gold domes, and a tearoom. It also offers a nightclub, an event venue, some kitschy shops and a chippy (fish and chips restaurant). A little over the top/tacky but also quite wonderful! Nearby is an impressive bandstand billed as "the busiest bandstand in the UK." No shows this weekend though; another downside of the off season. We finished the afternoon with coffee in an oceanside café watching the world go by, then headed to the train station and were back home for a late dinner. It's amazing how much you can do in a weekend.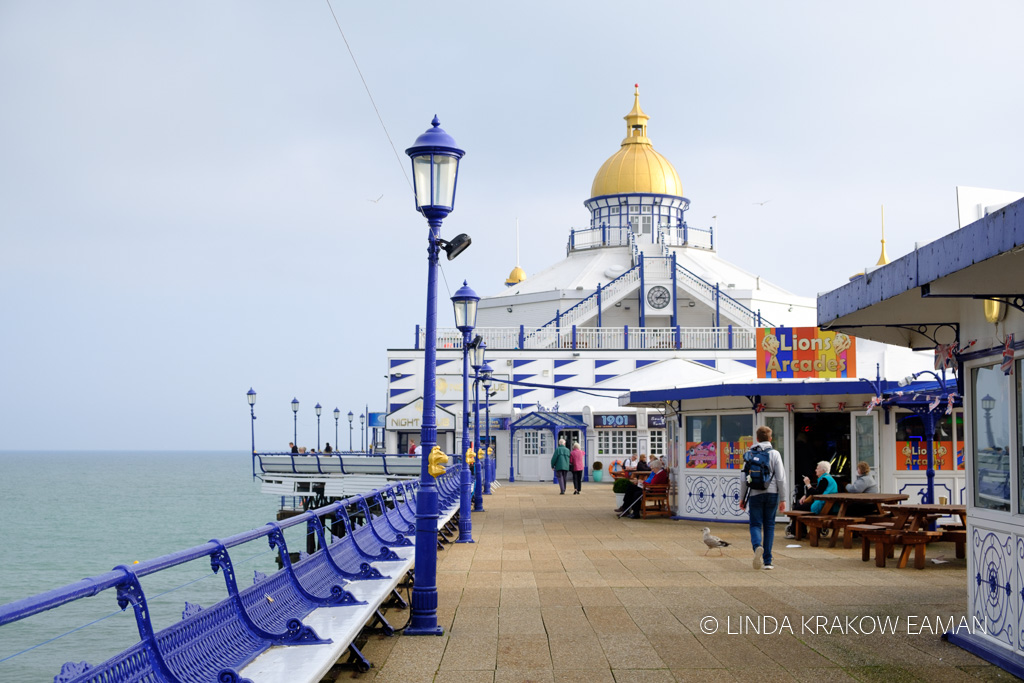 This wasn't the Yorkshire moors and dales of my childhood dreams–that will come soon–but it was confirmation that I am in love with the English countryside. My new hiking shoes are going to get a lot of use.