Before I go any further, I have to mention the olive trees. As soon as we left Toledo, we started seeing olive trees. We avoided the big highway so we were driving right up beside them. But we soon realized there are a LOT of olives grown here. We drove a good 75 miles surrounded by nothing but olive trees, as far as the eye could see. They're grown everywhere–on flat terrain, on hills, and terraced up the side of mountains.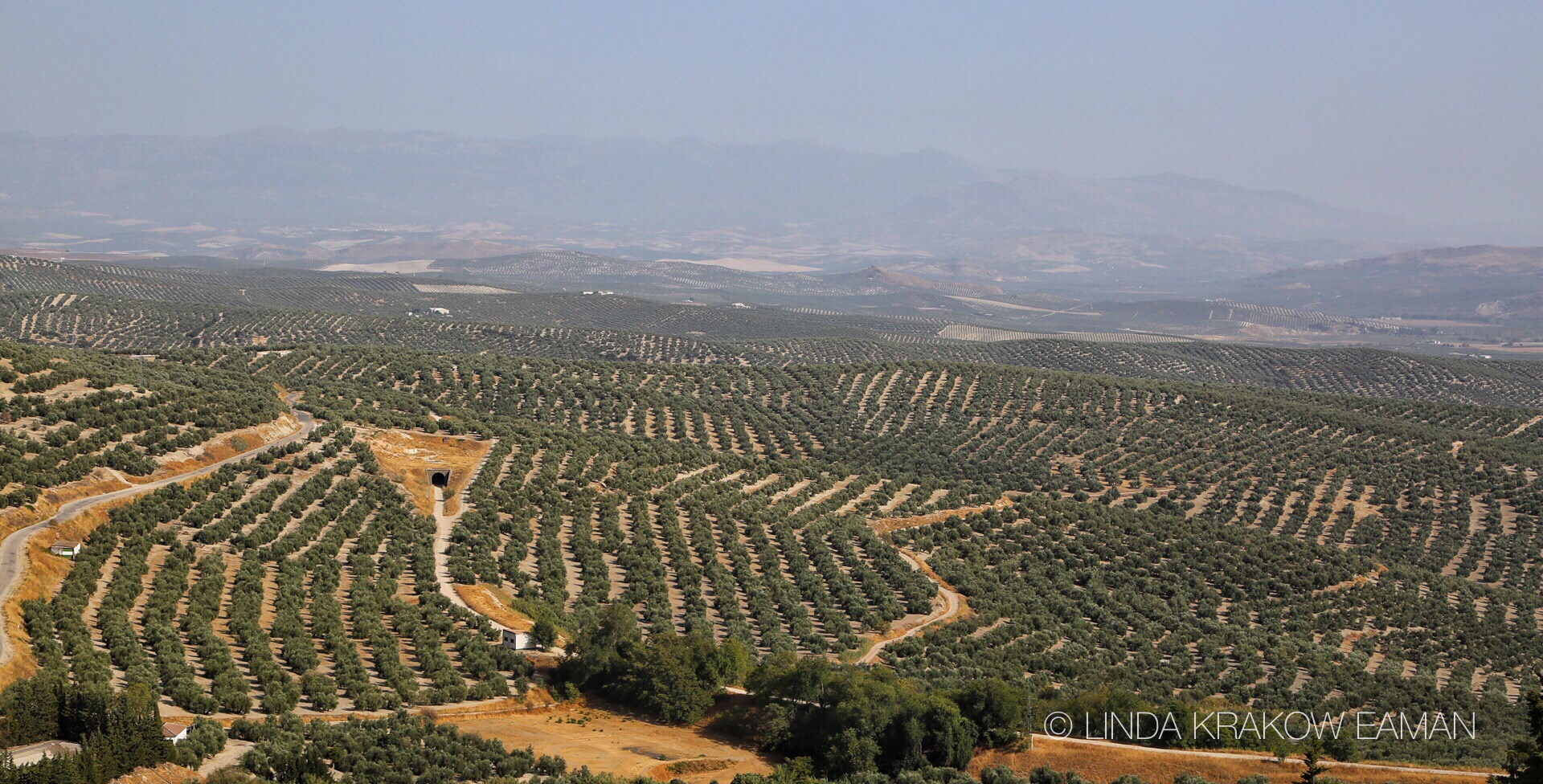 The drive from Toledo to Granada also took us along the edge of the Sierra Nevada mountains. The combination of rocky peaks and olive trees is striking.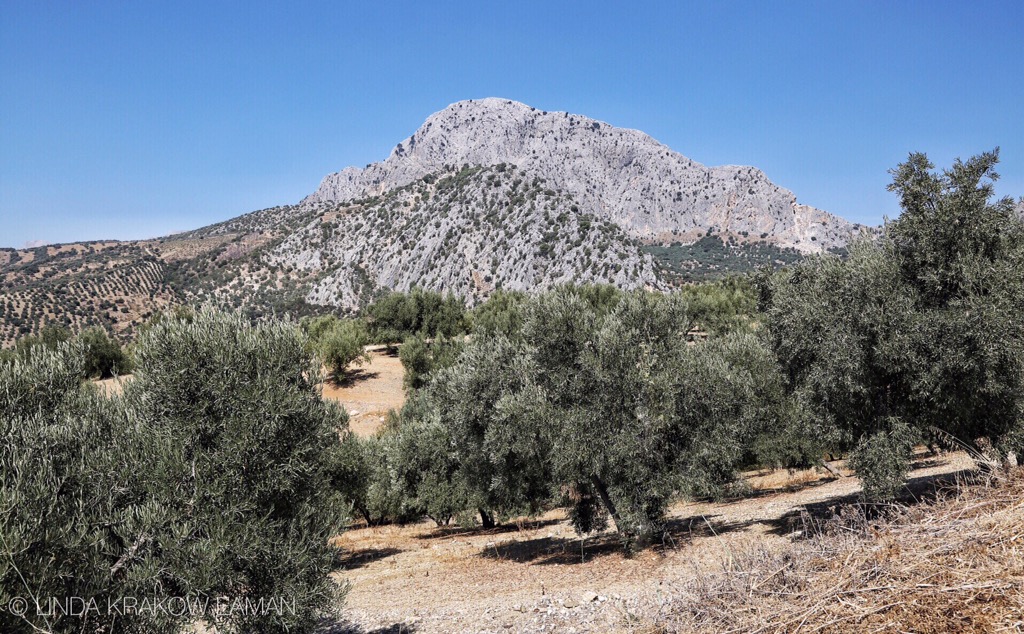 Granada, the main seat of the Moors (we're talking 11th-14th century), is the site of the huge castle called The Alhambra. It was also a fortress, a palace (or two) and in many ways a town, as all the people who worked there lived behind its walls.
A word of wisdom to anyone visiting–we knew that tickets might be hard to get, and that there could be long lines, so we reserved a tour a few weeks in advance. The tour was interesting and allowed us to skip the line at the entrance, but we hadn't realized that the main palace, Palacio de Navaries, was not included! Luckily we were able to buy another set of entrance tickets, that included the Palacio, for later the same day. (We'll be complaining to the tour operator.)
The short version: a huge fortress complex, gorgeous gardens, spectacular moorish palaces. A few points of note are that water was a status symbol and so there is water flowing everywhere, in fountains and ponds. There are a LOT of people, so it's hard to get spectacular photos without people in them. (I can take care of some of that later, but my photo editing capabilities are somewhat limited here.) And there was restoration happening in some areas of the palace, so things like scaffolding got in the way. But I was as entranced by the details as by the overall views.
I can't help but mention something else. Now that everyone has a camera (phone) in their pocket, I've noticed that most people start pointing it at everything the minute they walk into a room, then immediately move on. I think they're missing something. I always first stop and just take it in. In a historic place, I try to imagine what it might have been like to live there and to be part of that world. I see this pause as a gesture of respect for the place and the people who created it, as well as an important part of experiencing the location. I want to BE there before I photograph it.
We enjoyed wandering the steep, narrow streets of the Albayzin, the old Moorish quarter. The main streets are filled with tapas bars, restaurants serving kebabs, couscous, and tagines, and shops selling cheap jewelry, throws, and harem pants (all of them selling the exact same stuff), but get away from those and you find a quiet, lovely neighborhood.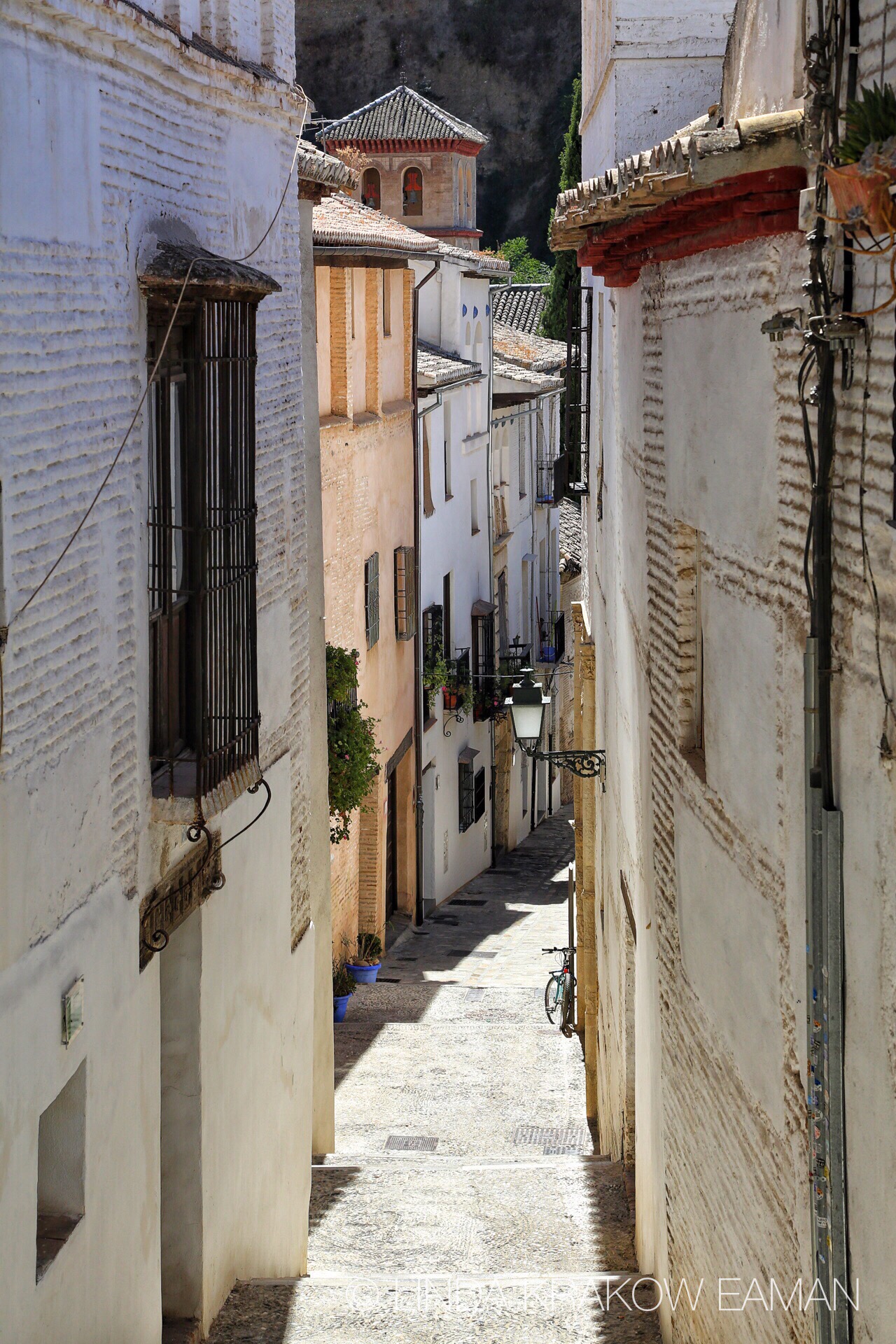 One night we took the recommendation of our Alhambra tour guide and made our way to the Ermita San Miguel, which sits at the top of a hill overlooking the Alhambra. It was a lovely place to sit and watch the sun set over the city and the lights come on to illuminate the Alhambra. There's another, more popular overlook that's a little lower (at the San Nicolas church) and we wandered down to it, passing by homes built into the mountainside (former or current gypsy homes?) before getting back into the narrow streets of the Albayzin. By then a steady stream of people was leaving the San Nicolas area–it must have been packed! There were still a few jewelry vendors with their wares on tables, and a little flamenco troupe was performing and passing a hat.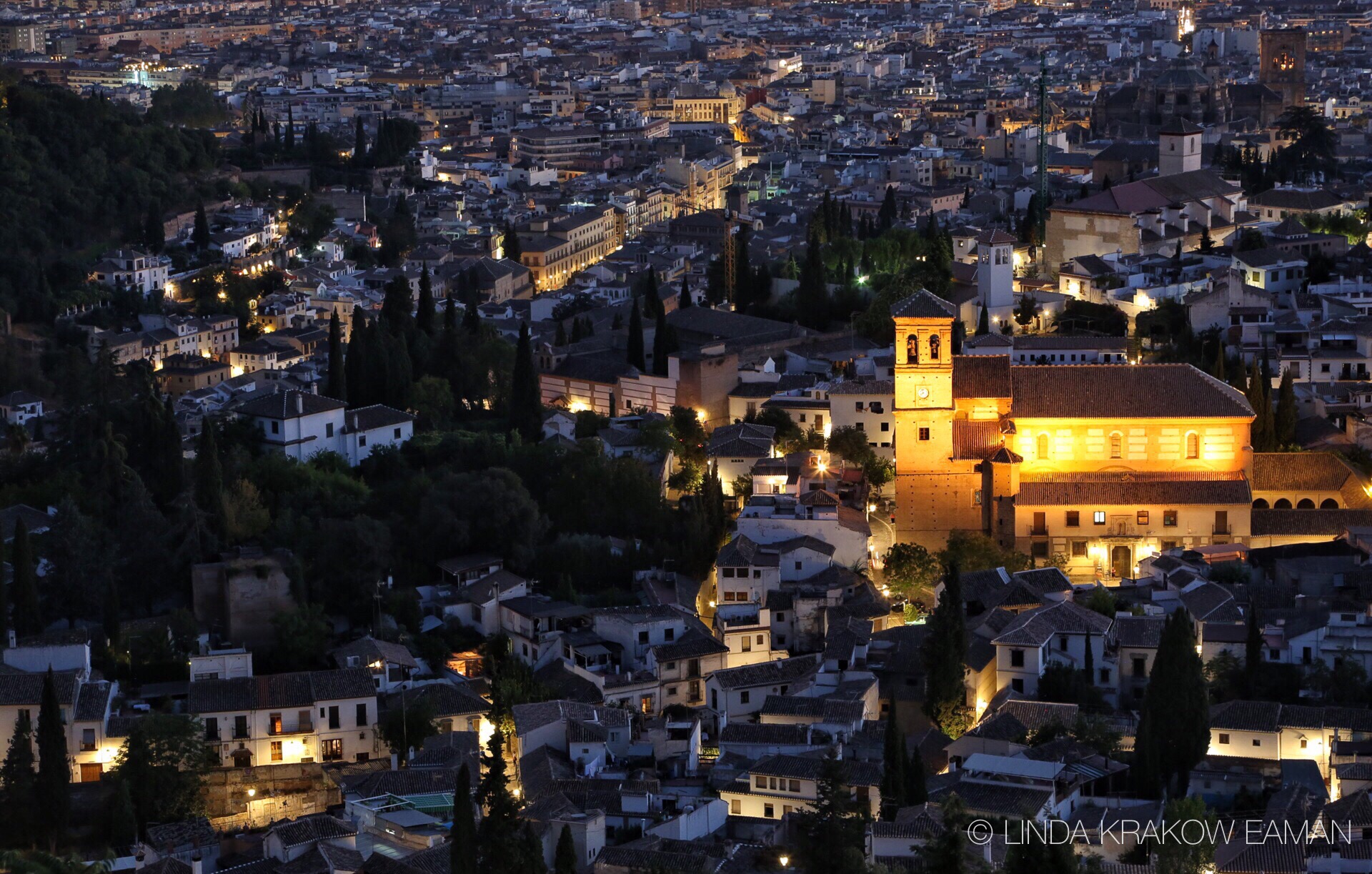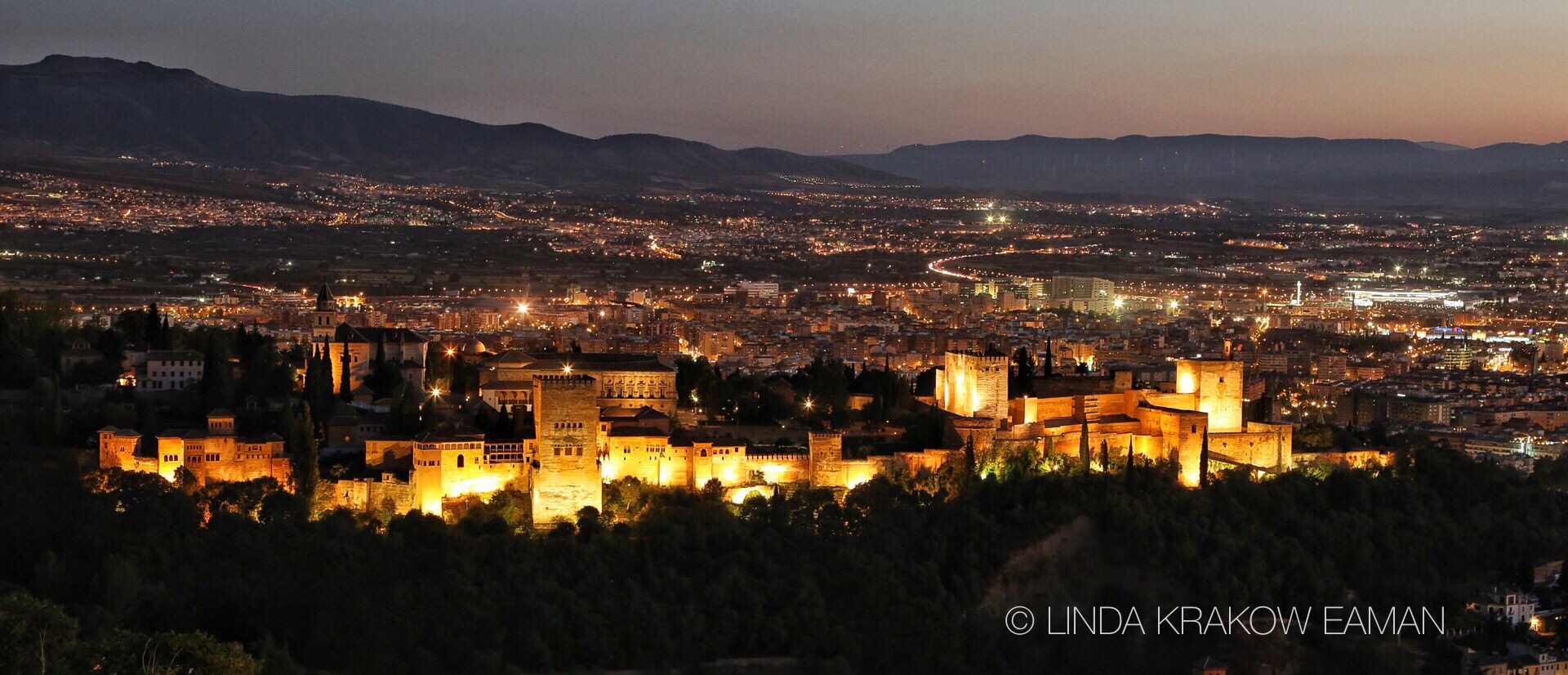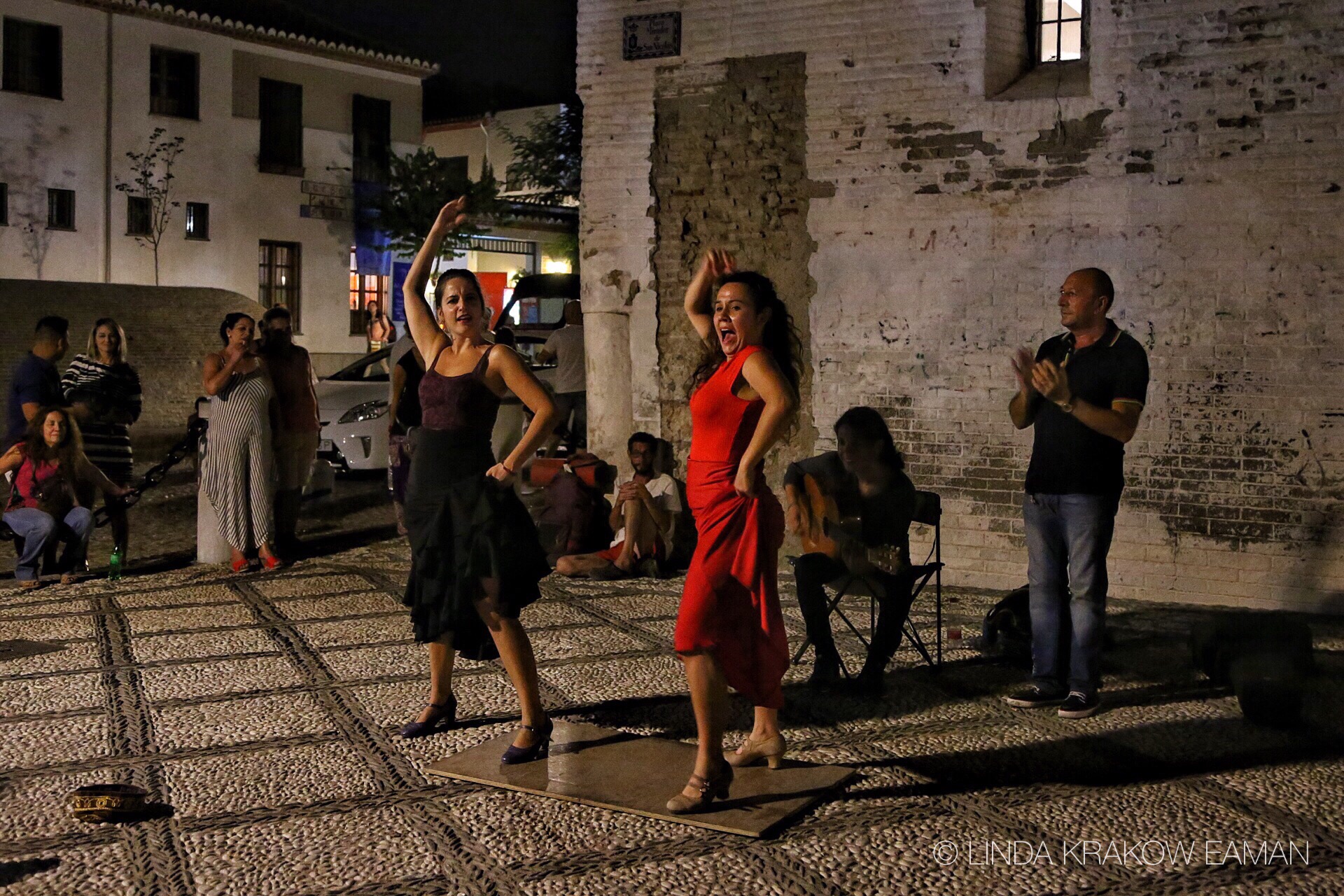 A few more images of Granada:

A spectacular church: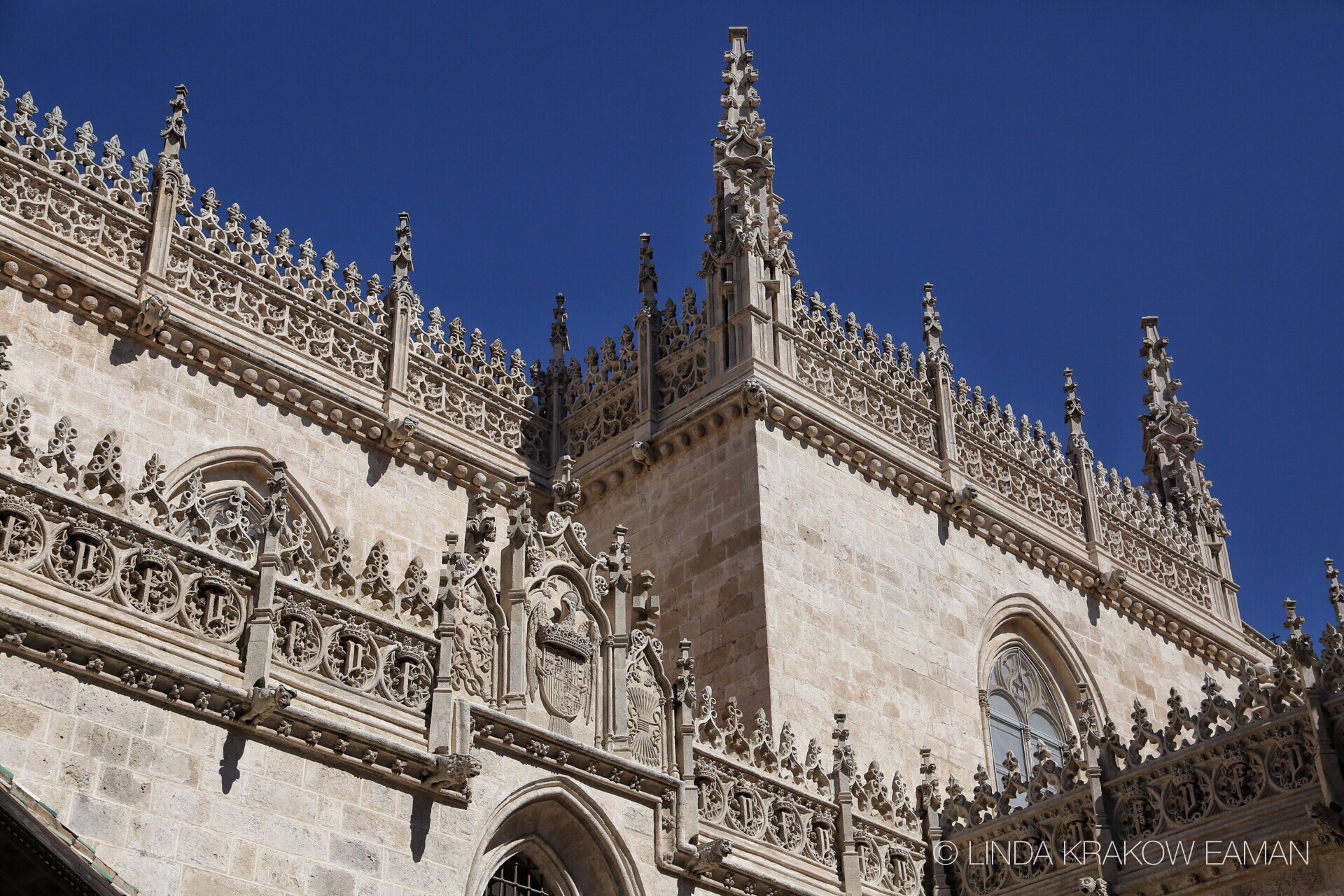 Coming up next: The coast and white hill towns