I'm back home now but wanted to share one last post from India.
My last stop in India, Kochi is a short train ride from Alleppey. The train actually arrives in  Eranakulam, a big city on the mainland where the owners of our Allepey Homestay told us they go for a day trip to the mall. A bridge (or a ferry) takes you to the island that includes Fort Cochin and Mantacherry which combine into one small, very walkable area. Kochi has British, Portuguese and Dutch heritage. (The word Fort in the name comes from Fort Emmanuel built here by the Portuguese in the 1500s. The only remnant I saw was a cannon on display near the beach.)
Fort Cochin is a maze of small, charming streets crowded with shops catering to tourists, along with aggressive shop owners who stand outside trying to convince you to come into their shop–which is exactly the same as the last five you've walked by. Some of them do have lovely handicrafts, clothing and jewelry, though, as well as some remarkable antiques.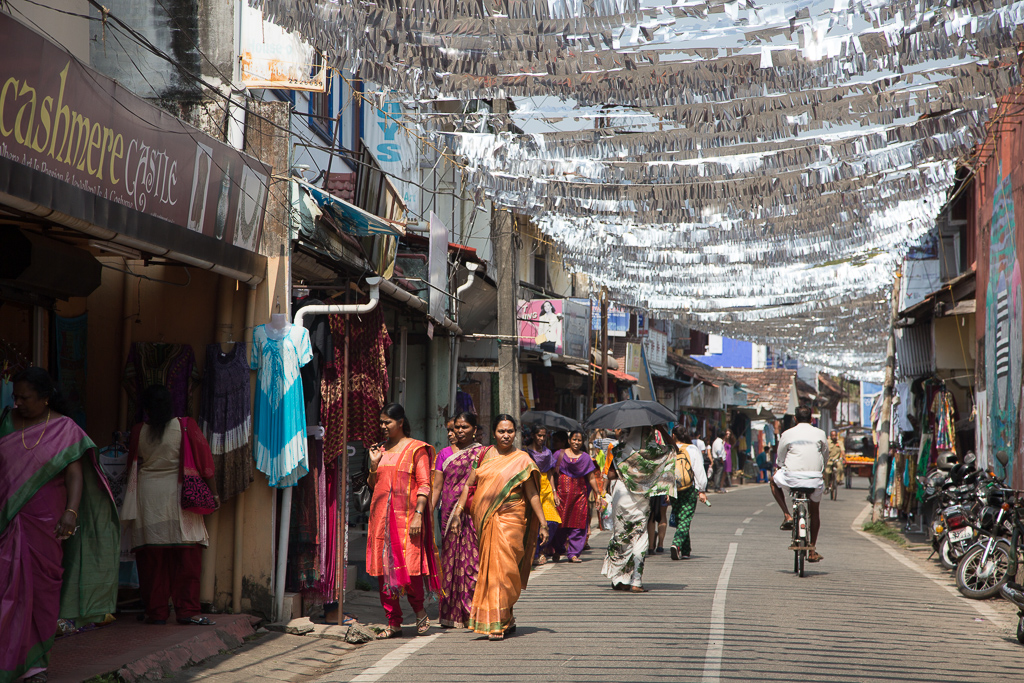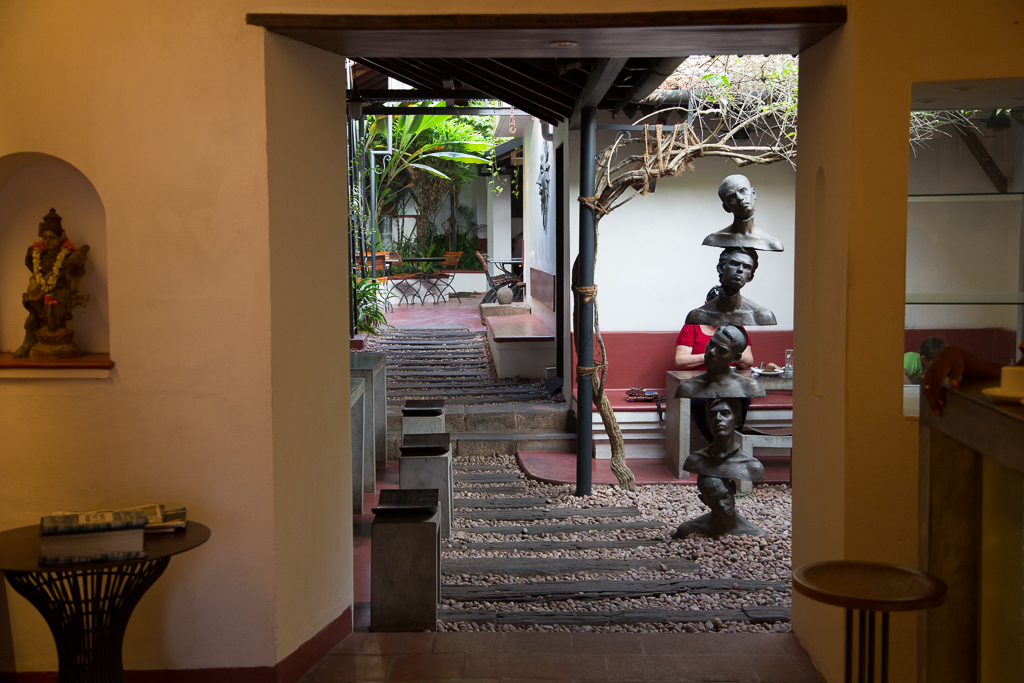 Modern restaurants and art galleries, including this one that is a combination of both
The entire town is an interesting mix of old and new. Step away from the handicraft shops, art galleries and cafés and you'll find the same tiny storefronts we've seen elsewhere, butchers hanging carcasses in the open air, the banana vendor pushing his cart as he calls out to the neighborhood.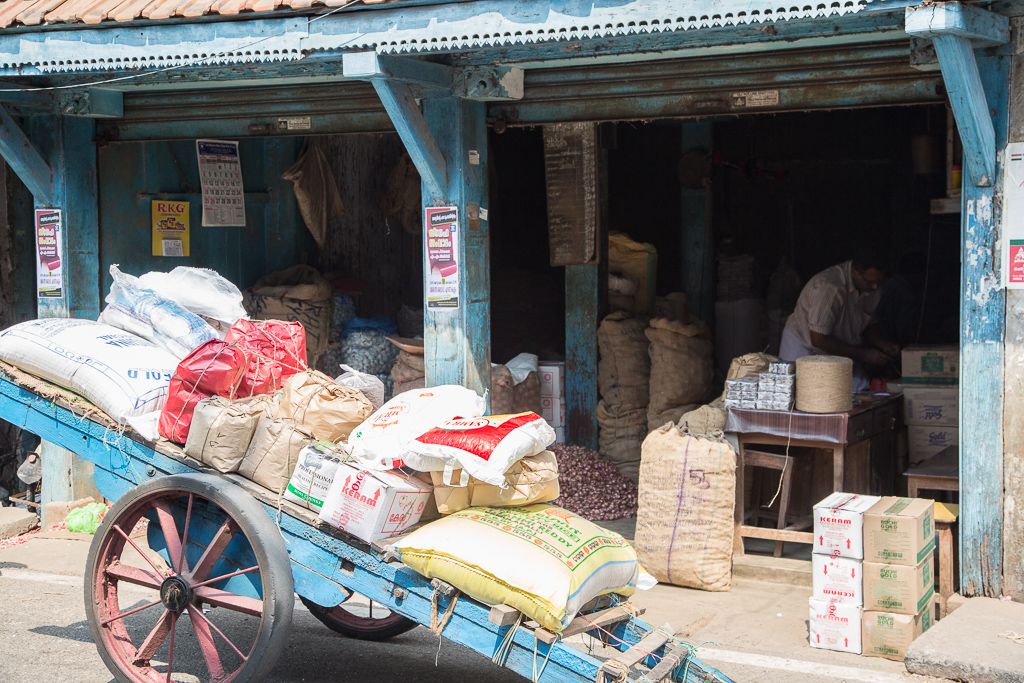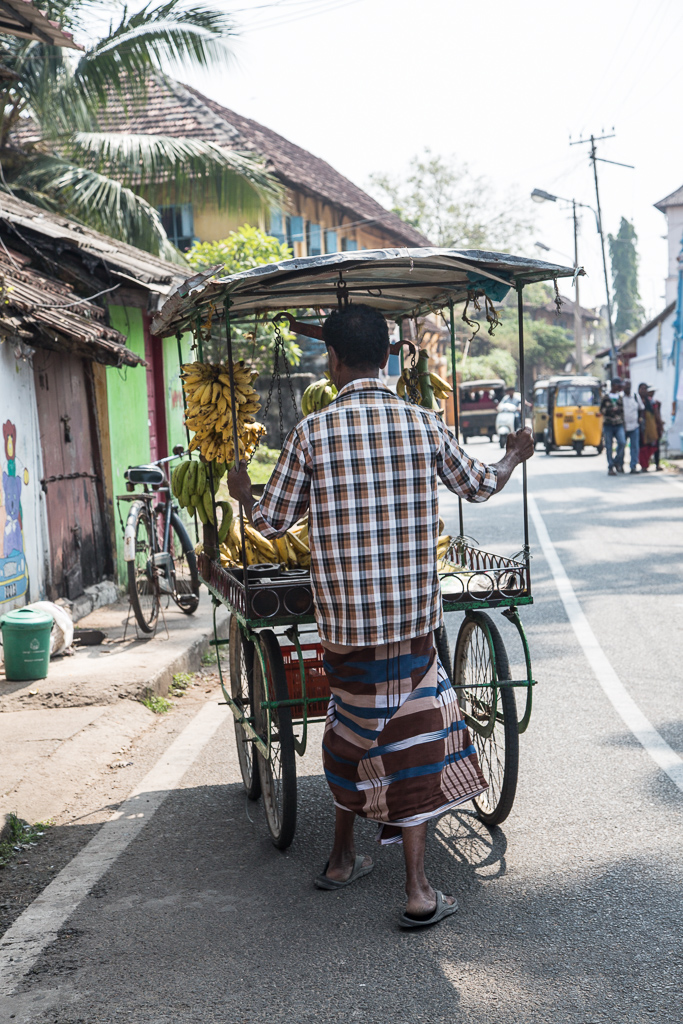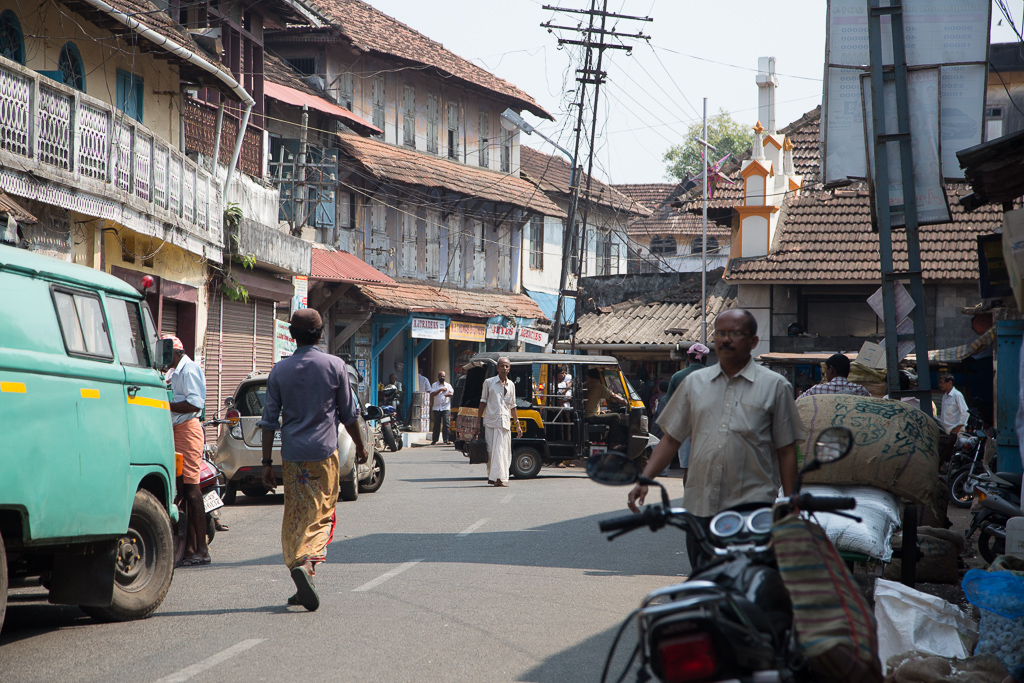 Old world and new meet at the waterfront too. Across the water, on the Eranakulam side, is a harbor with huge cranes and ocean-going cargo ships.  On the Fort Cochin beach there are dozens of fishermen's canoes, and extraordinary Chinese fishing nets whose history dates from the 14th century when the Chinese spent time here. (The name Cochin apparently means "like China" since the Chinese thought it looked like their native land.) The nets are lowered into the water using a system of counterweights, left in the water for about five minutes, and then raised up again. We were told it was low season and only saw a few fish coming up in the nets.
A surprising feature is the Jewish quarter, known as Jew Town. As is the case in so many places, its history includes times of acceptance and prosperity as well as stories of terrible persecution, depending on who held power in the area at any given time. The small, beautiful Paradesi synagogue, originally built in 1568, is the oldest in the British Commonwealth. The faces on the clock tower display Roman, Malayalam, and Hebrew numerals. The blue and white floor tiles, imported from China by a rabbi, feature Chinese designs of pagodas and trees. Having to remove your shoes in any temple, church or synagogue in India adds another dimension to the experience, a closer connection to the people who have felt the same cool floor under their feet for hundreds of years. Photographs not allowed, but a quick web search will turn up plenty.
Jew Town is also the spice quarter. Wholesale ginger merchants store piles of ginger inside dark, narrow buildings known as go-downs. Poking our heads in just past the doorway we inhaled the strong aroma; the powder in the air left us coughing for a while. We were told that there area once many pepper merchants here as well, and that in fact the area was once the major pepper source for the world, however as pepper began to be grown at lower cost in other parts of Asia, that part of the market dwindled.
Our timing coincided with Kochi's second Biennale exhibition (http://kochimuzirisbiennale.org). This biennial art exhibition features a huge variety of installations throughout the town. The main venue is Aspinwall House, a large ocean-facing building that was originally the business premises of a company that traded in coconut oil, pepper, timber, lemon grass oil, ginger, spices, coir, coffee, tea and rubber. The compound's various buildings, which once served as warehouses, offices, and even a laboratory (which makes an amazing stage for one artist's clay creations) have been repurposed as event spaces. We also discovered art galleries in a variety of buildings that had been turned into chic modern spaces. In their six months of traveling throughout the south of India Deb and family had not seen any art at all, other than handicrafts and temples, so this was for them a welcome flood after the drought.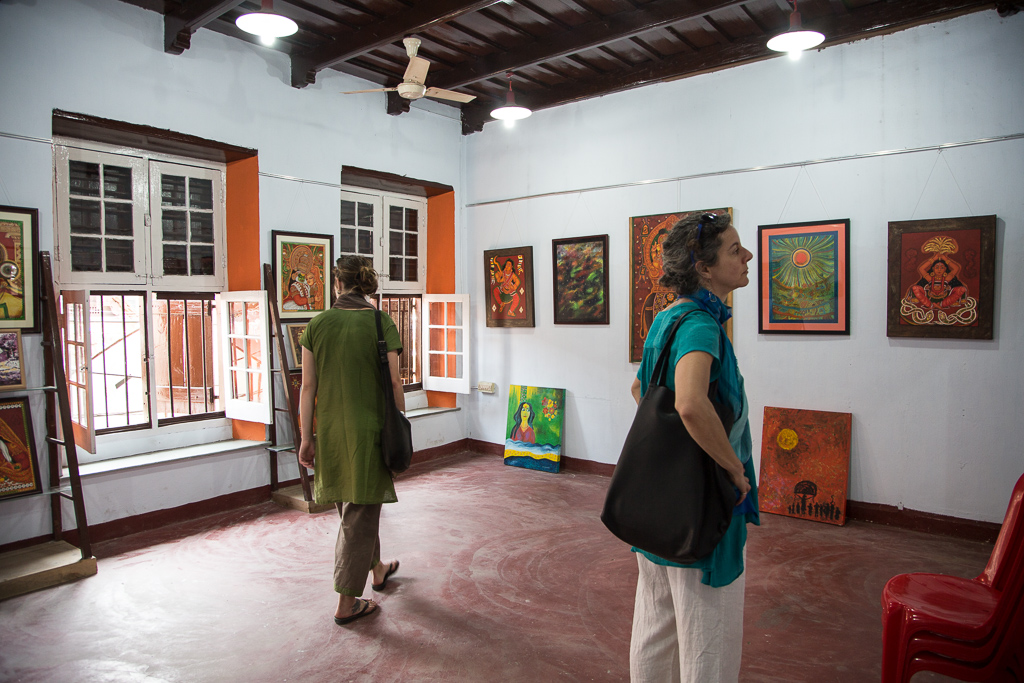 One of my favorite memories of Kochi will be a walk I enjoyed with my nephew Liam. We bought a hot and delicious freshly cooked paratha from a street vendor, and decided to also try a few sweets from a bakery. We agreed after tasting several that we can happily live without them. Indians, including Indian bakeries, generally don't bake–so the cookie was fried and the fruit jelly was both tasteless and overly sweet. The square made from ground nuts was the best of the three we tried, but also far too sweet. My recommendation if you want dessert in India is to stick with ice cream or fruit!
Wrapping up…
I brought home more than 3500 photographs and will be sorting through them, and sharing some, in the coming weeks and months. In three weeks and just eight towns in only two of India's 29 states I saw an incredible variety and slices of lives so different than my own. Although it's wonderful to be home with my family, to not be hot and sweaty all the time, and to enjoy a meal without rice, my suburban North American life seems a bit sterile compared to the earthy, vibrant, crowded, colorful, spicy world of the Indian subcontinent. I'm sure I'll be back!