More London, Off the Beaten Path
…
I'm missing London today, so I thought I'd take you on a tour of a few more discoveries in my favorite city.  Perhaps not entirely off the beaten path, but likely not in your average  guide book.
I passed by the Royal Courts of Justice dozens of times before finally going in, and I'm glad I did.  The web site is confusing and implies that you have to sign up for a tour, but in fact you can just walk in during business hours, go through security, and do a self-guided walking tour. There's a sense of solemnity throughout, and some interesting rooms and displays. Photography is not allowed inside.
Known as "the walkie-talkie" building, 20 Fenchurch Street is a prominent fixture in the London skyline. And at the top is a 3-story greenhouse garden with a great view.  Reservations are required for the restaurants and often just to go up to the garden, but if you arrive early they usually do take walk-ins–and it's free to go up and look around.  There are a couple of coffee bars for a coffee/tea/pastry while you enjoy the view.
Anyone who knows me knows I dislike shopping, so this next one is a bit of a surprise, even to me.  I had of course heard of Harrods, the legendary department store in ritzy Knightsbridge.  It's certainly an experience. But there are two other department stores that I find much more fun and interesting: Fortnum and Mason, and Liberty. I've taken visitors to both and no one has ever been disappointed. They're also more convenient than Harrods, near Picadilly Circus, Carnaby Street, and other places you'll probably be exploring.
London's oldest botanical garden was established in 1673.  Located in upscale Chelsea, it's not huge and not free, but there's something magical about a 300-year-old walled garden. The plants are all medicinal, edible, or otherwise useful, and there's a cafe and small gift shop. If you love gardens it's worth going.
I've mentioned Guildhall before, city hall for the City of London, but there's a newer, modern headquarters for the Greater London Authority, which comprises all the boroughs which make up Greater London. When you hear about the Mayor of London, they're usually referring to the head of the GLA (as opposed to the Lord Mayor of the one-square-mile City of London).  It's a cool building (although I don't think that opinion is widely shared), and although there was no meeting in session when I visited, I thought it was worth a peek.  No charge to enter, just a security scan.
So much of London is upscale, polished and manicured–the above locations are testaments to that. Even the last of the grittier areas are quickly being gentrified. I found myself looking for down-to-earth pockets and found a few.  While these are places I enjoy, I don't overlook the fact that these are also the poorer areas of the city; I just find that they are more unassuming and less pretentious than many other neighbourhoods, and if I'm going to spend money I'm happy to do it here.
Whether you're looking for a great price on tomatoes, fresh fish, sizzling kebabs, clothing, electronics, wigs, shoes, fabric with vibrant African and Indian patterns, or just about anything else, you'll probably find it here. The market seems to have a pulse, alive with people and cultures from around the world.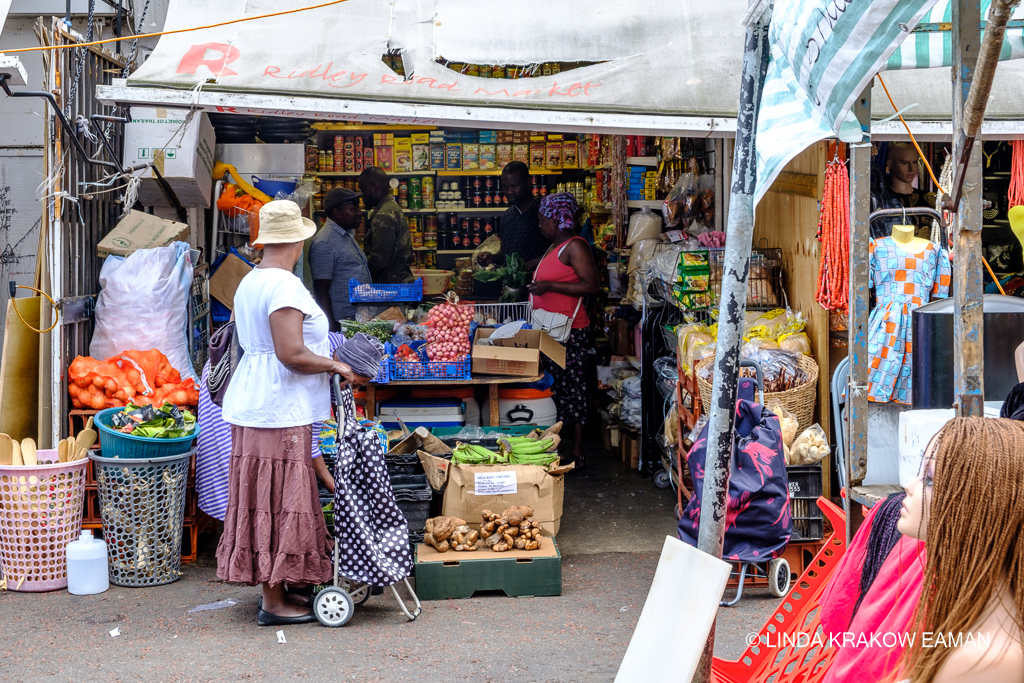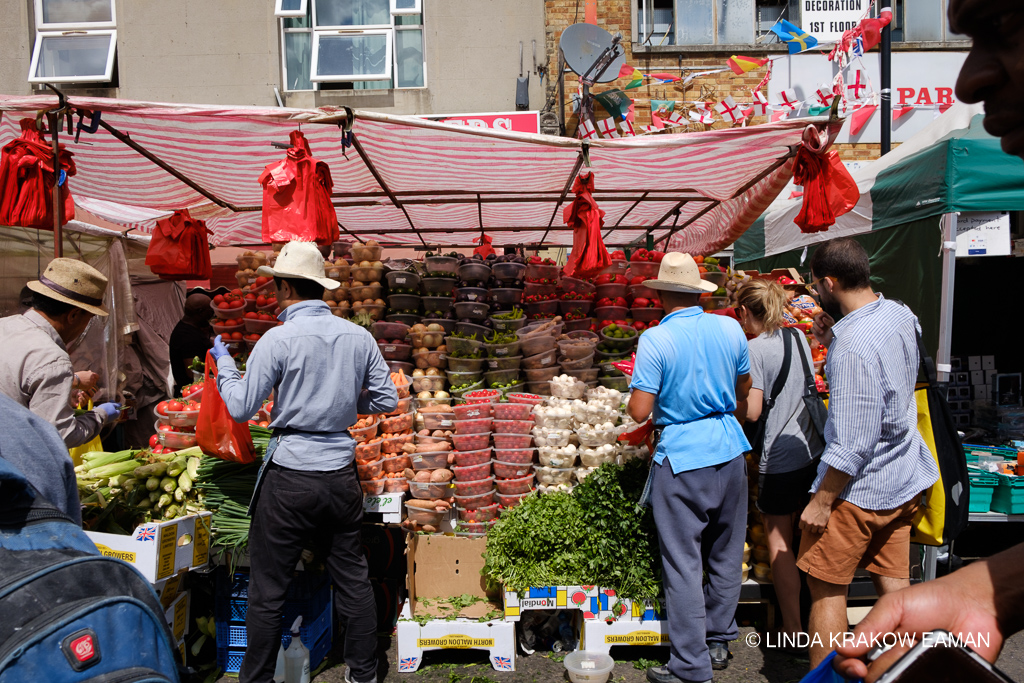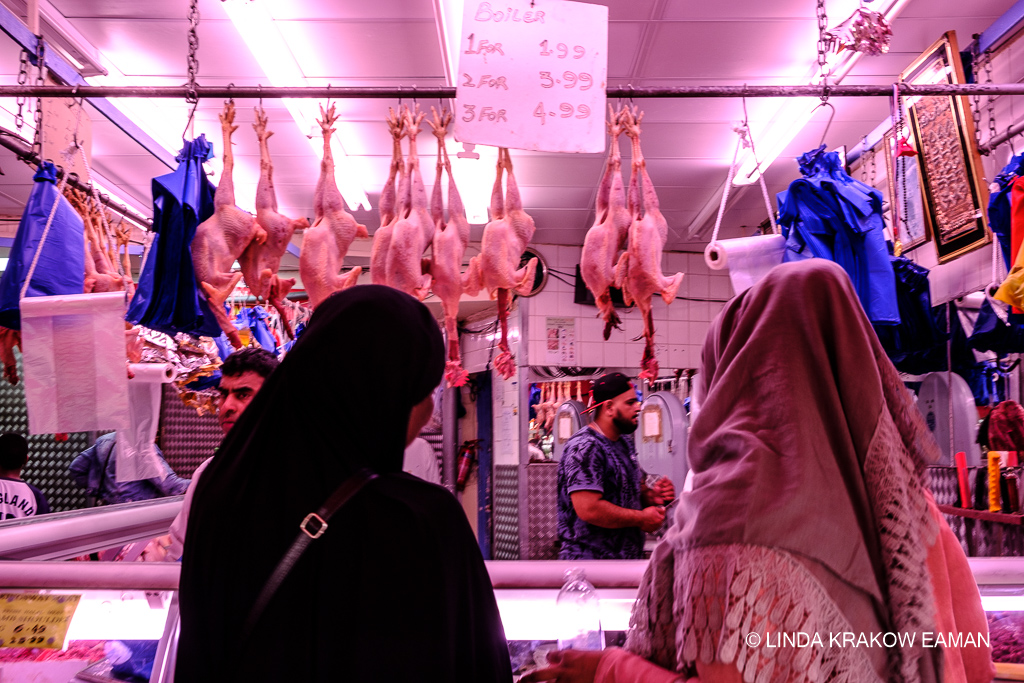 You've probably heard of the observatory at Greenwich, home of Greenwich Mean Time. Nearby are the buildings of the Old Royal Naval Academy and one of those buildings has exquisitely painted walls and ceiling, and every bit of it illustrates a story, some part of the local history as seen by the artist–some of which was probably not pointed out to the sponsoring patron! The ceiling has been under conservation for several years, and just before leaving I bought a ticket for a tour on the scaffolding. What a treat to be so close to such a magnificent piece of art!  They're now in the process of removing the scaffolding, and the building will reopen to the public in March 2019.  Even if you can no longer climb up to the ceiling, I'd recommend a visit to this remarkable bit of local history!  https://www.ornc.org/painted-hall-project
Now I'm missing London even more!  Time for a visit, perhaps?