Let's be honest. Not every trip is magical, not every place turns out to be what you expected. The trick is to enjoy the moment, to be grateful, and to appreciate what is there.
We knew that a week wouldn't be long enough to see much, so we were resigned to making it a highlights tour. At least we would get a sense of the place. 
Arriving in Christchurch and ending in Queenstown, we picked out a few South Island highlights and tried to create an itinerary that hit as many of them as possible, mostly along the west coast. Nope. July is winter in New Zealand, and the forecast for the west coast was RAIN, all week. We wouldn't melt, but why put yourself through that when there are viable alternatives? So we adjusted. 
In addition to skipping some of the "must see" locations (the Fox and Franz Josef glaciers on the west coast), we soon eliminated others (Milford Sound, the albatross colony near Dunedin) once we realized that we just didn't have time to fit them in and still travel at a comfortable pace. Then I discovered that the landscape was not what I had expected. In my imagination New Zealand was lush and green and almost tropical, and whether because of the locations we chose or the weather or the time of year, it wasn't. Not that it wasn't beautiful, it just wasn't different. It looked a lot like places I've seen before, that didn't require so much time and money to get to. And I felt guilty about feeling disappointed. Ah, that bit about gratitude and enjoying the moment. Marc is an expert; I'm still working on it. But stay tuned — this does end well!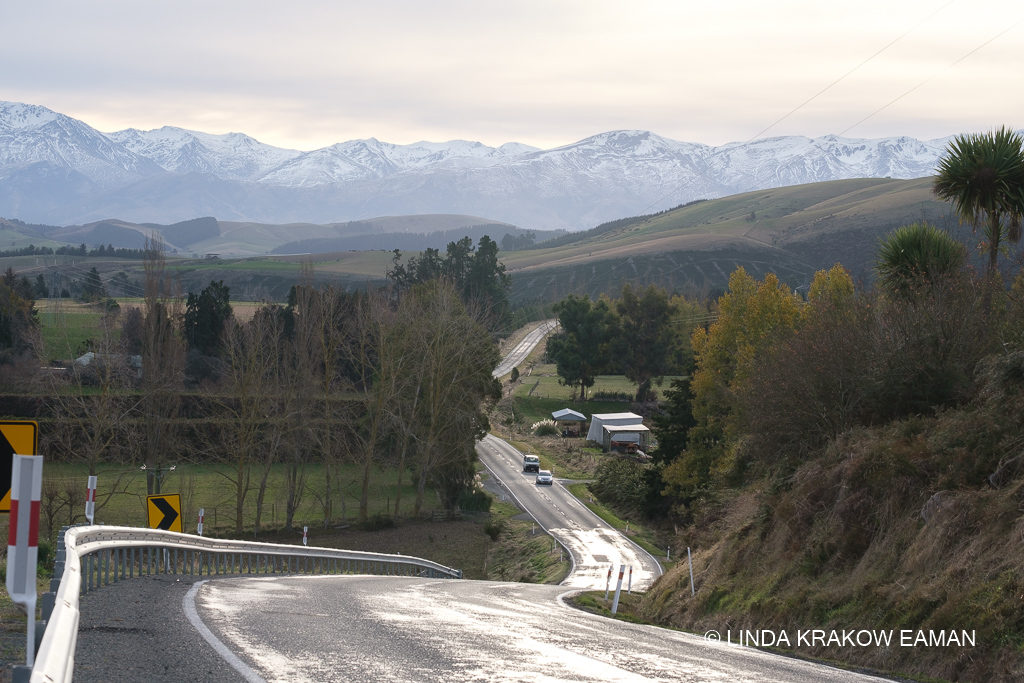 It took me a few days to start to really appreciate what we were seeing. Expansive flat valleys surrounded by ranges of glacier-topped mountains. A rocky landscape that seems almost barren except for the golden grasses called tussock and occasional plantations of tightly packed pine trees, although up close there's more than initially meets the eye—bushes and trees, leafless in the winter, were loaded with red berries, and beside the lakes the distinctive leaves of lupines were emerging low to the ground. Rivers like vast elaborate braids, running from distant white-capped mountains through flat, wide rocky beds into lakes made turquoise by rock flour from the glaciers. Occasionally we found lush areas where water rushed through deep gorges. Looking back through my pictures, it's hard to imagine disappointment at all!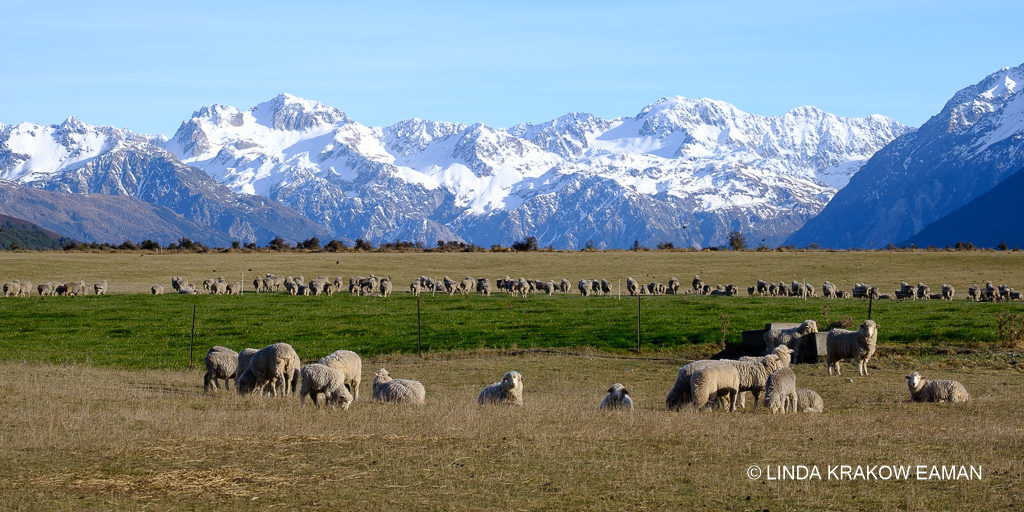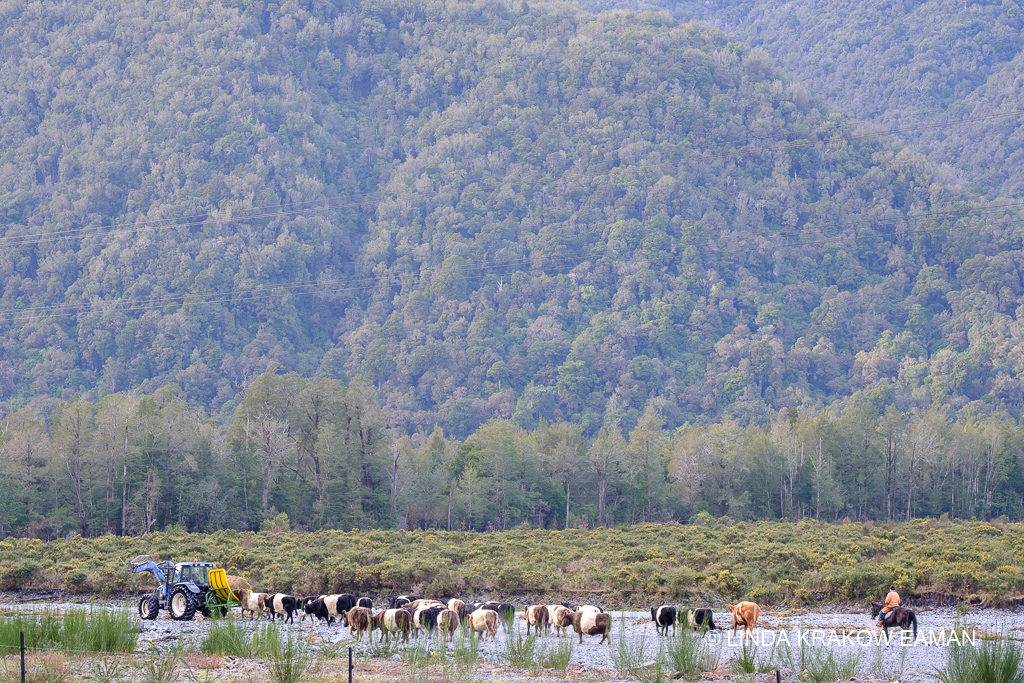 Christchurch
Christchurch is a lovely town, population less than 400,000. The cathedral is a reminder of the devastating earthquake of 2010, a construction site in the middle of the square. Art is everywhere, in the form of street art and creative architecture. We skipped the very expensive tram ride and chose to just wander.
There seems to be a greater respect and appreciations for the Maori people and culture here than there is for the native people in the United States, Canada, or Australia. The name of the country is always listed as Aotearoa New Zealand, with the Maori name first. The Maori language, Te Reo, is one of the official languages of New Zealand (along with English and New Zealand Sign Language.) You see it on signs, especially government signs and departments names; Kia Ora (hello, goodbye, thank you) was one of the first things I noticed at the airport. Many place names are Maori. I didn't hear anyone speaking Te Reo around us, but at the airport I was fascinated by a Maori TV station. I was hungry to know more, though, and found little information other than at the Canterbury Museum in Christchurch (which I highly recommend).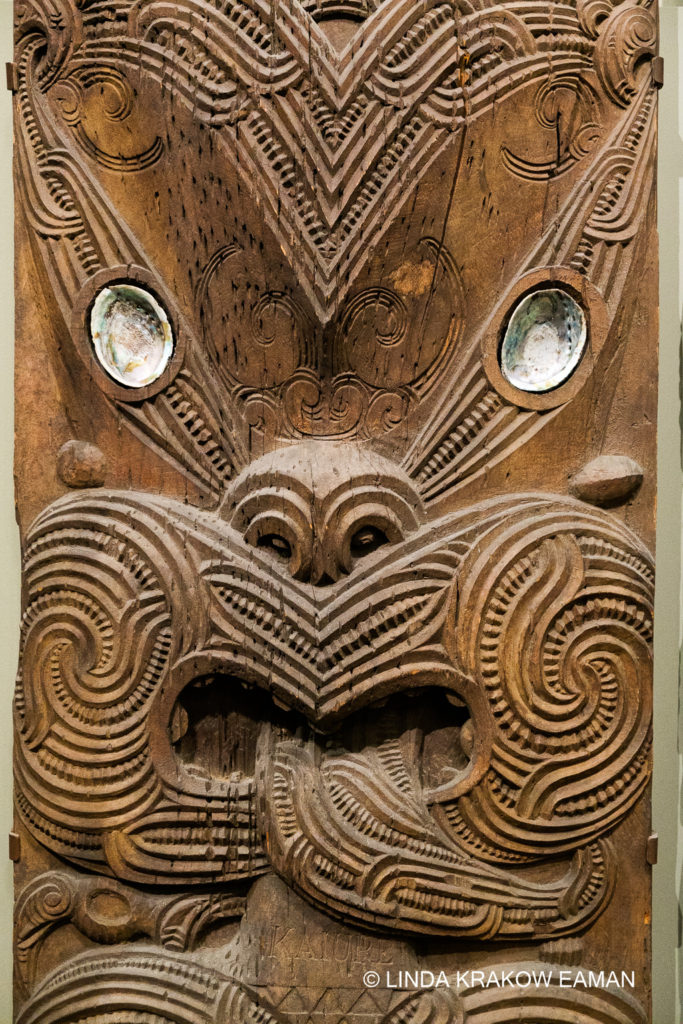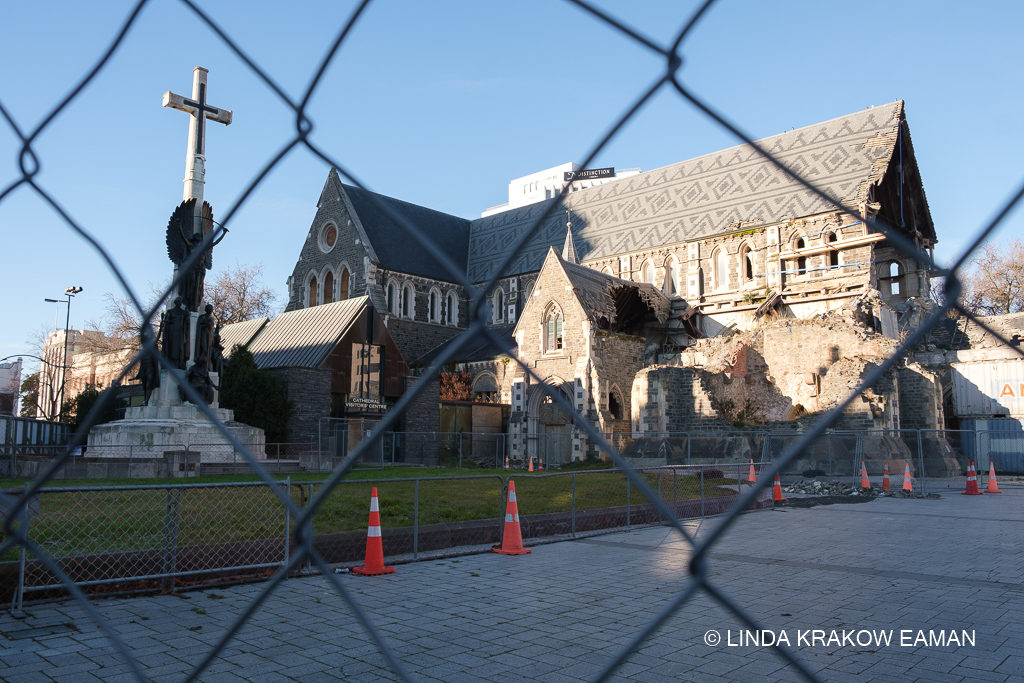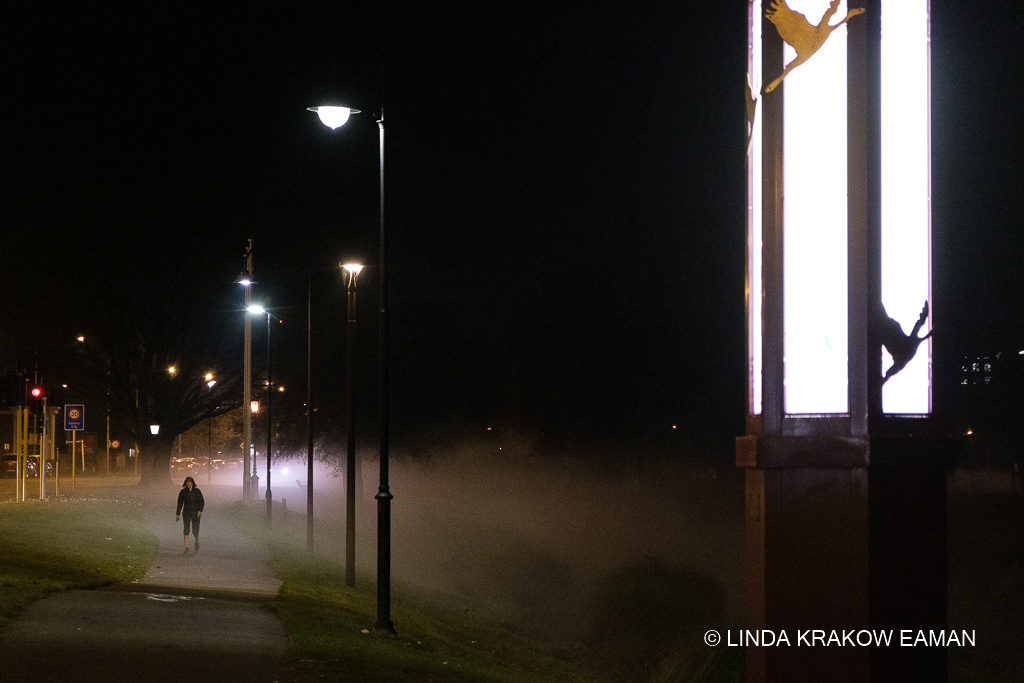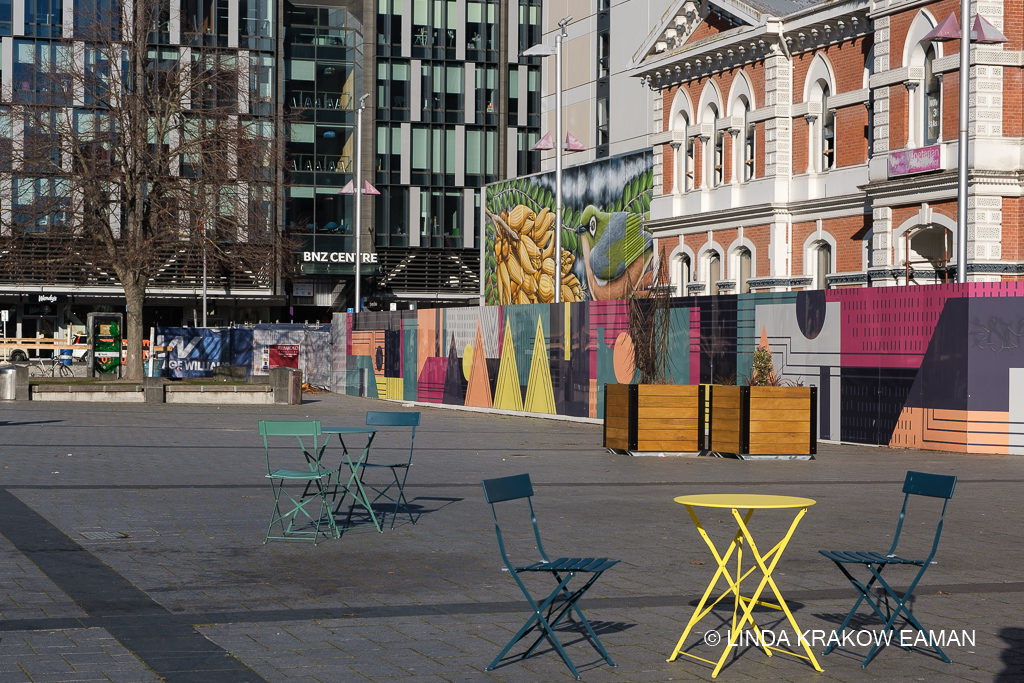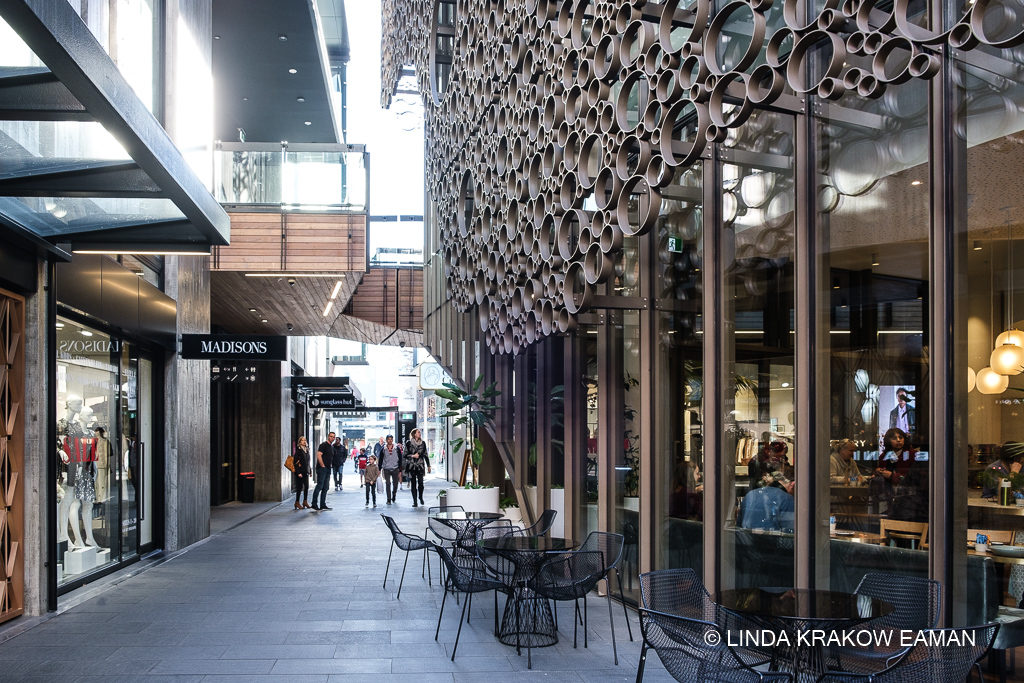 Arthur's pass
Since we had decided we wouldn't be driving down the west coast, we thought we'd at least get a glimpse of it, taking the Arthur's Pass road that cuts straight across the island. Guidebooks and web sites make a big deal about the potential for closure during bad winter weather, but although temps were freezing overnight the road was clear. There are a few spectacular views (see photo below), and some good hikes and waterfalls if you have time for them, but the round trip is really a bit much to do in one day especially if you want to be back by nightfall in the winter.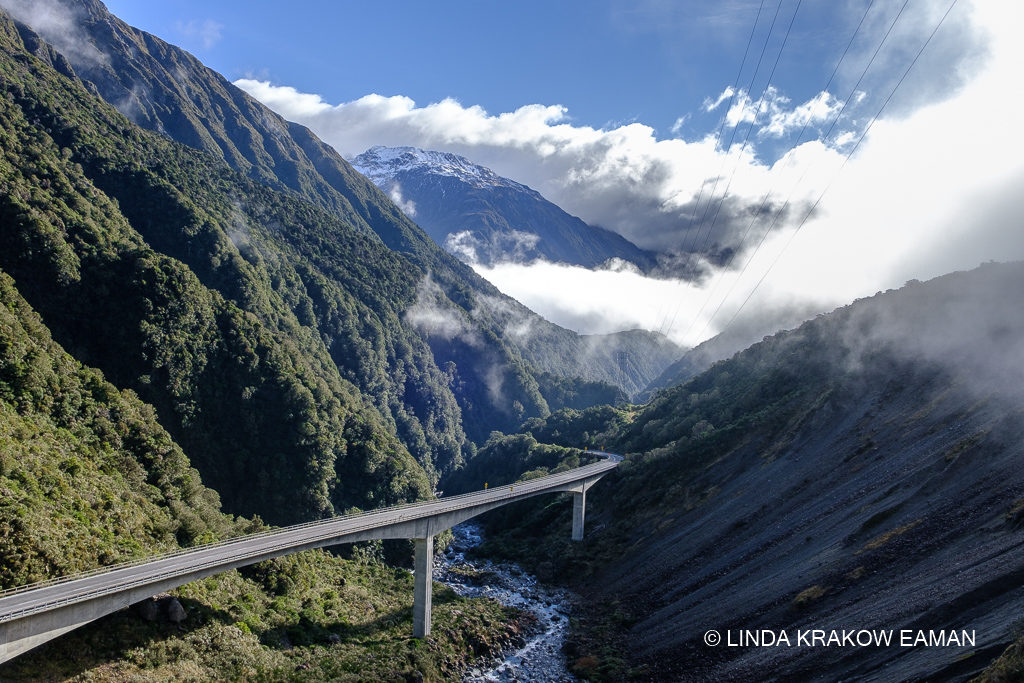 Hokitika
This was our one west coast stop, our destination after driving through Arthur's pass. New Zealand had a gold rush in the 1860s, and it's amazing how much the gold rush towns here resemble the ones in California, halfway around the world. Hokitika is known for its art galleries, although many of them were closed for a winter break. The area is also known for Pounamu or "New Zealand jade", a green stone highly sought after by the Maori and available as pendants and other jewelery, from mass produced souvenirs to exquisite works by local artists.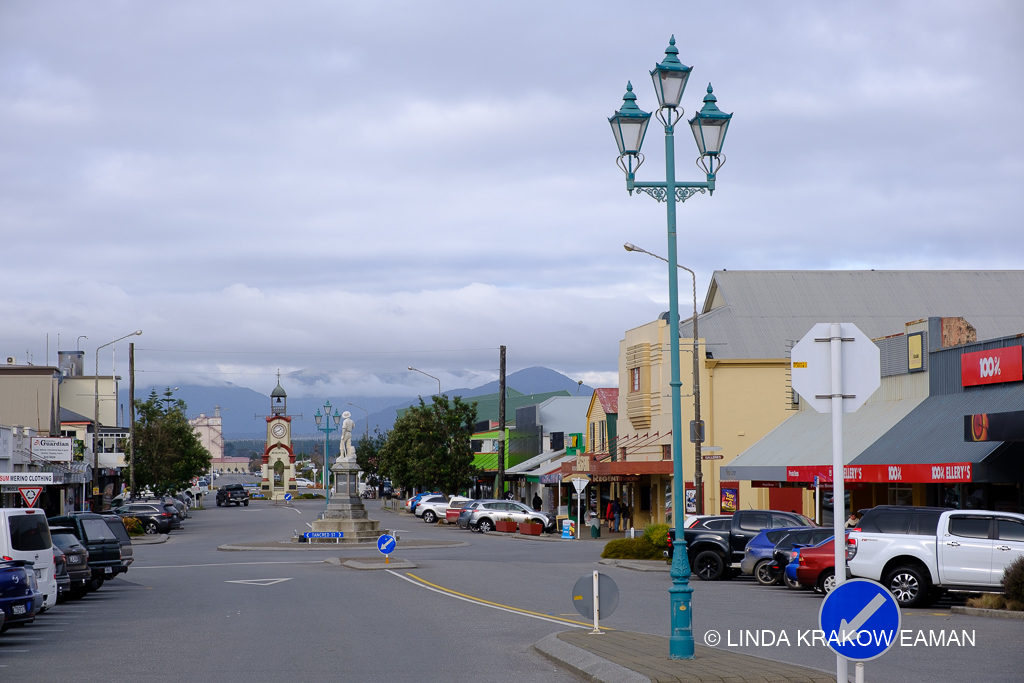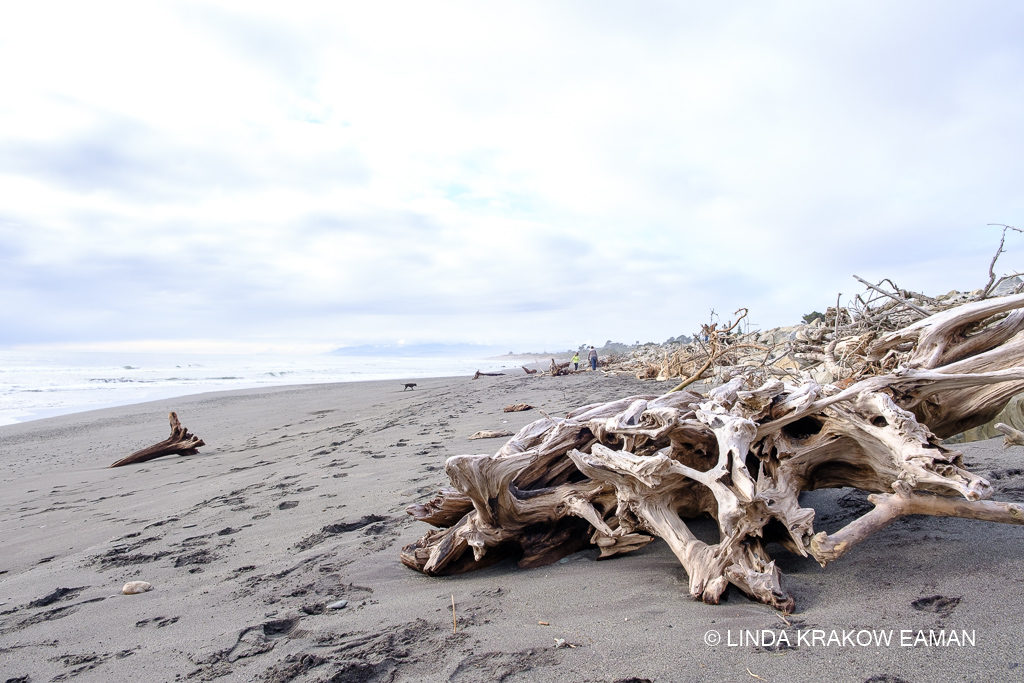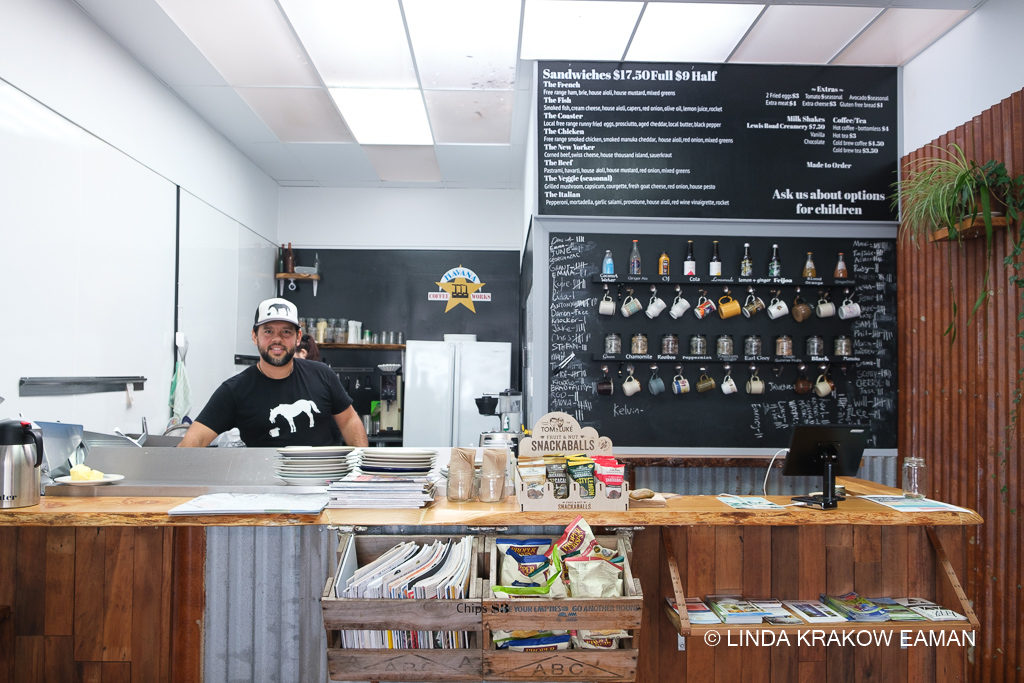 Lake Tekapo
Lake Tekapo seemed like a good place to stay for a couple of nights. It was almost sunset when we arrived, so photographs were priority one.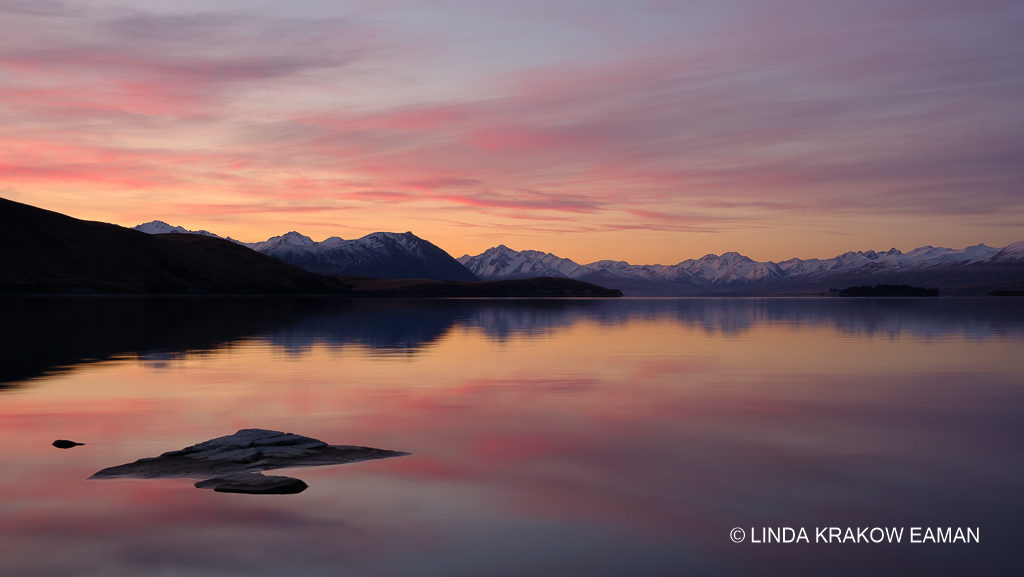 The little town, snug at one end of the lake, seems to be all about tourism, and the sky. There are a few restaurants, a bunch of stores selling woolen goods and souvenirs, ticket offices for airplane and helicopter tours, a resort offering winter sports and hot springs, and a small village of homes. The population is apparently under 400, but I'm sure I saw as many tourists, and it was low season!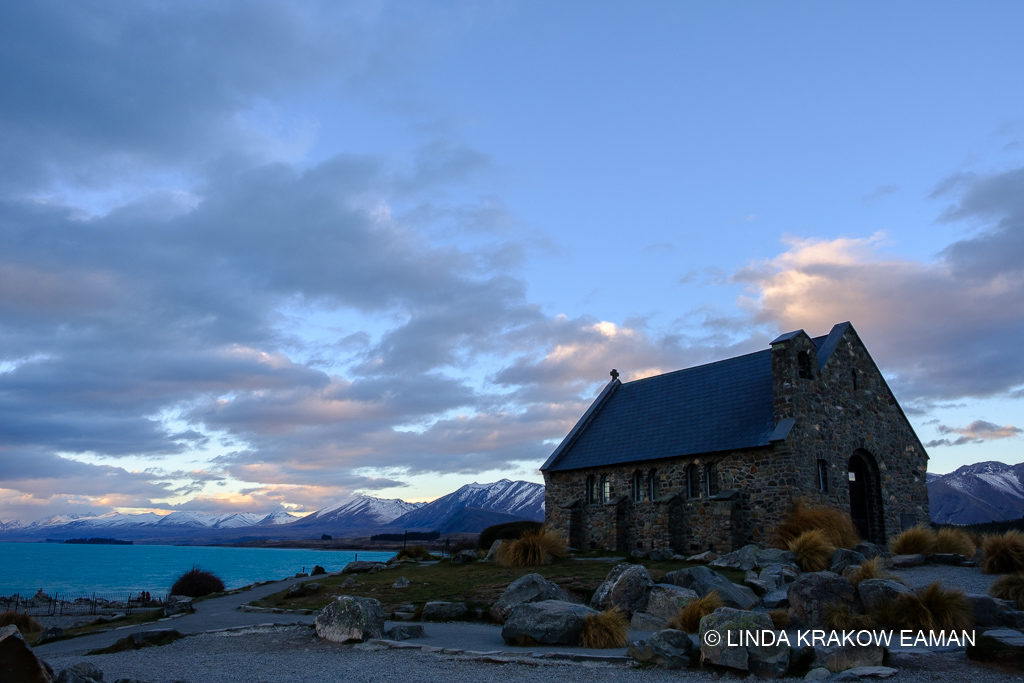 Tekapo is in the 4300 sq. km. Aoraki Mackenzie International Dark Sky Reserve, one of only eight in the world. We passed on the expensive observatory tours but drove up to enjoy the café with a view, next to the telescope domes of the University of Canterbury's Mt. John Observatory.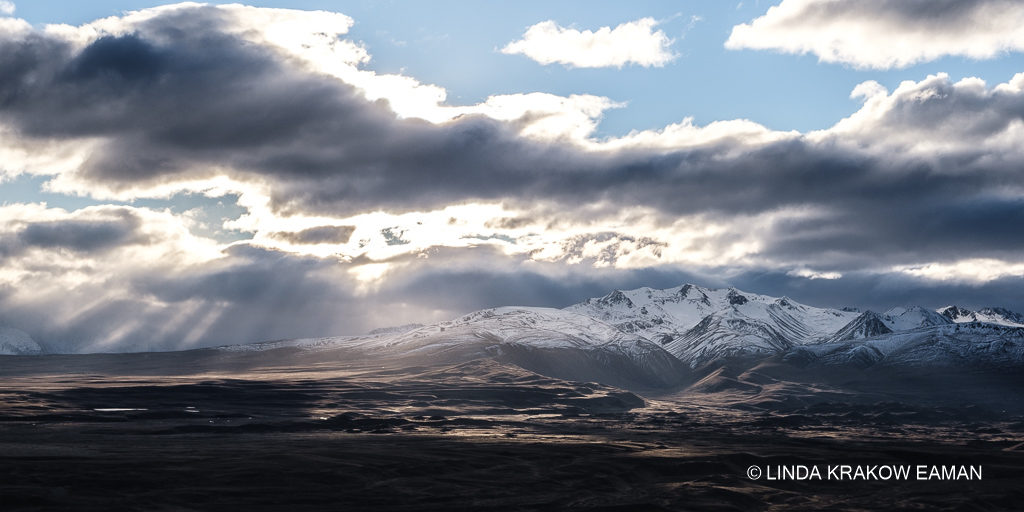 And later that night, the skies cleared… while a telescope view must have been spectacular, to see so many stars and the milky way with the naked eye is a magical, awe-inspiring experience!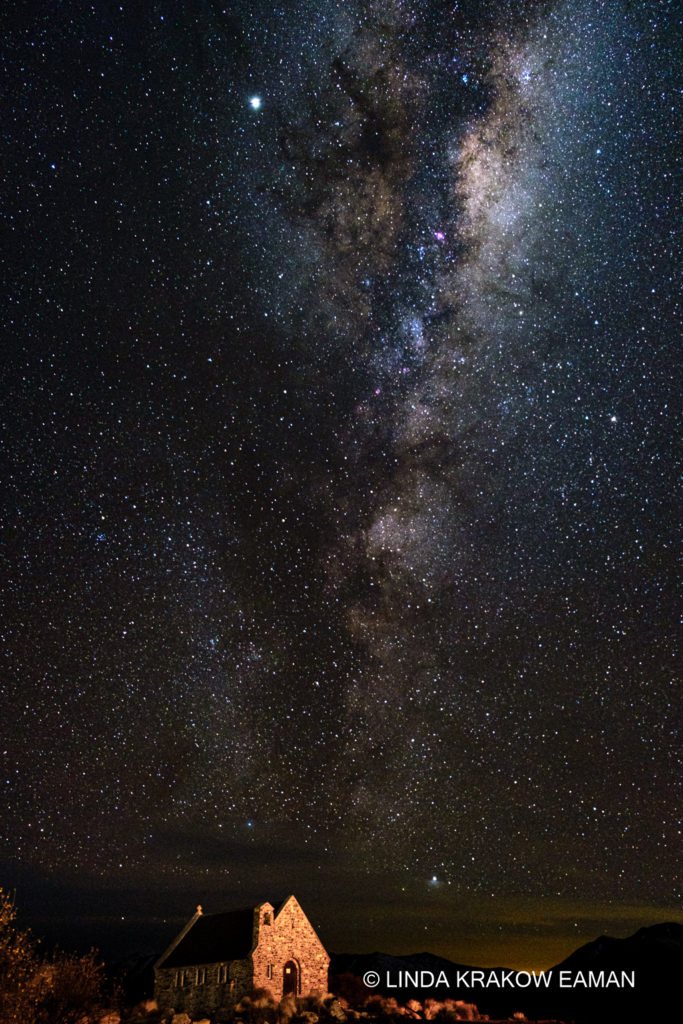 A few more images from Lake Tekapo…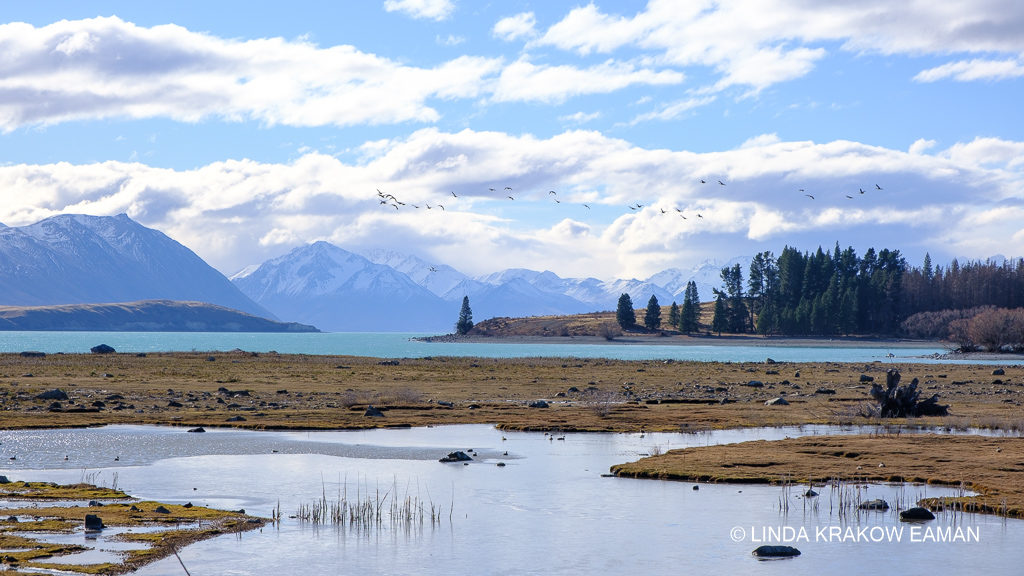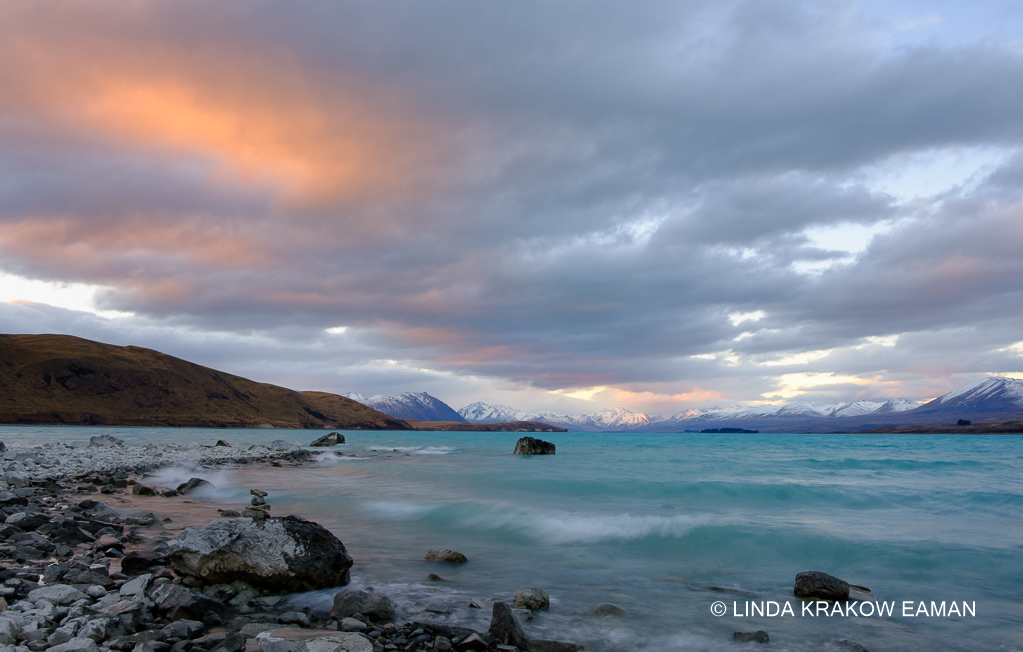 Aoraki Mt. Cook
A stop at Aoraki Mt. Cook (Aoraki means "cloud piercer") seemed like it might make up for having skipped the mountains and glaciers on the west coast. This is where New Zealander Edmund Hillary honed his climbing skills. We booked a room in the village, which is in the national park and has a rustic ski/hiking resort feel. Mountains make their own weather, though, and the blue skies turned gray as we approached.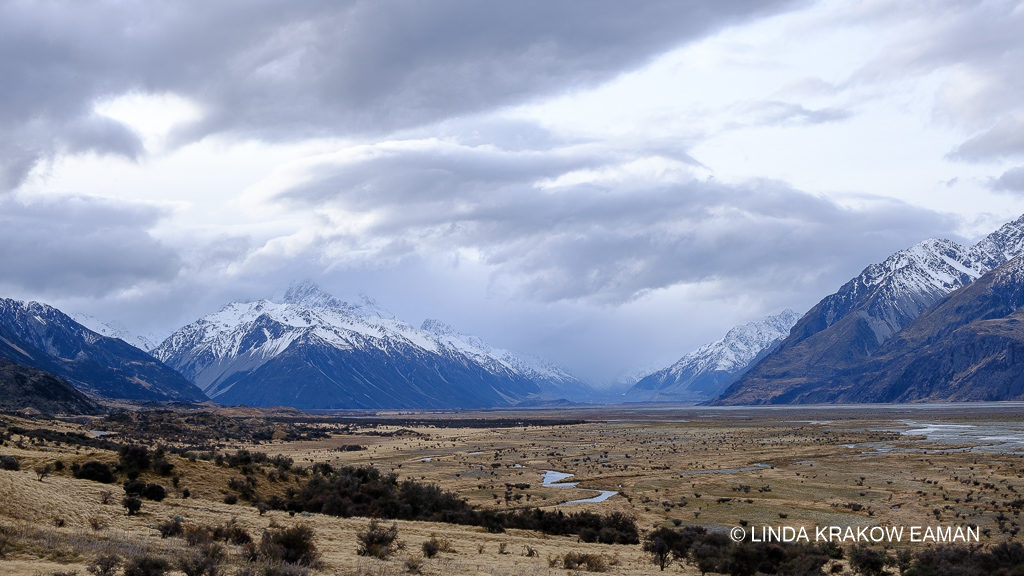 We hurried over to see the Tasman glacier before the rain came.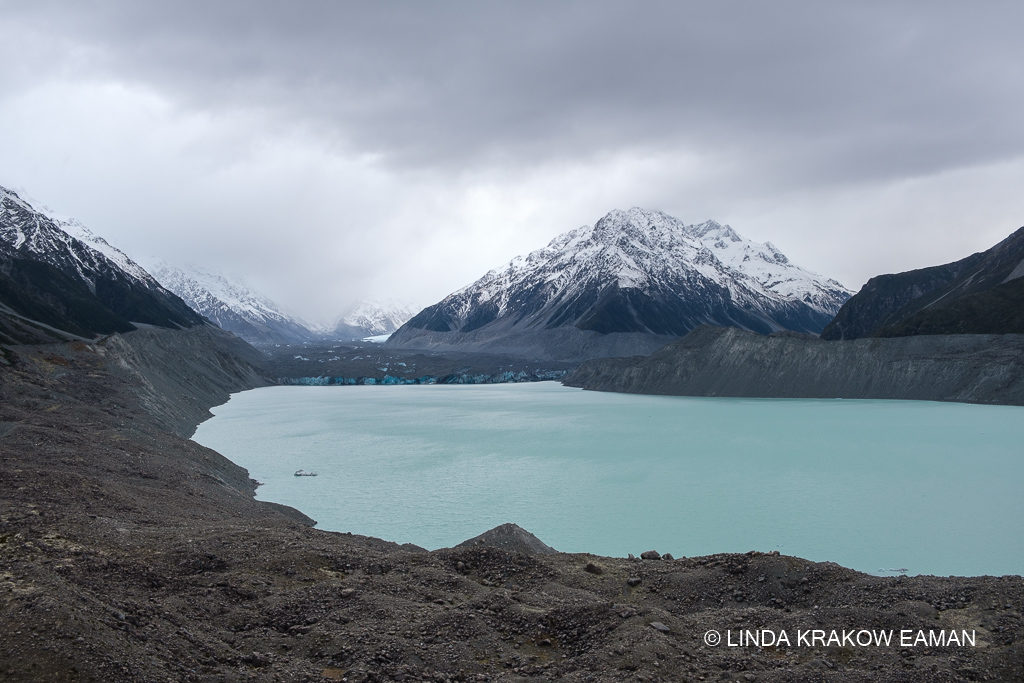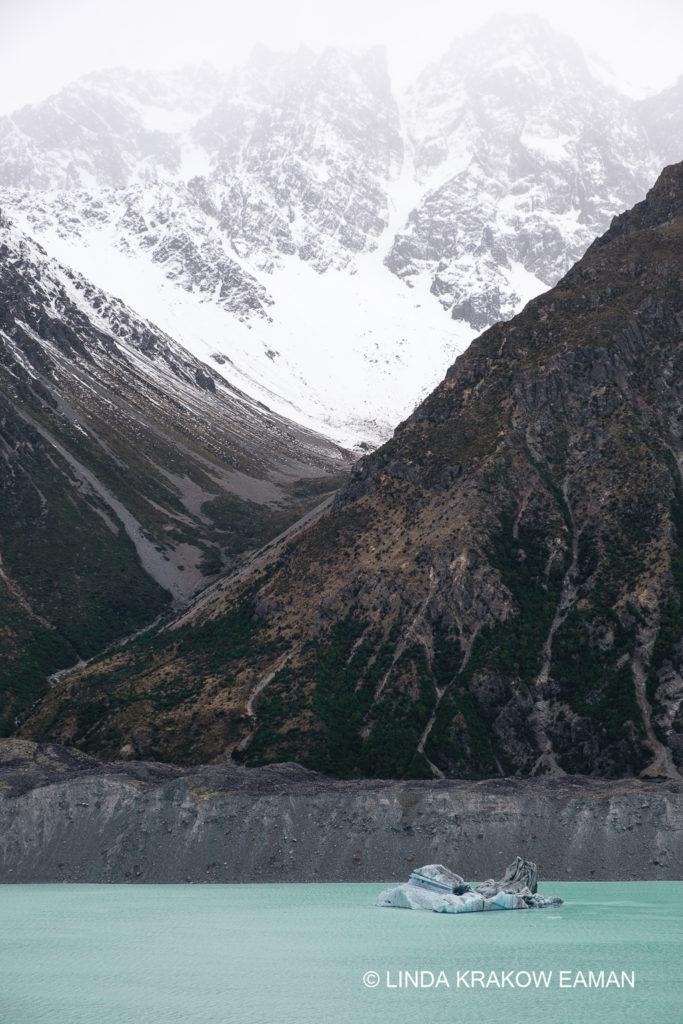 The next morning brought rain, dashing any hopes of hiking in the national park. So we moved on…
Twizel
Continuing South towards Queenstown, this little town — or at least, the town square — was one of our favorite places. Founded in 1968 as a home base for workers building the Upper Waitaki Hydroelectric Scheme, Twizel now has a population of about 1200, and triple that during the summer.
The town square seems to have everything you might need—including a coffee shop connected to the tiniest bookstore I've ever seen, staffed by one of the best booksellers I've ever met. She completely understood my request for books that would give me a sense of New Zealand, and after a few questions pulled two books that really enhanced my understanding of the history, landscape, and culture, and my experience overall.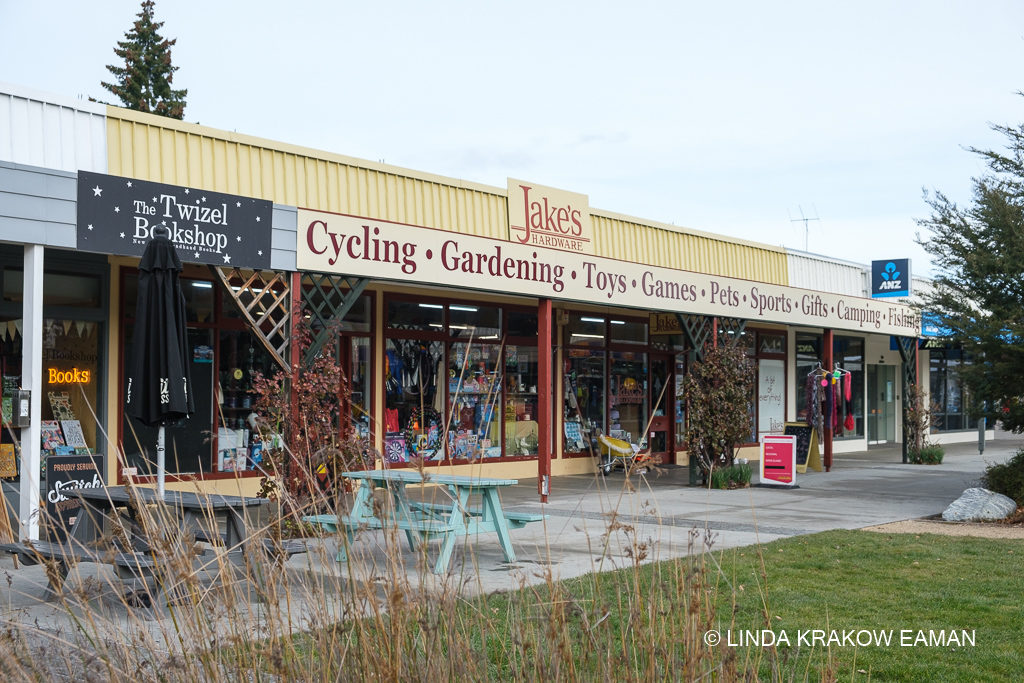 Omarama
Working our way south, we stopped to check out the clay cliffs near Omarama. From the main road, they're hardly visible and you wouldn't even look twice. But take the turnoff and hand painted signs (and Google Maps) direct you toward the hills, down a gravel road, through a gate you're asked to swing closed behind you (it's on private property), and around a bend until a small sign hanging from a chain tells you to walk from here. I would not want to be here during rain; the clay seems soft, and erosion must happen quickly!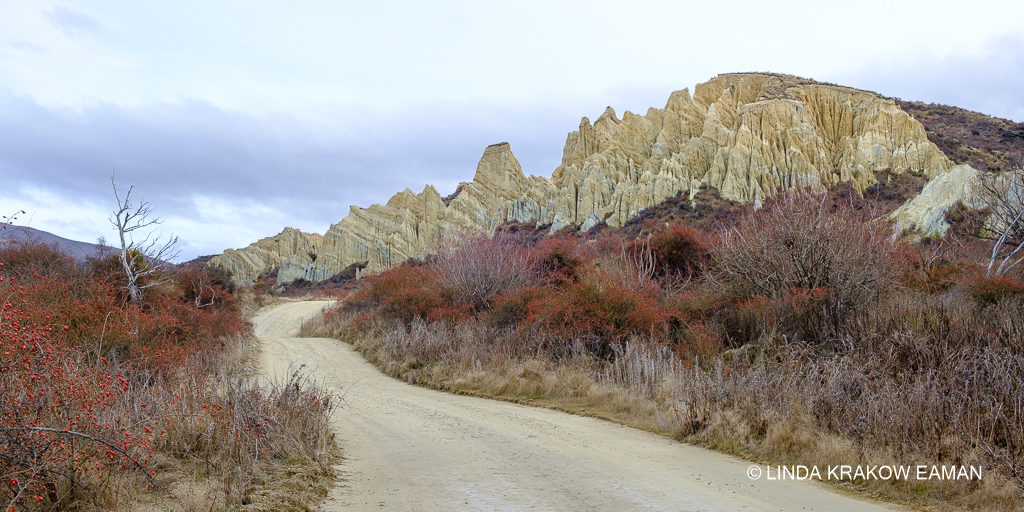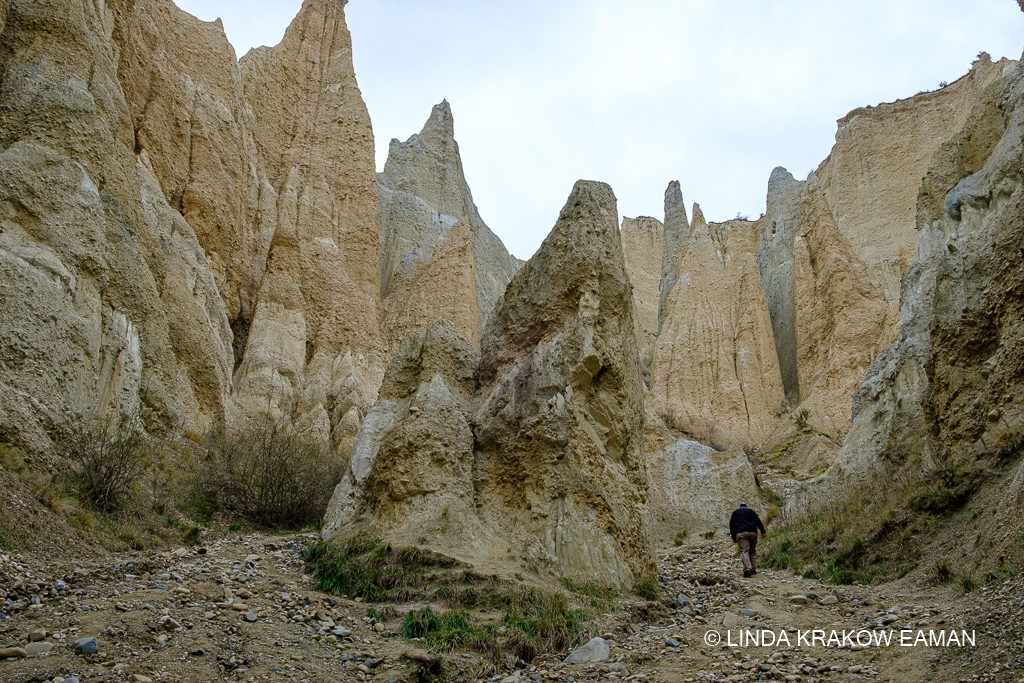 Lindis pass
Maybe it was just my frame of mind, but I think the landscape became increasingly striking as we drove south. At least, my cries of "stop, I need to take a picture!" became more and more frequent!

Tarras
According to Wikipedia, the population of Tarras numbers 231. The little center on the main road consists of a school, a gas station, a country café, and a couple of shops… Blink and you'd miss it. But stop in at the café, browse the fine wool sweaters in the adjoining store, and watch the comings and goings. A group of young men chatted over a hearty breakfast, a few tourists came and went, and a handful of farmers in their muddy boots, sheepdogs in the back of their trucks, drank lattes at the picnic table outside. I bought a super soft Merino and possum wool sweater (yes, possum), and had a second coffee just so we could sit a little longer, until it started to rain.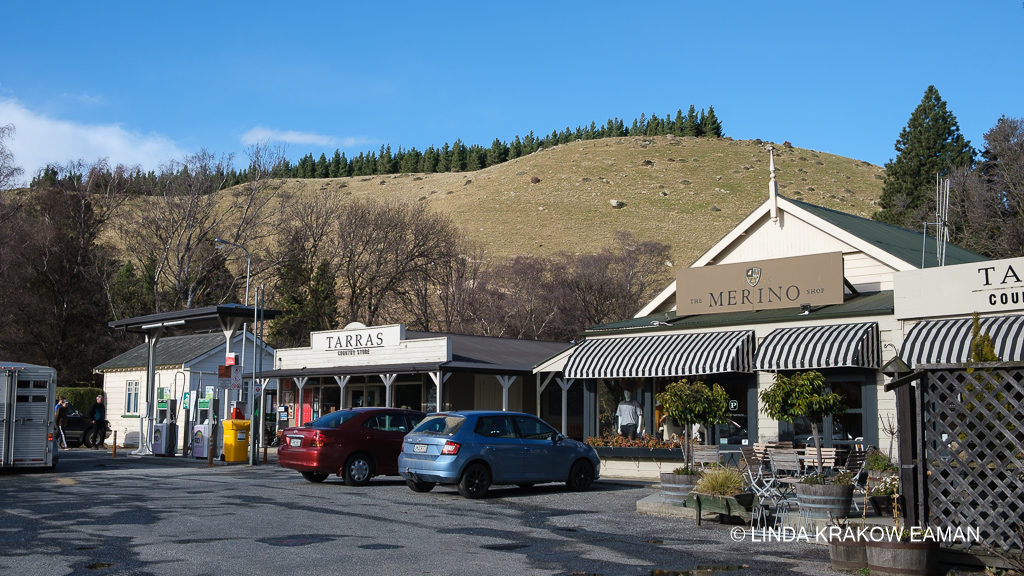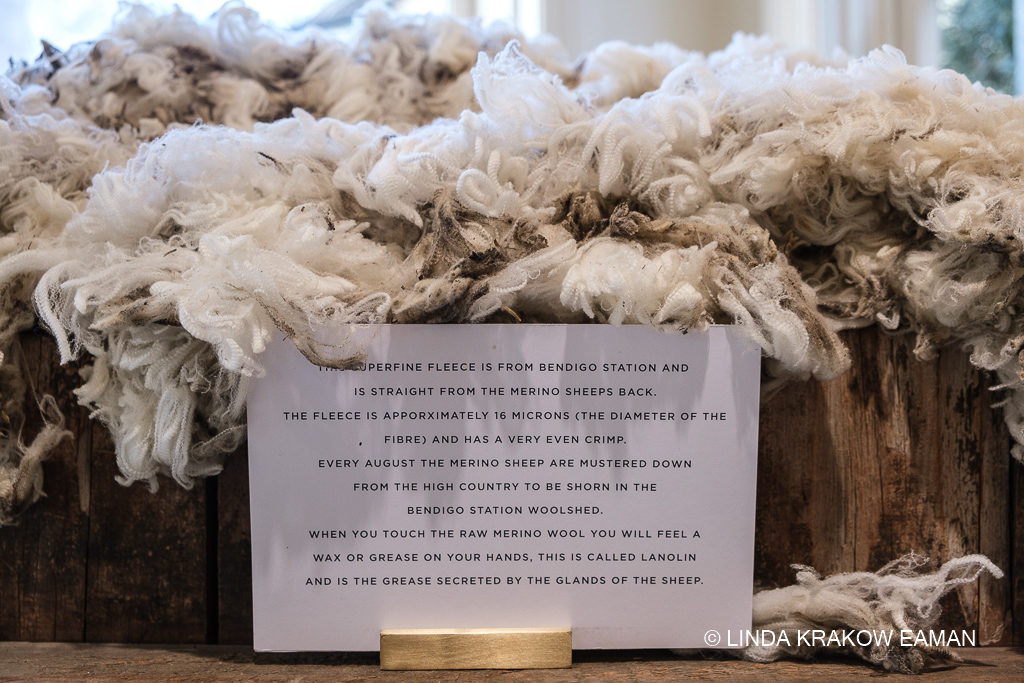 Queenstown
Everyone I talked to LOVES Queenstown. Meh. It's a nice town, but with a strong touristy apres-ski vibe that's not our thing. The surrounding landscape, though, is gorgeous, and ourlittle rented cabin, just fifteen minutes away (up a twisty mountain road) was a haven in the woods, with a view of snow-capped peaks and another clear night for admiring the Southern Cross and other constellations we don't see in the northern hemisphere.
So after a nice dinner in town and a wander through art galleries/souvenir shops, we were happy to spend the next day enjoying the cabin and doing a bit of exploring nearby.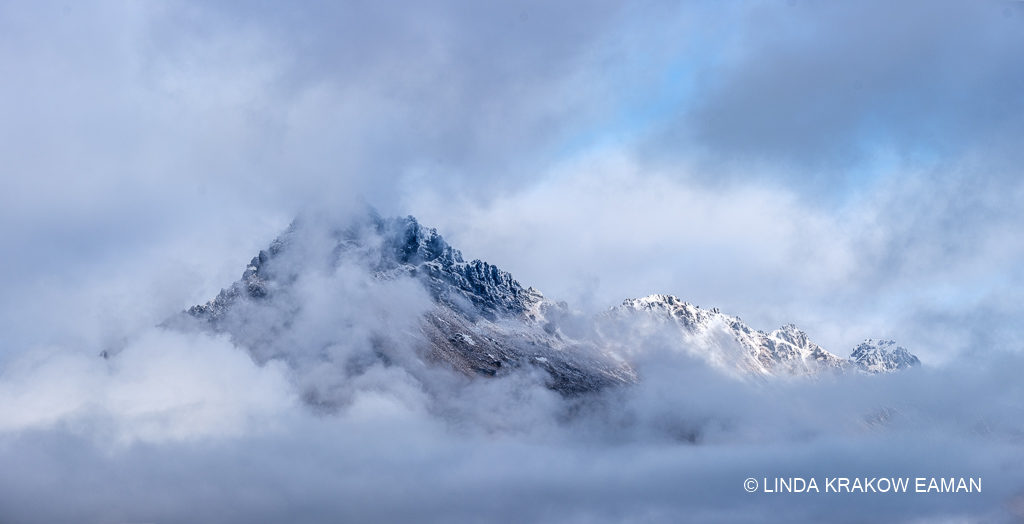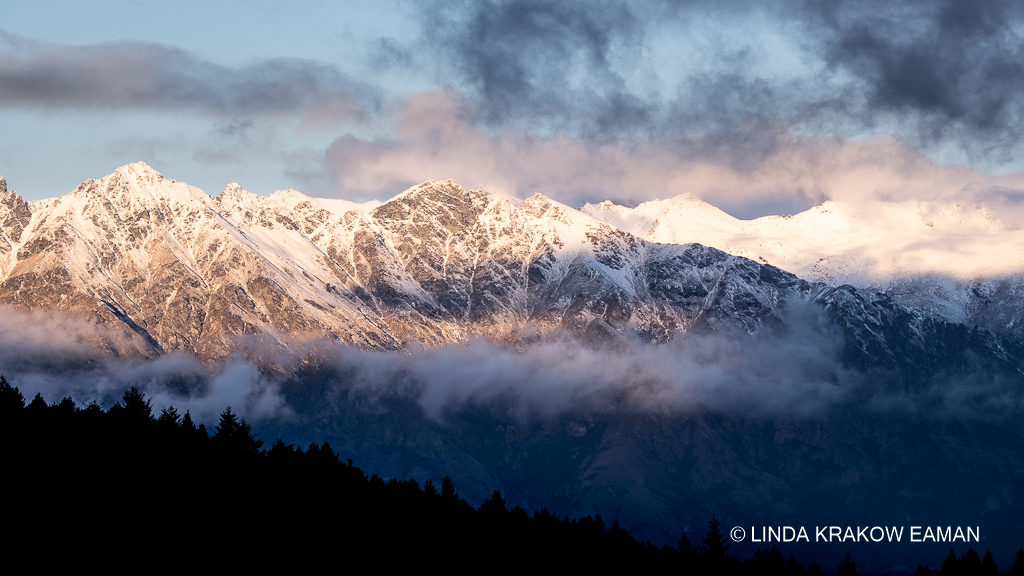 Arrowtown
Arrowtown, about a half hour from Queenstown, seemed like a good outing for the day.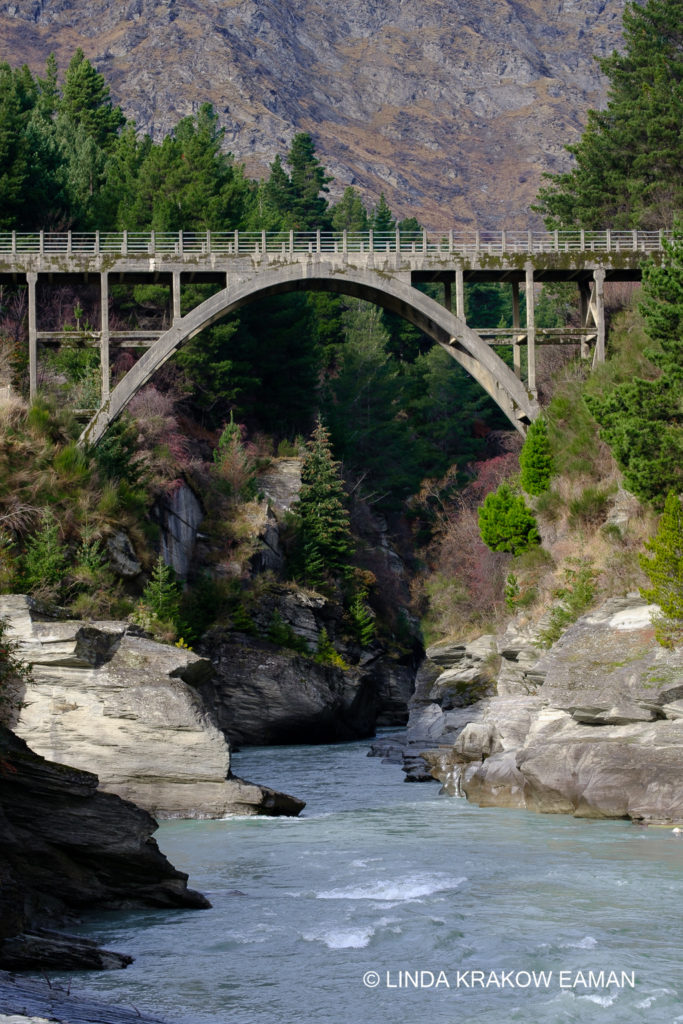 New Zealand's gold rush story is very similar to that of the American west, including the experiences of the Chinese men who came to work the mines and encountered racism and hardship. Although touristy, Arrowtown is a pretty place to learn about the history; the old miners' cabins bring a bit of it to life.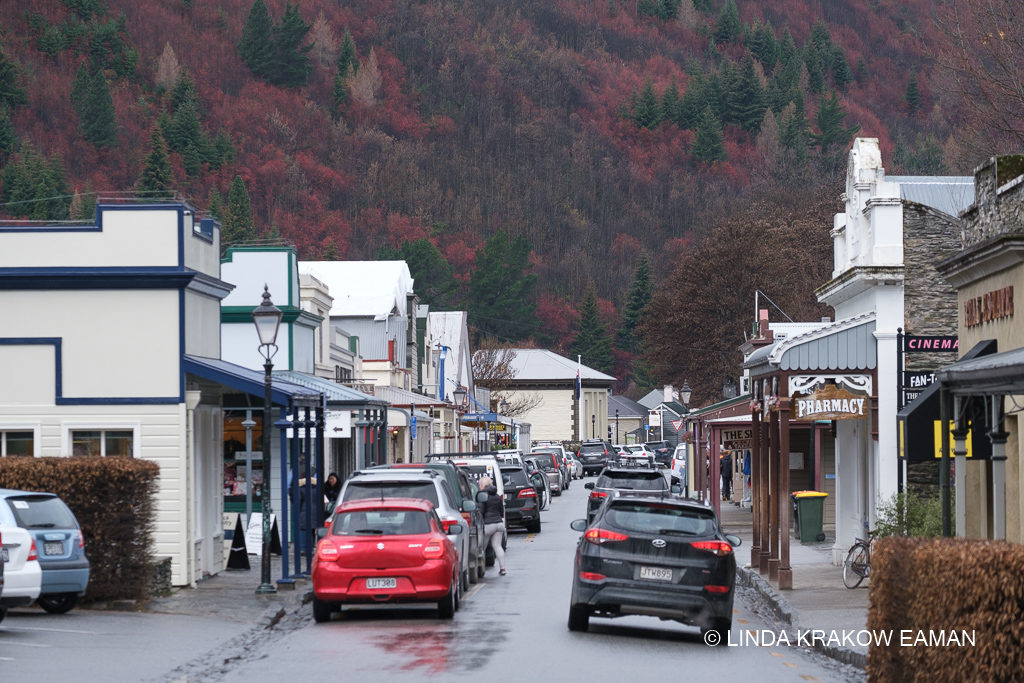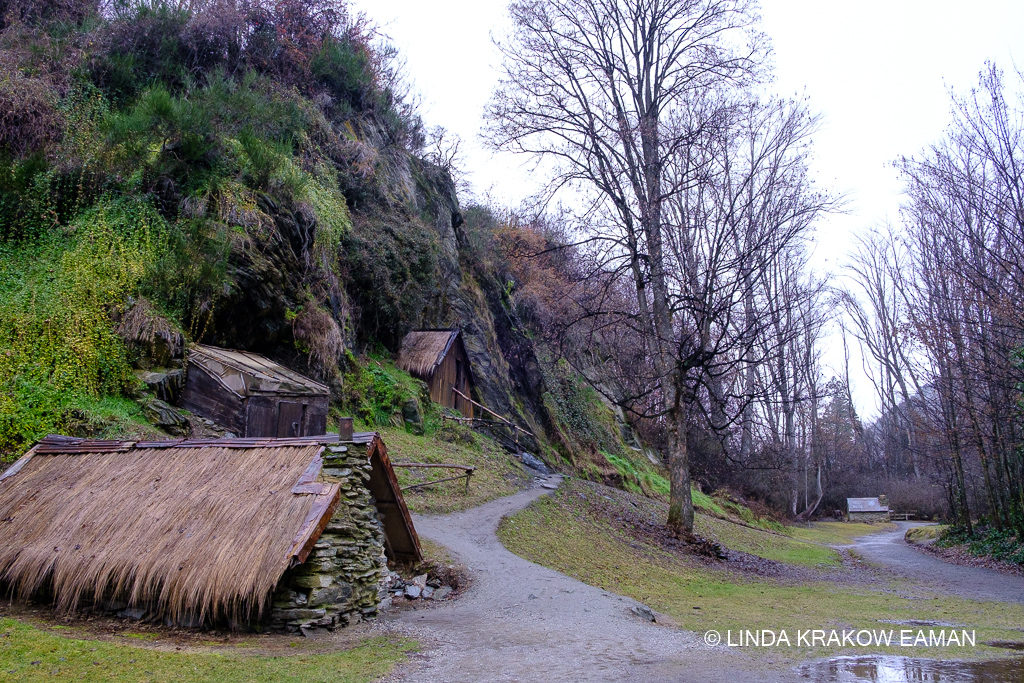 Before we knew it, our week was done. In just a few days I went from trying to quell feelings of disappointment to being sad that our New Zealand trip was over so soon, snapping photographs from the airplane window in a last effort to capture the essence of the South Island landscape. I'd love to go back for a much longer visit.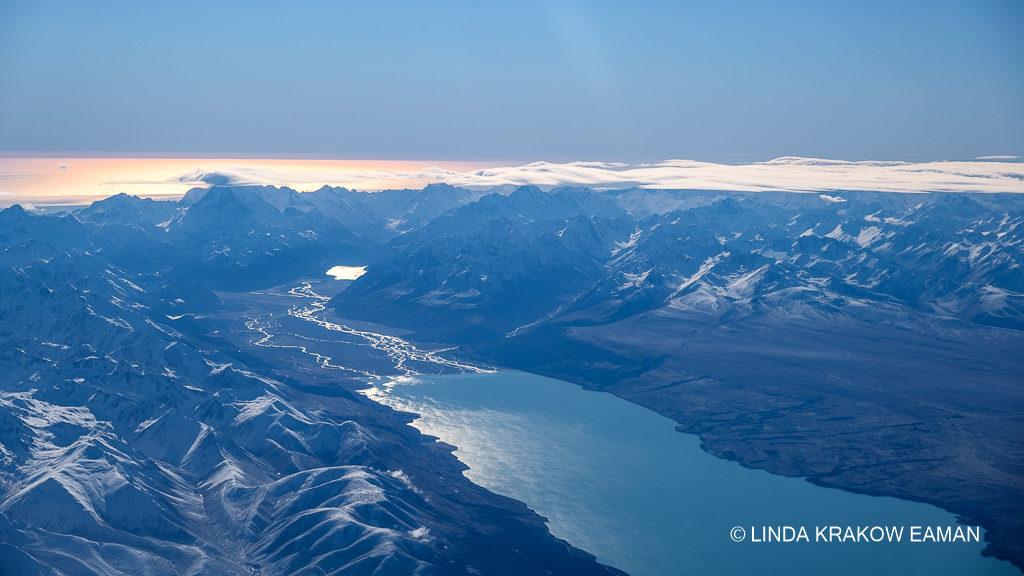 Some things to know:
The speed limit is 100K (about 60mph). Through towns and on winding mountain passes you won't even go that fast. So the distances are deceptive and travel takes longer than you'd expect. There's also the danger of black ice in the winter, so if you're not used to cold weather driving, be extra careful.
Gas is expensive. It was over $2 NZ per litre, working out to about $5.75 per US gallon.
They drive on the left side of the road.
In winter, the days are short. Sunrise about 8am, sunset at 5pm.
The books I enjoyed:
An Angel at my Table, by Janet Frame
The Bone Children, by Keri Hulme
Merino Country, by Paul Hersey and Derek Morrison