To the coast, again
I love being in London, but after a little while I always start to crave the countryside. So last week I was off to the coast again. It's just a short train ride from London to any one of several seaside towns, and once there just a short walk to some of the loveliest shorelines I've seen. 
First, Dover.  A text message from Celine inviting me to join her the next day got me packing my bag, in spite of rain in the forecast.  What an intriguing twist of life, hiking in England with the daughter of a friend I have known since we were six-year-olds in Montreal!
Dover has a castle at the top of the hill, that we did not visit and I did not photograph. However, a chatty B&B owner informed us that it was spared during WWII, when most of the town was demolished, because Hitler wanted to live there. The town also apparently has an interesting museum featuring a bronze age boat, and a painted Roman house. But we were headed for those cliffs.
Dover is the departure point for huge ferries to and from various ports in France, and getting to the path takes you past a noisy, industrial, not terribly attractive harbour. 
Erosion is a serious thing here, so no walking too close to the edge!
Although we opted to save them for another day, both the South Foreland lighthouse and the nearby World War II tunnels can be visited.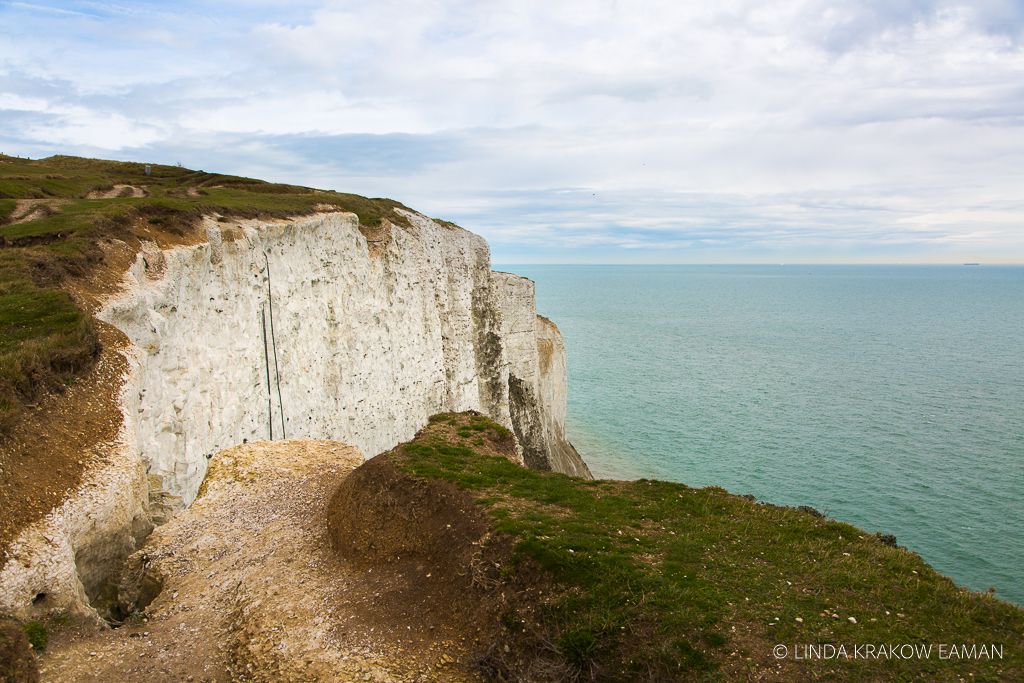 A few days later, I found myself on a train again, this time heading to Seaford. Marc and I had walked the start of the South Downs Way a few months earlier (see White cliffs and lighthouses), and I wanted to see a bit of the next stretch. 
One of the nice things about train travel here is that your ticket allows you to get off the train along the way, walk around for a while, and then catch a later train to continue your trip! So I hopped off to visit Lewes, a small medieval town along the way.  It is just lovely, with interesting shops, a Norman castle, a medieval home to visit, and a gorgeous park full of daffodils. After weeks of gray, it was finally warm and sunny and a perfect day to explore.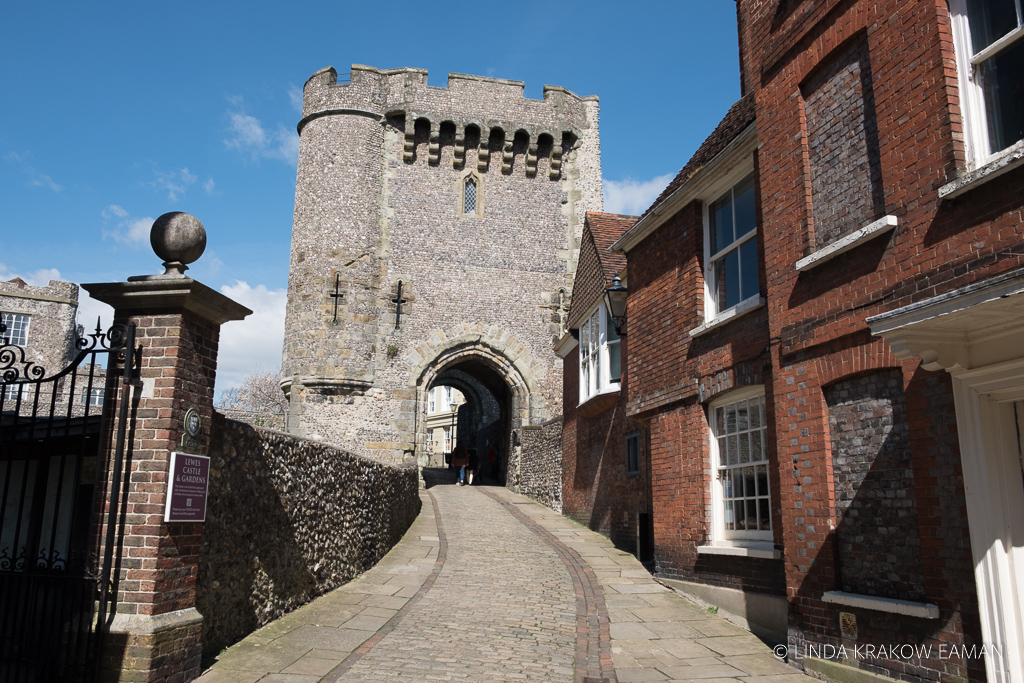 Finally, on to Seaford. This town seems to be mostly residential, and is perhaps less interesting to visit than Lewes or the other seaside towns we've visited (Eastbourne, Bournemouth, and Poole)–but it's also less touristy. The high street seems to be mostly utilitarian and most of the few restaurants were closed by the time I went looking for supper at 7pm on a Thursday. 
I was expecting gorgeous vistas, but the first thing that captured my attention were the beach huts. Most were closed up tight, but a few hardy souls sat bundled up in their beach chairs enjoying the sun and refreshments!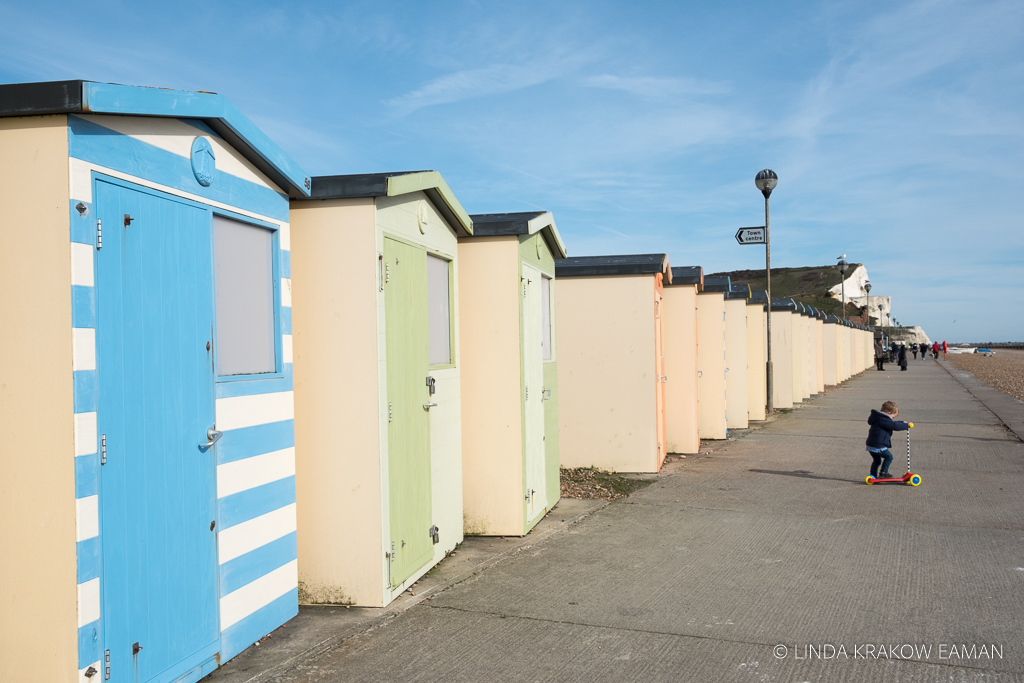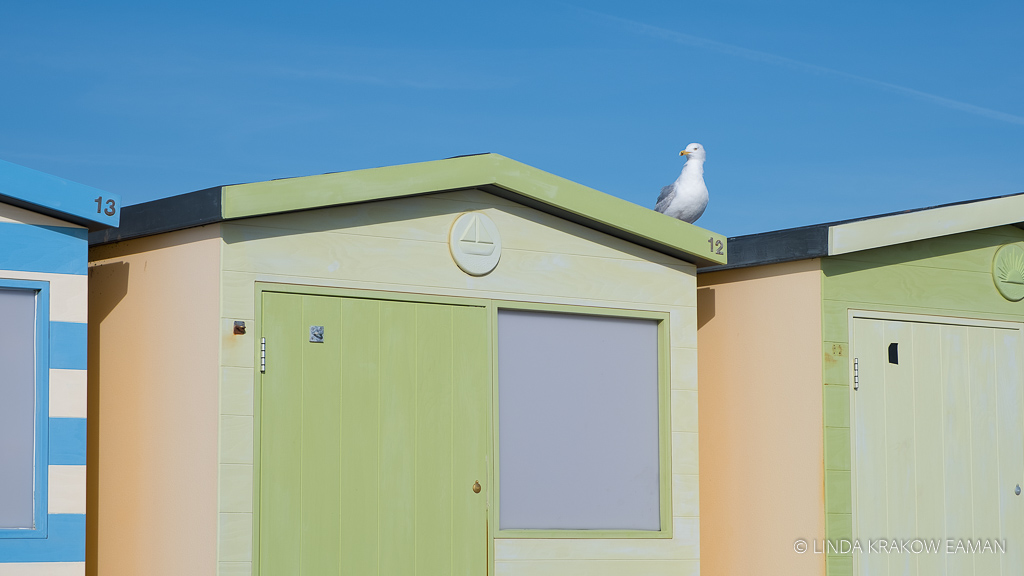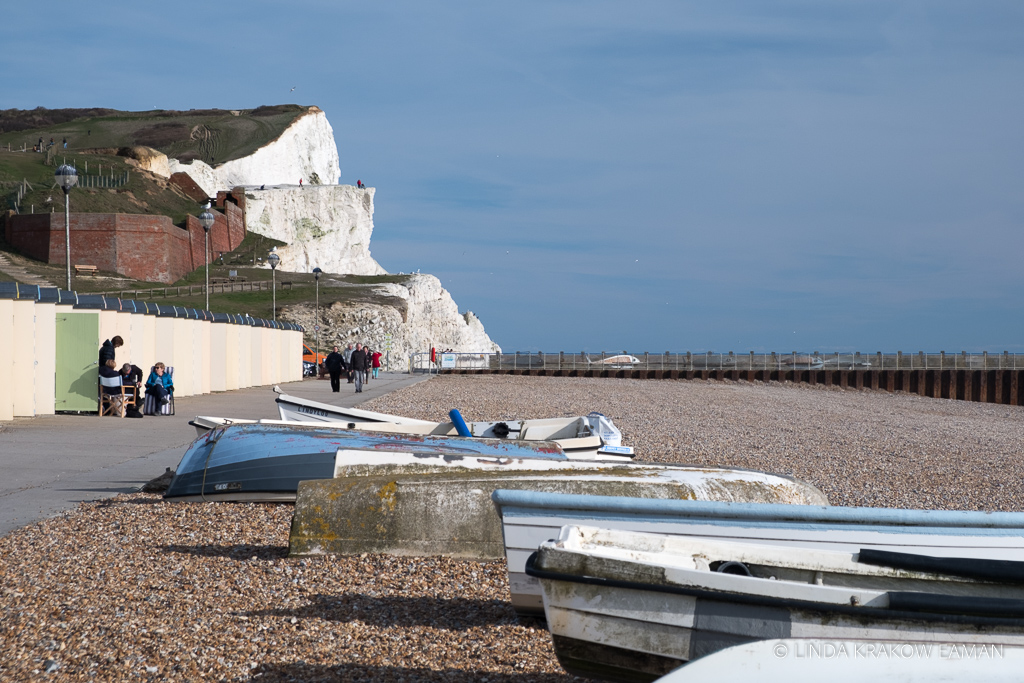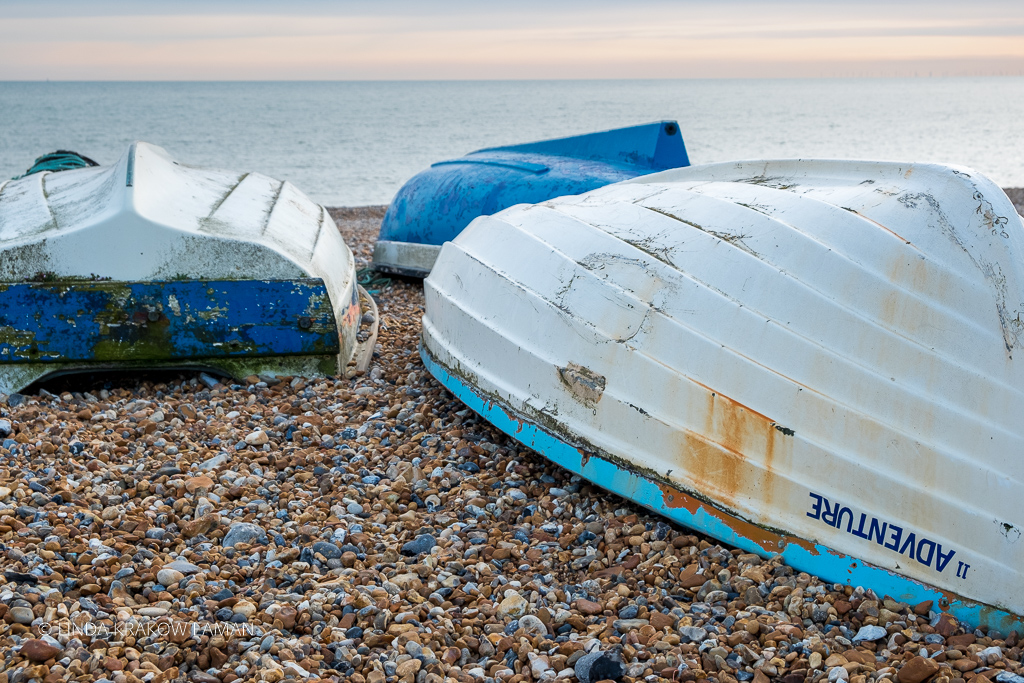 Birdwatchers armed with binoculars and telescopes told me they were watching a bird superhighway, where a variety of species were migrating a long way out over the water. Closer in, though, this cliff was home to nesting Kittiwakes (something had made many of them take flight here).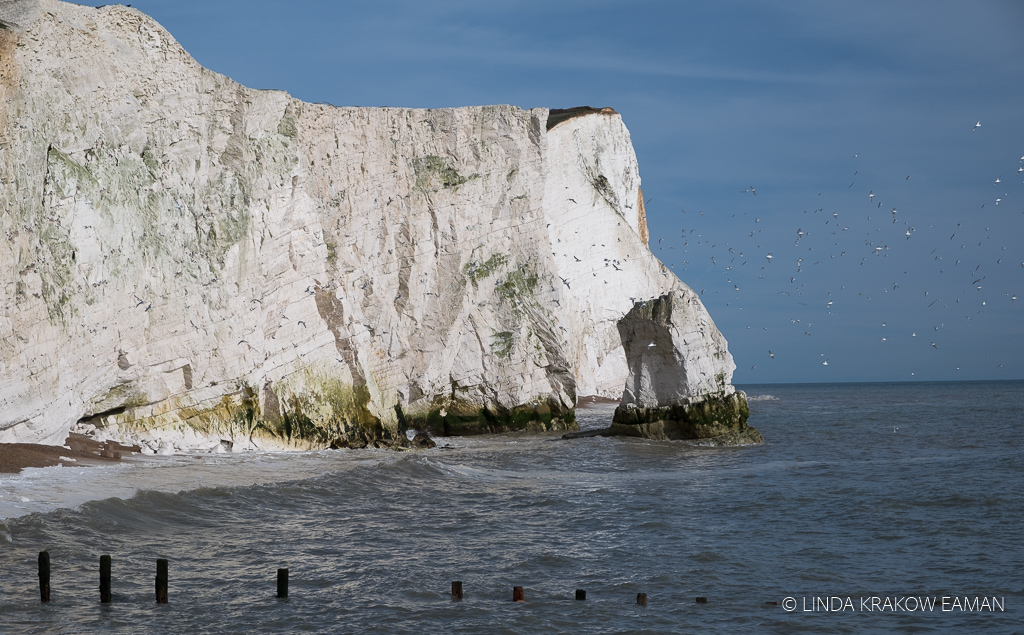 I had booked a B&B for the night, so after a "full English breakfast" the next morning I was off to the cliffs once again. To the east, fog and the low sun made for hazy views.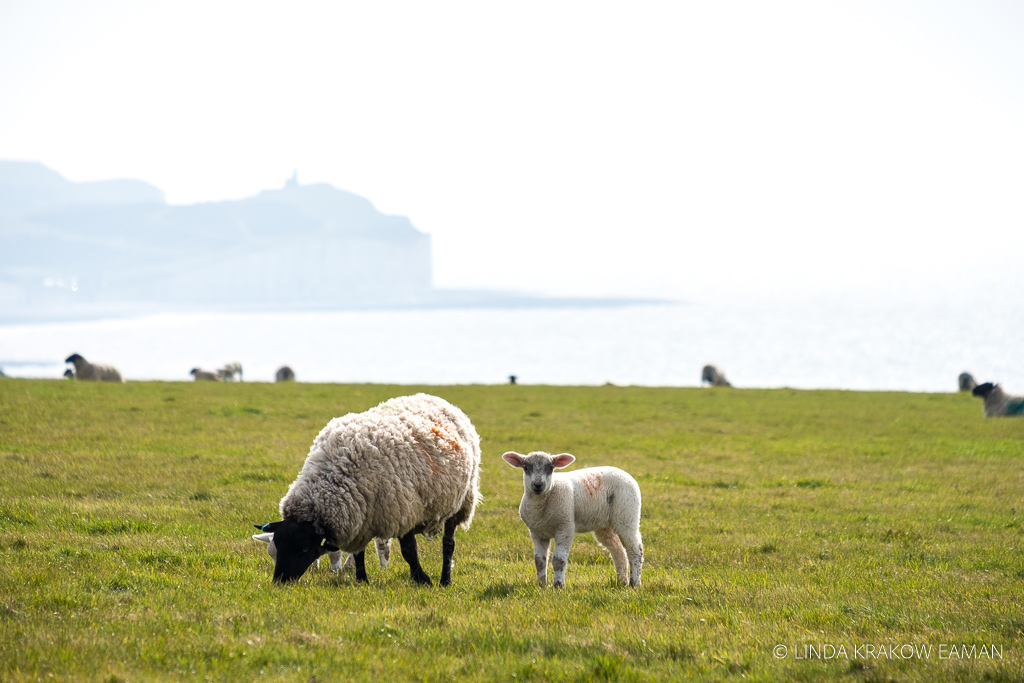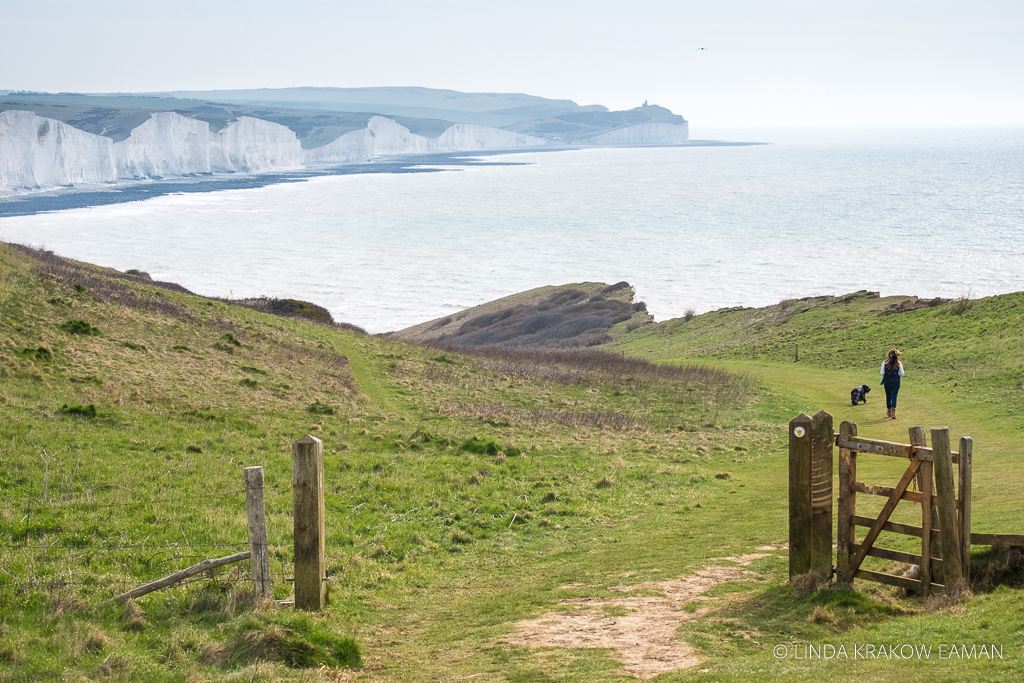 A staircase takes you down to the rocky beach, as long as the tide is out. Pay attention to the tide! Ways off the beach are few and far between, and just a few hours later this was all under water. But at low tide it's a great spot for tide pooling and a different view. I always feel like a little kid, coming home with my pockets full of pebbles and seashells.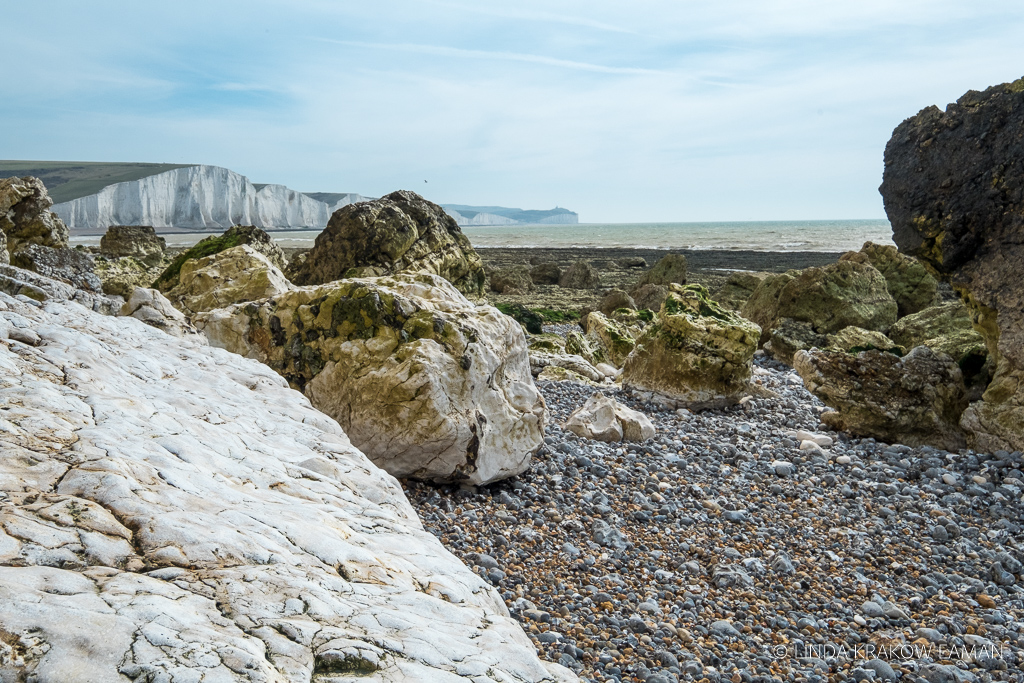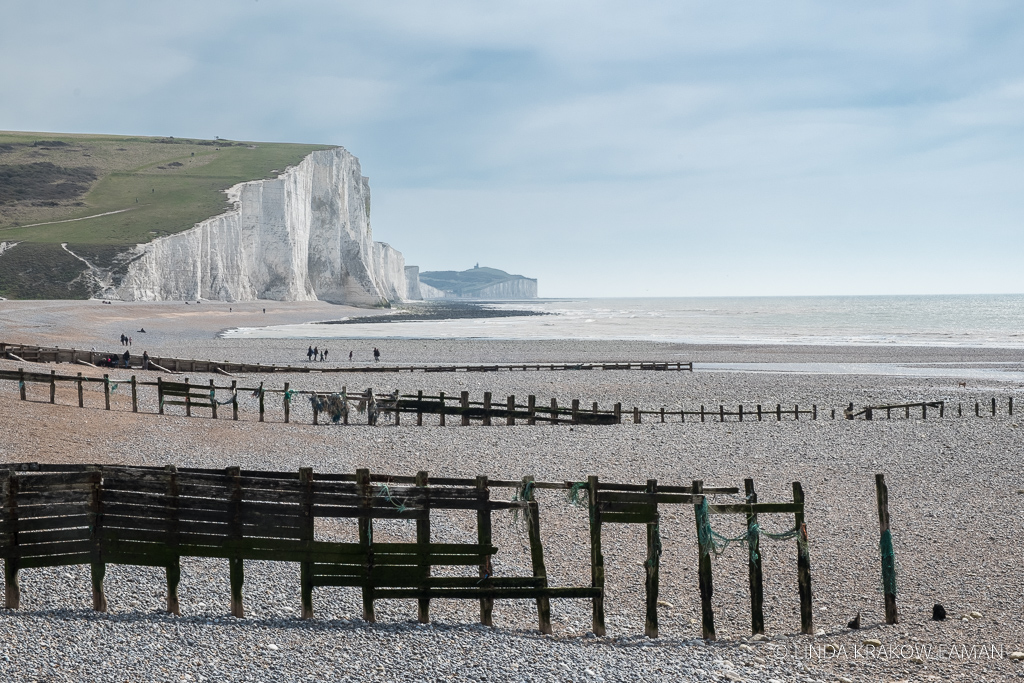 An iconic view: the coast guard cottages at Cuckmere Haven. Like many of the coves here, this was once a favourite spot for smugglers bringing goods across the channel from France. There are signs posted about a fundraising campaign to pay for work to preserve the site, and the website (http://www.cuckmerehavensos.org) is very interesting, but the "donate" button doesn't seem to work!
The cottages are private residences, and there are no public amenities here–one of the few places I've been where you can't get a cup of tea (or a bathroom). However, just fifteen minutes inland there's a nice pub, the Cuckmere Inn. A worthwhile detour!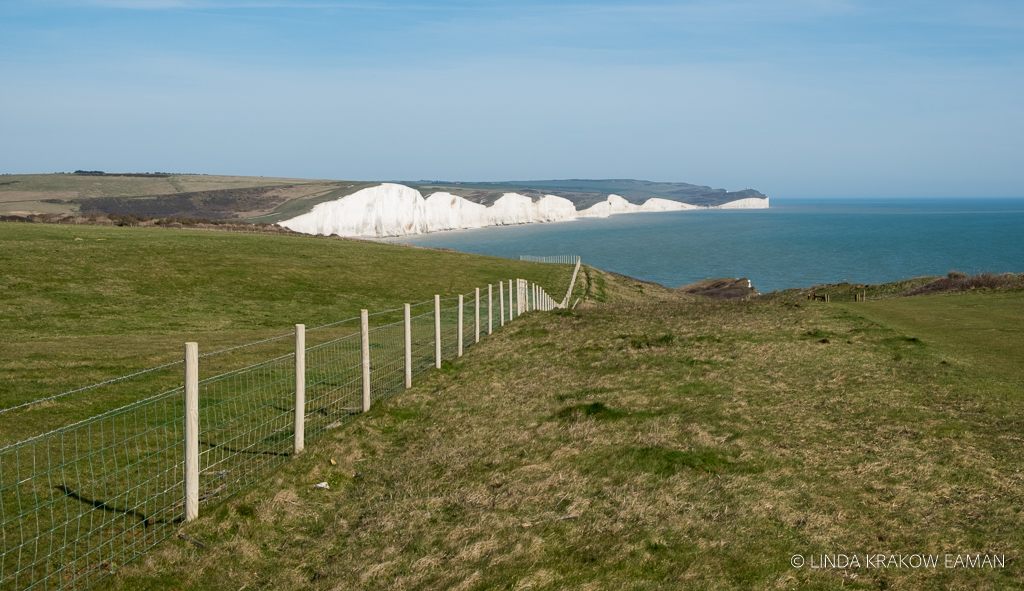 You can see the sky is finally blue… By mid-afternoon the fog had burned off or, more likely, been blown away by the strong steady wind!
I'm always amazed at how many people I see on these walks, happily traipsing around. There are paths everywhere, even through farmers' fields–including gates and stiles to facilitate crossing the fences. And every bookstore has dozens, if not hundreds of books and maps listing and describing short and long walks in every area, around every town. Walking is truly a national pastime. 
What a beautiful country.